There's just a few more things to do after tackling one of my favorite parts last night—window treatments.
Here's the space a few days ago:
It was feeling a little cold and empty. I needed to bring some softness to the space, and flowy curtain panels are always great for that. Not only that, but this room has zero pattern (aside from subtle striped sheets). Everything is a solid color. Boring!
I knew from the very beginning that I wanted navy toile. I considered using it in the bedding but decided that it would be more commanding on curtains. Remember my mood board?
Yep, they were in there.
After scouring the internet for the best deals and coming up short (literally) when trying to find curtains long enough in the right fabric, I commissioned a seller on Etsy to sew some custom panels for me. I went with two 50×94″ panels and it came to $96 shipped (which is actually not bad compared to other places online). It was worth it.
Then I had to figure out how to mount these. I couldn't use a traditional curtain rod because there was a wardrobe in the way, and the top of the door is 2″ from the ceiling. That meant I had to come up with a ceiling mounted solution. I found tons of tutorials on Pinterest using galvanized metal pipes and fittings, but even those methods would make the curtain rod stick out too far.
So I went to Lowe's and found this 1/2″ copper pipe (in the plumbing section) for around $10:
It came in 10′ sections which was perfect, I didn't even need it trimmed down. I preferred this over the 1/2″ galvanized pipe because a) it was $5 cheaper, and b) it was super light weight (the galvanized steel is so heavy!)
To hold it up to the ceiling, I grabbed a bag of these plastic U shaped brackets for a couple bucks (that makes this 10′ curtain rod around $12 total… nice!) I couldn't find any metal brackets (I think those are in the electrical section) but the copper pipe is so light, and everything would be spray painted black so the material didn't matter.
After giving the pipe a good buff with steel wool, it was time to paint.
I used a satin black for both the pipe and brackets (it's shiny here but dries satin).
Once dry, it was time to hang!
Since we weren't drilling into studs (just bead board & drywall) and didn't want to deal with inserts, we used wall dog screws (best invention ever) which grip the drywall so well that you don't need inserts.
We attached the first clamp all the way up to the corner of the crown…
Then a clamp in the middle to keep it from bowing…
Then a third a the end. The first end was in a corner and would be completely hidden by the bracket/curtains, and I used a small glass cabinet knob to plug the visible end.
When I was at Ikea earlier in the year, I picked up a couple packs of these curtain rings. I thought I might need them for the living room but that didn't happen—luckily they were perfect for this occasion:
After trying out a few possible ways to hang them, I decided to clip them in the back so you wouldn't see the clips.
It makes for a nice, clean look when hung. And I'm happy to report that the paint doesn't chip off when the rings slide across (I think buffing with steel wool helped).
And here they are!
I snapped a couple shots after we finished up as the sun was setting…
And then a few more this morning at sunrise…
There's just something about navy and toile…
It adds the perfect touch of french farmhouse.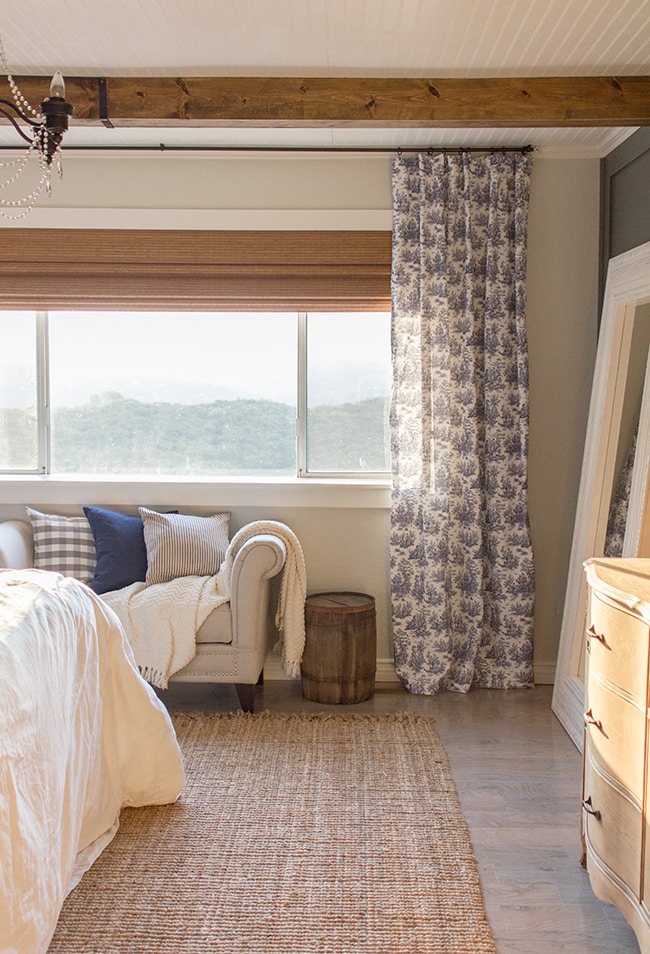 Pin
And also a bit of romance next to the chandelier.
Here's a shot looking into the mirror…
Sigh. I'm just in love. Curtains make such a difference. Every week this room takes on a slightly different feeling with every change we make. It's so fun watching it evolve. In less than two weeks it will be complete!