Well friends, we've reached the end—the final day of nearly a month of room reveals. It feels like just yesterday that I was frantically running around, doing paint touch ups and installing hooks and scrubbing floors while Country Living was at my doorstep.
But the work didn't end that day—there were multiple photo & video shoots, then constant editing, post writing, and constant social media updates. I've been trying to keep up with the reveal schedule and haven't had a single day "off" in weeks. As I type this, there's still tons of posts and giveaways to write/edit/schedule (woohoo, free stuff coming your way!) but very soon it will all come to an end… so I am happy to continue at this pace for a little while longer. Hard work always pays off 🙂
I'll touch more on this whole flipping experience in next week's final recap, but for now, let's get down to business with Bedroom 6! Click below for a virtual Before & After tour: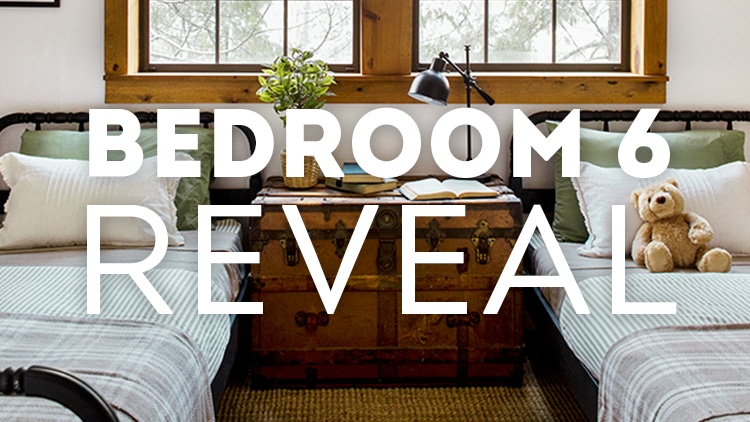 Pin
I loved this room from the moment I laid eyes on it.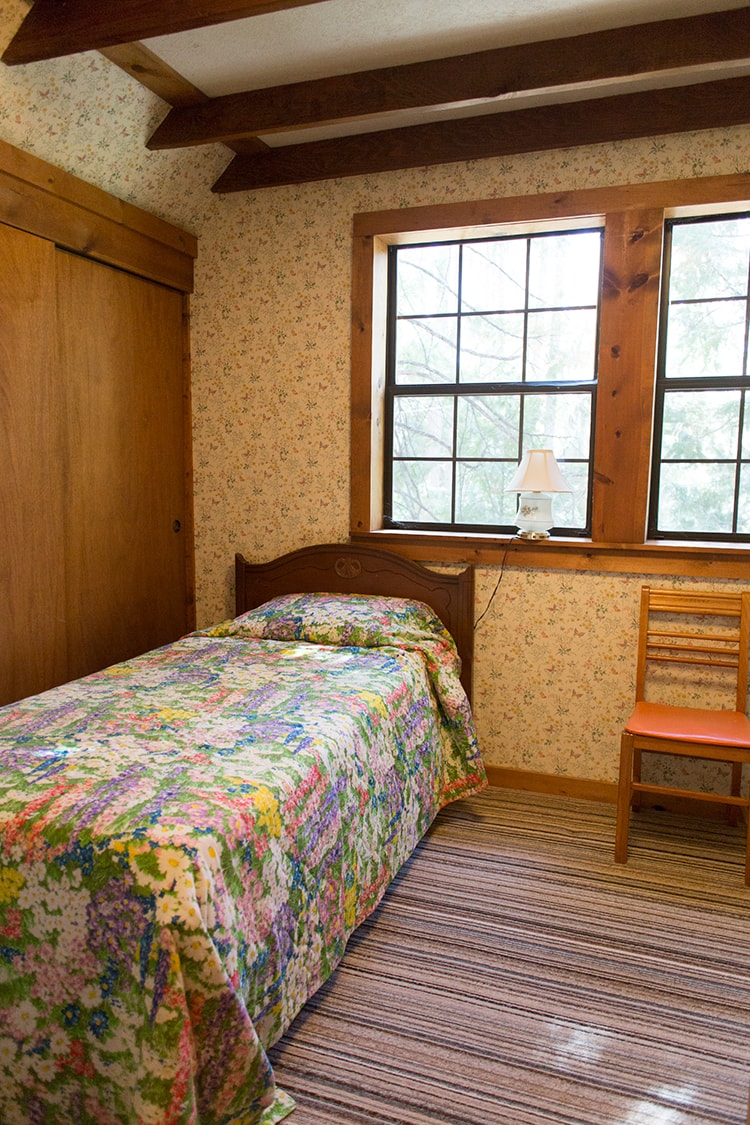 Pin
Honestly, I could have (almost) left it the way it was.
Pin
The wallpaper wasn't super offensive and the twin beds were on point (minus the awkward configuration and floral bedding).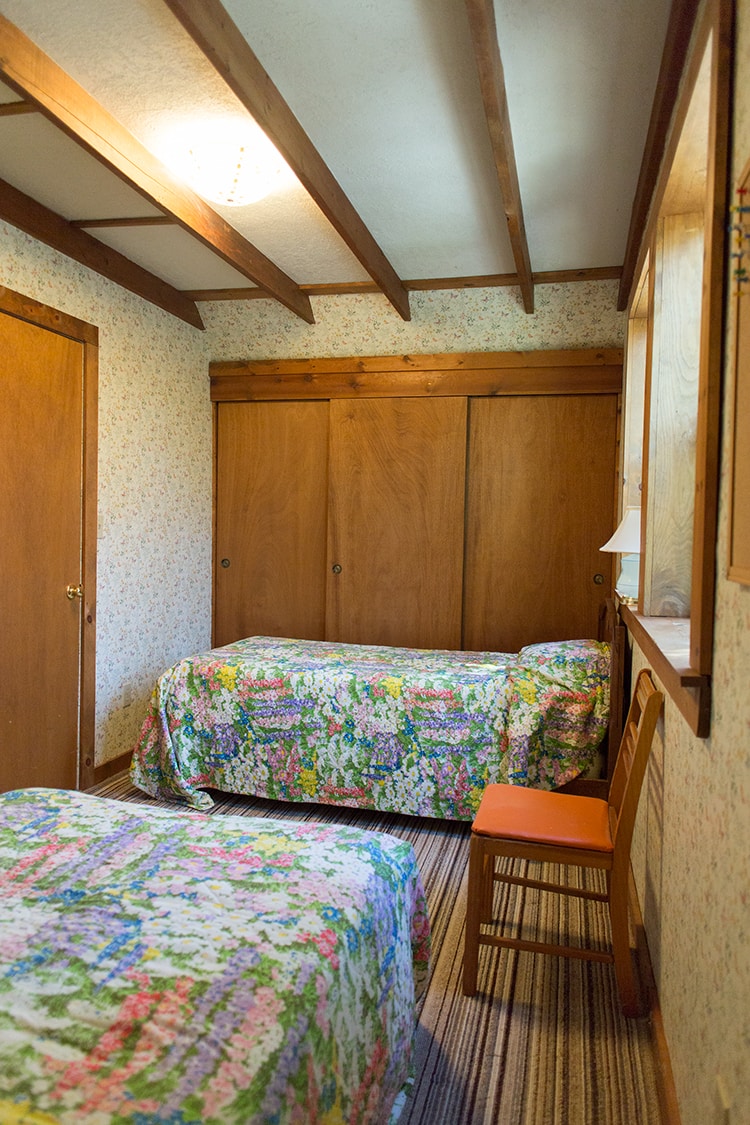 Pin
But I didn't come here for a quick and easy refresh. I came to party get my hands dirty.
So out went the striped carpet, floral wallpaper, and in went some DIY closet door magic:
Pin
The fun size closets on the other side were also painted (after taking your advice to keep the hardware black):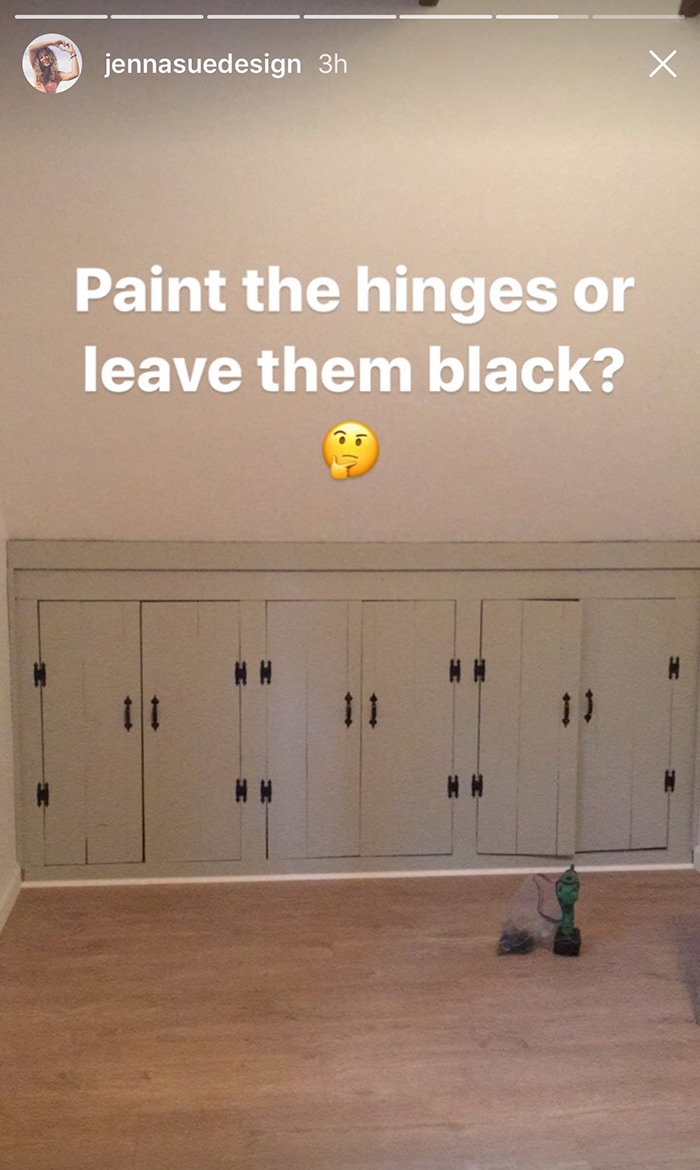 Pin
Then came the devastation of losing one of the matching footboards…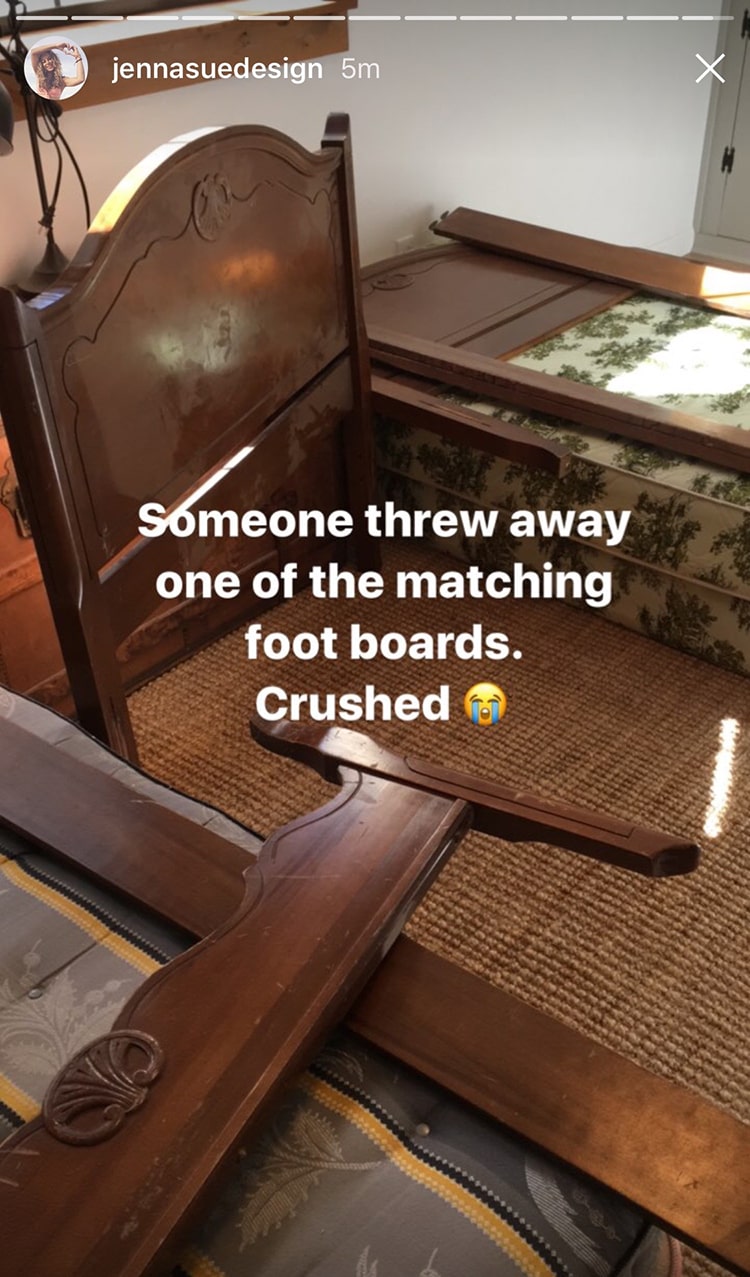 Pin
But I was redeemed after scoring a pair of antique Jenny Lind beds for $20/ea, which I painted black (using Maison Blanche's Wrought Iron):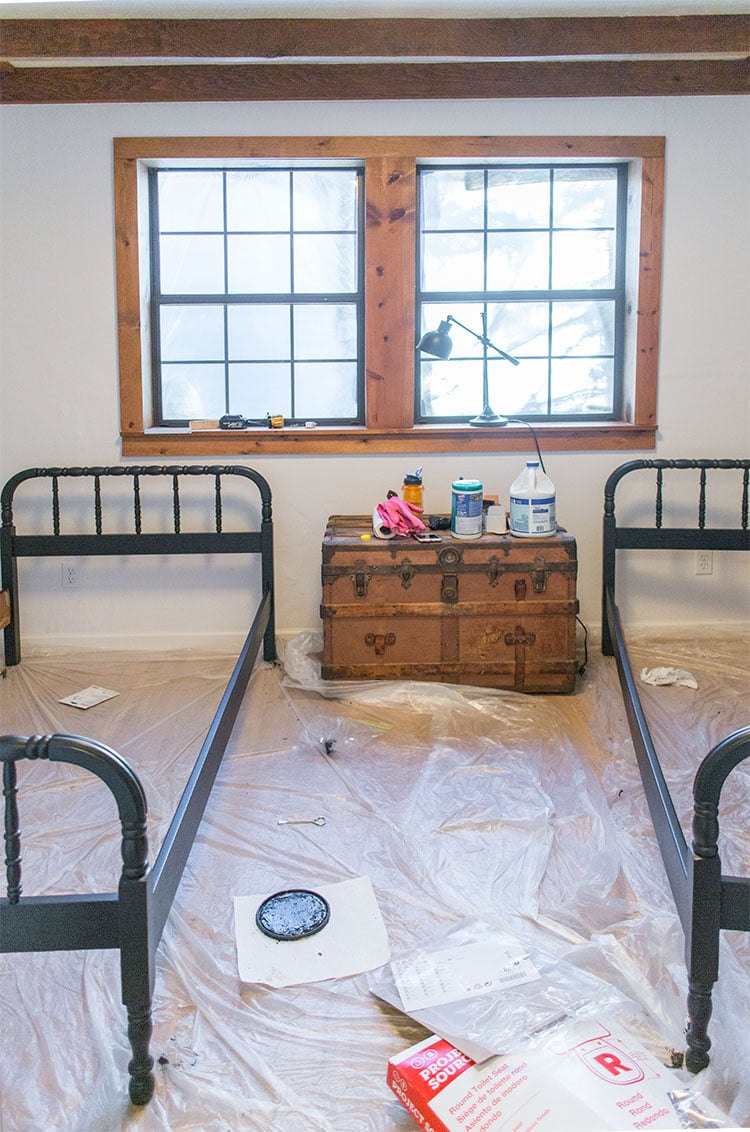 Pin
And now, our sweet little Bedroom 6 looks like this: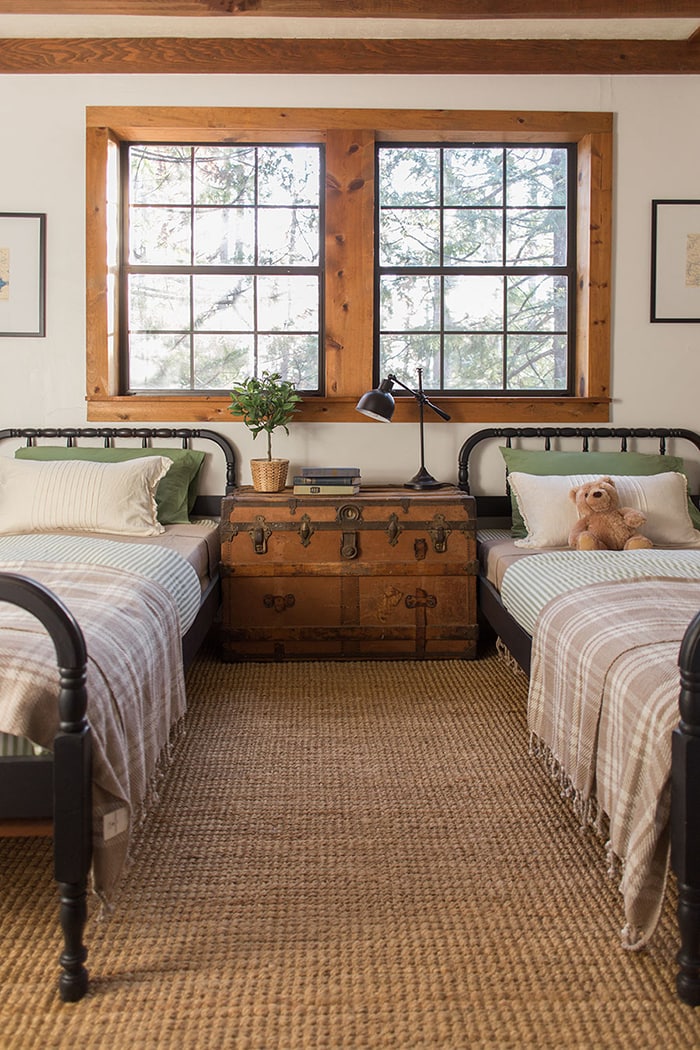 Pin
Just like in all of the other bedrooms, I started with the bedding to determine the color palette/theme of the room.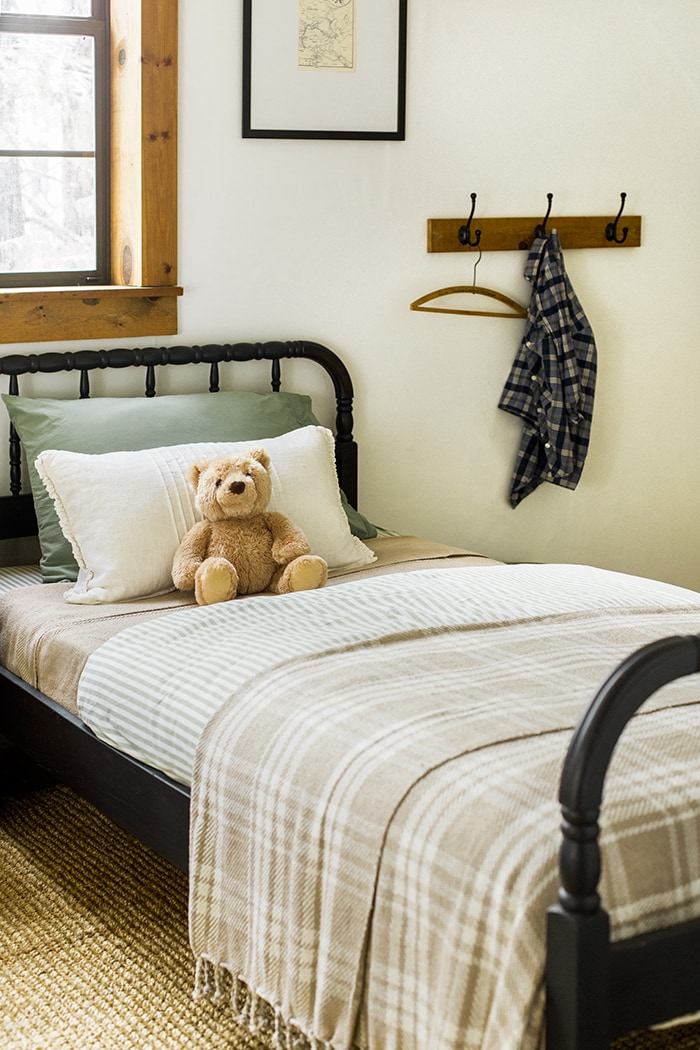 Pin
Fortunately, I was able to use the green striped sheet/pillowcase set that the owners left behind (score!)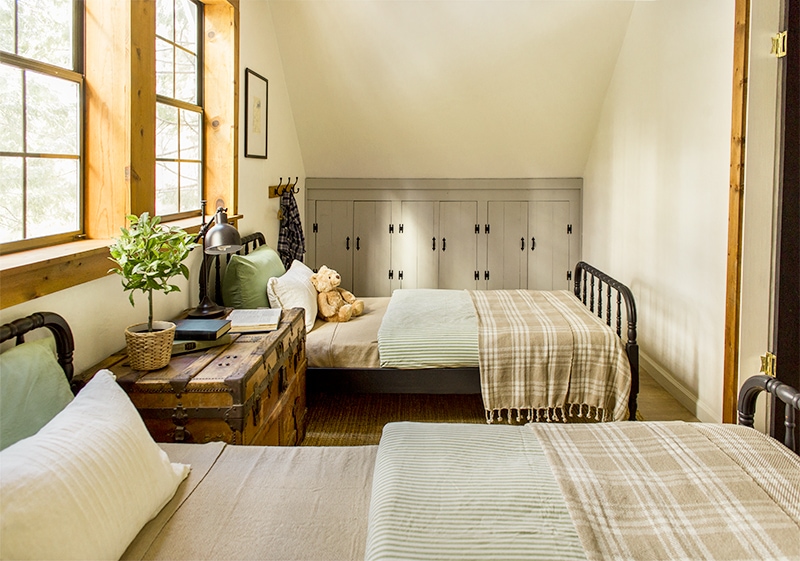 Pin
I layered it with these matching plaid throws (no longer available, similar found here):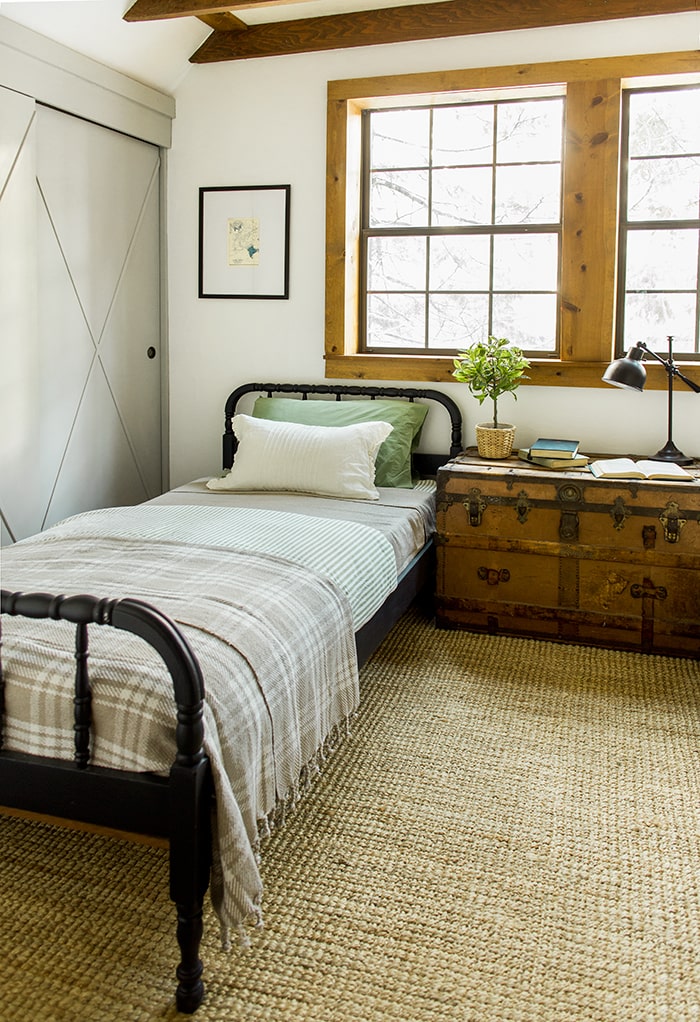 Pin
I'll let you in on a little secret… the green striped duvet is actually just flat sheets wrapped over a fluffy comforter. Thanks to the Country Living stylist for the trick!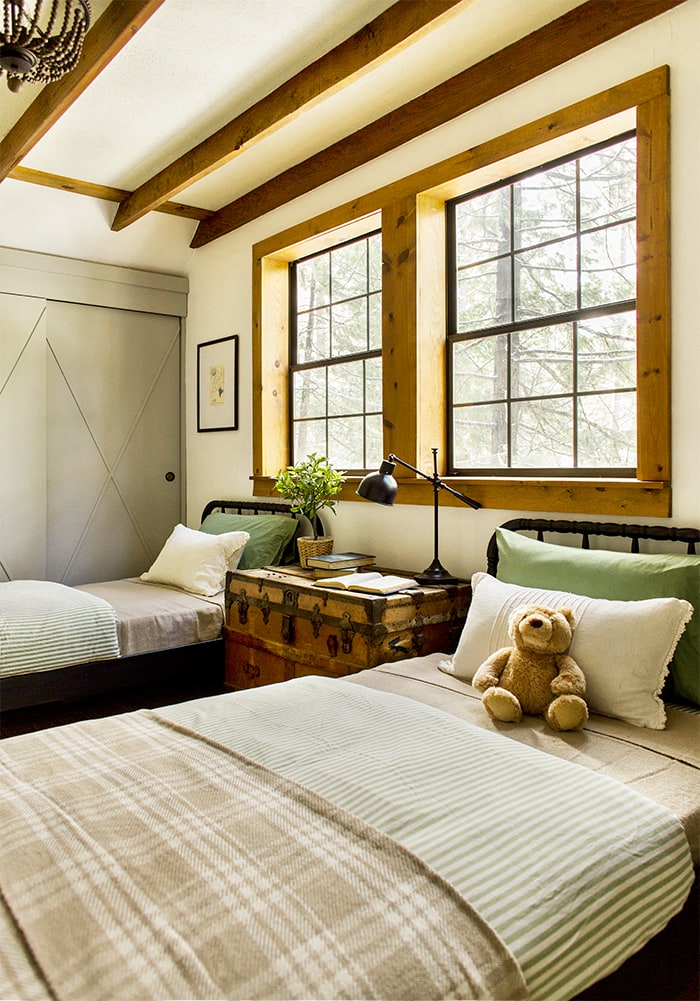 Pin
The white lumbar pillows are one of my all time favorite classics from Ikea.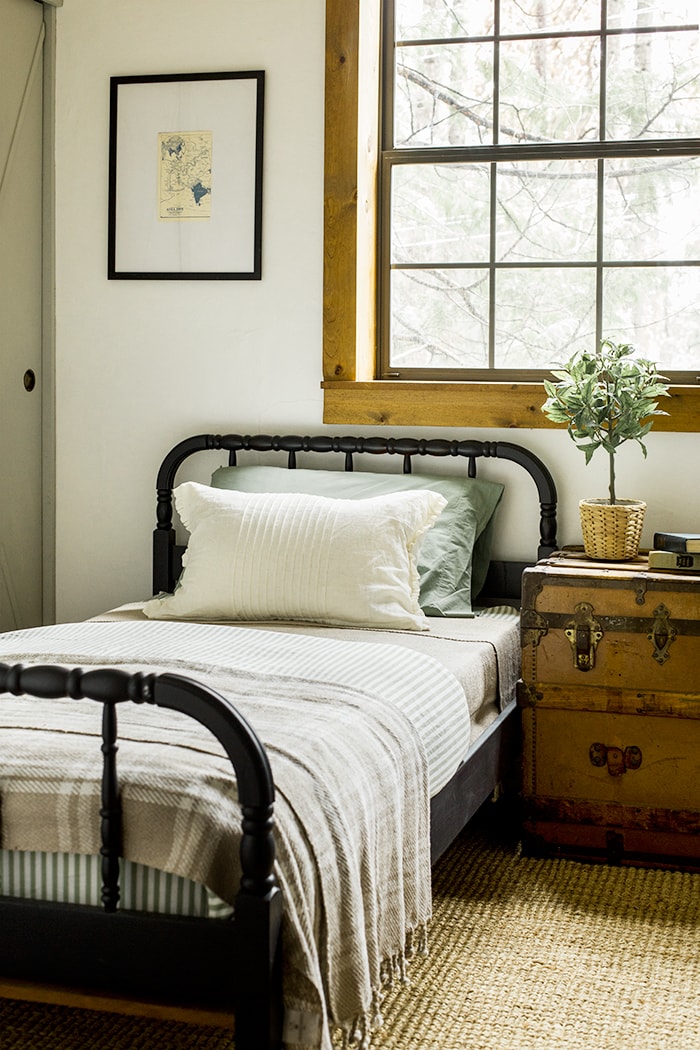 Pin
And the trunk was a flea market find years ago that I pulled from storage.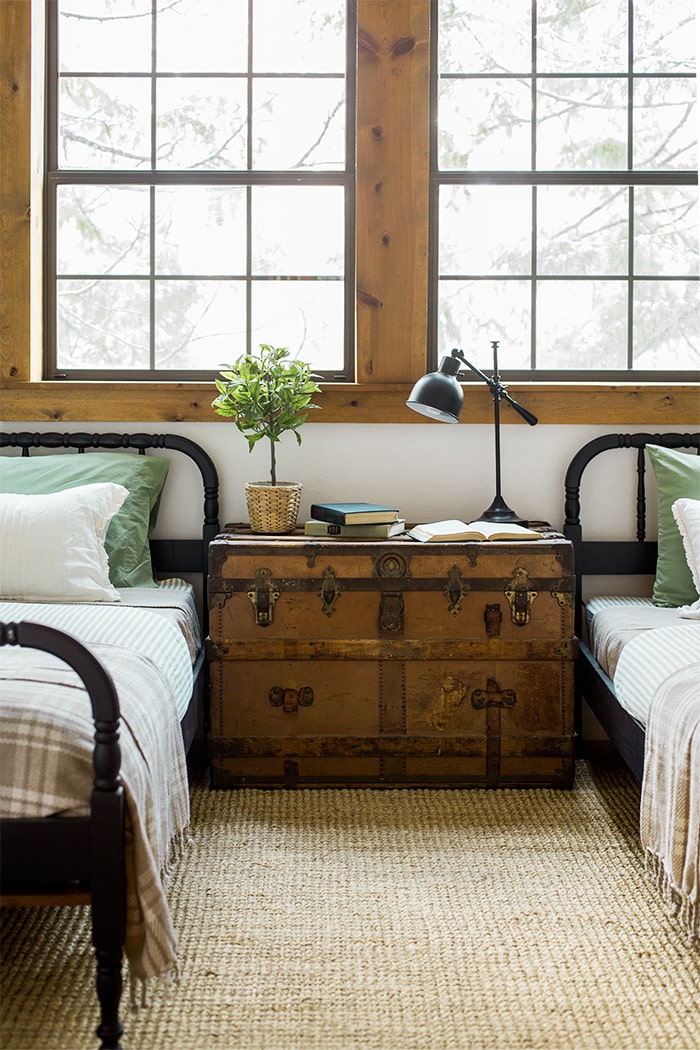 Pin
On our right we have a coat rack made from a scrap of wood & coat hooks that were already in the house. Plus a little green stool I've had for years.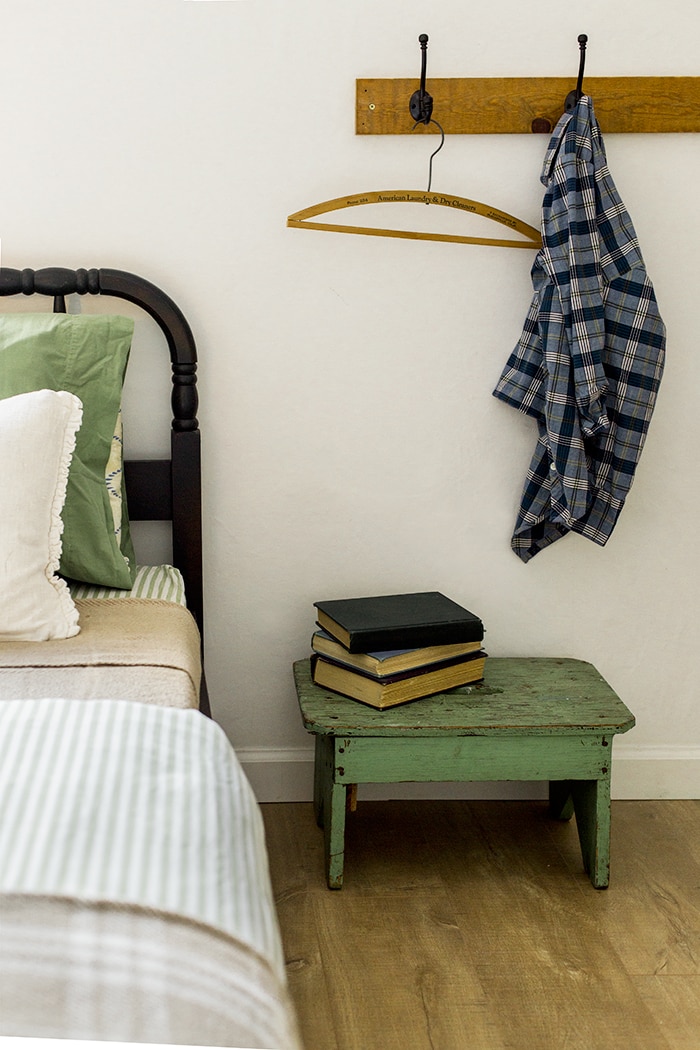 Pin
The art was a last minute addition. I found a simple world map on two pages from an old book found in the closet, framed each page and hung them in a cheap Ikea frame above each bed. The navy + off white coloring just happened to match the bedroom perfectly.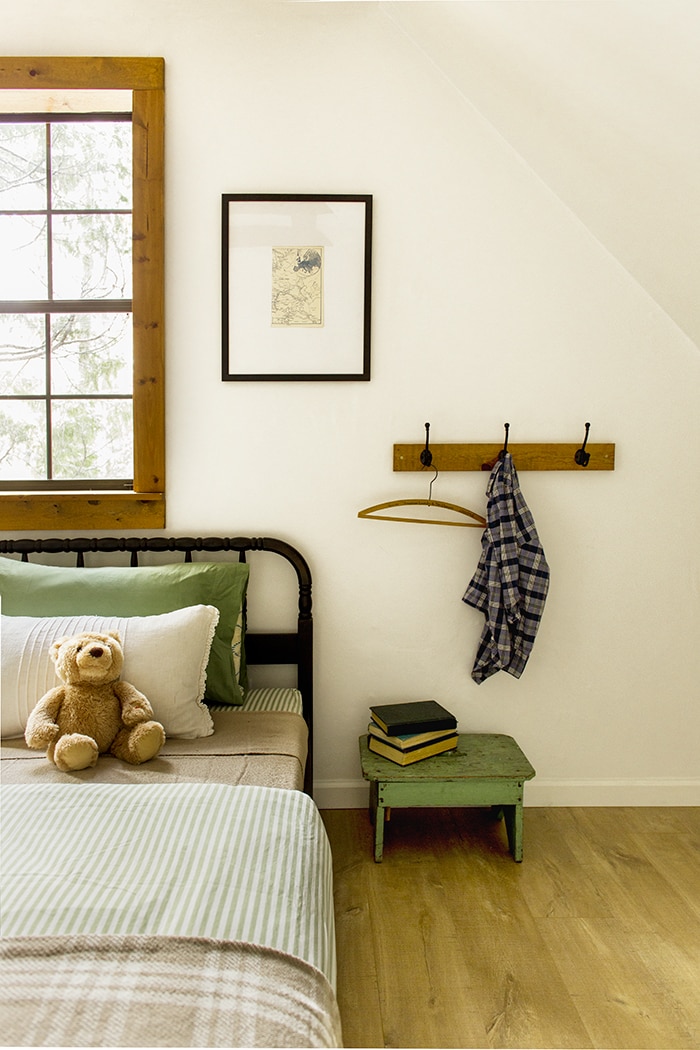 Pin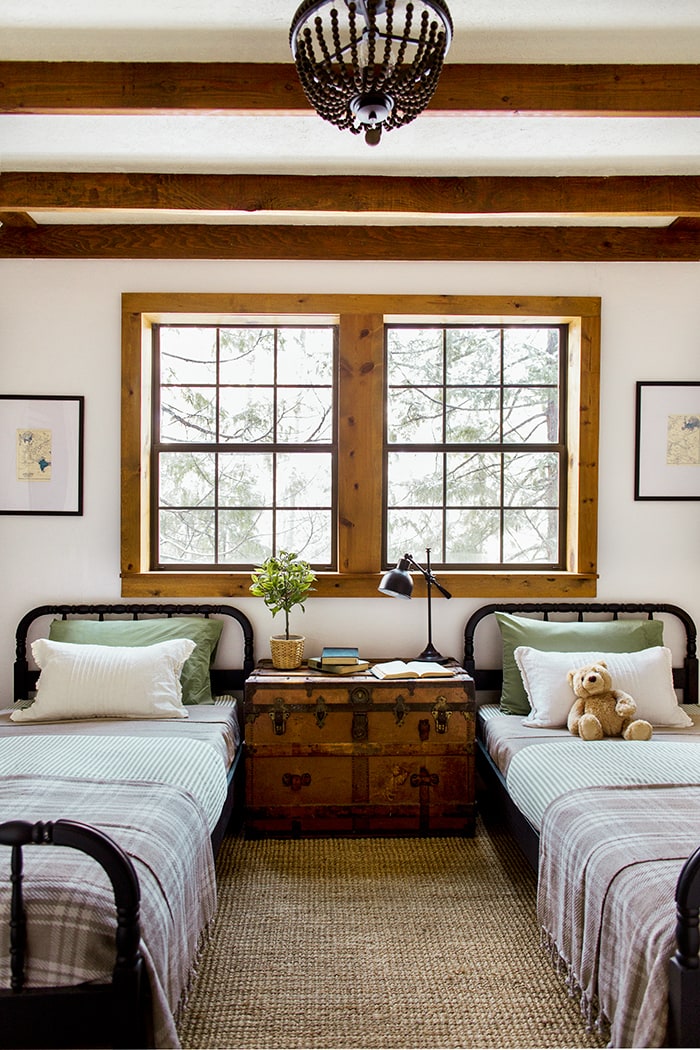 Pin
And how about that fun beaded chandelier?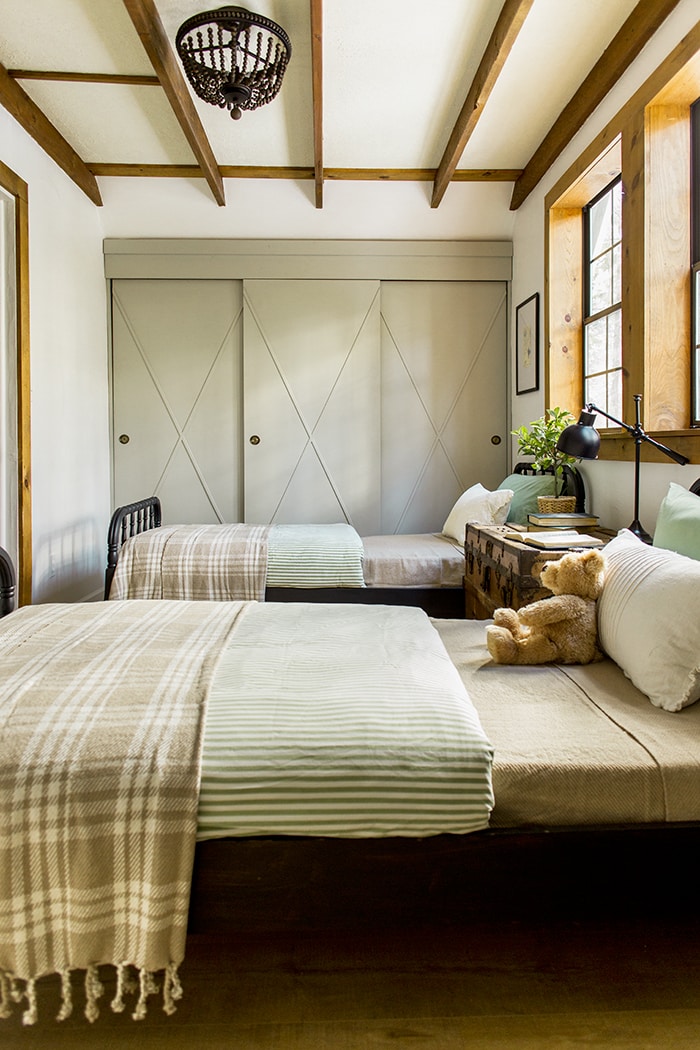 Pin
The wood tones make it neutral enough for any room style. Love the texture it adds.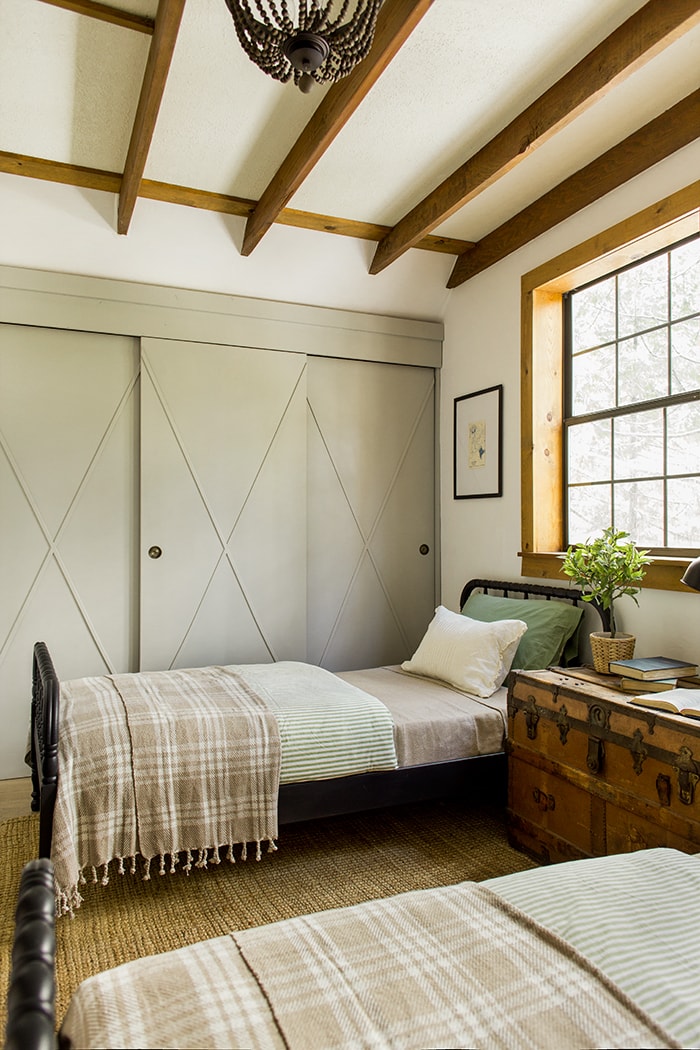 Pin
Another super inexpensive room makeover, in the books!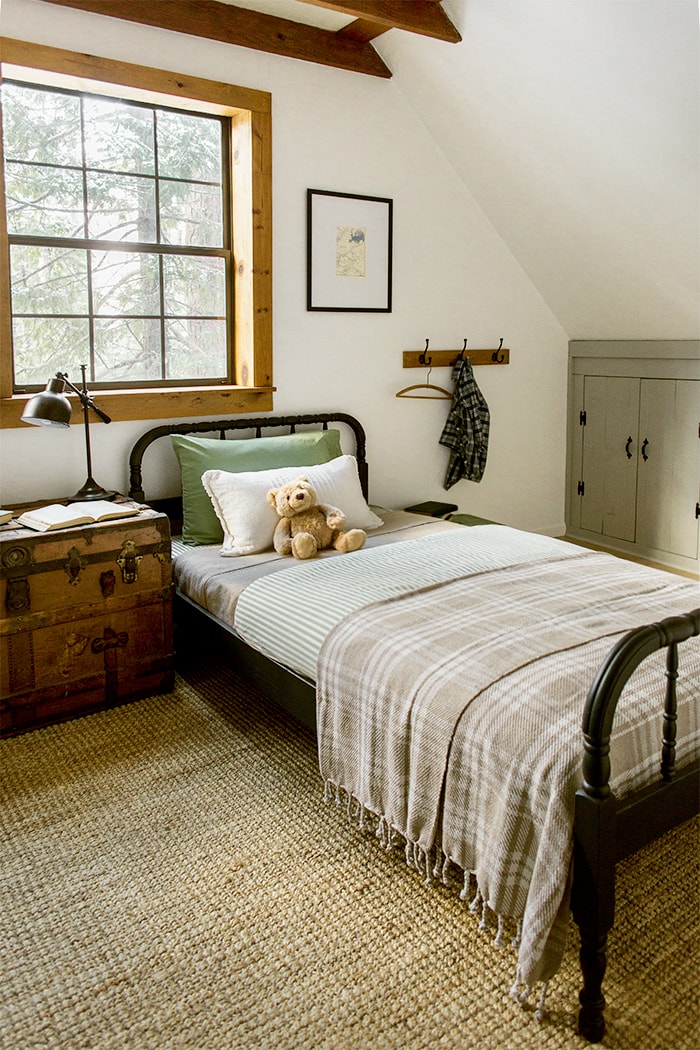 Pin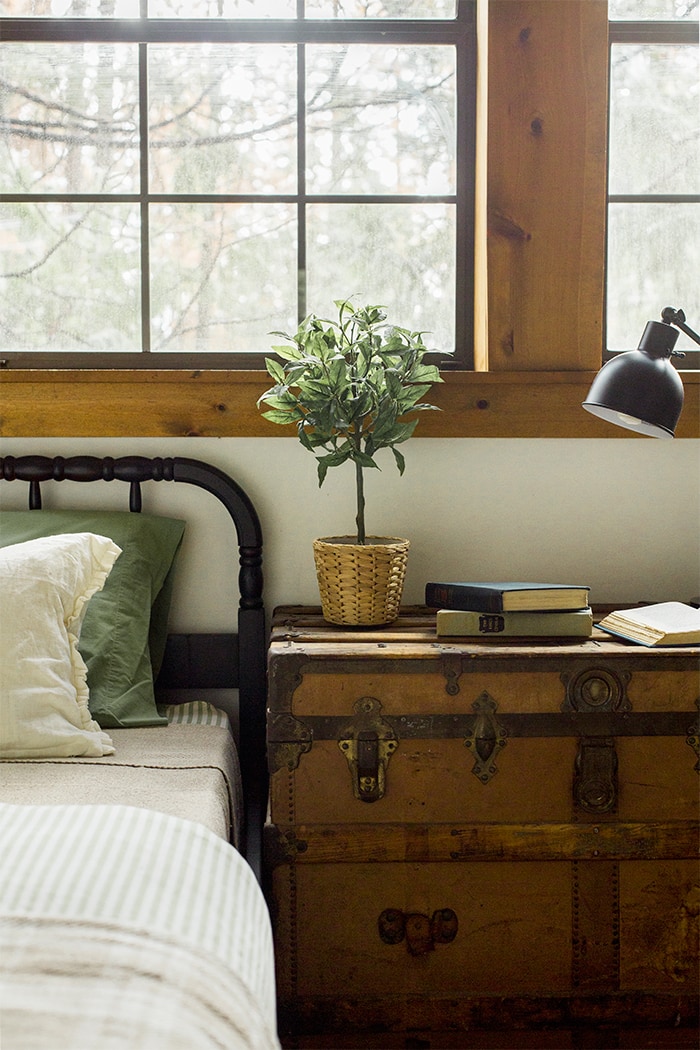 Pin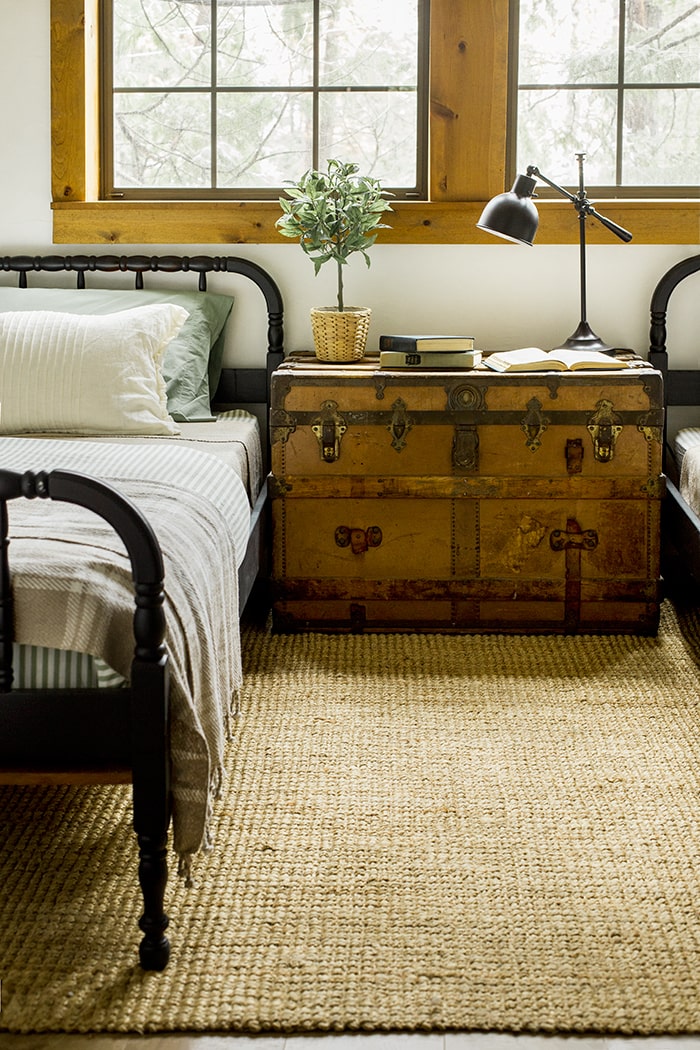 Pin
I apologize for the over abundance of photos. The bear made me do it.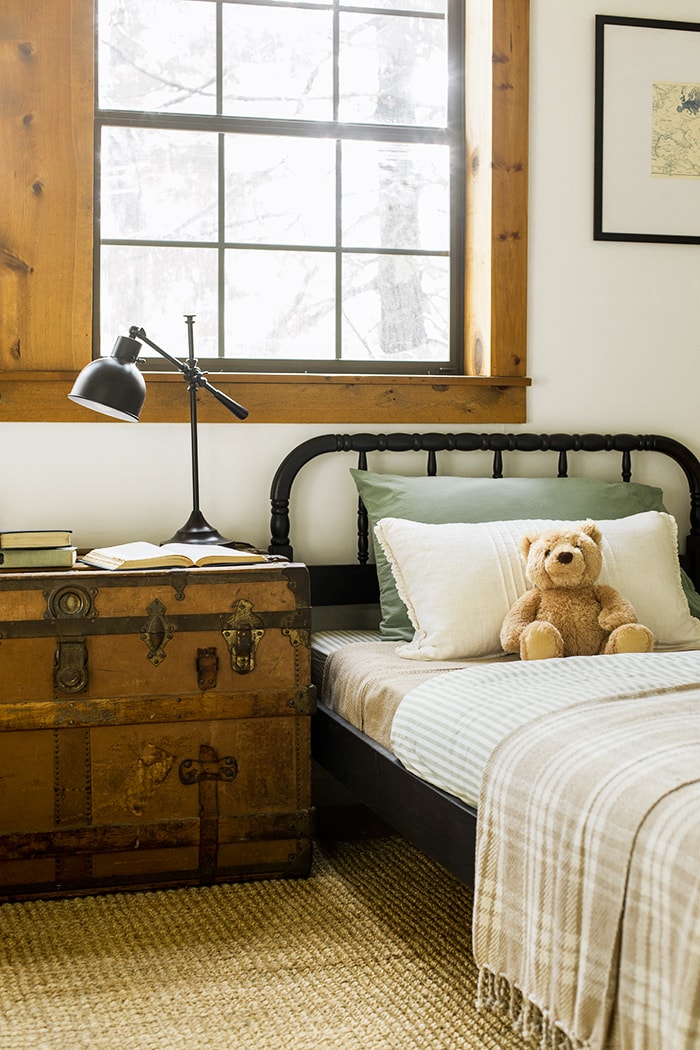 Pin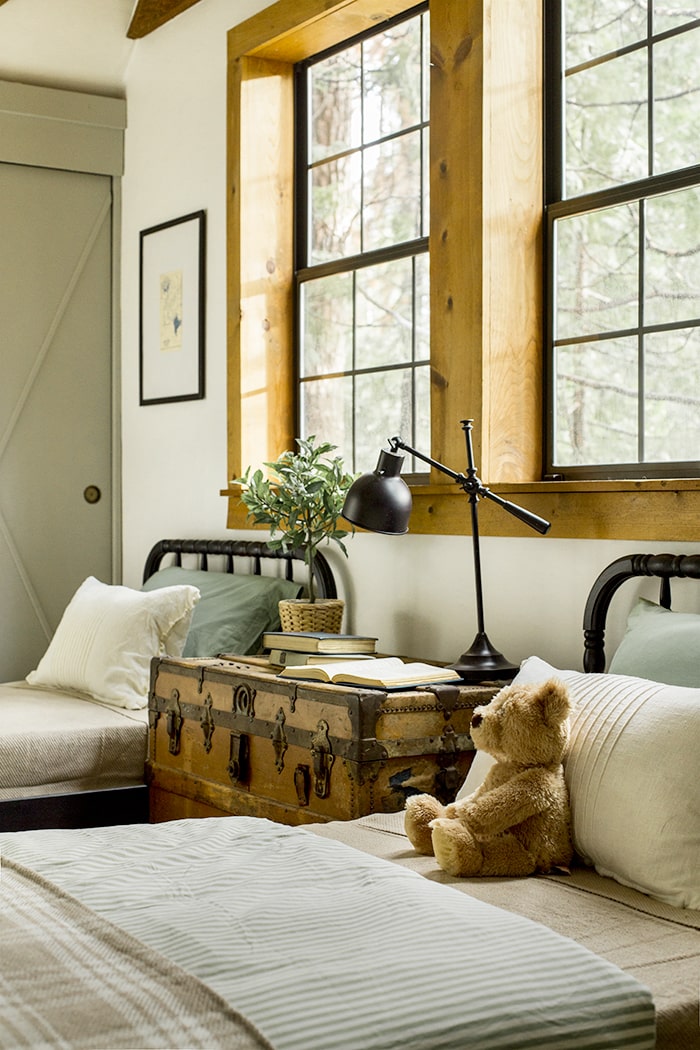 Pin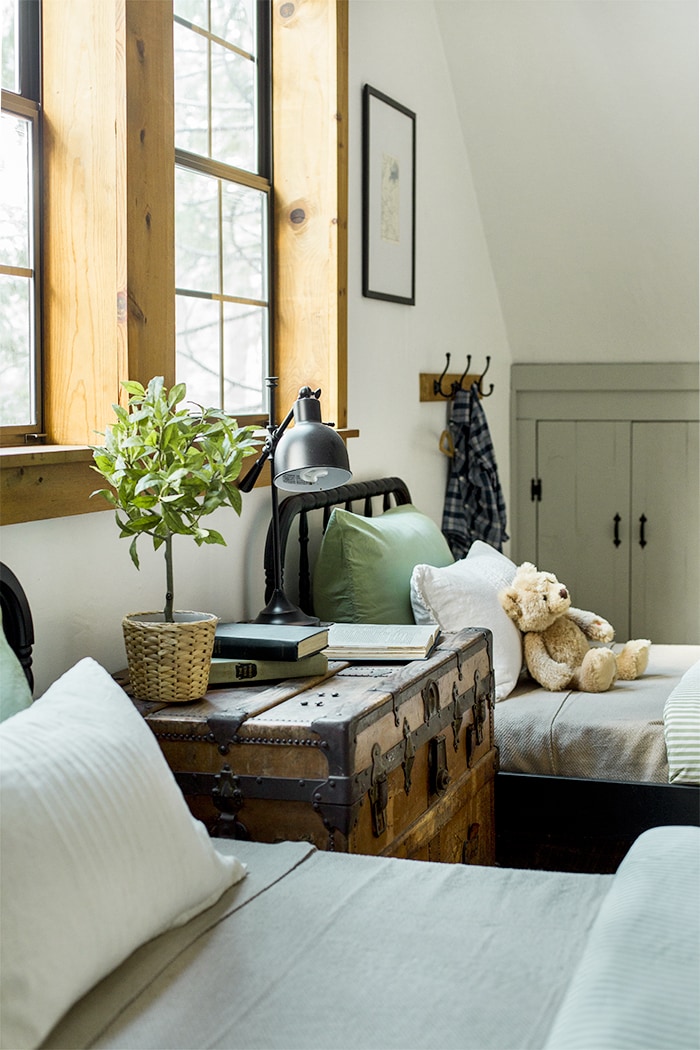 Pin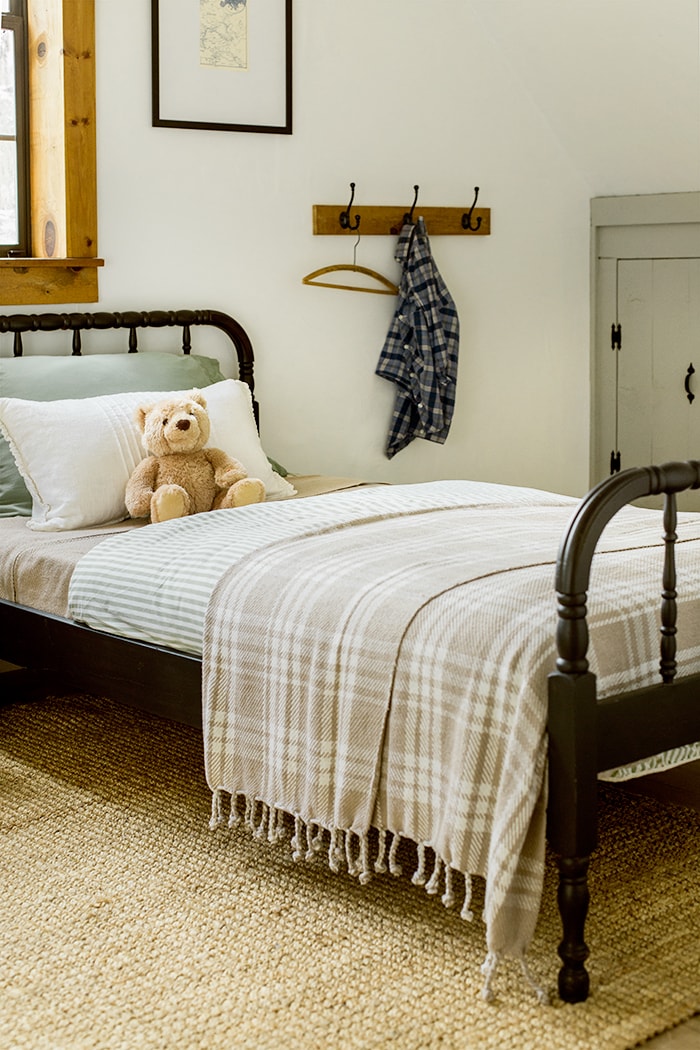 Pin
Time for a switch up! When Country Living was here, they did their own staging so I had to take my own shot of it. What do you think of this setup? I love the paintings they brought!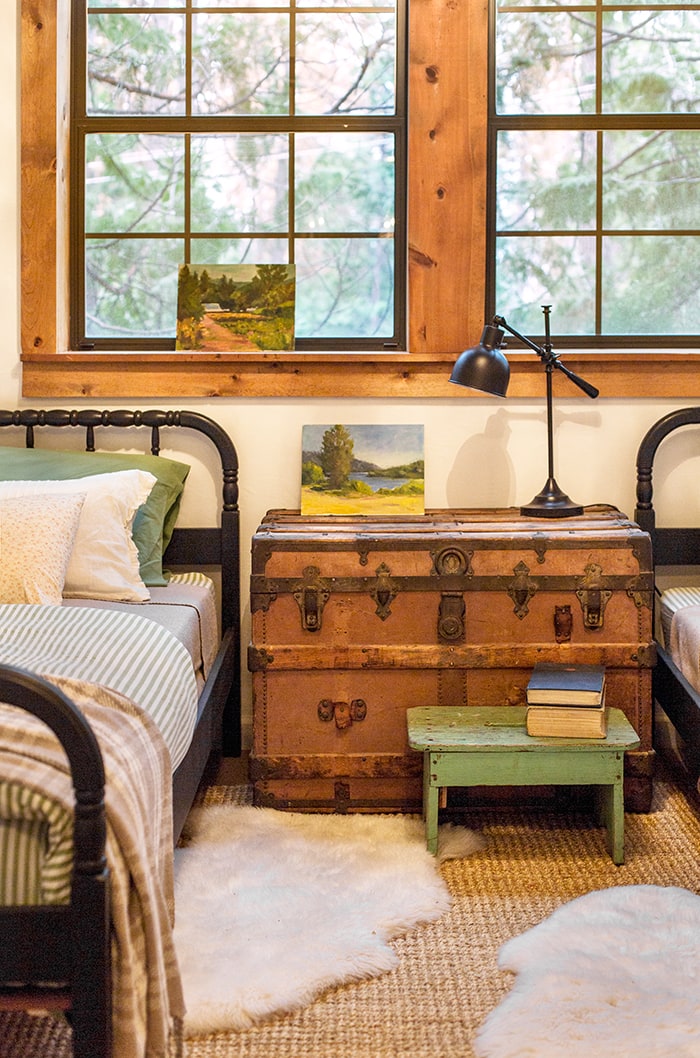 Pin
By the way—the May issue hits newsstands on April 4th, just a few weeks away!
SOURCES
Wall color: Valspar Bistro White
Gray trim/closet color: Valspar Woodlawn Colonial Gray
Black door color: Valspar Cracked Pepper
Flooring: Color discontinued, similar here
Beds: ReStore
Striped sheets/pillows: inherited
Plaid throw blankets: Discontinued, similar here
Trunk: flea market
Lamp
Stool: inherited
Disclosure: Some of the products listed were provided via sponsorship—all of which I selected and fully approve of.
And that, ladies and gentlemen, is the end of a month of non stop reveals. Whew… I don't know about you, but I'm exhausted! Don't worry though, there will be three more posts next week (a bonus photoshoot, a final recap/house tour, and a budget breakdown) followed by a week of Giveaways, so the fun isn't stopping just yet! And if you want to catch up on any of the reveals or watch the entire renovation from start to finish, it's all here on my YouTube channel.
See you on Monday for a special post!