Now that Poolside Palms and The Riverside Retreat are done, it's time to get back to work on our Heights House! I've been anxiously waiting to jump back in to projects here, dreaming and planning in the meantime. Today, I'm excited to share the plans for our upstairs bonus room (and get your help on some design decisions!)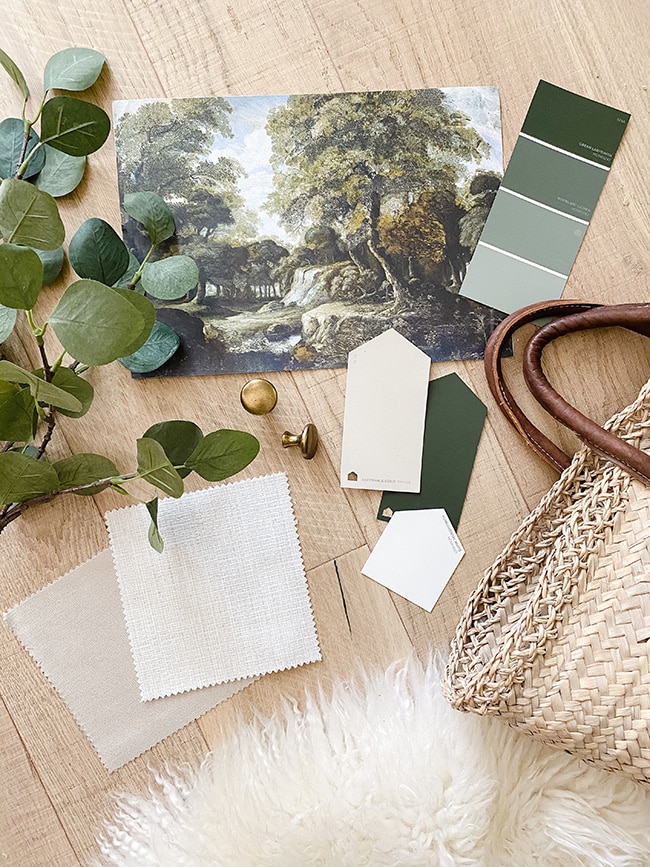 The space is currently being used for storage/overflow, and it was always our intention to turn it into a multi-purpose office/storage/media/play room:
It's a fairly large room at approximately 380 square feet, with some interesting angles due to the shape/slope of our roof. Here's the view when you walk in: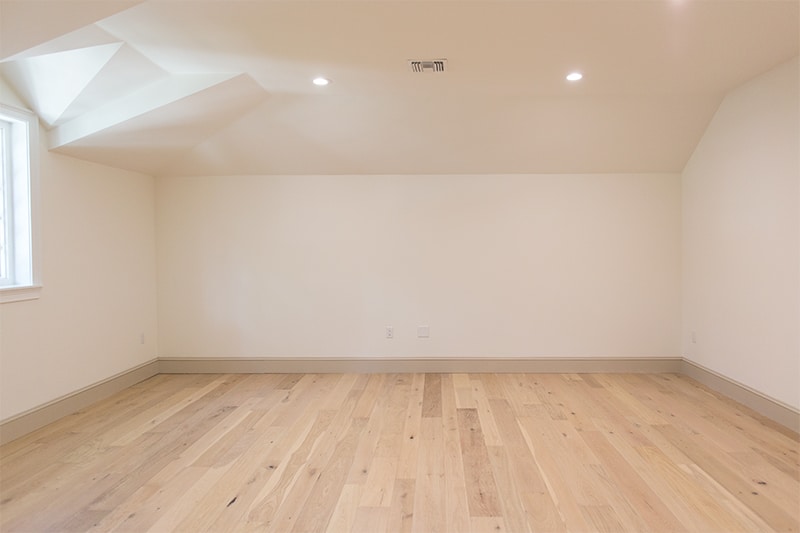 The biggest drawback is the fact that there's only one window—we didn't have the budget to add more when building. But we also figured since this would be our movie spot, a darker room isn't the worst thing in the world.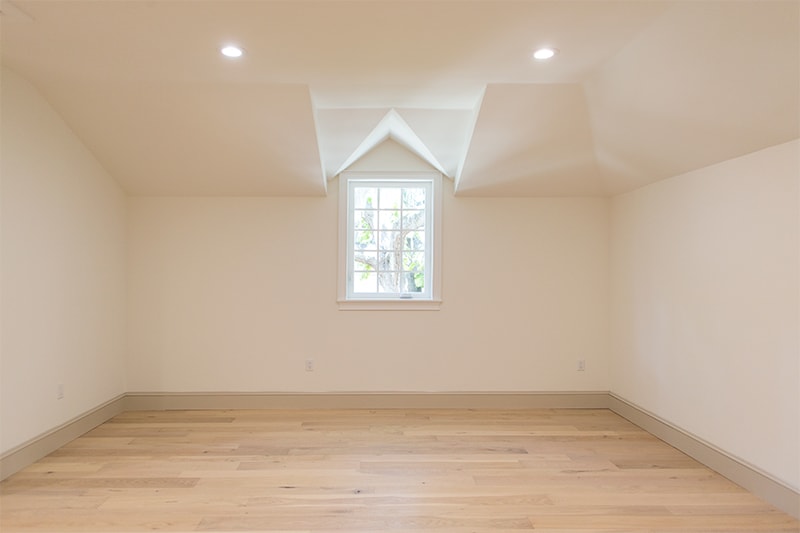 Now that Esmé is mobile, we need a safe place for her to roam freely (she's in the open/empty every drawer stage) and somewhere to contain her toys so our downstairs doesn't look like a tornado came through 24/7.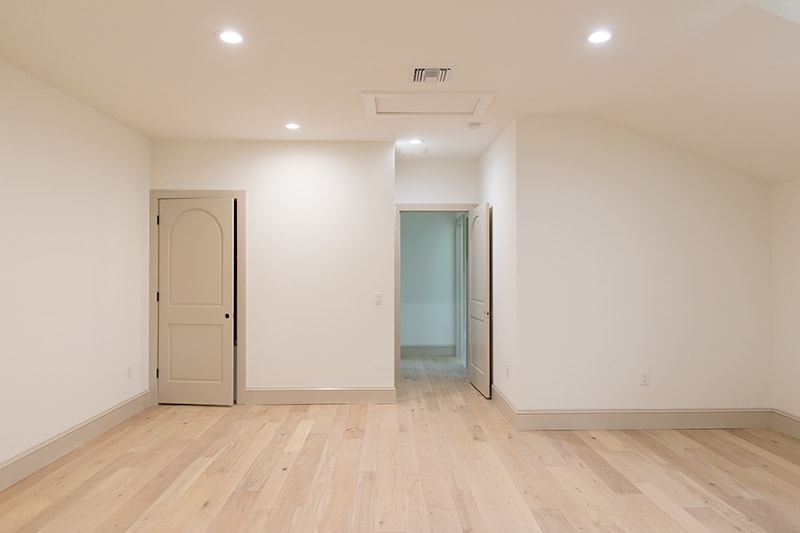 Those photos were taken when we moved in, but here's how it has been looking for the past year (you might remember these from our recent one year house tour update!)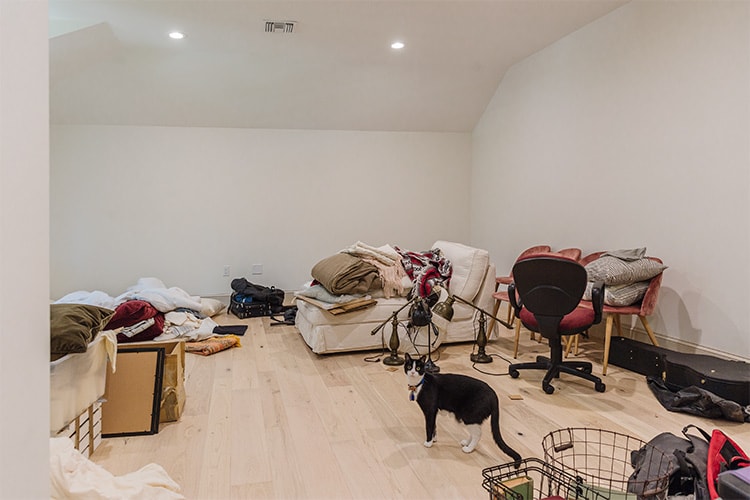 Lucas has been using one of the guest rooms as a makeshift office, but we want to create a designated desk/workspace here, since eventually that room will become Esmé's big girl room.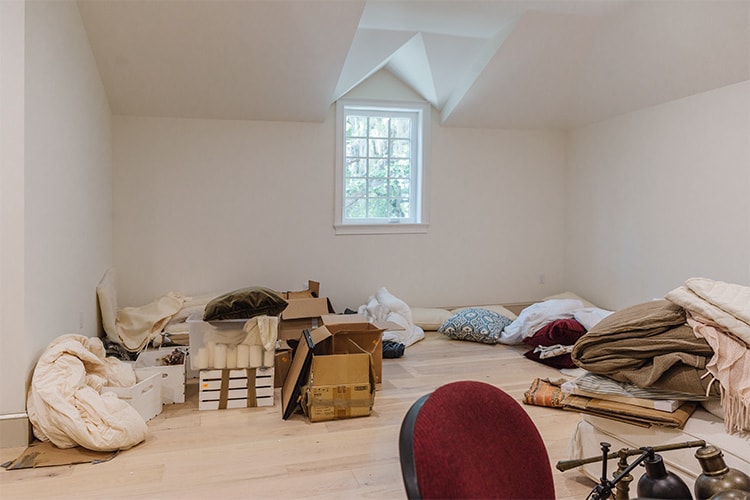 And of course, we need lots of storage for my growing collection of throw pillows and decor. A wall of deep floor to ceiling cabinets should do the trick.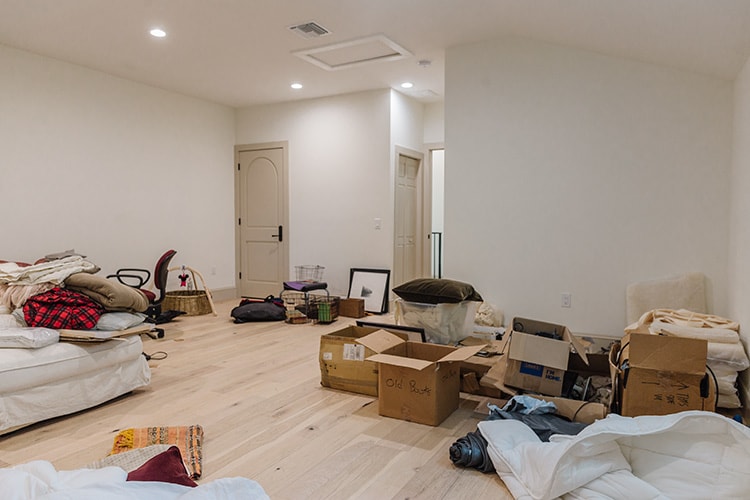 We're not TV people (we don't have cable and only watch football—ahem, Patriots games… and maybe Bucs games too now that we have Brady!) but we figured eventually this would be the perfect spot for family movie nights.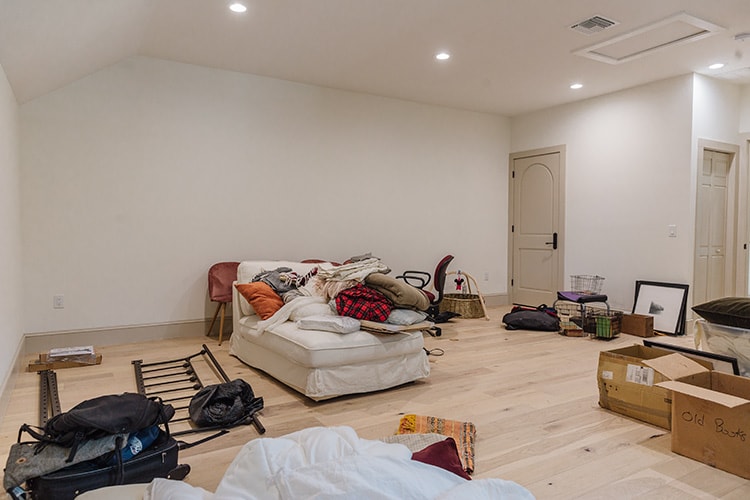 This past weekend we finally finished unboxing and organizing everything up here, and now we're ready to start DIYing! Let's dive into the design plan…

Click for sources: 1 / 2 / 3 / 4 / 5 / 6 / 7 / 8 / 9 / 10
I'm still finalizing product selections so this mood board is more of a general idea of what I'm envisioning—not necessarily these exact sources. There are actually only a few things I'm certain of at this point, and one is the inspiration for the whole room: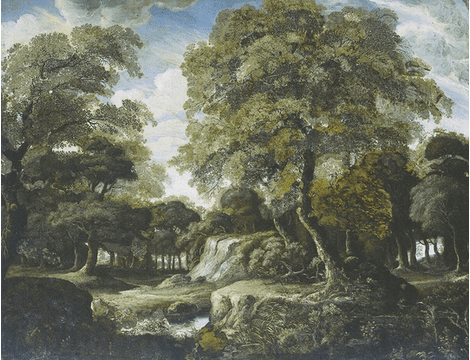 Stunning, right?! I found this mural from Walls Republic and immediately fell in love. I wanted a conversation piece that was whimsical enough for a playroom, yet sophisticated enough for an adult/work space. This mural nails it—it's calming yet playful at the same time. And I've never seen it 'in the wild' before so I can't wait to try something new! This will be the first thing you see when you walk in, covering the entire back wall: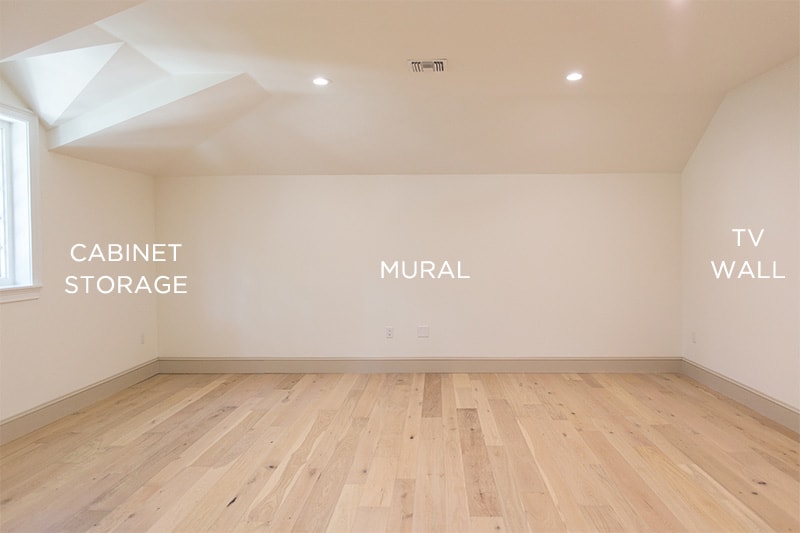 The other main component that has already been decided on is the cabinets. We designed a custom Ikea Sektion (kitchen cabinet) layout which will include floor to ceiling storage, a countertop/desk, and a custom built-in window bench/future kids desk.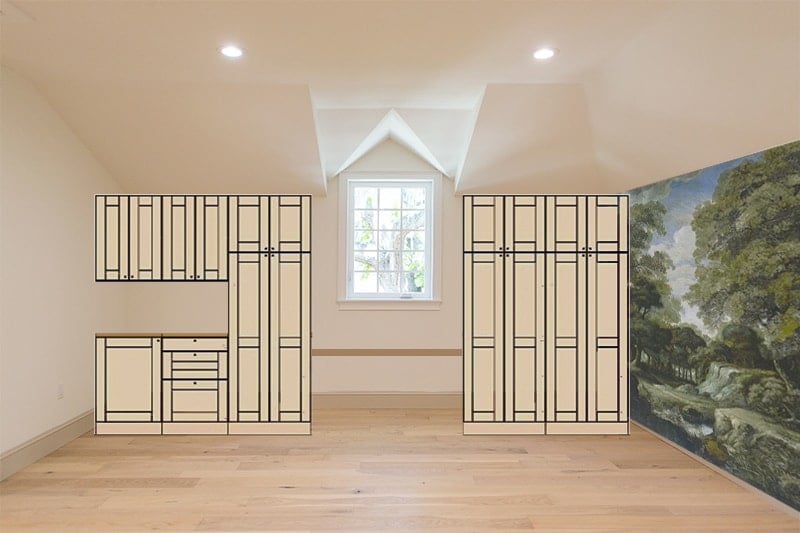 The desk mockup is missing from this photo, but it will extend above the far left cabinet along that wall. Those upper and lower cabinets will be used as office storage, while the tall cabinets will all be decor. Below the window we'll use the same countertop material (butcher block?) to build a window bench seat/future kids desk. Here's the view from the mural wall, looking towards the entrance: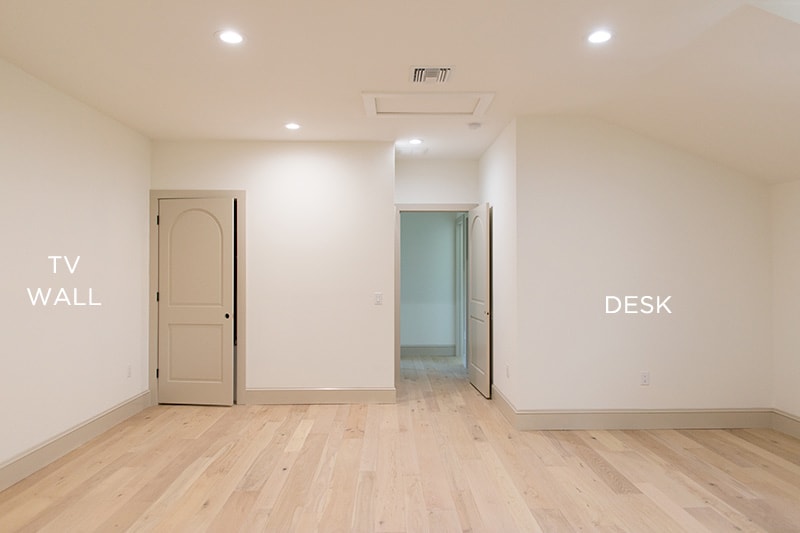 I'm so excited to work with Semihandmade as a sponsor on this project as I've been waiting for the perfect time to try their products, and I've chosen their DIY shaker style doors and drawer fronts. Here's a couple of their customer examples with a similar setup (taller doors below, shorter on top):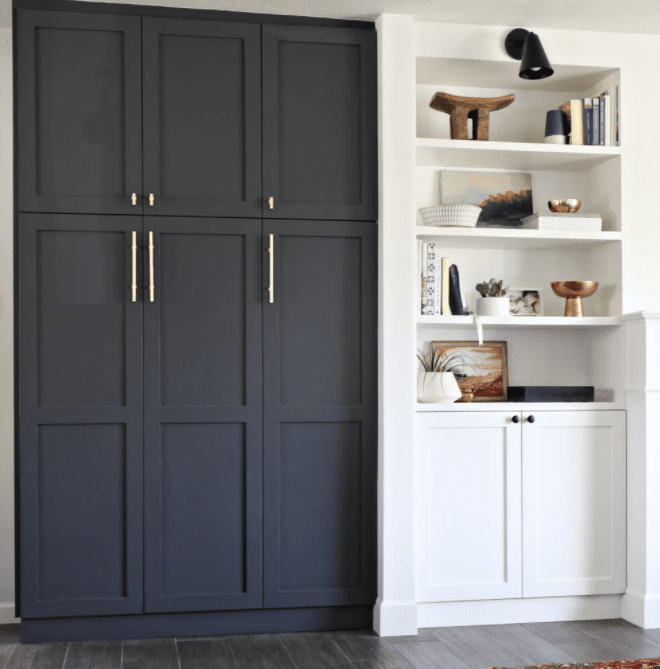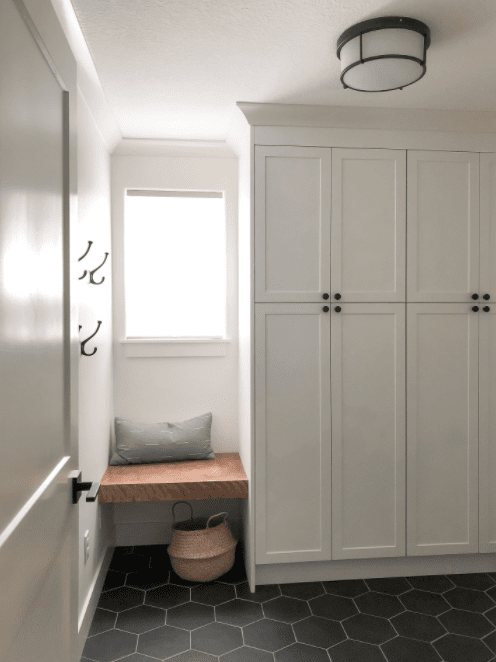 The doors were delivered last week and are still in boxes while we prepare our garage painting station, but I couldn't help take a peek at them!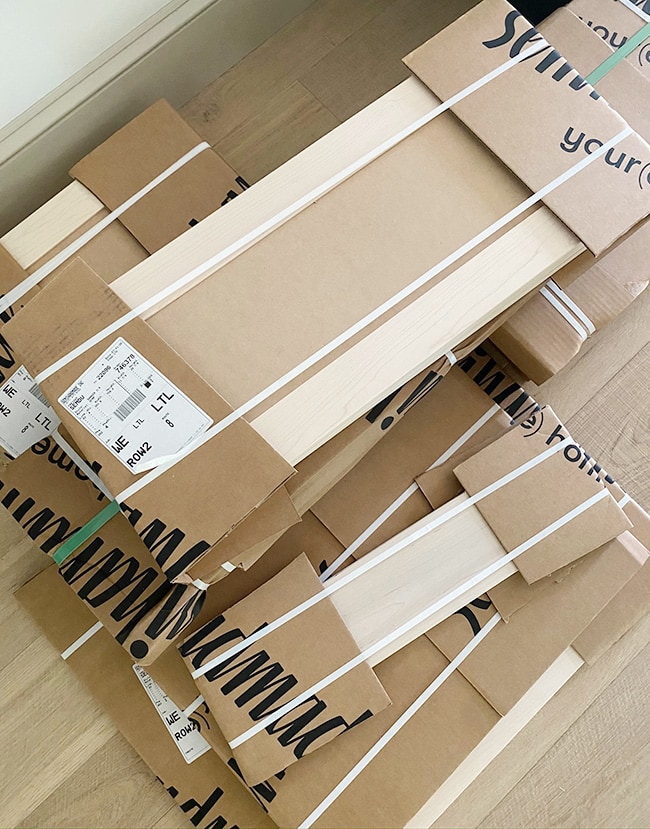 Last week we went to Ikea to buy the cabinet boxes, but unfortunately they're out of stock since they've been shut down and are still trying to catch up. We're staying hopeful that there won't be another shut down, and we can get these boxes ASAP! They'll require quite a bit of custom modifications for this room, and I plan to do a dedicated blog post covering the installation process (and another one for painting the doors!)
Opposite of the cabinets will be the TV wall. Here we'll be installing custom trim paneling—the same style we used in our master bathroom: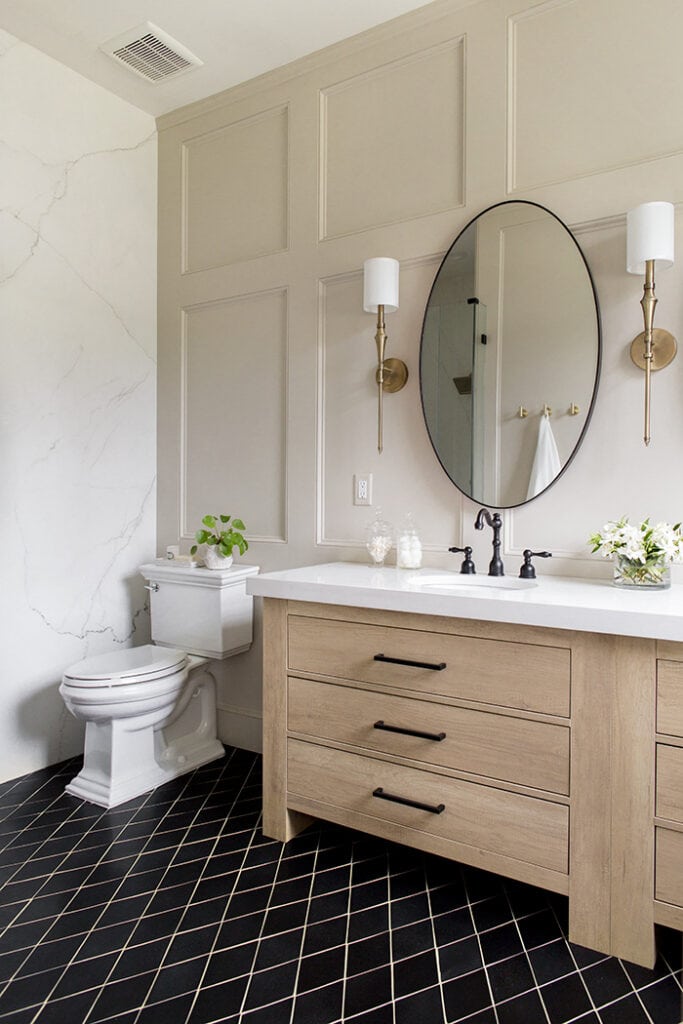 The board size and spacing may be different, but same technique. It's a lot of work on a large wall, but the end result is so elegant.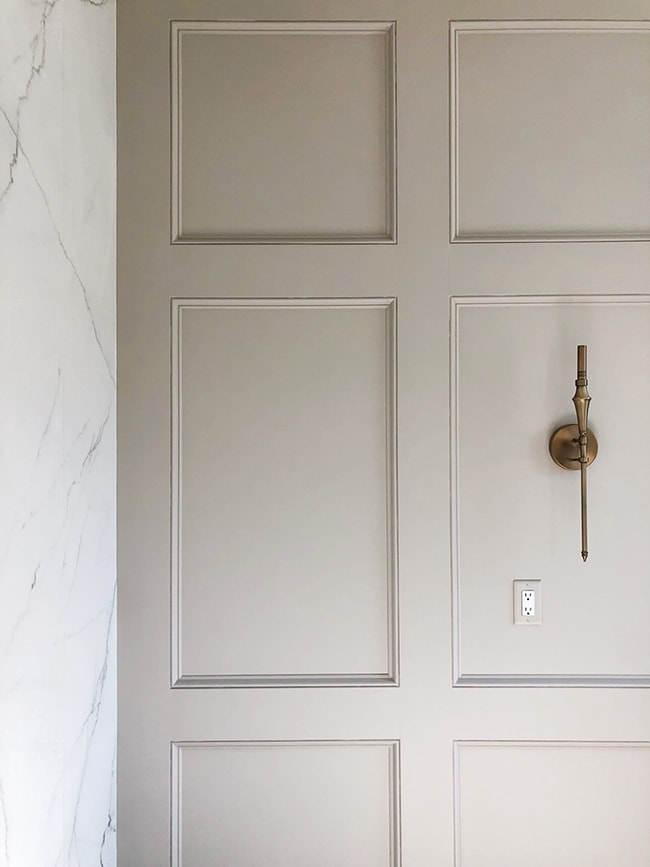 And now the million dollar question—which paint colors to use?! This is where I need your help. I've narrowed it down to a deep green-gray, and either Accessible Beige (the color in the bathroom photos above, and our doors/trim throughout the house) or a light gray-green. One color will be used on the cabinets, the other color will be used on the TV wall. I made these mockups to help us decide!
Option 1: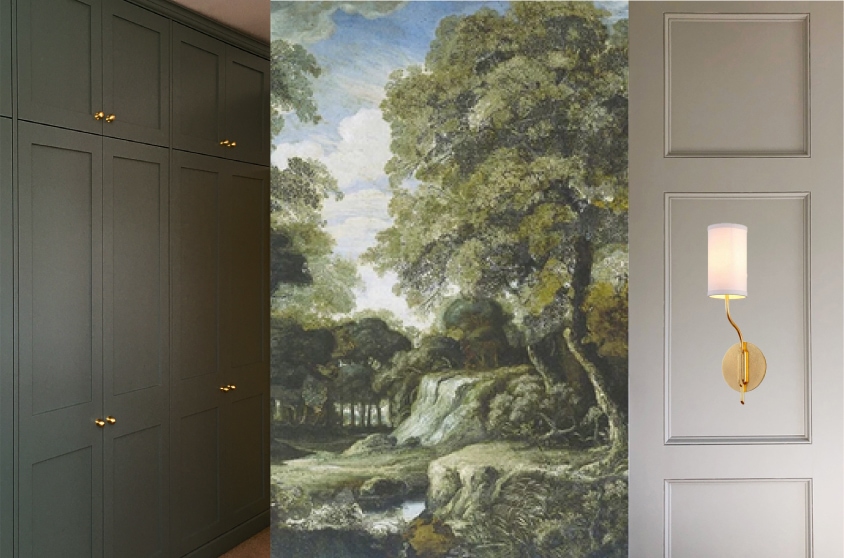 Option 2: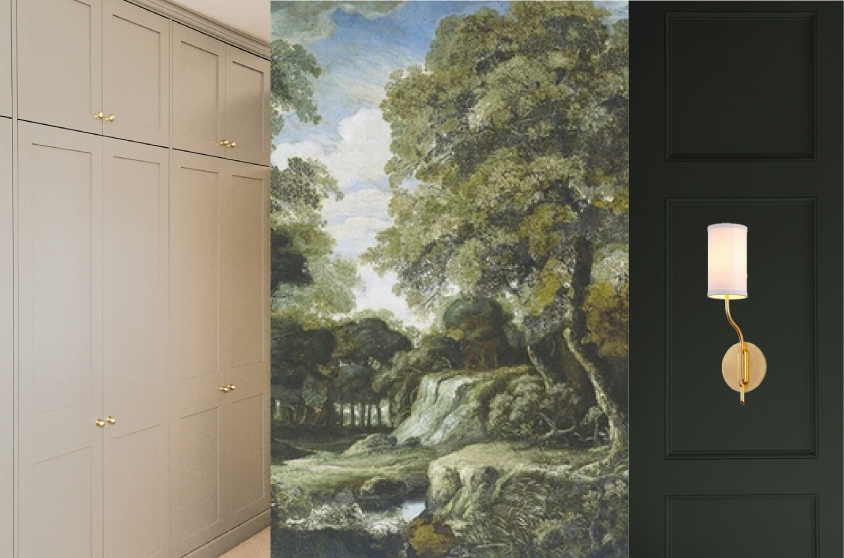 Option 3: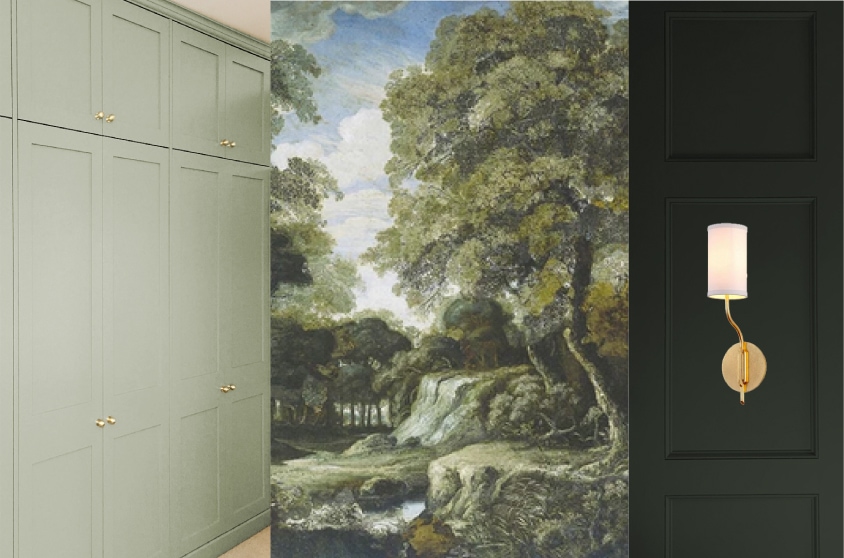 Option 4: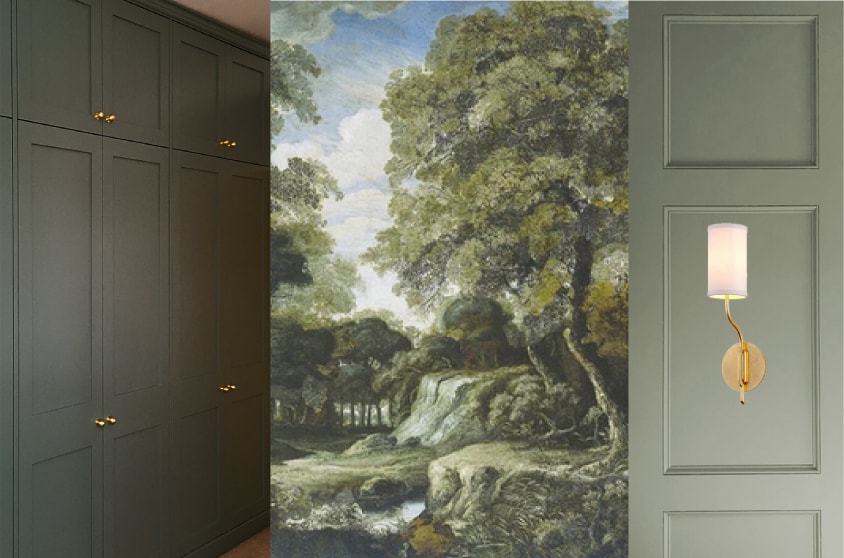 Here are my thoughts: the original idea was dark greenish gray cabinets—I couldn't get this vision out of my head and was set on it. But I also love a dark wall behind a TV—I think it looks more dramatic, and helps the TV blend in when off and stand out when on. I think the room would be too dark and cave-like if both the cabinets and wall were dark (Lucas also isn't a fan) so I have to choose one or the other.
Since the cabinets will be hand painted, durability is a concern and a lighter color will wear better/not show as many imperfections. I'm also thinking about using light green cabinets in our future laundry room. Because of this, I'm leaning towards Option 2. This isn't the exact same color or hardware, but very close… pretty, right?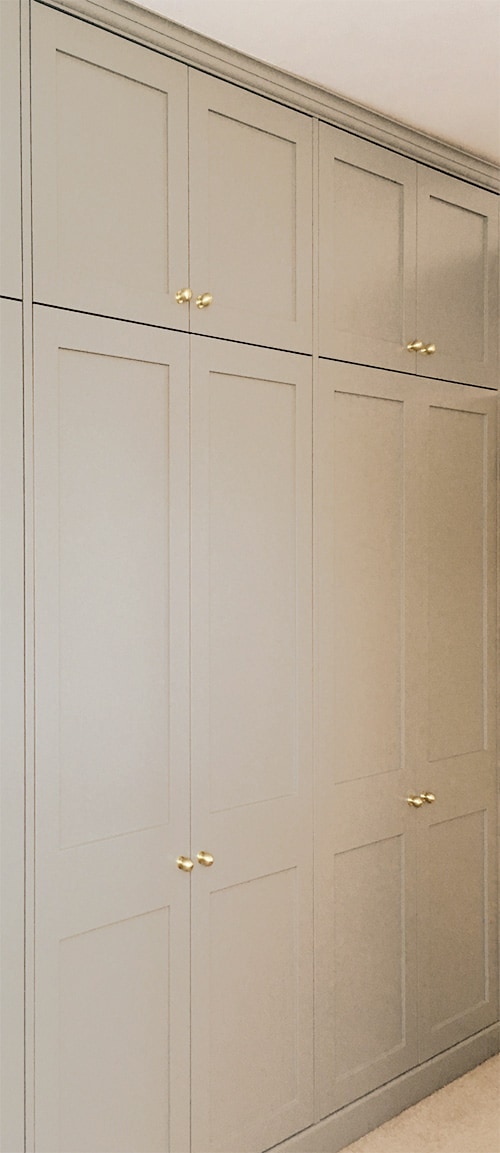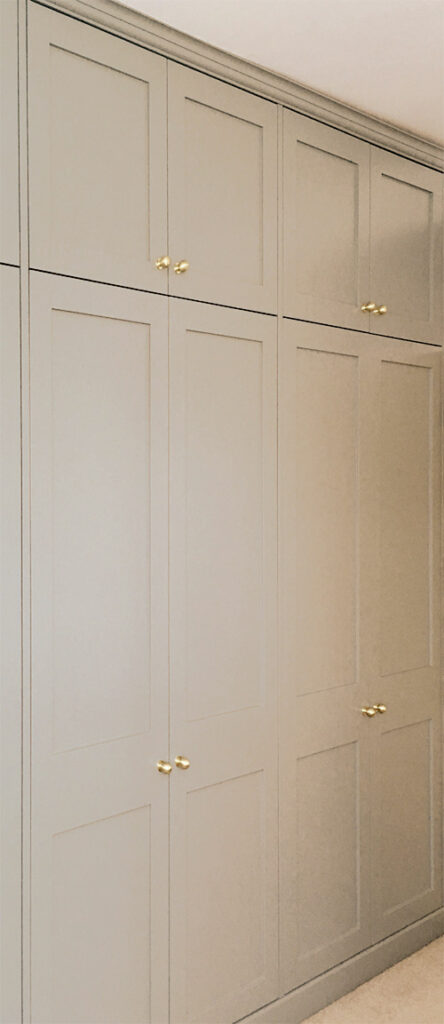 Yesterday I picked up a couple Sherwin Williams paint samples to test out. I already had Accessible Beige and Softened Green on hand (the green was used on our Riverside Retreat laundry room ceiling) and I also found these two deep greens: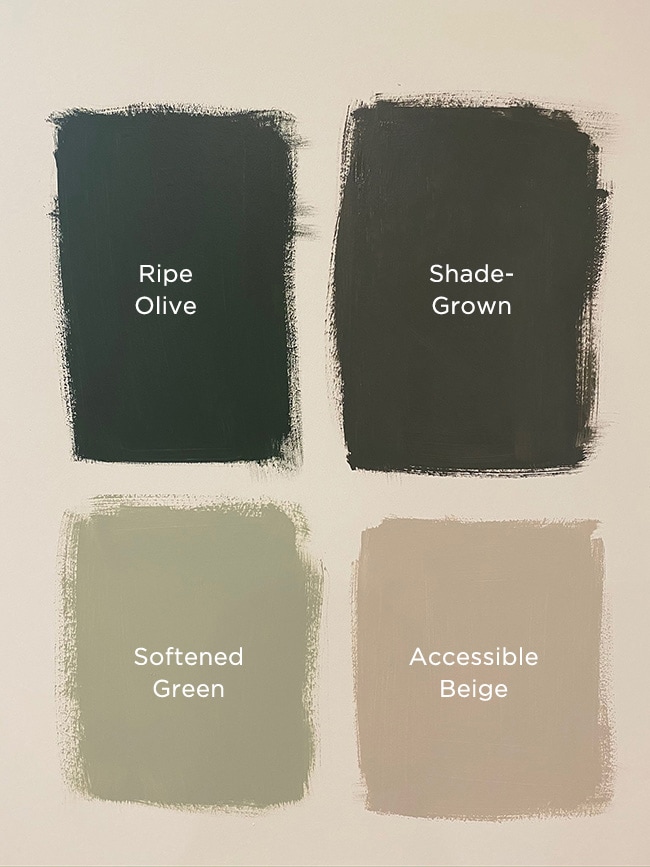 I will say, the colors look quite different in person than in the photo—the top greens are much darker in person. Because the room is so dark and there's no direct light shining on the wall, you can't even really tell they're green (again, this photo is deceiving!) Here's how they look on the TV wall: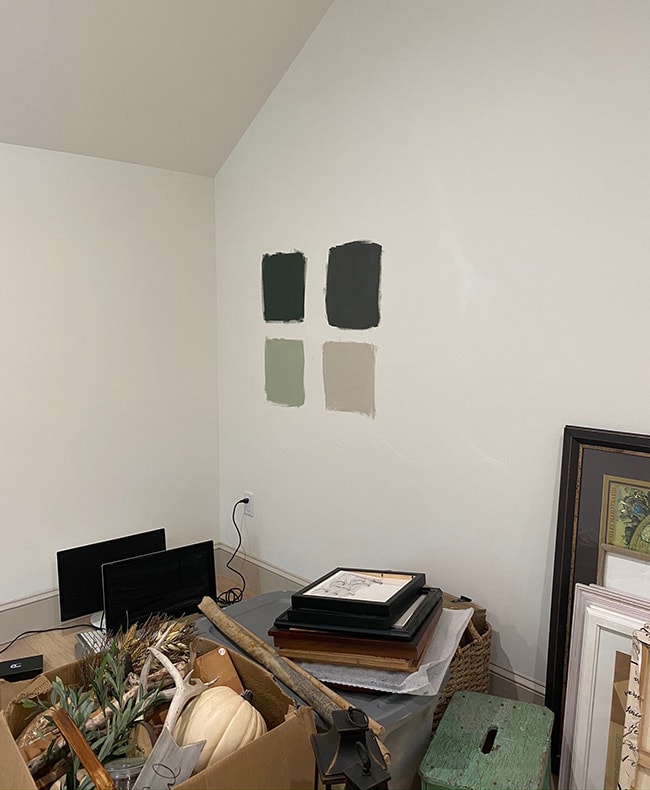 Here's how they look on the cabinet wall, with the lights on and off: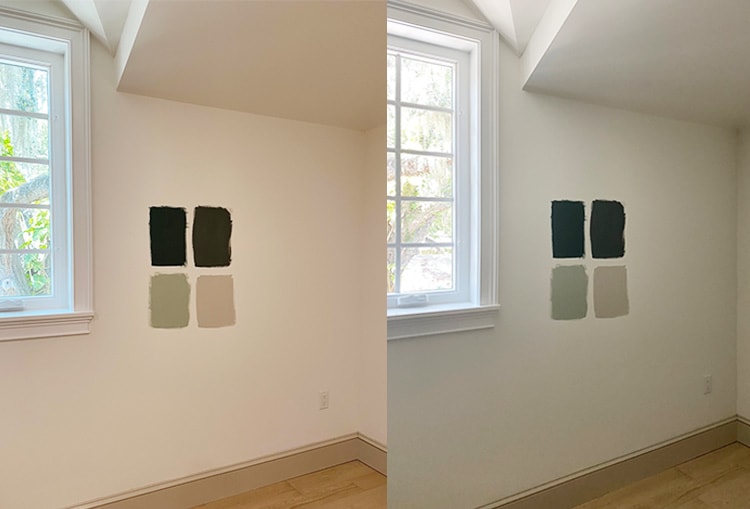 I found an example of Ripe Olive in this bathroom by Vintage Revivals, and it's the exact color I'm going for. It looks much lighter in this room, though: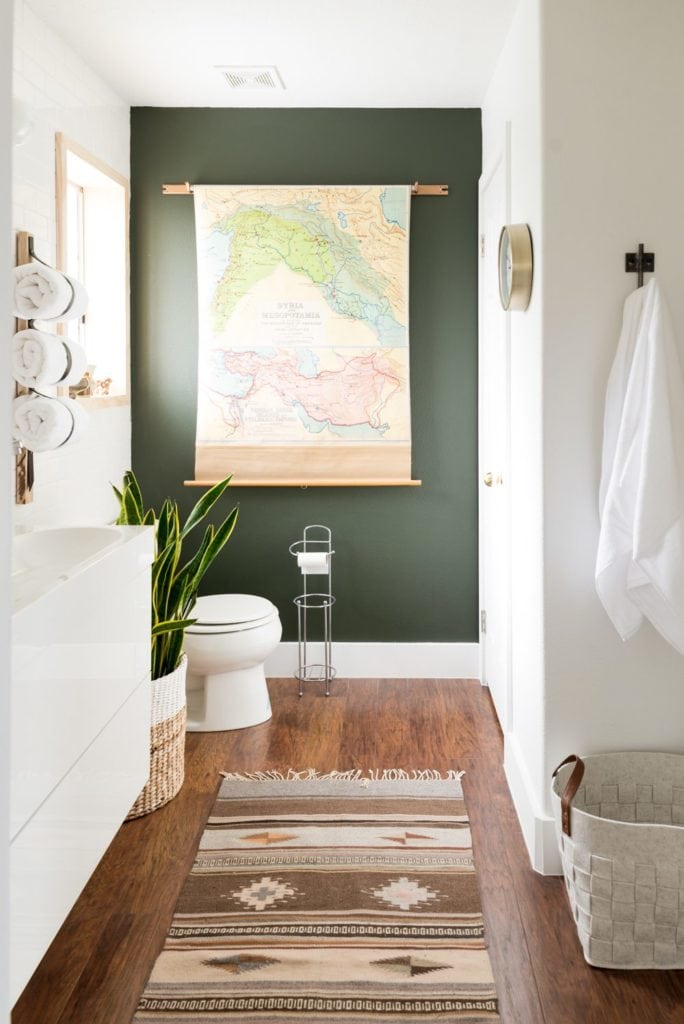 I suspect once it's on the entire wall with molding I'll be able to see the depth and lighter tones, but maybe I should still get a different sample to try out. Shade-Grown looked too olive, more like a dark muddy brown in person. This is yet another example of why you can never trust colors online, and must always test out samples in your room before committing!
Clearly, we still have a lot of decisions to make, but at least they're the smaller/fun decisions. I'm really excited about adding a hanging chair! We may actually end up building a wood/rope swing instead, but I've always wanted a chair like this…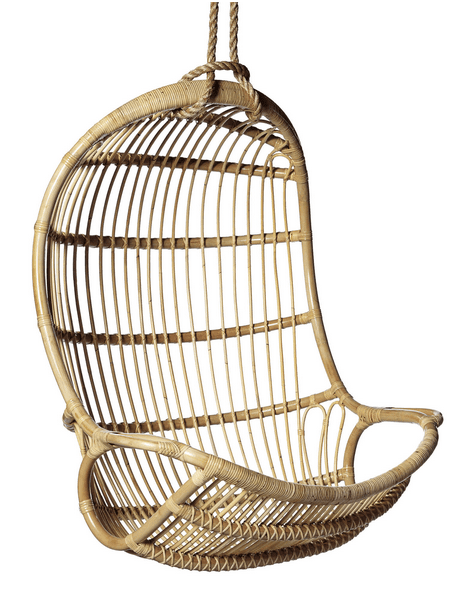 The sofa is still up in the air, but we need something large and comfortable. This Devyn sofa is the right size/color/fabric, but we may decide on a sectional instead…

I love the idea of a soft, cozy textured rug like this faux sheepskin. There isn't enough space for a large rug so something small like this in front of the sofa is perfect, and it won't compete with the mural: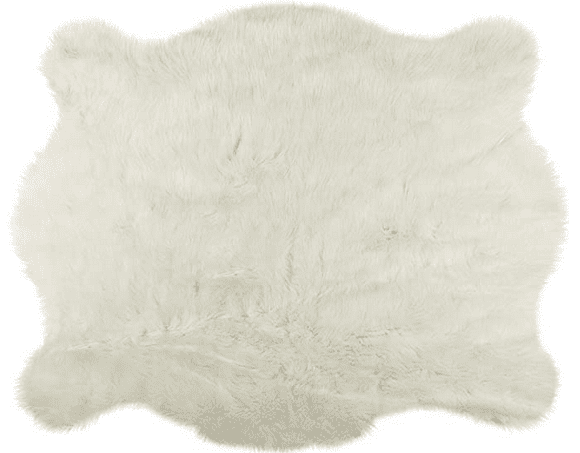 I also found this cool live edge wood coffee table, perfect with our forest themed space (and only $194!)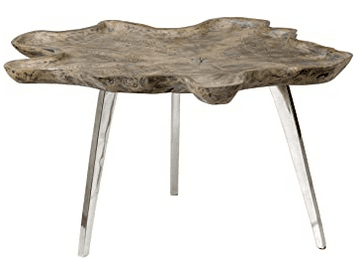 Above the desk, we'll fill the wall with a large cork map with pins of our travels. I haven't spent a ton of time looking yet, and we may end up DIYing our own, but I'm picturing something like this:
I'd love to mount a large picture light above it, but that would require running a new electric box so not sure if that's worth the cost/time. But something like this would be lovely:
And speaking of sconces, we're definitely going to run electric for sconces on either side of the TV. I have an idea of the style I want, but can't decide on which one! What do you think?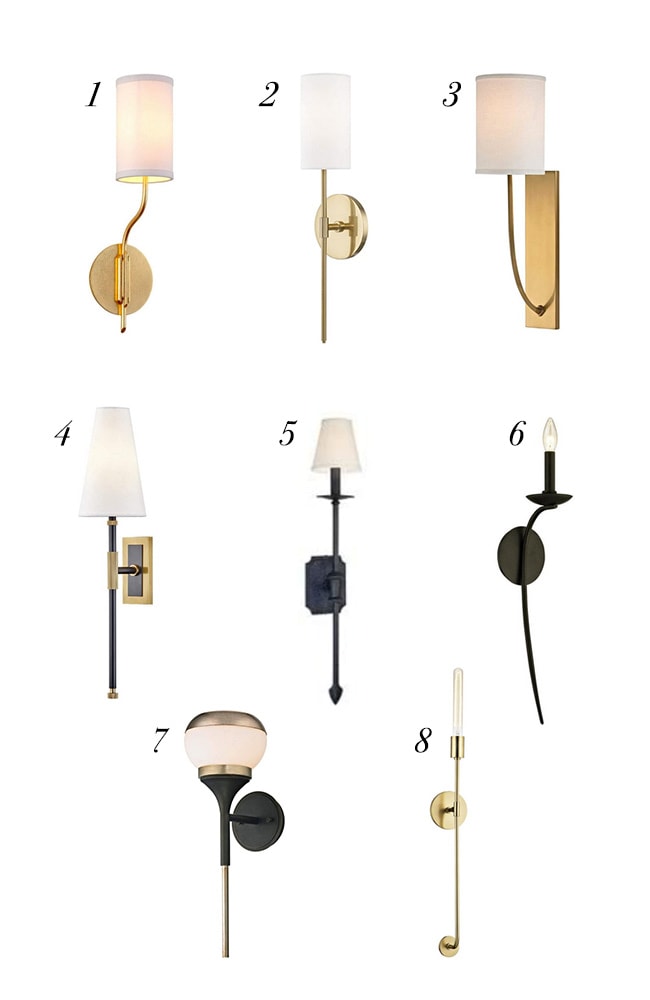 Click for sources: 1 / 2 / 3 / 4 / 5 / 6 / 7 / 8
I'm 100% set on brass so if I choose option 5 or 6, I'll use my Rub n Buff technique to color them. Option 5 is the single light version of our two-light sconce in our dining room, and the medieval style is probably favorite of the bunch. And option 6 is the wall sconce version of our living room chandelier. Each one has something unique, I can't decide! Let me know your favorite in the comments.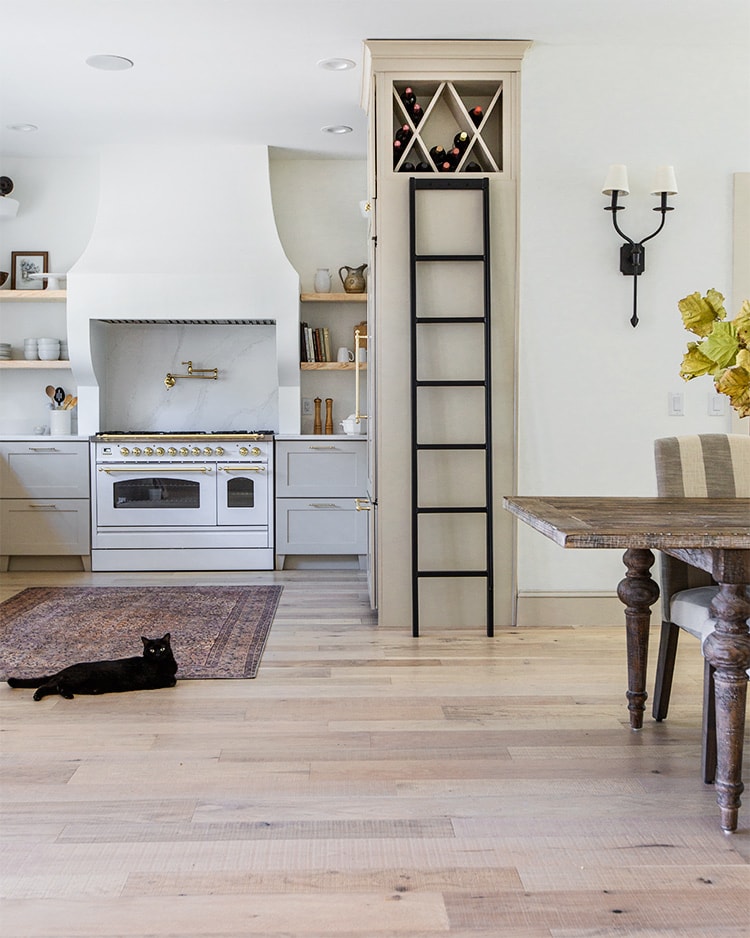 Alright folks, I think that covers everything! This is just the beginning of our room renovation journey, and you can expect updates over the next couple months or so as we make progress. I'll be sharing more frequently over on Instagram if you're not following along already! Let me know which part you're most excited to see, and if you have any color/design input. Another room renovation begins… let's gooooooo!