Want to learn how to elevate the look of your kitchen cabinets with decorative toe kicks? It's easier than you might think, and requires just a few basic tools and materials!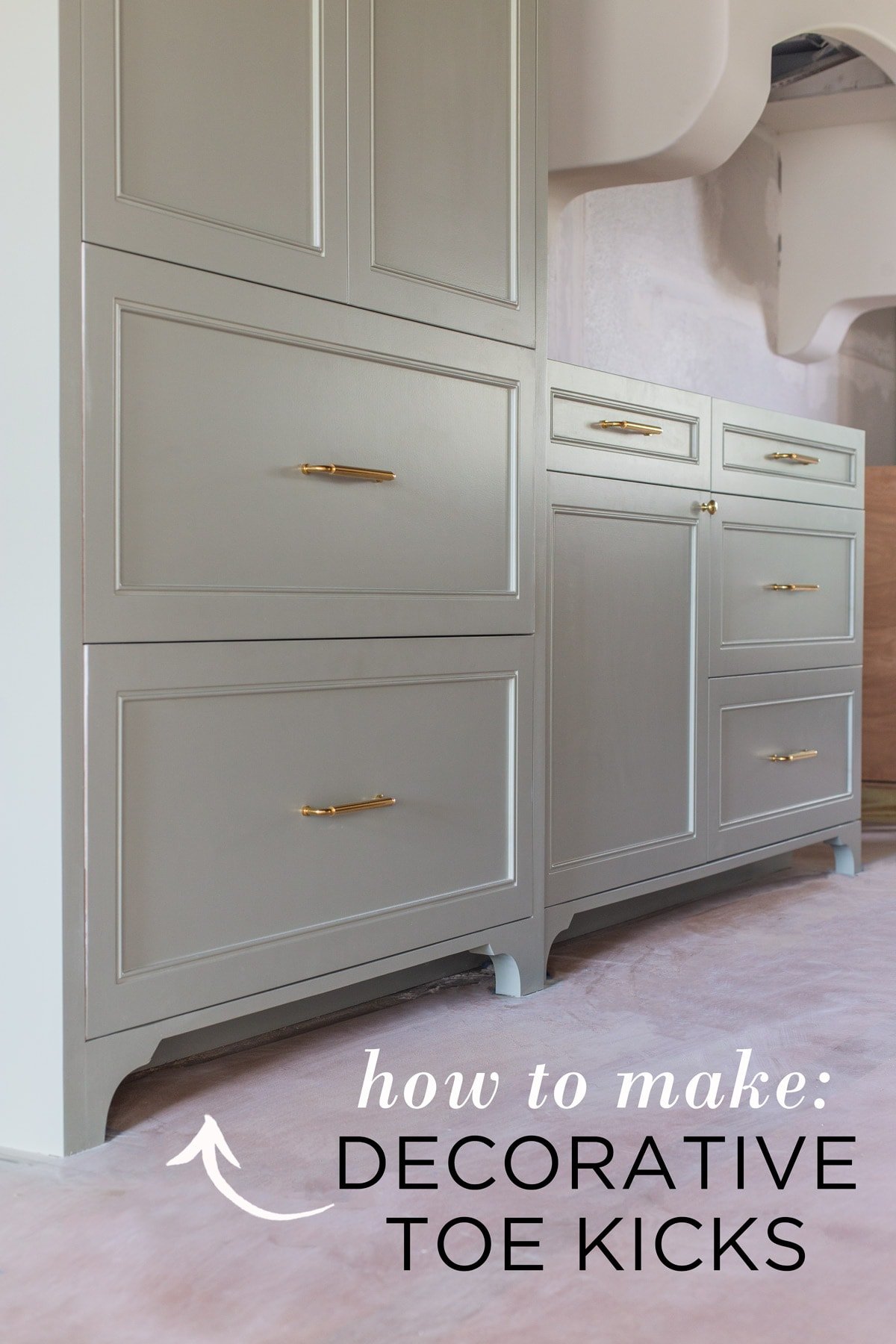 Out of all the features we've added to the Hacienda Hideaway kitchen, the decorative toe kick valance might just be my favorite. Typically you'll find these on inset cabinetry—where a face frame surrounds the doors and everything is flush, like so:
However, with full overlay cabinets (more common, especially here in the US), the doors sit in front of the cabinet box which makes it tricky to get that same flush, clean look: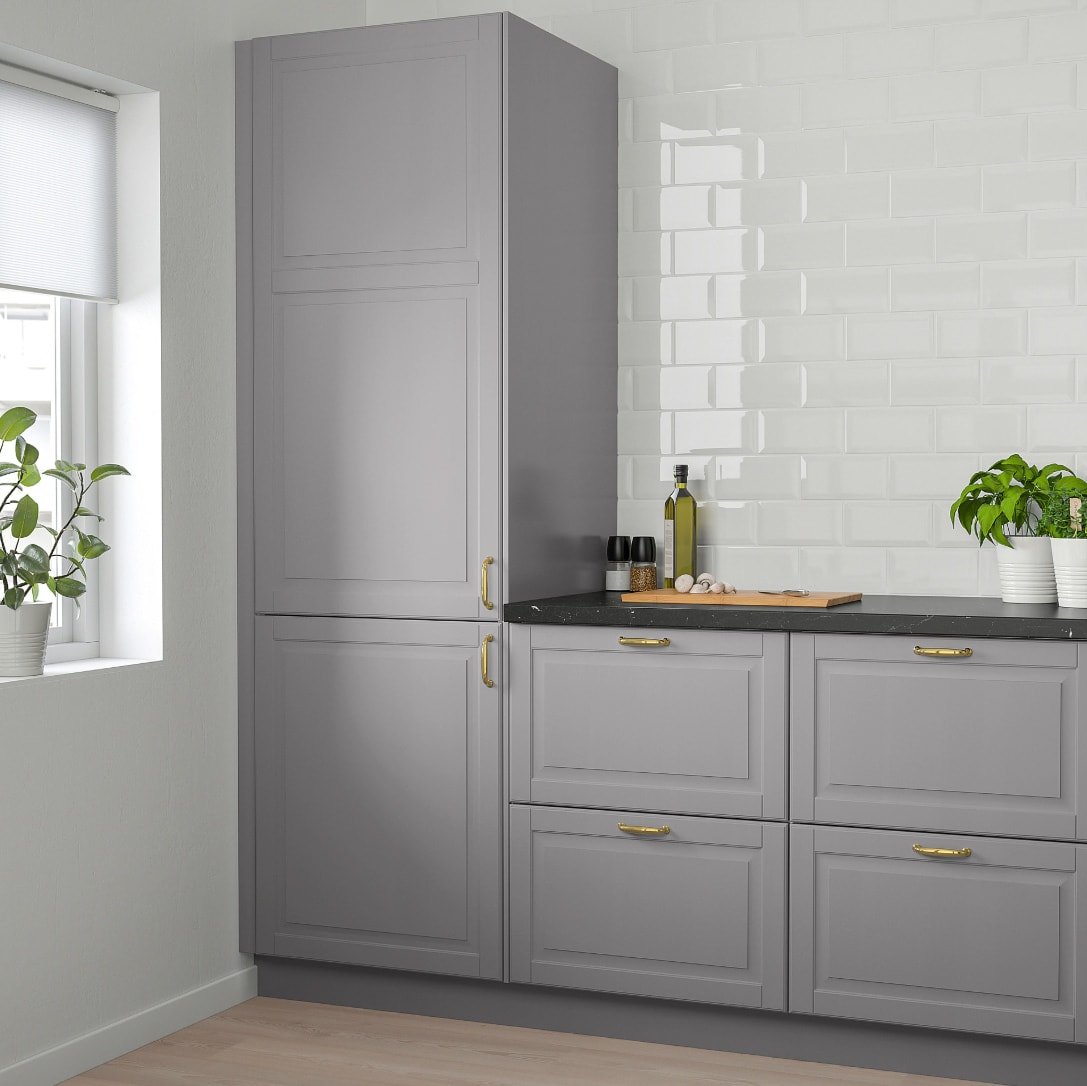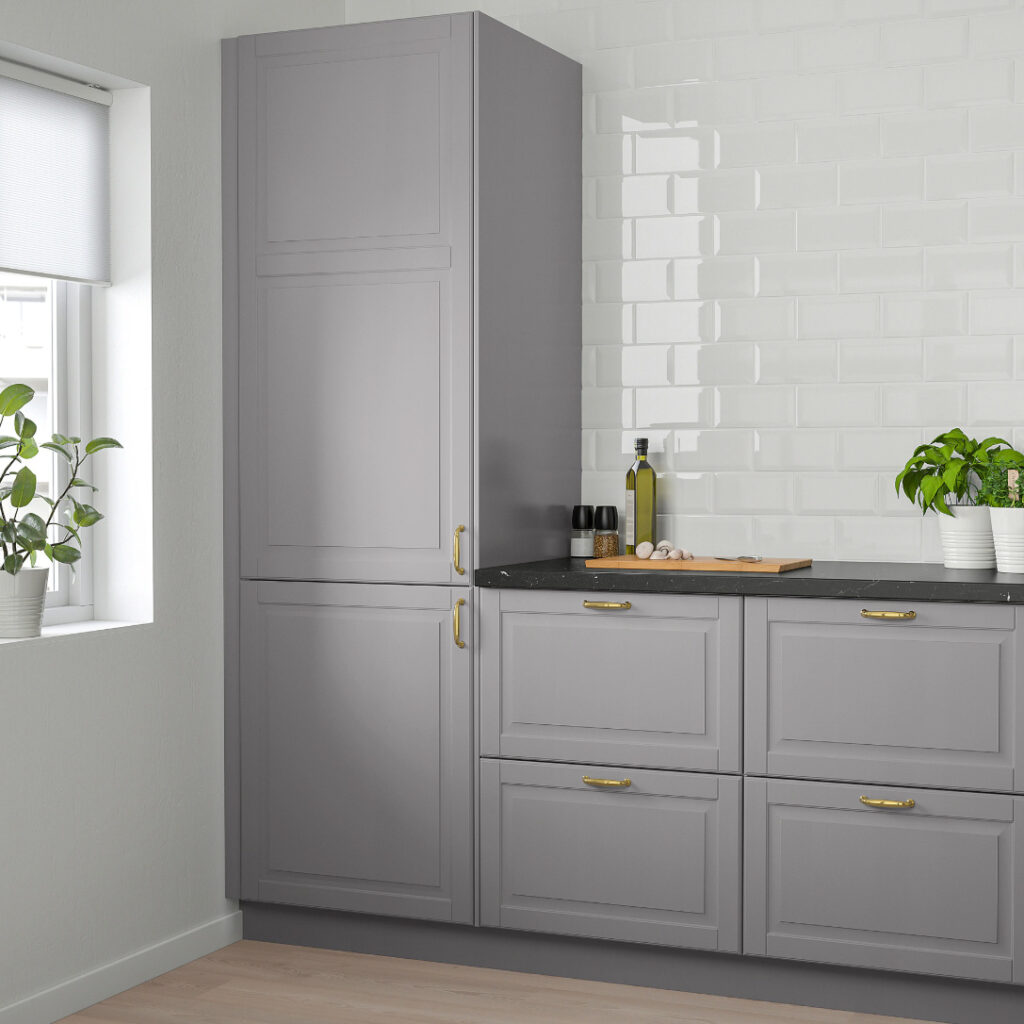 We realized this after we special ordered furniture feet (from Kraftmaid) in our own kitchen, and they didn't turn out quite as expected. They're just wedged underneath the cabinet box now—not ideal, but better than nothing.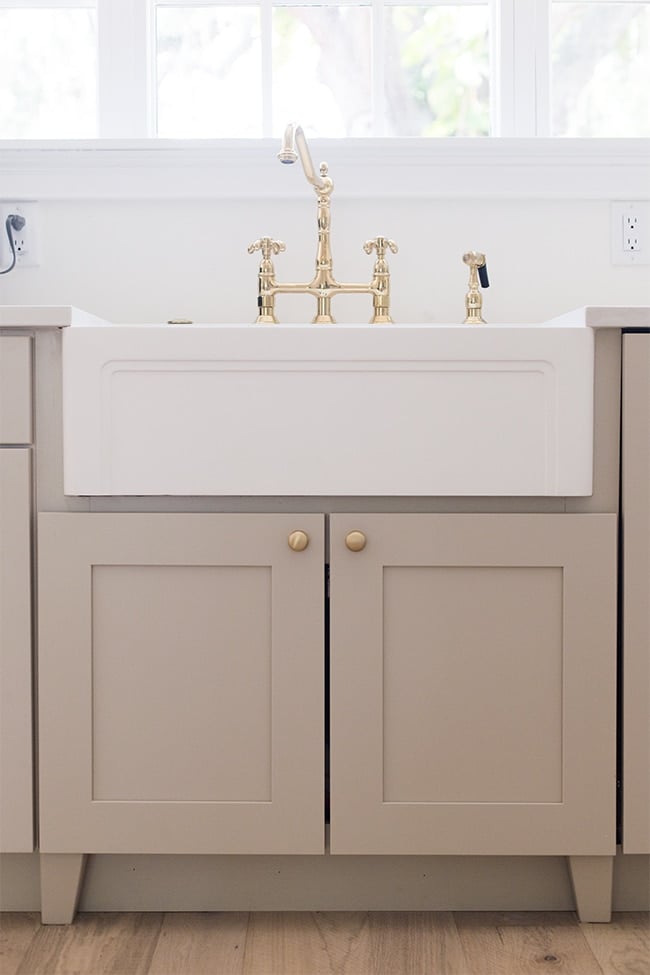 In our Hacienda Hideaway kitchen, I was determined to figure out a better way. We had originally planned to build inset cabinetry, but you guys talked us out of it after pointing out all of the challenges (precision required, shifts from temperature changes, rental wear & tear, etc).
How to add toe kicks to cabinets
Instead, we came up with a way to replicate the clean look of inset cabinets with the practicality and ease of overlay doors—the best of both worlds!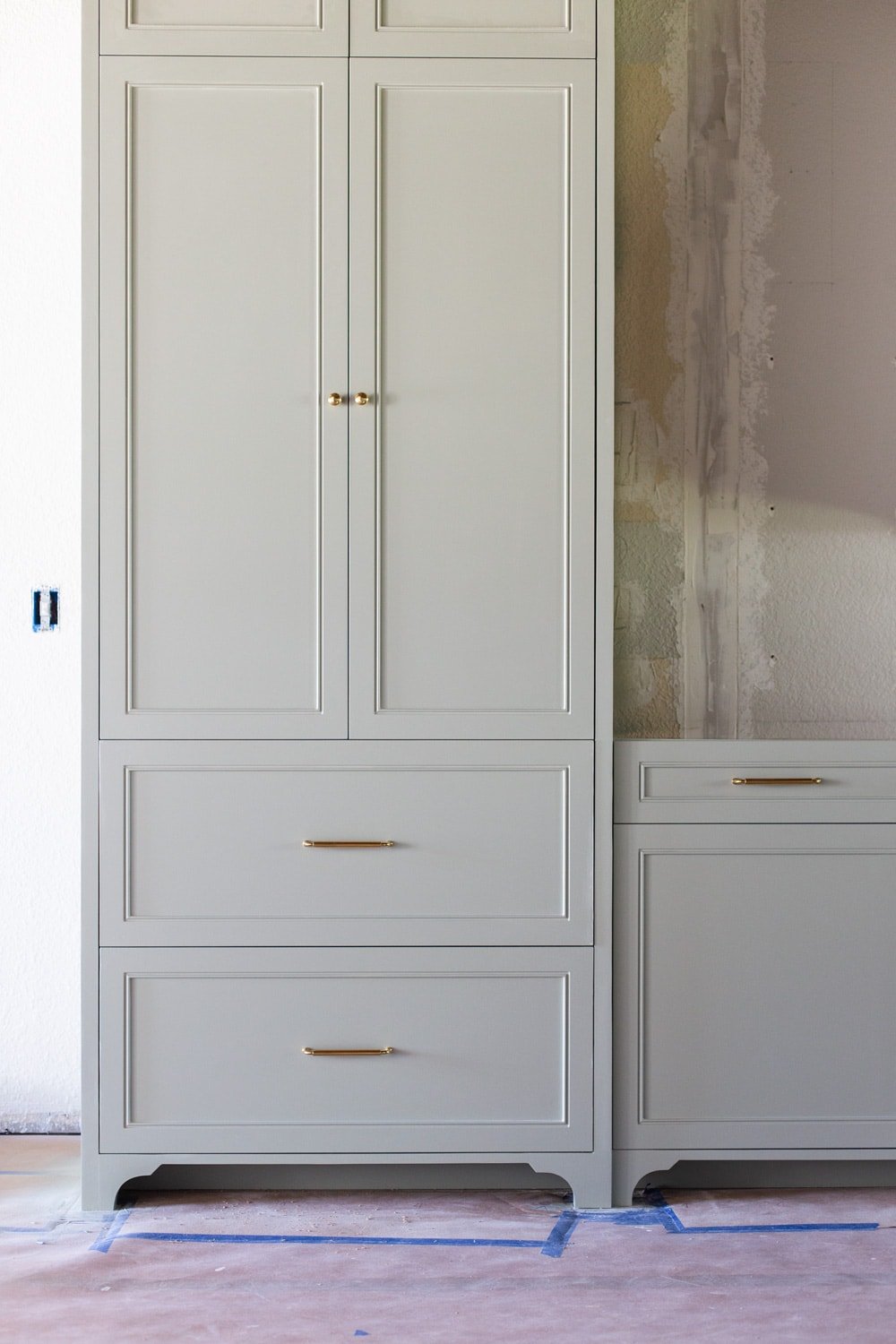 Here's how you can add decorative furniture feet to your own kitchen cabinets:
Supplies
Tools
Step 1: Draw your shape onto wood
Look around on Pinterest for inspiration and decide on a shape for your cabinet feet. Once you narrow it down, draw it onto a piece of smooth wood. We used 1×6″ poplar wood, and found a round object to trace for a perfect curve.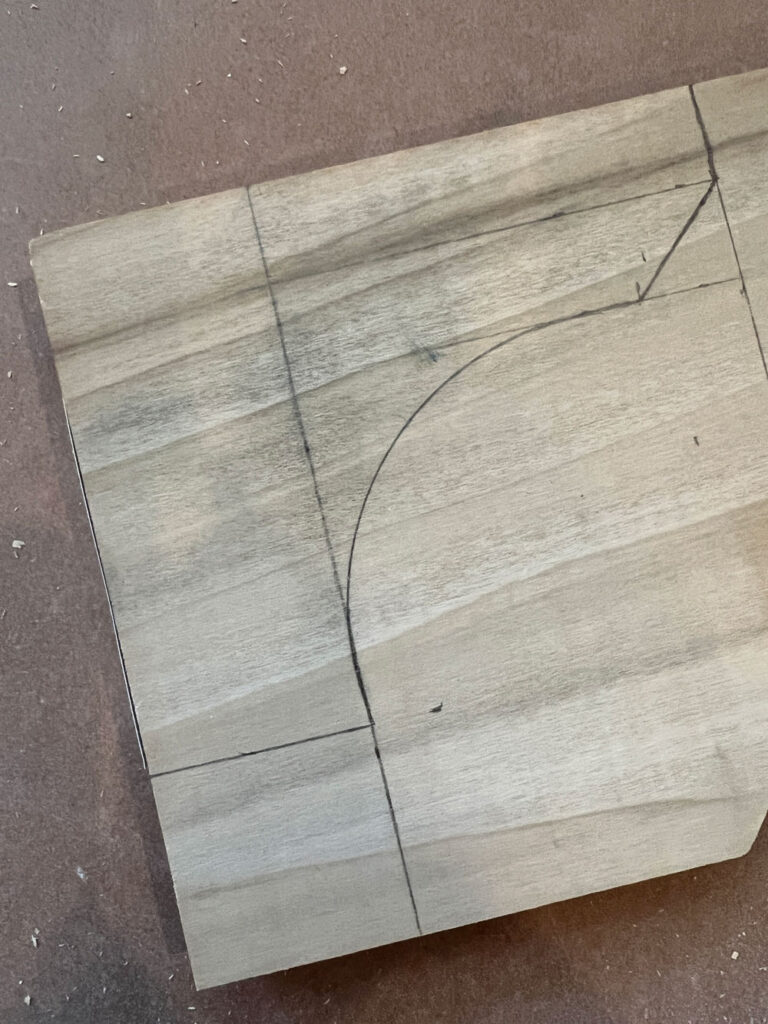 The height will need to be an exact match to your toe kick gap, so measure carefully!
Step 2: Cut out your shape
Clamp your board to your work table and use a jigsaw cut along the curved line. A fresh wood blade is recommended. Note: a band saw or scroll saw would allow you to cut two pieces at once, but we didn't have one, so we made it work with a jigsaw.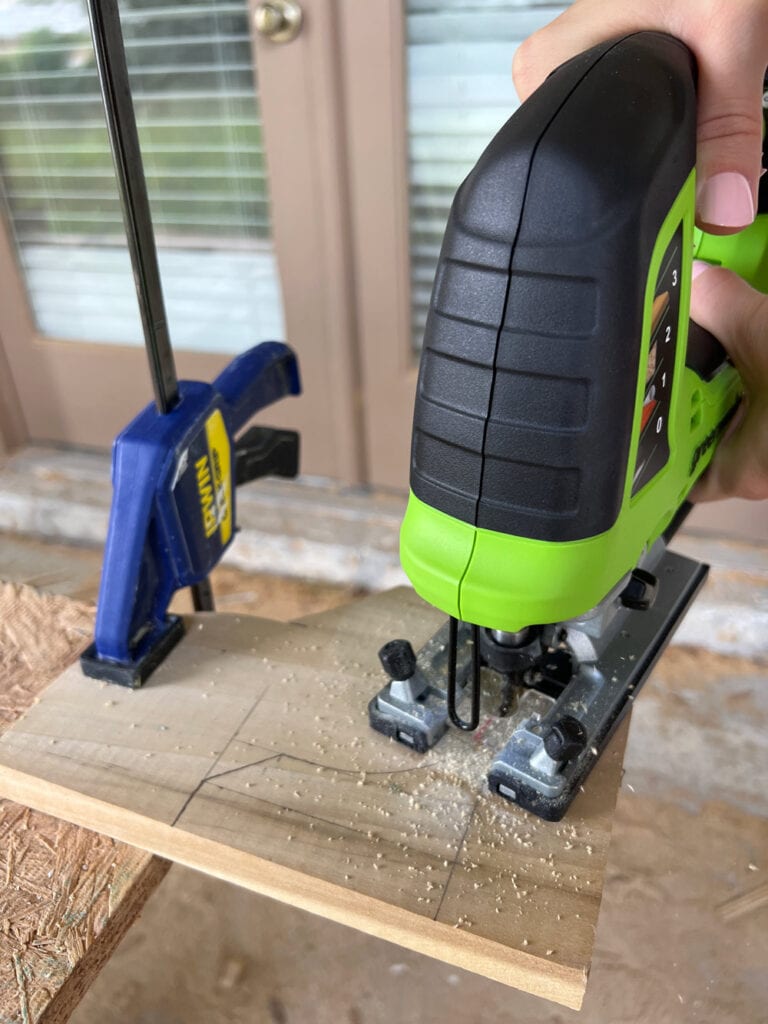 For best results, use a miter saw or circular saw to cut the straight edge. If you plan to add a valance piece across the center, make sure to account for this in your design and leave a straight edge to connect to.
Step 3: Trace shape onto second piece and cut
Now that you have your template piece, line it up to the end of another board, trace it and repeat the cutting process. The feet need to be double thickness in order to attach to the bottom of the cabinet, and also line up flush with the doors. It also just looks nicer and more substantial this way.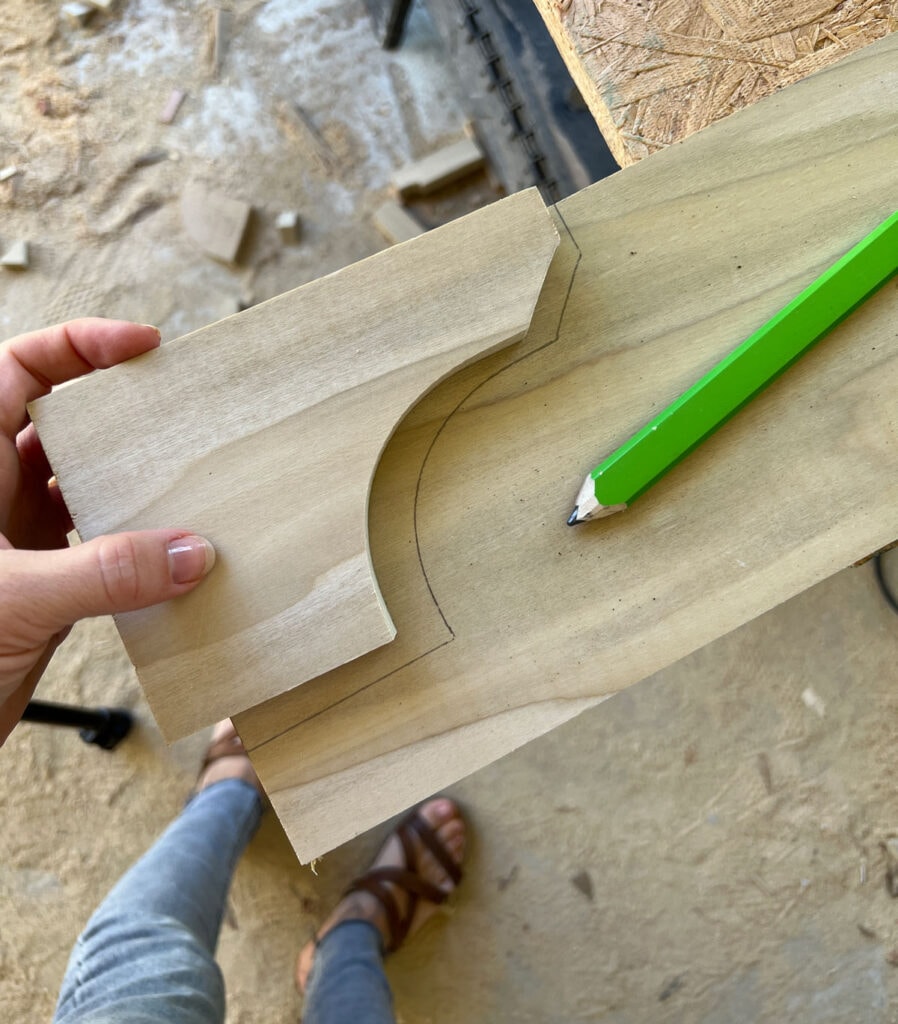 Step 4: Clamp and glue pieces together
Once both pieces are cut, line them up carefully along the straight edges, apply a generous amount of wood glue, and clamp them together. They probably won't match up 100% perfectly, but that's okay—sanding will fix everything!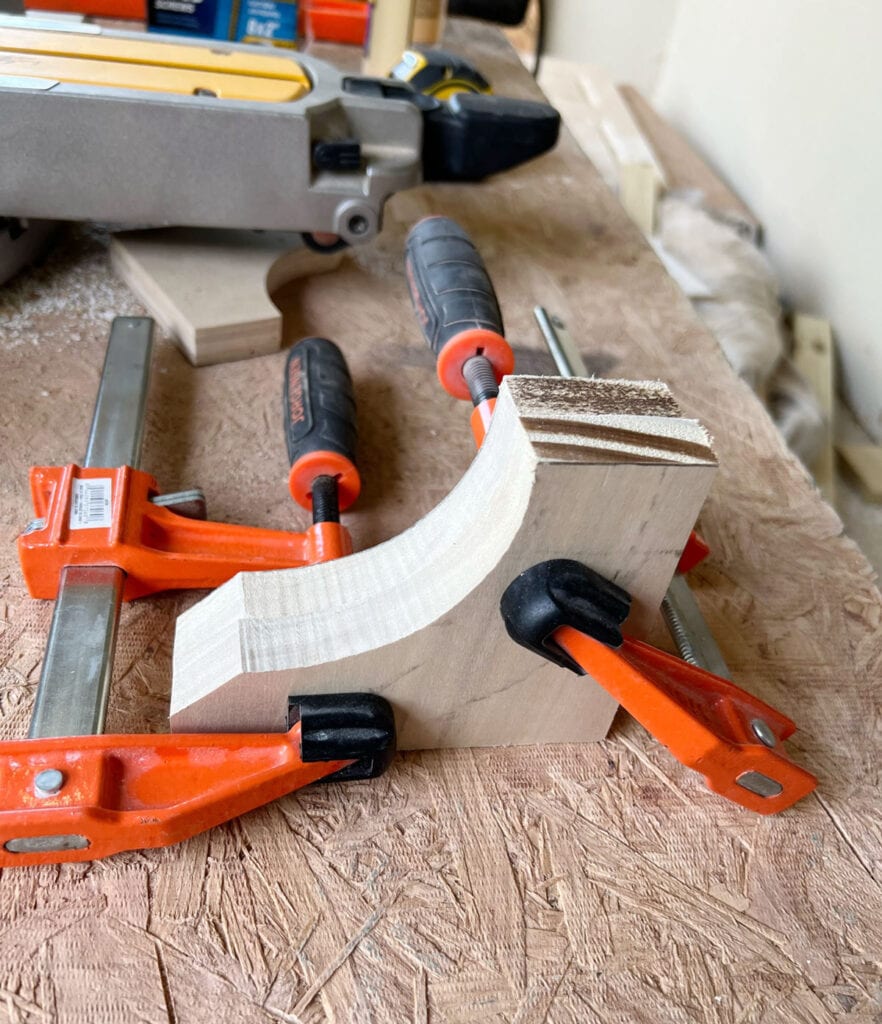 Step 5: Fill seam and sand
After the wood glue has dried for an hour or so, unclamp the pieces. Now you want to make it look like one solid piece of wood. Use a miter saw to shave off any uneven spots on the straight edges, and an electric sander to refine the curves.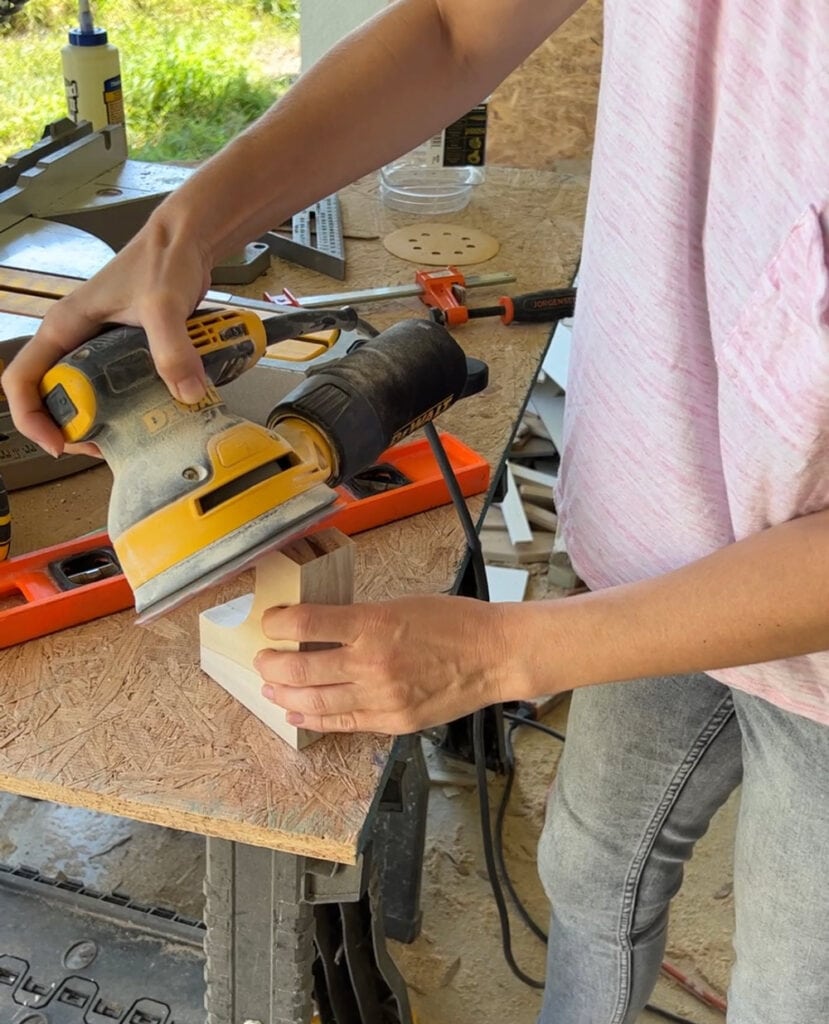 Once the wood is nice and even, apply wood filler along the seam, allow to dry and sand one final time.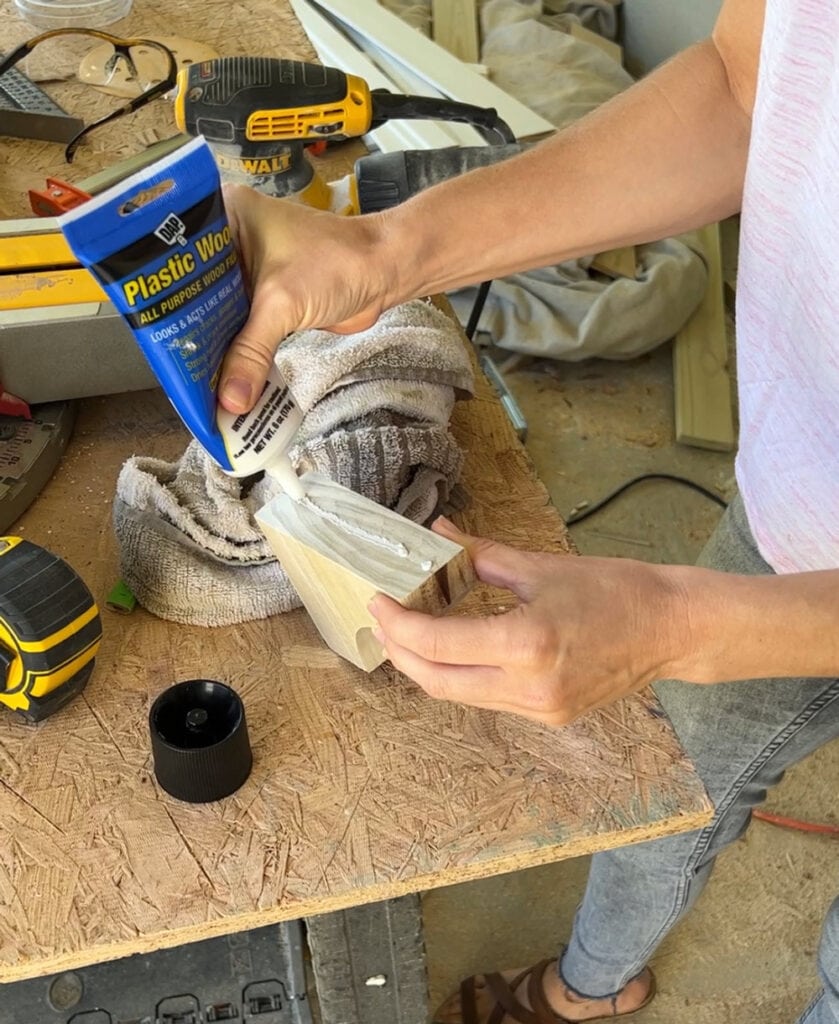 Step 6: Glue and clamp to cabinet base
Apply wood glue along the top of the cabinet foot, on the back edge only (where it will touch the cabinet box).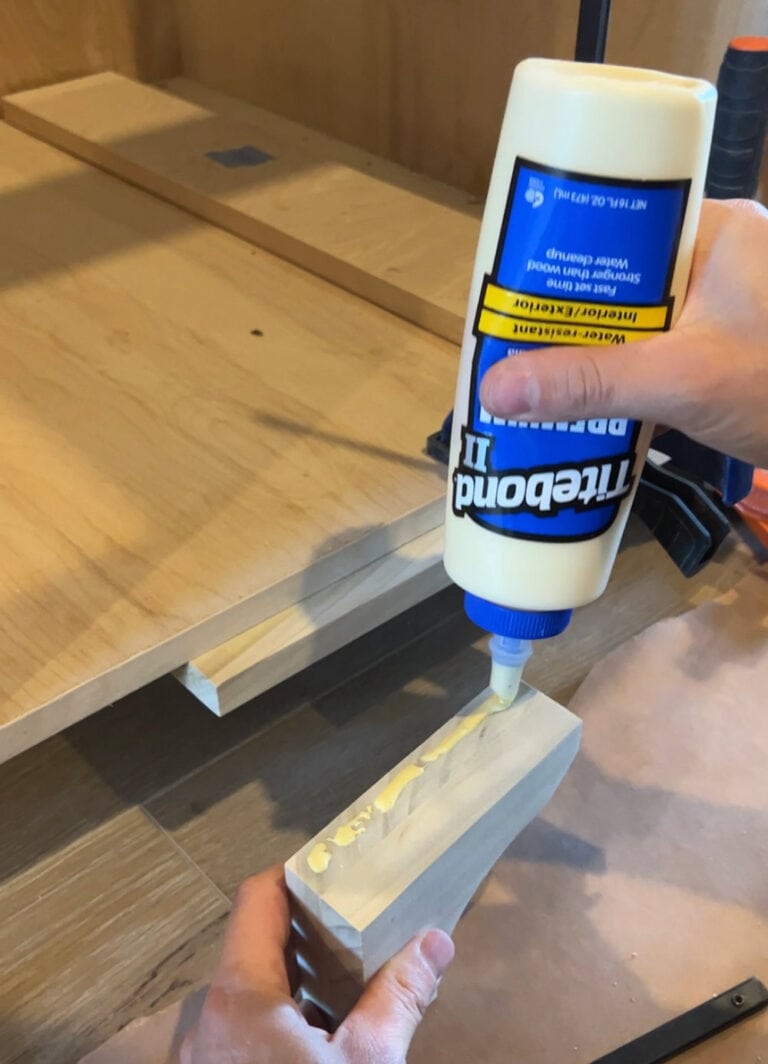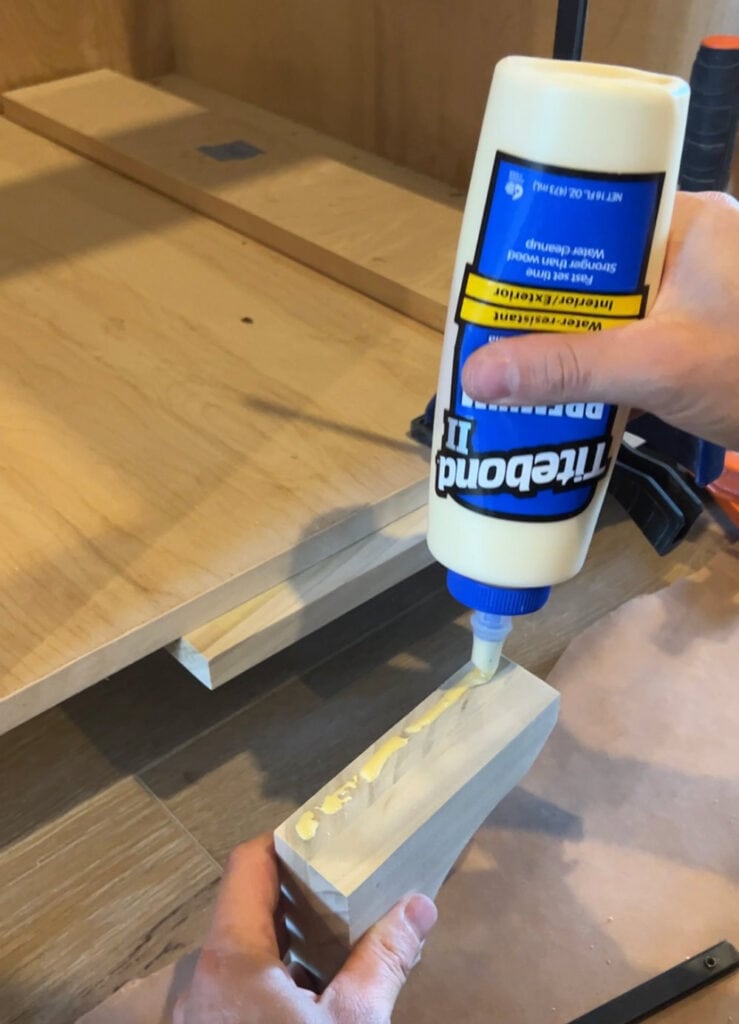 Line it up to the edge of the cabinet, and adjust it forward until it lines up flush with your cabinet doors (our doors weren't installed yet, so we just measured).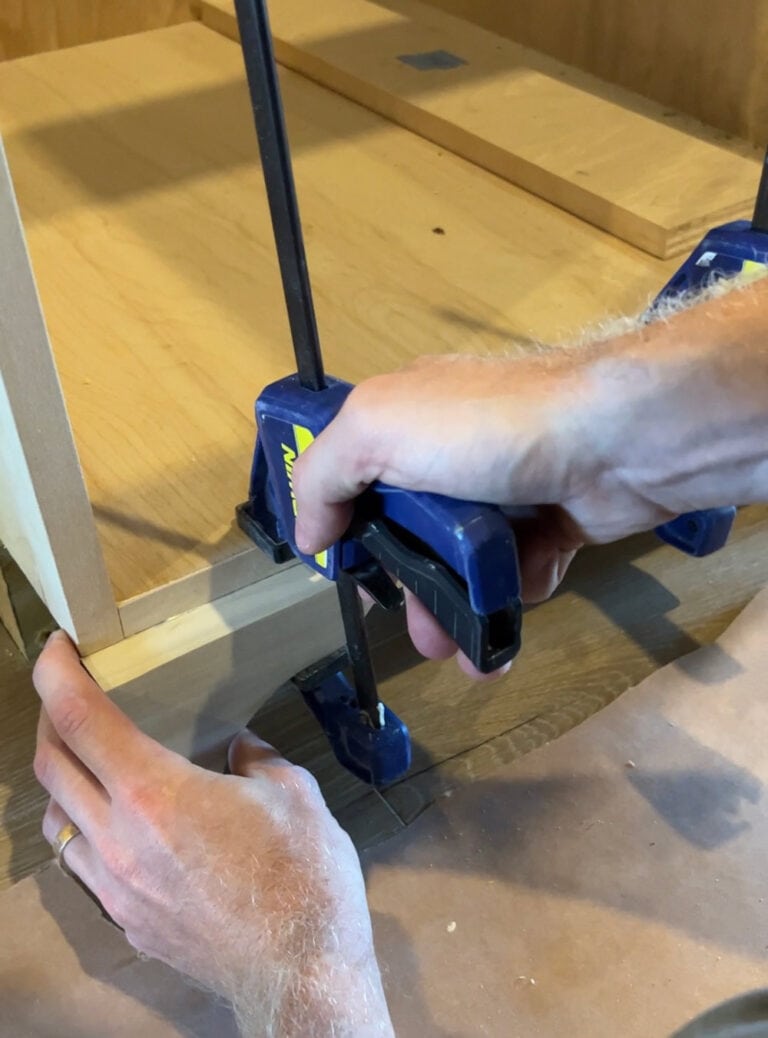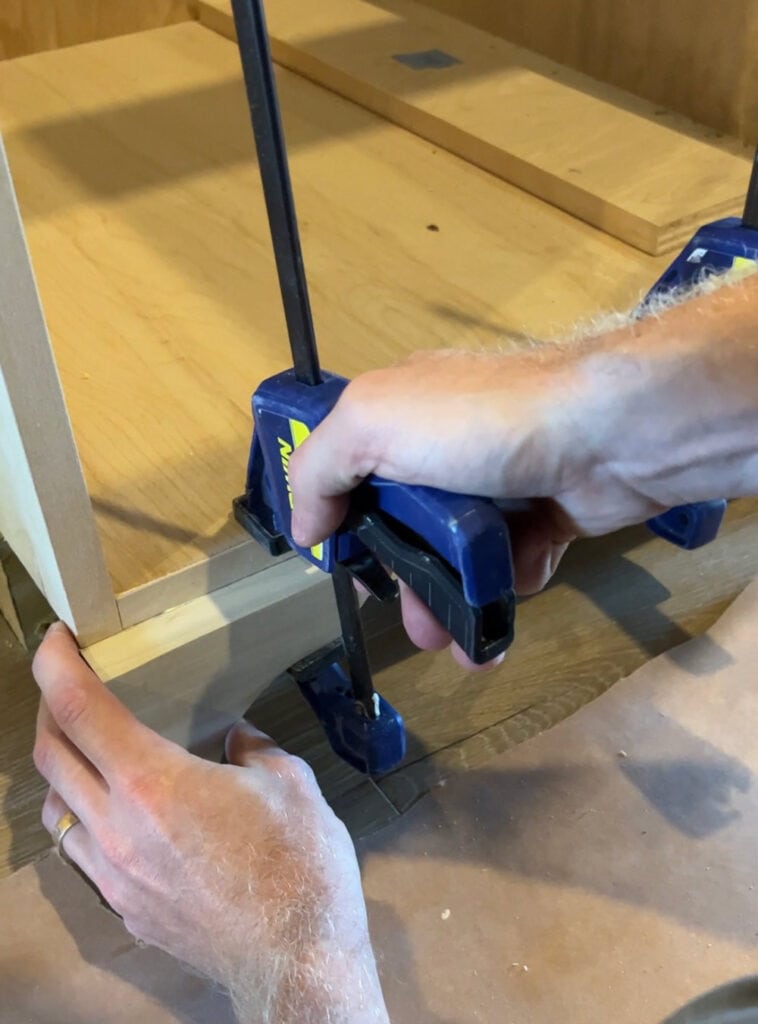 Once the foot is in place, clamp it down, and repeat with the opposite foot. Measure the distance between the two feet, and cut down a 1×2″ board to connect the feet (this is your valance). Apply wood glue, line up the valance board flush to the feet, and clamp down.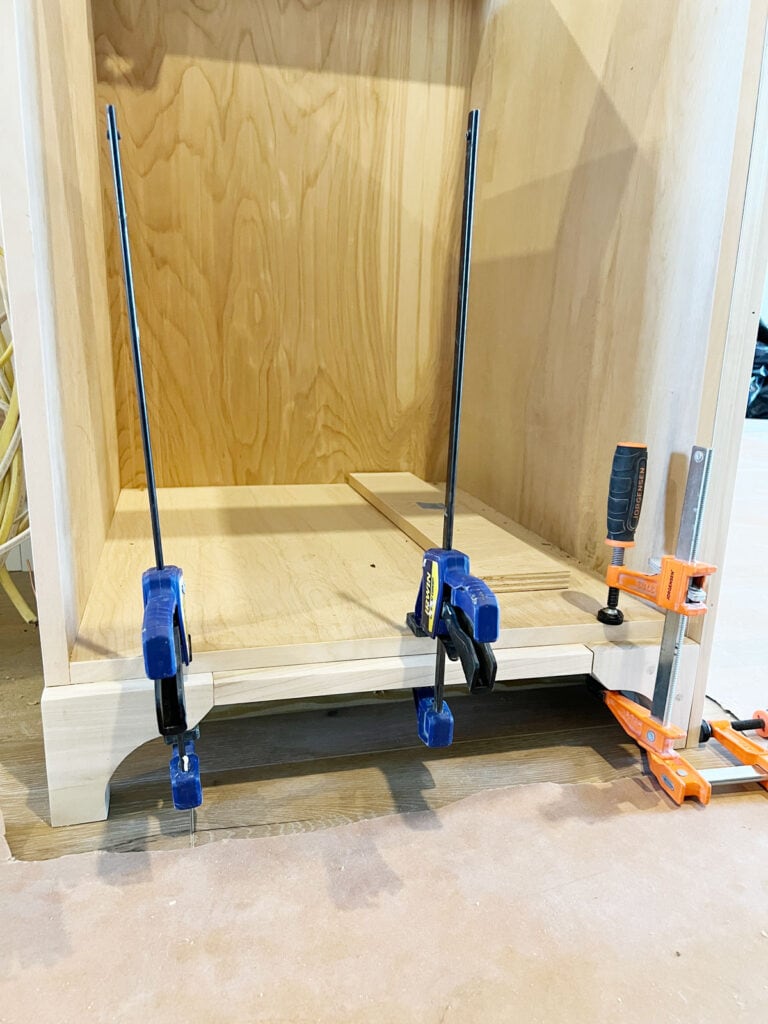 Note: If you only want to add the furniture feet, you can skip the extra step of adding a valance across the center. However, I highly recommend this step, as it makes the end result look more finished—especially with overlay cabinet doors!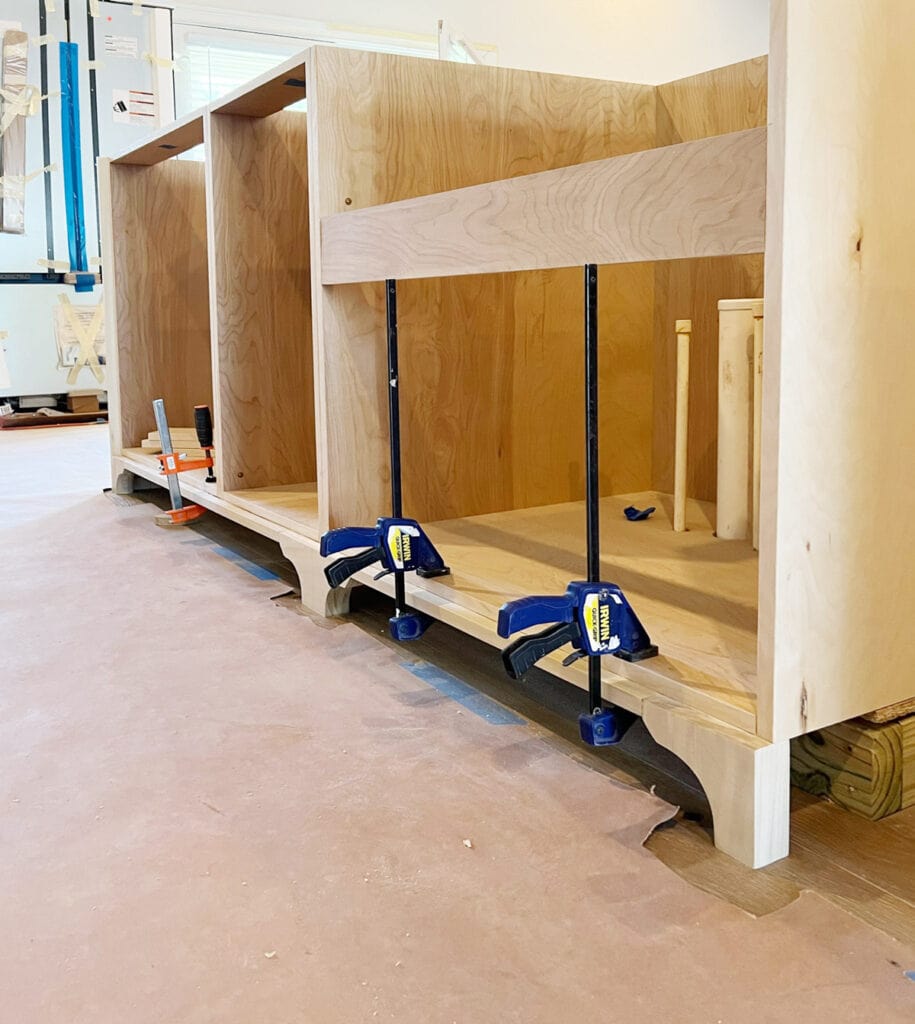 Step 7: Patch seams and sand
Once the glue has had enough time to dry (at least one hour), unclamp your pieces and apply wood filler to the two seams around the valance piece. Allow the filler to dry, then sand down until smooth. No nails required!
Step 8: Prime and paint
Paint with a quality primer and cabinet paint to match the color of your cabinets (I love BM Advance and SW Urethane Enamel). Use a short angle brush to get into the corners, and finish with a high quality roller (check out my favorite paint rollers in this post!)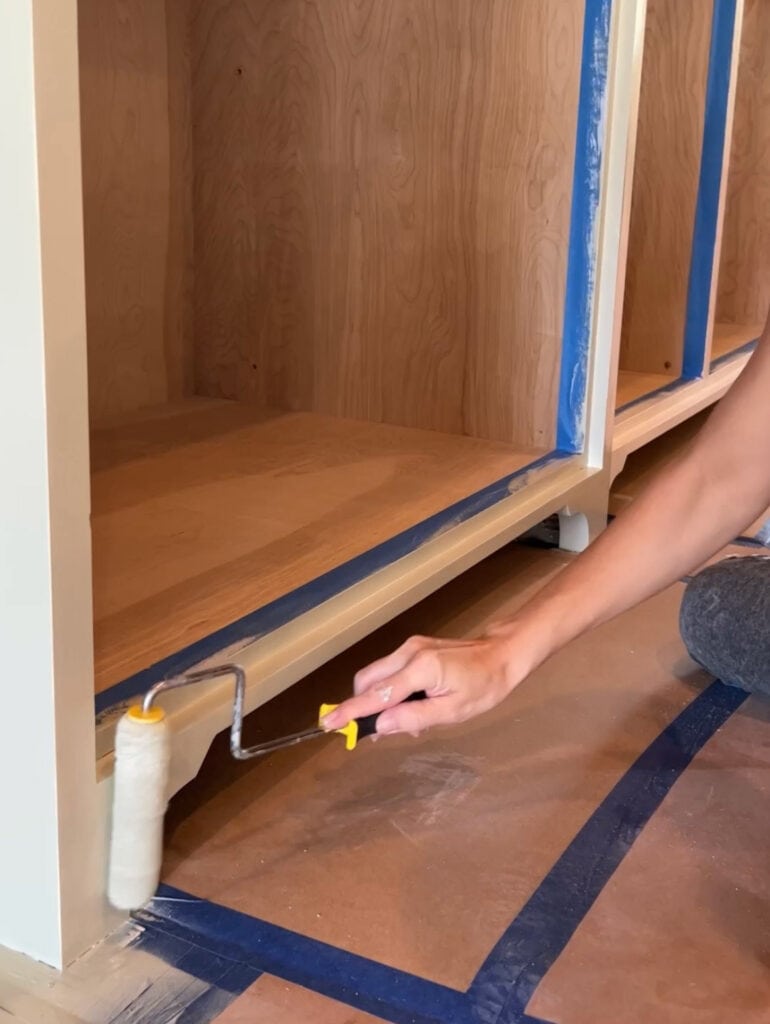 The difference is amazing, isn't it? This small detail will make any plain/stock cabinets look custom and high-end. And it costs very little—around $75 for our entire kitchen!
Can you see why this was my favorite idea from my 10 simple ways to update your cabinets post?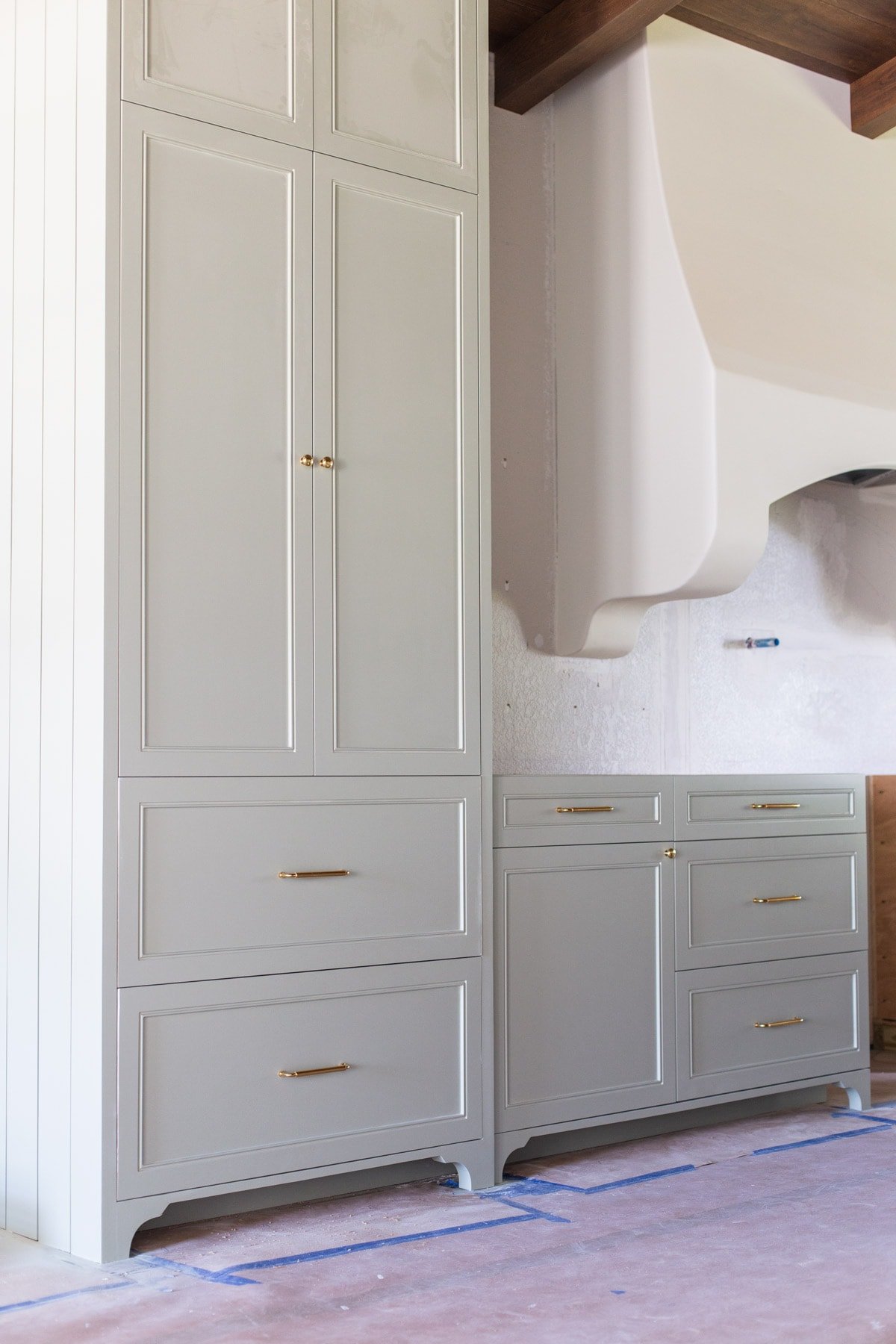 FAQ

What is a toe kick?
A standard toe kick is a recessed area at the base of floor cabinets. It's an ergonomic feature, allowing you to get closer to the countertop without having to hunch over. It typically measures 3–4 inches in height and approximately 3.5–4 inches deep.

What are the different design options for toe kicks?
The most common styles are standard (recessed), flush mount, arched valance, or furniture feet. Really, anything goes, and any design you can think of is possible. Pinterest is a great source of inspiration to help narrow down the style you like.

Are recessed toe kicks necessary?
Although most would agree that recessed toe kicks are the most practical option, it's ultimately a personal preference. Flush mount toe kicks are easier to clean, and decorative toe kicks provide an elevated and streamlined look. I personally think an arched valance design is the best of both worlds—they give cabinets a furniture feel, and still have a recessed area for your feet.

What's the easiest way to add furniture feet?
If you don't want to build your own from scratch, you can purchase furniture feet online through places like Kitchen Source or Cabinetparts.com. As an alternative, you could buy wood corbels or brackets, and modify them to fit (like the Thrifty Decor Chick did in this post). 
Like this post? Check out more DIY kitchen ideas:
10 simple ways to upgrade cabinets