Update: Links to all sources here!
Oh happy day… the kitchen reveal is finally here! I can't believe it! Five long months of countless hours, days & nights; blood, sweat and tears have finally paid off.
And it truly is our dream kitchen.
But you can't fully grasp and appreciate how far it has come unless you've seen how it looked five months ago. Let's take a trip down memory lane, shall we?
When you first walked into the front door and turn to your right, you stepped into a dining area with a funky 70's bar.
Here's another view:
The dining area is open to the living room, divided by railing: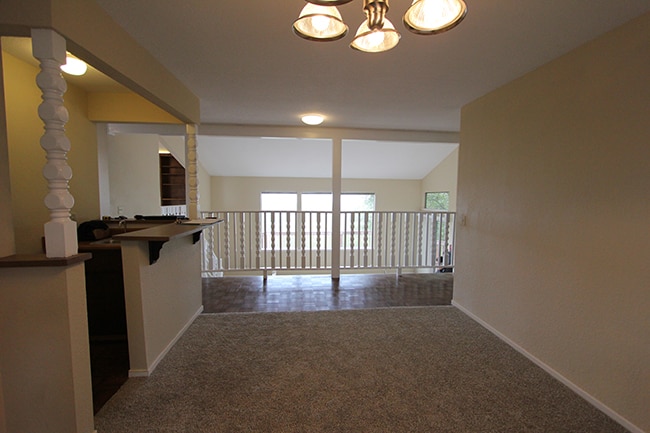 Pin
Straight ahead is the kitchen door which goes out on the side deck. Just to the right of that was the very small closed off kitchen. Also from the 70's.
Here's the view from the sink, opposite of where the photo above was taken:
Just so it wasn't completely closed off, they cut a hole in the wall so you could see your dinner guests while you cooked. How thoughtful.
I knew the second I walked in that the wall needed to be taken down, and the entire room gutted and reconfigured.
We didn't waste any time.
We worked with a kitchen designer at Lowe's who helped us find the perfect setup.
I also supplemented the storage by making a pantry, bench seating, and a bar using Ikea cabinets and wardrobes.
Every surface was ripped out, rewired, new drywall, new floors, new electrical and plumbing, you name it.
We trimmed the windows, planked the ceilings, built beams, planked the walls, added recessed lights and speakers…
Tiled the backsplash wall, tiled the bar wall with stacked stone, built some floating shelves…
Built the bar and bench seats, built our dining table, replaced the outdated stair railing…
And so much more. There were lots of struggles and setbacks along the way, but we survived and now we're able to enjoy this space with friends and family for years to come. I appreciate all of your encouragement and thoughts along the way—thank you for following me on this journey!
Without further ado… the after photos:
Thanks to my parents for letting me raid their property for all the pretty pink flowers this afternoon. Aren't they gorgeous?
I made this no-sew table runner last week with a couple yards of fabric from Joann's, some ruffle trim and hem tape.
The flower box was super simple—a 1×4 cut into pieces, secured together with wood glue and my nail gun, then painted/sanded/stained.
The chalkboard on the back wall was a last minute addition, and it's one of my favorite things in the room.
More to come about it in a future post… (hint: a giveaway is involved).
I had fun drawing on it last night…
I've also decided to become a botanist.
Okay, not really. But I did start an herb garden, and after managing to kill all of our plants in FL, I'm determined to keep these babies alive. And cook with them.
Biscuit and Susie also have a little spot for them here.
I made prints of their silhouettes (you can get them for your furbabies at my shop), framed them in cheap Ikea 5×7 frames and stapled some scrap fabric to the back for a little extra specialness.
I also built them this food/water station yesterday out of scrap wood.
They seriously love it. They eat like 5x/day now.
Still also loving these appliances in the island. No cramped cooking here.
I kept the color palette to whites, blacks, grays neutral brown/beige/ivory tones, and navy blue.
This way I can easily switch it up throughout the seasons.
It's also very relaxing.
Good thing there's lots of seating to curl up onto.
And thank you guys for weighing in on the bamboo blinds situation. I changed my initial choice after reading through the comments and went with the medium tan/brown.
I think it was the right choice!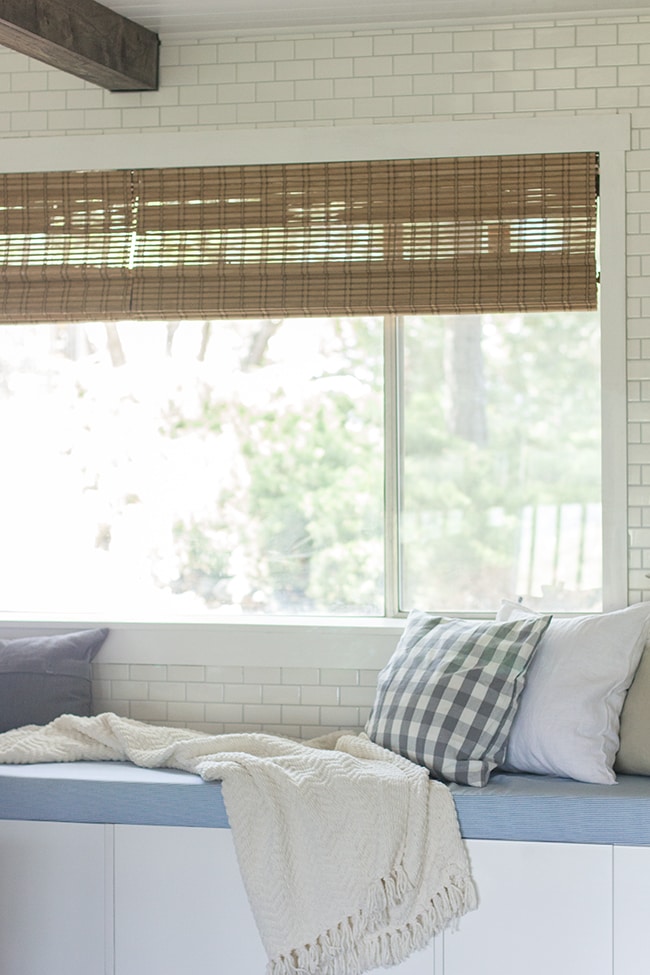 Pin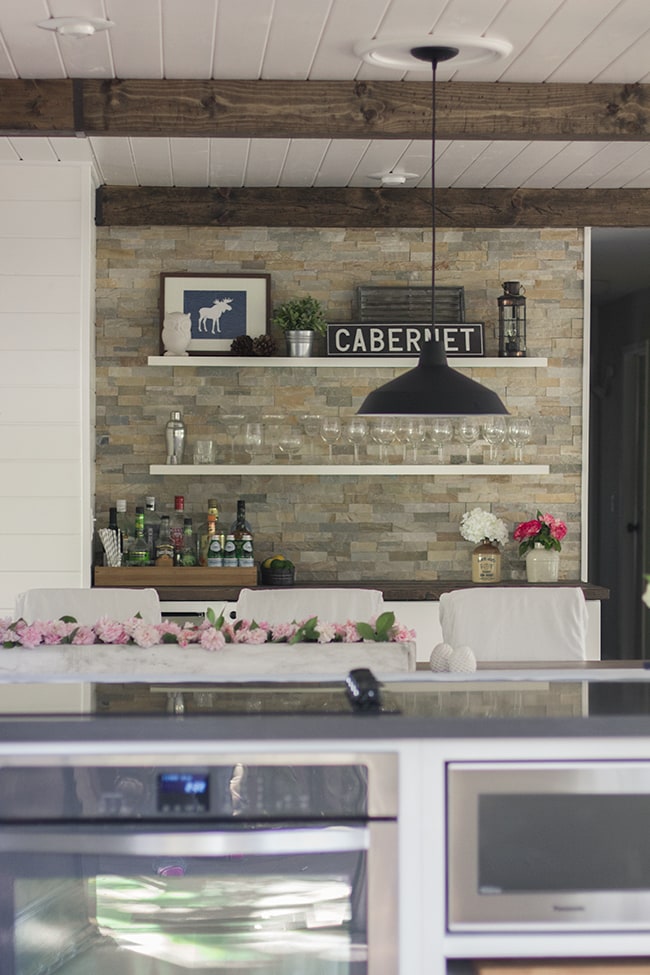 Pin
Our bar is stocked and ready to entertain.
Which is a good thing, because we have guests coming from Florida on Friday, and a big housewarming party next Saturday.
I'm excited to test it all out!
Here's a shot with all the lights on. There are 13 recessed lights, one pendant over the sink, and two pendants over the dining table.
I'm mildly obsessed with these pendant lights.
And that's the story of our kitchen.
Just for fun… here's some kitty outtakes:
We tried to get them to sit next to each other and pose. It didn't last long.
She chooses the most random places to plop down and rest.
Update: A few of you have requested wider angle shots so you can get a true before/after comparison (it's a little confusing since we converted two rooms into one, I know!)
I can't seem to find my wide angle lens that I used in the before's (I haven't used it since those photos, and now I'm freaking out a little because it's apparently missing…) so I did the best I could with my 24mm lens. Also, the wide angle lens makes the room look a lot larger than it is, so the new photos are a much better representation of size and scale.
To get oriented, here's a before + after shot right at the entrance. The back of the foyer is the bar wall (the wall was there already, it's just barely cut off in the before photo—we did rip the bar out though):
Same position, rotating just to the left (the sunken living room is on the opposite side of the railing)…
Take a couple steps forward to the dining room (now it's one big open room):
Keep going forward and the kitchen was on the right:
Now walk to the sink, turn around and here's the area you were just standing in (it's now a built in pantry):
There was a wall here before… not anymore!
Looking back at the dining room from the kitchen area again:
And here's a shot from the dining area window, looking back out towards the living room:
Hopefully that helps to clear up any confusion!
If you missed any of the Kitchen Chronicles, here's how it all went down…
Kitchen Chronicles: Planning Stages
Kitchen Chronicles: Demolition
Kitchen Chronicles: A blank slate (+ more house updates)
Kitchen Chronicles: Trimming out the Windows
Kitchen Chronicles: Finished plank ceiling & wall
Kitchen Chronicles: The cabinets & floors are in!
Kitchen Chronicles: DIY Wood Beams
Kitchen Chronicles: New Hardware & Paint
Kitchen Chronicles: The counters are in! (+ pendant light & faucet preview)
Kitchen Chronicles: An Ikea Pax Pantry, Part 1
Kitchen Chronicles: Ikea Pax Pantry Reveal!
Kitchen Chronicles: Building a Bar
Kitchen Chronicles: Building a Window Bench Seat
Kitchen Chronicles: A DIY Subway Tile Backsplash, Part 1
Kitchen Chronicles: A DIY Subway Tile Backsplash, Part 2
Kitchen Chronicles: Stacked stone bar wall & DIY floating shelves
Kitchen Chronicles: DIY floating rustic shelves
Kitchen Chronicles: Upholstered Bench Seating
Kitchen Chronicles: Building a Fancy X Farmhouse Table
Don't worry, I have a full source list AND price breakdown coming up. I haven't even started to add it all up yet so this should be… interesting.
I'm happy to answer any questions you may have in the meantime. We've learned so much along the way and I feel a lot more confident going into future projects (we have 3 bathrooms on our to-do list… bring it on!)
We're currently on our way to San Francisco to pick up our friends from the airport and will be celebrating our birthdays this weekend, but I'll stop in Monday with the source list/budget breakdown.
Have a wonderful Spring weekend 😉