Last week, we welcomed our baby boy into the world.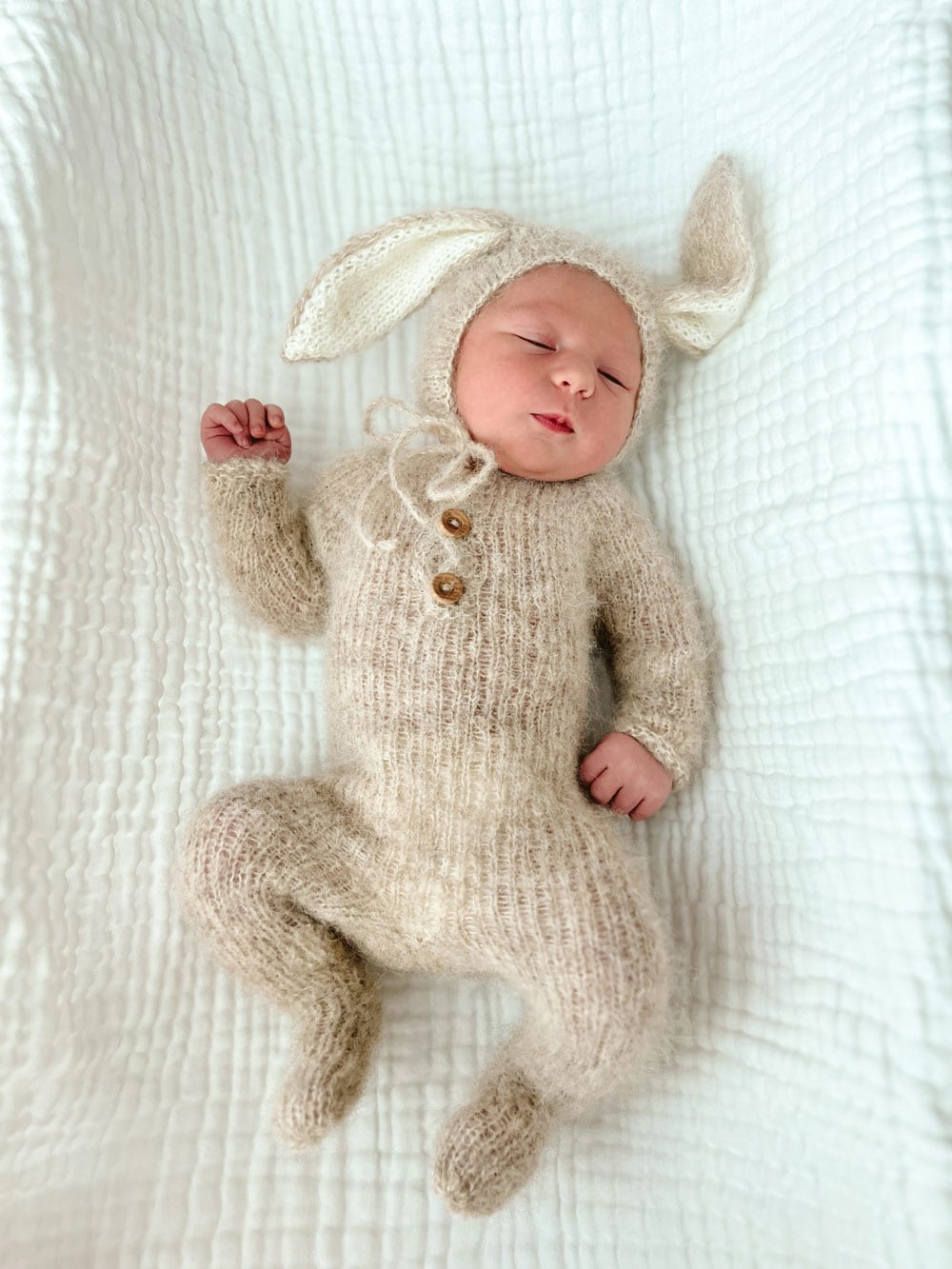 The birth of a child is one of those experiences in life well worth documenting. I wanted to capture our story in writing to remember all of the emotions and details before they faded in time. I've always enjoyed reading other birth stories, and today I'm sharing ours.
Pregnancy
While this pregnancy was complication-free, it wasn't quite as easy as the first time. My morning sickness and food aversions were worse (though still manageable) and the exhaustion was real.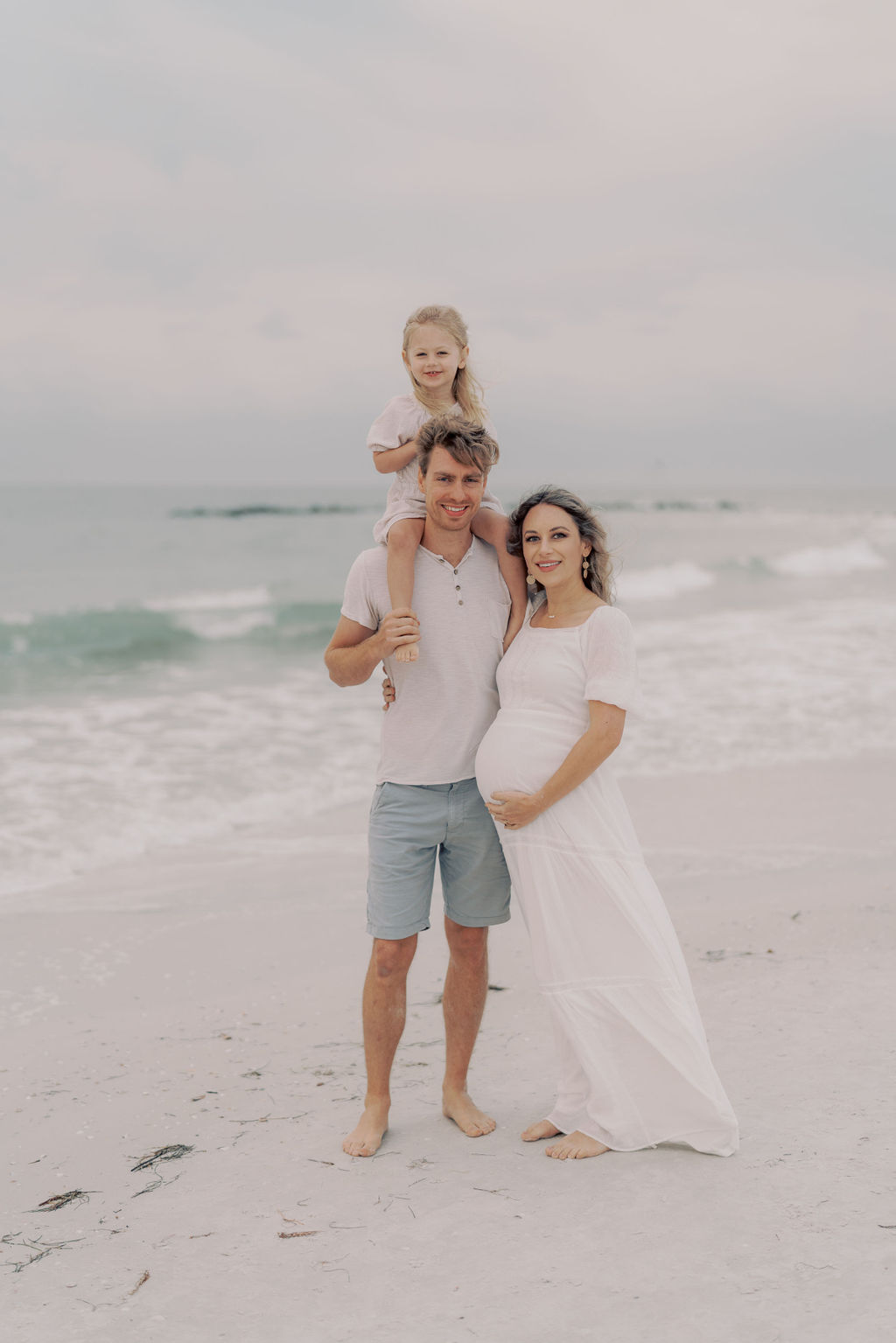 By the third trimester, sleep was a challenge as I became more uncomfortable, and the last few weeks were especially difficult. I felt fine at 41 weeks with Esmé, but by 38 weeks I was ready for this boy to come out!
As much as I'm glad it's all over, I know a part of me will miss being pregnant one day. In the end, a healthy baby is all that matters, and we're incredibly blessed to have that gift.
Labor and delivery
At my 38 week appointment, I was checked and thrilled to learn I was already 2cm and 70% effaced. My doctor said it was very likely he'd come on his own before the induction scheduled for the following week.
That evening I felt constant cramping, and thought it was the beginning of labor. However, when I went to bed that night, the cramps went away and never returned.
At this point I was in a lot of discomfort—unable to sleep or walk without pain, and I spent the next several days in bed waiting for labor to start.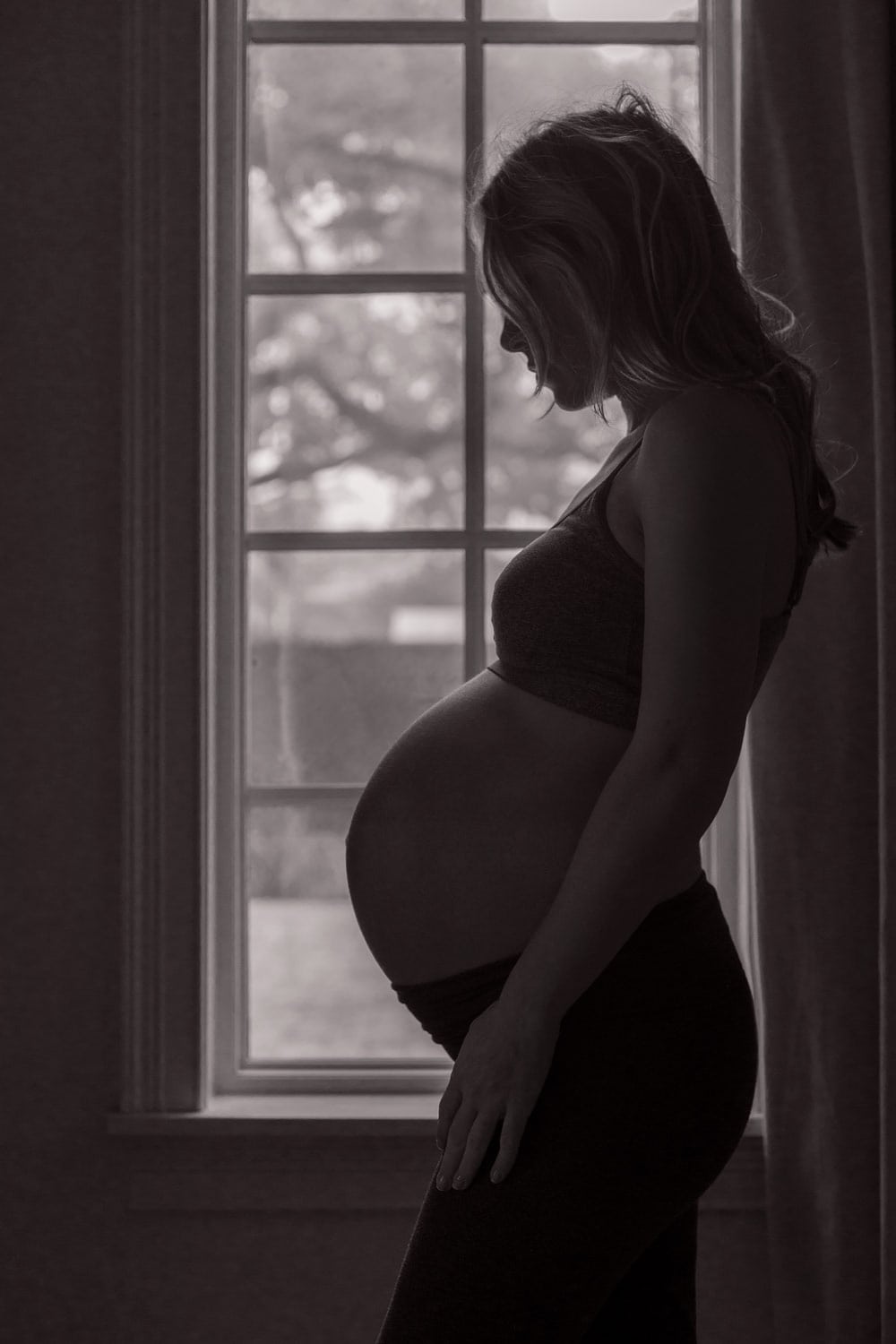 I made it to my next appointment and came to terms with going through another induction. During the NST test, baby wasn't moving at all, which was not typical for him. A cervical check also confirmed I had barely made any progress since the previous visit. The doctor recommended we go straight for the hospital to be induced.
When we arrived at the hospital and began monitoring contractions, they were occurring semi-regularly, though there was no pain and felt like the Braxton Hicks I'd been experiencing for the last month. Unlike my first labor, I was already progressing on my own, so they allowed me to get an epidural right away.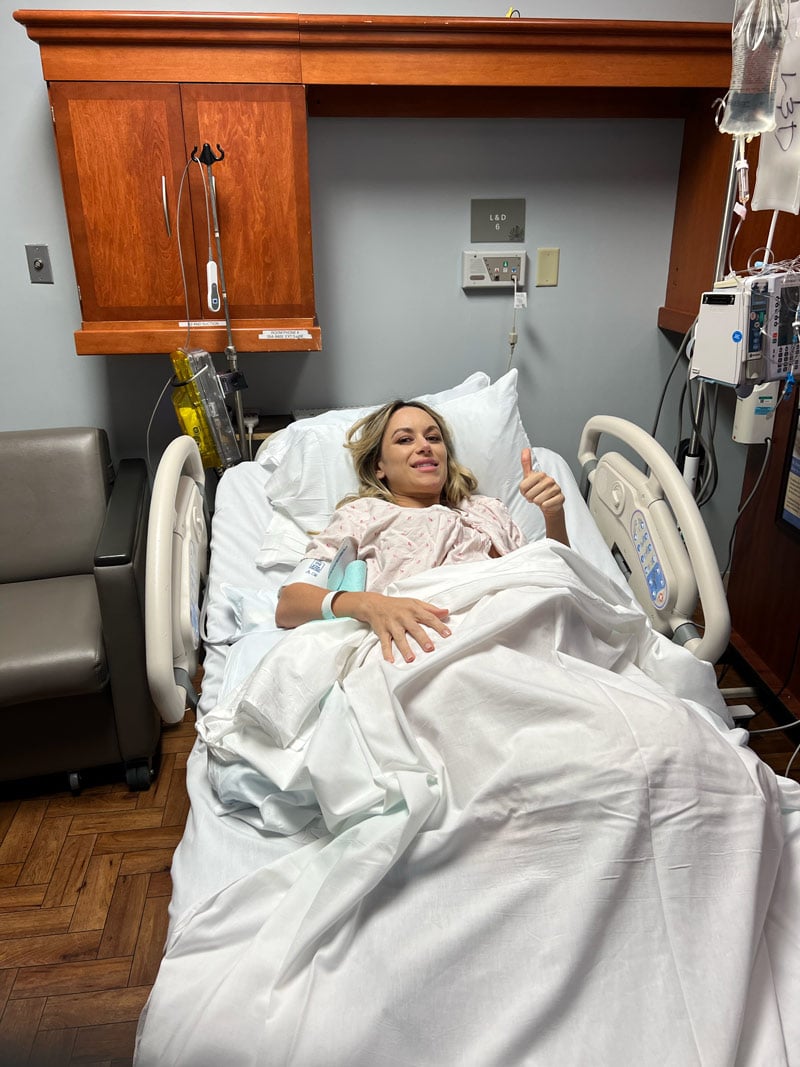 At 5:25pm the epidural was in, but after 40 minutes I was only numb on one side, so the anesthesiologist had to administer an extra dose. That did the trick!
20 minutes later, my contractions were a few minutes apart, and I had dilated to 4cm/80% effaced. The doctor broke my water and 90 minutes later, I was at 6cm with baby's head descending—things were moving along naturally so they decided to skip the pitocin.
I was checked again just before 9pm, and had made it to 9cm, but his head was facing the wrong way so the doctor had me lie in a new position to help him turn. She said she'd be back to check on me in 20 minutes.
Another hour passed with no doctor in sight, and I began to feel a lot of pressure. Finally, a nurse returned to check on me and announced "Oh my gosh, he's right there!"
Within a few minutes, the doctor arrived and told me to push through the next contraction. Two contractions later, his head emerged with his fist in front of his face, and I was told to stop pushing because the cord was around his neck—not once but three times. The doctor remained calm as she loosened the cord and placed our purple baby in my arms. She cleared his airway and we heard his first cry at 10:10pm.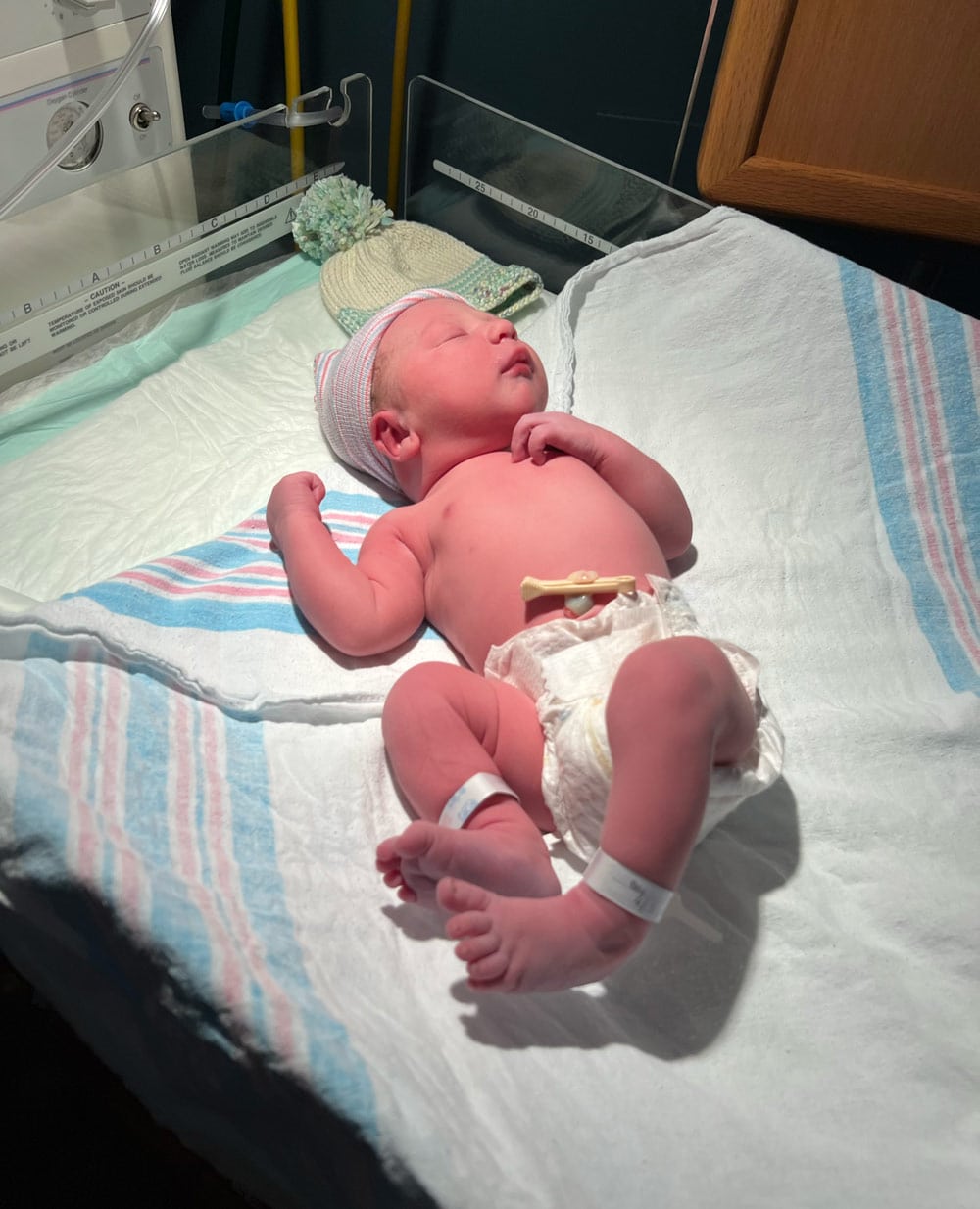 He stayed there in my arms for over an hour before the nurses came in to weigh and diaper him. I thought they had made a mistake when they read the weight—7lb 14 oz—that's more than a pound bigger than his sister! No wonder I was so uncomfortable.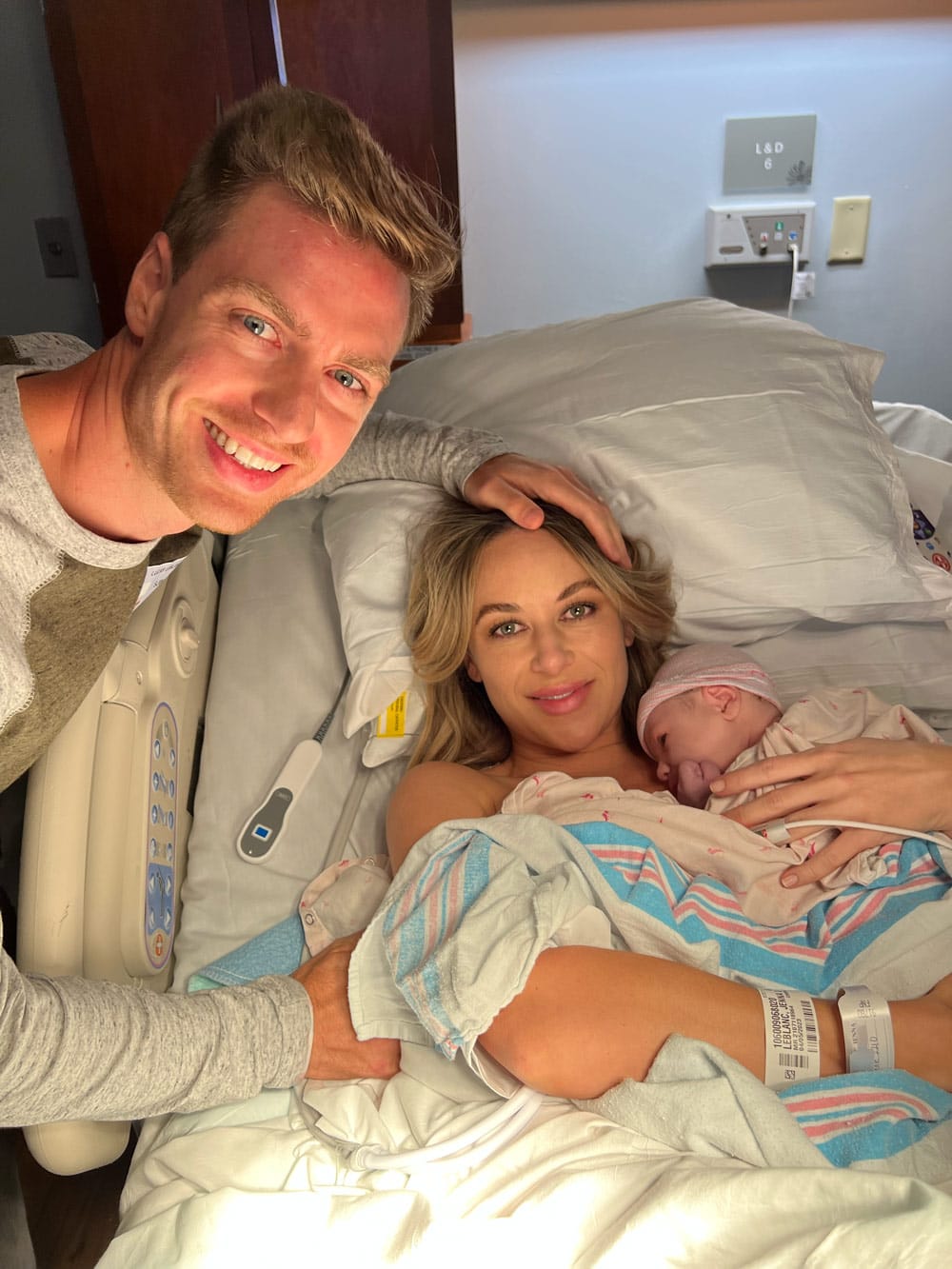 In total, labor only lasted five hours from settling into the hospital bed to delivery, with no induction medication. It felt like it flew by (thank you, epidural) and I didn't have to endure the the six hours of painful unmedicated/induced early labor I experienced with our daughter's birth.
Shortly after delivery, the epidural began to wear off and the pain set in. The larger than expected baby with a stuck arm had left me with a tear and bruised tailbone among other things. I was given pain meds which took the edge off, but a week later I'm still recovering from the rough experience.
The next day, Esmé arrived to meet her baby brother and my heart nearly burst. She had been preparing for this moment for a long time—reading all the big sister books and practicing taking care of 'her baby'. It was a priceless moment when she finally saw him, and I am grateful that we were able to capture her sweet reaction on camera.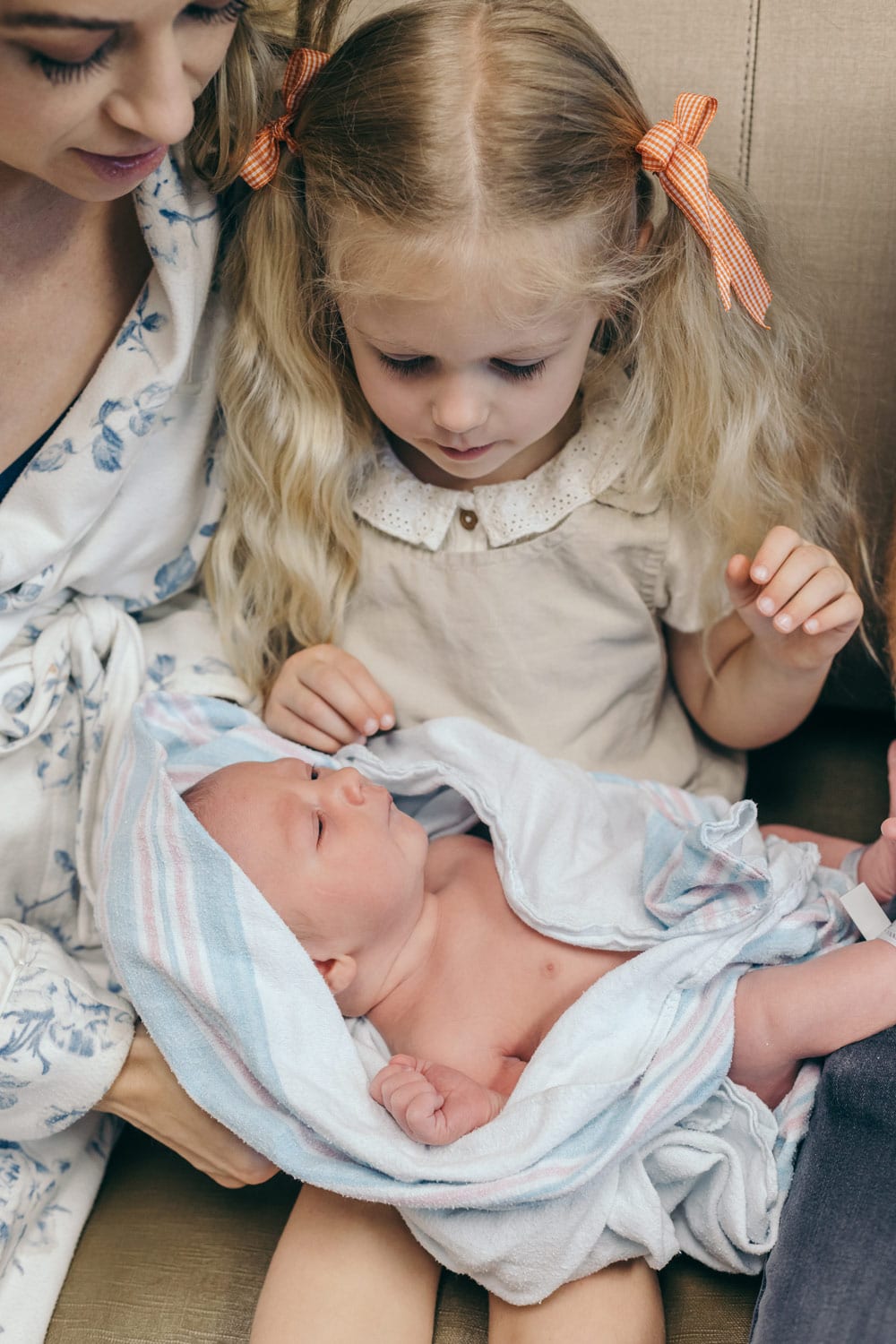 Choosing his name
This was honestly the hardest decision we've ever had to make and one I lost many nights of sleep over. From the moment we found out the gender, I scoured every list of names from every website, carefully combing through the top 500 and 1000 names in every country. I followed baby name Instagram accounts and lied awake at night trying to come up with new combinations.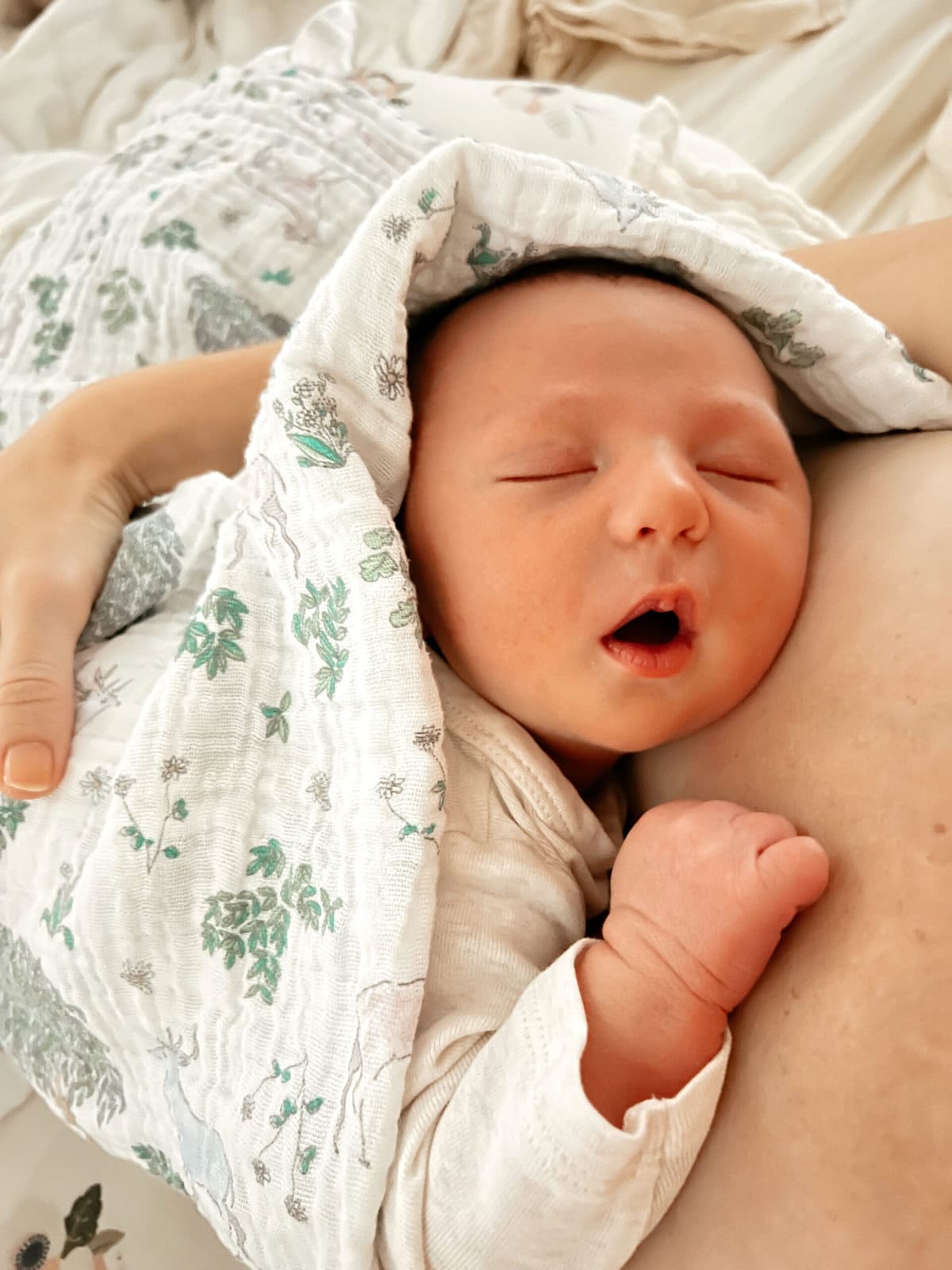 Lucas and I made our own lists, and weren't in love with each other's choices (or even our own, to be honest). We wanted something uncommon but classic, easy to say and complimentary to Esmé.
The name that we both agreed on was Emile—a traditional French boy's name that was more popular over a century ago but rare today. I've always liked the name, and it shared a similar sound and origin as Esmé. There was just one drawback we couldn't get over: most people we asked mispronounced it as "Emily".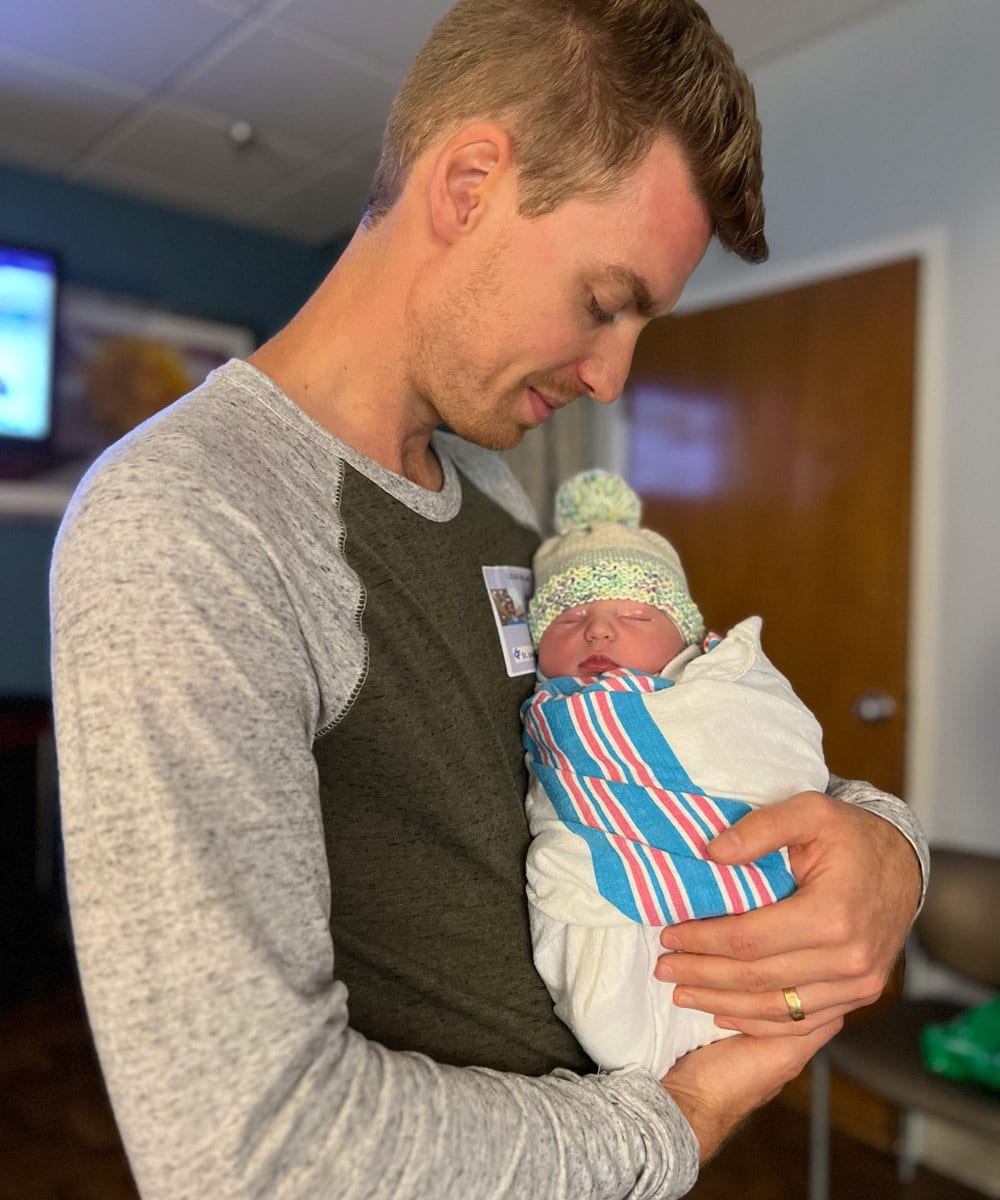 With just a week to go before his due date, we began revisiting other names on our list, and I kept coming back to Luca. We both loved the name from the beginning, but wrote it off because it was so close to Lucas. I also didn't love the fact that it has become quite popular in recent years.
We weighed the pros and cons of both names carefully, and polled our friends and family who were evenly divided.
Ultimately, we felt more of an emotional connection to Luca, and knew we had made the right decision when we met him and called him by name.
After a week with our boy, I can confidently say Luca suits him perfectly. I also now think it's sweet that he's named after his daddy 🙂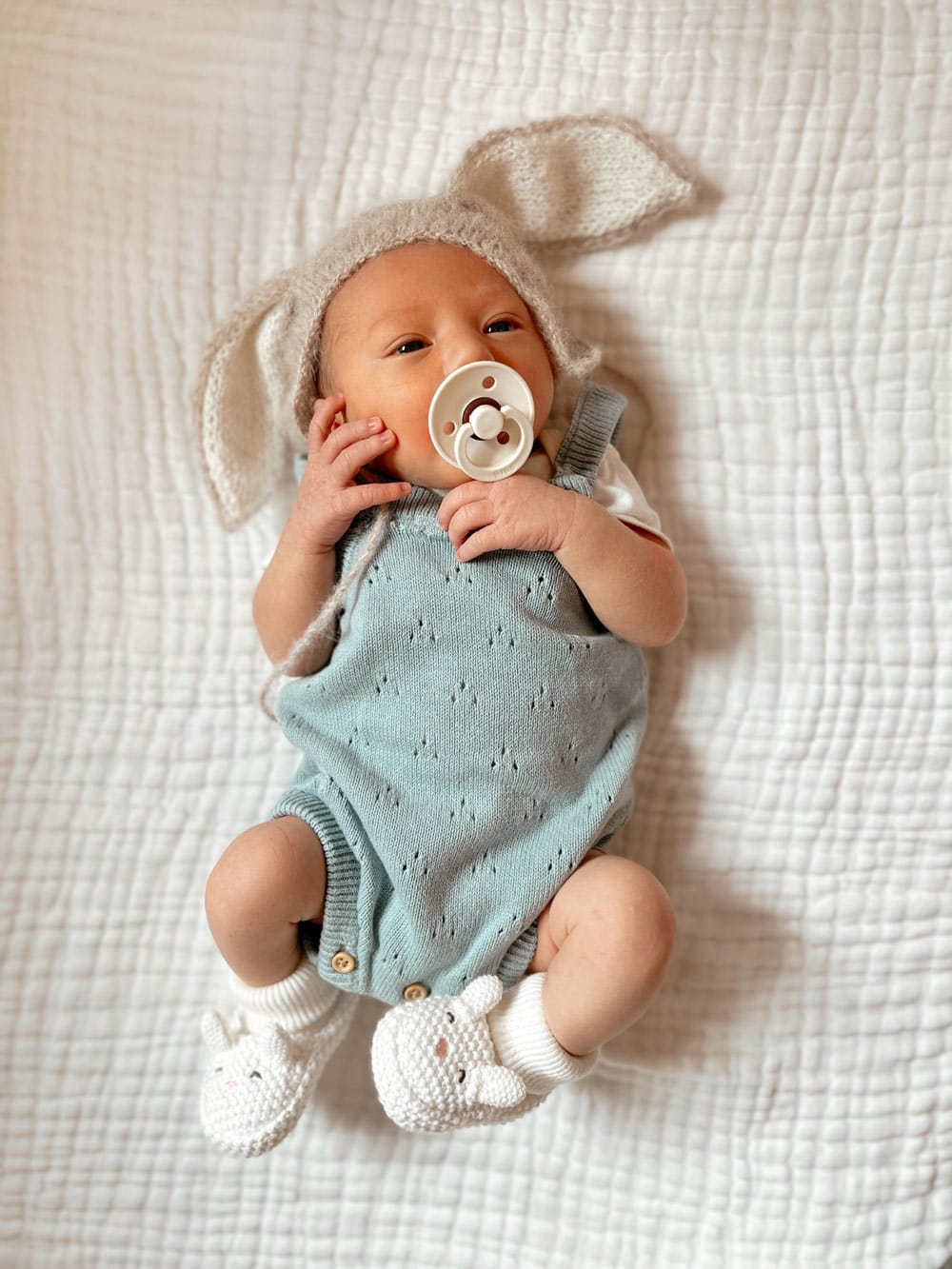 Adjusting to a new normal
When Esmé was born, I shared that I had a difficult time with the transition and managing postpartum hormones. It took three years before I felt ready to go through it all again, and this time I prepared myself for the worst.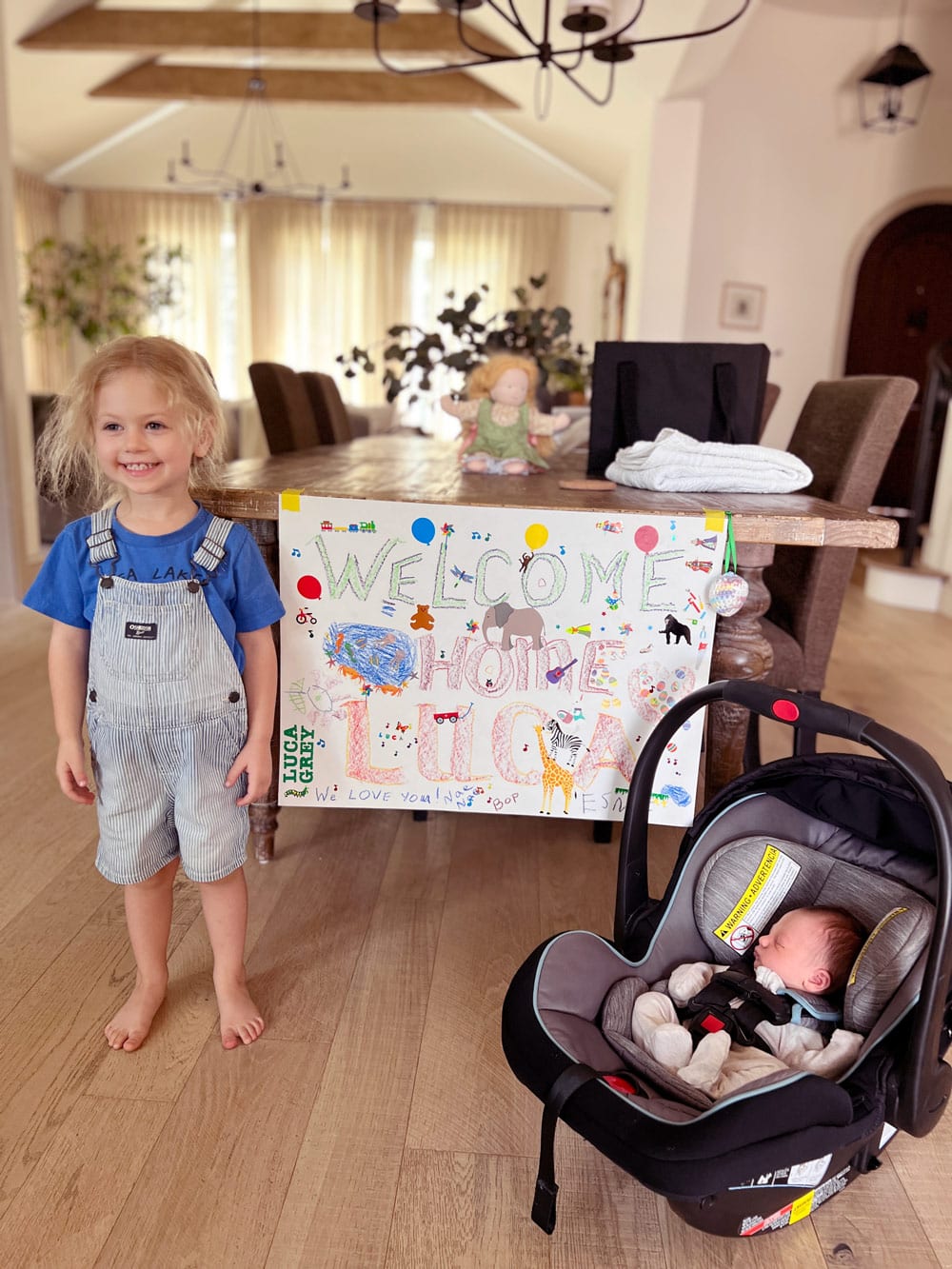 Now at a week postpartum, thankfully things have been easier overall. The biggest difference this time around is the gift of perspective. While the days are still long and exhausting, I know he'll never be this little again and I'm soaking it all in. This is also our last baby, so I'm more intentional about slowing down and reminding myself that this won't last forever.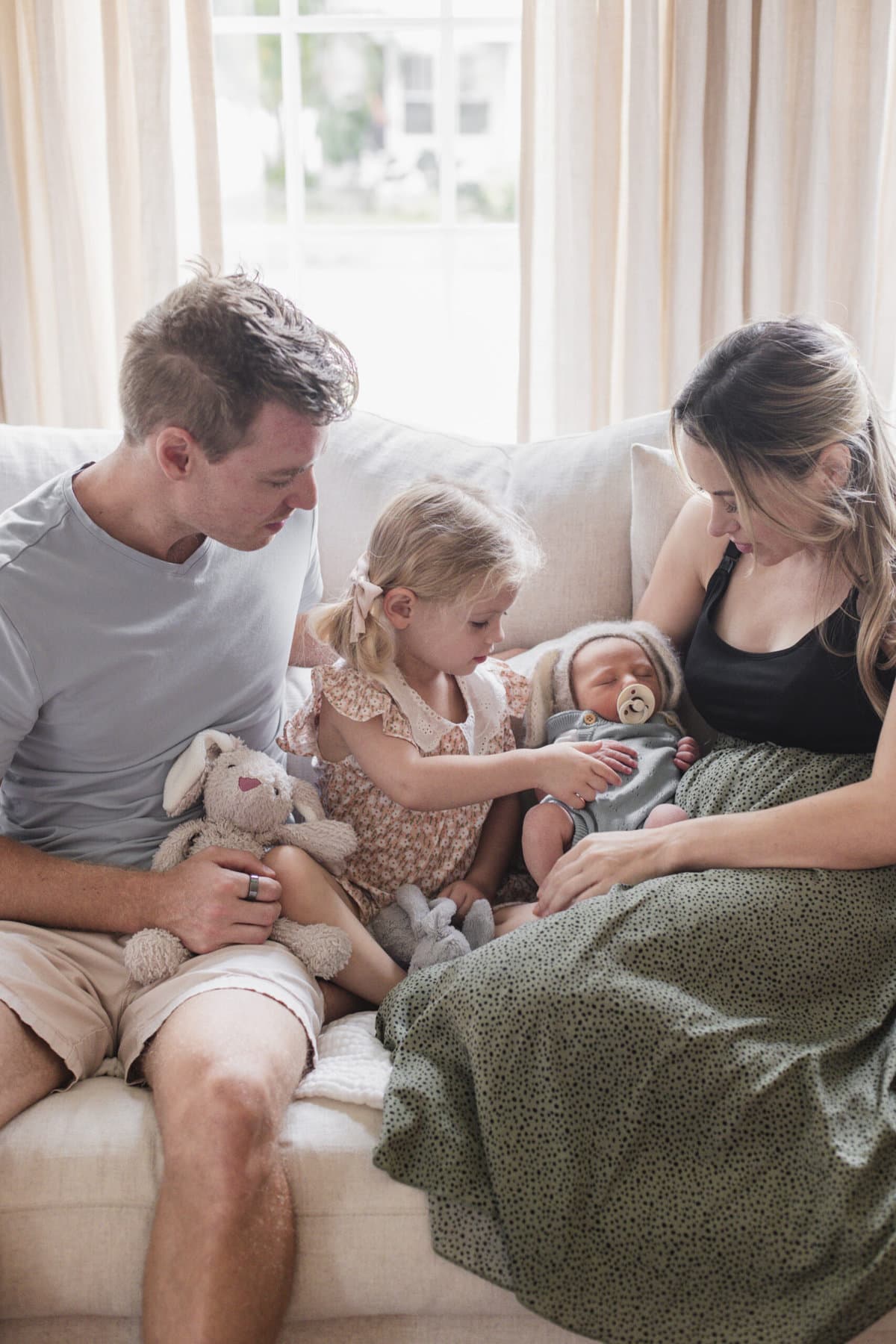 This time around, I'm more relaxed and don't feel as much pressure to be productive. I find myself more present and acutely aware that everything is temporary.
The hardest part for me, which caught me off guard, is the mom guilt. Our family of three had such a special bond and now our routine looks different. I hate that I don't have the energy to play with my girl the way I used to, or the time to give her as much of my undivided attention. She's been struggling a little with the change as well, and it breaks my heart.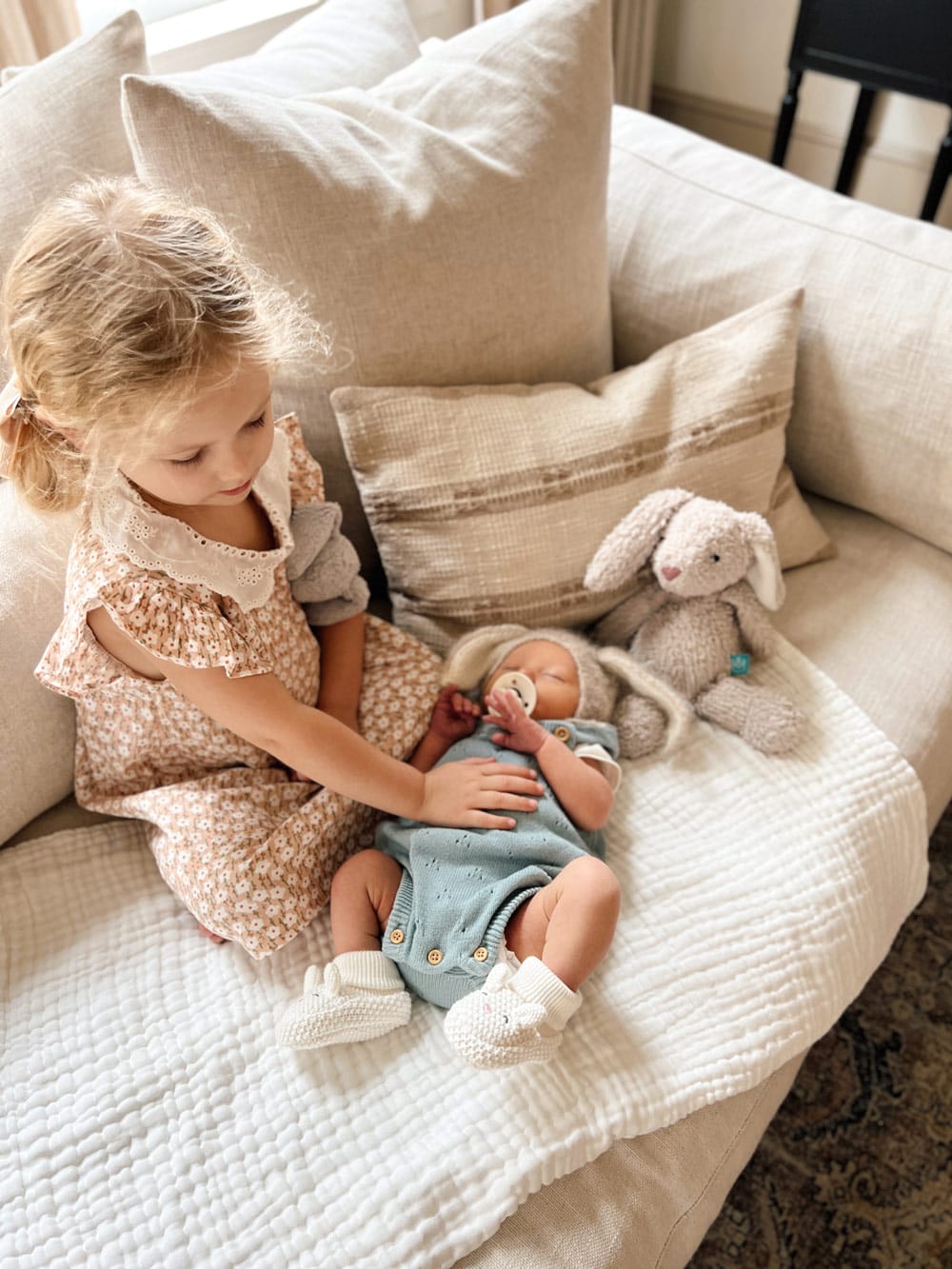 I know we'll figure it all out and settle into a new normal, but this adjustment has been the hardest on me, emotionally.
Lucas has been truly amazing, and the best partner I could ask for. He has taken on the majority of responsibilities as I recover and process the postpartum emotions.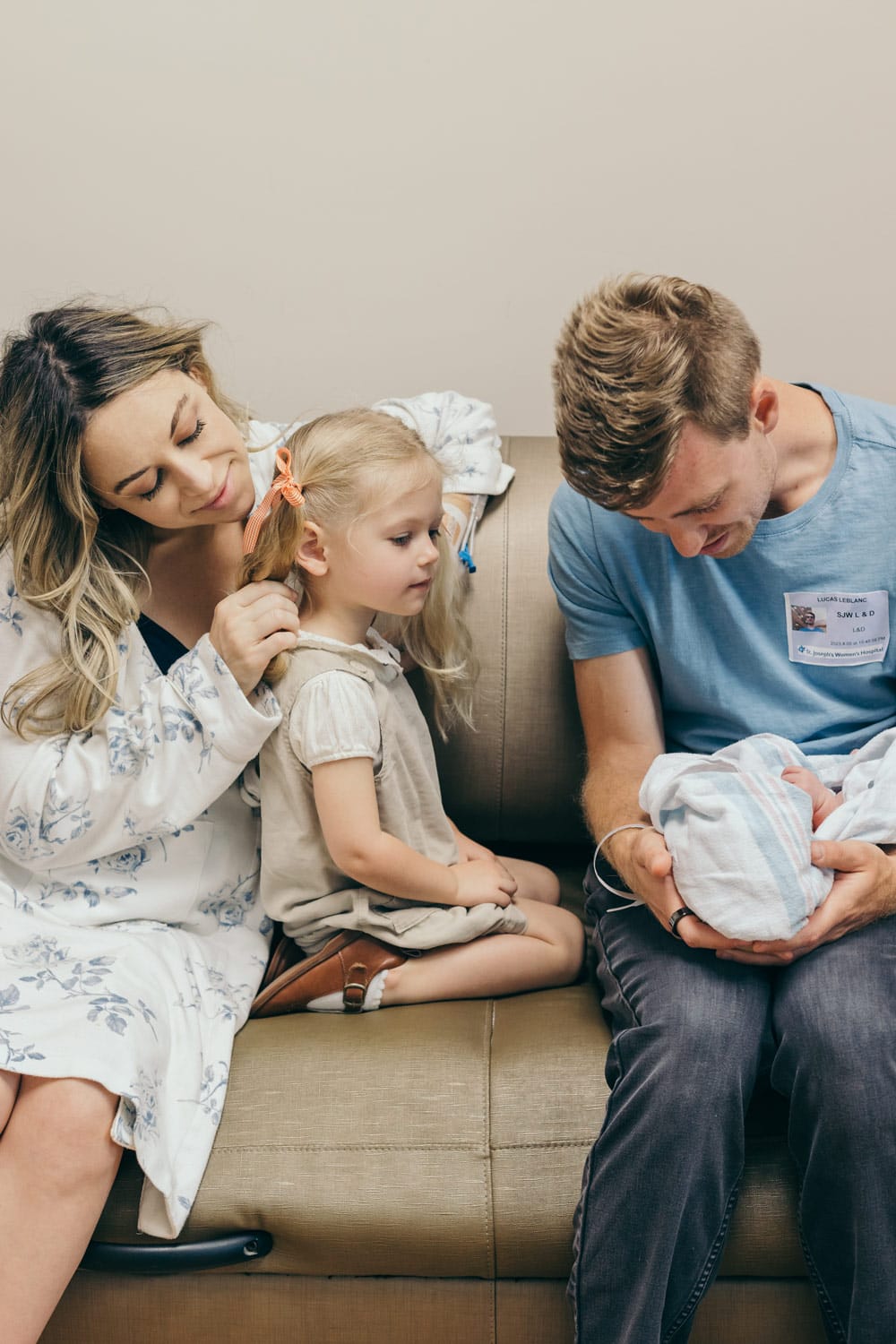 His parents live nearby and they have also been a wonderful help with Esmé. I feel incredibly blessed to have this support system and don't know how I'd do it without them.
Navigating the 4th trimester is all about learning to let go and ride the waves. I'm grateful for the lessons I learned after our daughter was born, and am truly able to enjoy it more this time. I think focusing on gratitude and knowing everything is temporary are the keys to a positive experience.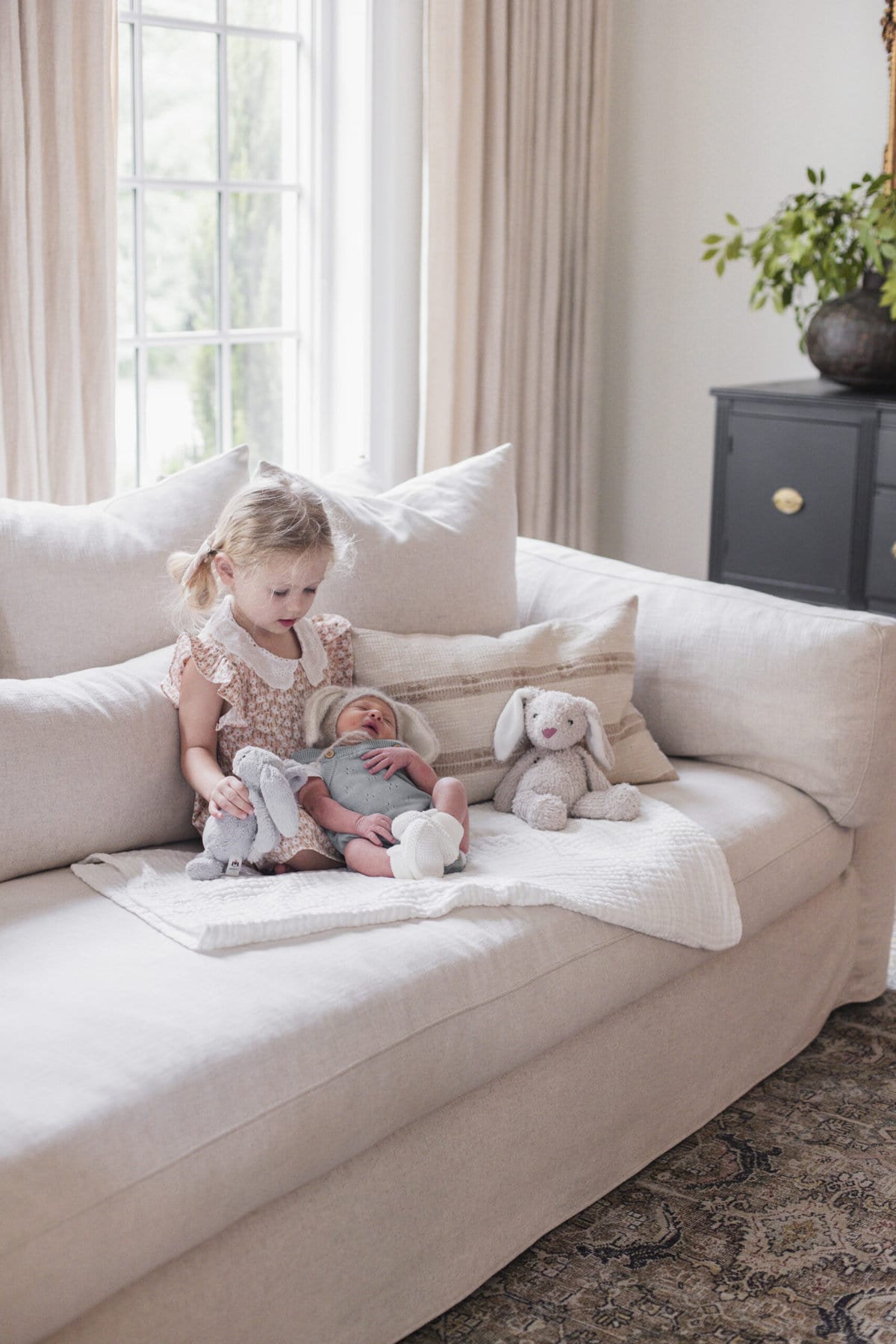 Thank you all for your continued support on this journey! We're anxious to get back to renovations and have started squeezing work in when we can. I may not be posting quite as regularly over the coming weeks, but there are many projects in the pipeline and I can't wait to share those with you soon.
For more frequent updates, you can follow along on my Instagram stories. See you soon,