Each year, Lucas and I take inventory of everything we've used and loved the most over the past year, items we've gifted to others, and items on our wish list. Everything in this guide fits into at least one of those categories, and sharing our favorites with you is something I look forward to every holiday season.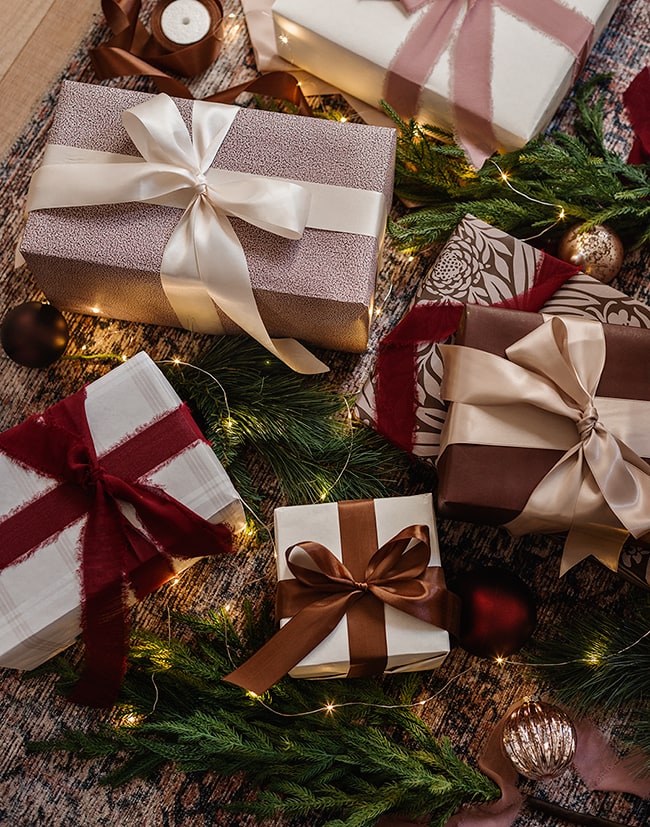 Just like last year, I've grouped our family's favorites into three different lists curated by Jenna, Lucas and Esmé (she had a little help from mom, of course 😉) In these guides you'll find everything from well-known brands to small businesses, quick-ship items to personalized and handmade pieces, best sellers to one-of-a-kind finds.
If your holiday gifting this year includes shopping online for men, women or young children, I hope you'll find the perfect gift within this guide!
Click to navigate to each list: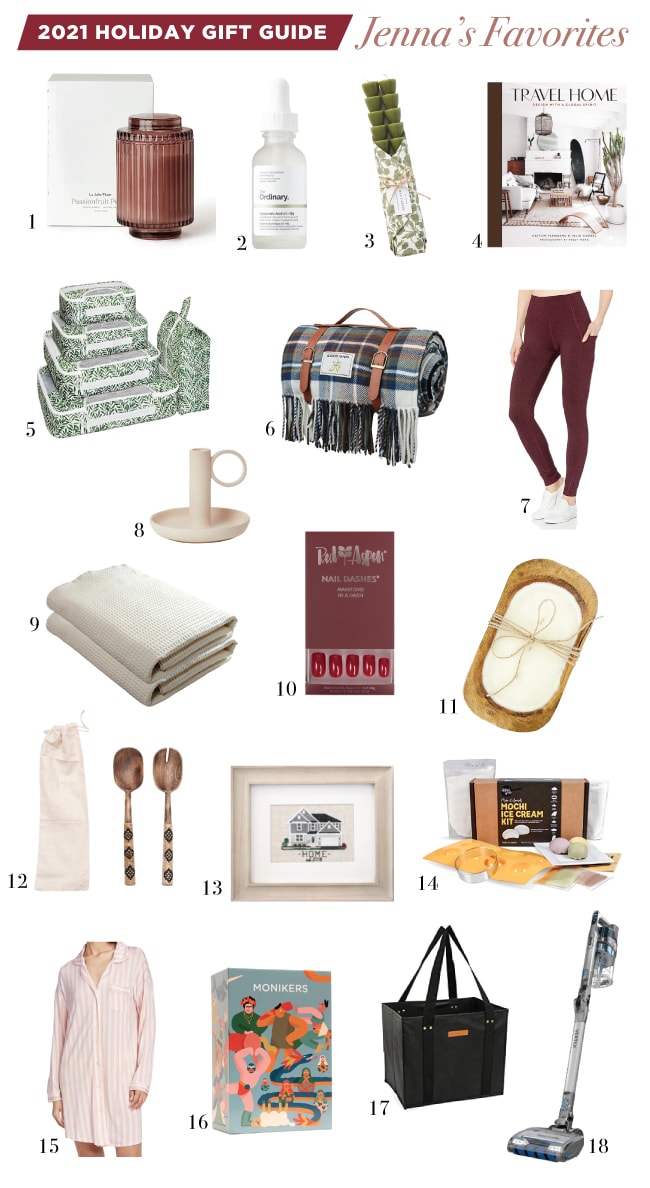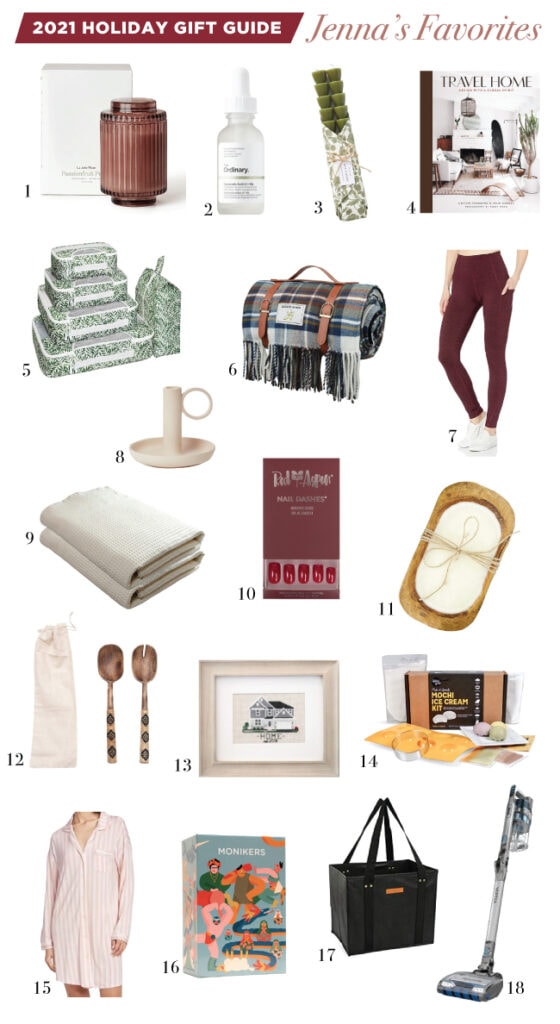 La Jolie muse candle // I have this one in Fraser Fir for the holidays (as seen in last week's holiday décor roundup) but I want one in every color/scent! The fluted glass jar is super chic, and it's packaged in a nice box perfect for gifting. They also carry more vessels and scents here and on their website.
The Ordinary // My sister introduced me to The Ordinary a few months ago and I can't believe how well they work for the price (comparable to my $50+ serums). They're now part of my daily skin care routine and at the top of my wishlist this year!
Fancy taper candles // So many fun candle options this year! Molded tapers are a hot item right now, and Anthro doesn't disappoint with these unique sets that come wrapped and ready for gifting.
Travel Home coffee table book // One of my favorite coffee table books that any décor-loving friend/family member would appreciate, and a fun one to flip through to see different styles from around the world.
Packing Cube set // I've been preaching about packing cubes for years and won't travel without them. I recently upgraded to this set before our 3-week west coast trip and it worked like a charm to keep everything organized and separated. Super affordable and such a cute design!
Picnic blanket // We have family bike rides + picnics at least twice a month, and a waterproof picnic blanket is essential! It's one of our most used wedding gifts, and I love this one with the classic plaid + fringe detail.
Favorite yoga pants // This is my second pair of Champion C9 yoga pants and they're hands down my favorite—so comfortable you forget you're wearing pants. I live in yoga pants these days so my standards are high. These ones have just the right amount of stretch, they're stylish and flattering enough to wear while running errands. Also, I'll never buy yoga pants without pockets again—they're so useful and the perfect size for my phone.
Stoneware candlestick // H&M home often has some really beautiful pieces at a really great price. I'm loving this minimalist stoneware design and it would be lovely with a set of fancy tapers to gift to your design-conscious friend.
Waffle weave bath towels // I've heard great things about waffle weave bath towels and have been wanting to give them a try. These ones are $20 less than Onsens and have similar ratings. They're the #1 item on my wishlist this year!
Red Aspen nails // Glue-on nails are an absolute game changer, and another one my younger + cooler sister introduced me to. It takes just 5-10 minutes to apply these, they last 2+ weeks and look better than a salon manicure for a fraction of the cost. I'm now on a mission to find all the best glue-on nails and bought them here in matte and glossy. I like the cheaper Amazon sets and will continue to use them for myself, but the Red Aspen includes everything needed and are better for gifting.
Henro Tree Farm dough bowl candle // The most delicious and fragrant Christmas scent—I burned this last year and our home really smelled like a Christmas tree farm. Available in a dough bowl and a ceramic jar.
Rattan wrapped Wooden salad servers // Classic wooden salad servers with a trending rattan-wrapped twist. These would be a great addition for any utensil crock, and they're on my wishlist this year.
Custom cross-stitch house portrait // We had a similar embroidered portrait made for our house a couple years ago and it hangs proudly in our foyer. Love the sentiment and charm of this handmade gift.
Mochi ice cream making kit // We're huge fans of mochi around here, and this would a fun gift for a date night or family activity at home.
Striped Nightshirt // I bought this as my hospital gown to wear after Esmé was born. The material is super soft, and I love wearing it around the house in the cooler months.
Monikers game // We're big fans of party games, and a friend recommended Monikers to us. This one looks like a lot of fun to play during holiday gatherings (it's currently in my shopping cart!)
Reusable/washable shopping bags // I recently switched over to these expandable folding bags and they've really simplified the grocery shopping process. They're designed to fit four in a standard grocery cart, or three with a little one in the seat—just place your food right in them while you shop (I group mine by cold items/produce/etc). Stylish and sturdy, and no more piles of disorganized mismatched cloth bags! Gifting a set to my in-laws this year too.
Shark Vertex cordless vacuum // This is the successor of the model I bought a few years ago (IonFlex) and it's easily my favorite cleaning tool. I've never enjoyed cleaning but I actually look forward to vacuuming now. There's no effort required (the vacuum actually pulls itself), the suction works great and the detachable hand-vac feature is my favorite. I'll never go back to corded vacs!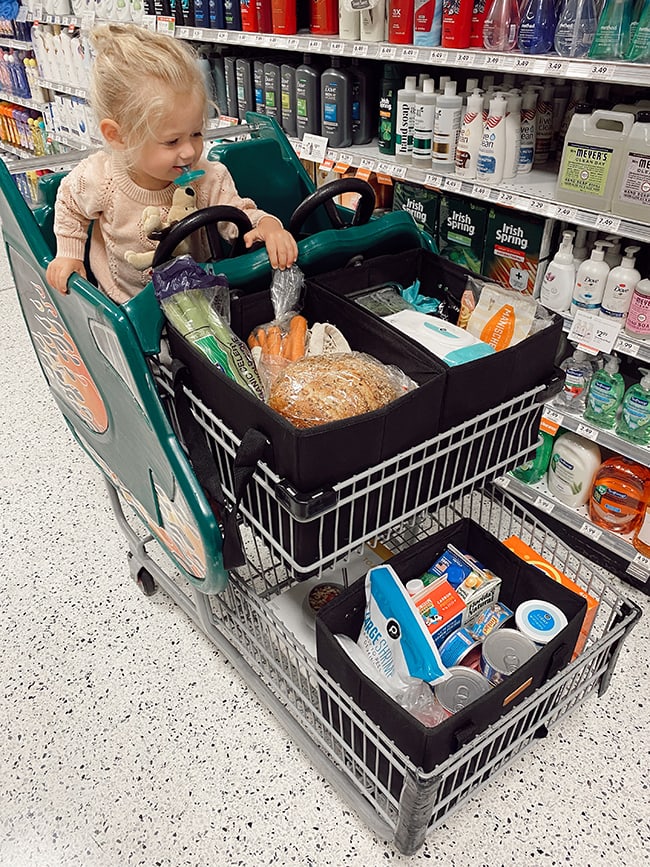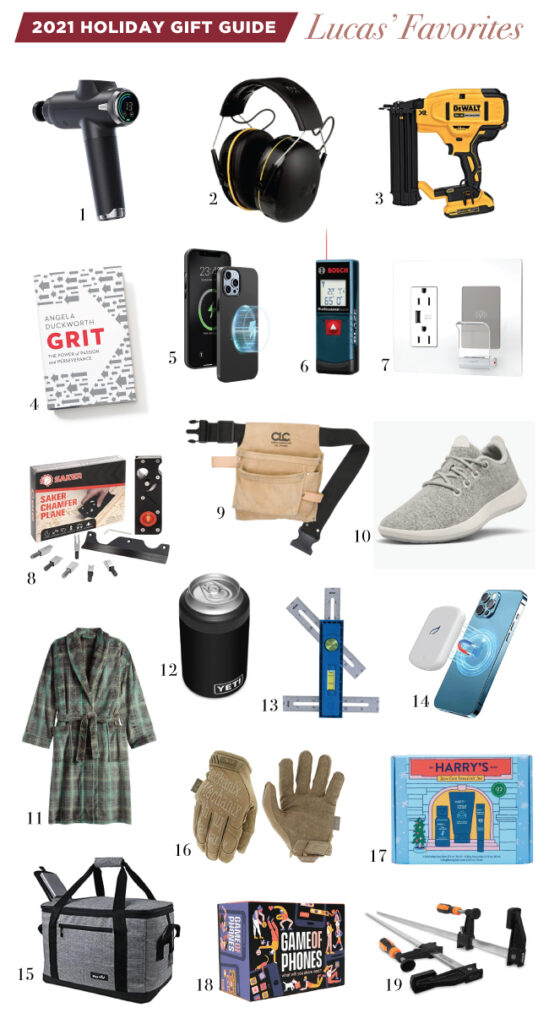 Percussion massage gun // Between physically demanding DIY projects and strenuous kung-fu classes, my body has been put through the ringer lately. A friend recently introduced me to his Theragun massager and I immediately hopped on Amazon to buy one. $300 was a bit more than I was willing to spend, but I found this one for less than half the price and more 5-star ratings. It feels on par with the Theragun, and my aching muscles can get deep tissue relief at any time.
3M worktunes // I'm always listening to music or a podcast while working on projects, and that doesn't stop if I'm using a loud tool like the table saw or grinder thanks to these ear protectors that are also bluetooth headphones. They are extremely comfortable and the sound quality is amazing. This product consistently makes every Christmas/Father's Day gift guide!
Dewalt cordless nailer // This was the latest tool added to my collection and was an absolute lifesaver during my recent Hacienda Hideaway ceiling project. I'm kicking myself for not upgrading to this cordless tool earlier.
Grit: The Power of Passion and Perseverance // This is a book I recommend to everyone. I believe grit is one of the best traits someone can have, and this book shows how it is not only learnable but very achievable for anyone.
Magnetic iPhone case // I'm currently waiting for my new iPhone 13 Pro to be delivered and bought this magnetic case for it. It will allow me to easily mount my phone to a magnetic car holder as well as use this magnetic power bank/charger (see item #13)
Laser distance measure // I use this little tool all the time! It provides a laser accurate measurement down to 1/16" and has made my life easier on pretty much every project I tackle. It is a must-have in every tool box, and my top gift recommendation for any DIYer who doesn't already have one.
LeGrand Wall outlet with wireless phone charger & USB port // We have this installed in our kitchen above where I do most of the meal prep work and my phone is always in it. It's also our go-to place to plug in other devices to charge using the USB port (like our electric candle lighter and portable power banks).
Shaker Chamfer Plane // This is a handy little tool that helps make those edges in woodworking projects look more professional.
CLC Suede Tool belt // This is a very simple tool belt that I use all the time. Whether it is holding my tape measure, hammer, or Christmas light clips while I'm scaling our roof, it has been extremely useful. It's perfect for someone that doesn't need a tool belt with all the bells and whistles, but still needs a few extra hands around the shop/house during projects.
Allbird Wool Runners // My favorite shoes I've ever owned. Period. So comfortable and versatile. Perfect for relaxing or hiking Machu Picchu—these shoes can do it all.
Plaid Fleece Robe // Because everyone needs a robe. I wear mine every morning while making breakfast (and middle-of-the-night toddler calls) and couldn't live without it.
Yeti Can Cooler // This is probably my favorite Yeti product. It's small and simple, but when a beer needs to be kept cold there isn't anything better. Highly recommended for the beer/soda drinker in your life.
Magnetic power bank/charger // I use our current portable power bank all the time while traveling and out in the garage working on projects, and this magnetic one will attach directly to my phone (with my new magnetic phone case) so I don't have to worry about cables.
Multi-mark/measure tool // This is a very handy tool perfect for a wide variety of household and job site applications.
Soft Waterproof cooler bag // We use our cooler bag for every family picnic. This one is plenty big to hold some drinks, food, and a snack or two.
Work gloves // A good set of work gloves is essential in my life and they would make a great gift to someone that uses their hands around the house.
Harry's Skincare Gift set // I was gifted Harry's peppermint face wash last year ago and it's all I use now. This boxed comes ready to gift and only $15—you just can't beat the price.
Game of Phones // We love a good game in our family and are always looking for new ones to add to our collection. This is a fun one for the whole family that challenges you to use your phone as a scavenger hunt tool.
Adjustable 36" Steel Bar Clamps // Clamps are an essential part of any workshop and these large clamps have been so useful to me recently. They are one of those tools that you don't know you need until you need them, but at that point nothing else will get the job done right. Better to have them around for when that time comes than be sitting there wishing you had them on hand.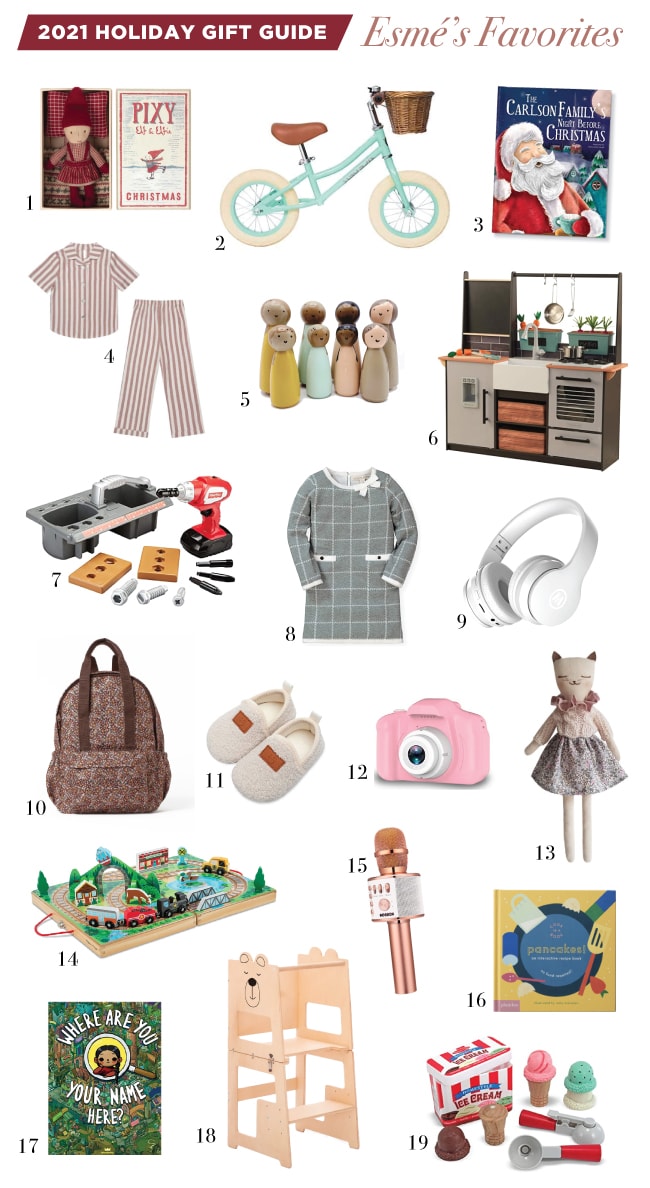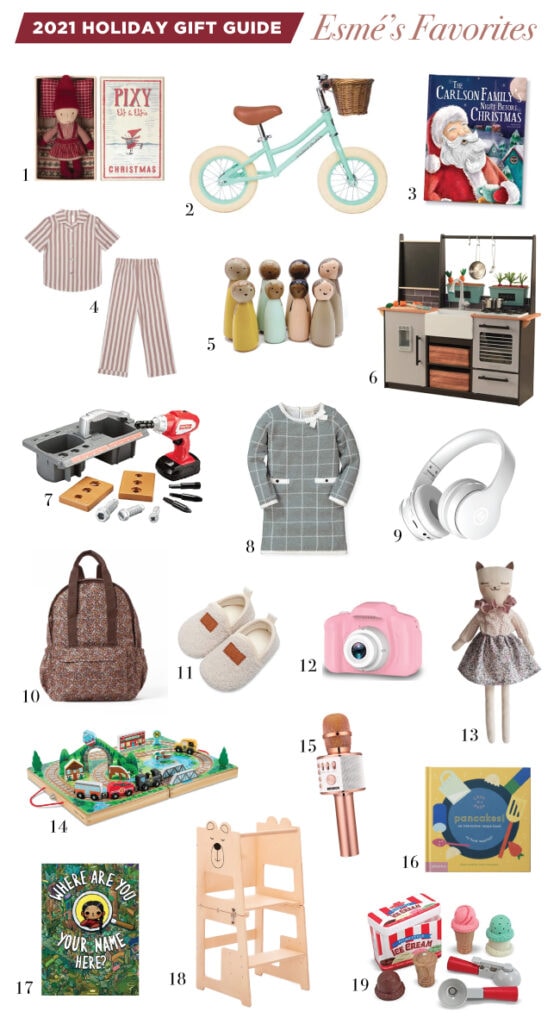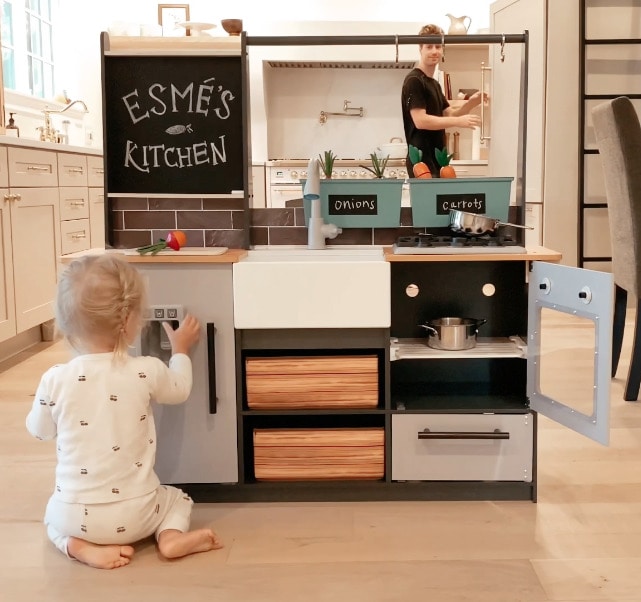 ---
And that's a wrap! We've been working on these guides for a long time and put a lot of thought into it, so I hope sharing our tried + true favorites and personal wish lists has been helpful to you. For you last-minute shoppers out there (raises hand) I'm also putting together a quick-ship stocking stuffer guide again this year, closer to the big day. If you need ideas now—check out my 2020 and 2019 stocking stuffer guides—many of those items are still available!
Next week: Another BIG update at the Hacienda Hideaway—make sure you're following my stories this week to watch it all go down!