It has been an exciting month at the Hacienda Hideaway! First we completed the biggest DIY of our lives, then we jumped right into another massive project—brand new floors!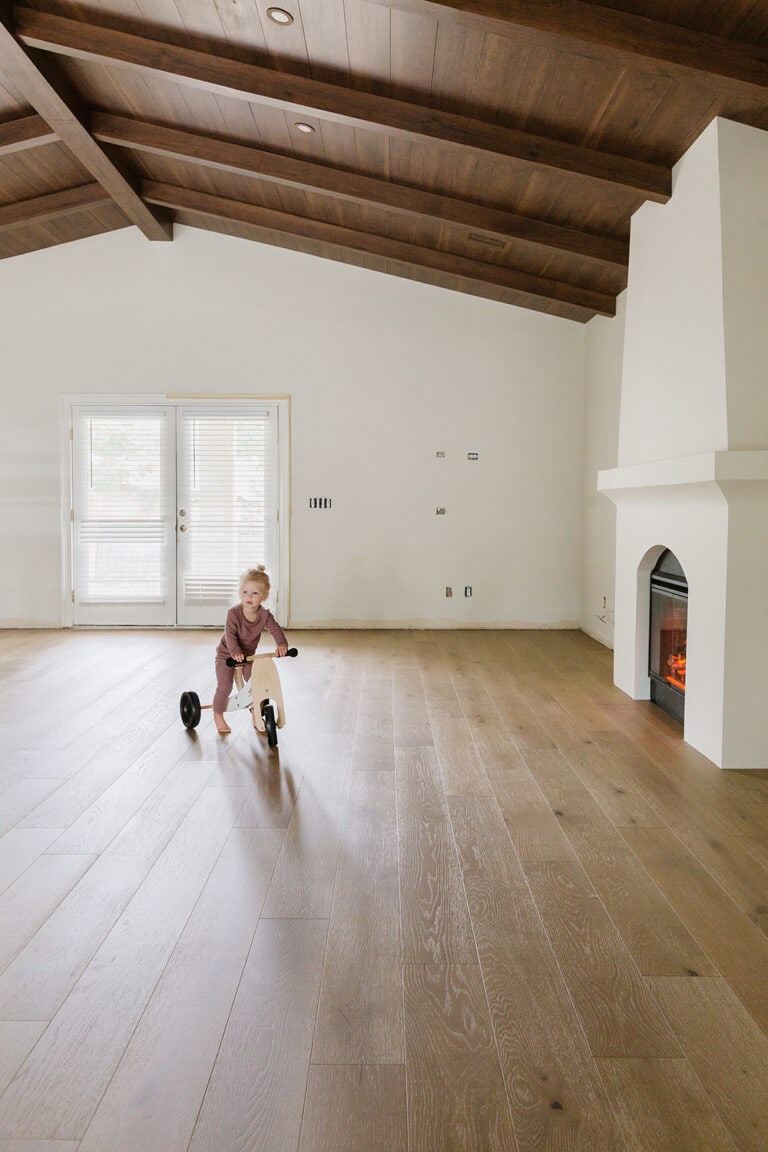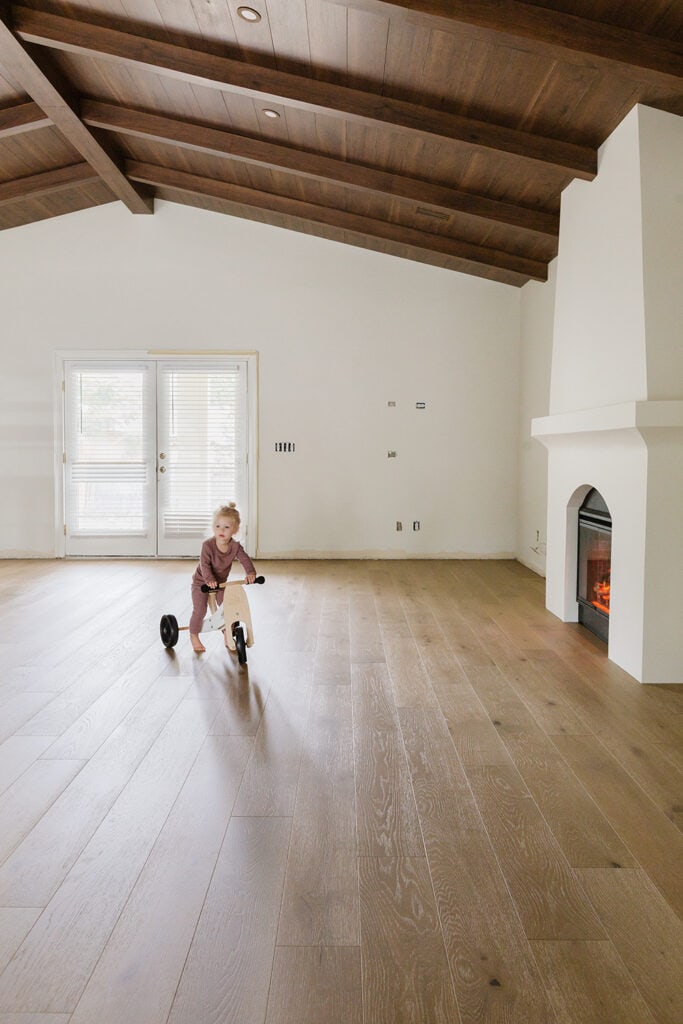 I chose these floors way back in June, and shared more about my decision in this post, but I'll recap why I chose them here. First—inspiration from Amber Interiors to illustrate that dark wood ceilings + light-medium tone wood floors are a winning combo: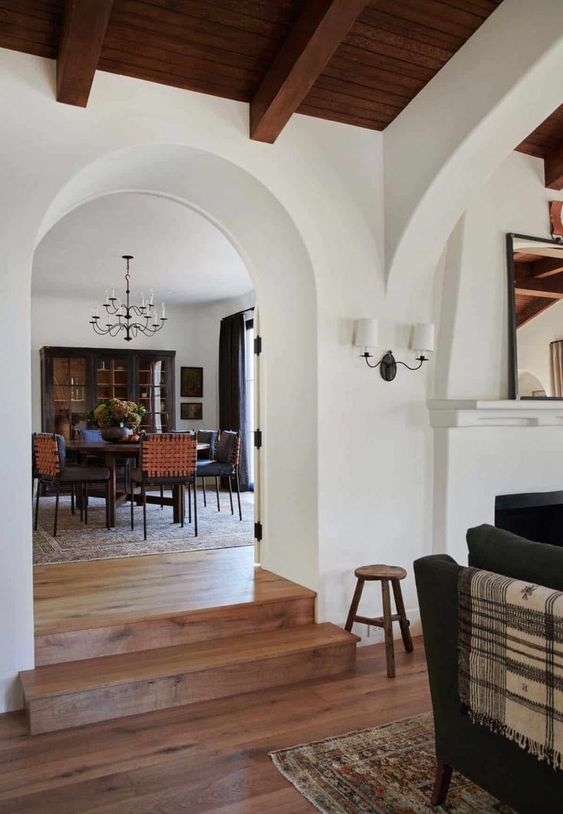 I briefly considered using Spanish tile floors throughout, but the tiles I wanted were significantly more expensive (material + install) than wood—don't worry, I have some fun tile picked out for the bathrooms and patio!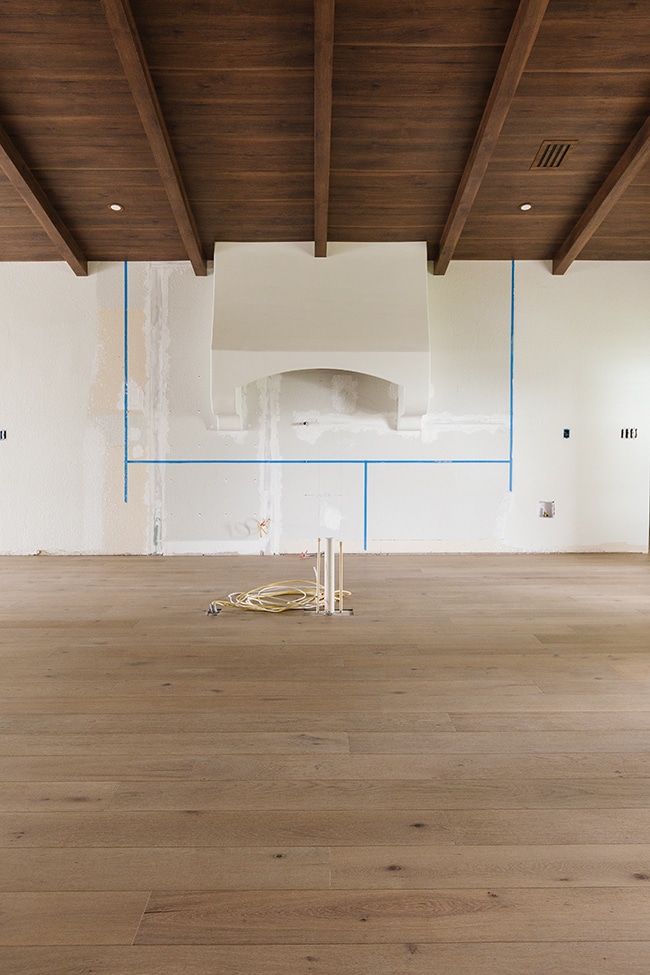 Instead, I landed on Engineered waterproof white oak in First Flurry from Raintree Floors. The company had reached out about a potential partnership a while back, and their flooring came to mind immediately after we bought the Hacienda.
We have similar wide plank European Oak engineered floors in our own home, and they've been one of our favorite design decisions. There were so many reasons this flooring made sense to use in this house:
Wood floors are classic and will never go out of style
Wood brings warmth and comfort to every room
The rustic style fits in perfectly with the traditional Spanish design of the home
The matte finish, brushed texture and medium tone hides dust and scratches
Glue-free installation is easier/simpler
The floors are waterproof and scratch-resistant—a huge plus for a vacation rental (especially here in Florida/with a pool)!
They come with a lifetime warranty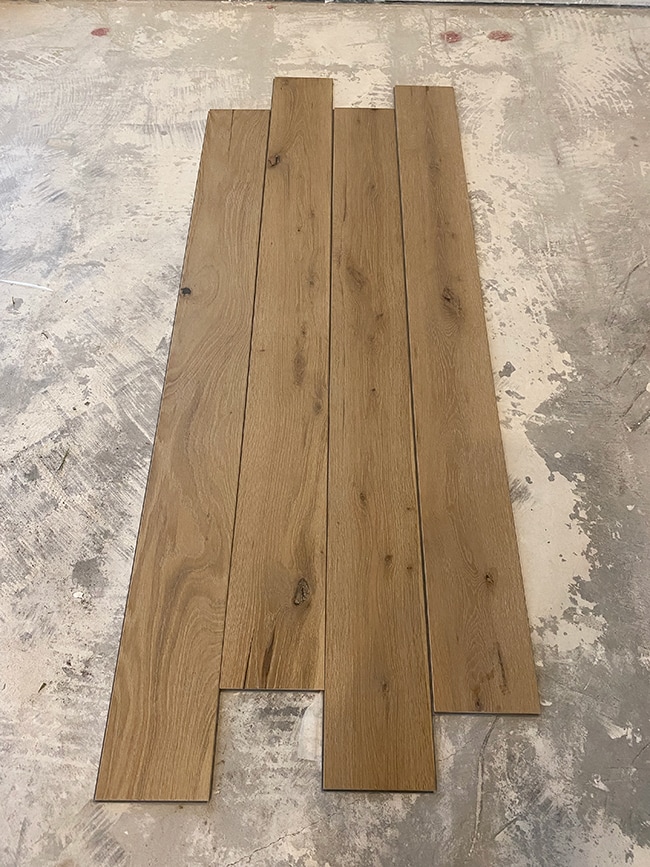 These checked every single box for us, and they're one less thing for us to have to worry about getting damaged/replacing in our rental.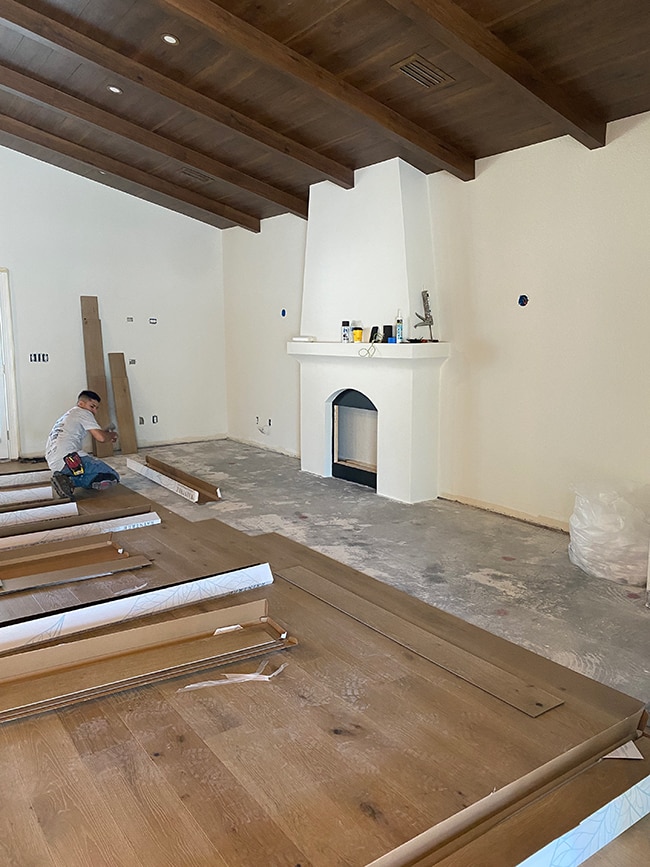 We had nearly 2,300 sq ft of wood delivered a few weeks ago, and our flooring installer lined up and ready to go! While a glue-free floor installation is definitely DIY-able, it would have taken Lucas weeks to complete on his own and he just didn't have the time (or energy after the massive ceiling install!)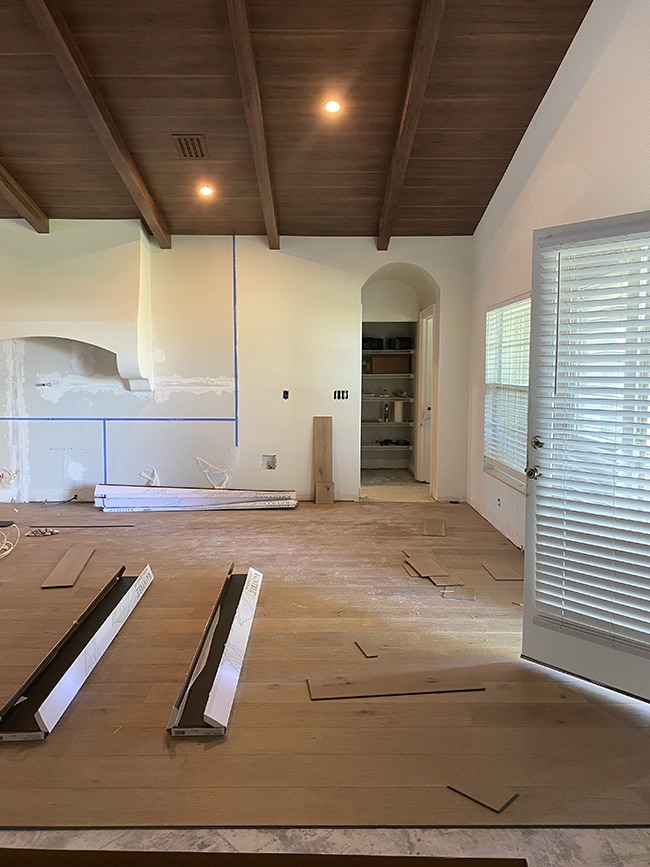 I expected the install to take at least a few days, but when I went to check in on the progress on the first day, they were almost done! It took a crew of five guys less than two days.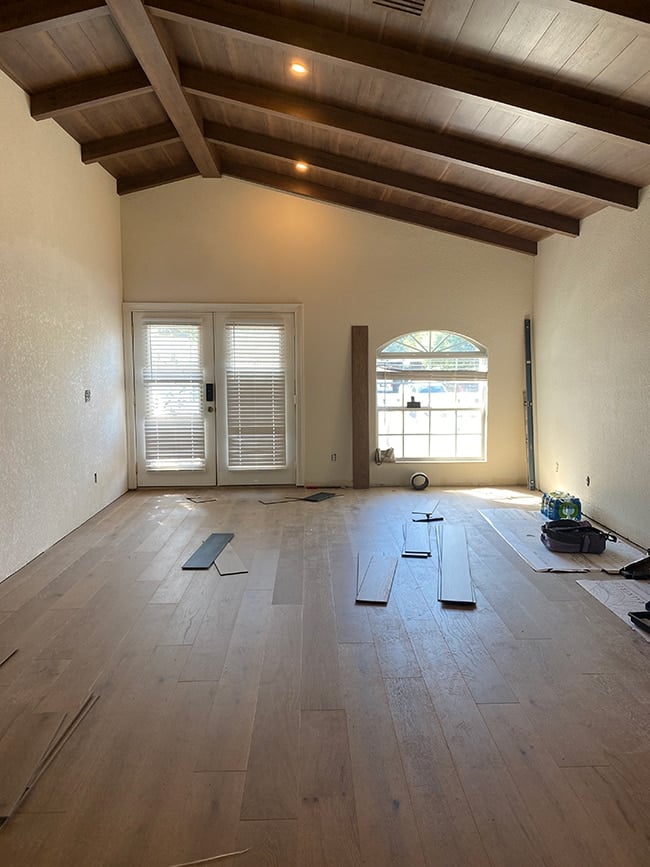 Our lead installer, Juan, commented on how solid and high quality the floors were. He has many years of experience so that made me feel even more confident about our decision.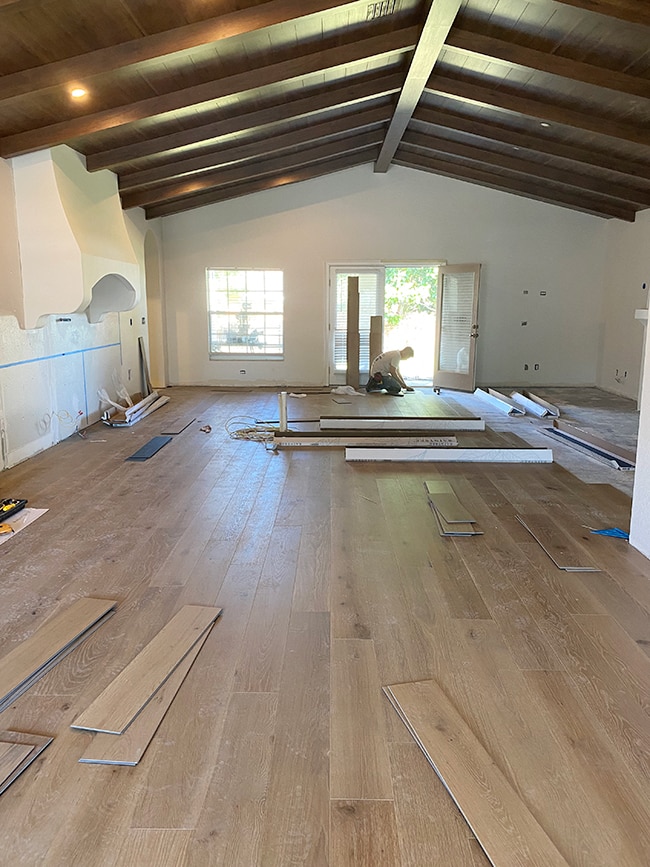 This is something I've never seen before—the planks have an 'acoustical layer' which is a rubber-like built-in underlayment which eliminates the clicking sound you often hear when walking on wood floors. It also reduces sound transition between floors so you don't hear noises from upstairs.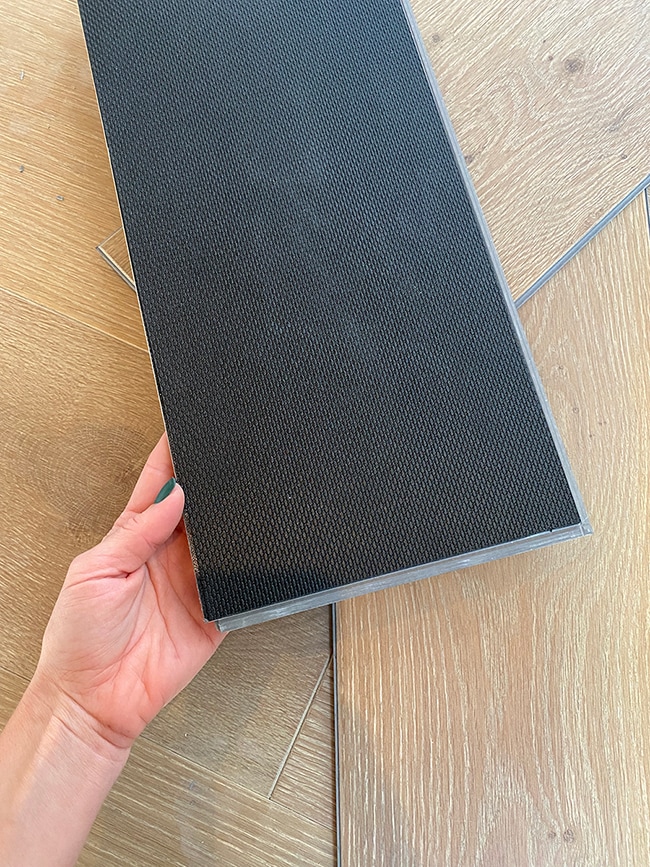 You'll notice the coloring of the floors can vary a bit depending on the lighting and angle. Here it is in natural light on the left, and overhead lights on the right.
You can also see how the tone changes in the light and shadows.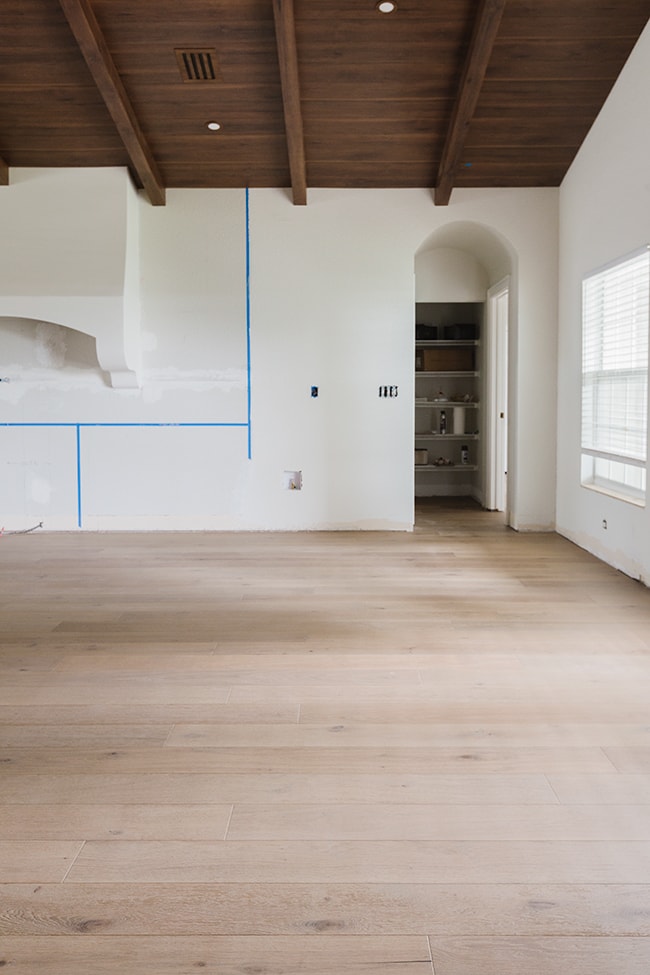 Here's how the primary bedroom and small bedroom addition are looking…
When Esmé saw the floors for the first time, her reaction was "WOW! This is very very very very very pretty!" I love how enthusiastic she gets about design details. She's definitely her mama's daughter 😉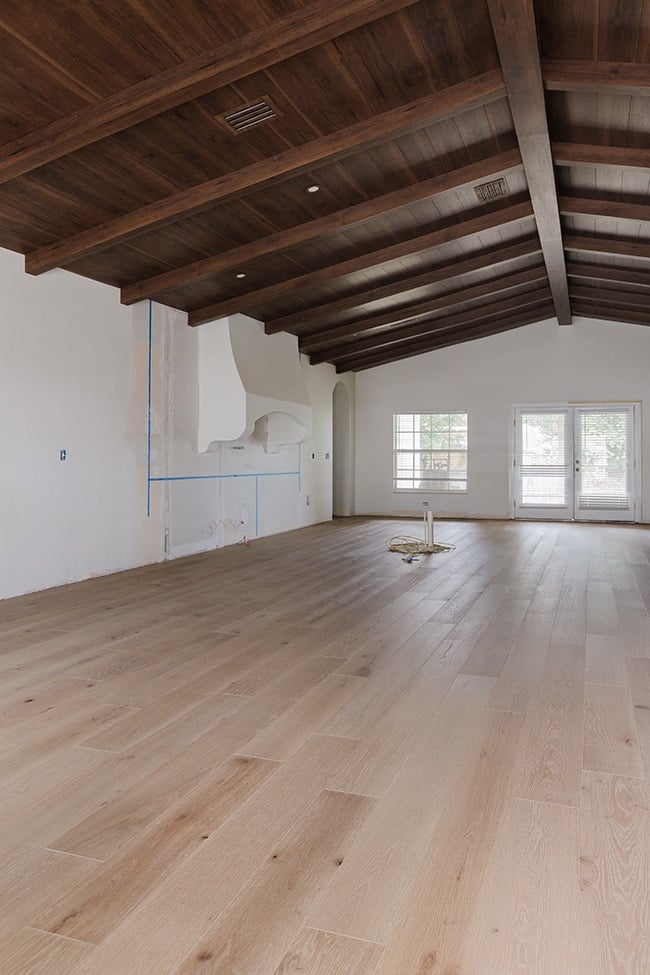 After months of painfully slow progress, I can't tell you how rewarding it was to watch the home transform before our eyes. In a matter of days, it feels like a completely different house (and no longer a construction site!)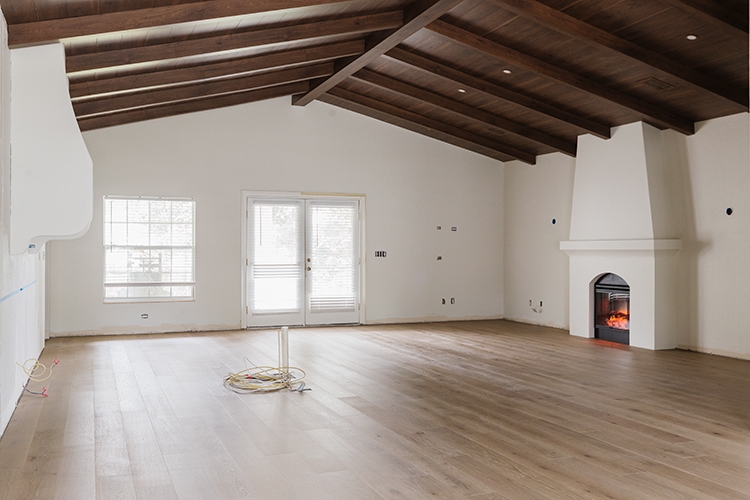 It's amazing the difference flooring can make. It's a big investment that should last for decades, so it's absolutely worth doing your research to find what works best for your needs.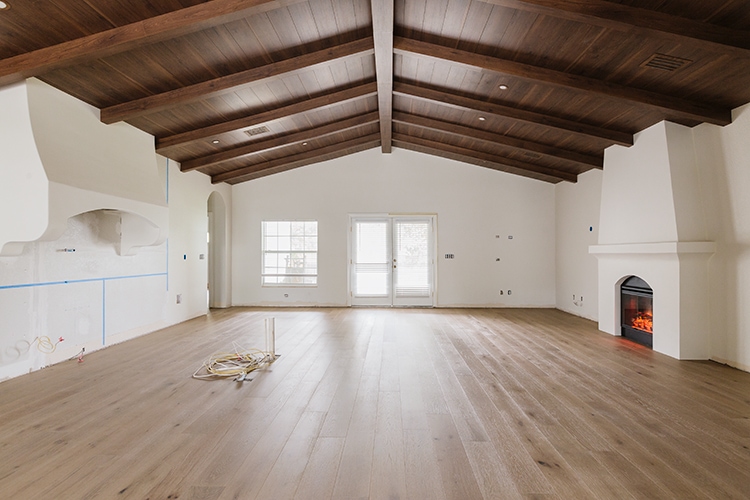 If durability, ease of maintenance and aesthetics are top priorities for you, I'd highly encourage you to take a look at Raintree's waterproof wood flooring and browse through their Aspen Estates, Nashville Scene and Laguna Vibes collections. They're based out of Tennessee and you can order free samples to test out in person.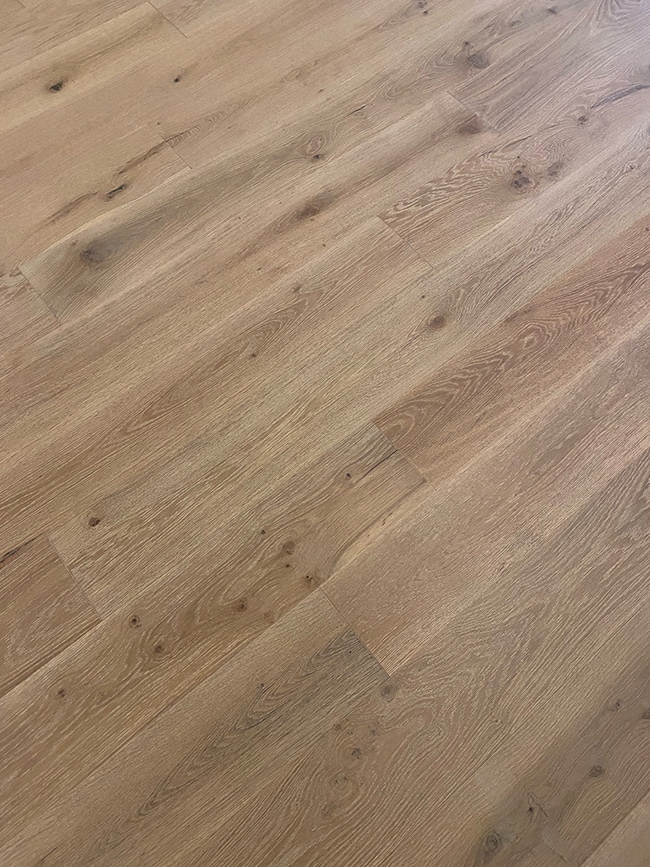 Raintree sells their flooring through dealers located throughout the US, and you can find the dealer closest to you through this link.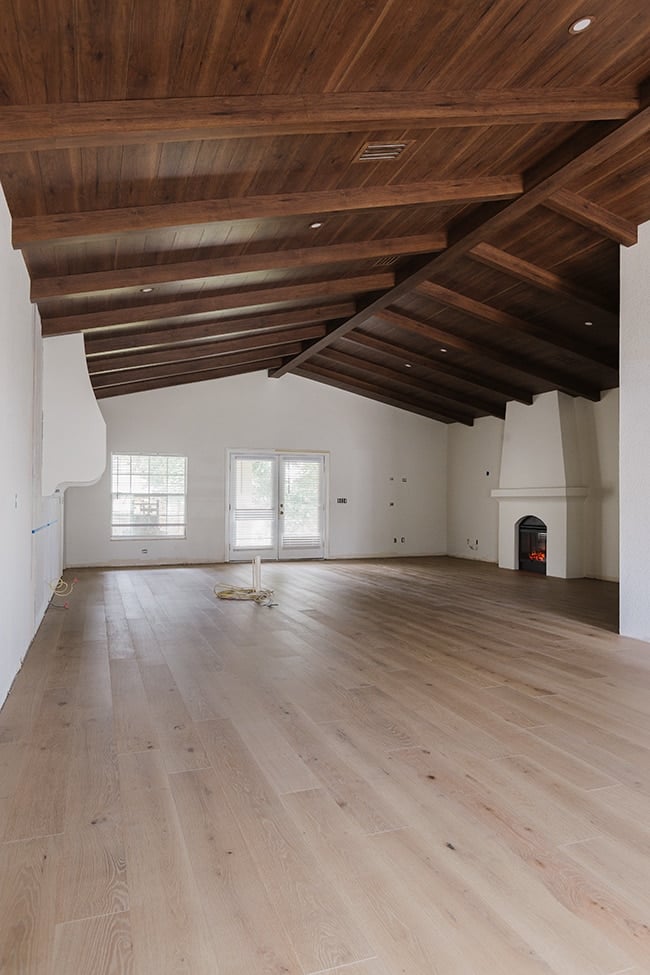 A huge thank you to Raintree Floors for partnering with us on this project, and letting us put your flooring to the ultimate test in our rental! I'm looking forward to seeing how it all comes together once we add furnishings, and how they hold up over time to heavy wear and tear.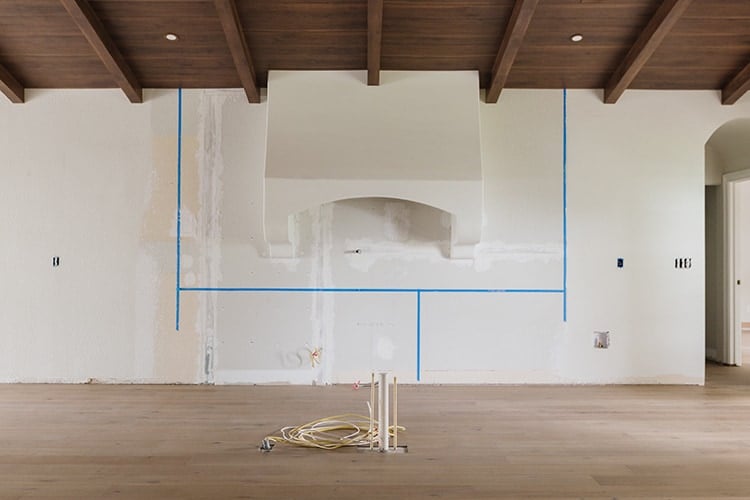 We have quite a long way to go before we make it to that point—first, we need to build a kitchen! Lucas has been busy in the garage, creating a work station/miter saw bench from scratch so he can start building the kitchen cabinets. Can't wait to take you all along for the ride—I'll be sharing more details over in my Instagram stories in the coming weeks so make sure you're following me there!