It has been a whole three weeks since we left for our wedding, and as much as we're staying busy with house projects, those post-wedding blues still creep in from time to time. We talked about our big weekend & shared some video and photos in our vlog last week:
It was a non-traditional wedding, with a courthouse ceremony on a Thursday in Salt Lake City (attended by only our immediately family), and then a weekend-long celebration at the US's largest privately owned log cabin in nearby Heber City, with a group of our closest family & friends.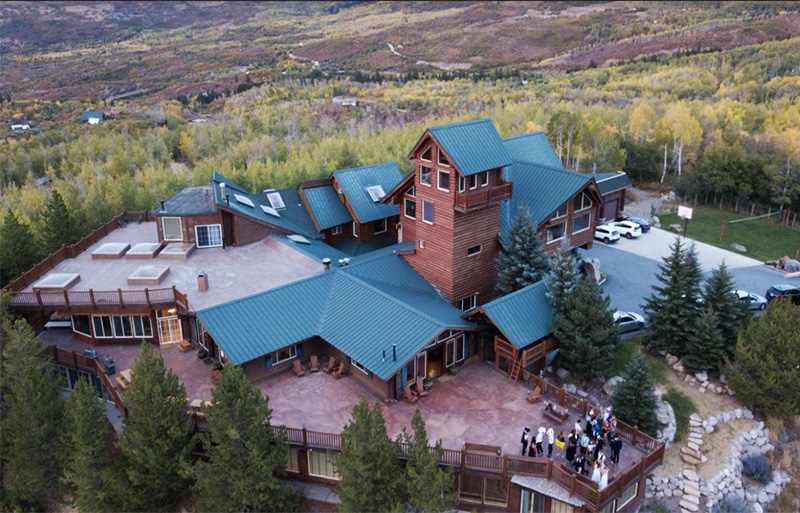 Pin
Our biggest wish was to have everyone under one roof so we could spend quality time with them, vs the standard hello/thank you/goodbye greeting at traditional weddings. We knew that this would likely be the only opportunity we'd ever get to be surrounded by all of our favorite people at once, and we wanted to make the most of it.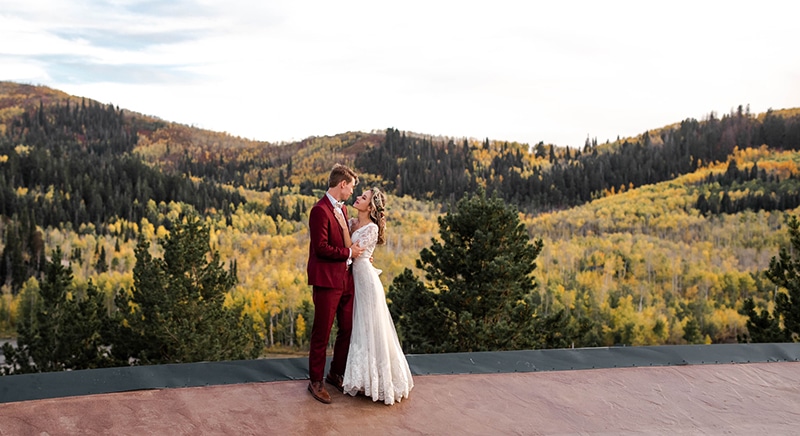 Pin
On Friday night, we had a costume party (the theme was international) and can I just say… Best Idea Ever. So many fond memories from that night.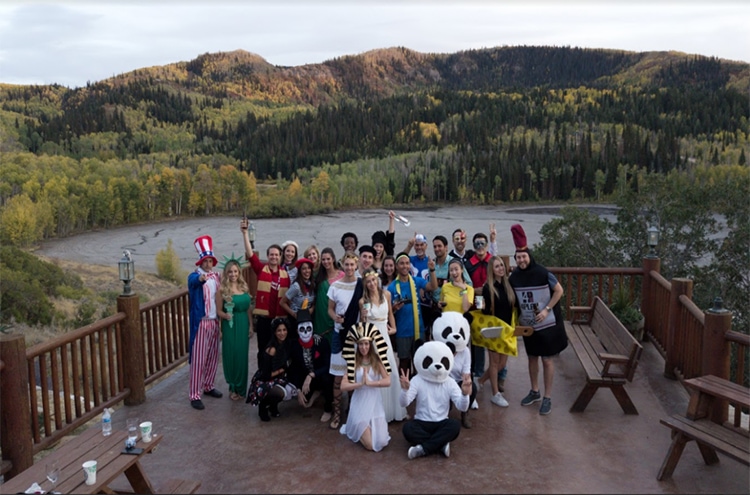 Pin
Lucas and I were a Greek God & Goddess, and we served Greek food in honor of my favorite country.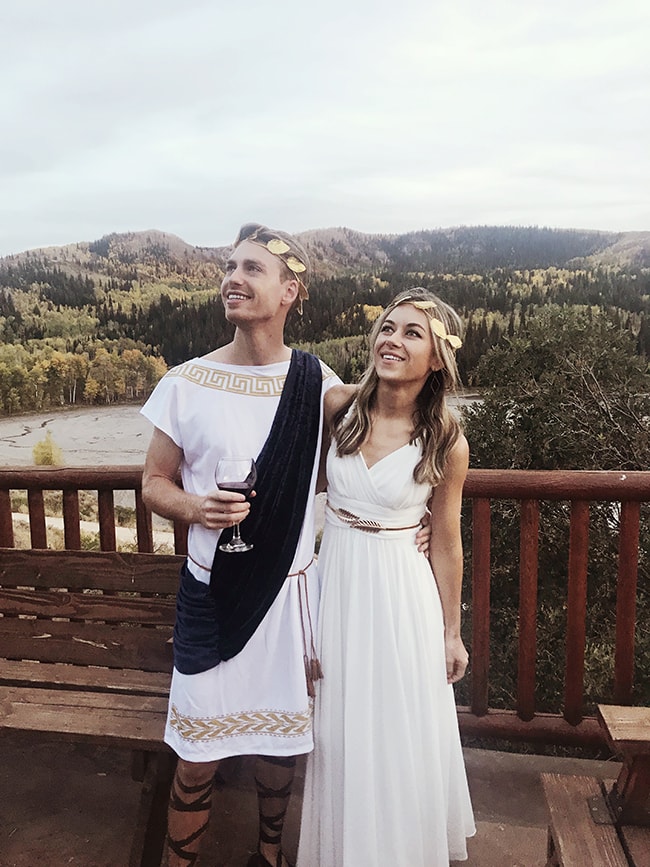 Pin
On Saturday we dressed up in more formal wedding gear, barbecued and played games, and caught up with our loved ones.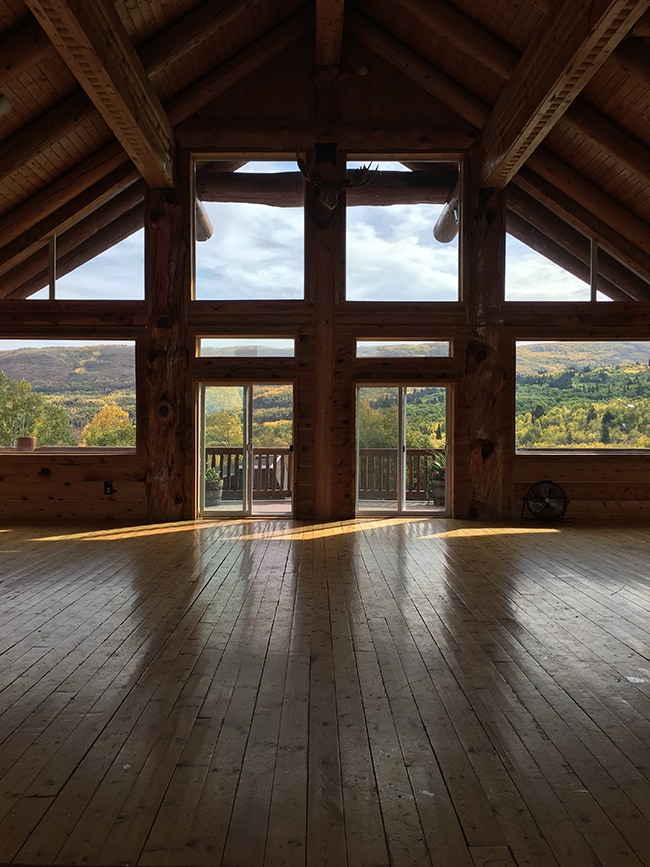 Pin
We got all dressed up in our formal wedding attire, took a few photos and gathered everyone into the Grand Room where we exchanged vows we had written.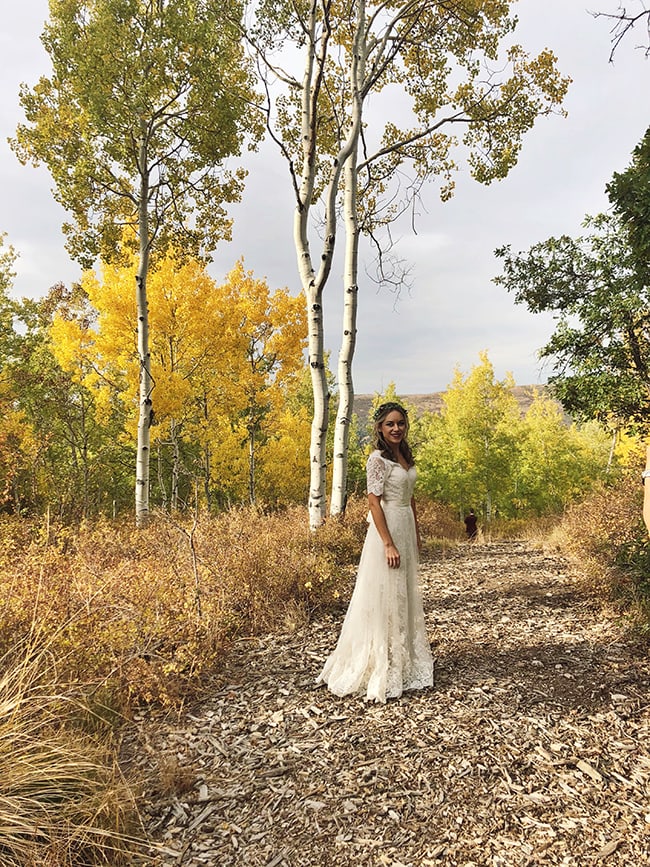 Pin
Pin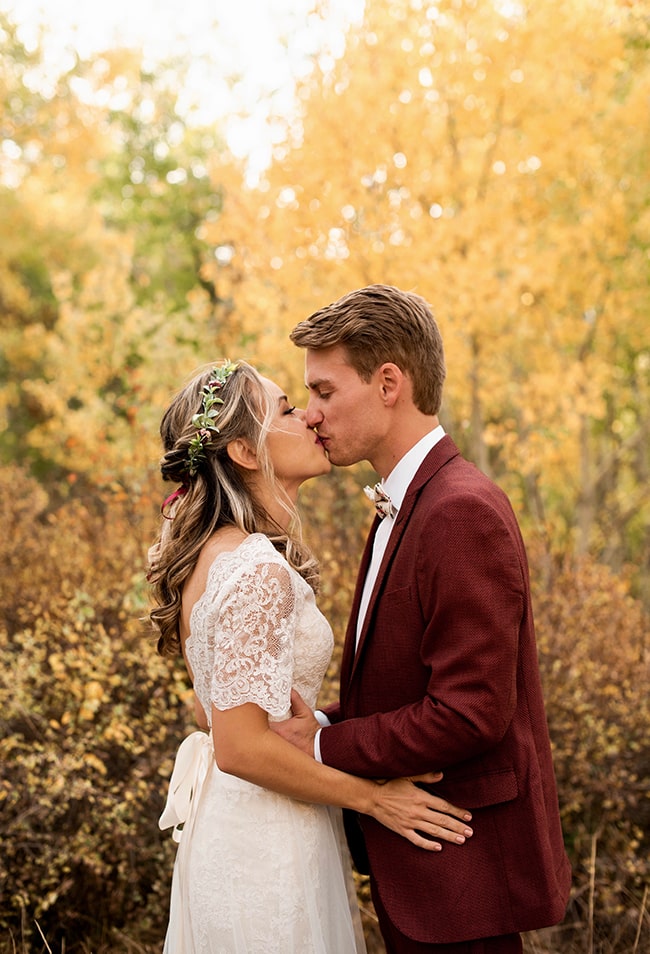 Pin
The celebration continued with food, drink & dancing until the wee hours of the morning. We couldn't have asked for more—beautiful autumn scenery, perfect weather, an abundance of love and laughter and happy memories.  As sad as we are that it's all over, we're truly so blessed for those precious few days, and will always look back at this time as the happiest of our lives.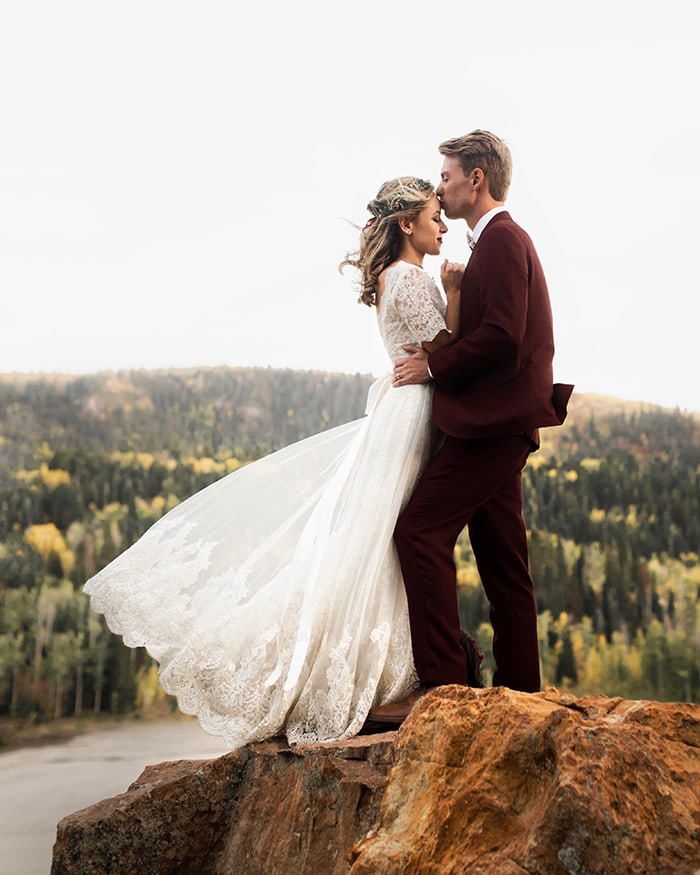 Pin
(Photo by the amazing Adam Black Photography)
We skipped the big honeymoon and opted instead for a couple nights at the darling little A-Frame Haus just up the street.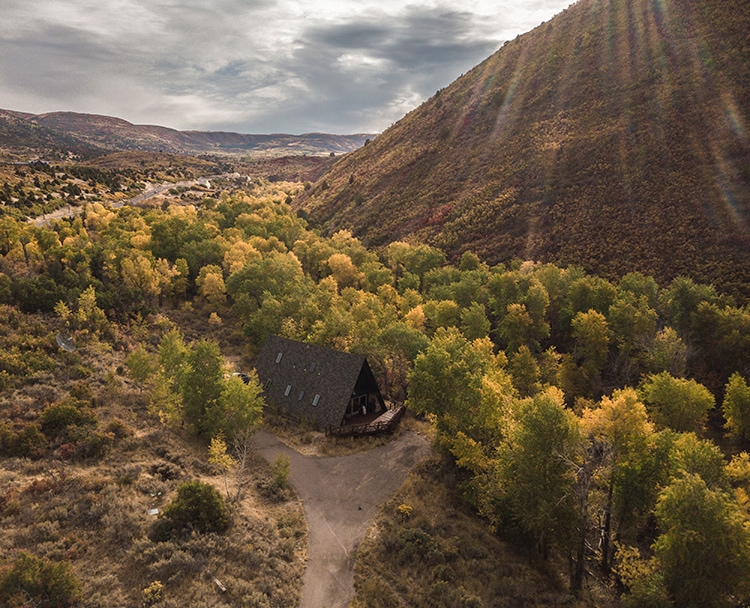 Pin
It was so nice, just the two of us and quiet solitude. Reflecting on the whirlwind that had just passed.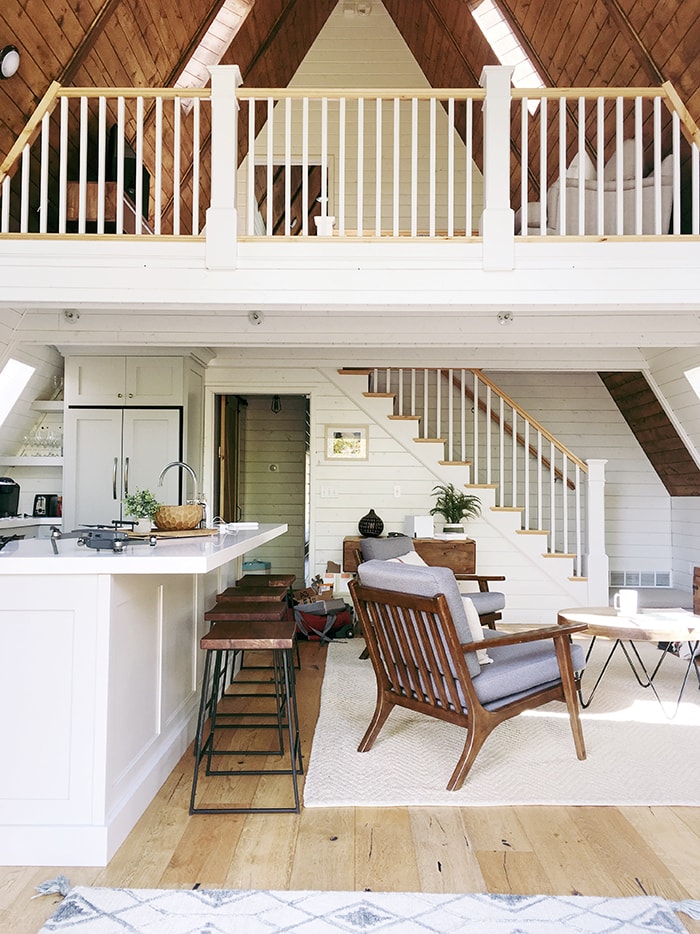 Pin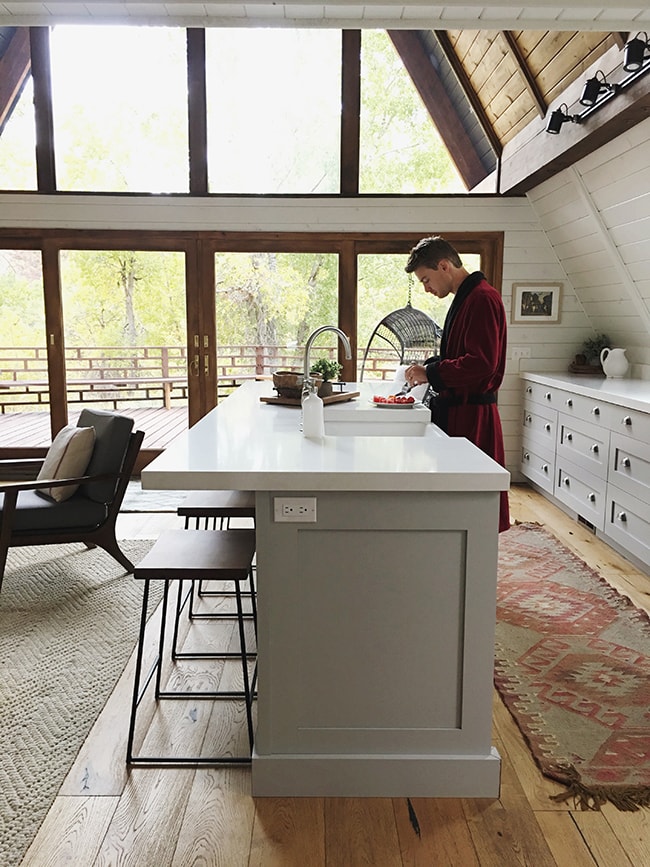 Pin
This place is so special to us now, we can't wait to come back once we have a family of our own and make it a tradition.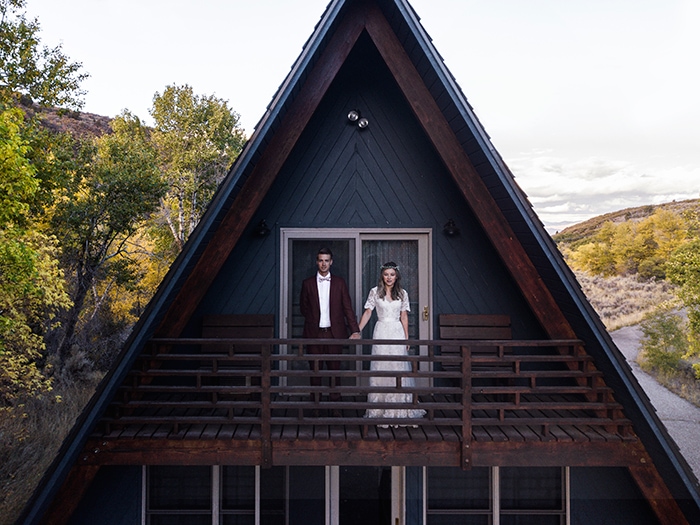 Pin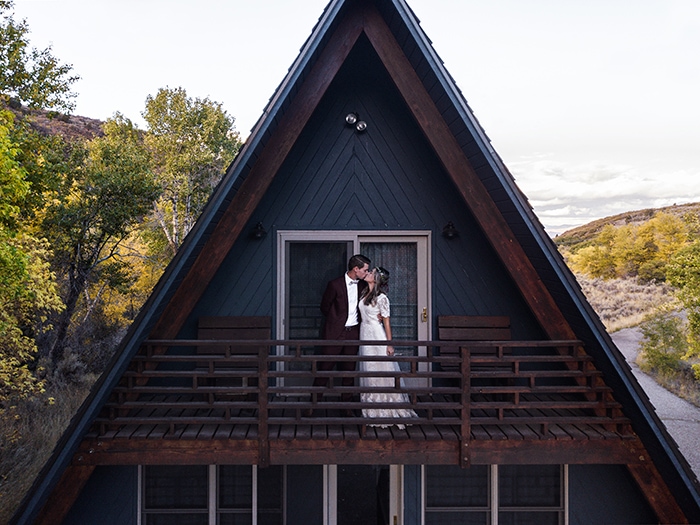 Pin
Would it be weird if I just never took off my wedding dress? I'm thinking about wearing it full time.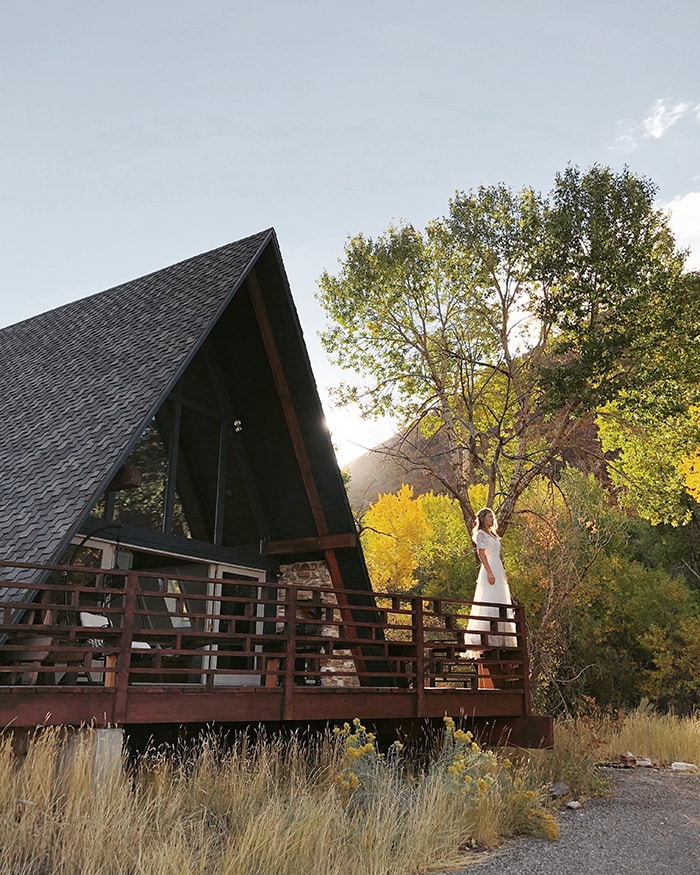 Pin
So much joy. I feel like the luckiest person in the world, and if I hadn't hit rock bottom three years ago, I wouldn't be here now. Beauty from ashes, my friends—always.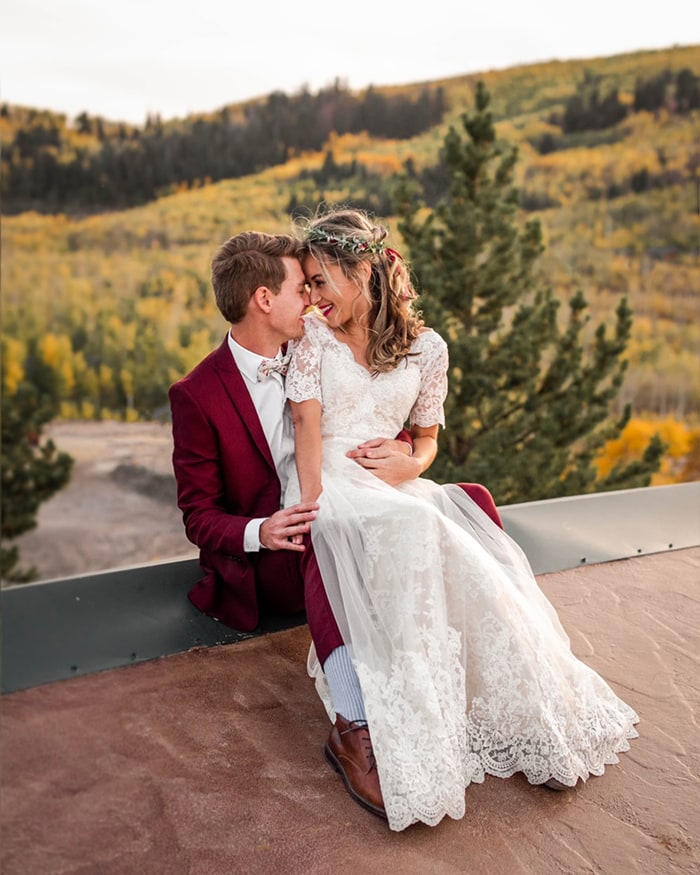 Pin
Switching gears now to more happy updates… our new build is coming together fast! When we left for the wedding, there was just a foundation: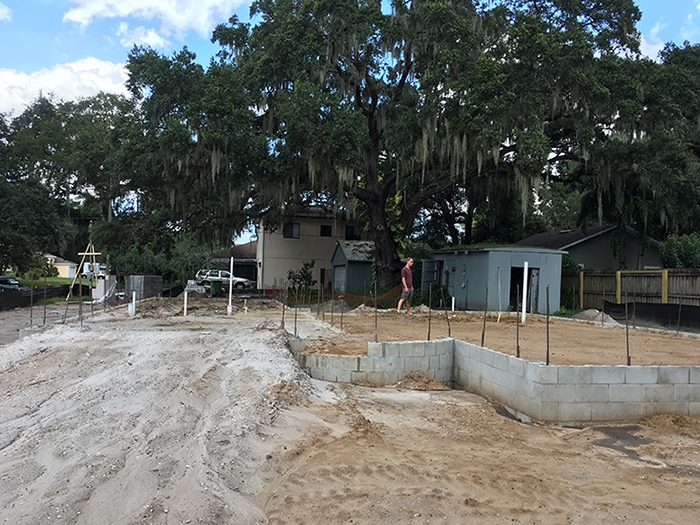 Pin
And when we returned, the walls were going up!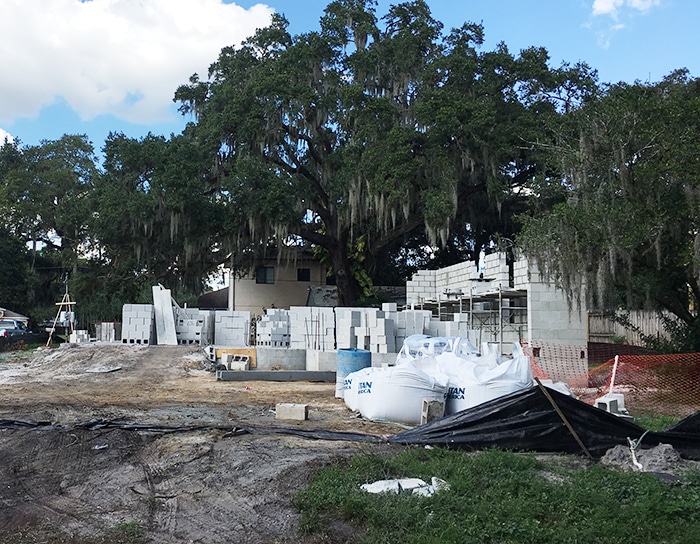 Pin
Backyard view with the kitchen on the left and master bedroom on the right: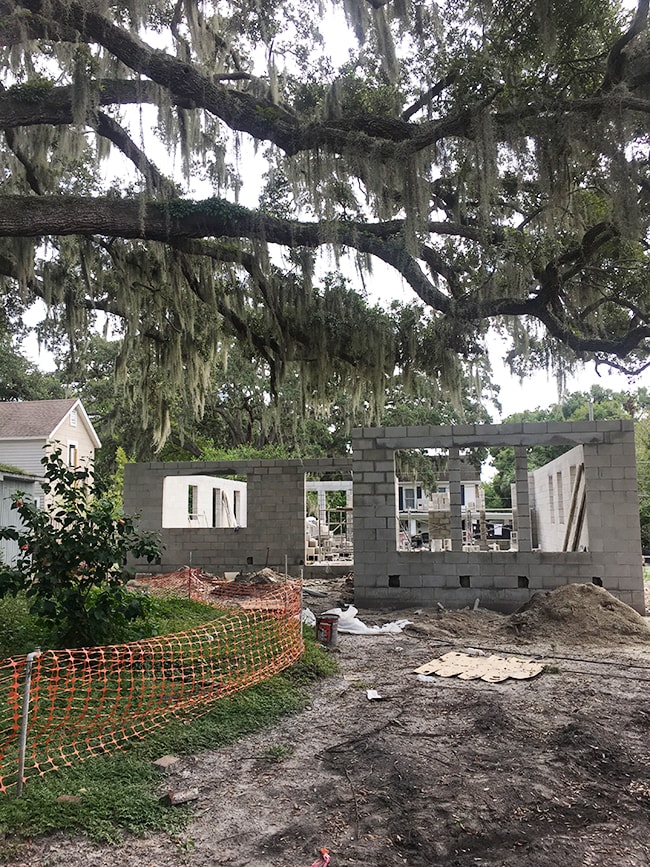 Pin
And over the past couple weeks our builder has really kicked things into high gear. The entire first floor exterior walls done!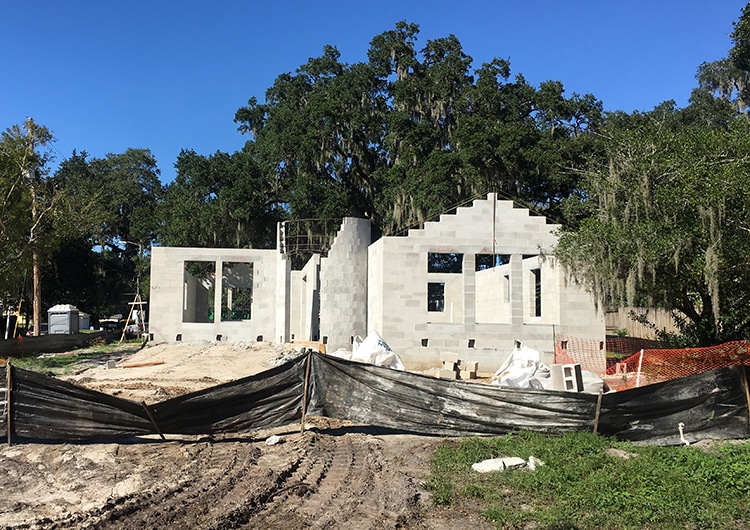 Pin
Naturally, I'm most excited to see the turret front entrance take shape: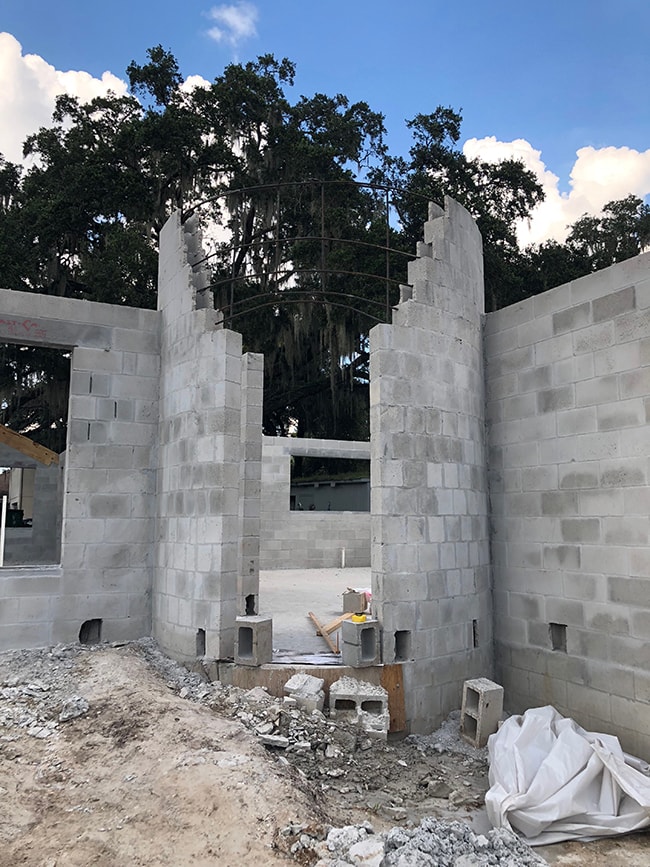 Pin
And we're starting to get a sense of the layout and how it feels to walk through the rooms. To be honest, the house feels quite a bit smaller than we thought—to the point where Lucas and I got nervous and had to double check the measurements. Our builder says this is common and that the rooms will feel larger as they become finished. We thought the house would be too big, but I'm already kinda wishing we went a little bigger on the first floor!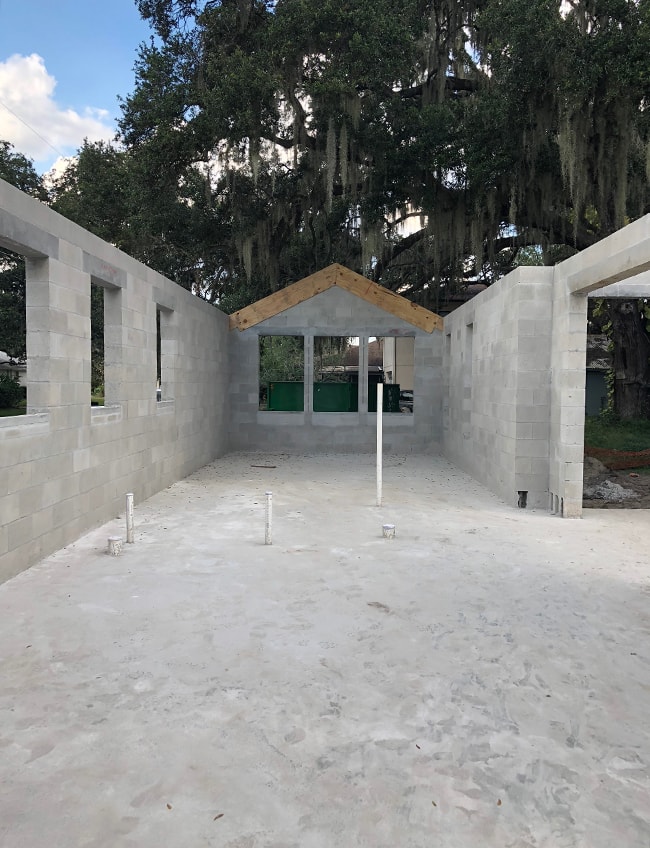 Pin
Above view from the front of the left side of the house, looking into the guest room, then the guest bath (first window on left), then master bath (second window on left), master closet (third window on left), and master bedroom with 3 windows and a vaulted ceiling.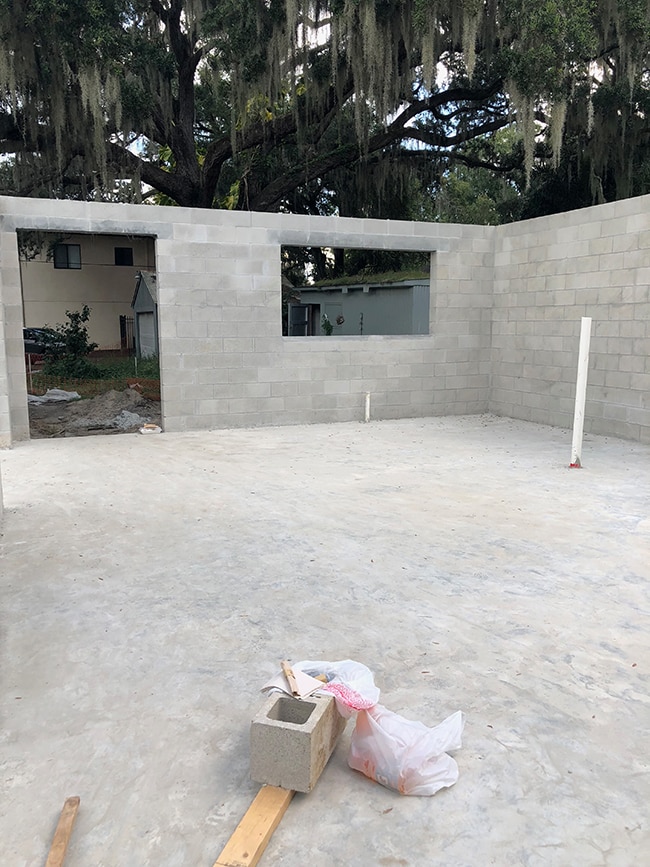 Pin
Above view from the front entrance looking straight into the dining area, with the kitchen on the back wall (sink centered below the window) and french doors to the backyard.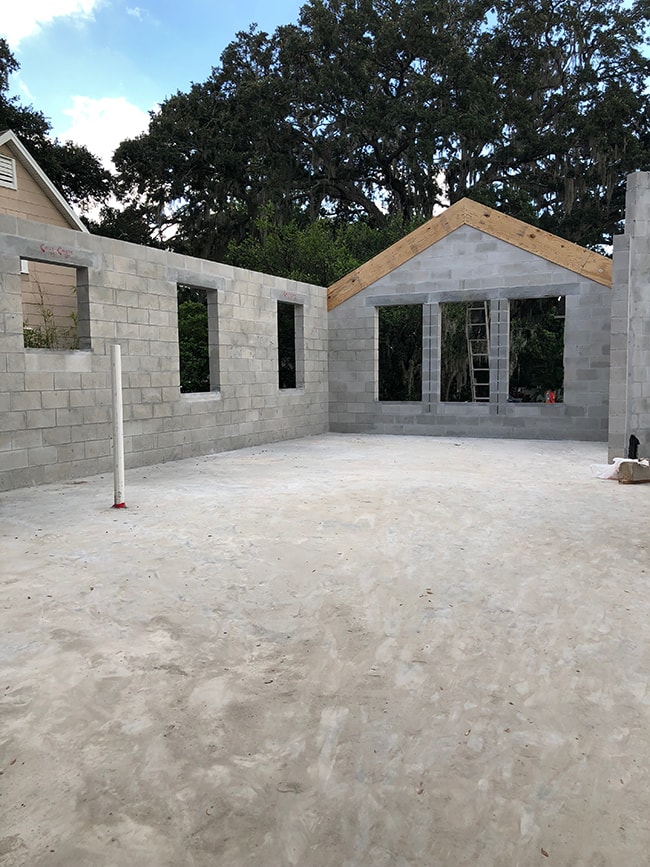 Pin
Above view standing at the french doors off the kitchen looking back towards the front of the house. The living room will have five large windows with a vaulted ceiling. The small window on the left will be the laundry room.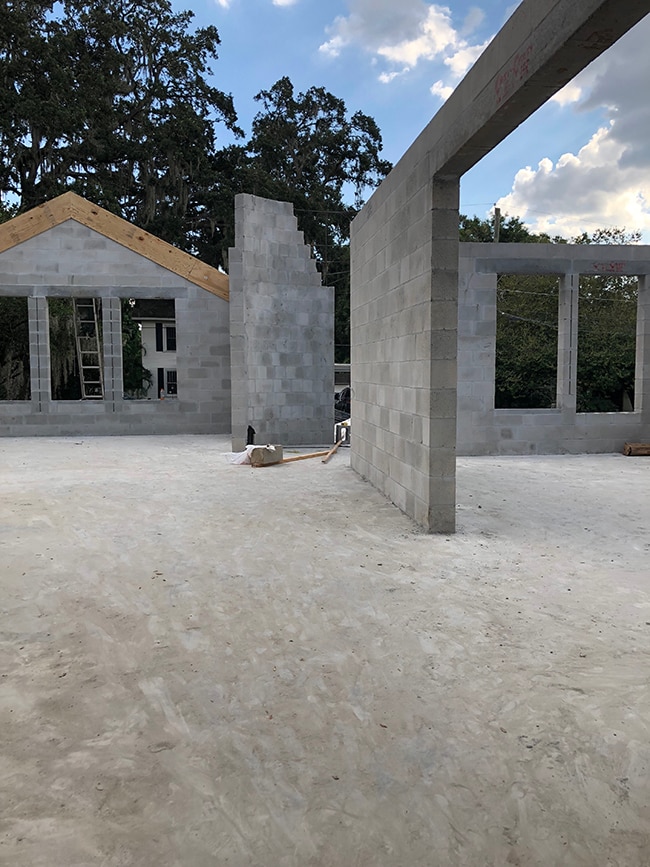 Pin
Standing at the back french doors again, looking towards the right with the living room on the left, the front entrance in the center, and the front guest room on the right. Stairs leading to the second floor will be on the right side of that concrete wall in the center.
If you missed last month's post with the floor plans & layout, you can find that here.
I've been sharing all the new build progress updates on my Instagram stories, and many of you have been asking why we're using concrete blocks instead of wood frame. My answer?
Pin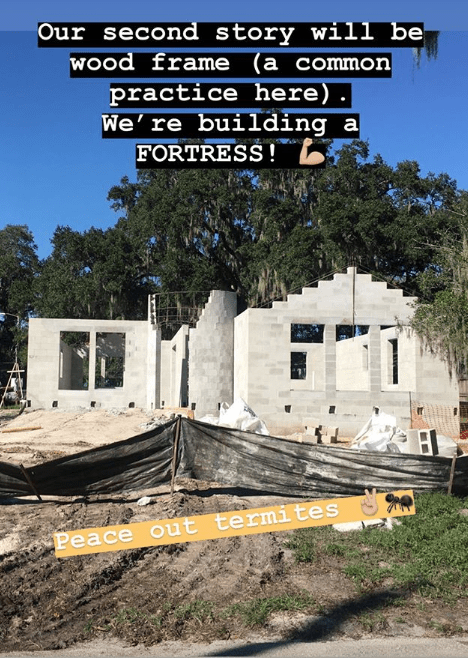 Pin
Yesterday the roof trusses arrived, and you know I'll be continuing to share all the updates over on Instagram! I can't believe how fast things are happening now—it's really incredible to watch!
Meanwhile at the Riverside Retreat, our next project is our first Guest Bedroom!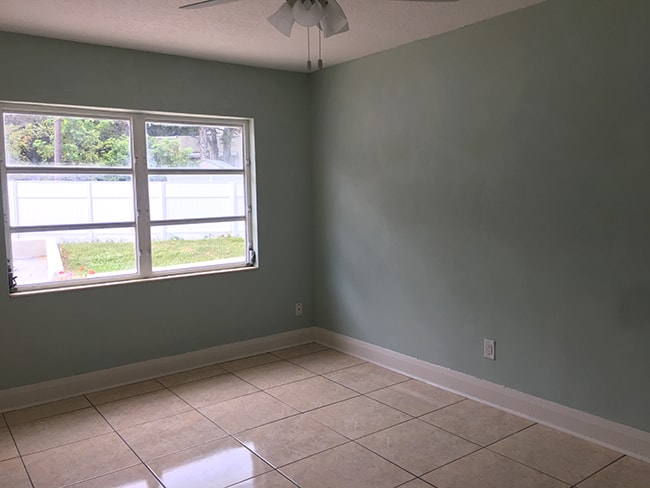 Pin
I'm tackling this makeover in two phases, and will be breaking down Phase 1 of my design process next week. There will be some helpful information in there if you're struggling with a room redesign and don't know where to start!
Here's a peek at my design inspiration…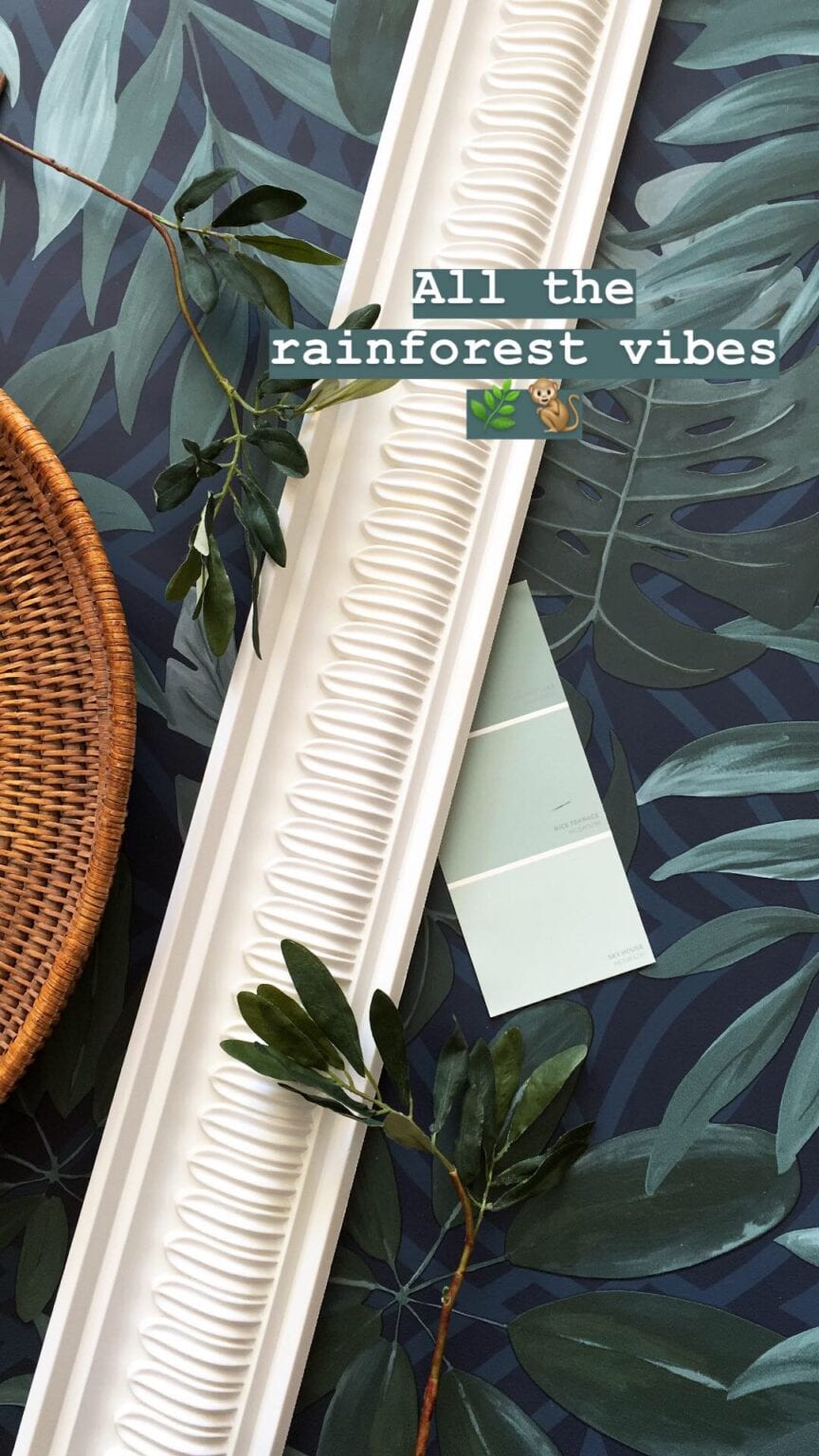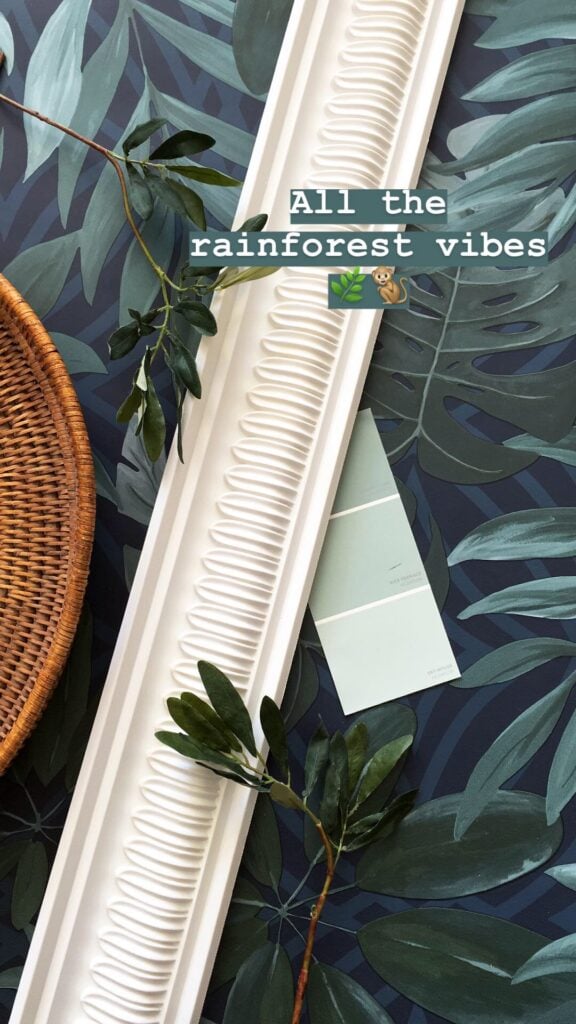 Pin
Gimme some of that lush goodness, yum! This has been a fun departure from my normal neutral palette and a chance to really dive into my creativity. I can't wait to share more!
In other new content, this morning I published a video tutorial on how to build your own corn hole board game set:
We actually shot this video months ago, but were waiting for the green light by Black+Decker to publish it and finally got approval! Better late than never 😉 I love these little DIY weekend projects, and here in Florida we still have plenty of time to use them before it gets too chilly outside (and by too chilly I mean below 70° ?) Give it a watch and tell me what you think!
Aaaand finally… in the spirit of autumn, I recently posted a handful of deals that caught my eye on Instagram…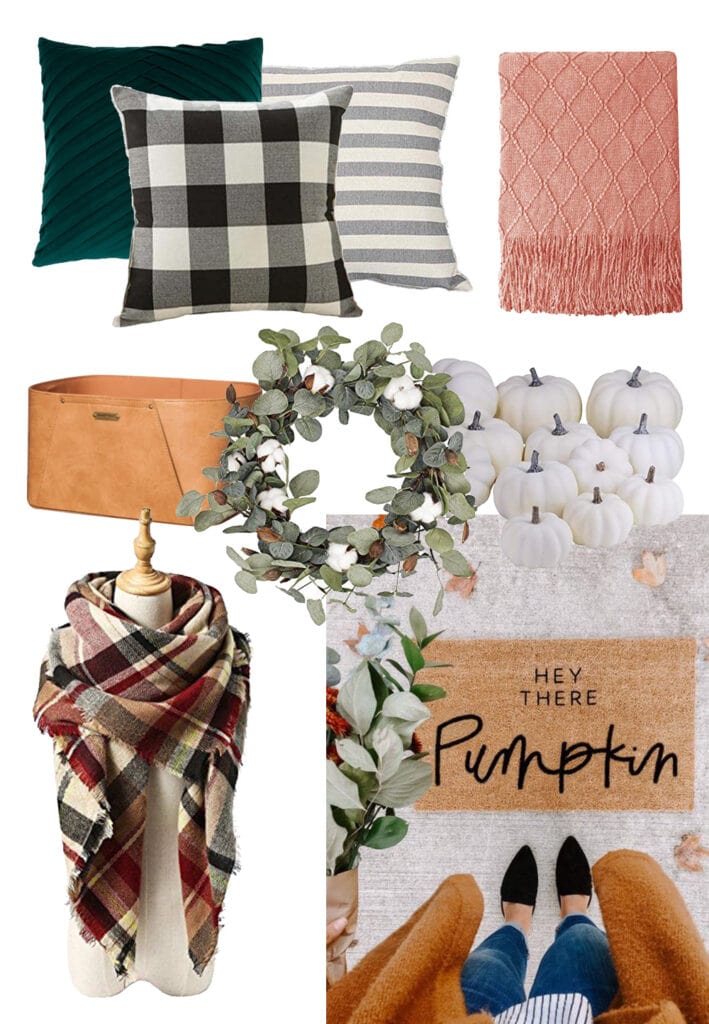 Pin
A few highlights:
This $20 knit blanket that comes in lots of colors
Plaid scarves are my #1 fall essential—I use them as blankets, tablecloths, hanging decor, staging and photo props, and live in them as scarves when the temps drop! Lots of colors to choose from and only $13 shipped.
These pleated velvet pillows (I ordered two in emerald for our guest bedroom)
These versatile striped pillowcases for only $6.77 shipped!
Buffalo check pillows—a seasonal staple and on super sale right now for under $5/ea as a set!
Storage bins + leather + a match made in heaven.
White craft pumpkins you can paint or leave as is, use everywhere from your front porch to your mantel or tablescape. A must!
Obsessed with this faux eucalyptus and cotton wreath. Can actually work in any season.
While we're talking about fall, I'd like to remind you that my popular Give Thanks printable is still available as a free download! You can get all the details in this blog post.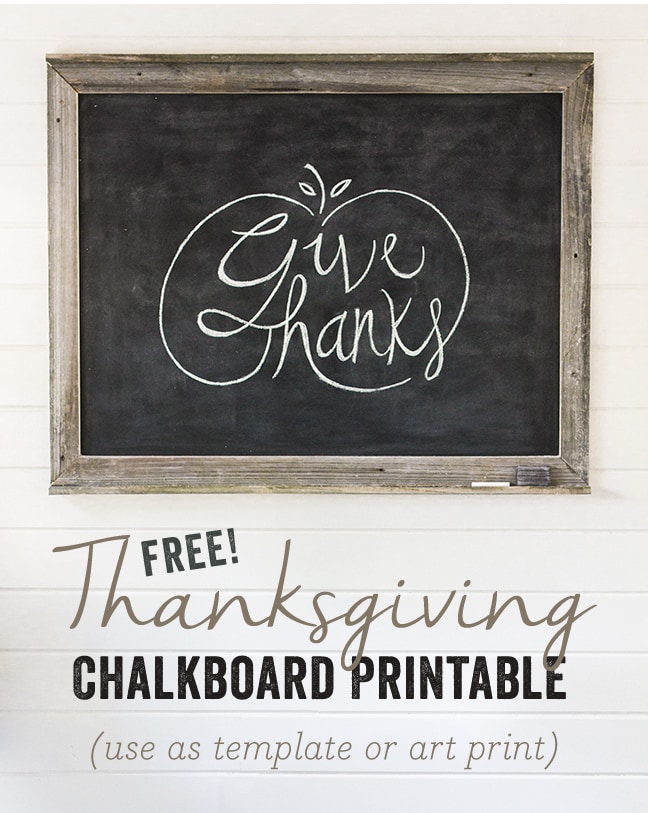 Pin
Alright, I think that's enough random information for one post! We're juggling a lot of things right now so I'm trying my best to organize these updates. Our agenda over the next week is to wallpaper our guest bedroom, add crown molding and new lighting, photograph/shoot video/edit that content to share with you next week, as well as tackling the crown and ceiling molding and new paint in the dining room, dining table refinishing, finalize our shopping list and get everything ordered so we can finish that room by Thanksgiving. And this is a light work week for us  ?
Don't forget to follow me over on Instagram for daily behind the scenes updates!