If you're looking for examples of the most popular sage green paint colors on kitchen cabinets, this post is for you! I've scoured the internet and rounded up more than 40 real-life examples from the top three cabinet paint brands: Benjamin Moore, Sherwin Williams and Farrow and Ball.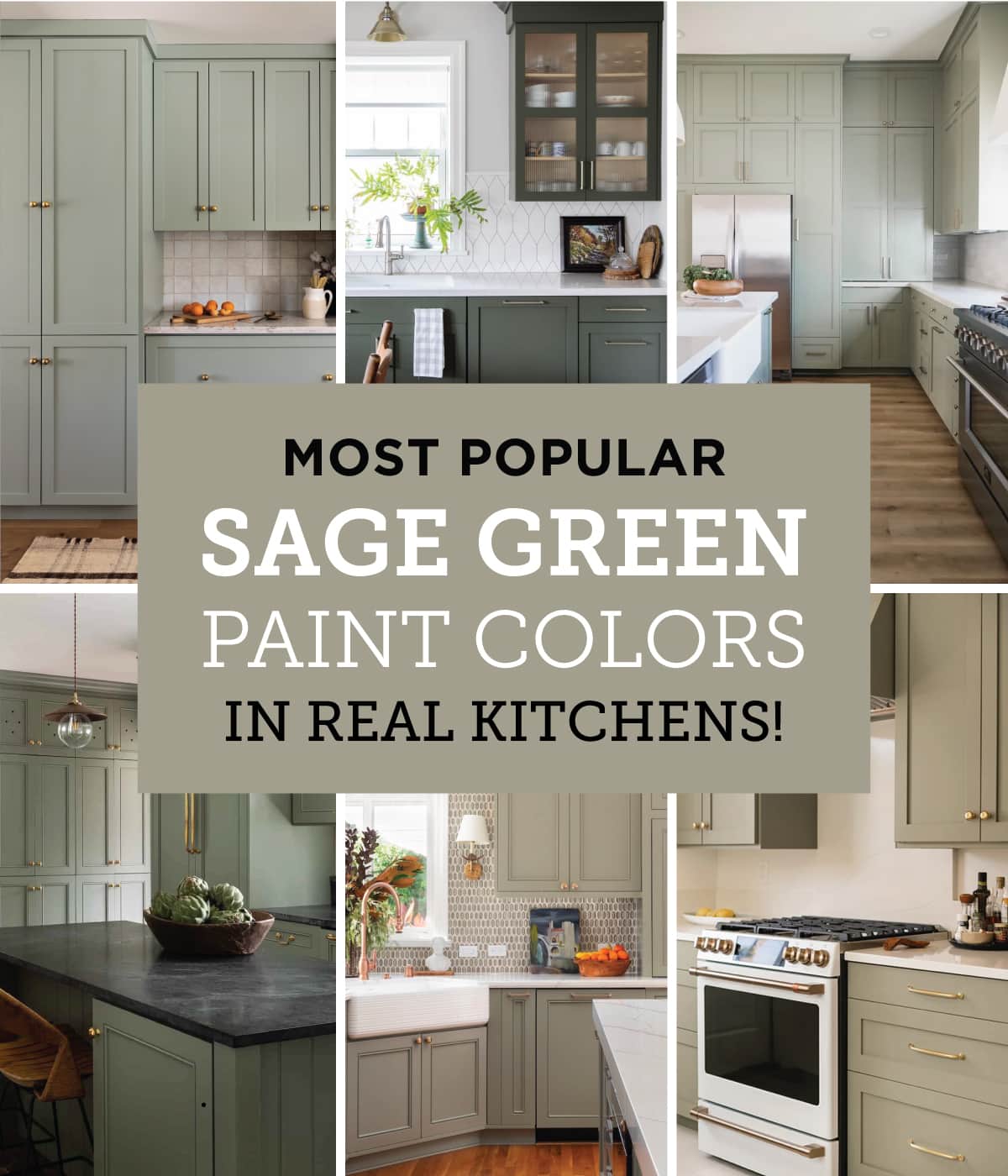 Today the color is more popular than ever, with several paint brands choosing a muted green as their 2022 Color of the Year (including BM October Mist and SW Evergreen Fog).
While the color is red hot right now, sage green is a neutral and earthy tone found in nature, so you don't have to worry about it becoming outdated. I've always had a love for green—specifically the soft and subdued variety, so I'm 100% on board with the recent rise in popularity.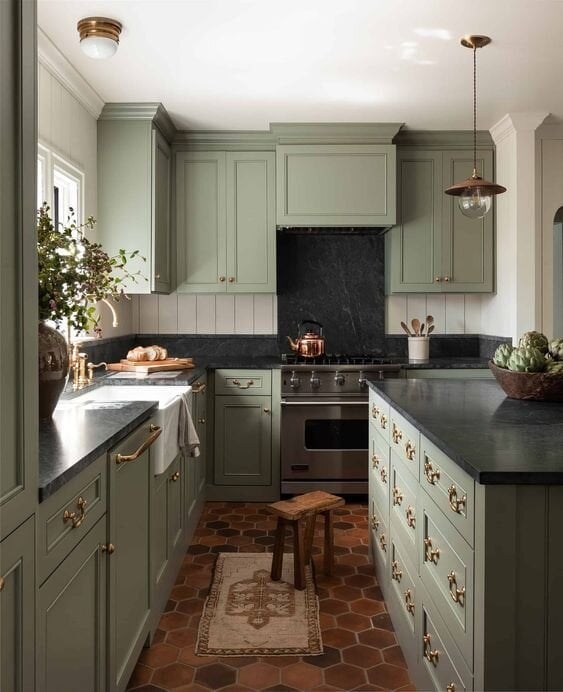 The Best Sage Green Paint for Kitchen Cabinets
Keep in mind: these examples are a great starting point, but you should always test different samples in your own kitchen before deciding. Colors will vary drastically in different spaces, different angles and different lighting. I love and recommend using peel and stick samples from Samplize (I used them to choose our recent kitchen cabinet color!)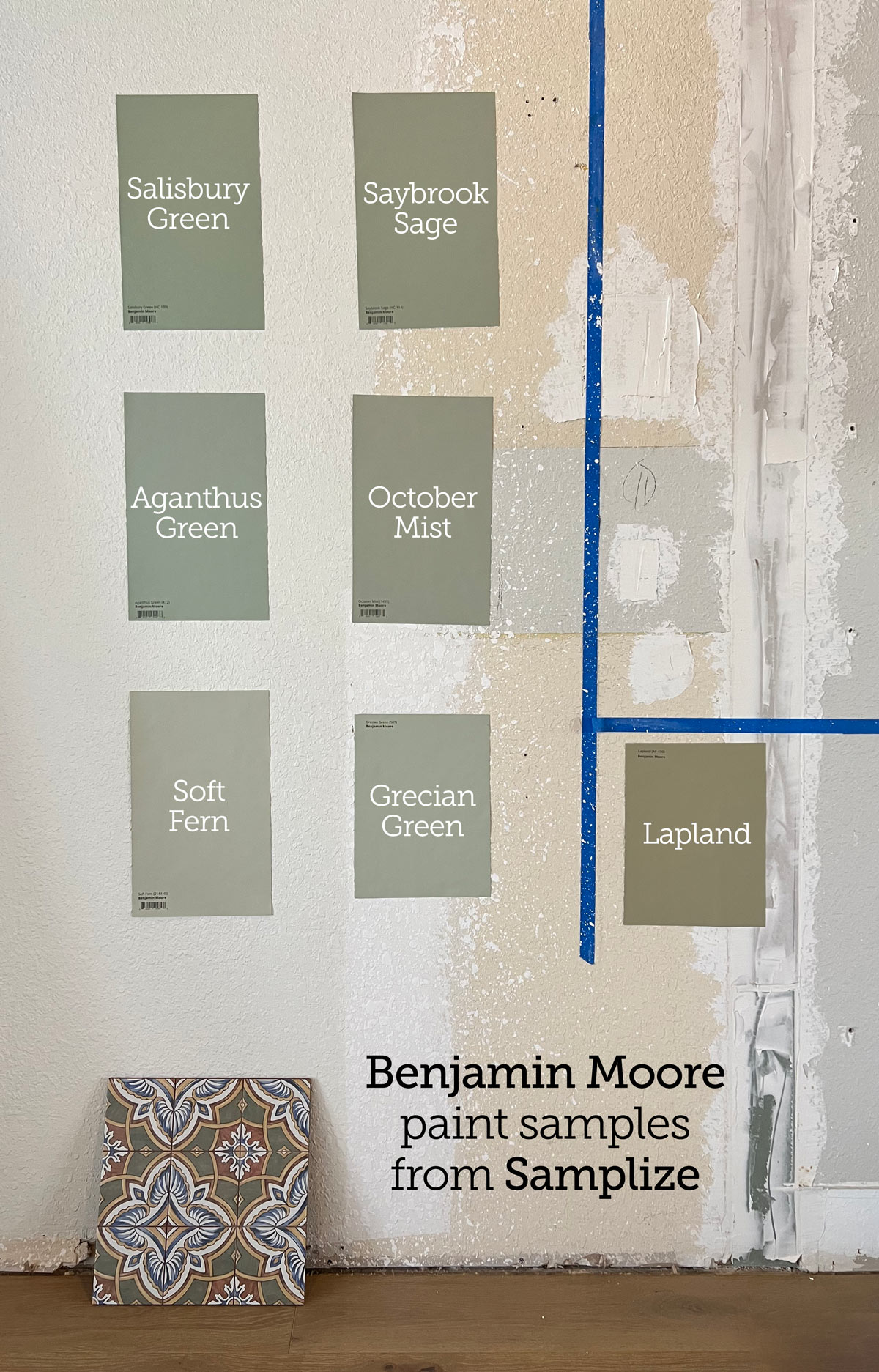 Benjamin Moore Sage Green Kitchen Cabinets
In this post, you'll find a wide range of gray-greens—from dark to light, and warm to cool. Let's kick off the inspiration with a long time designer favorite, Benjamin Moore. Here are some of their most popular sage greens for kitchen cabinets:
Benjamin Moore October Mist Cabinets
Named Benjamin Moore's 2022 color of the year, October Mist is a light, silvery-green. I love it so much, I chose it for our Modern Mediterranean kitchen!
In daylight at certain angles, it can read almost gray or blue, while it appears warmer under incandescent light. This is a great option if you're looking for a lighter desaturated green that isn't too warm.
Benjamin Moore Oil Cloth Cabinets
Another light green-gray, with warmer/yellow tones compared to October Mist. You may have seen it already in one of the most popular green kitchens on the internet:
This is one color I'm eyeing for our upcoming laundry room cabinets!
Benjamin Moore Saybrook Sage Cabinets
This one is a popular choice for cabinets, and one I tested out for our kitchen remodel.
It's a true green, and isn't as likely be mistaken for gray or blue like some of the other sages.
You can also see how it looks slightly different in these photos—more proof that you should always test samples in person!
Benjamin Moore Carolina Gull Cabinets
Here's a beautiful mid-level shade, similar to Oil Cloth but slightly darker and more saturated.
This color tends to look more jade in other photos online, such as in this kitchen:
Benjamin Moore Forest Floor Cabinets
Forest Floor is one of the darkest examples on this list—veering into olive or forest green territory. It's still very muted, and would be a great choice if you want a moodier sage green.
In this kitchen, you'll notice it looks even darker, and can almost pass as a charcoal gray:
Benjamin Moore Flora Cabinets
Flora is a cheerful, light and more saturated sage green. It leans into mint green territory just a touch, but it's still neutral enough to classify as a sage.
Benjamin Moore Dark Olive Cabinets
This darker shade is an intersection of olive, forest and sage green. It's similar to Pewter Green, but with more yellow (olive) tones.
Sherwin Williams Sage Green Kitchen Cabinets
Sherwin Williams is right up there with Benjamin Moore for most popular cabinet paint colors. I've personally had great results with their Urethane Enamel line on cabinets. Here are examples of the most popular Sherwin Williams sage green paint colors for cabinets.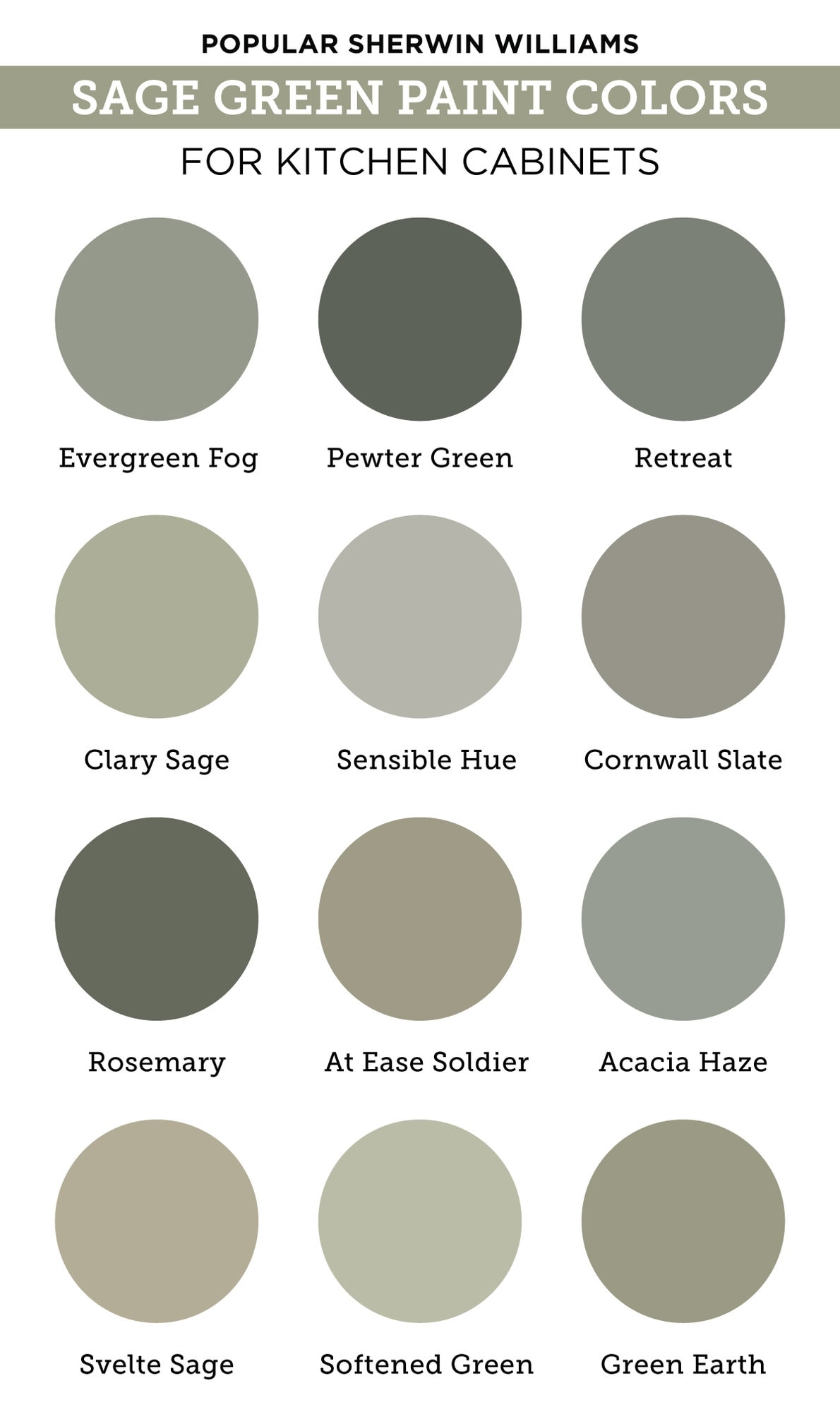 Sherwin Williams Evergreen Fog Cabinets
Evergreen Fog was named Sherwin Williams 2022 Color of the Year, and not surprising, one of the most popular SW colors for kitchens right now.
This is another beautiful gray-green—a little darker and more gray than BM's October Mist.
It's also one I'll be testing out for our laundry room cabinets.
Sherwin Williams Pewter Green Cabinets
This color has been one of the most popular greens for kitchens for years—you might find more examples of it than any other sage green online:
It's also one of the darkest examples in this post, and I will add that it looks even darker in a lot of other example I've seen (well-lit magazine photos tend to photograph lighter).
Sherwin Williams Retreat Cabinets
Retreat is essentially just a lighter version of Pewter Green.
This shade also tends to lean towards gray/blue, although in the kitchen below, it looks much more green:
Sherwin Williams Clary Sage Cabinets
Clary Sage has pronounced yellow/olive undertones, and is a great choice if you're looking for a light warm sage.
Below you can see how it looks with shadows and artificial lighting:
Sherwin Williams Sensible Hue Cabinets
Here's another desaturated green that could pass for gray in the right lighting:
Sherwin Williams Acacia Haze Cabinets
Acacia Haze is a mid-level sage green with cooler tones. Looking at the swatches, it appears to be a lighter version of Retreat.
It does, however, look more olive in the image below:
Sherwin Williams Rosemary Cabinets
Rosemary is a darker green with olive undertones. It could even pass for a light forest green.
It is more saturated than some of the other sages, and should look like a true green in all lighting conditions.
Sherwin Williams Cornwall Slate Cabinets
Sherwin Williams classifies Cornwall Slate as green, but it could pass as gray in the right lighting.
I love it in this kitchen paired with brass, white and wood tones. A great choice if you want an earthy neutral with a touch of green.
Sherwin Williams At East Solider Cabinets
This shade reads as a light olive-gray, and ranges quite drastically between the example photos online. Below it appears very muted:
Below, it range from a more saturated celery green to a warm olive (lighting and editing have a lot to do with this!)
Farrow & Ball Sage Green Kitchen Cabinets
Right behind Benjamin Moore and Sherwin Williams, Farrow & Ball is a popular paint brand for cabinetry, used often by designers. Their color selection is much more limited, with an emphasis on rich and sophisticated tones.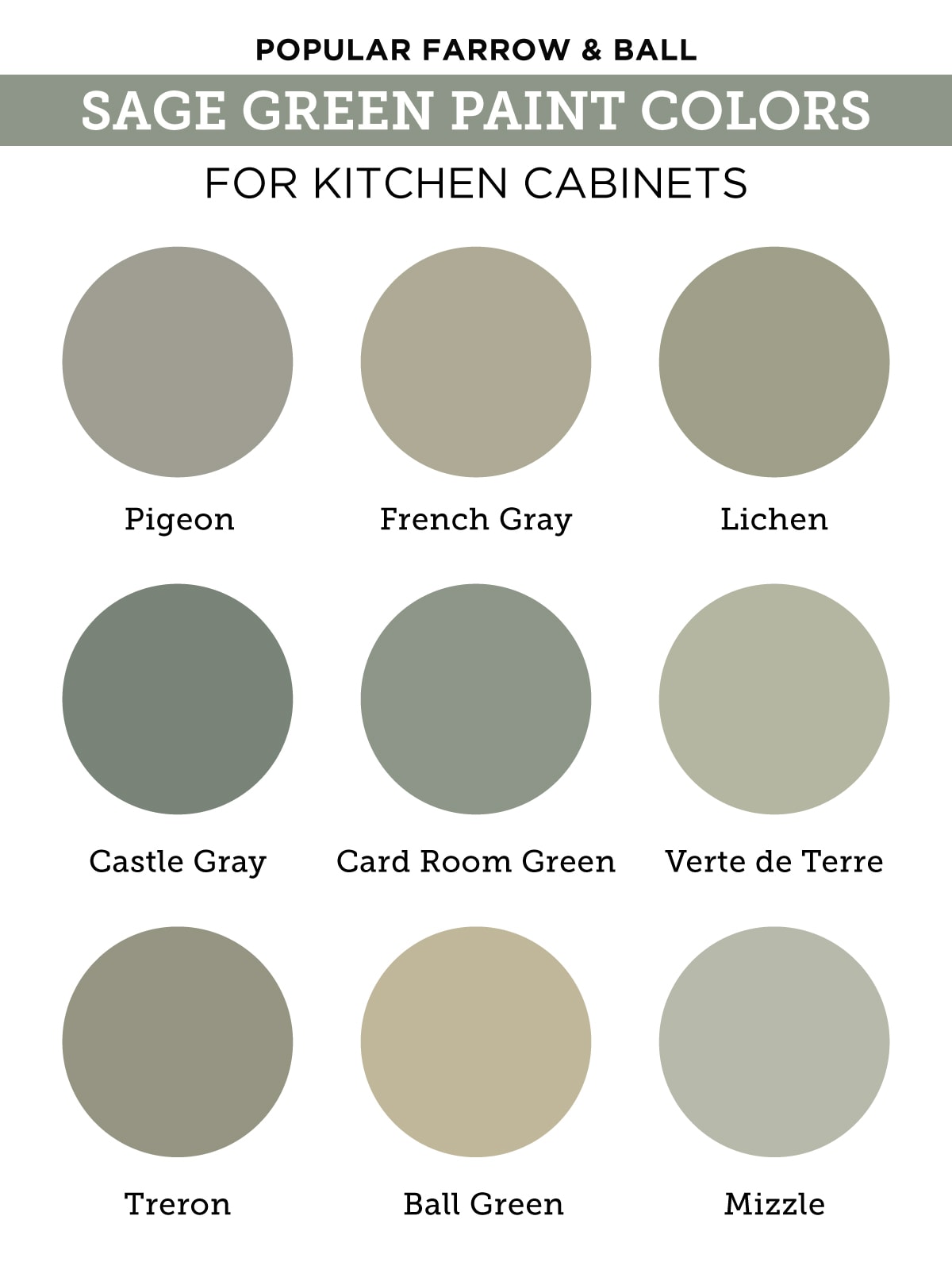 Farrow and Ball Pigeon Cabinets
One of their most popular colors of all time, Pigeon is a true chameleon. It ranges from green, to blue, to gray and even brown, depending on the lighting and angle. You've most likely encountered it at least a few times on Pinterest or Instagram…
If you love the idea of a tried-and-true color that takes on different moods during different times of the day, give this one a try!
Farrow and Ball French Gray cabinets
Yet another popular chameleon color from Farrow & Ball. Though French Gray falls more into the "green" category, with less blue tons than Pigeon.
Farrow and Ball Lichen Cabinets
Lichen is a true sage green, though you'll find that it also looks quite different in various examples online.
From F&B's website: "This calm and muted green is named after the ever changing, subtle colour of creeping algae which ages stone so beautifully."
Farrow and Ball Castle Gray Cabinets
Castle Gray is has a fair amount of blue—I would call it more of a jade green. Farrow and Ball describe it as a "versatile grey-green".
Farrow and Ball Treron Cabinets
Treron is labeled as a dark green version of Pigeon, and it's a gorgeous neutral yet moody sage.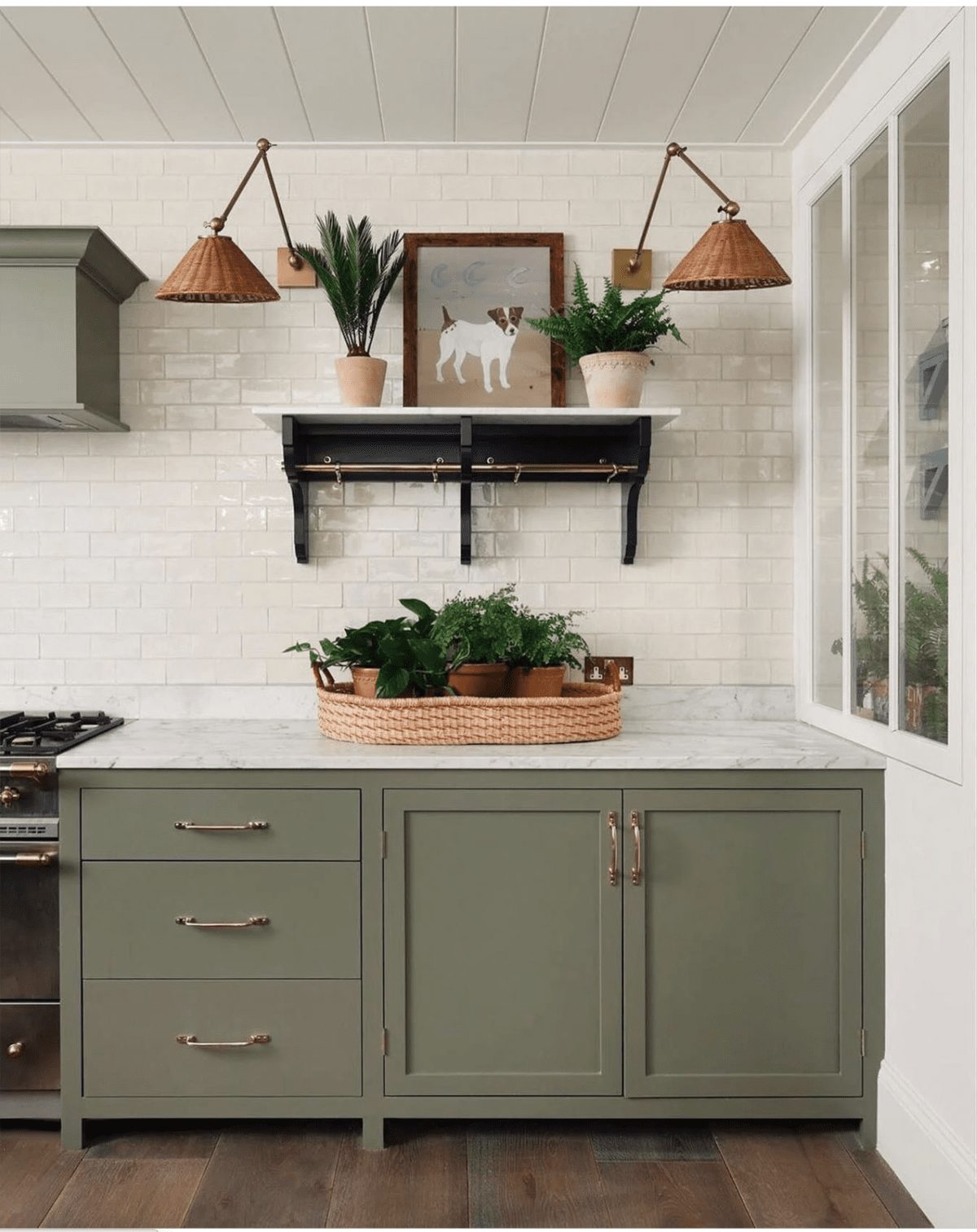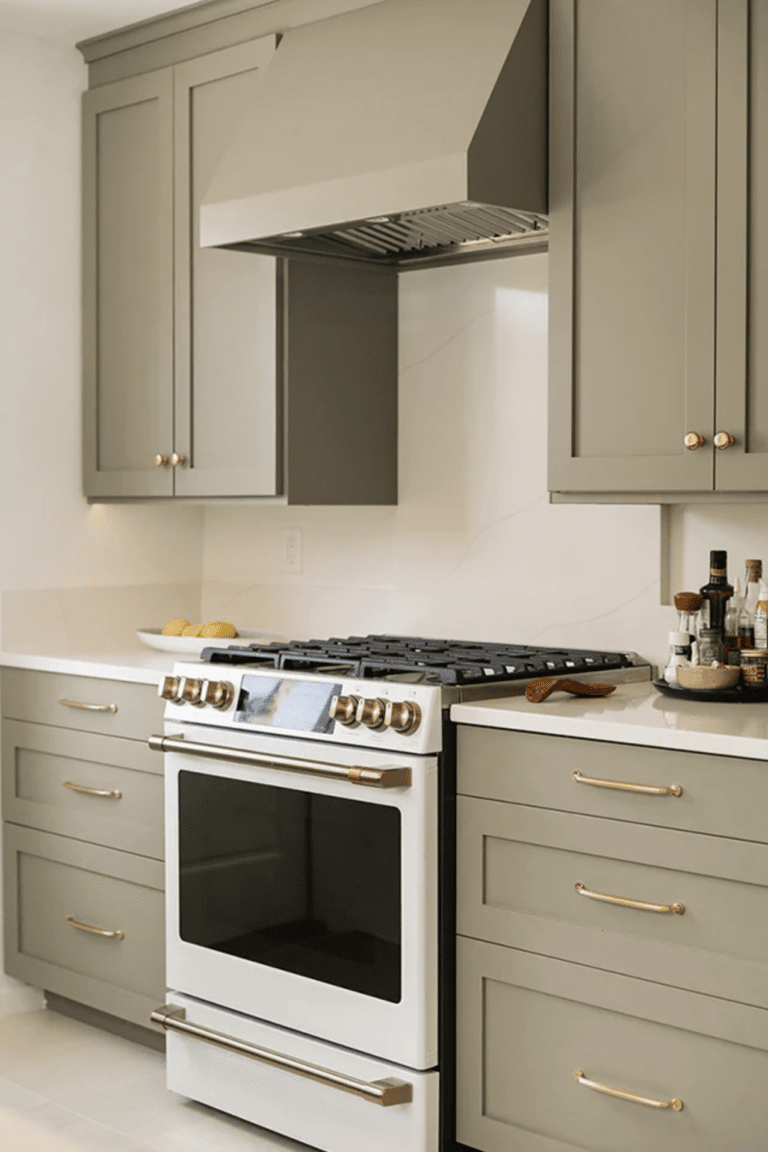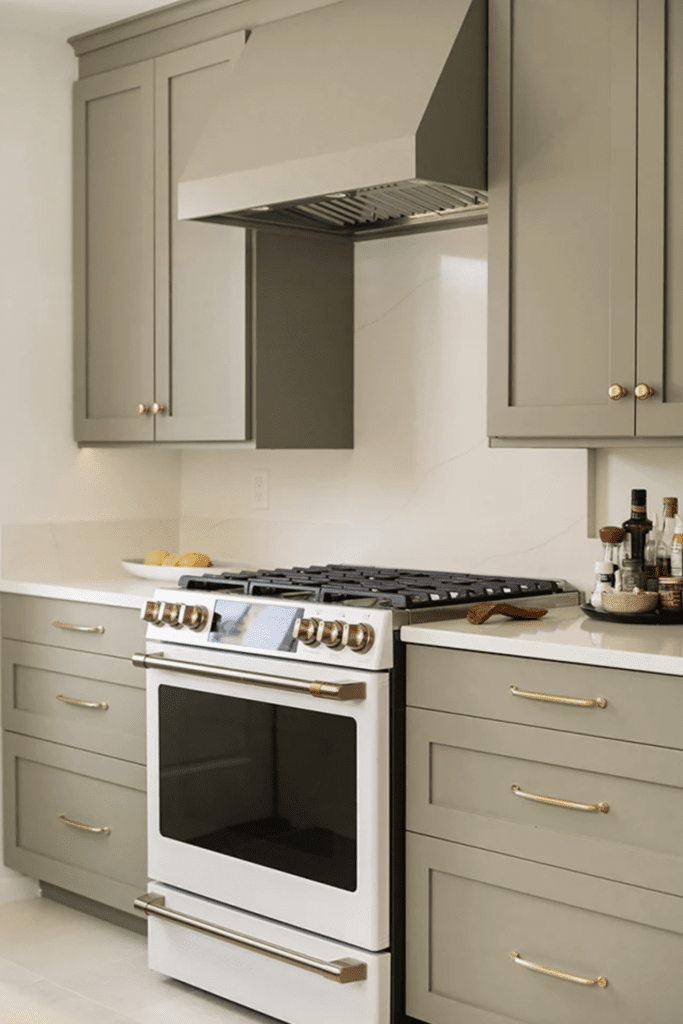 Farrow and Ball Ball Green Cabinets
Ball Green is referred to as an "established silvery green", and I see quite a bit of yellow tones in the examples online. It is one of the warmest options on this list, and a really lovely earth tone.
Farrow and Ball Card Room Green & Verte de Terre cabinets
Here are two of Farrow & Ball's popular greens used together in a two-tone application. Card Room Green is the darker shade on the bottom (similar to Castle Gray, a bit less blue) and Verte de Terre is the lighter green above.

And there you have it, nearly 50 photos of dreamy sage green kitchen cabinet inspo. Do you have a favorite? I hope all of my research and days spent tracking down the actual paint colors used is helpful to you. Paint sources are often difficult to find, so make sure to pin and save this post to reference later!
Now I have a few more top choices for our green laundry room cabinets, which we're working on next. Be back soon with an update, or follow me on Instagram to see what we're up to!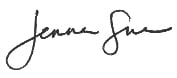 Looking for more green paint inspo? Check out these posts!