Exactly three months ago today I published my first house related post after a long hiatus. It was announcing the plan for my master bathroom—the first major renovation I'd be taking on solo, and one that I wanted to take more of a hands-off approach and let my contractors handle the labor.
With all of the other projects going on at the same time (second entryway, guest bedroom and downstairs to name a few), a spark had been reignited and my passion for interior design was back. Back and stronger than ever. To be completely honest, I never thought I'd feel it again and I fought it for a while… but I guess that means this is what I'm meant to do. I'm in a different situation now but I can't deny the joy and excitement of designing a room or the sheer satisfaction and sense of accomplishment of completing a space I've worked so hard on for weeks and months.
Sorry for the small tangent there, I just wanted to preface this by sharing that through the process of remodeling this room, I've been transformed myself and can say this is not the ending I thought it would be, but in fact a new beginning… which I'll be sharing more on soon 🙂
Now, onto the reveal!
Let's start from the beginning… full of 1970's oak and baby blue style: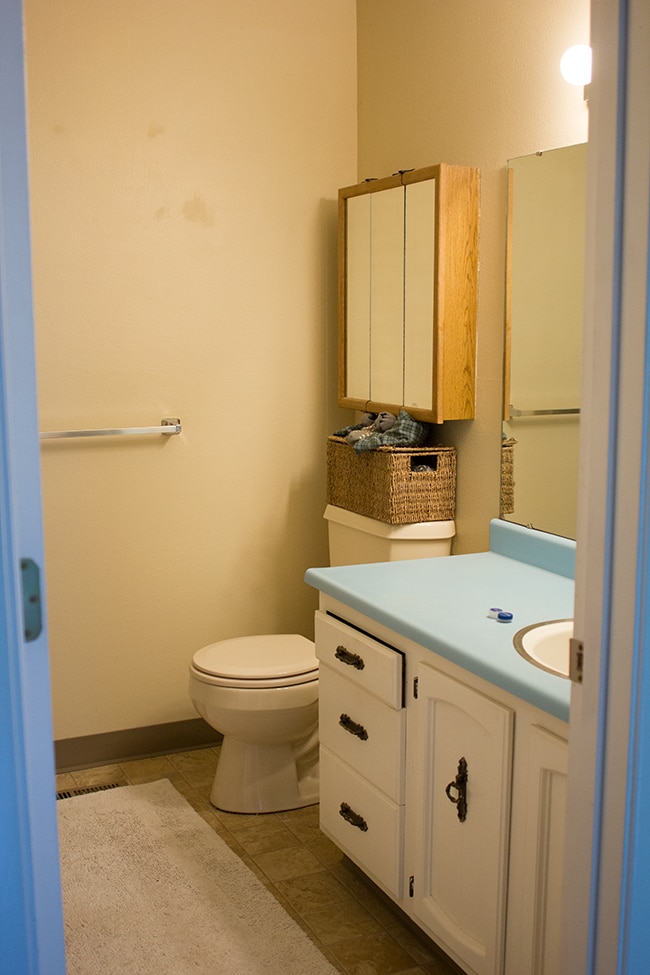 Pin
Complete with a small dark shower: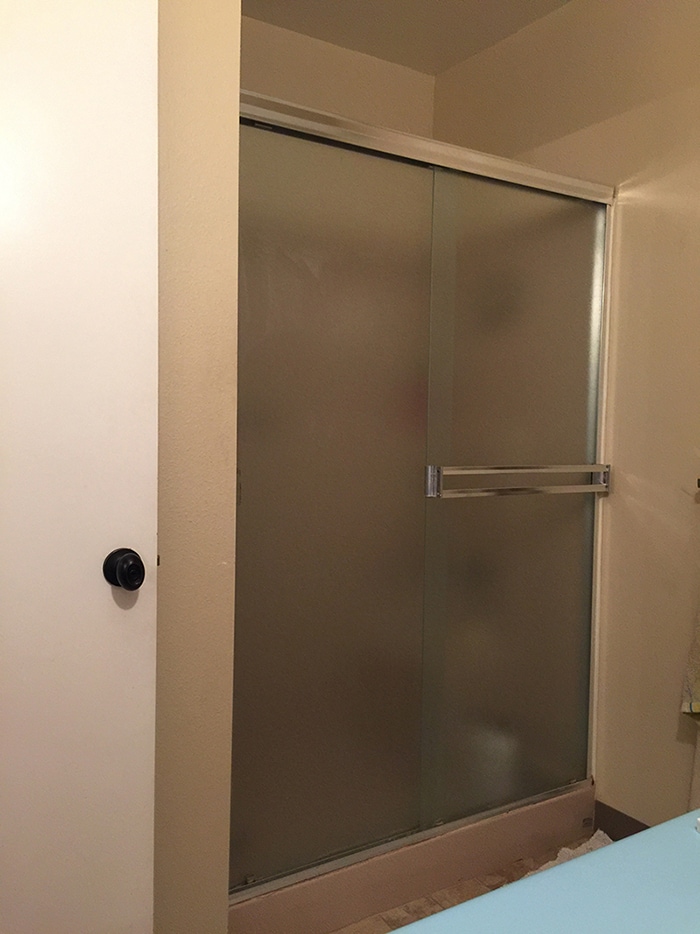 Pin
And a poorly utilized, oversized linen closet taking up half the room: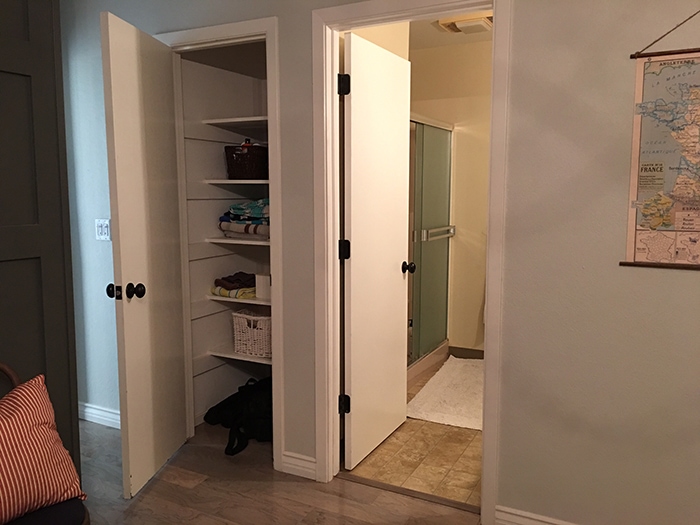 Pin
Another look from the master bedroom: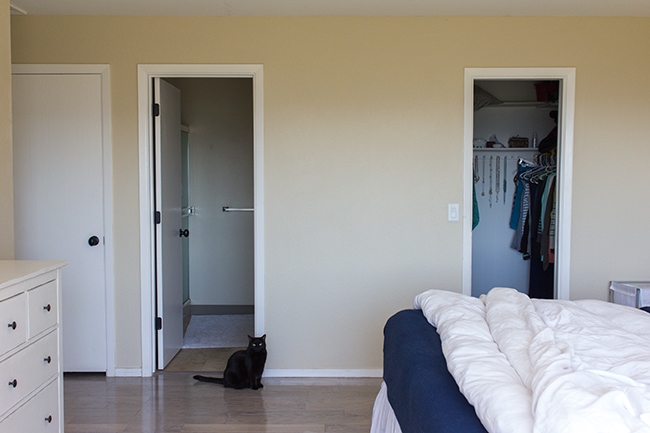 Pin
I had my heart set on pebble tile for over a year, and that was the jumping off point in my design plan: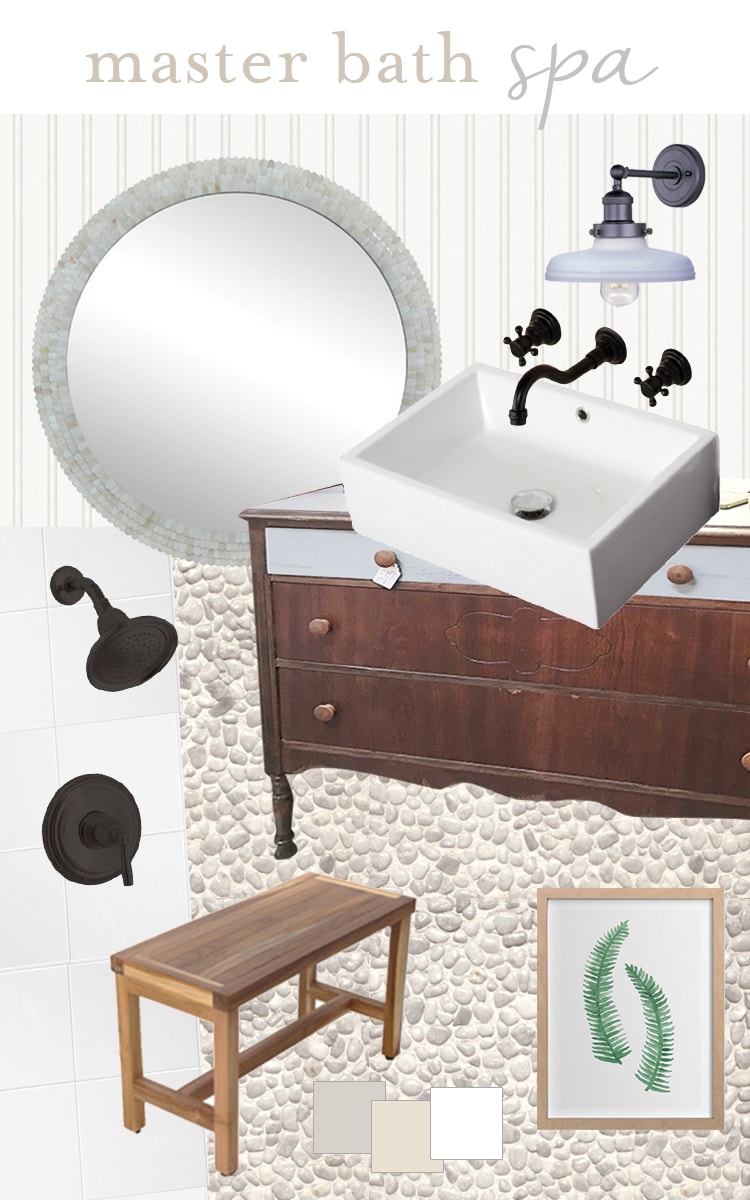 Pin
Thanks to The Tile Shop and my favorite sources like Wayfair, eBay and local thrift stores, I had no problems pulling my vision together and creating my dream spa bathroom without breaking the bank.
There was a good amount of labor involved…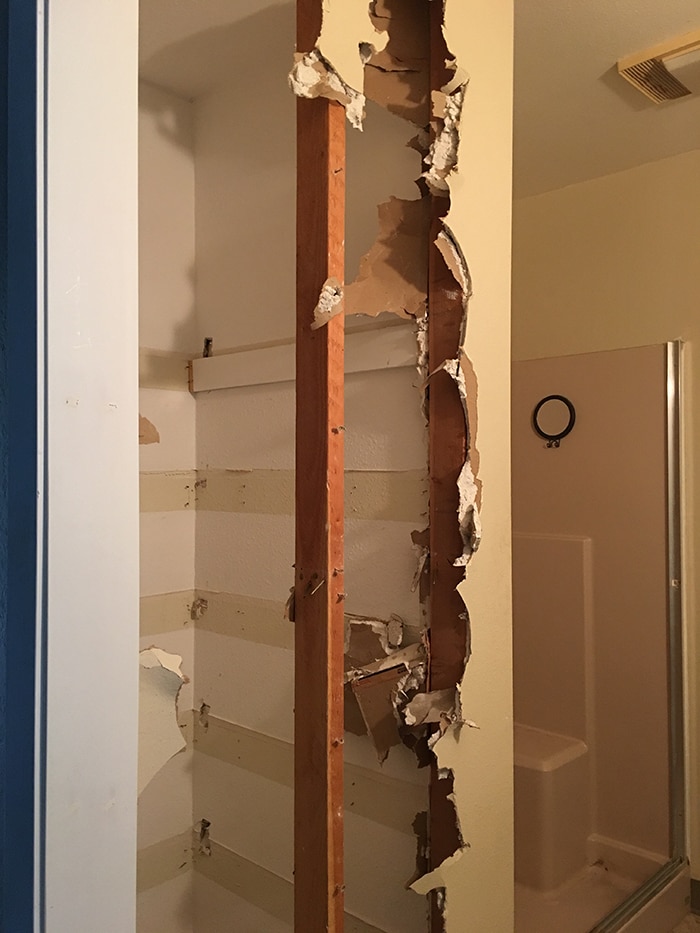 Pin
Pin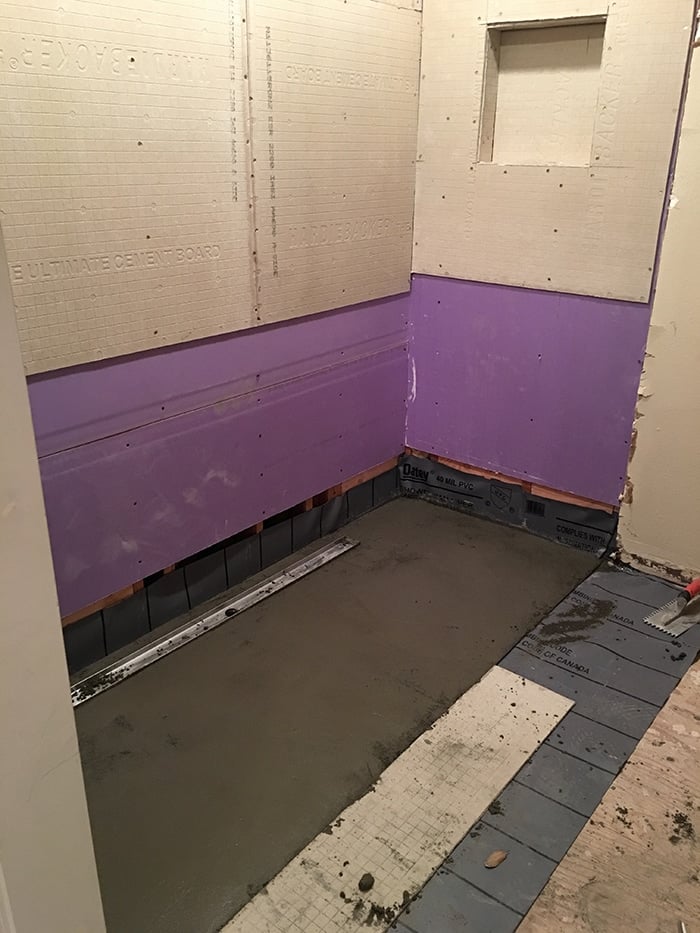 Pin
But also some DIY…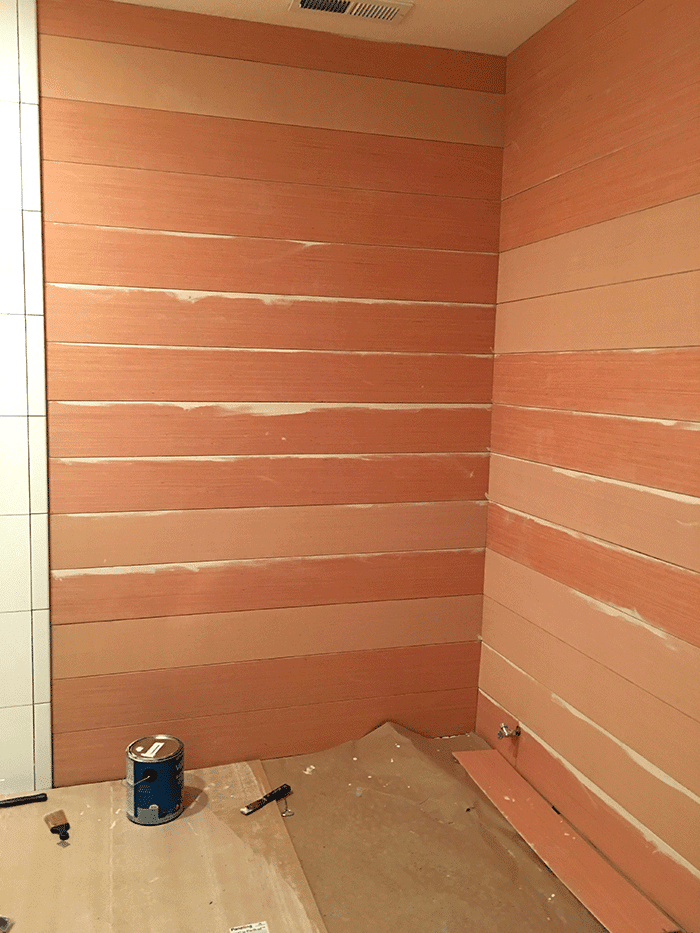 Pin
And it has been really exciting these past couple weeks to watch the finishing touches come together.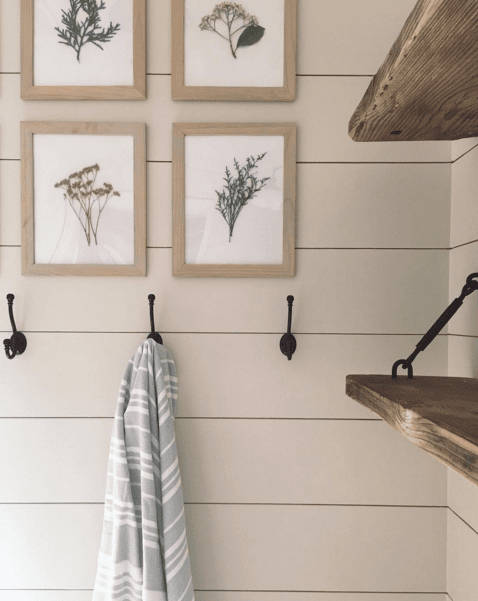 Pin
So finally, after three long months, here she is now…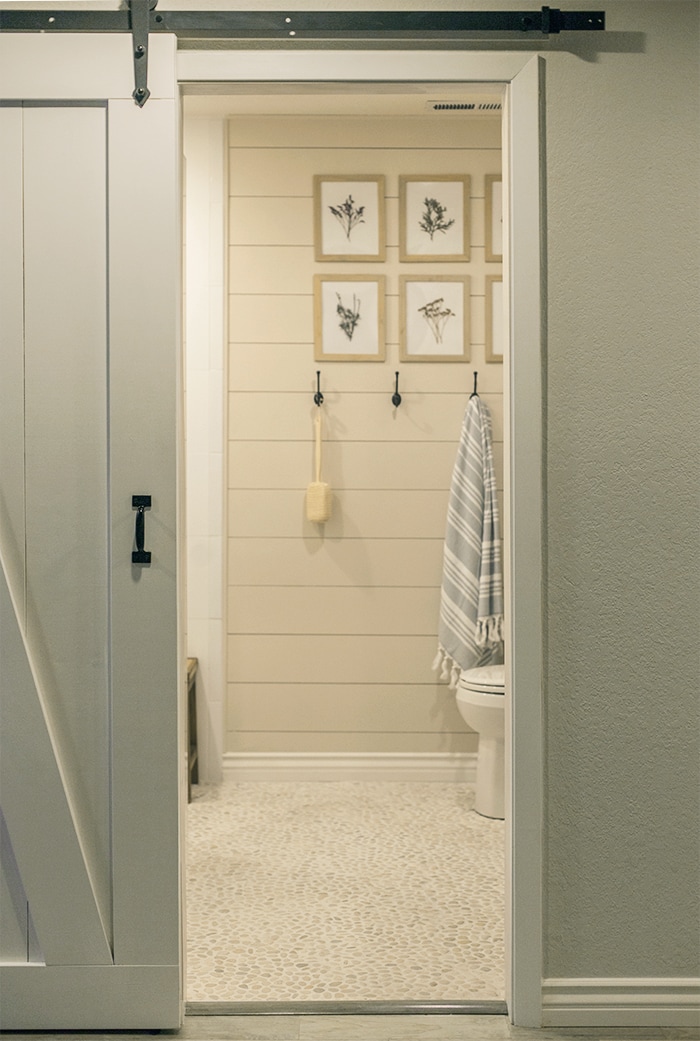 Pin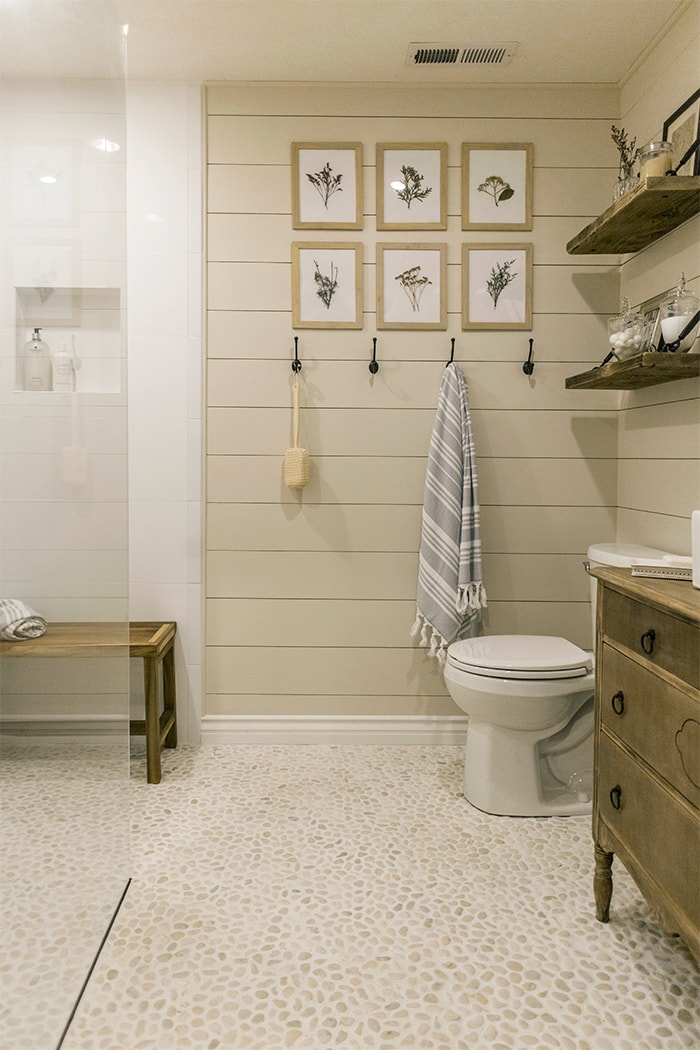 Pin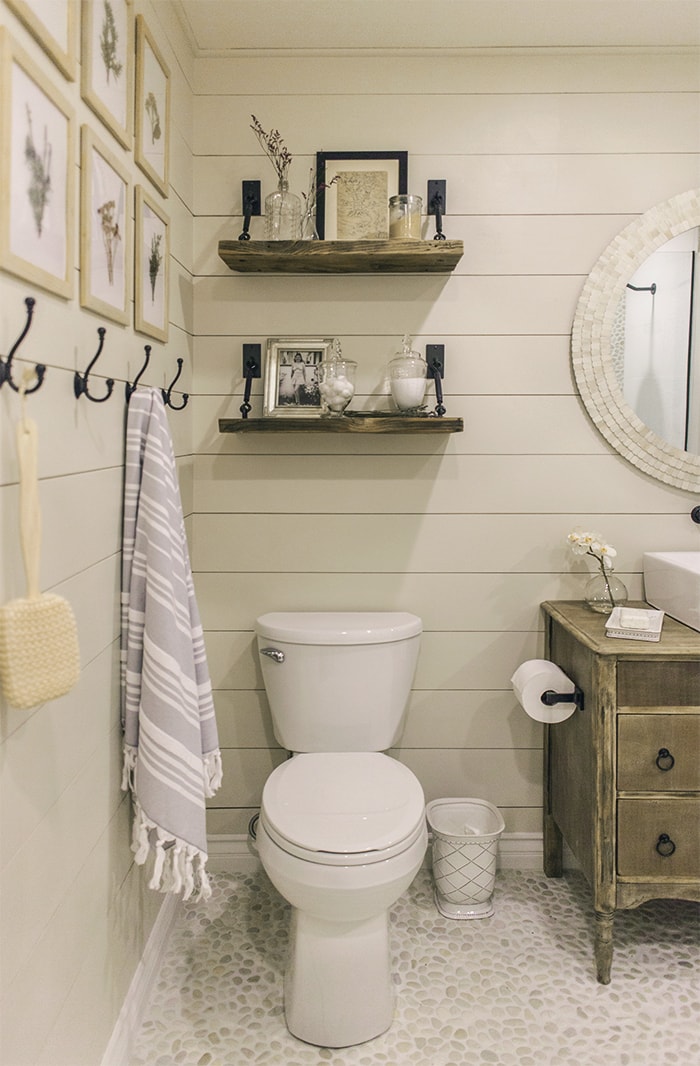 Pin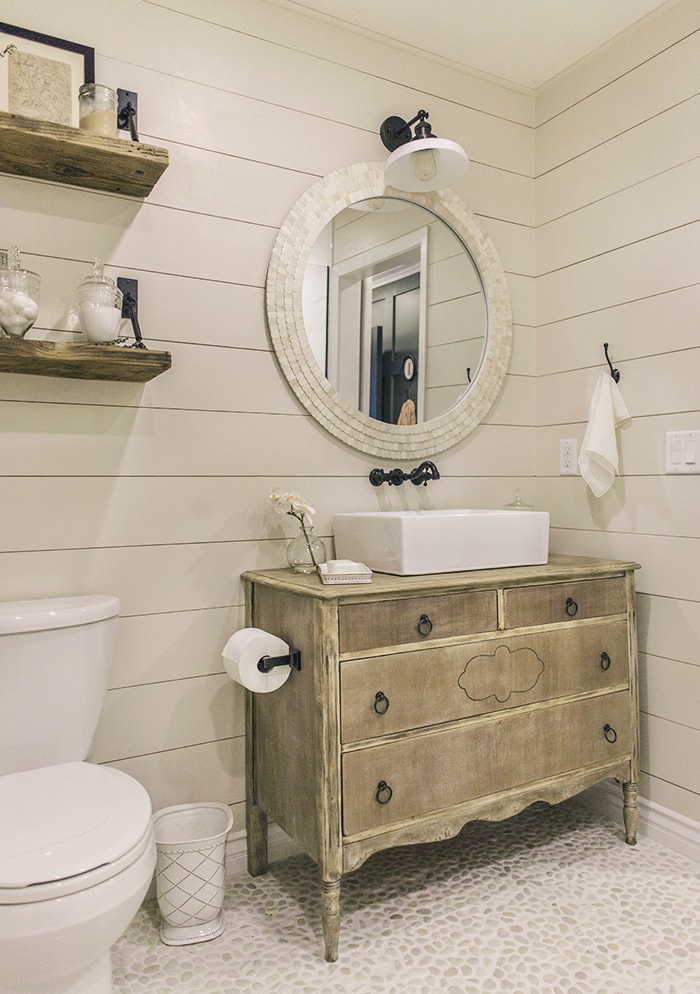 Pin
Photographing this space was a bit of a challenge as there's no natural light, but I did my best to make sure the colors were represented accurately…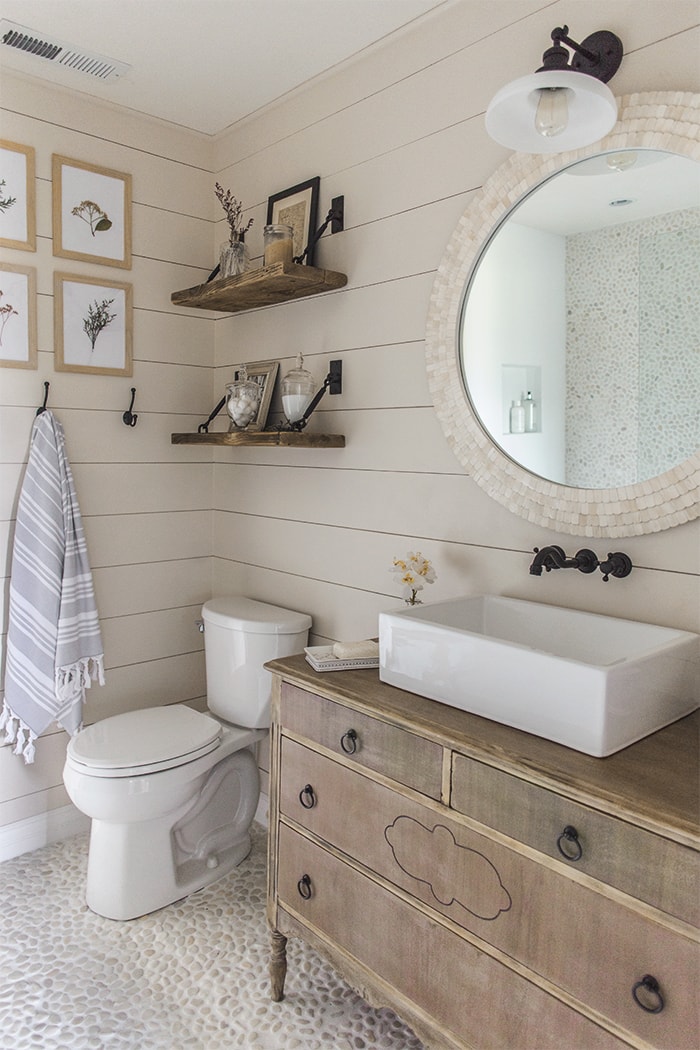 Pin
The tones appear warmer when the lights are on, naturally.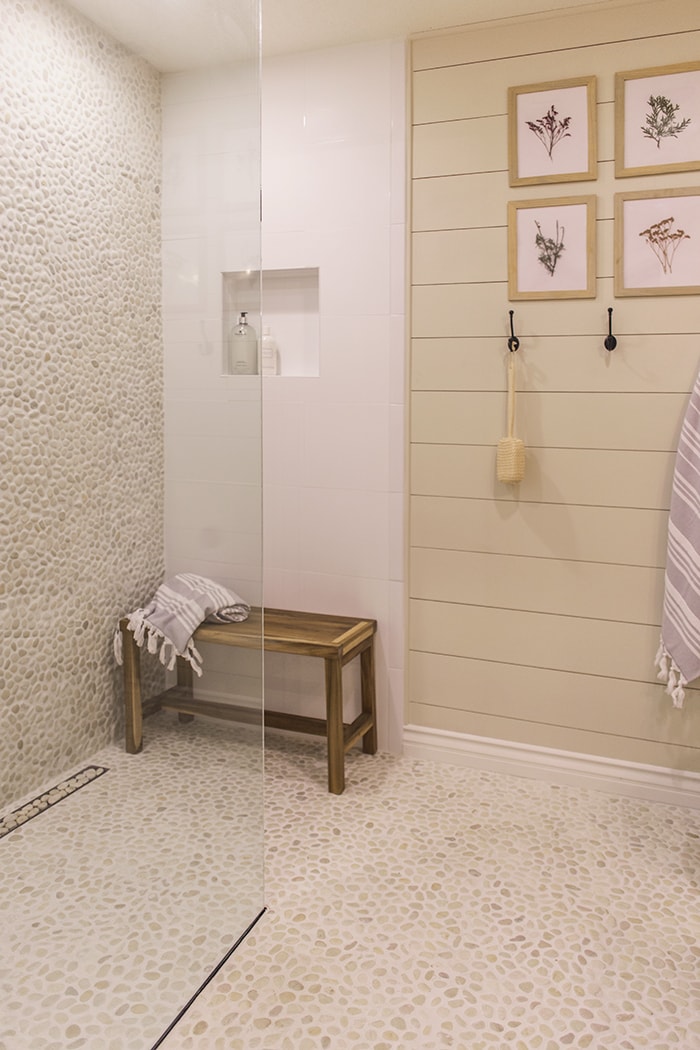 Pin
I figured this house has enough neutral gray and chose Valspar's Coconut Milk for the walls.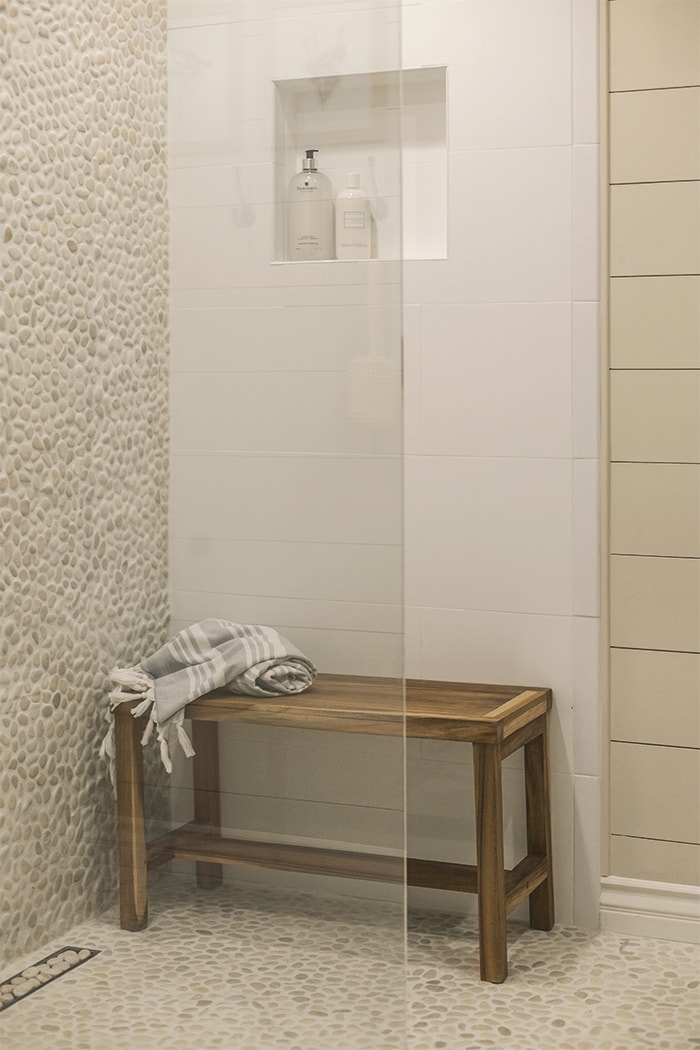 Pin
Using a solid panel of glass in place of a traditional door not only saved a hundreds of dollars, but kept the space feeling open and larger so this was absolutely one of my favorite design choices.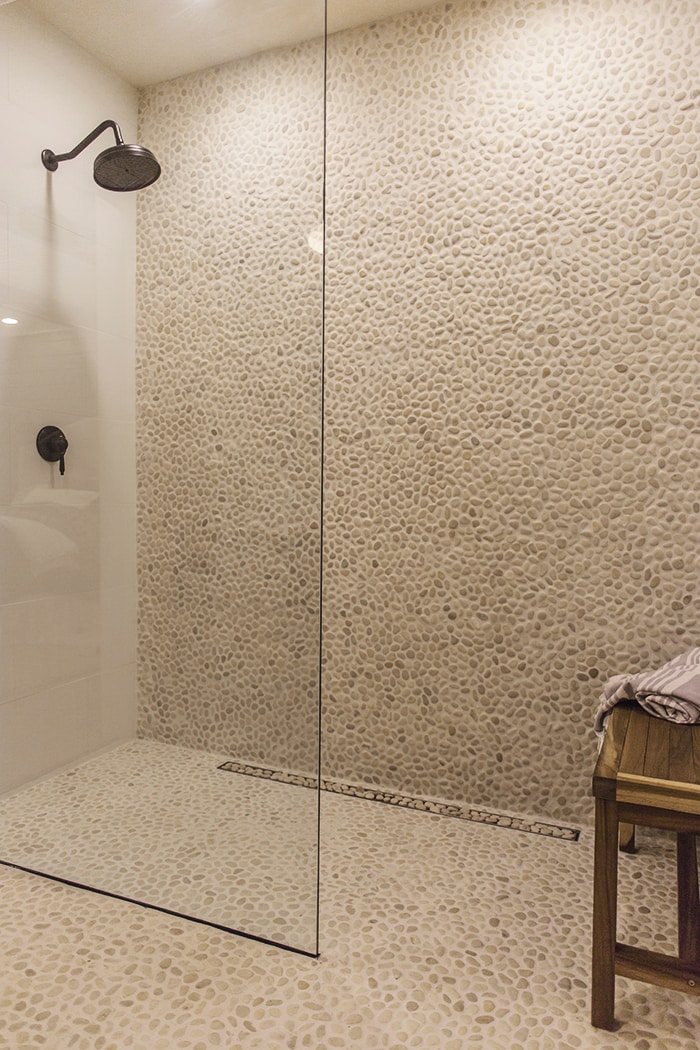 Pin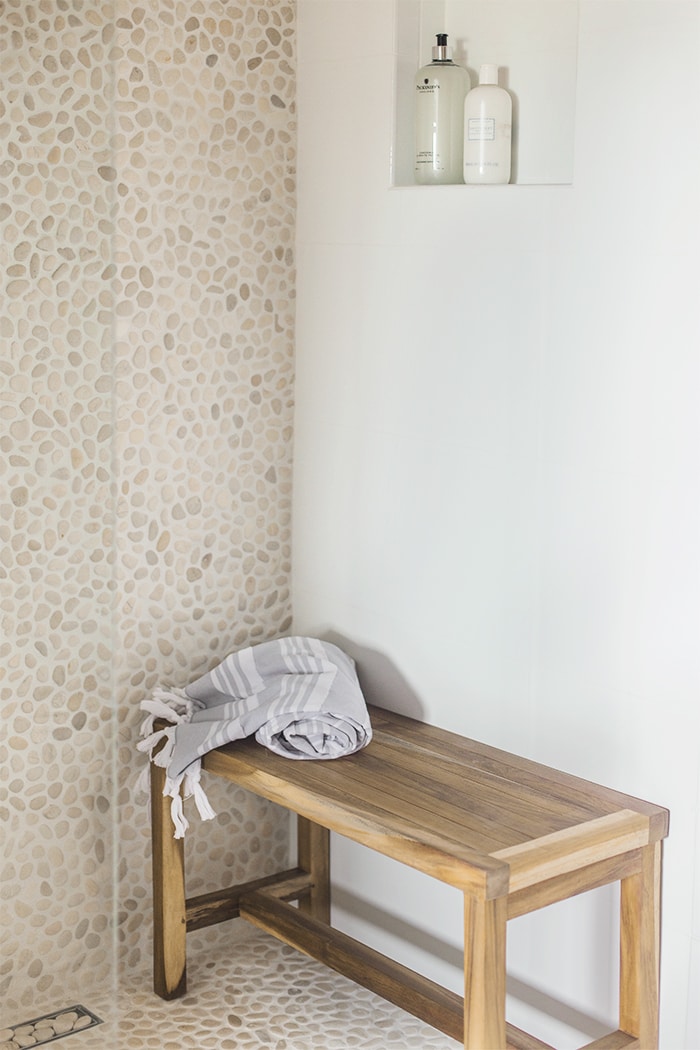 Pin
I'm also glad I took the extra time to plank the walls rather than the beadboard I was originally planning.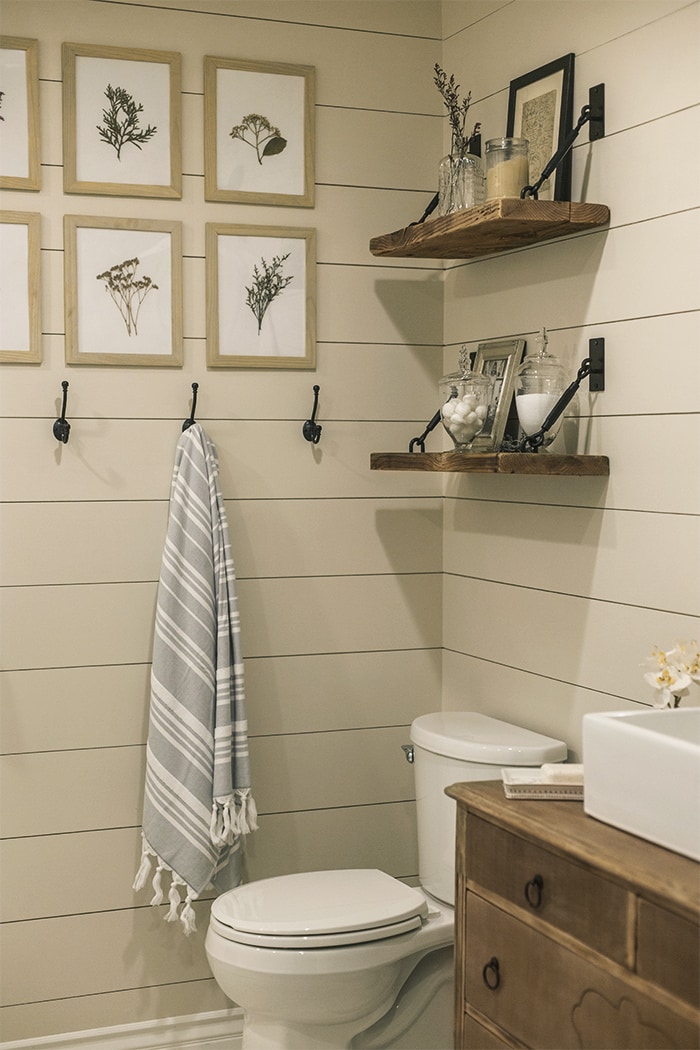 Pin
It's all in the details…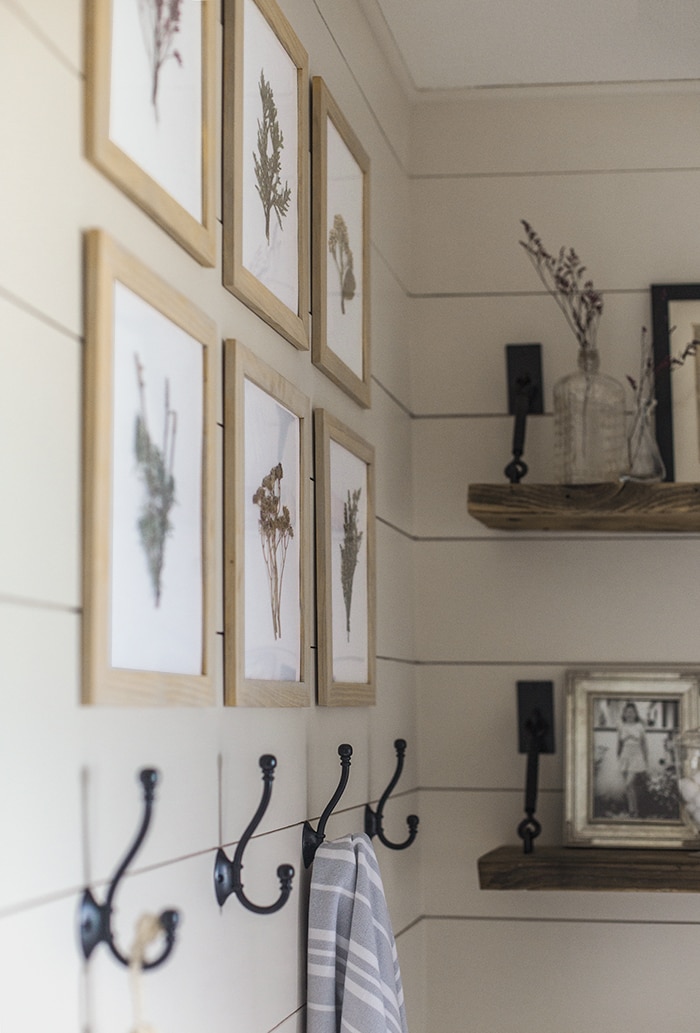 Pin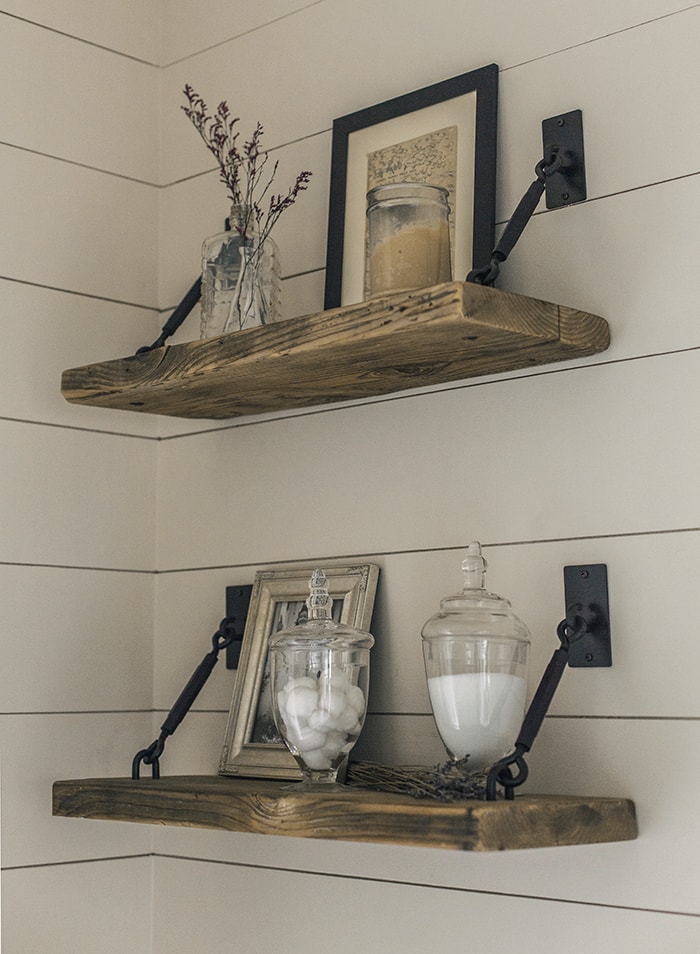 Pin
Simple glass canisters and vases, a few dried flowers and lavender, old frames and vintage photographs dug up from storage made this shelf styling easy and free.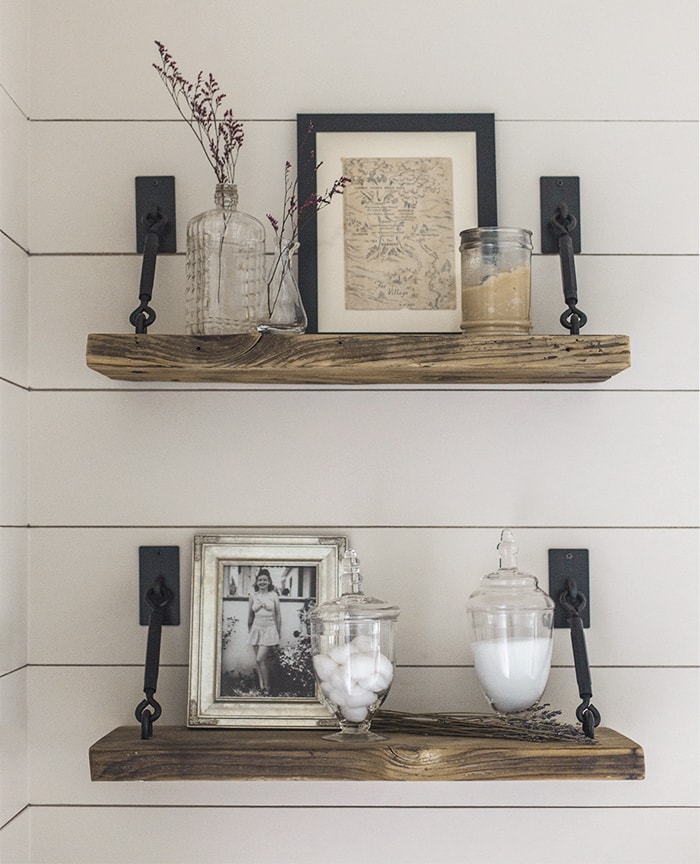 Pin
And this corner…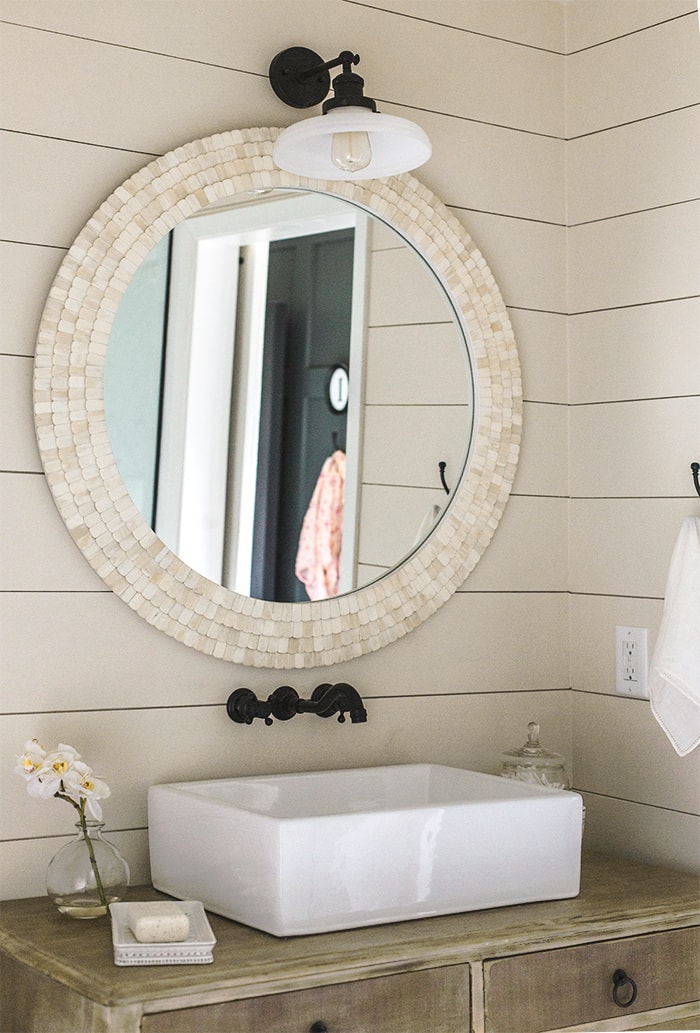 Pin
Don't you just love that shell mirror and vintage sconce from Wayfair?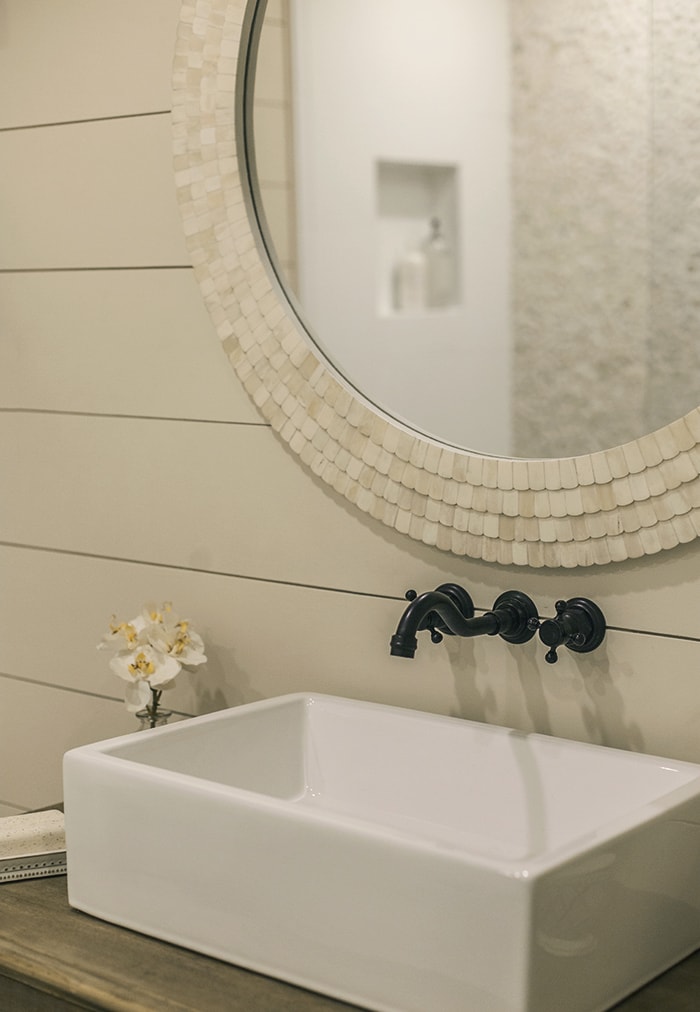 Pin
Utilizing a variety of materials like shell, rock, wood, glass, metal and ceramic adds a ton of interest and texture.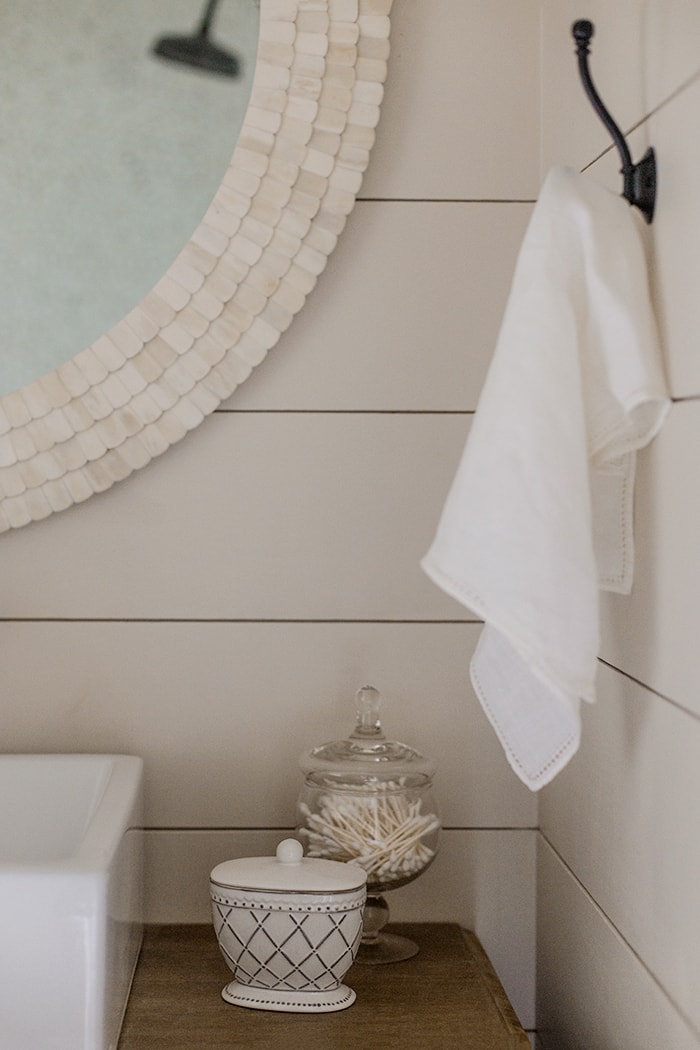 Pin
And keeping the color palette light and neutral helps the space feel calm—as a spa-inspired bathroom should!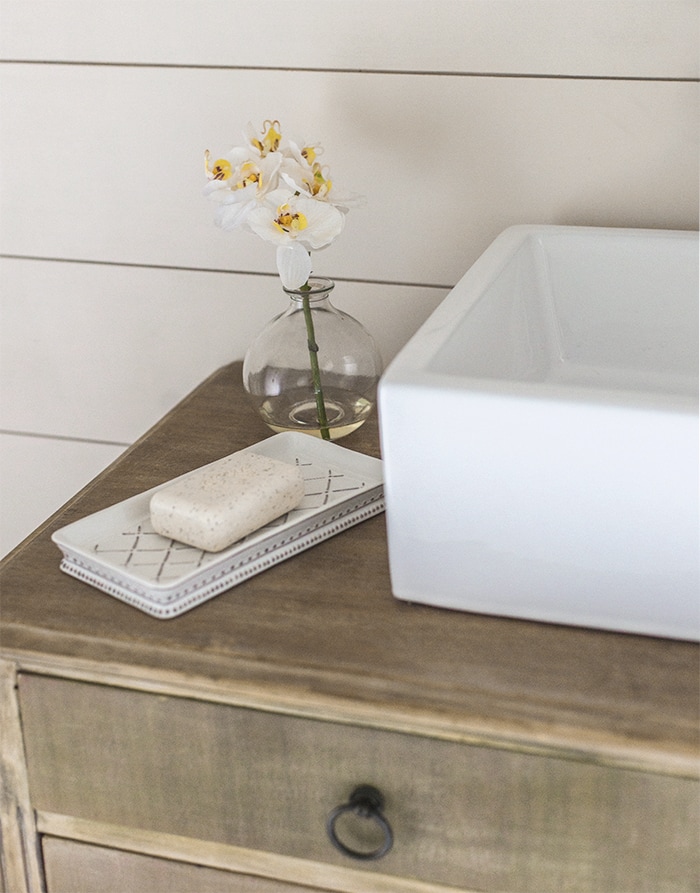 Pin
And finally, a DIY barn door is immensely useful in a small bathroom by freeing up space—I still owe you a post with those build plans (coming soon!)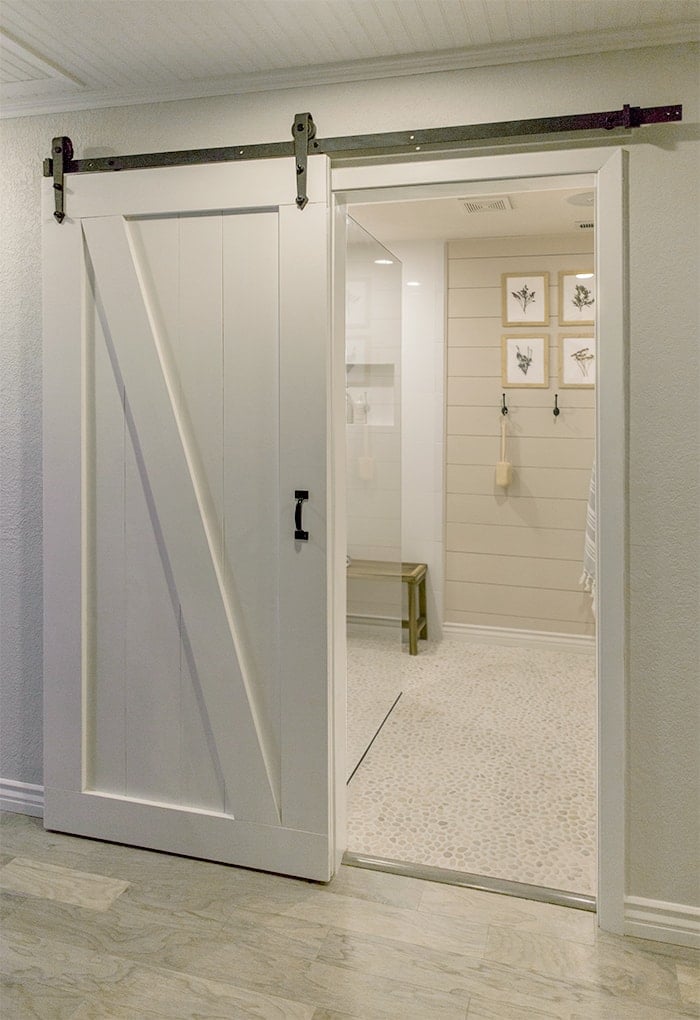 Pin

Pin
Alright friends, that's another makeover in the bag. What do you think about this one? I think it gives my guest bath a run for its money… do you have a favorite?
Let me know in the comments below or make sure to follow me where I'll be posting previews of the other finished spaces—on instagram, facebook, twitter and snapchat @ jennasuedesign. I'm also working on house tour videos which I'll be sharing on YouTube soon, so don't forget to subscribe there too!
I know there will be lots of questions about sources used, and rest assured I'm working on a separate post with all of the info scheduled for Monday! (P.S., there may be a coupon code involved if you have your eyes on that pebble tile!) Make sure to check back then. In the meantime, I hope you have a beautiful & relaxing weekend…
UPDATE: Click here for links to all details & sources!