Meet our newest project:
This announcement may (or may not?) come as a surprise, but it has been months in the making. We started actively searching (and putting in offers) on houses in January and it has been a rollercoaster ride with this crazy market. But everything happens for a reason! I couldn't be happier about where we ended up—we officially closed on the property April 19th and renovations are already underway.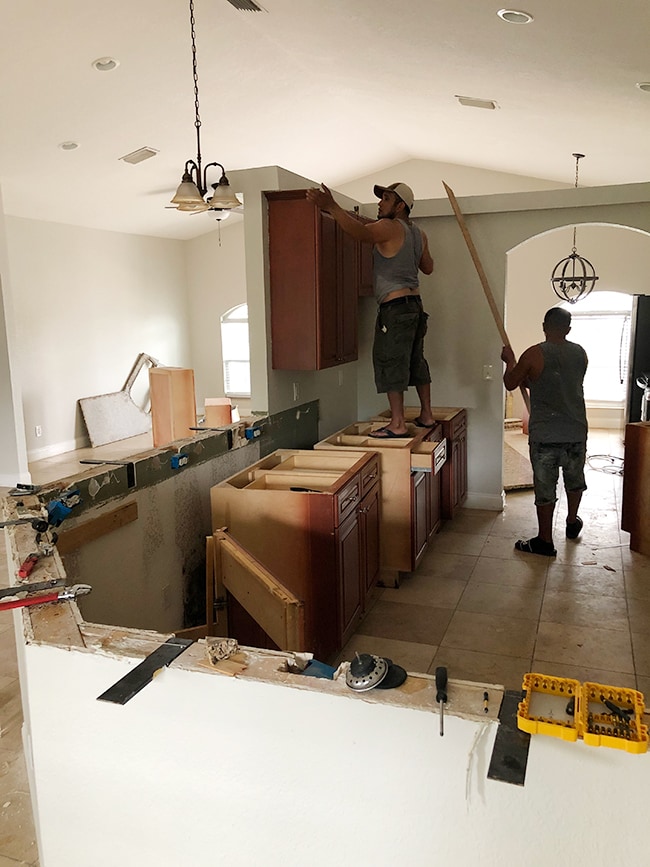 The home was built in 2008 (which means less chances of unwanted surprises and repairs, yay!) and we purchased it as a cosmetic "flip" from the second owner. It's a spacious 3 bedroom, 3 bath with ~2450 square feet and two en-suites. The biggest selling point for me was that it's near our home, which means we won't have a long commute (I've experienced longer-distance renovations twice and it makes everything much more challenging!)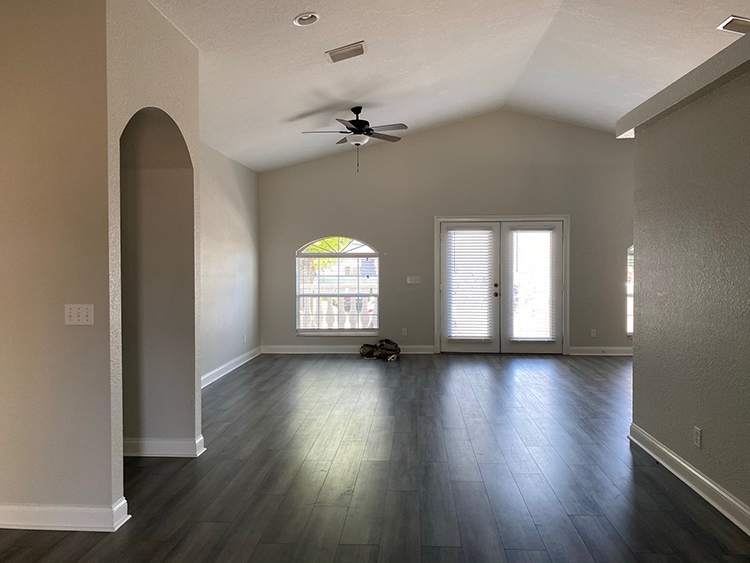 The plan is to turn the property into a vacation rental (if you're new here, we also have the Riverside Retreat and Poolside Palms) and it will sleep up to 14 guests after we add a fourth bedroom. This will be a complete renovation and we'll be DIYing as much of it as possible, so I'm expecting it to take us at least a year. Here's the floor plan (after the fourth bedroom addition):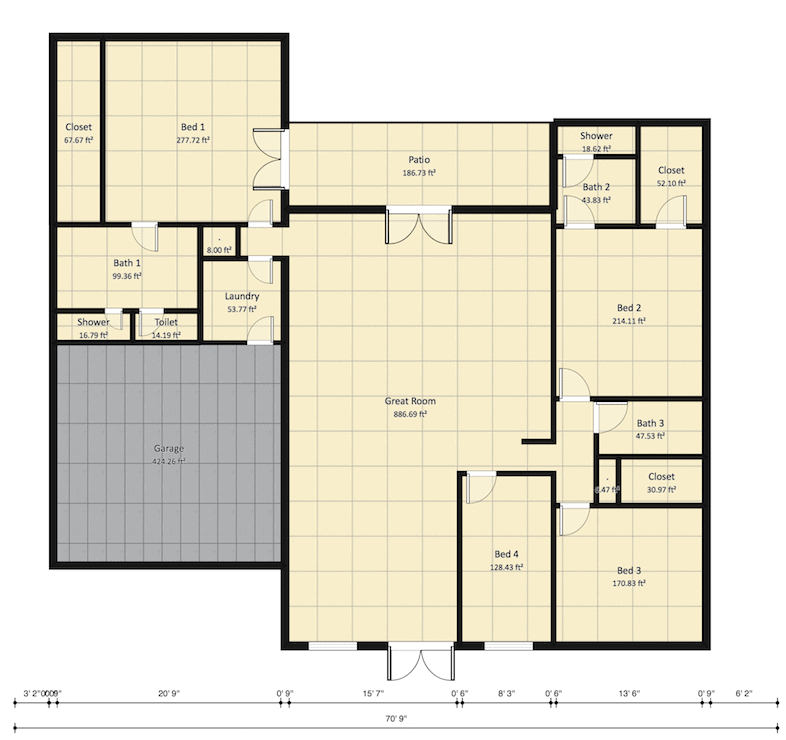 I'm embracing the Spanish-style architecture but adding in my own unique flair. I've been obsessing over this design style for a long time and finally have the opportunity to bring my ideas to life! Picture Amber Interiors meets Moroccan riad meets colorful Mediterranean with a taste of Florida:
I've spent hours upon hours saving inspiration to a dedicated board on Pinterest, if you're curious to get a sense of my vision. While I plan to stay within these general styles, each room will have its own look and vibe (similar to the Riverside Retreat).
Without further ado, let's take a tour and I'll share a few ideas and plans I have for each space:
Front + backyard
There's no mistaking this distinct Spanish/mediterranean influence of the exterior, and I'll be adding even more of those details to enhance the experience.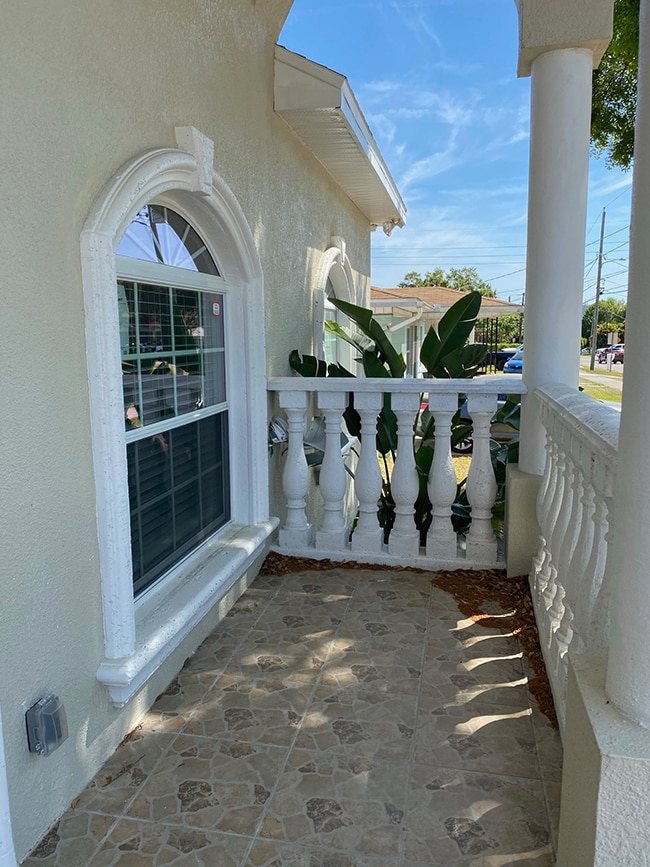 The biggest transformation and largest chunk of our budget will be spent in the backyard.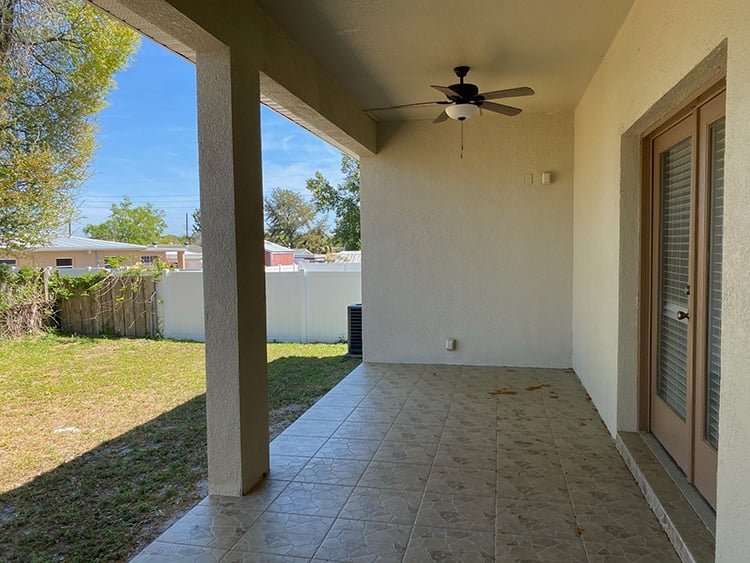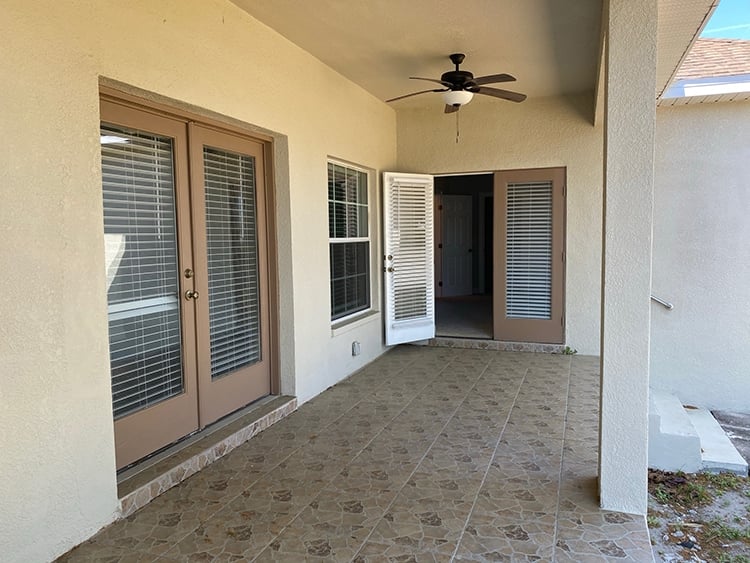 We plan to add a pool, decking, a pergola, pavers and gravel, grill, tile on the patio, a new fence and lush greenery.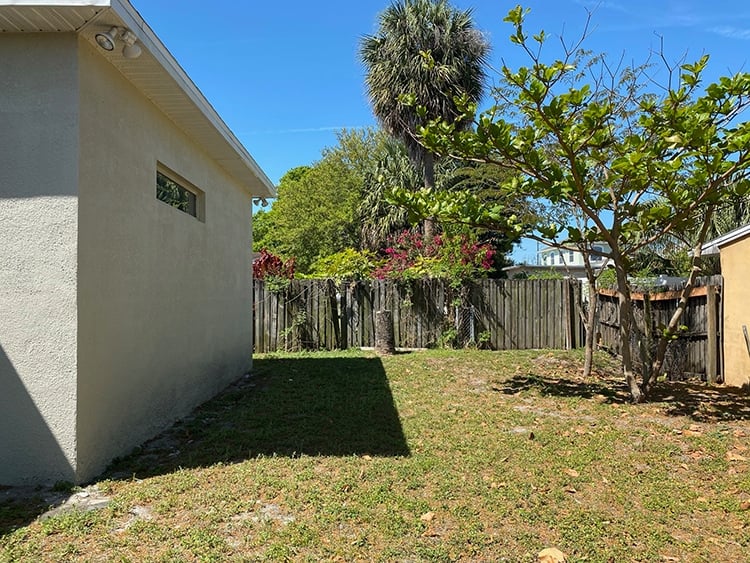 This backyard oasis will be the main attraction for guests, so it has to be a show stopper and that requires a little splurging.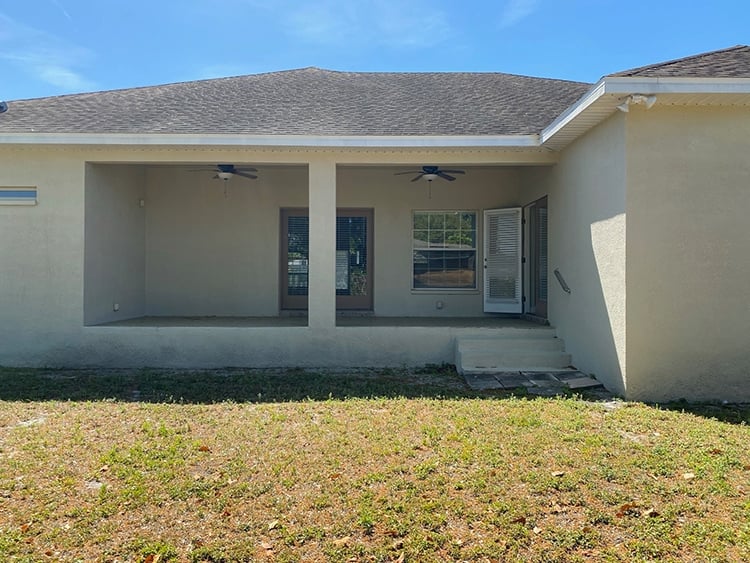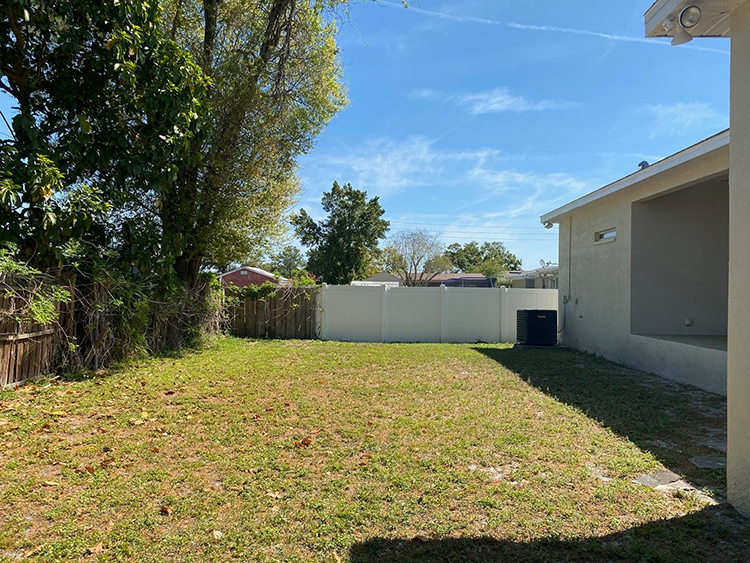 Dining room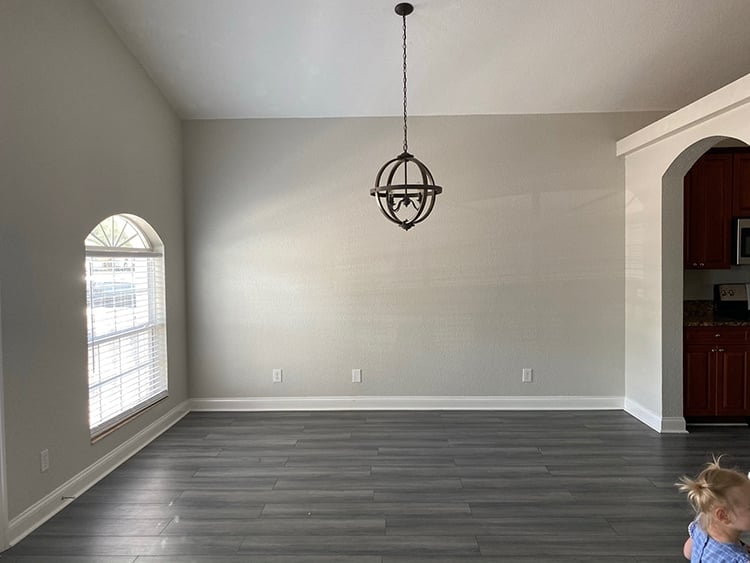 This is the first room you see when you walk in the front door, to your left. I'll hang a large statement chandelier and two dining tables to seat 12-14 guests. One of my favorite features of this home is the vaulted ceiling in the main living space.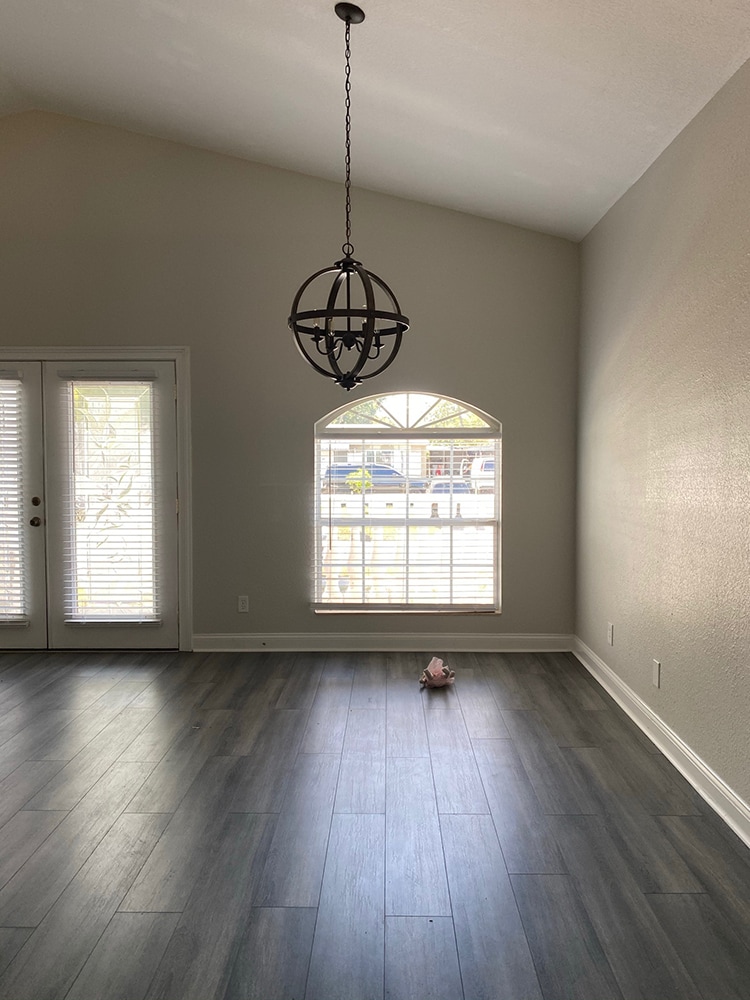 My least favorite? The obnoxious overly-textured walls. Skim coating the entire house is not an expense we can justify, so it is what it is.
Kitchen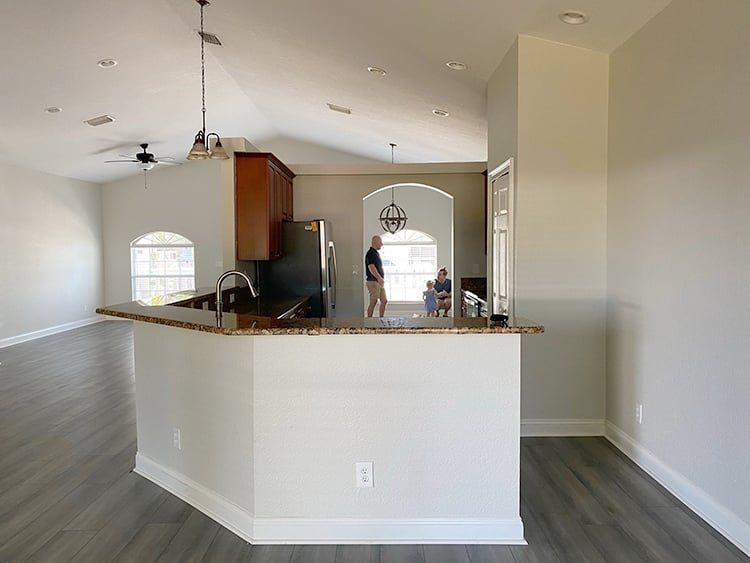 Oh man, this before is pretty bad. Nothing like adding two partial walls in an open room with a vaulted ceiling.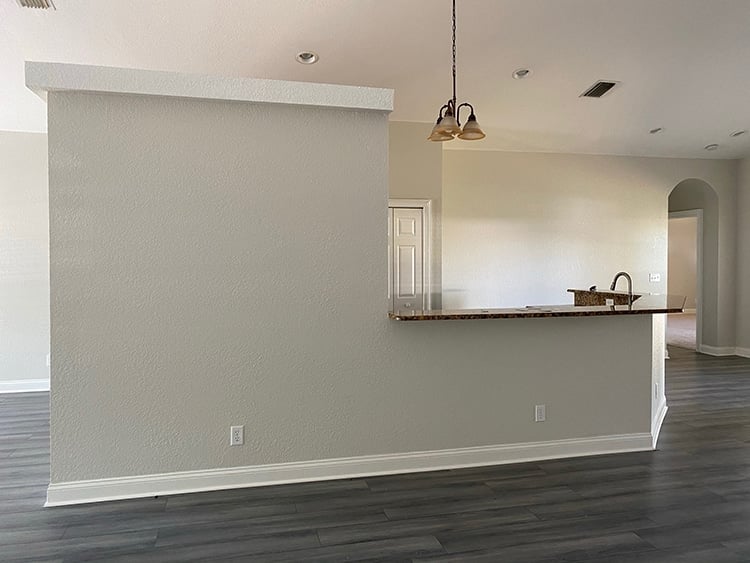 Fortunately, these walls and everything in it are now gone and we have a blank slate to work with.
The focal point of the kitchen will be an extra long custom range hood enclosure (which we'll DIY) and an island with additional seating.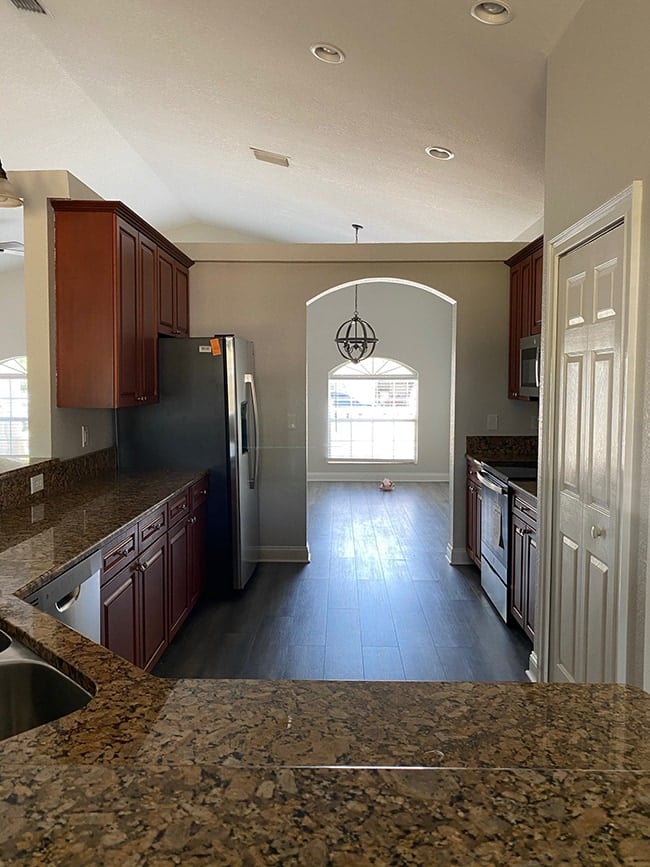 Living Room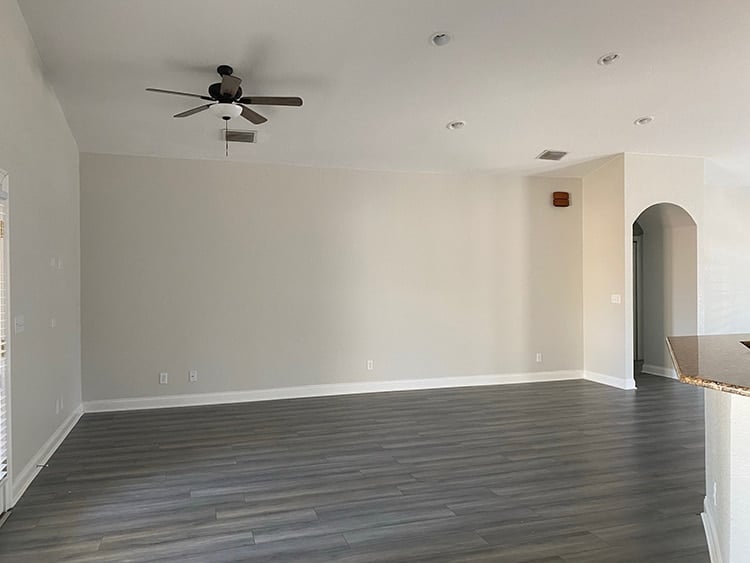 There won't be a lot of space to work with in here after we add the kitchen island, but the big change in here will be a plaster-style built in fireplace we plan to DIY.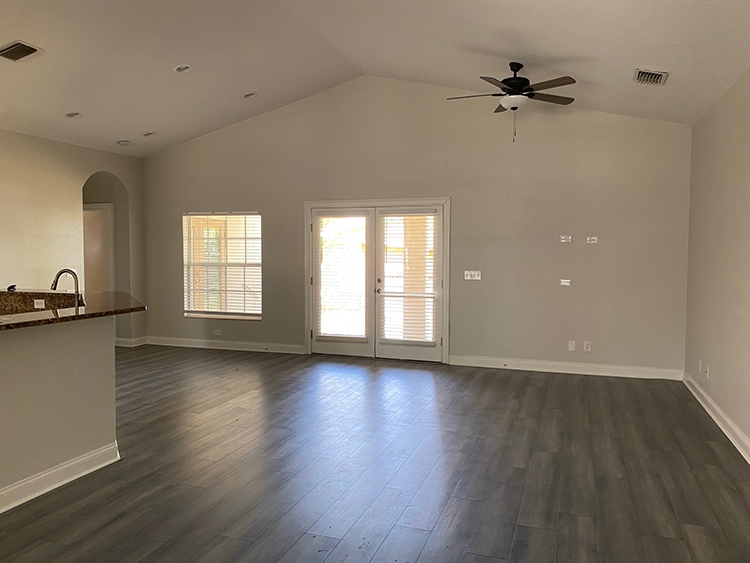 The living room/kitchen/dining room will be open to each other and form one big "great room", and the most dramatic change will be dark wood beams and planks covering the ceiling. We plan to tackle this ourselves and I'm pretty sure it's going to be the most intense and longest and possibly most regretted DIY of our lives.
Bedroom 4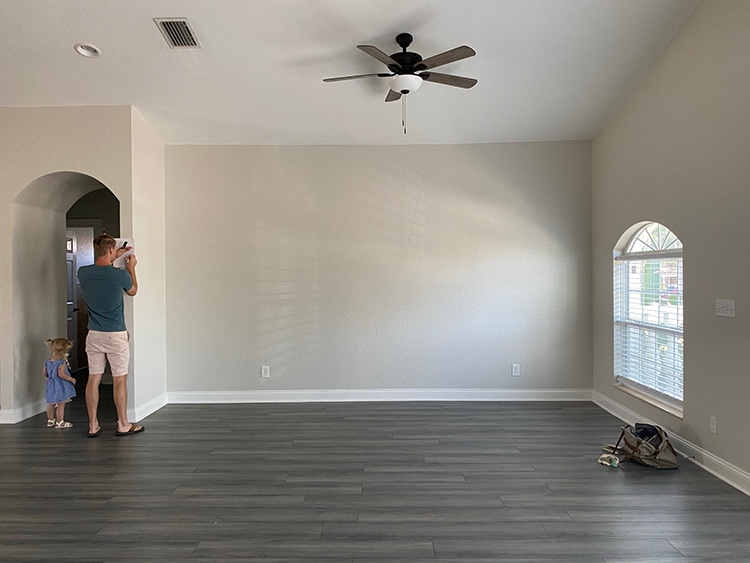 This area is currently unused/open space when you walk into the house on the right side (across from the dining room). It's the perfect spot to add a small fourth bedroom—just large enough for two twin trundle beds against the wall.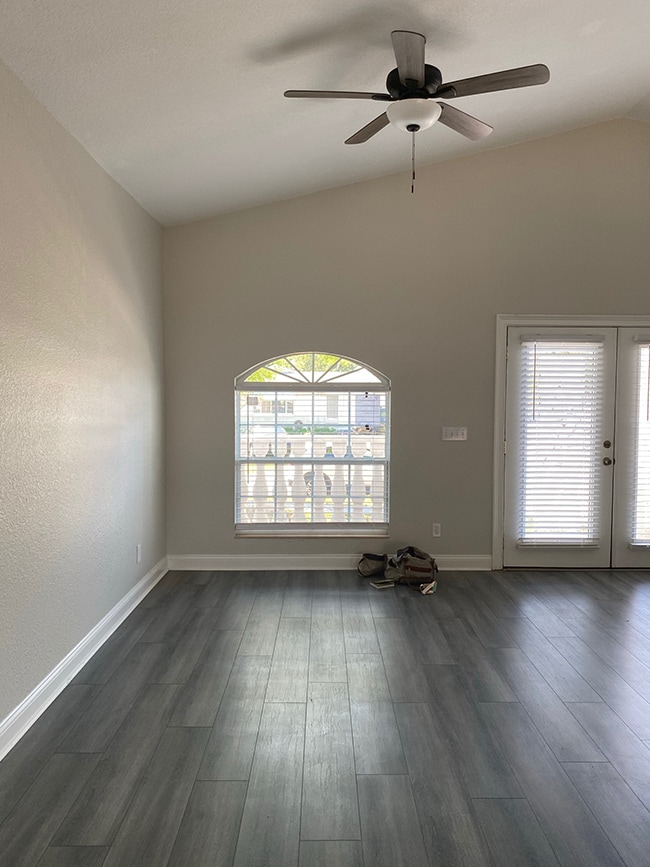 Bedroom 1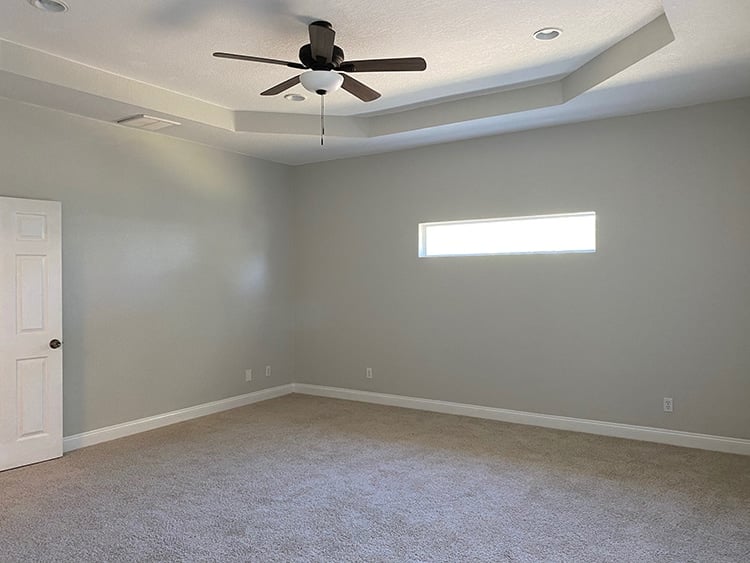 This is the largest bedroom, measuring 16'5" x 16'11". It has an entrance to the patio, a large walk-in closet and ensuite bathroom. It also has this super awkward off-center window slit above where the bed will go. What on earth am I supposed to do with that?! Replacing the windows is most definitely not in the budget, so I'll have to come up with a budget solution. Any ideas?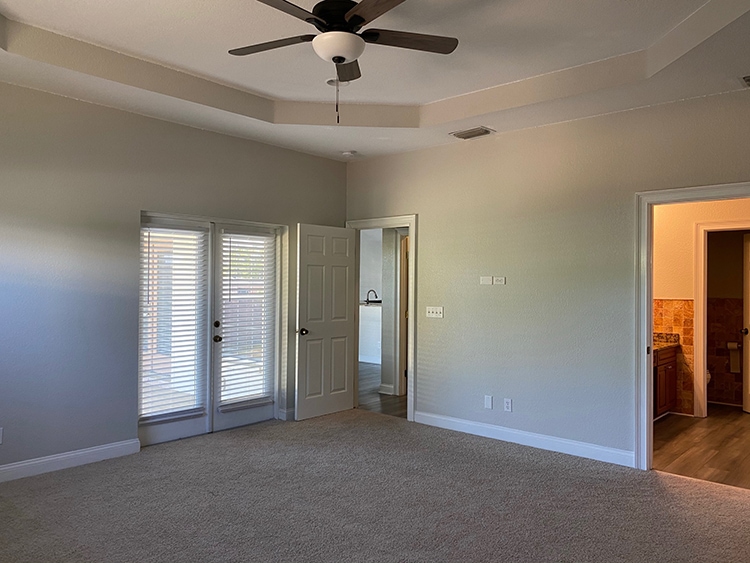 The other dilemma is this octagonal tray ceiling, found in all three bedrooms. I can't decide how I feel about this, and I'm not sure if I want to leave it as is. Whatever we do, it has to be budget friendly and DIY-able. Please give me all your suggestions!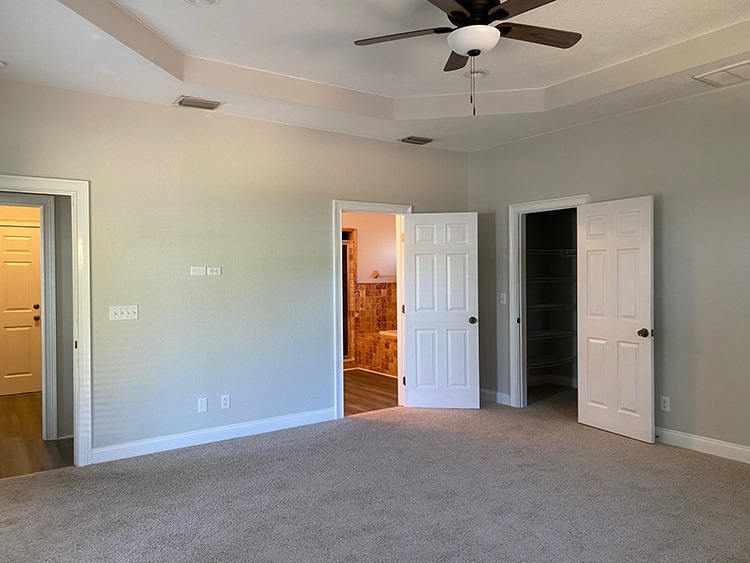 Ensuite Bathroom 1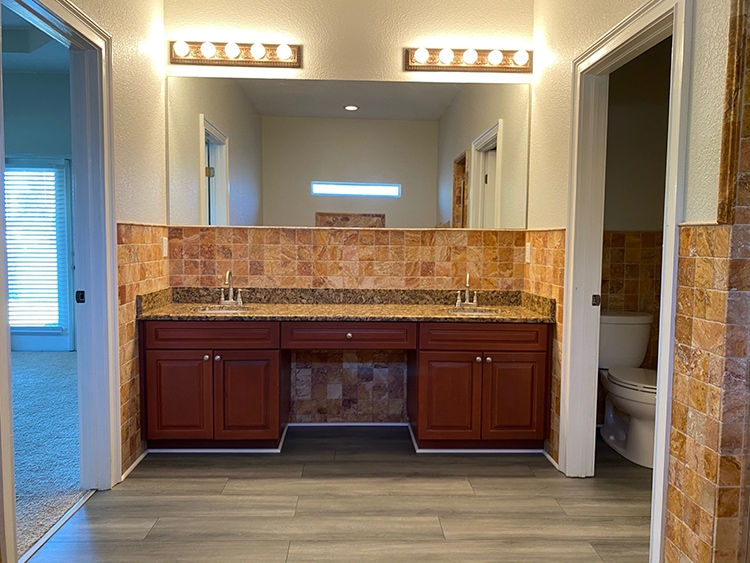 This is a pretty large bathroom, with a separate toilet room and enclosed shower.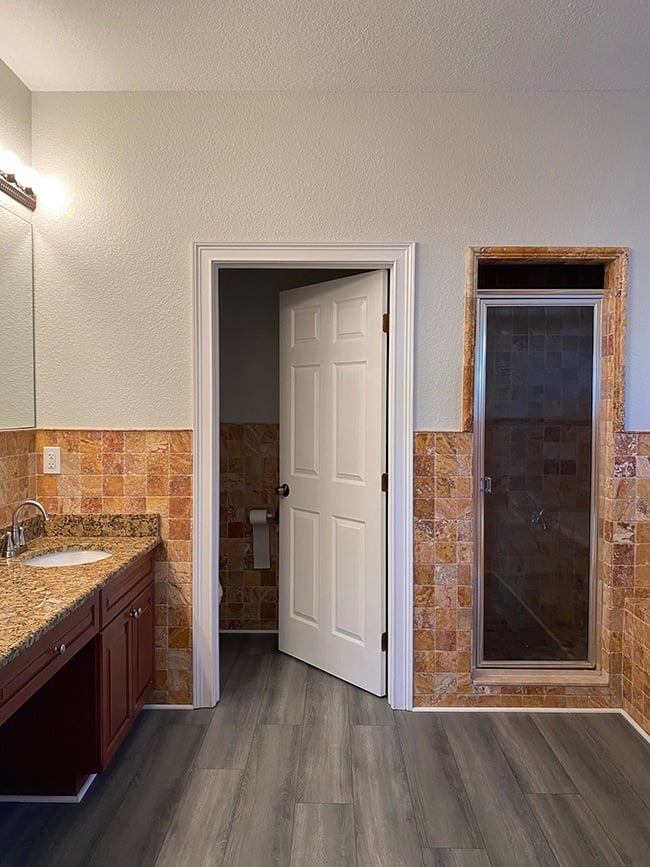 There is so much potential here, but it would add up quickly to gut everything and start from scratch, so we will have to work with the existing floorpan (including another dang skinny window).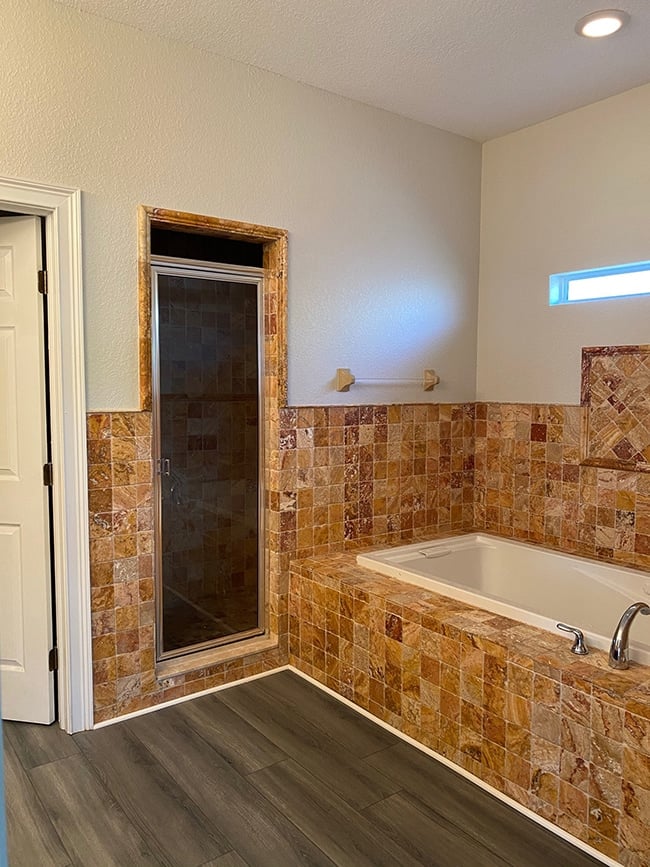 Bedroom 2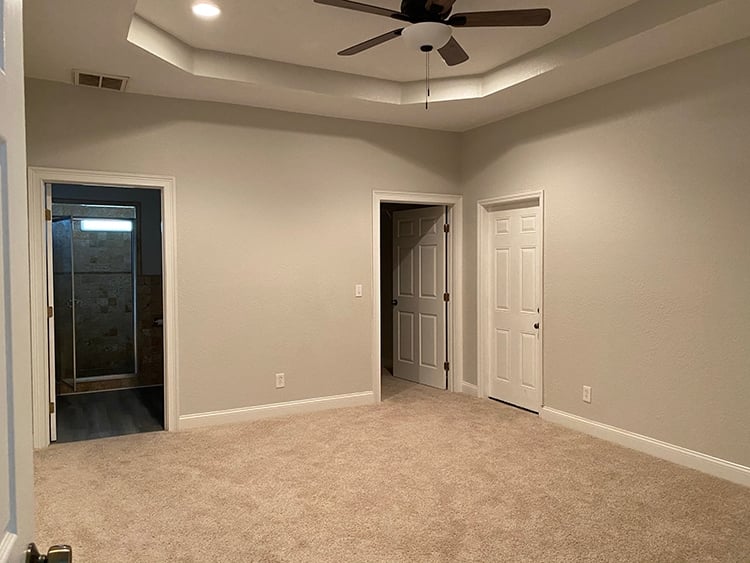 This is the second largest bedroom, measuring 15'8" by 13'8". It has a large walk-in closet and ensuite.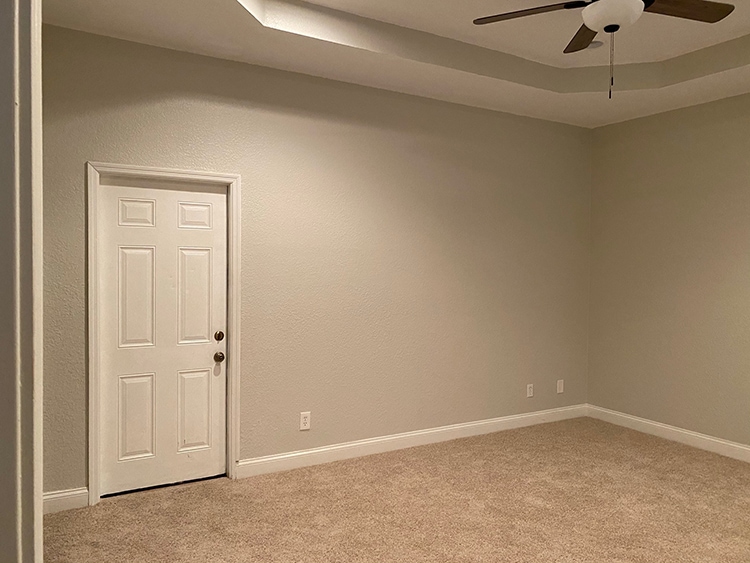 It also has an unnecessary door that leads to the side of the house and is stuck shut. I would love to get rid of it but I don't think removing it and patching the wall is in the budget.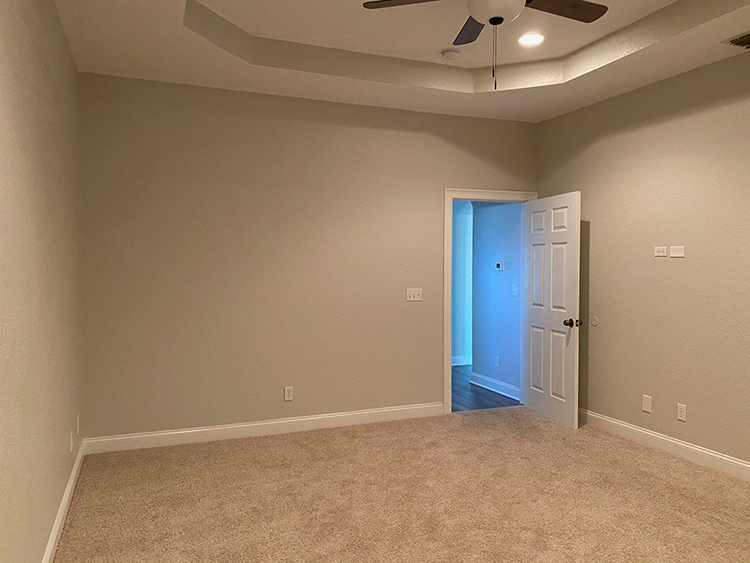 This room unfortunately has no windows/natural lighting, and it also has the octaganal tray ceiling.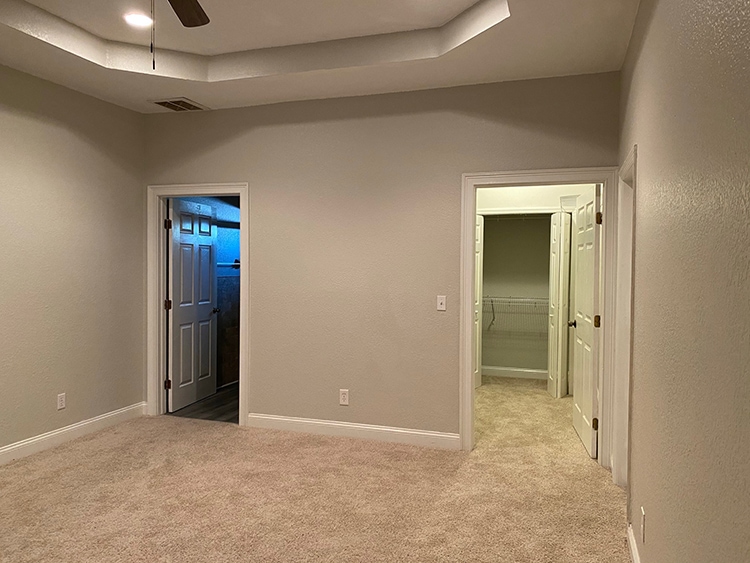 Ensuite Bathroom 2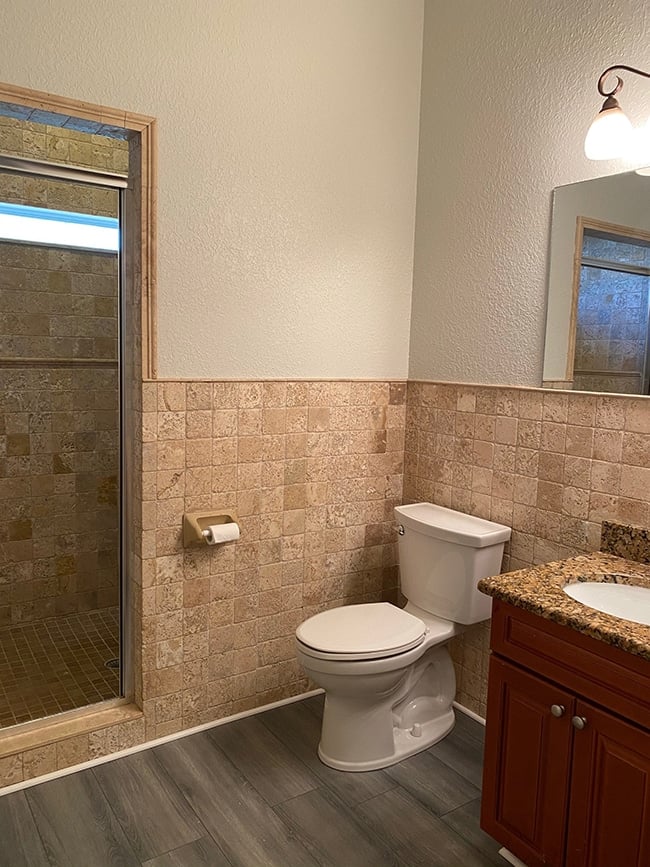 A decent sized bathroom with another enclosed shower (and another unfortunate window slit).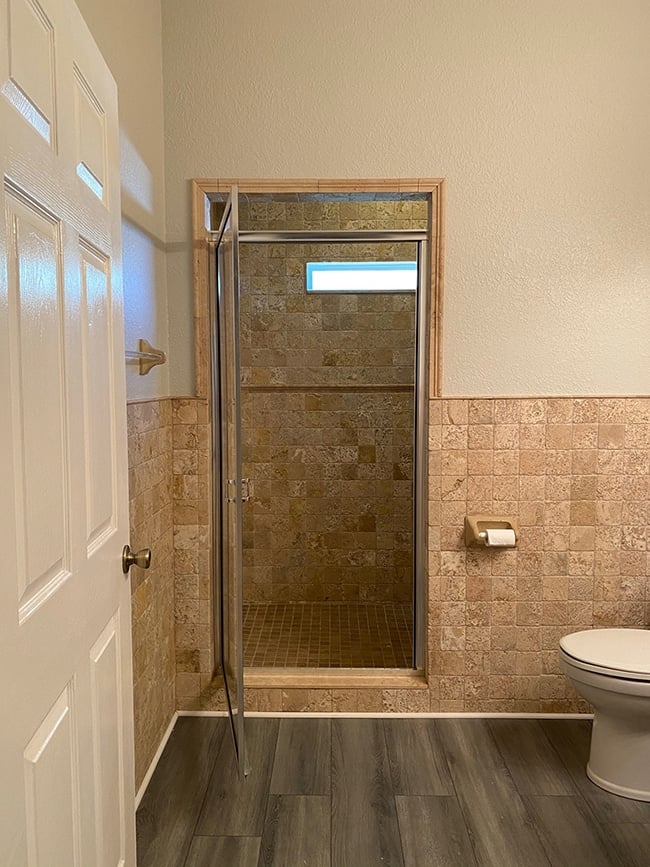 No plans as of now to change the floorpan, but sometimes I get carried away with my big ideas so we shall see…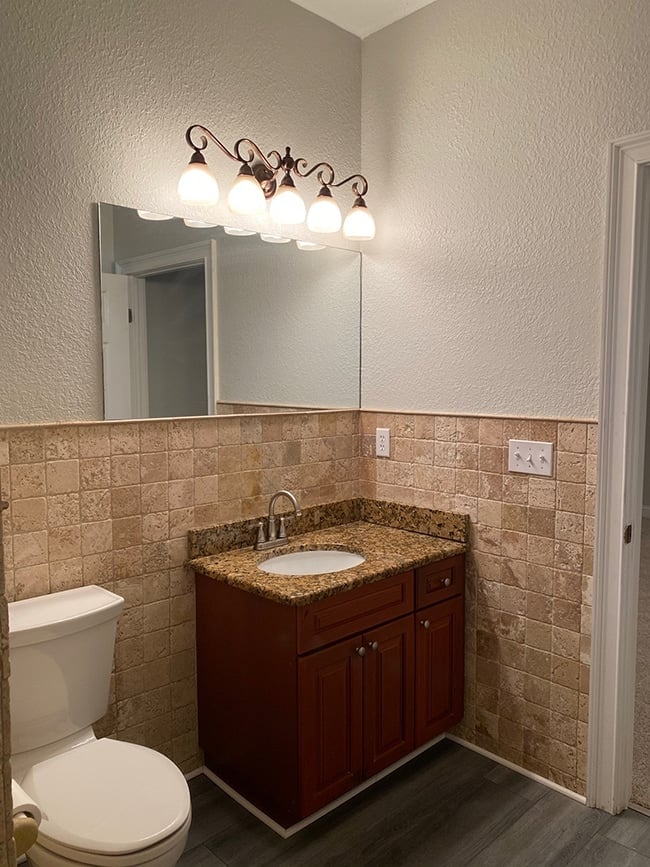 Bedroom 3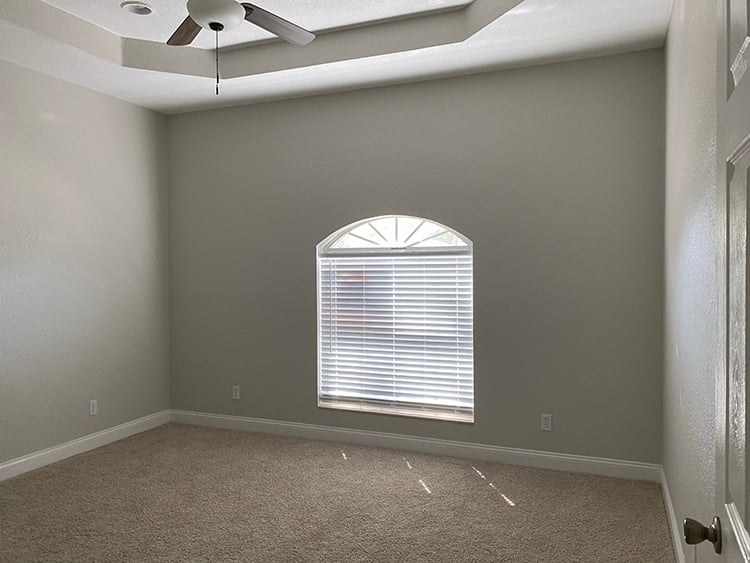 This is the smaller of the three main bedrooms, but still a decent size at ~13.5 x 12.5'. Fortunately, the ceilings in this house are 9'4" so that makes everything feel more spacious.
The biggest challenge in this room is that awkward off-center window that is way too low (the 4th bedroom and dining room have the same window issue).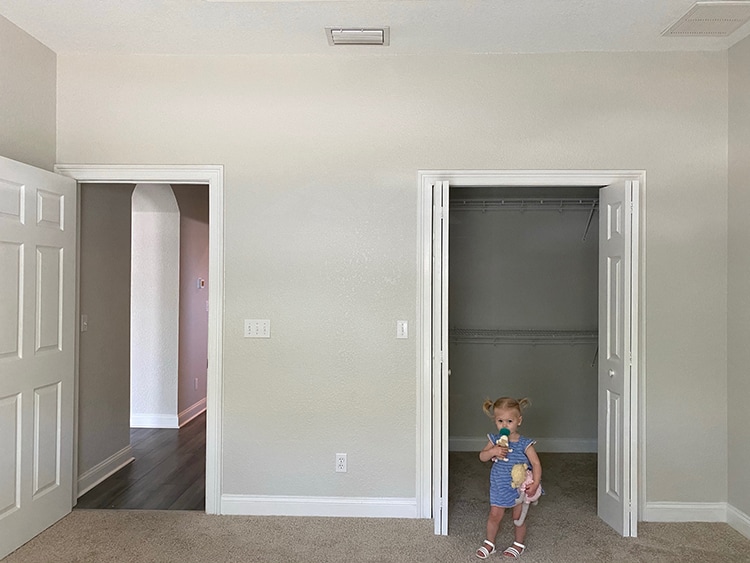 Bathroom 3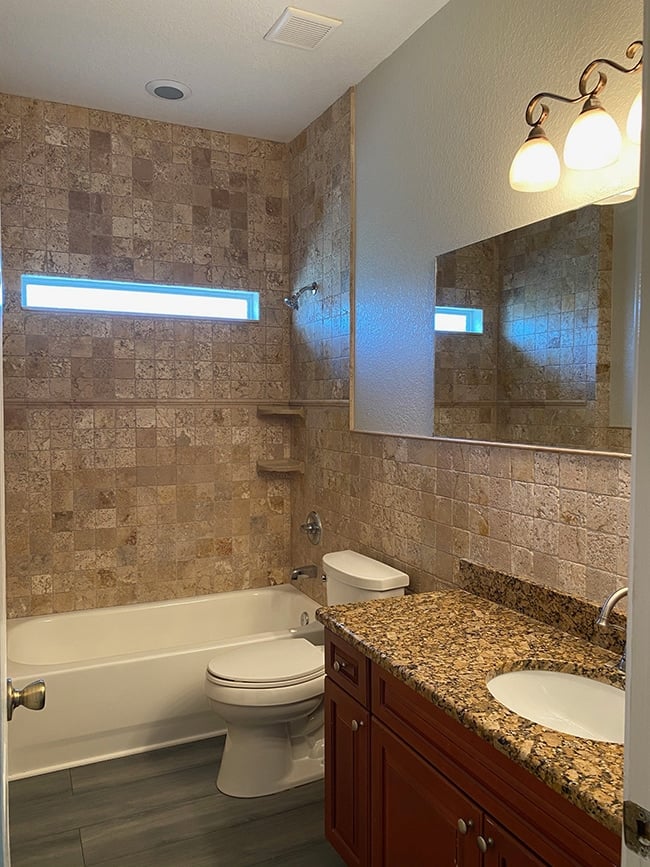 Your typical bathroom size and layout. Minus that dang window slit that follows me everywhere!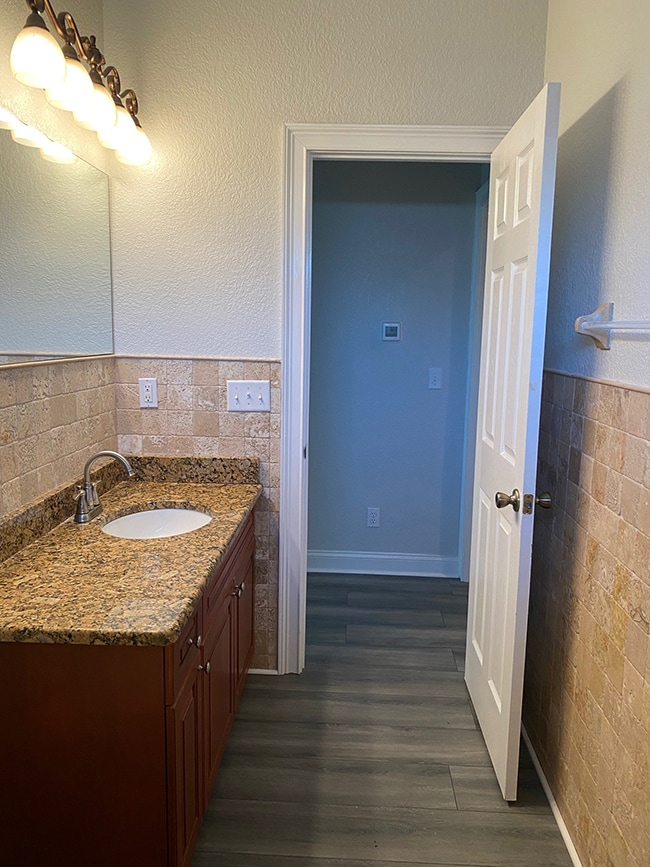 Laundry Room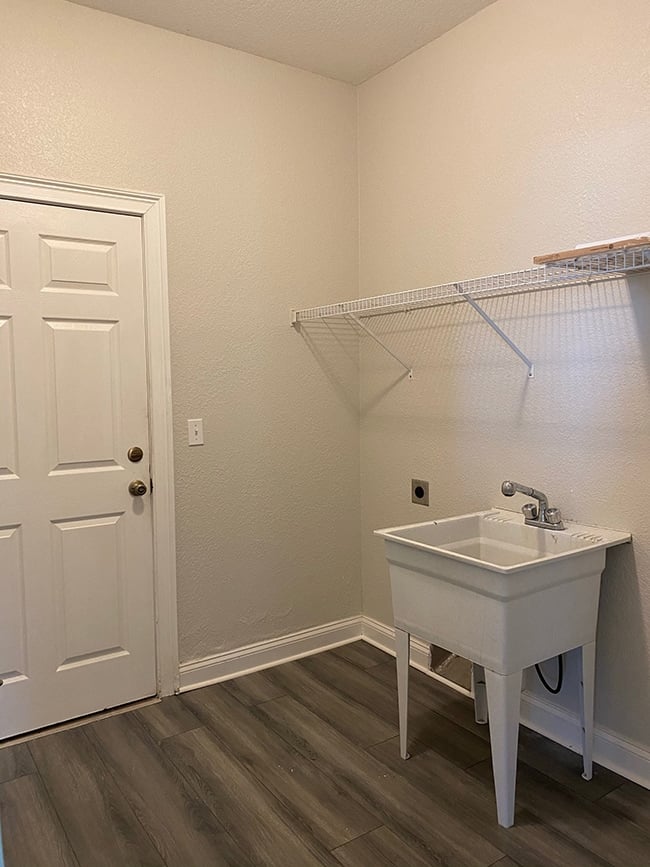 This space will likely end up as the forgotten child. I don't think it's worth dedicating a lot of time and budget towards (heck, we still have the subfloor in our own laundry room!) so who knows what will become of it.
---
So, what do you think?! We certainly have our work cut out for us with this one! I'm honestly just as excited about this renovation as I was when we built our own home. I have so many fun projects lined up and this is a chance to really get creative and experiment with new ideas. I also want your input! We have a big blank canvas to work with and so many possibilities. This project also presents new design challenges I've never faced, and I'd love to hear your suggestions. Here are a few questions that are top of mind right now…
If you were staying as a group of 14, would you rather have a sleeper sofa in the living room and 2 of the 4 bedrooms sleep one couple each, or sleeper sofas in the two ensuite bedrooms and only one bedroom that sleeps two?
DIY ideas for the tray ceilings in the bedrooms?
What would you do with the arched windows that are off center and too low, and the off center skinny window in Bedroom 1?
What should we name this place? I love alliterations (i.e. Riverside Retreat, Poolside Palms) and want to stick with the Spanish/Mediterranean theme. Currently entertaining Hidden Hacienda or Hacienda Hideaway… any others?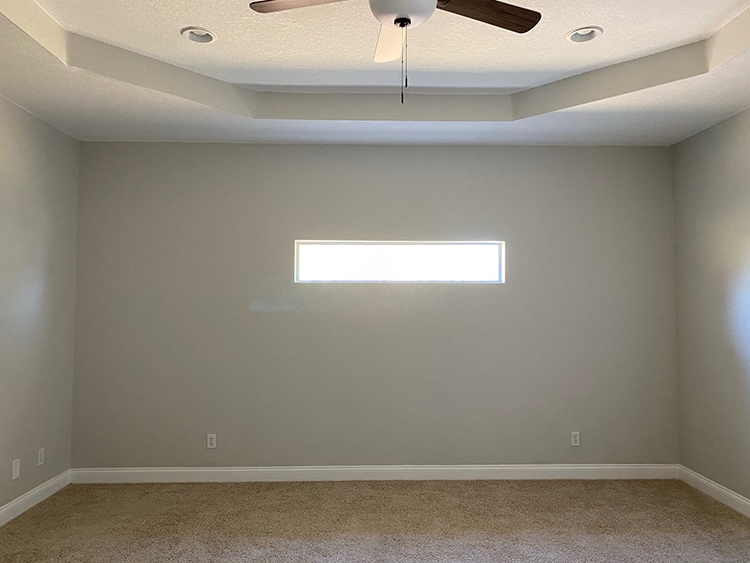 If anyone comes up with the winning name or a genius problem-solving idea, there will be a reward involved ?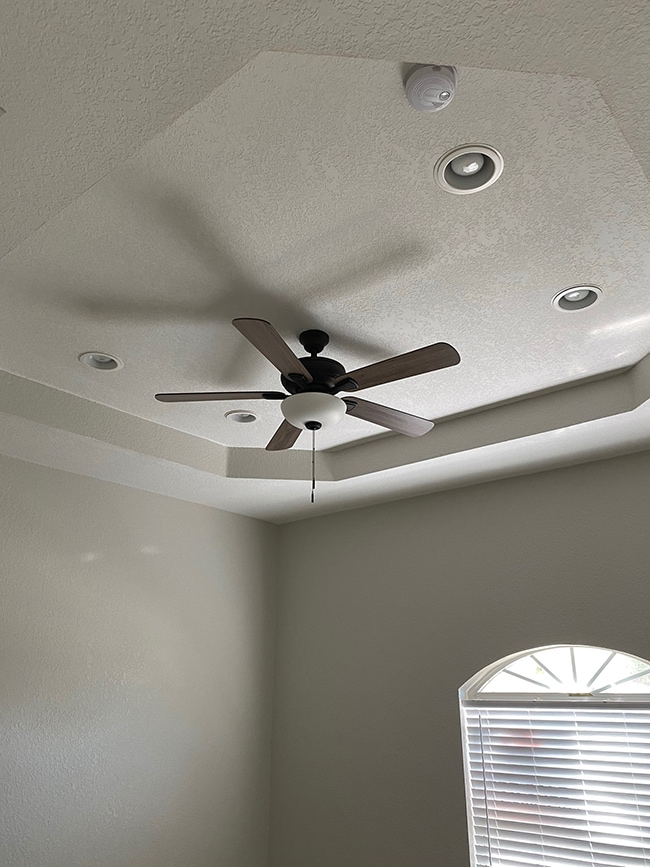 What's first on the to-do list? So far we've removed the flooring throughout the entire house (both the laminate and original tile underneath), completely demo'd the kitchen, and Lucas is finishing the new bedroom framing.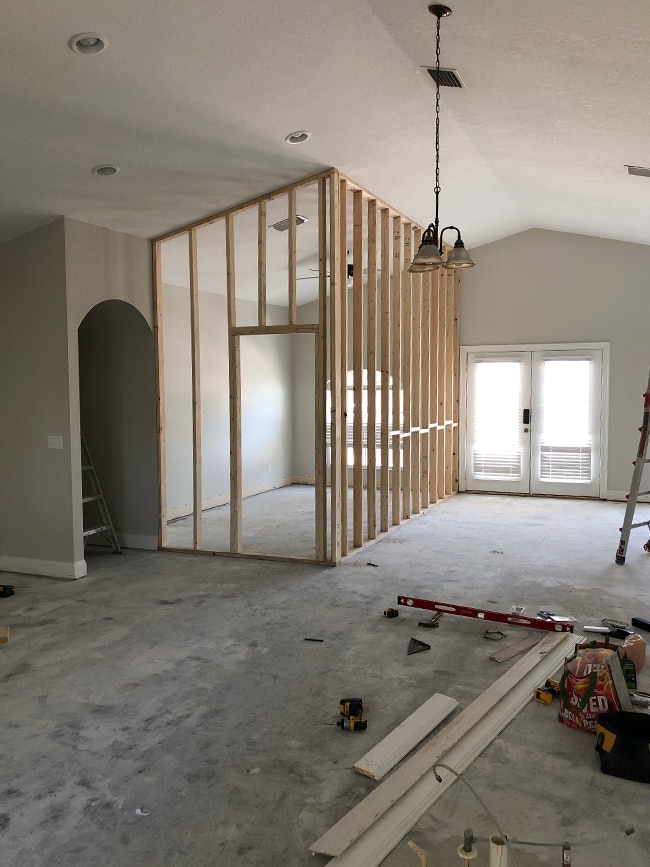 I'm anxious to share allll the details with you in the coming months! Get ready for a whole lotta room design plans, new DIY projects, product sourcing and budget breakdowns.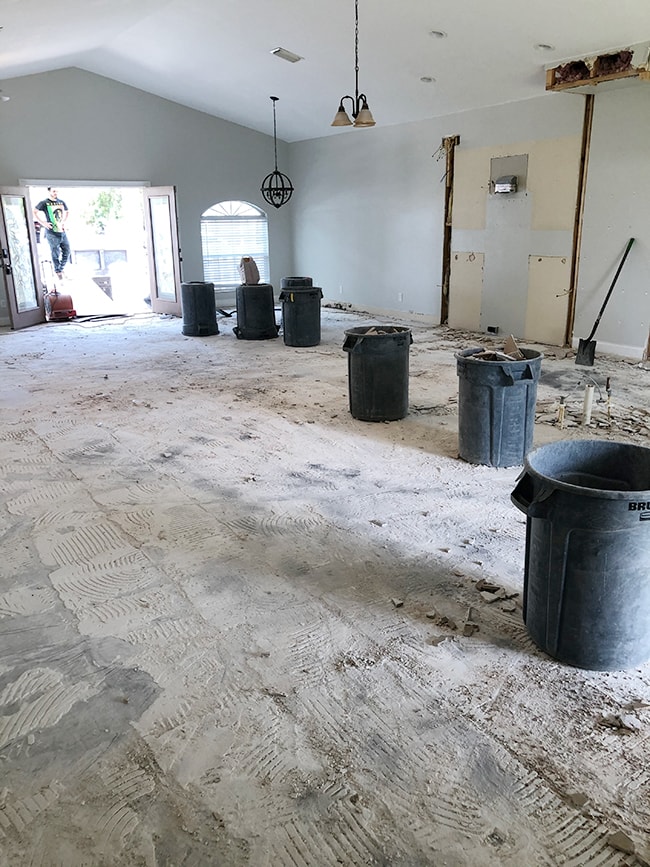 Next week I'll be sharing the budget-friendly high end dupes I've been sourcing for the house. You can also take a tour of our current progress tomorrow in my Instagram stories, so make sure you're following me there for all of the behind the scenes action. A very happy May to everyone!