Today is first room reveal of the beach house! We have been working tirelessly for the past month+ to get this place rent-ready, and last weekend was a huge milestone as we managed to get the house around 90% of the way there (we're still waiting on a large Ikea delivery before we can call it Done).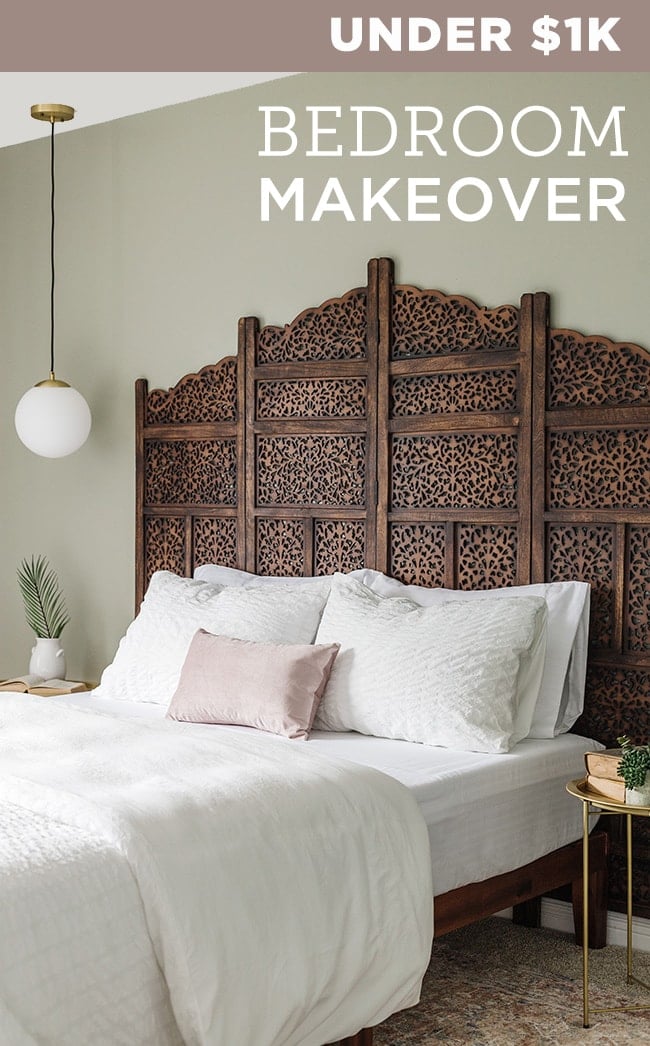 Pin
While we had to focus our energy on completing the long to-do list on our last trip, I did manage to squeeze in a quick photo/video shoot of one of our Budget Bedrooms to share with you guys. I captured it all in a timelapse—watch below for the Before + After and see how long it took us to transform the room!
Remember how Bedroom 1 looked before?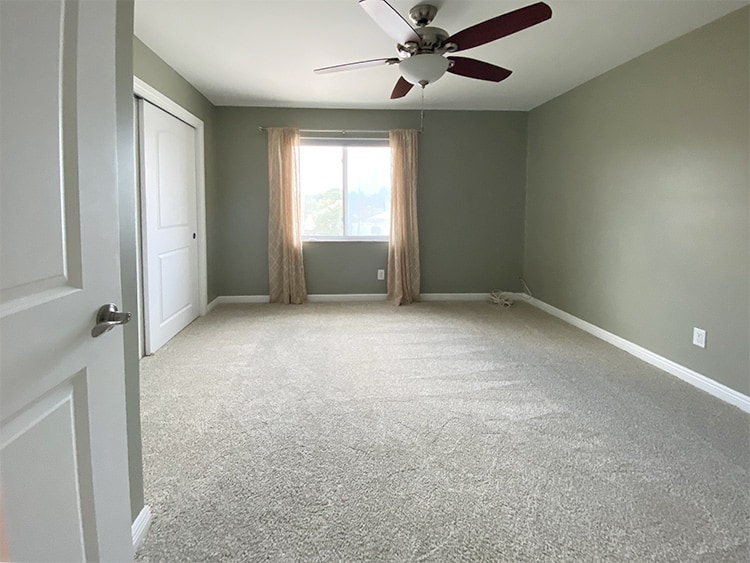 Pin
As explained in the design plans post, we don't have the time nor budget right now to make any major changes like updating the carpet, any electrical work or even painting the walls.
Pin
We did swap out the ceiling fan a few weeks ago (we replaced all of the fans in the house with something sleeker and low profile), but everything else was pretty much left untouched.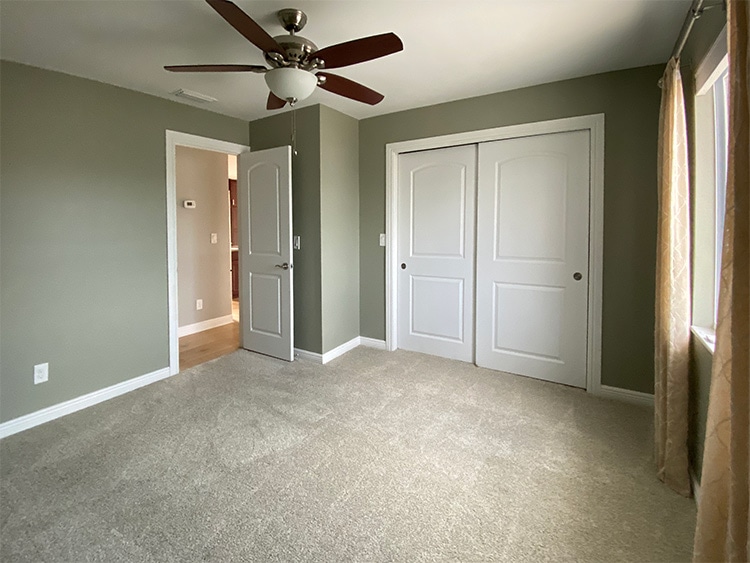 Pin
Fortunately the walls were already painted a very lovely color, PPG Smoky Slate at 50% strength (Sherwin Williams Green Earth is a similar shade).
With all our items delivered and waiting in the living room, we started a timer. Less than three hours later, our budget-friendly boho bedroom makeover was complete…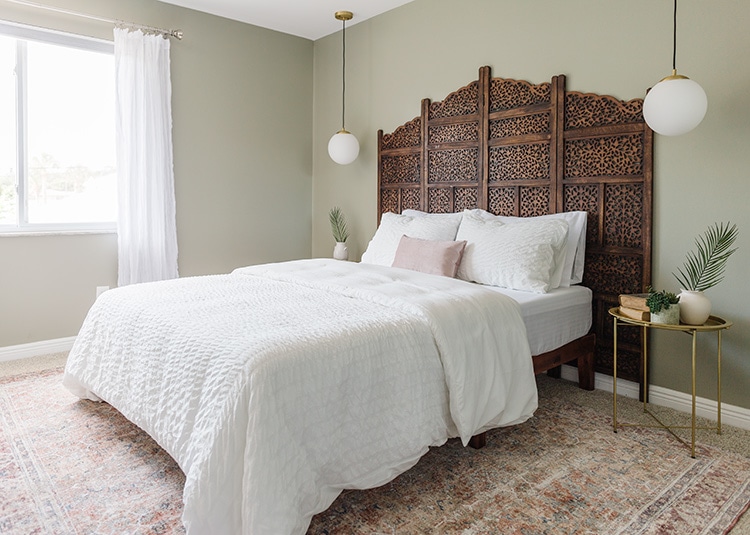 Pin
I have a lot of favorites in this room, but clearly the carved wood headboard (a repurposed room divider) steals the show. We attached it to the wall with 4 long dark screws into anchors (two are hidden behind the bed and the other two blend in with the wood).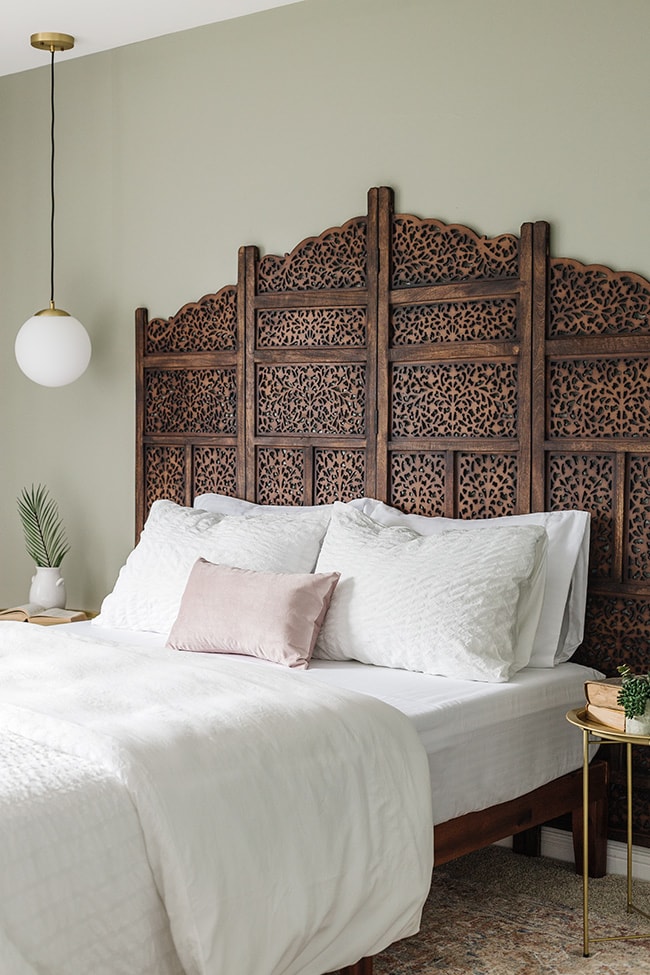 Pin
The terracotta Loloi Revere rug is a pretty close second. It's SO soft, the color palette is to die for and I'm seriously considering it now for our own master bedroom.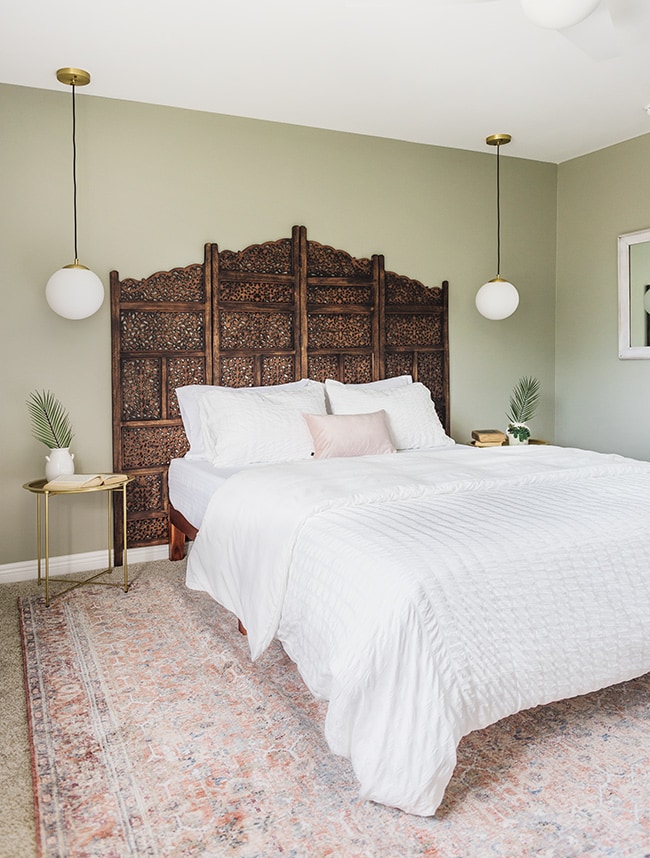 Pin
I'm so glad I opted to hang these $52 globe lights from the ceiling instead of using wall sconces. It's an unexpected feature that draws your eyes up, makes the room feel larger and definitely more high end. The best part is—there's no wiring involved! I found the genius "magic light trick" from Nesting With Grace which uses battery operated, remote controlled puck lights hidden inside the globe (we tested our puck lights but didn't have the right fitting to secure them inside the globe—we'll do that on our next visit!)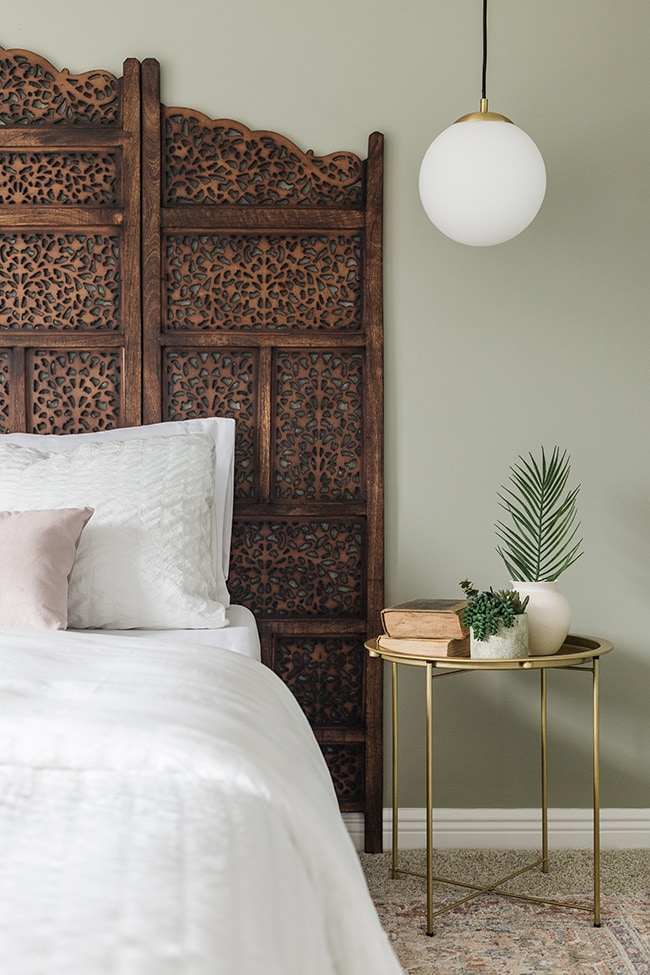 Pin
Side tables are one place you can really cut back on costs (especially when it's a guest room that doesn't require hidden storage). These pretty $32 gold tray tables do the trick while adding a little warmth and glam (and they match the sconces!)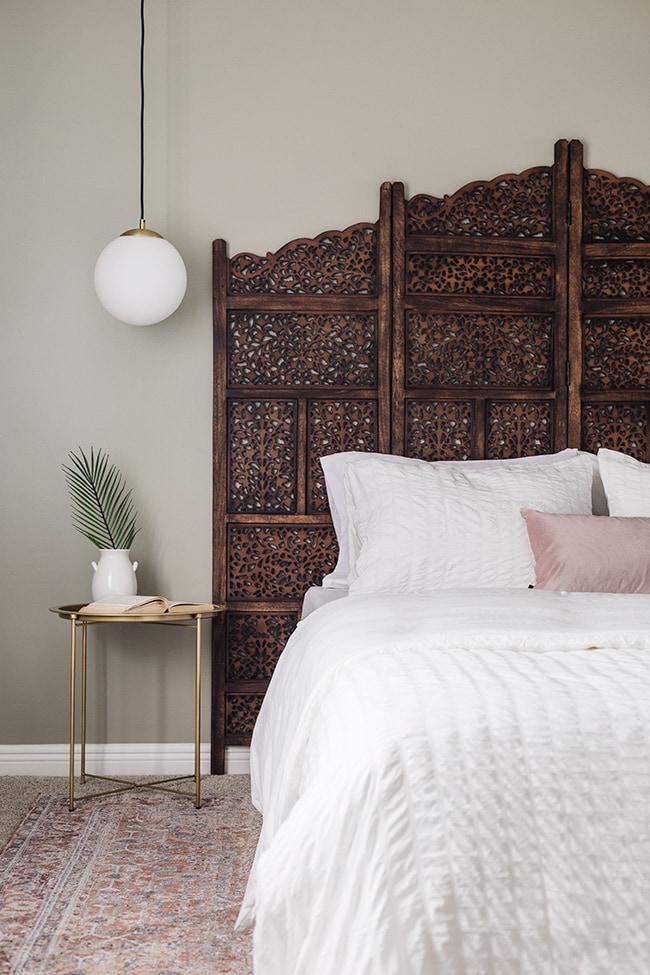 Pin
I'm loving the crisp white and texture of the seersucker duvet cover, and the fact it required minimal steaming ?? I found the set on Amazon a few months ago after an extensive search, and loved it so much I ended up buying the same one for almost all of the bedrooms in both of our rentals.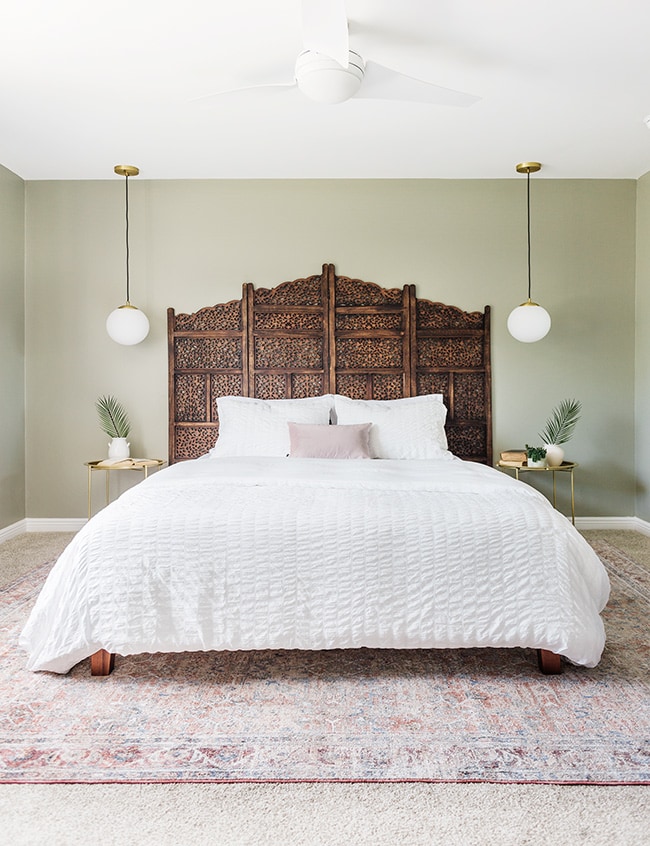 Pin
The cherry wood bed platform worked out perfectly with the headboard. The wood tones are similar so it blends in as if it was meant to be there. The assembly was also super easy and we were really impressed with the quality. No squeaky metal bed frame to worry about!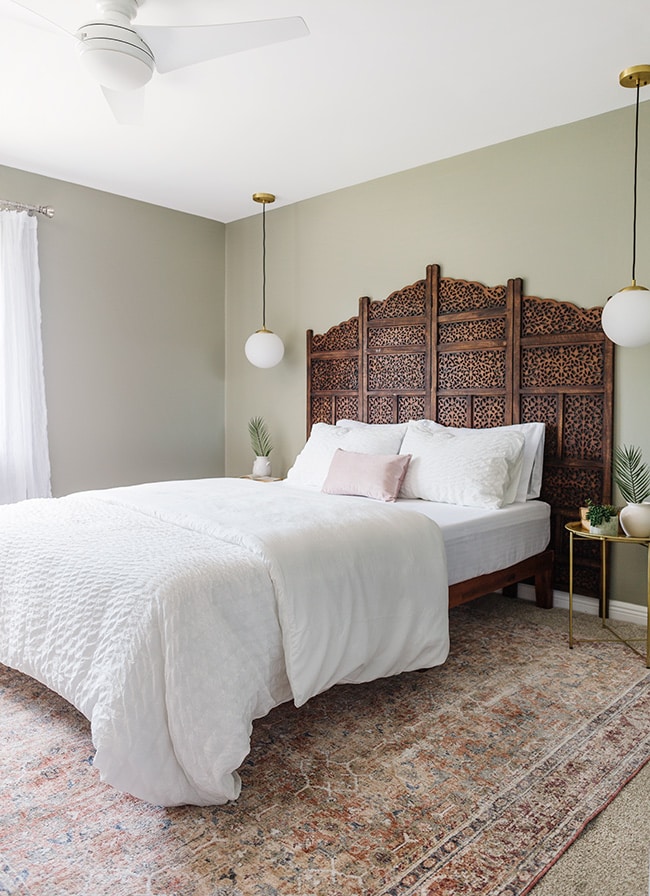 Pin
It's crazy how different the wall color looks in these photos. It transitions from green to gray to beige, depending on the lighting and the angle and time of day. Such a rich, dynamic color. I had never even heard of PPG paints until we bought the house.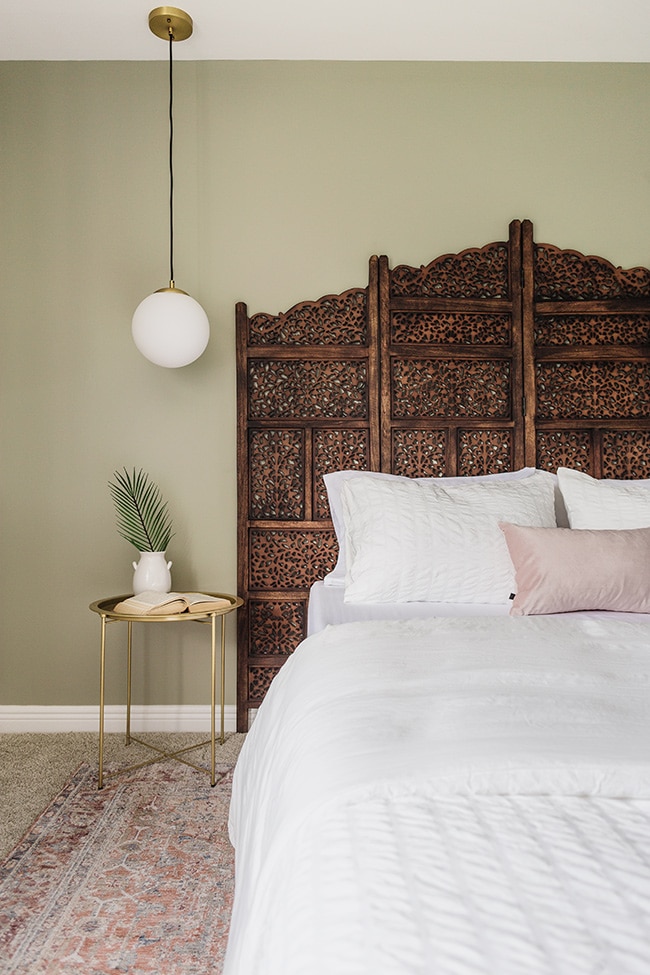 Pin
I kept the decor very simple in here—both because of our budget/time constraints, and because it's best to take a minimalist approach when designing a vacation rental. You want it to feel clean, clutter-free and relaxing.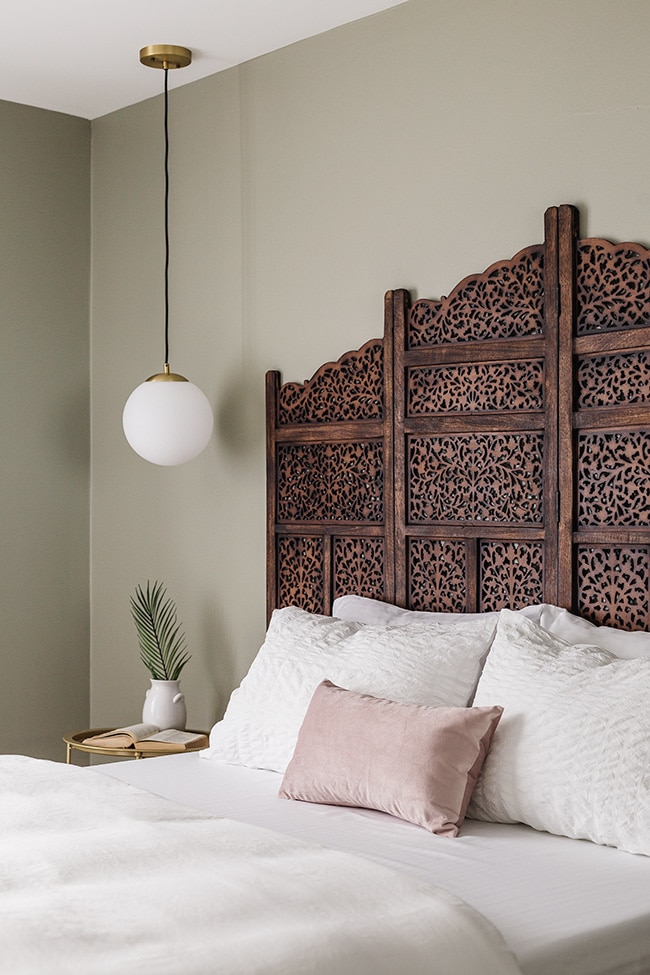 Pin
The only thing we hung on the wall was a simple mirror pulled from storage, across from the window to reflect the natural light and make it feel larger. I didn't get a full shot of this side of the room… oops (it's not as exciting as the rest ?)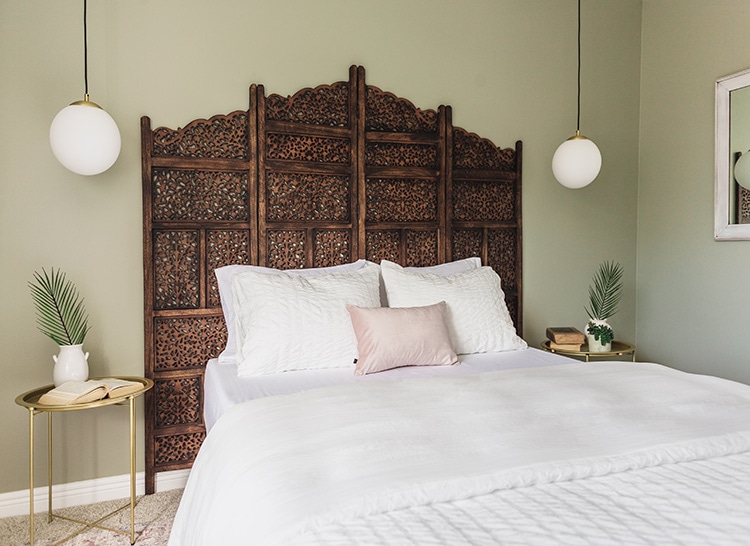 Pin
If you watch the video you can see shots of the entire room. Honestly this is one of those spaces with that "wow" factor in person, that's difficult to capture in photos. You'll just have to come stay with us and see for yourself ?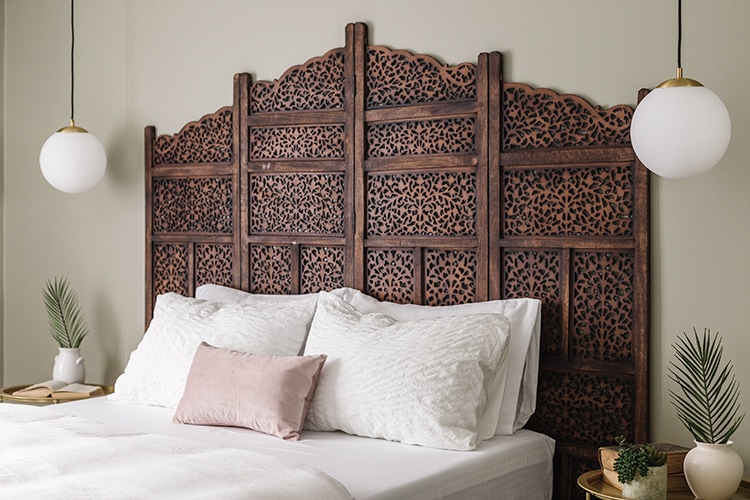 Pin
Tell me, what's your favorite part? I'm sure most of you will agree it's the headboard. Even though it was the biggest splurge, it's still so affordable, and it completely makes the room! Here's the link to everything again, so you don't have to go back to the last post…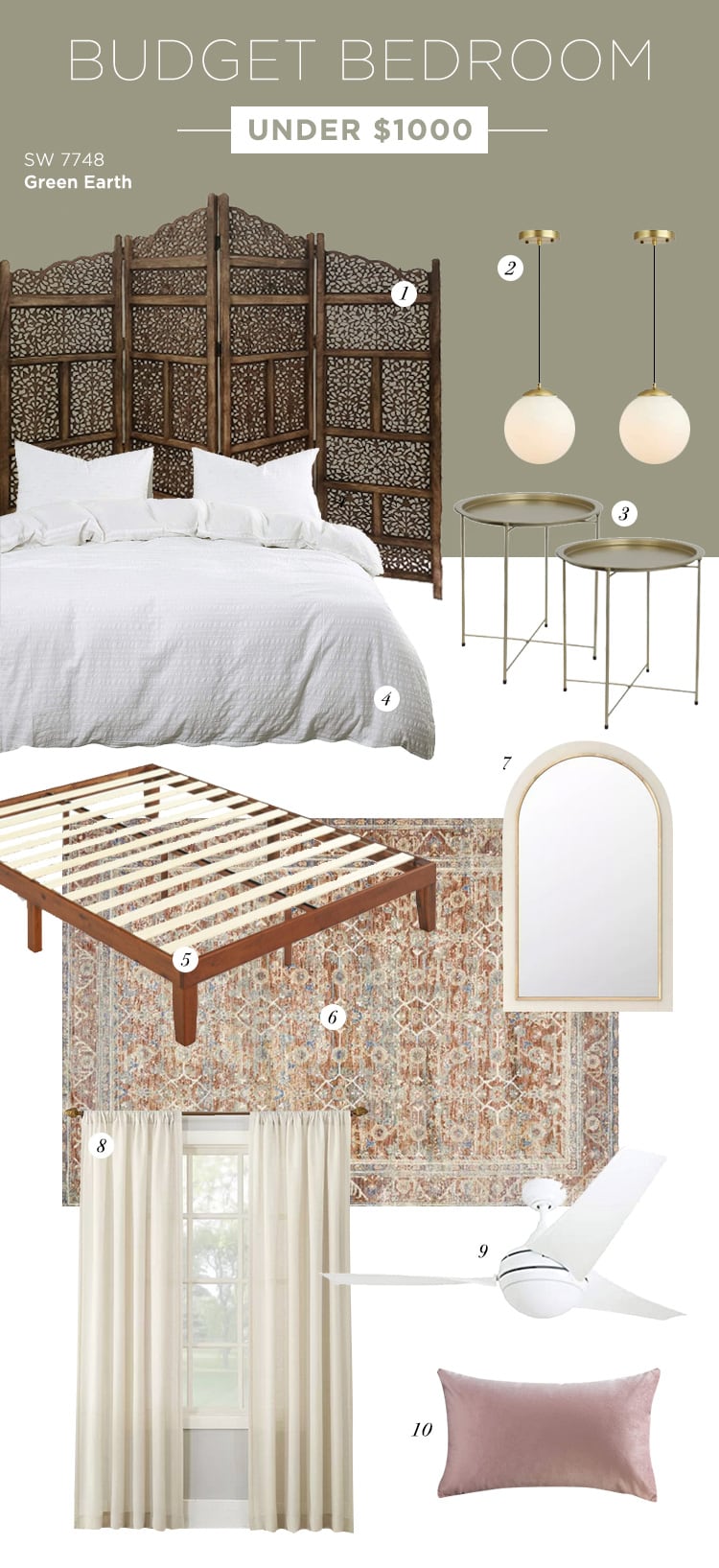 Pin
1 / 2 / 3 / 4 / 5 / 6 / 7 / 8 / 9 / 10
And for those wondering: we used this mattress, this lightweight duvet, this sheet set and these pillows for every room in the house.
It will be another 1-2 weeks before we're able to finish the house and photograph it (if all goes well) so you can expect to see a (Phase 1) finished house tour hopefully in the next few weeks. Who knows, maybe I'll have time to shoot and reveal the beach house master bedroom next week… would you guys rather see that, or an update on the backyard at The Riverside Retreat? Or something else? ? Let me know in the comments below!