Back with two more beach house bedroom reveals! Last week I shared my personal favorite, Bedroom 1, along with a time lapse of the transformation…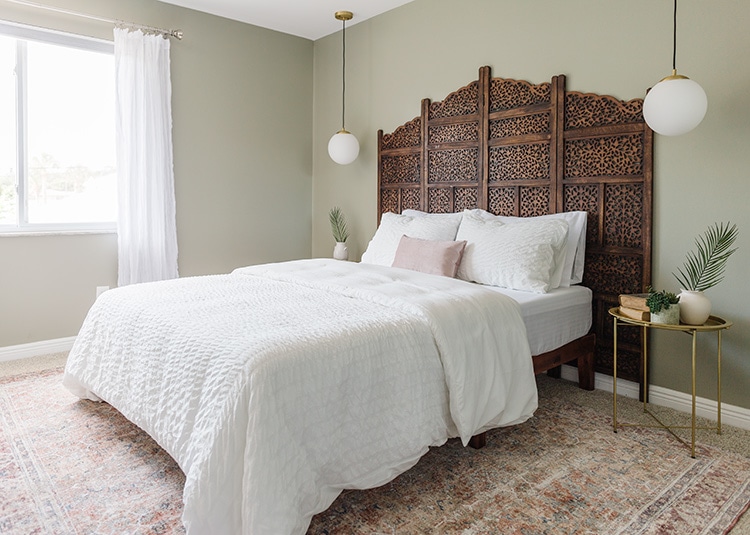 Pin
I wasn't planning to dedicate a post to the other bedrooms since our time and budget were so limited (I wish I could do more!) but even though these aren't the most magazine-worthy makeovers, I found some great affordable pieces that are worth sharing.
Let's start with the master bedroom…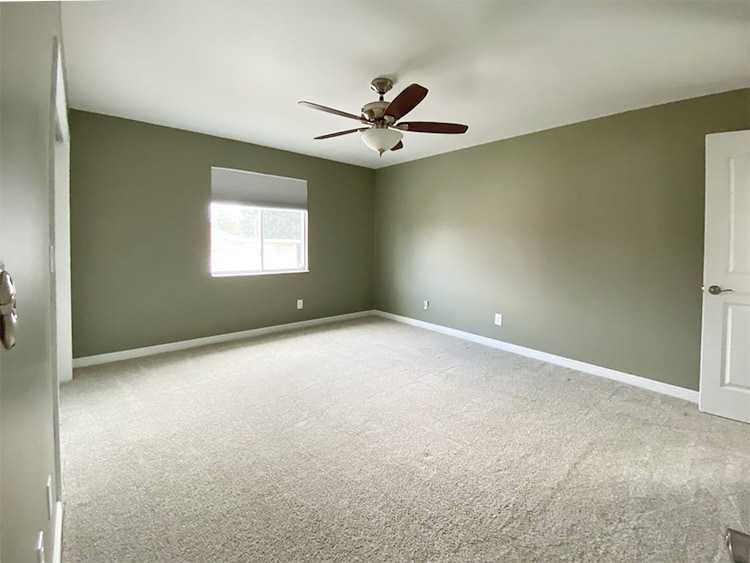 Pin
The wall color is PPG Smoky Slate (the same as Bedroom 1, except full strength) which is a lovely mix of green/brown/gray.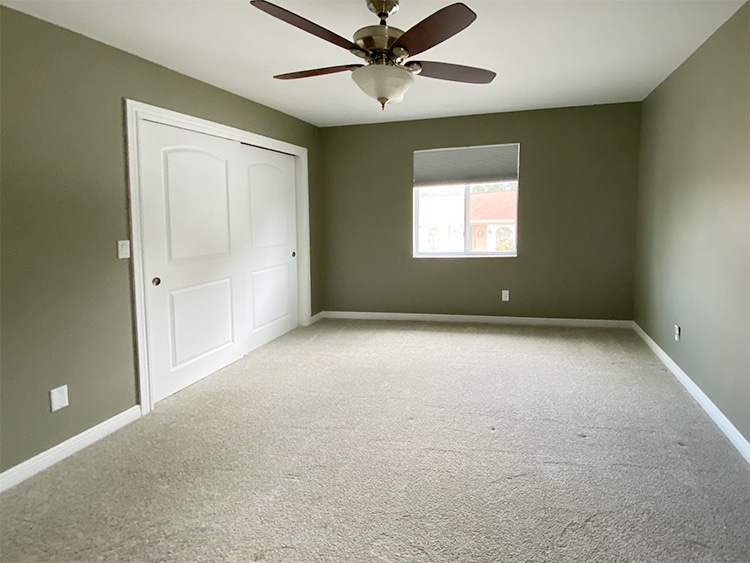 Pin
Here's the under $1k design plan I came up with (click on the numbers below the image for sources):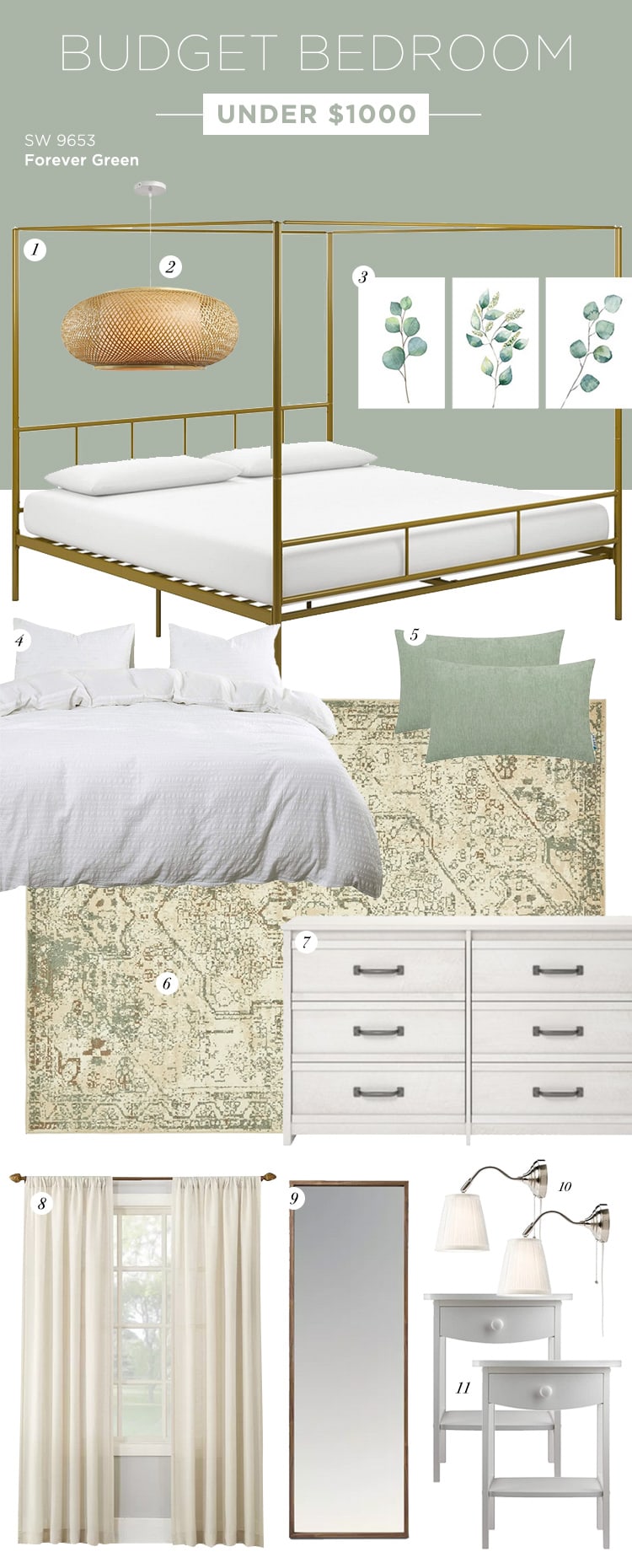 Pin
1 / 2 / 3 / 4 / 5 / 6 / 7 / 8 / 9 / 10 / 11
I had to swap out a few things in real life, and here's how it turned out: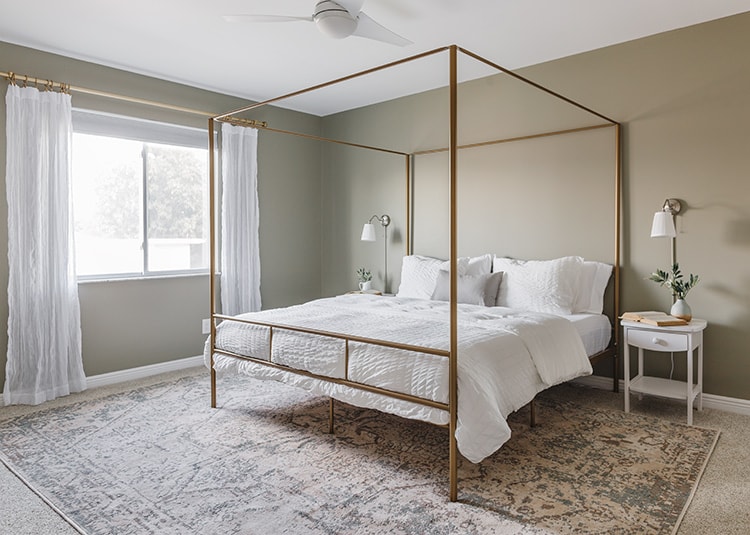 Pin
My favorite part is easily the canopy bed. It has such a presence in person and feels so elegant.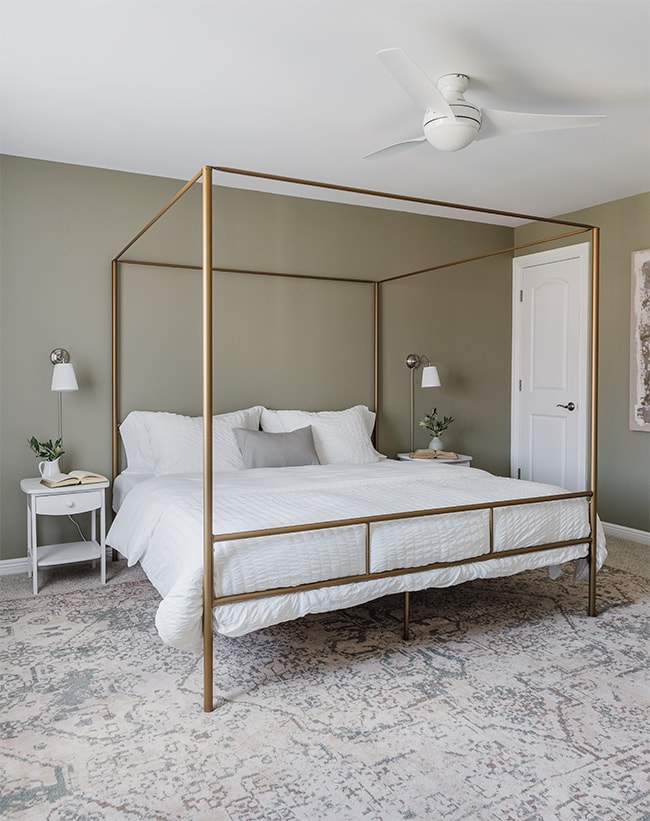 Pin
The nice thing about it is the height—our ceilings are a few inches under 8′ and there are no clearance issues at all, even with a ceiling fan!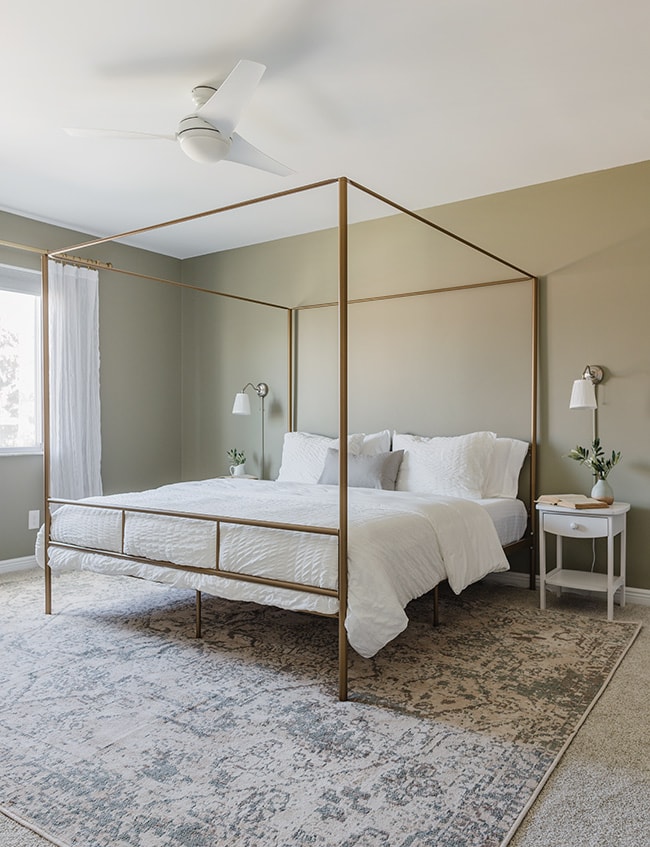 Pin
When I published the design plans post the bed had sold out, but it's back in stock now! An absolute steal for what it is.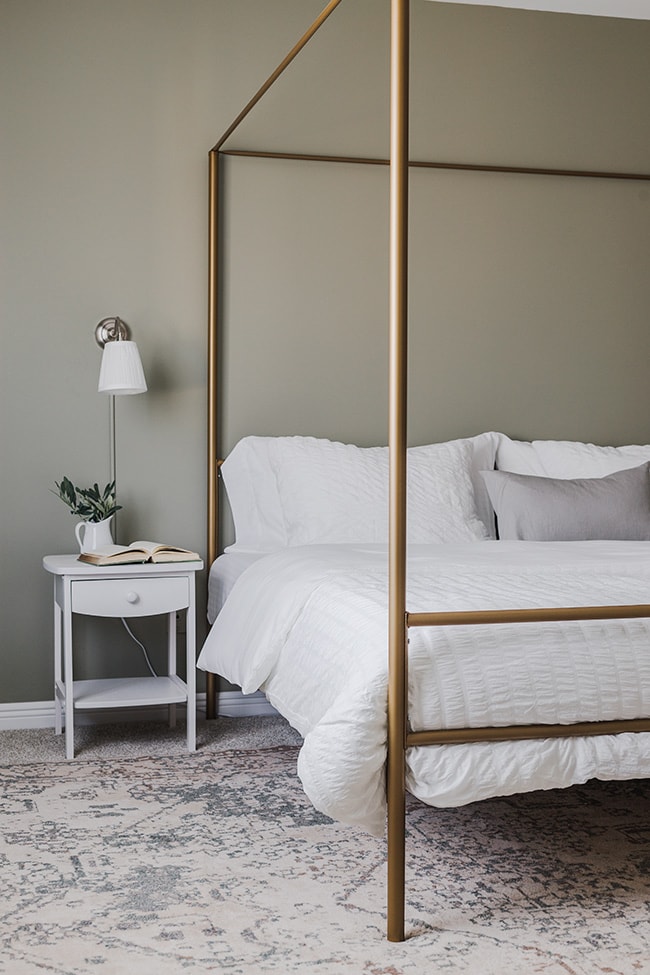 Pin
The night stands are another bargain at $49/ea (looks like the availability/price just changed though, boo!), same with the wall sconces at $50 for the pair.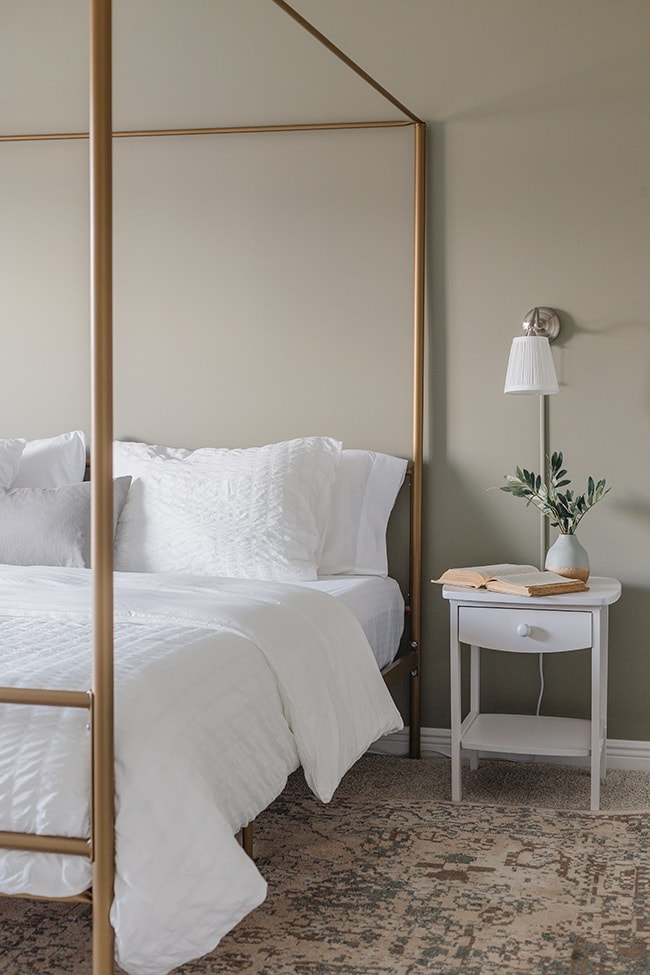 Pin
On our last visit I shared an Instagram story of how I hid the wire with adhesive cord covers and painted them to match. It's a small detail but I think it makes a difference to help the room feel more put together.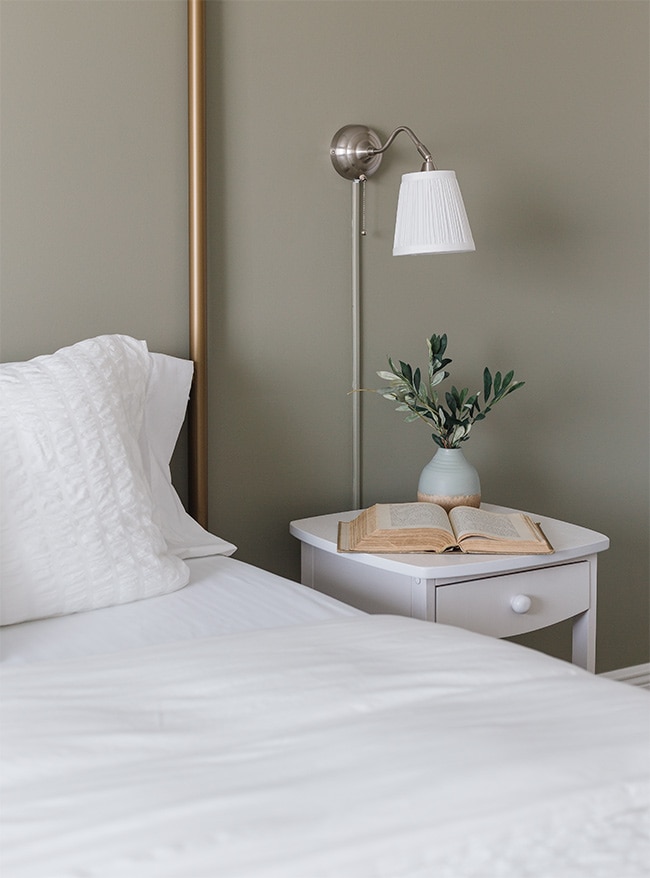 Pin
I scored this large canvas art for $50 secondhand. The original plan was to put a dresser below it, but after measuring the space we realized it would feel too crowded.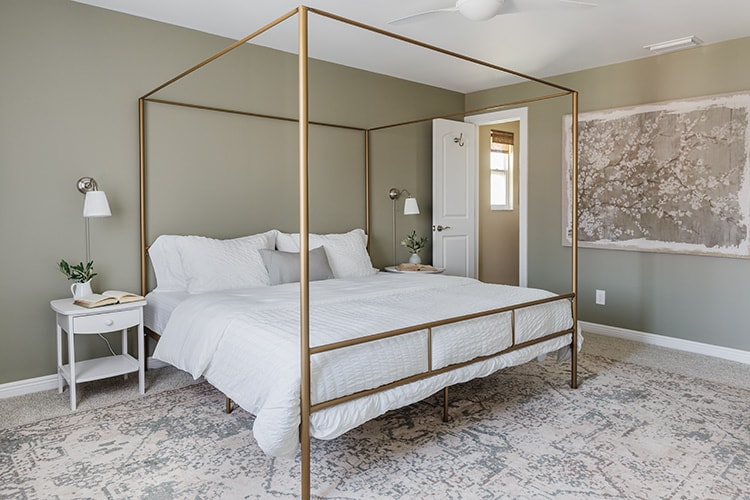 Pin
Luckily, there's plenty of clothing storage space in this room. The door just to the right of the art (below) leads to a walk-in closet, and there's also a full size closet behind the double doors on the right.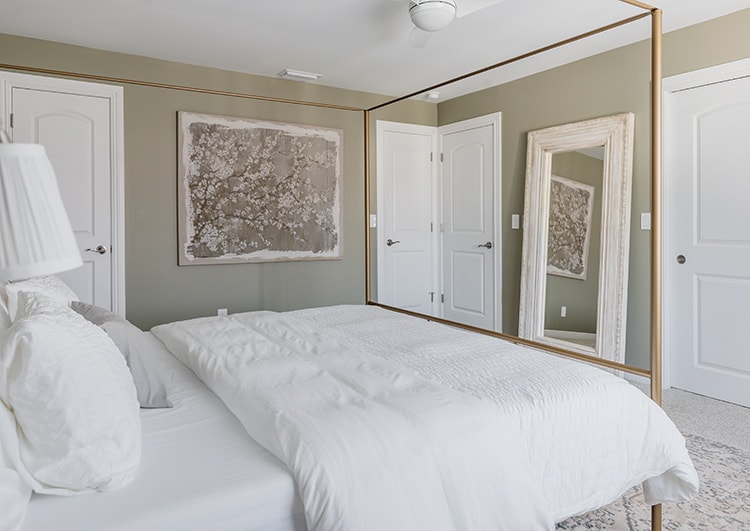 Pin
I ended up using an Ikea floor mirror I DIY'd to look vintage many years ago (any OG readers in the house?) which worked out pretty well in this space. Side note: the original Amazon curtains from the design plan ended up arriving too late, so I swapped all of the bedroom curtains for these $15 white panels at Target. They're really just decorative, since the windows already have blackout shades.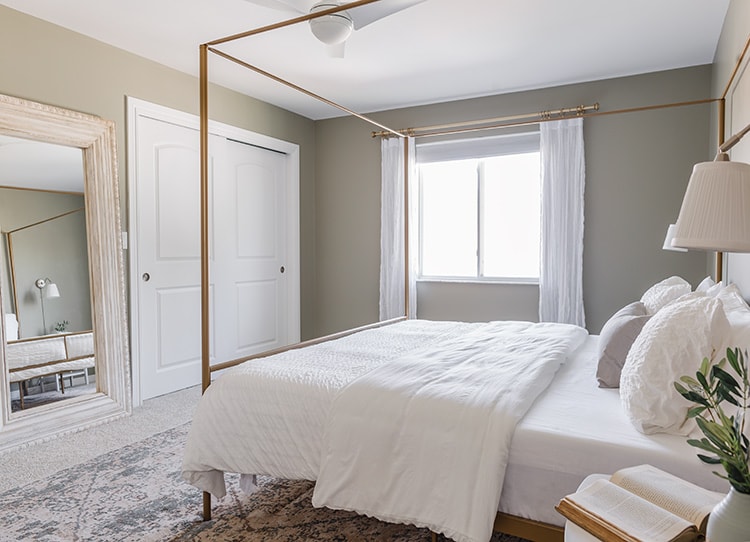 Pin
The neutral beige/gray/greens in this $199 9×12 rug ties all of the colors of the room together, and I especially love it with the gold bed.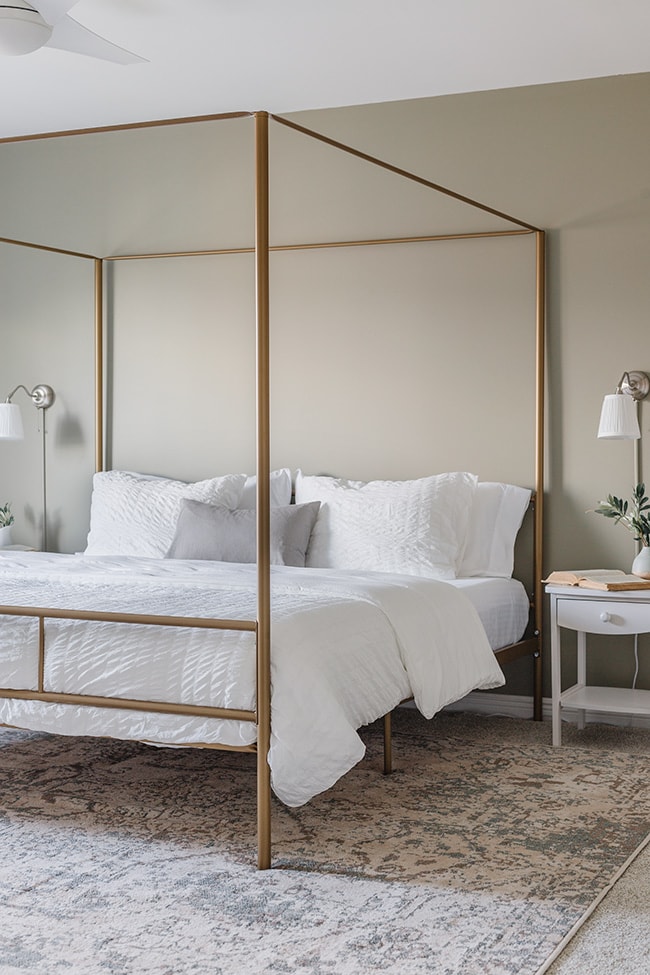 Pin
Originally I was going to hang a painting above the bed, but we moved it out to the hallway instead. I might hang something there eventually, but keeping the design minimal also makes it feel more calm and relaxing, which is ideal for a vacation rental. What do you think, add art or keep it simple?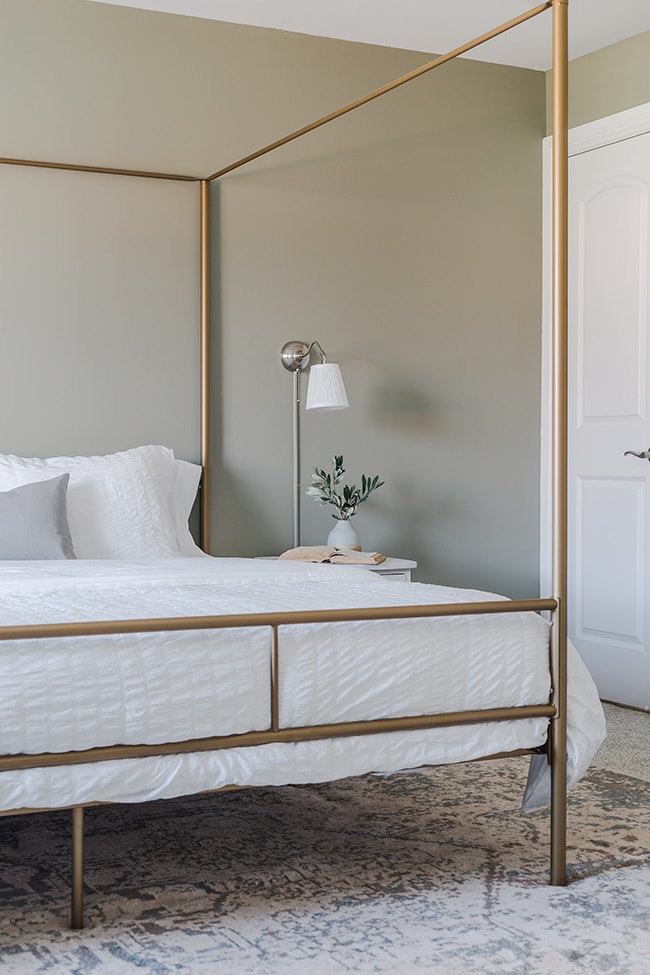 Pin
Next up, we have Bedroom 2 (before)…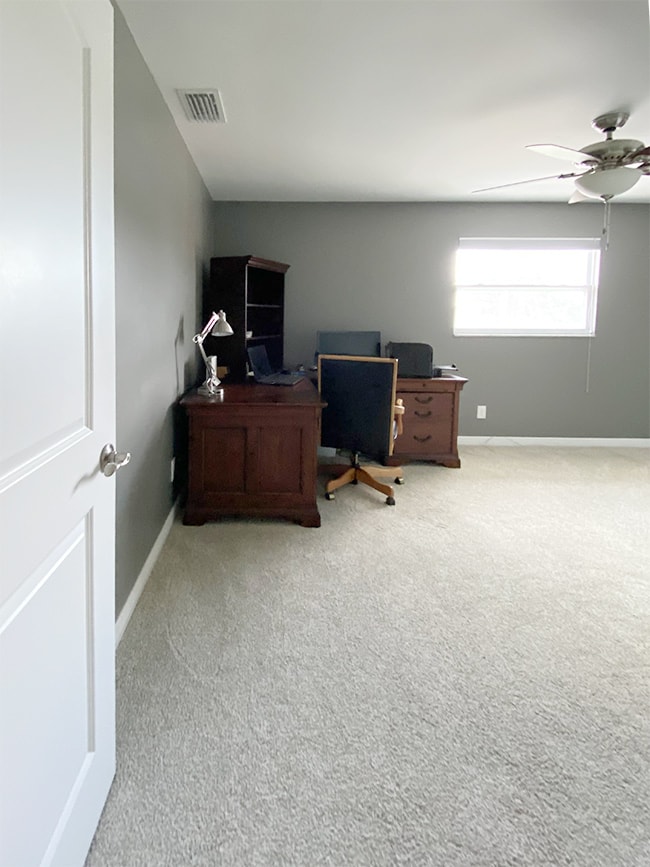 Pin
This was the long and narrow room used as an office. We decided it would make sense to add a pull-out sofa to increase our occupancy (the house can sleep 14 guests comfortably in beds—there's also a 6-person kids room downstairs).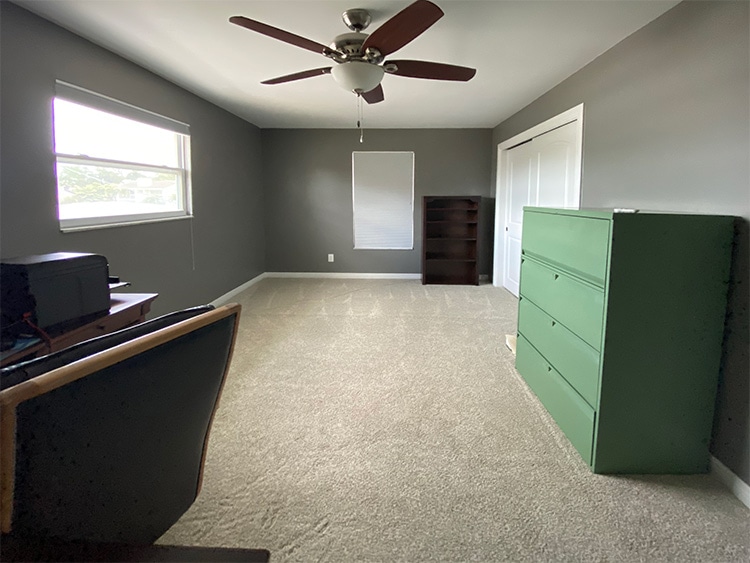 Pin
As with all the other rooms, we didn't make any major changes (with the exception of swapping out the ceiling fans).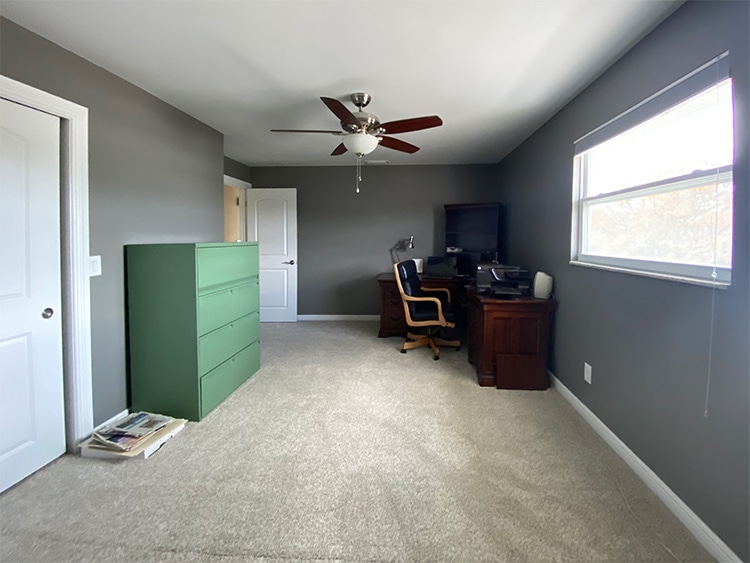 Pin
Here's the under $900 design plan I shared, which I didn't follow all that closely since this bedroom setup is not a typical situation: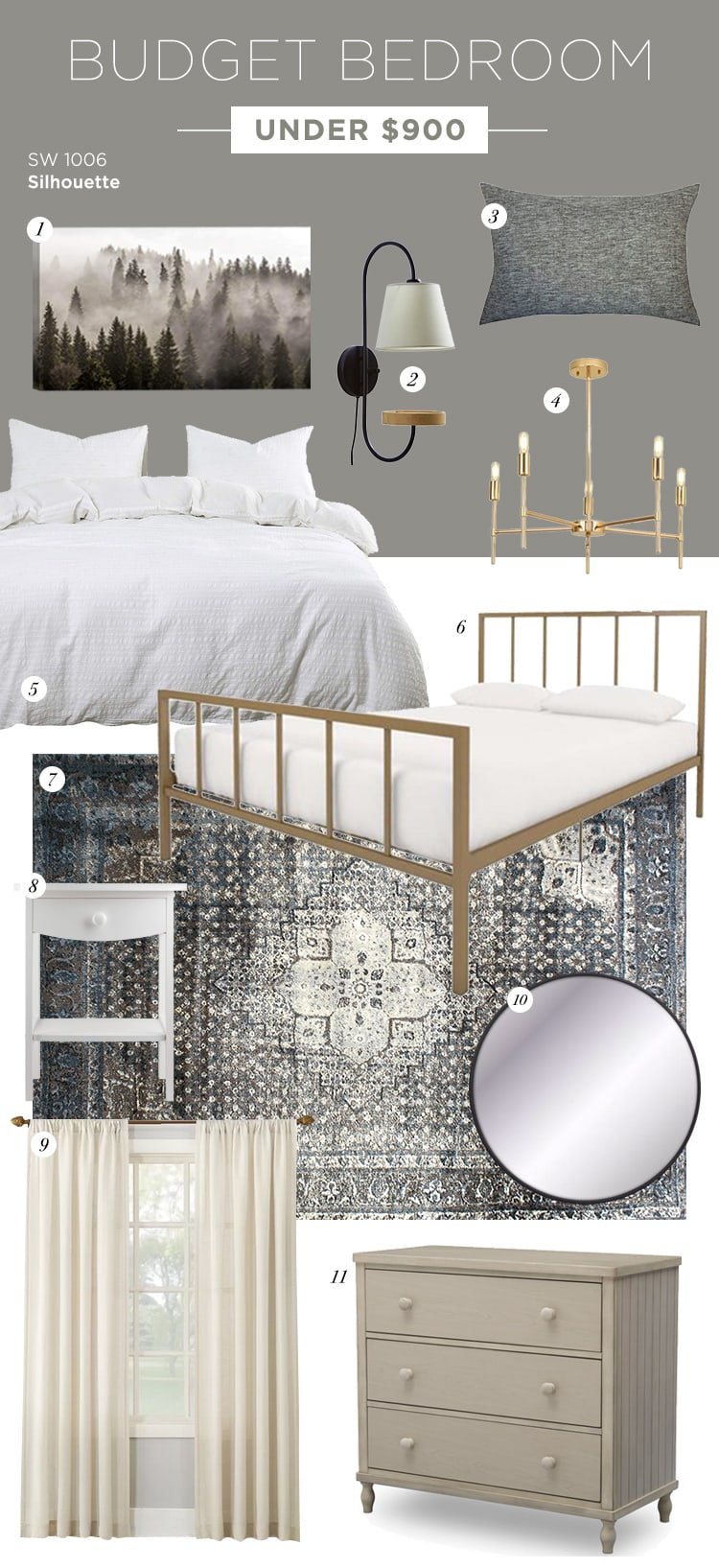 Pin
1 / 2 / 3 / 4 / 5 / 6 / 7 / 8 / 9 / 10 / 11
Here's how it looks today:
Pin
I thought the bed was an incredible deal when I bought it for $124—guess what? It's $114 now! ?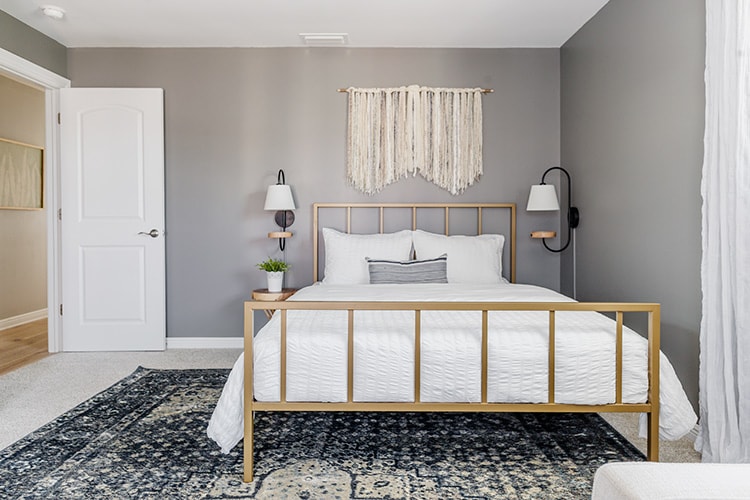 Pin
The 9×12′ rug was another great buy. The sleeper sofa I picked up second hand for $100.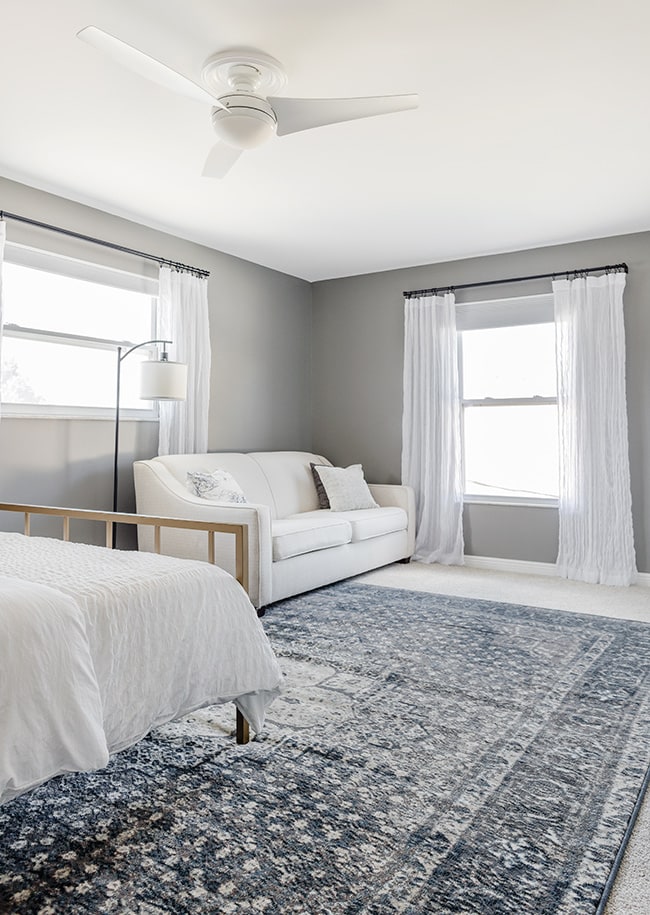 Pin
Confession: the room isn't 100% done. I ordered a small white table from Ikea to use as a coffee/side table near the couch, but we're still waiting for it to be delivered (over a month now and no update on timing, ugh!)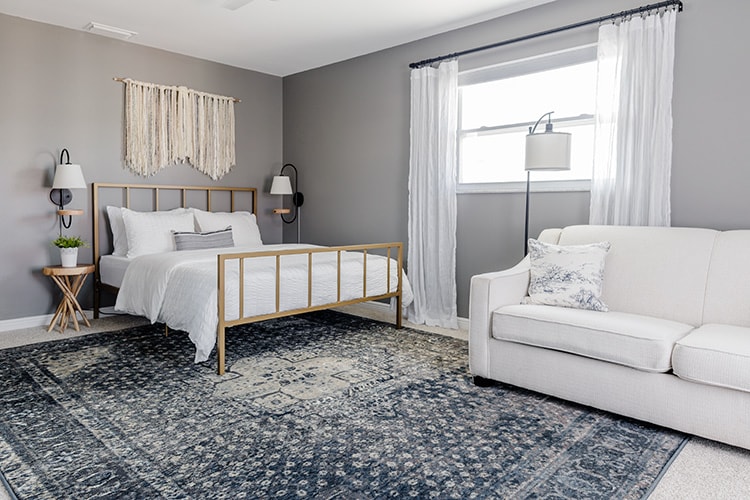 Pin
There wasn't room for a dresser in here (without feeling a bit crowded) but there's also a large closet, which we can move a dresser in later if/when we need to. I had to buy a floor lamp at the last minute, after we figured out that the only light switch was wired to that outlet in the middle of the room (not the ceiling fan!) So random.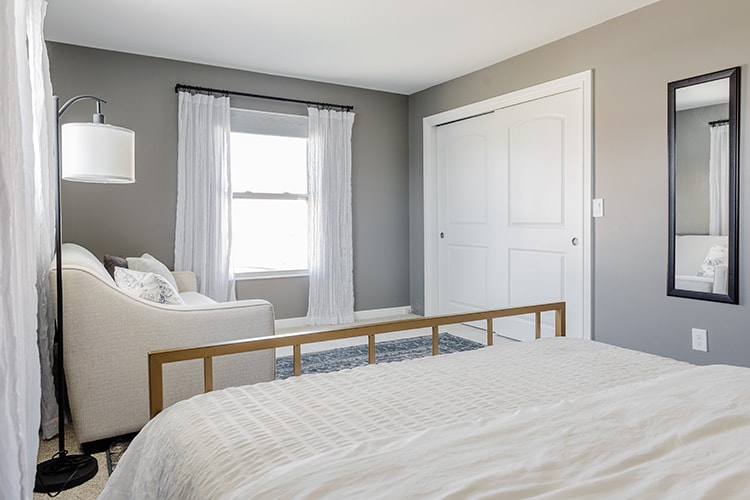 Pin
I'm crushing on these wall sconces. They have a built-in mini table top plus a USB port on the side. We didn't have room for a second night stand in here so these are perfect—and only $40 too! (update: they just raised the price to $92 this morning… they're apparently in high demand now!)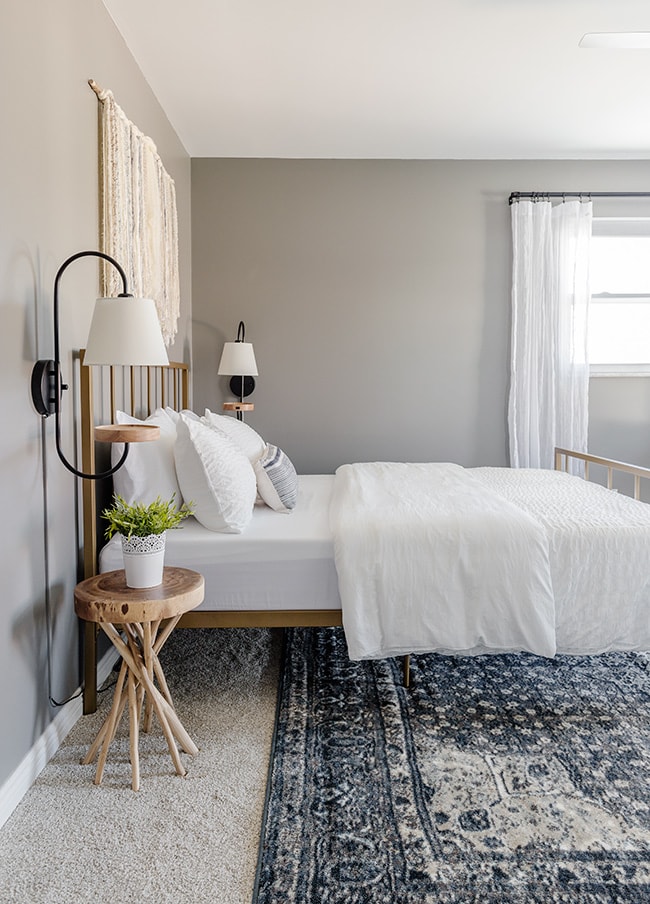 Pin
That's also why the other sconce is mounted on a different wall. When I was planning the layout it felt too crowded to have the bed so close to the door, so we skipped the second night stand and left just enough room for someone to walk around the other side. In hindsight I could have made it work with two small night stands but it's not worth changing at this point!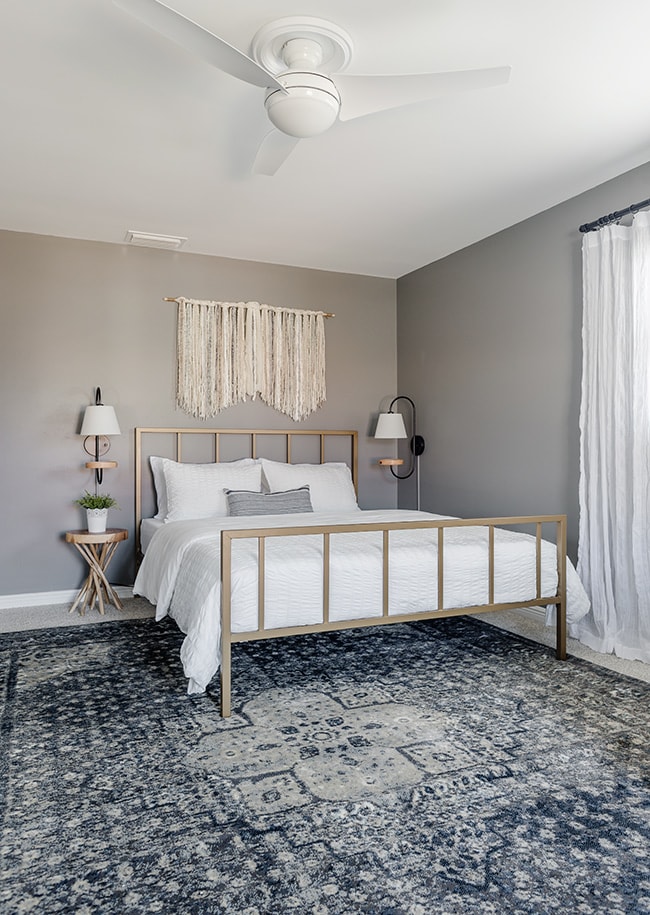 Pin
This cool side table was another thrift store find and was a last minute addition since our Ikea side table never arrived. It came as a set of two, and I'm using the other one in the living room.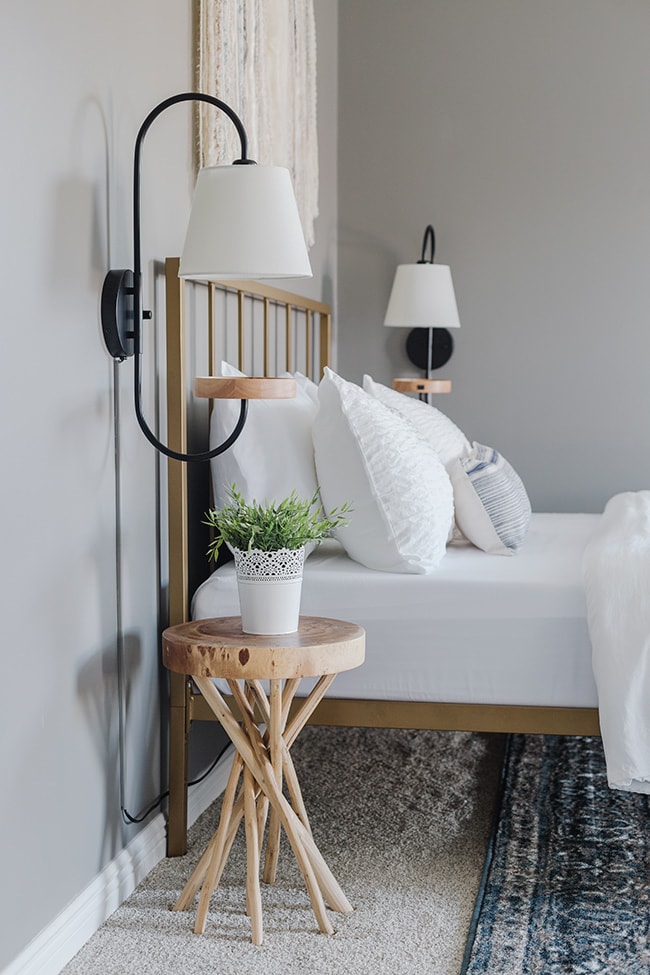 Pin
The wall hanging was a custom tapestry I had made on Etsy. I thought it was a fun way to bring in a textural element and tie in with the youthful/boho vibe of the rest of the house.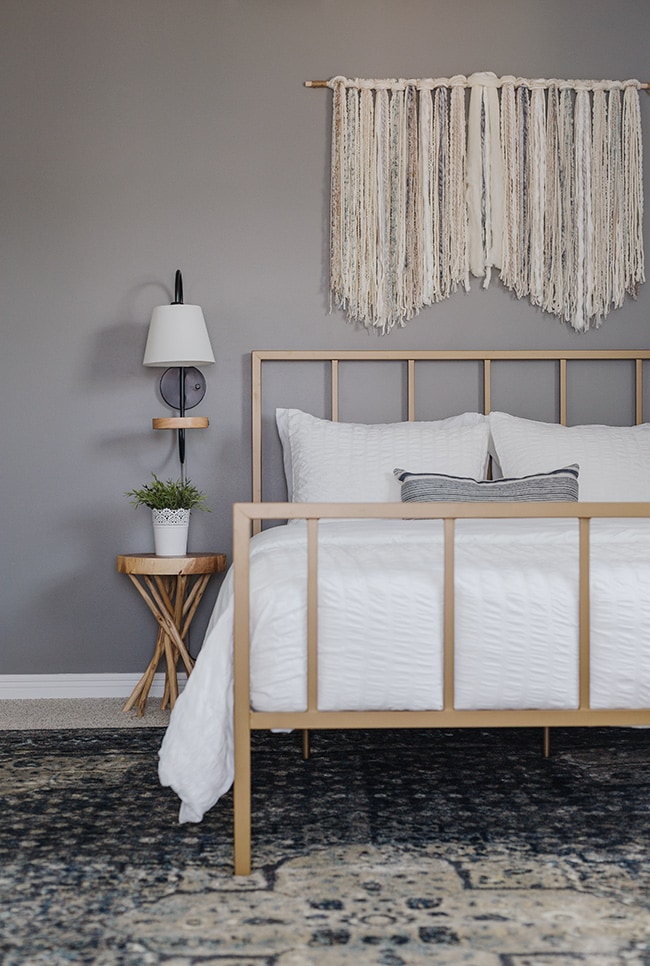 Pin
And that completes the tour! We are so close to the finish line with this house (just waiting on the dang Ikea order) and I can't tell you how satisfying it is to finally reach this stage. Six weeks of designing, furnishing and stocking a large home from scratch on a small budget during a global pandemic—it has gone by in the blink of an eye, and now we can focus on getting our Riverside Retreat up and running (almost two years in the making!)
Once the beach house is ready I'll make an announcement here on the blog, along with a full house tour and all the budget-friendly sources. We're hoping everything can return to normal soon and it will be safe to travel again! Have you planned any summer trips or are you still waiting it out?
Psst… check out our own master bedroom refresh on IG last week if you missed it!