Now that we've officially wrapped up our Christmas decorating, it's time to take it all in and start making those holiday memories at home. For December's BHG Live Better challenge, we were asked to recreate a family tradition, showcasing our favorite budget-friendly products from Better Homes & Gardens at Walmart.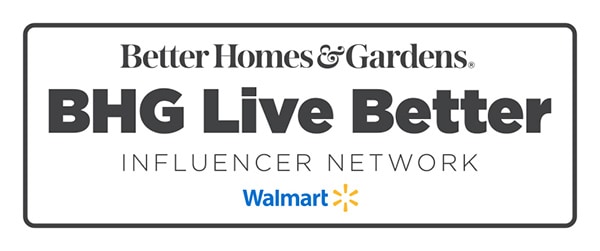 One tradition I look forward to most is homemade crepes for breakfast on Christmas morning. This is a tradition from Lucas' family that I've been a part of for a few years now, and we plan to continue with our own family.
We start with fresh squeezed orange juice (champagne optional ?)—shown here in this carafe and juice glass set: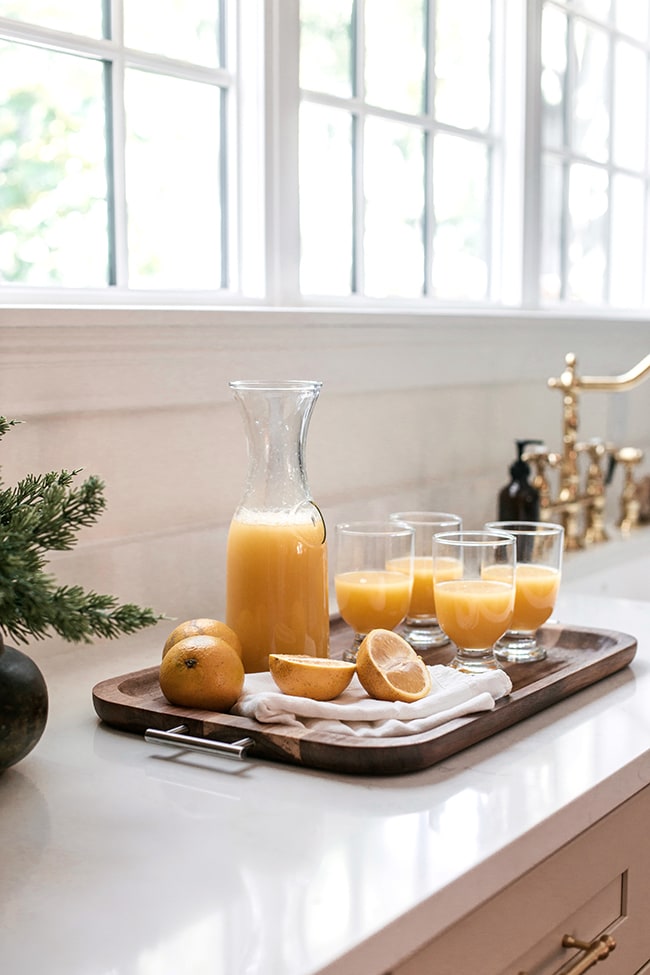 I love this versatile acacia wood tray—you can also get it with gold handles.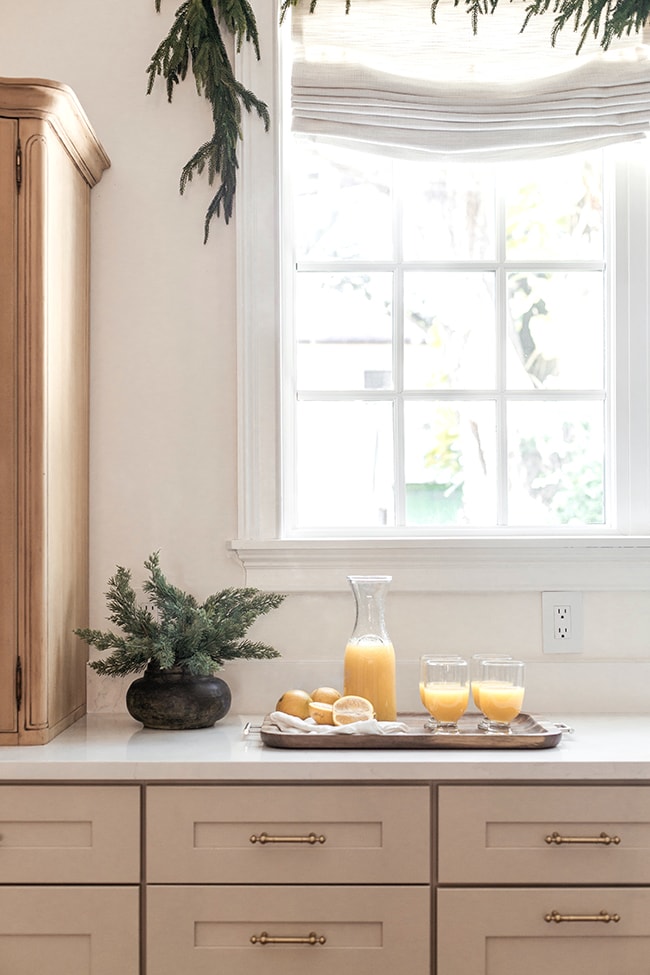 Have you ever made crepes? It takes some practice to get them just right, and we like to cook ours in a cast iron skillet. This red one is the perfect size and fun to use during the holidays!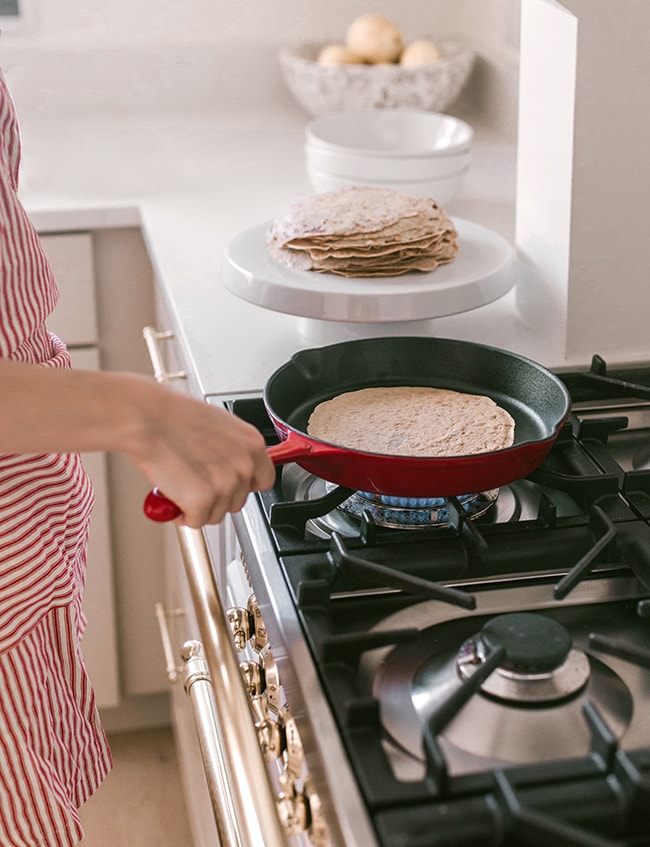 I picked up this white porcelain cake stand that doubles as a chip/dip platter when you flip it over—isn't that clever? And this french country vanilla candle smells just like frosting (which somehow made the crepes taste even better!)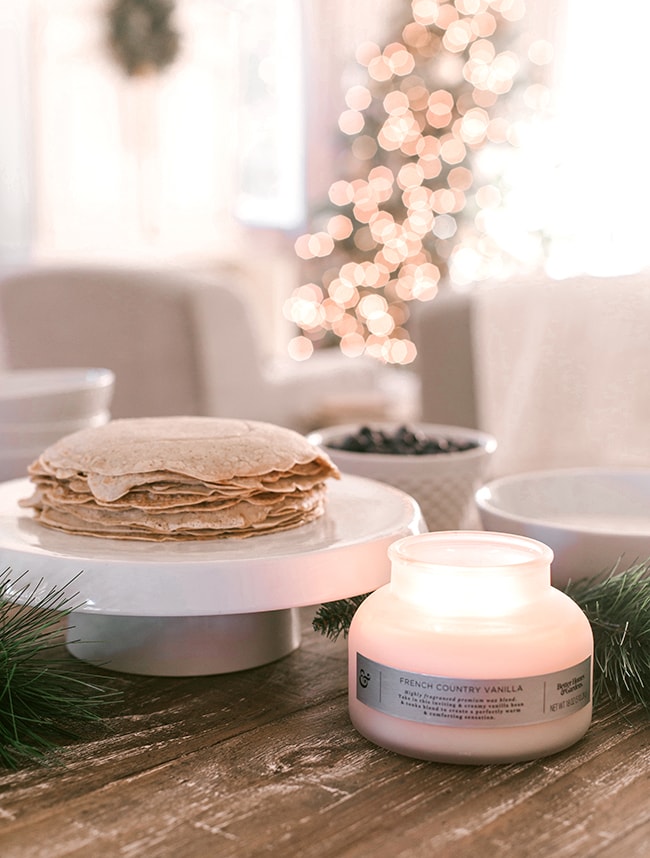 This year we made a healthier version of crepes with gluten free, vegan ingredients. For the filling we whisked together almond based yogurt, fresh orange juice, vanilla extract and honey. I served it in one of these porcelain pasta bowls: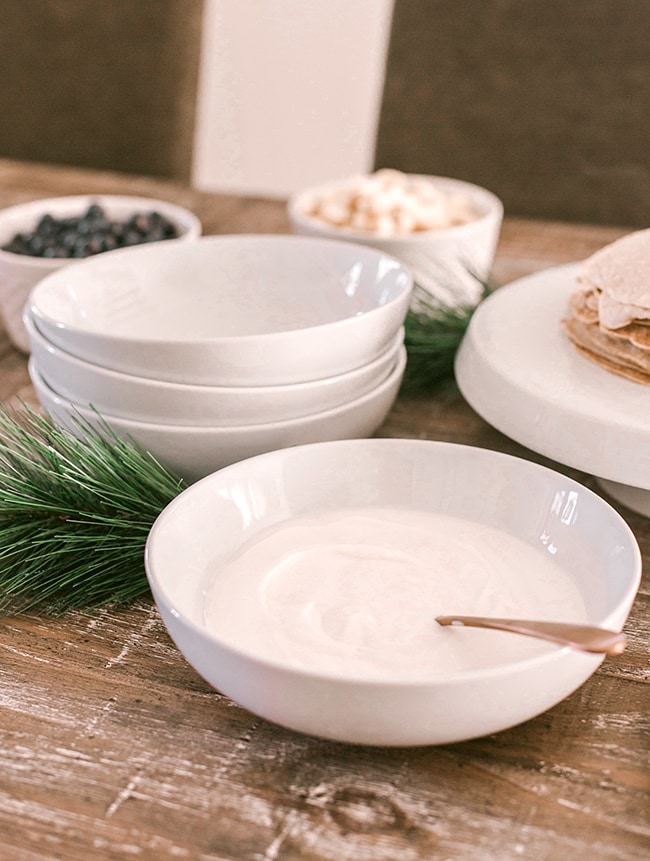 You can use any toppings you'd like—we chose blueberries, chopped bananas and sliced apples in these cute scalloped bowls.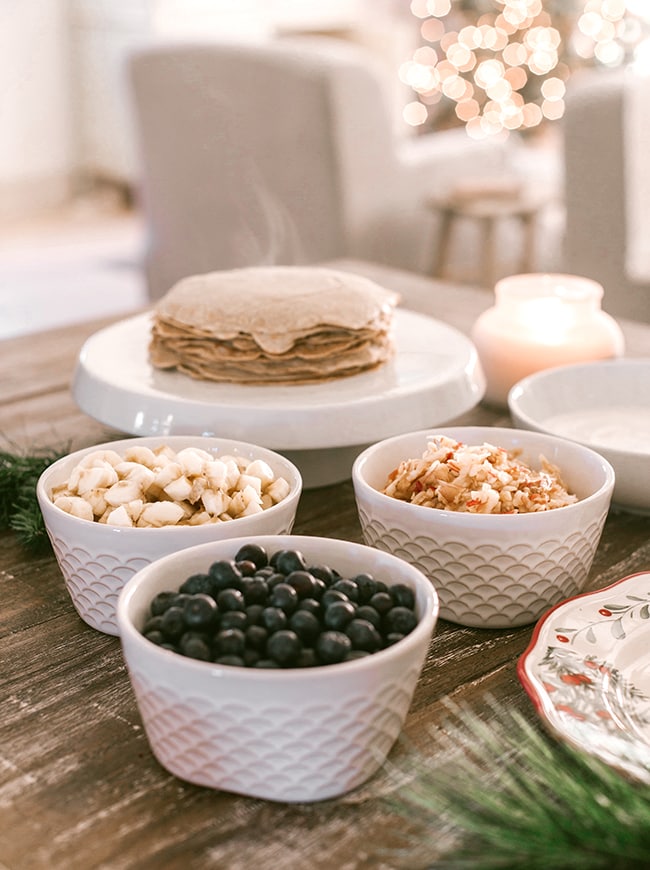 I couldn't pass up this dotted stoneware set—only $13 for everything, no wonder it sold out fast! Hoping they restock again soon…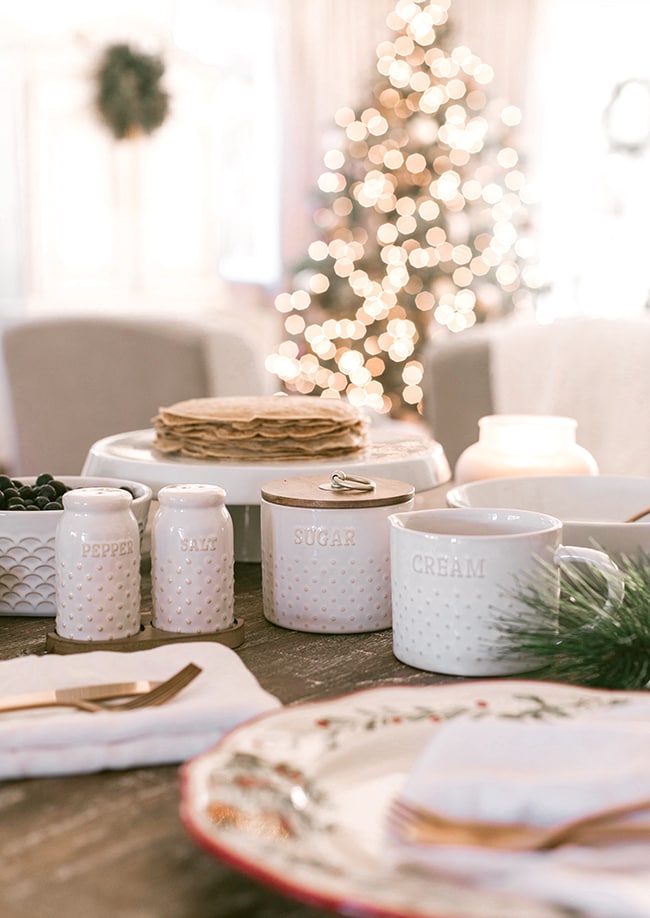 Breakfast tastes better when it looks this festive! I managed to grab a few of these heritage dinner plates before they sold out (darn!)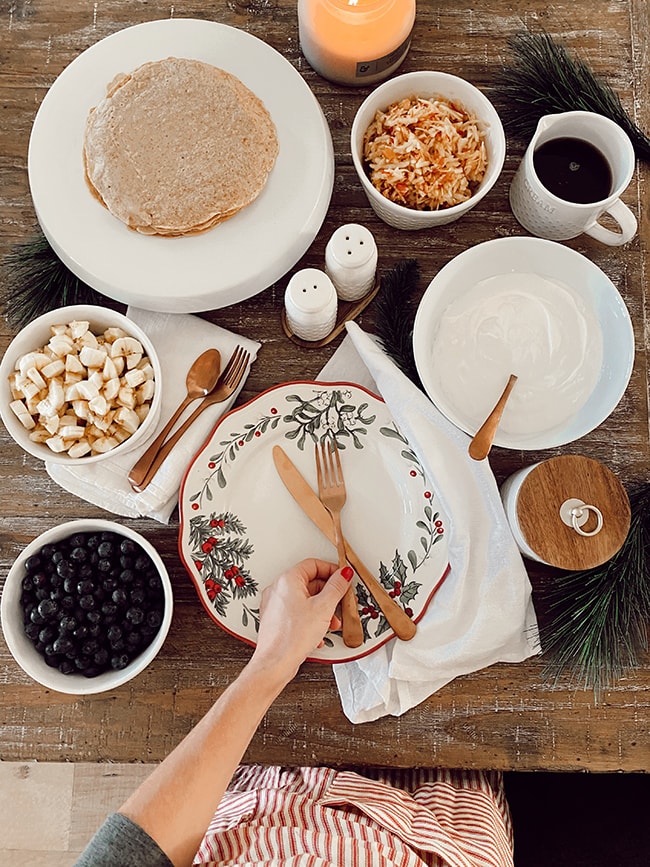 Recognize the rose gold flatware? I used them in our Thanksgiving tablescape and they work beautifully for Christmas too. I'm actually surprised these haven't sold out yet, they're such a unique color and so affordable.
This was Esmé's first Christmas crepe breakfast and I'm happy to report it was a hit!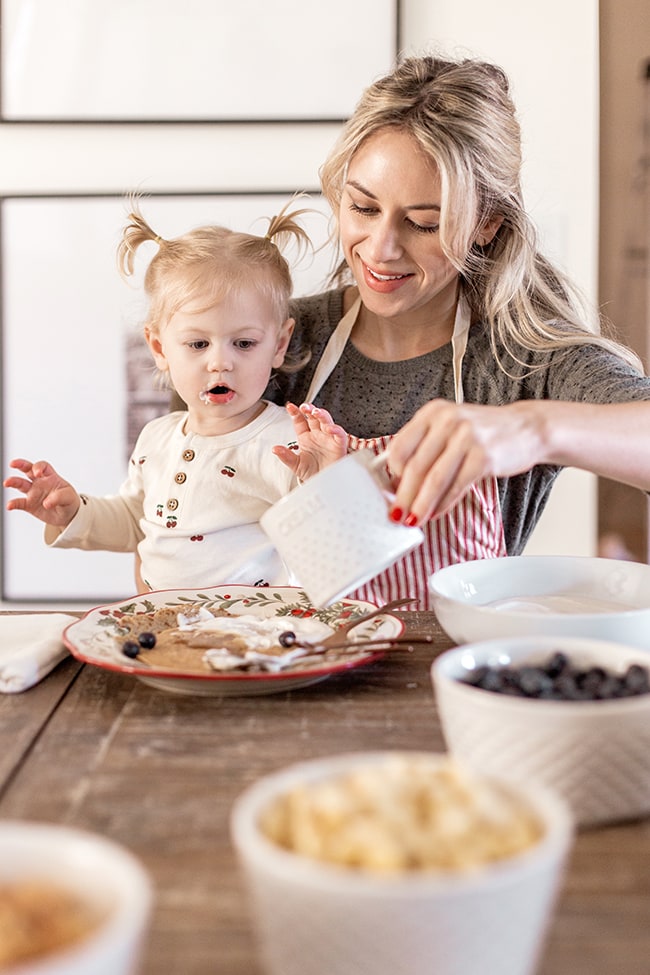 If you'd like to try the gluten free vegan recipe we used, here it is below from Elavegan.com (along with a few notes from the grandparents, we used oat milk and omitted the chocolate filling—that last part was not my choice, ha!):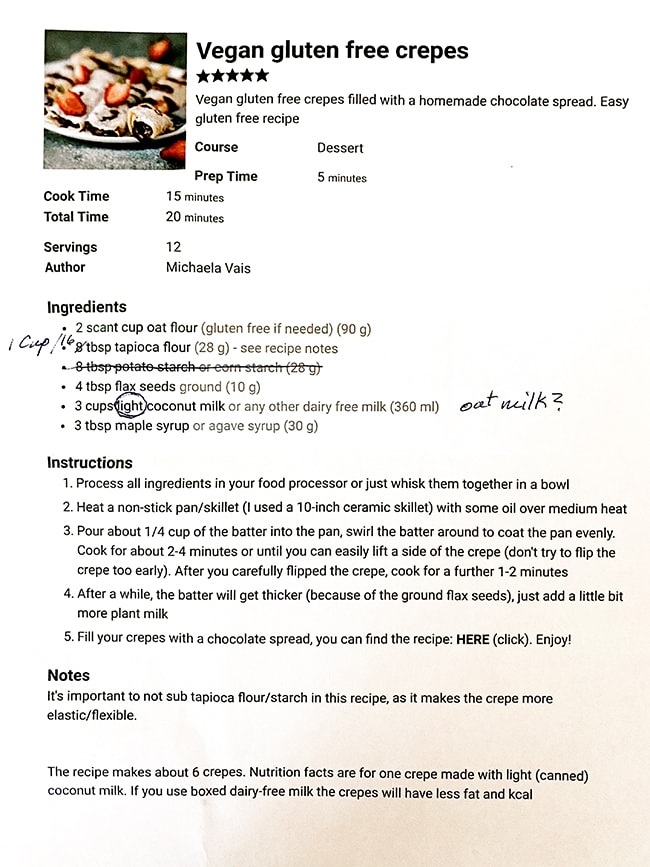 While I was shopping online I picked up a few gifts for our closest neighbors to drop off on their doorstep, since we sadly won't be able to host this year like we normally do. These champagne gold tumblers paired with a bottle of nice red make a thoughtful gift for your wine loving friends…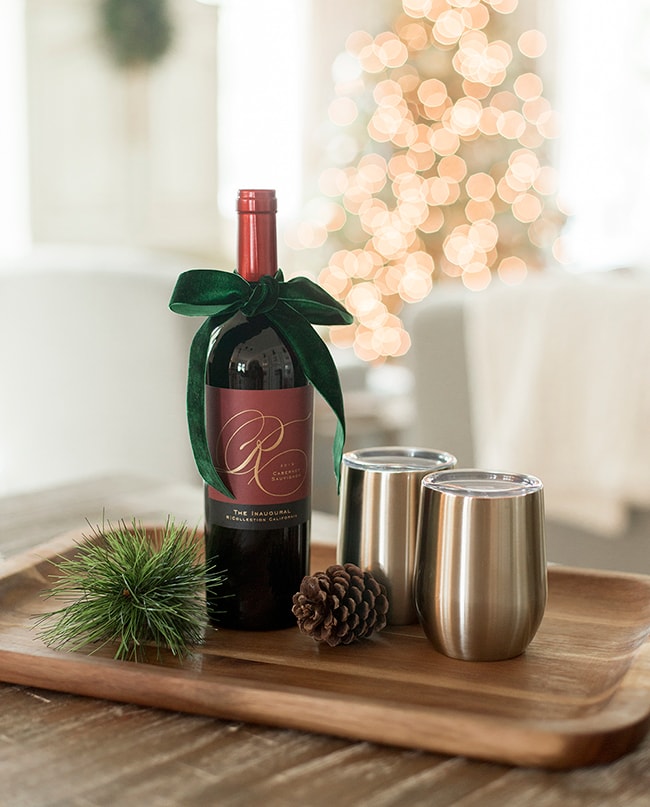 And who can resist a platter of Christmas treats? This embossed ceramic heritage platter set makes for a lovely festive presentation that they'll get to keep and reuse for years to come.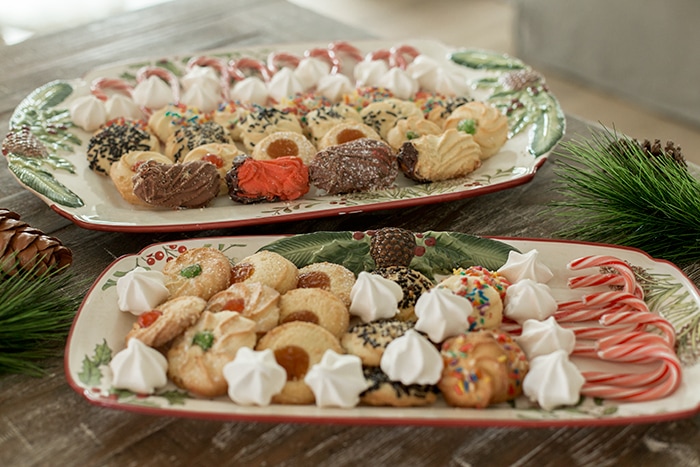 You can shop everything in today's post below:
Does your family do anything special for Christmas breakfast? I'm not much of a baker but I would love to try decorating a gingerbread cookie house when Esmé is a little older. Bring on all the holiday traditions!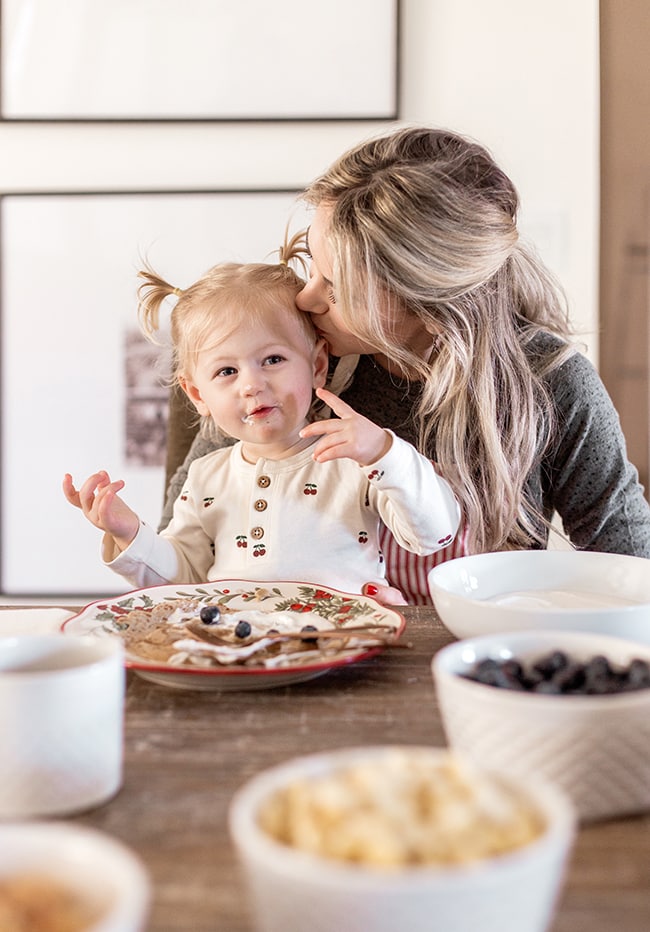 And on that note, I think we might take it easy for the rest of this month with DIY projects and reveal the work/play room first thing January—I was planning on sharing it next week, but there's still a few details left that I don't want to rush and right now, family time is my priority. I know you all can understand!
I will still get a few more posts out this month recapping our busy year, what to expect from the blog in 2021, and last minute stocking stuffers. Check back here next week, and as always, you can follow me on Instagram for regular updates!