The spooky season is upon us and the Heights House has been haunted!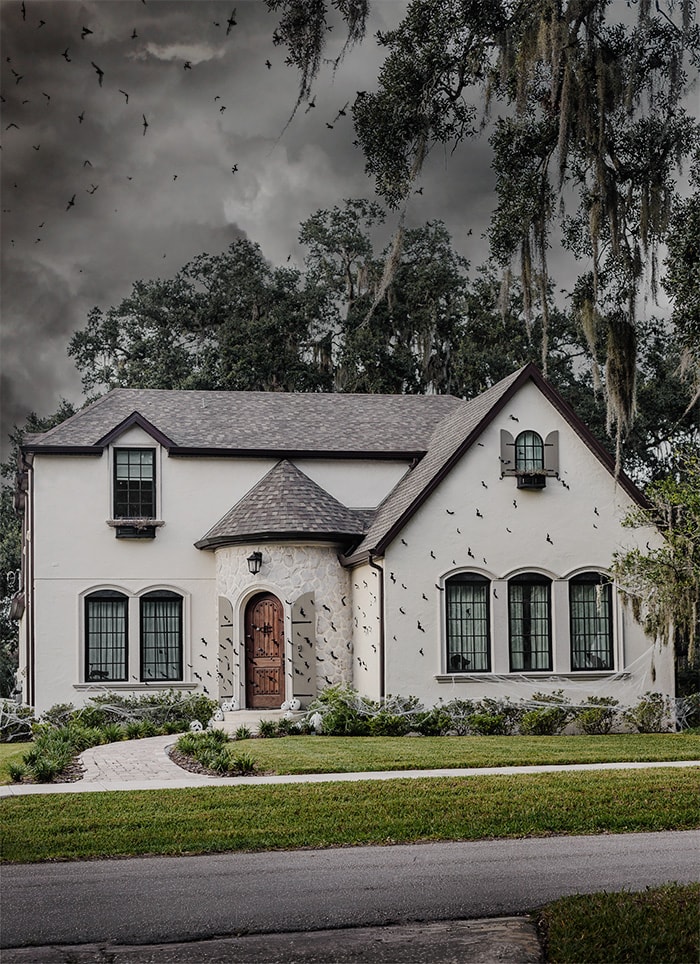 A swarm of bats flew in from the night…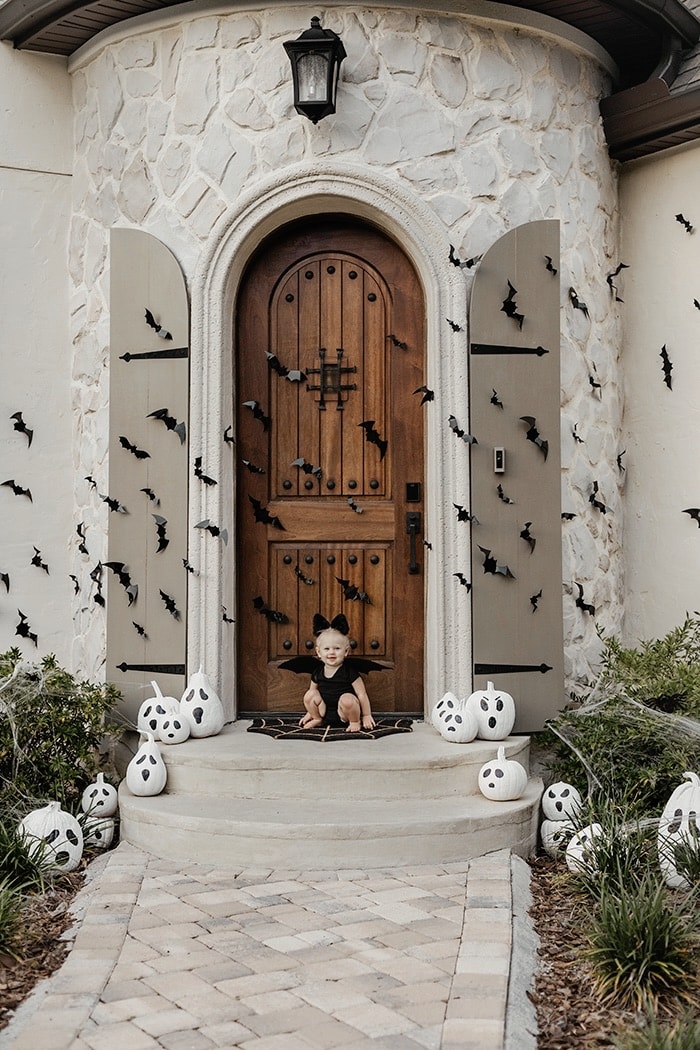 I know I'm only the millionth person to jump on the bat train, but no one else has this cute little batbaby…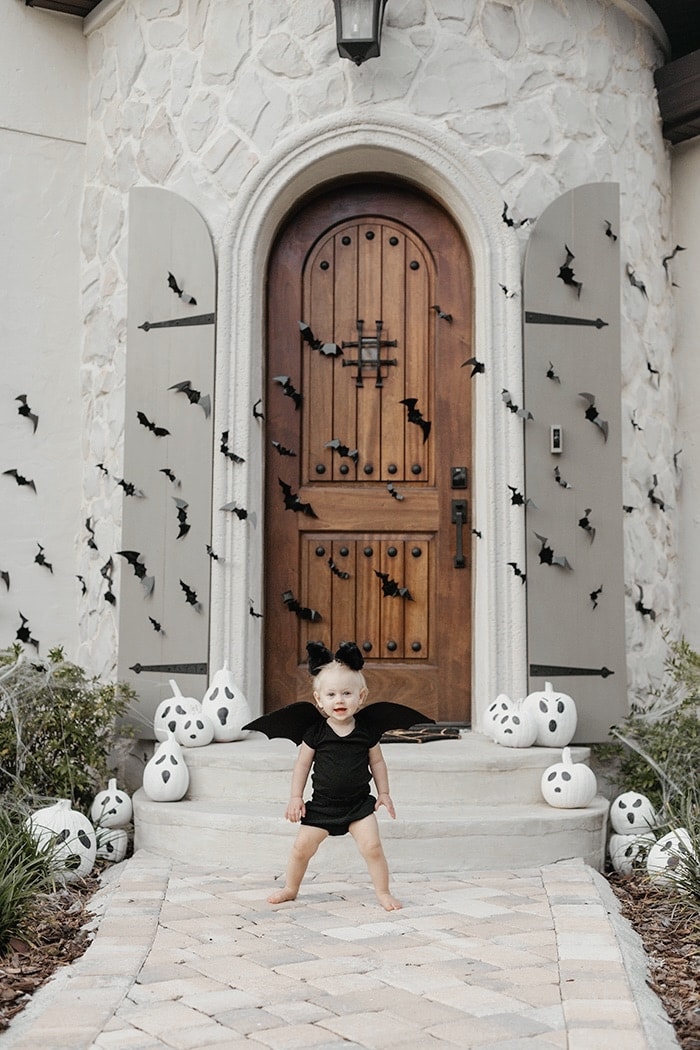 I bought three sets of these vinyl bats (180 total) because they included larger sizes, and I didn't use any of the smaller sizes. They come with double sided tape and stick to any surface.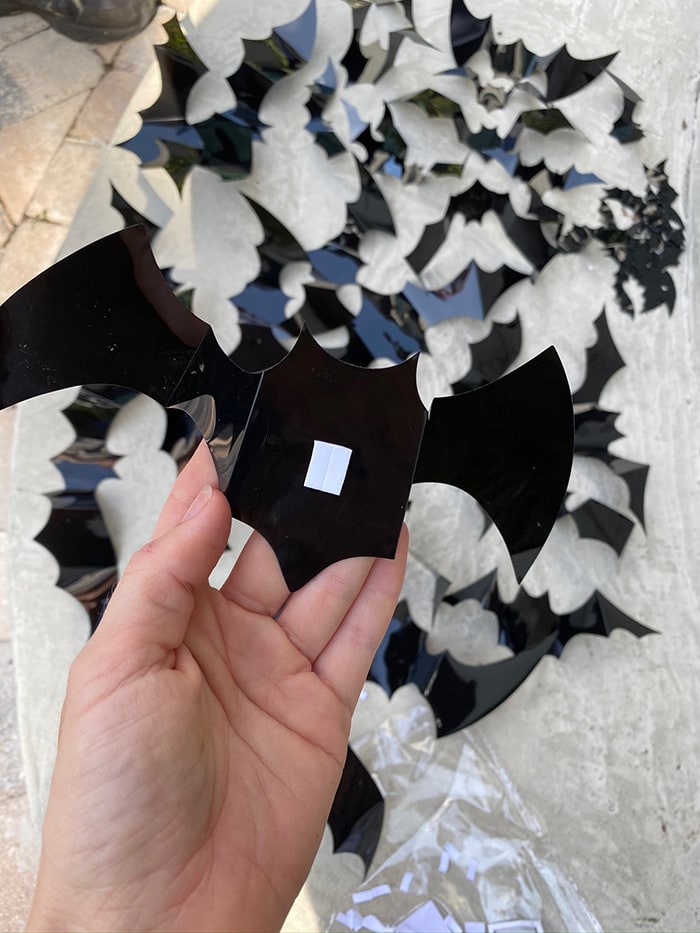 We ended up using over 80 of them on our house, and I think they're my favorite part!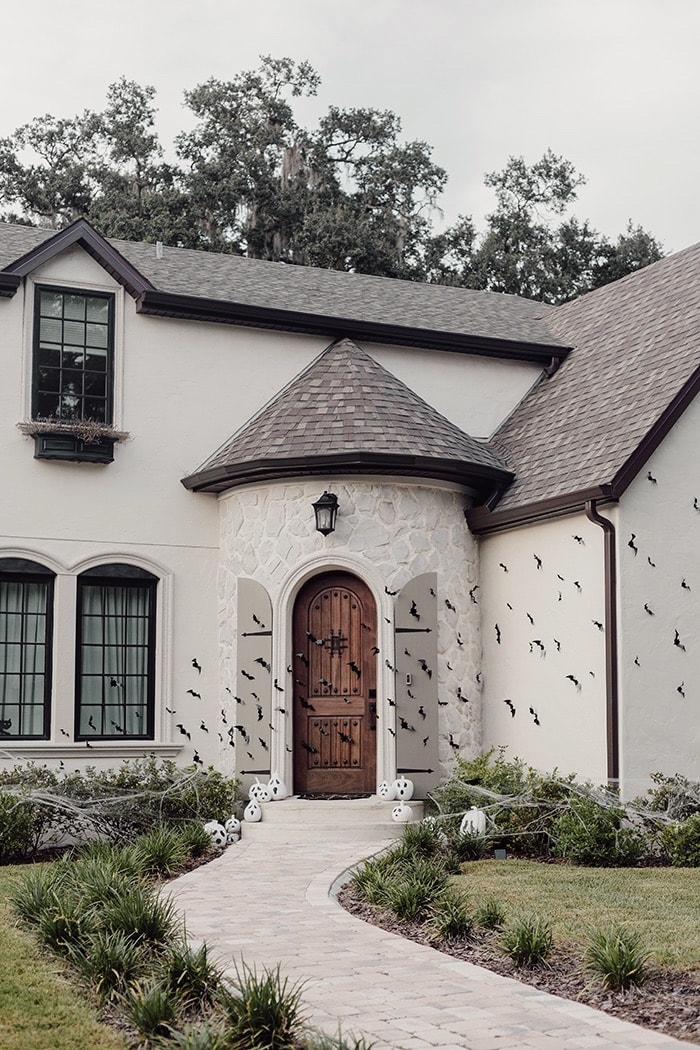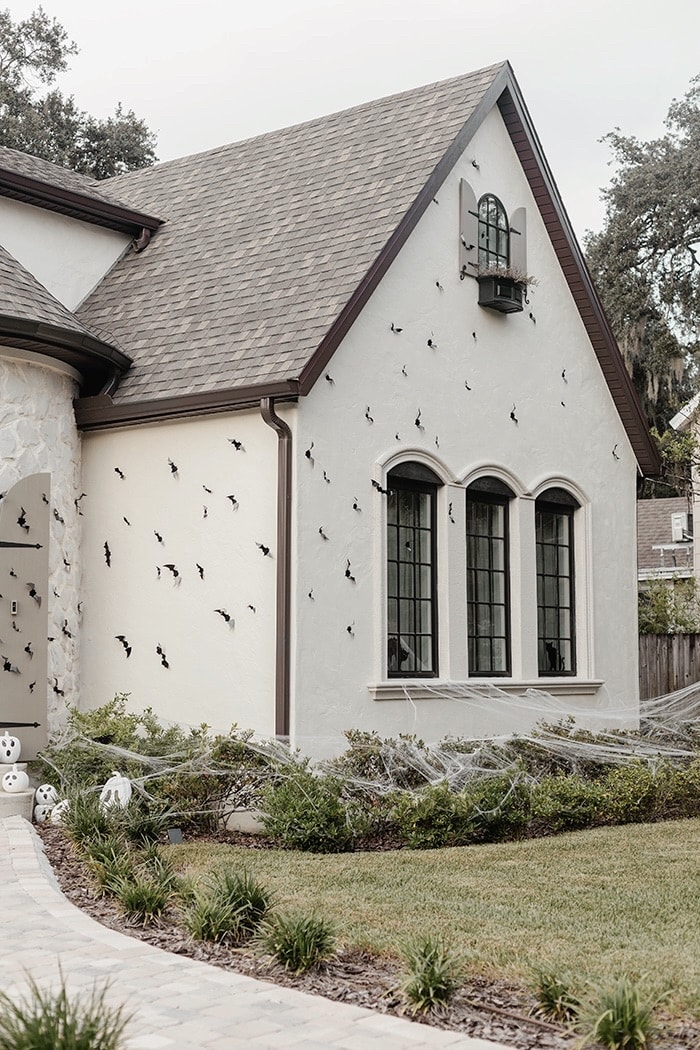 If you read my fall patio post, you'll remember these DIY painted pumpkins. Here's how they turned out: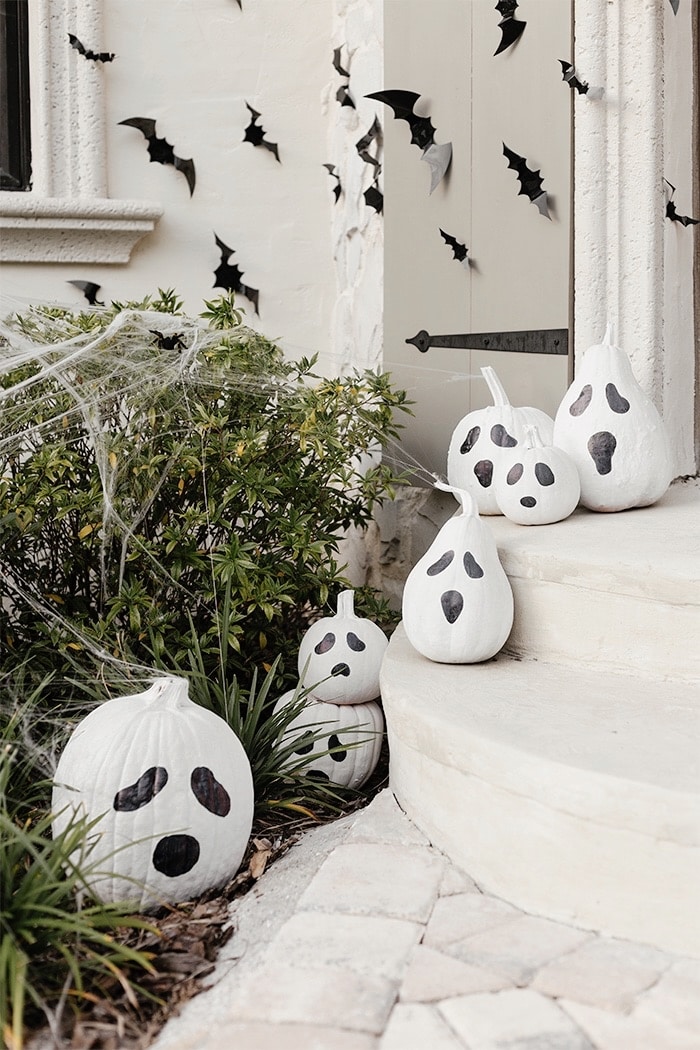 I'm happy to report that they've done great so far in the rain and heat (we still have a few weeks to go, but I'm feeling pretty confident!)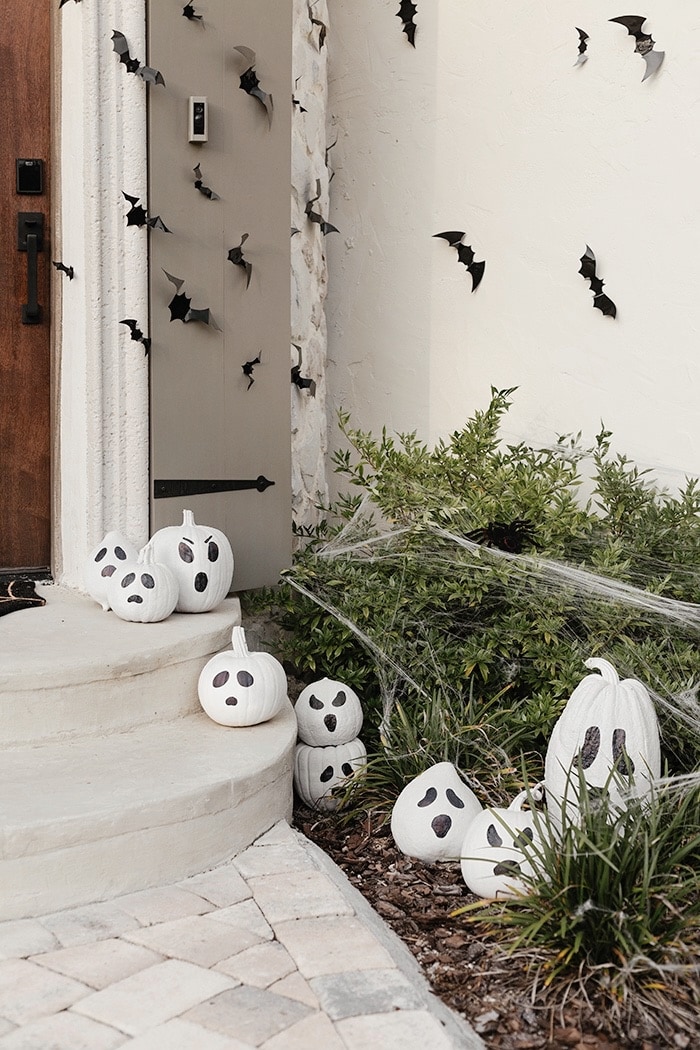 This spiderweb door mat was the first thing I bought for Halloween (I couldn't pass it up for $13!)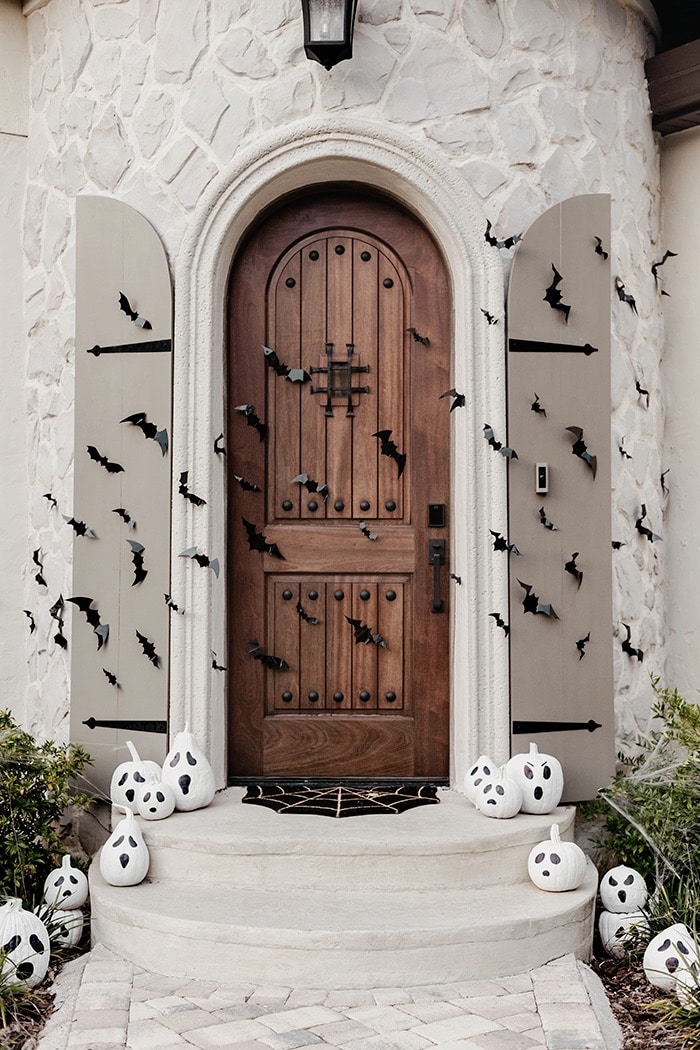 I thought these black cat silhouettes would be fun in the windows. We always mistake them for Susie when we walk in the living room…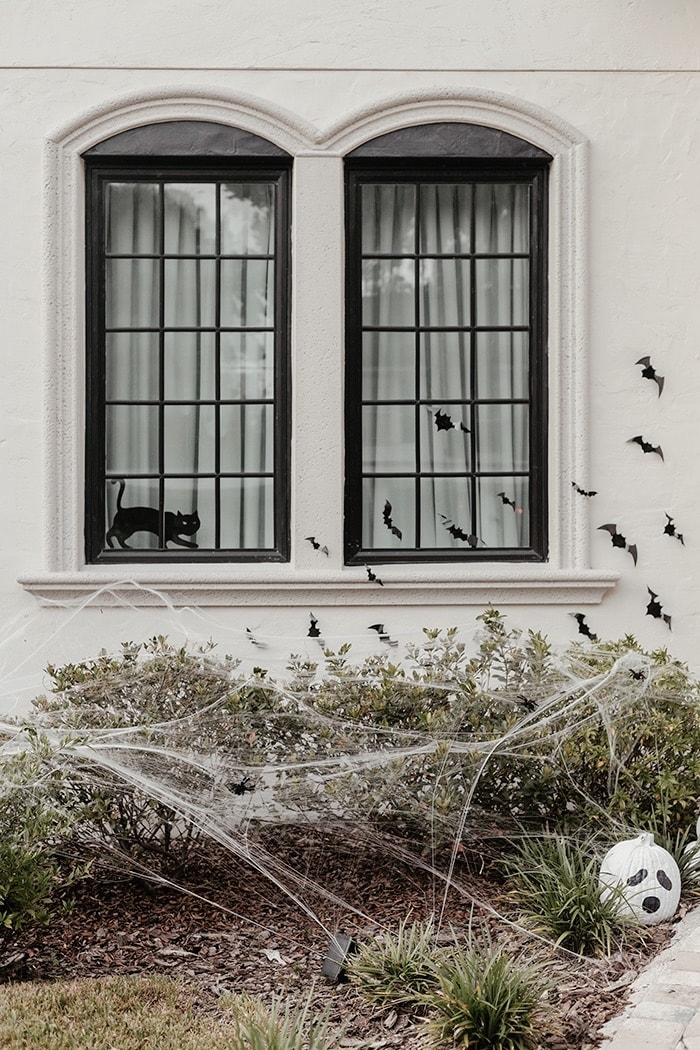 The spiderwebs were a last minute decision when I spotted them at the thrift store. I'm so glad I grabbed them because I think they make a big difference! It's a little time consuming to stretch everything out the way you want it, but worth the effort IMO. You can buy some inexpensively here.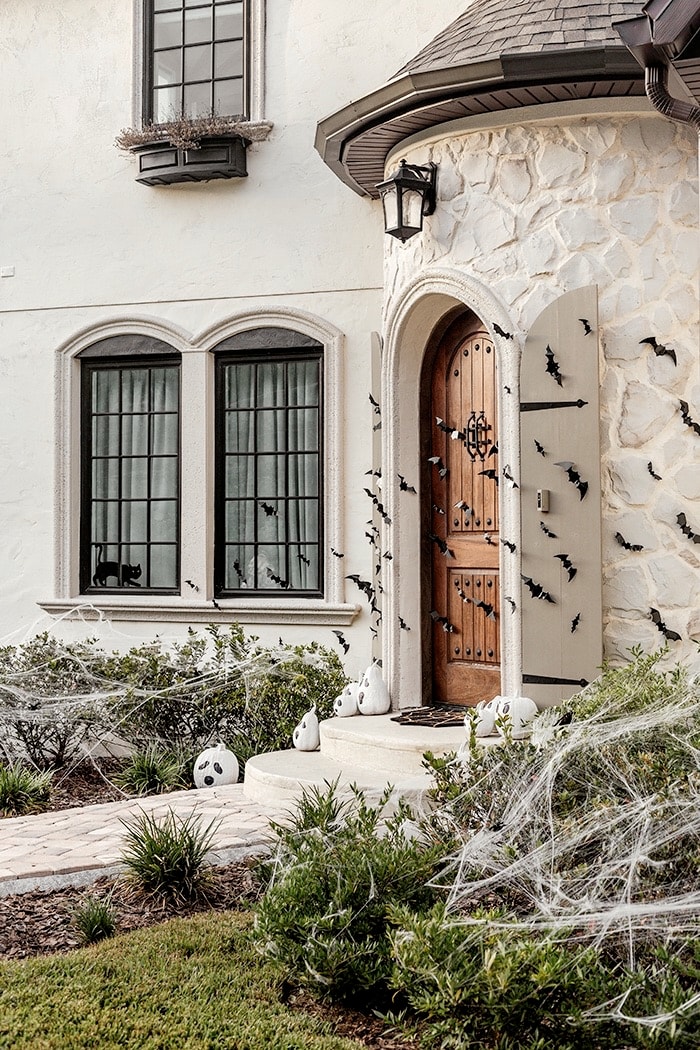 Another fun DIY project we took on were these ghosts.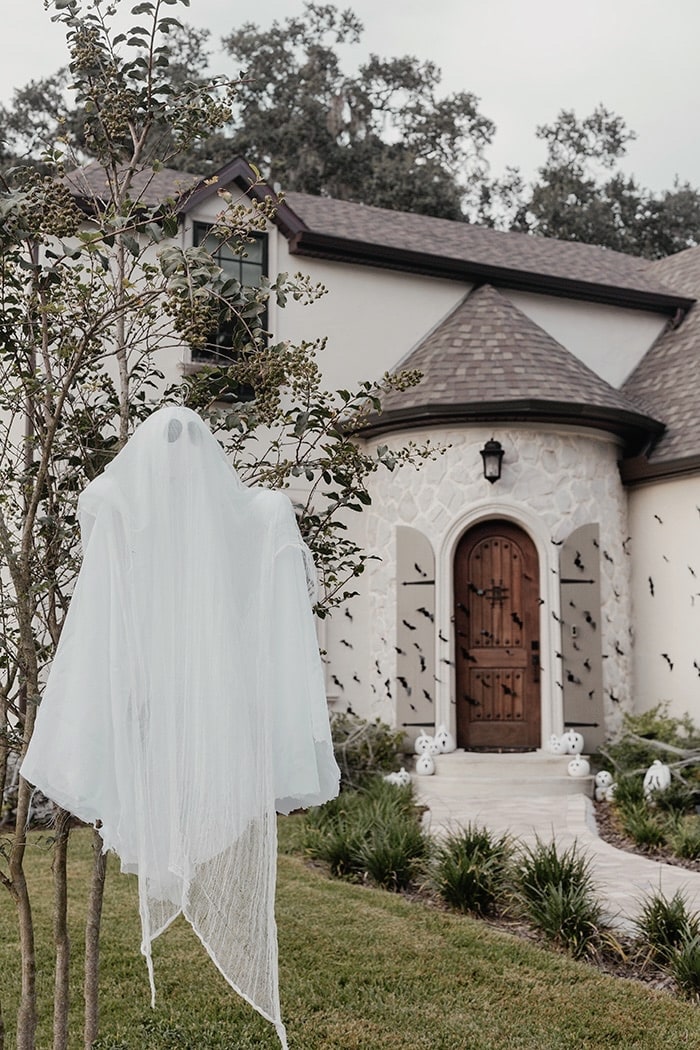 I used these styrofoam balls (6″ for the head and 3″ for the arms) along with heavy duty wire from the hardware store to form the arms.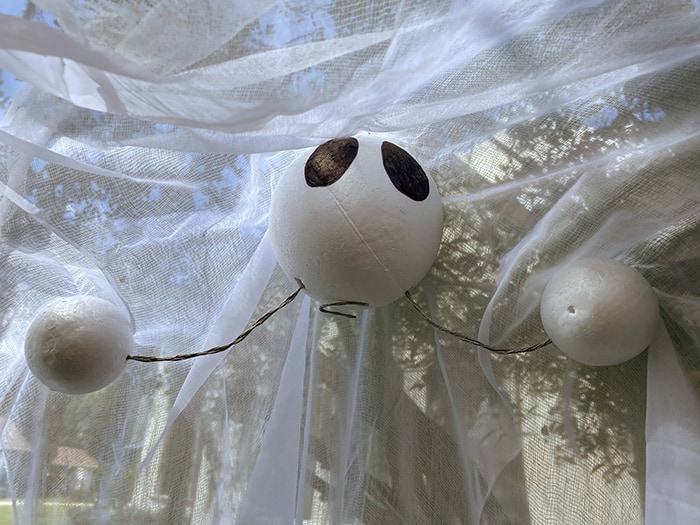 Then I drew on eyes with a sharpie and draped white curtains from the thrift store + cheese cloth. These have also held up in the rain!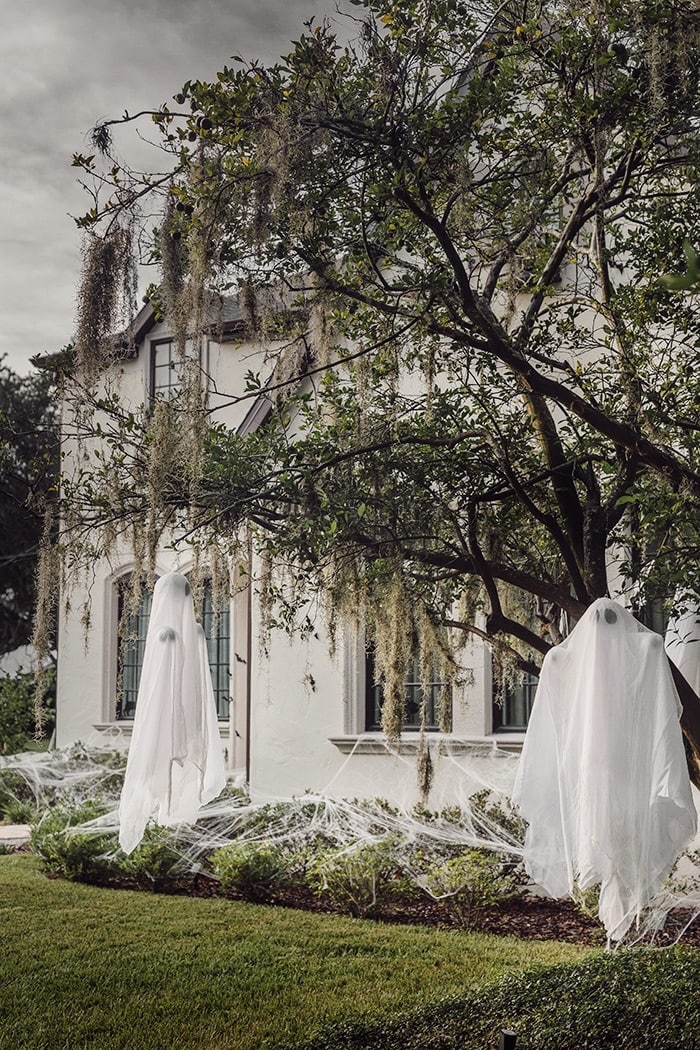 They look so creepy blowing in the wind (check out my Instagram stories for videos).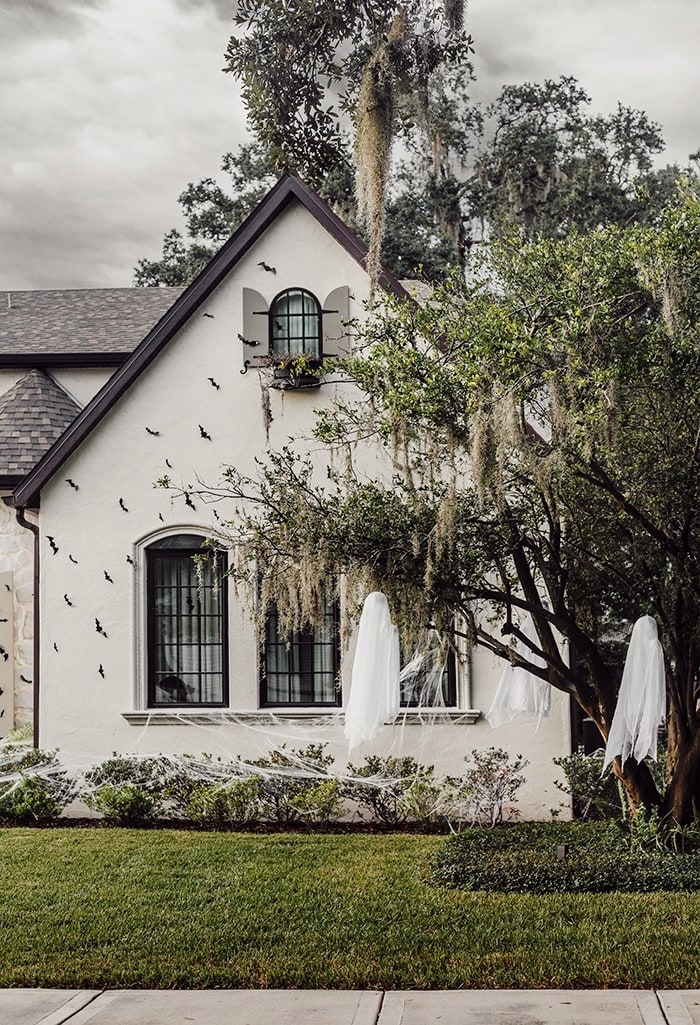 The rainclouds were out during this shoot and made for the perfect eerie sky, and the Spanish moss is just icing on the cake (these clouds are real, I just darkened them!)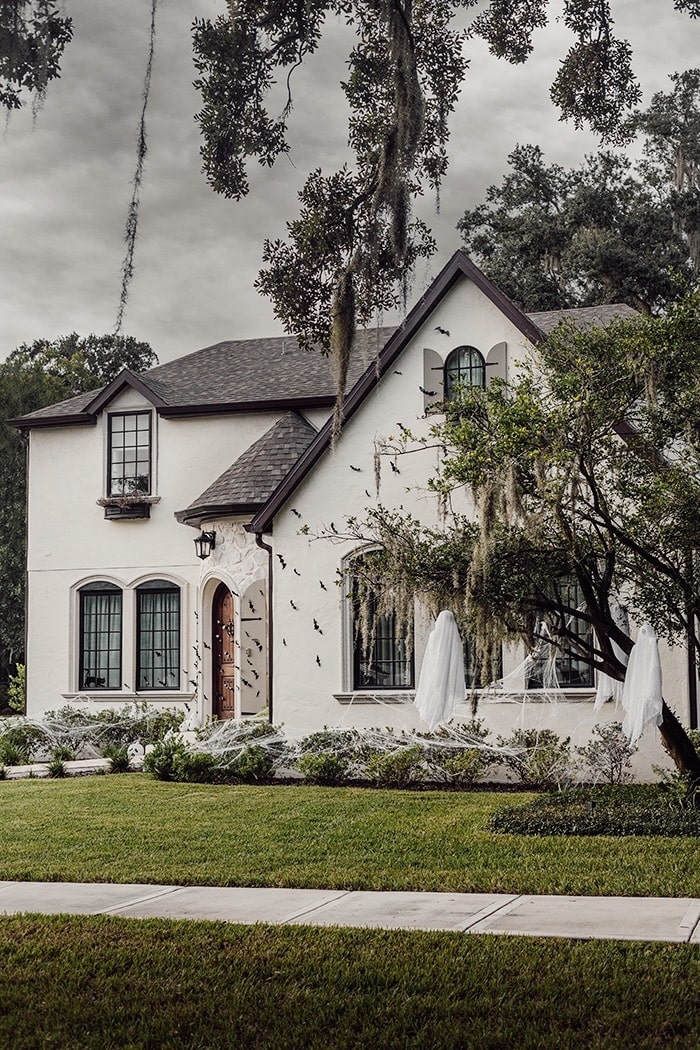 I can't believe this is the first time I've ever decorated my own house for Halloween, but I feel like this house was made for it!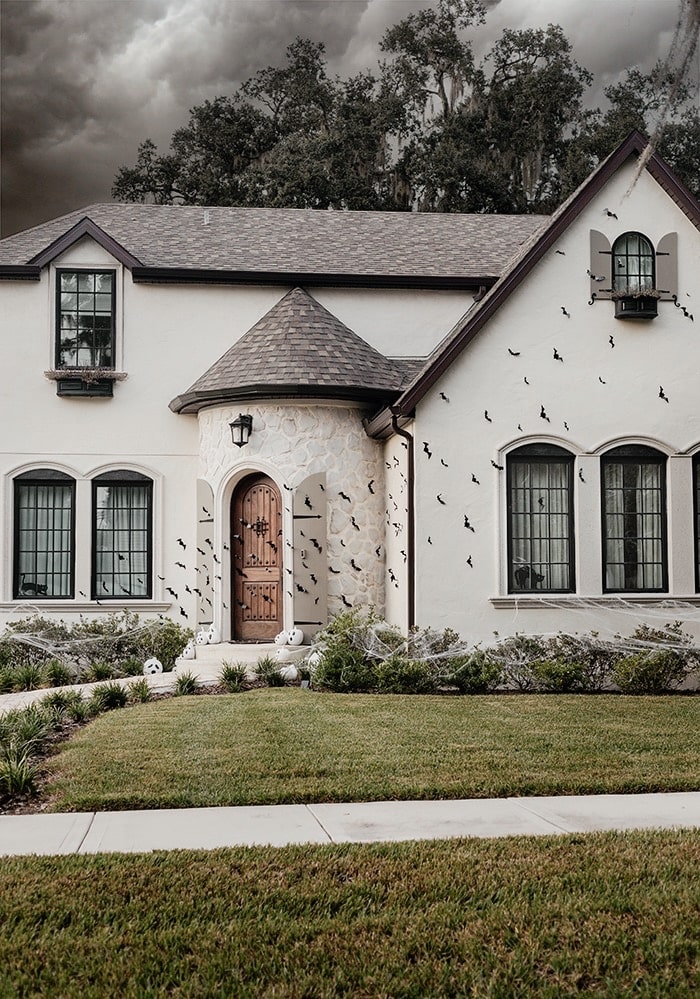 Look what I've started… now we'll have to do this every year.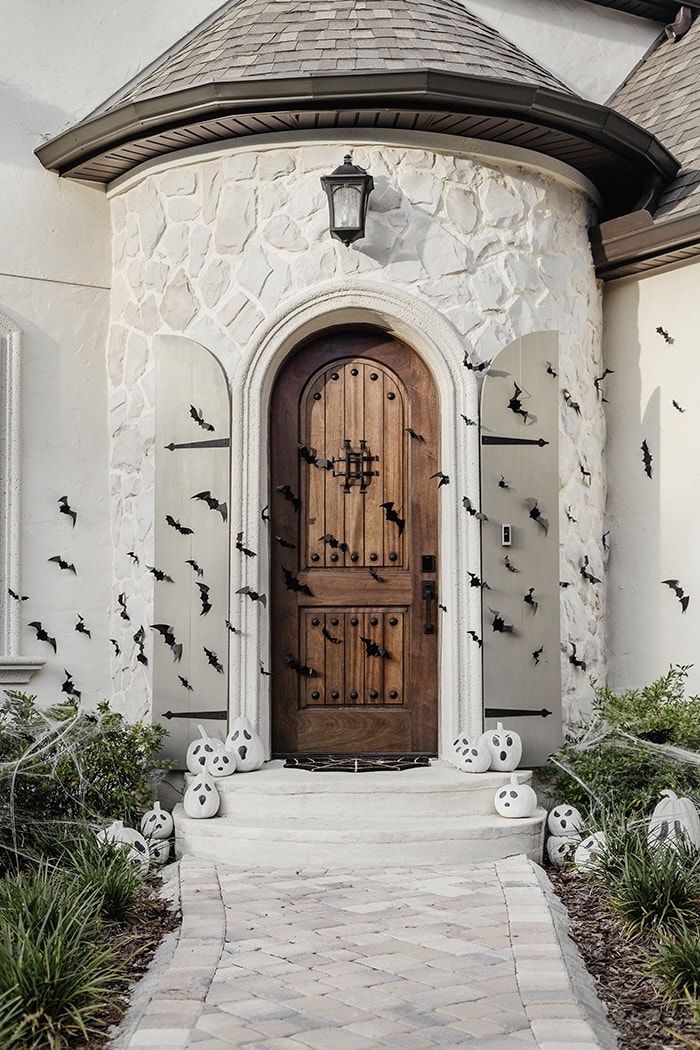 I know one person who won't mind…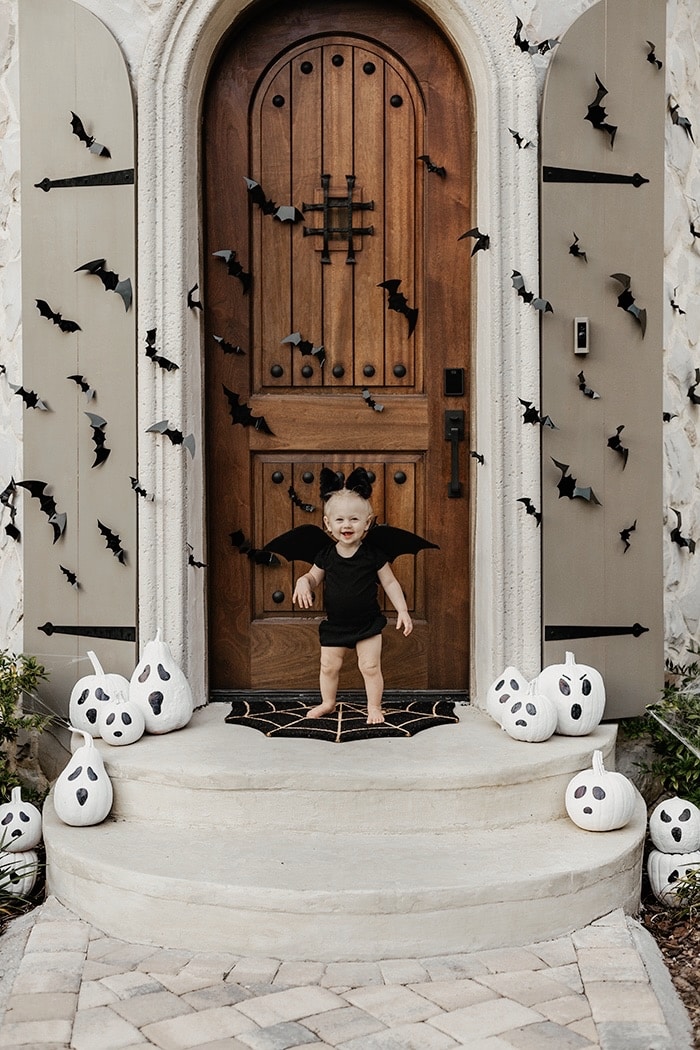 I have been wanting to add landscape lighting for so long, so this was the push we needed to finally make it happen. Rather than take on a major project like hardwired lights, I ordered 12 of these solar spotlights (they're currently on sale for $10 off!)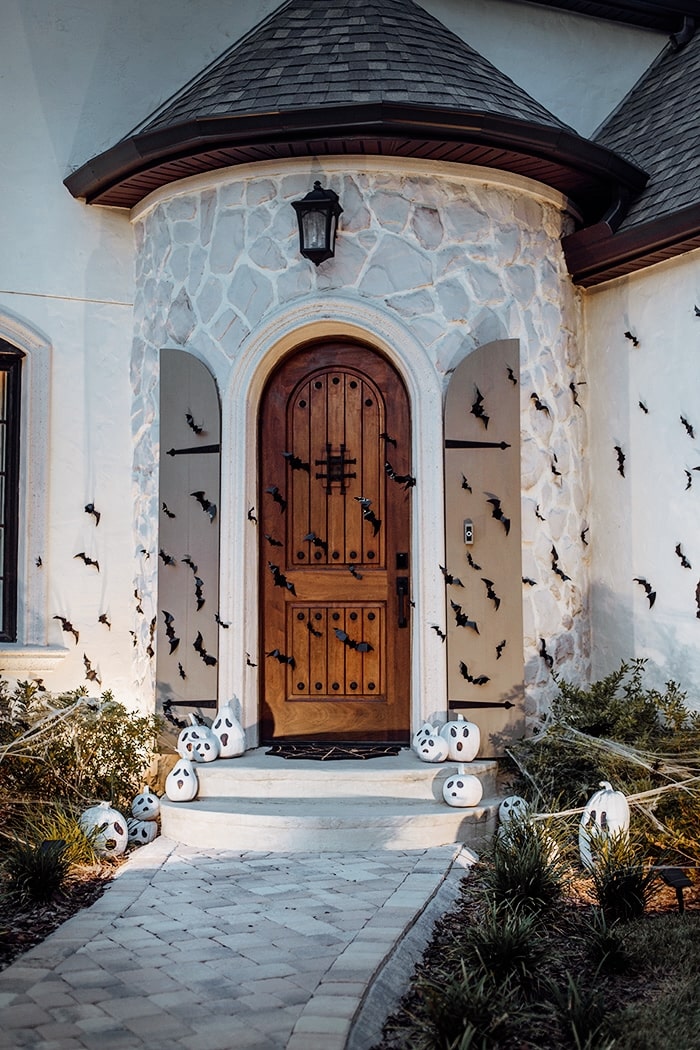 These are the same lights we used in the backyard at the Poolside Palms so we had tested them and knew they worked well. Not as bright as hardwired lights, of course, but all you have to do is stick these in the ground—and you can't beat the price!
What good are Halloween decorations if you can't see them at night?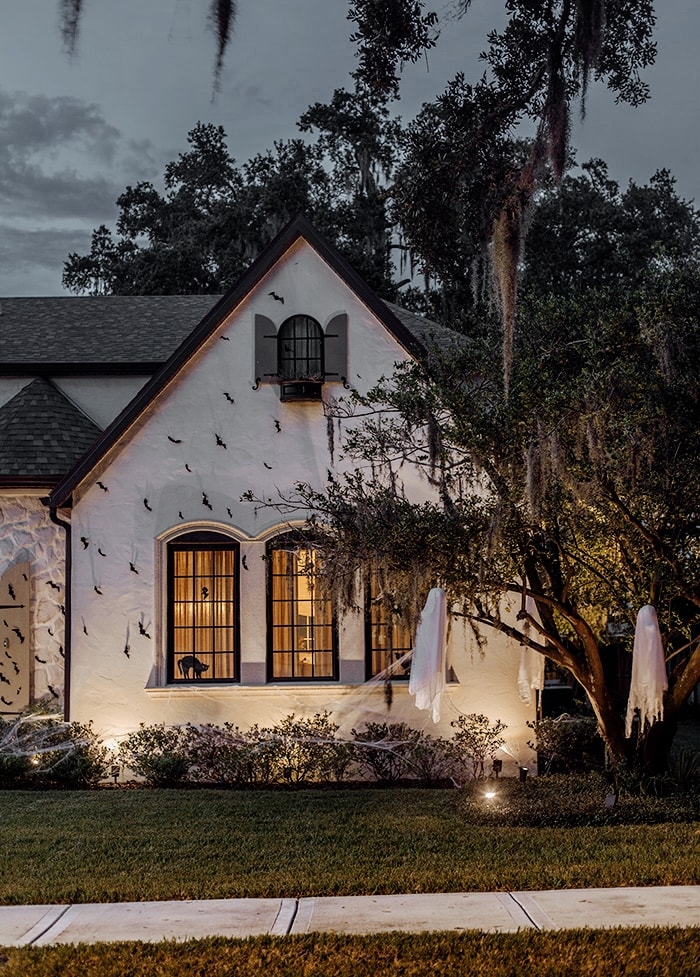 They add a whole new element of spooky…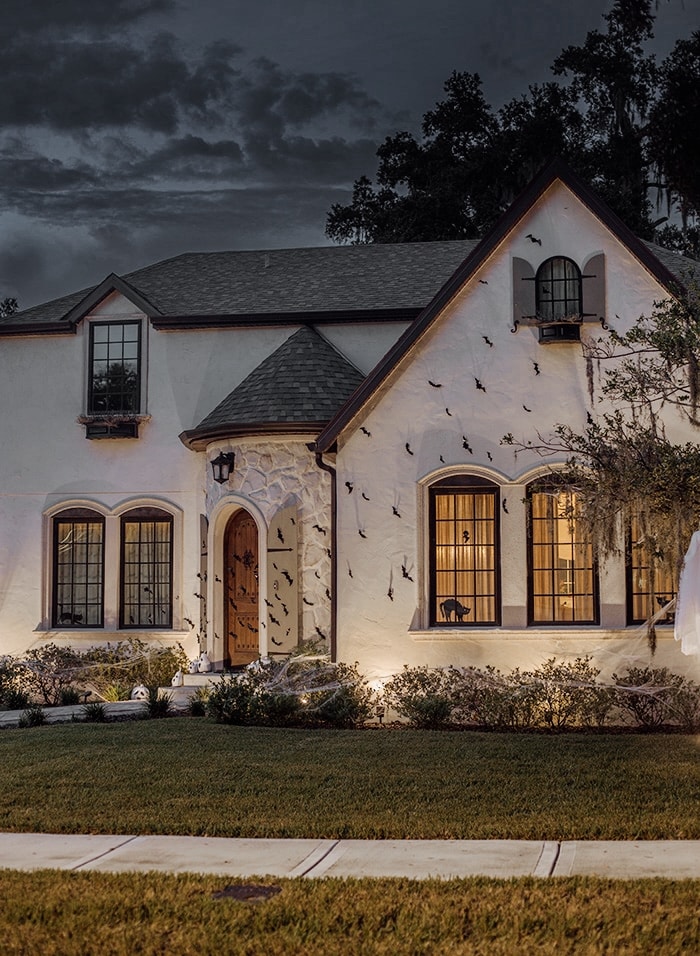 Alright guys and ghouls… that's all for our haunted house tour. I haven't decided if I'll be bringing any Halloween indoors this year or just sticking with my fall decor. What about you—do you have any Halloween decorating traditions?