Today is the room reveal I've waited weeks, months and years for… and my friends, it was worth the wait! My design dreams have been fulfilled and I can't imagine a more perfect space for our little princess. Click to watch the reveal below:
Before I share the photos (warning: there are a ton), make sure to get caught up on our progress over the past couple months:
Without further ado, our french country forest nursery…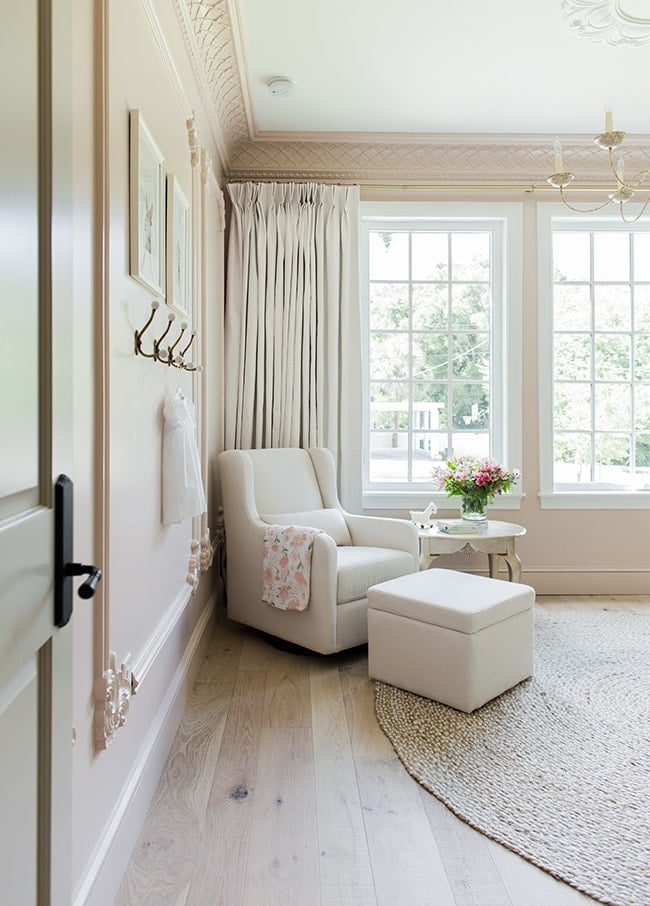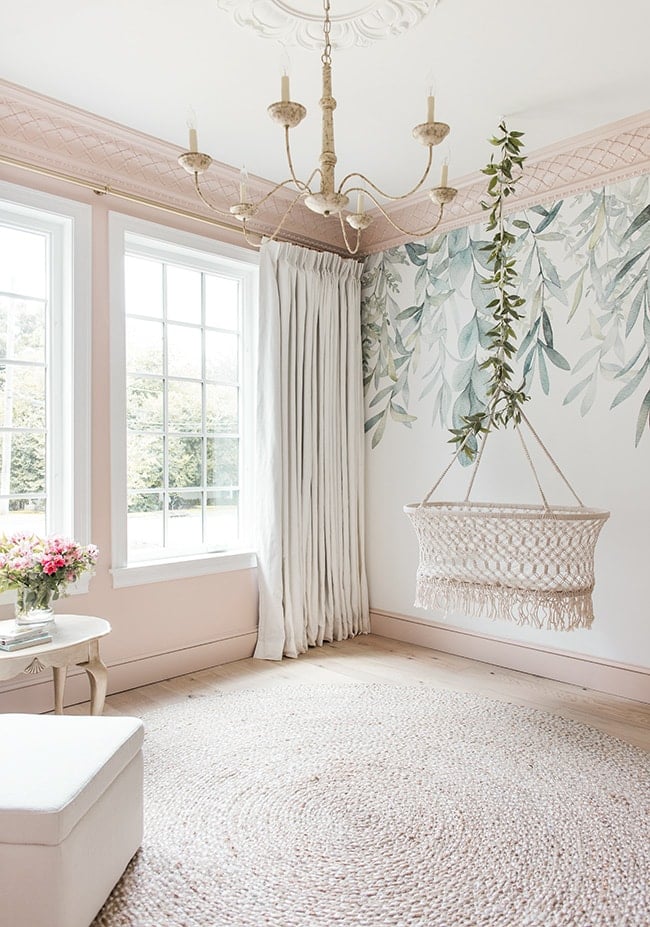 Where do we begin? How about the real MVP of the room—all of the gorgeous molding from Ekena Millwork: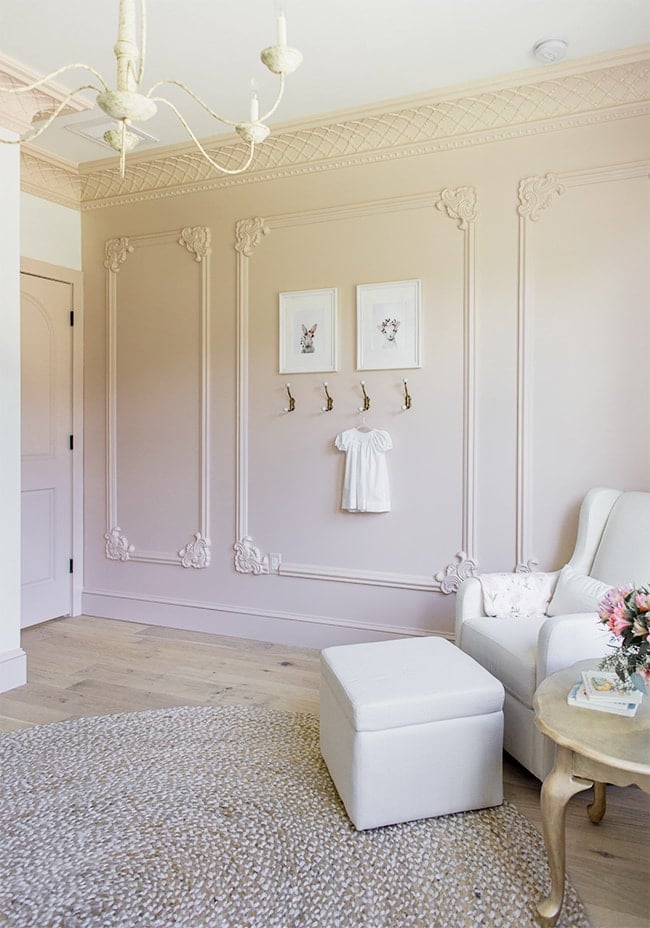 I linked to the exact molding we used in this post, so make sure to check that out for all the details. It truly takes the feeling of this room to another level, like you're walking into a mini-palace. Fancy millwork for life!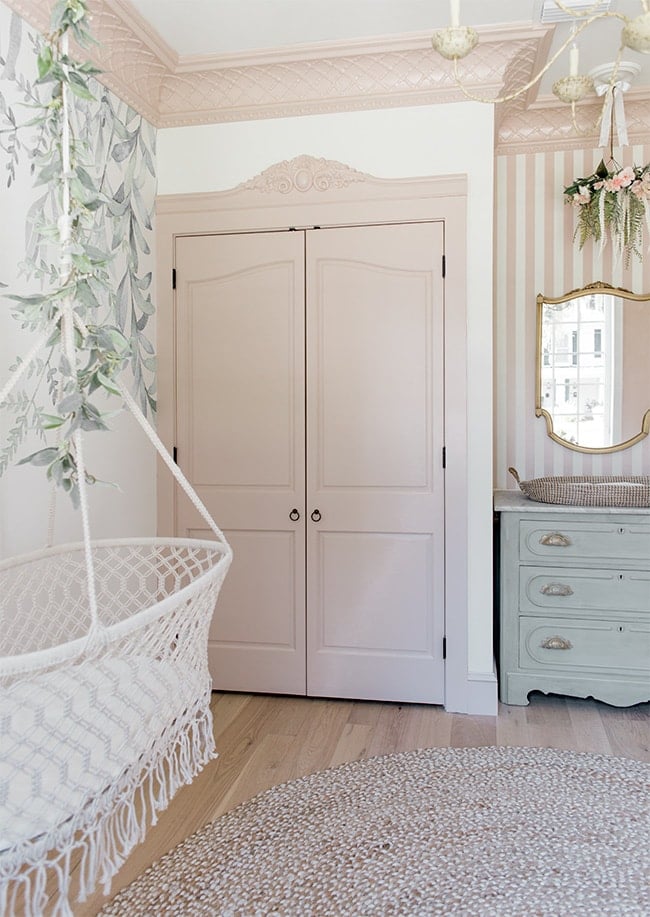 Perhaps my favorite piece of molding in the room is this facia we installed above the closet doors, which makes it look like an armoire. And about these doors—they're the Chateau bifold doors from Simpson Door Co, which we mounted on individual hinges to swing outwards. The French curves are perfect for this room!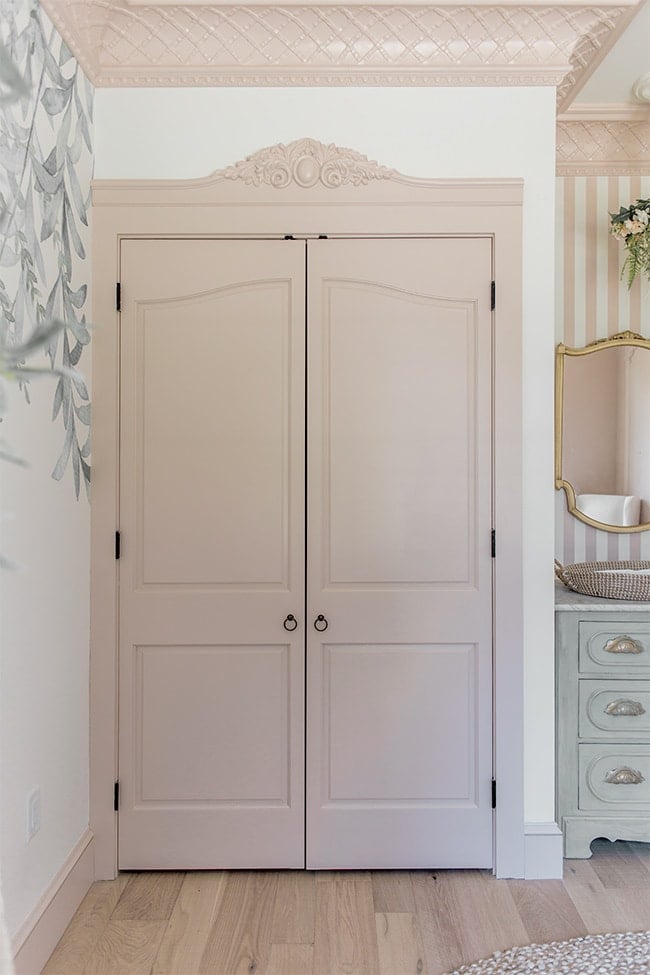 I had the most fun designing this closet.
Where else would I be able to use pink stripes and gold bows? Obviously, I had to take advantage of the opportunity!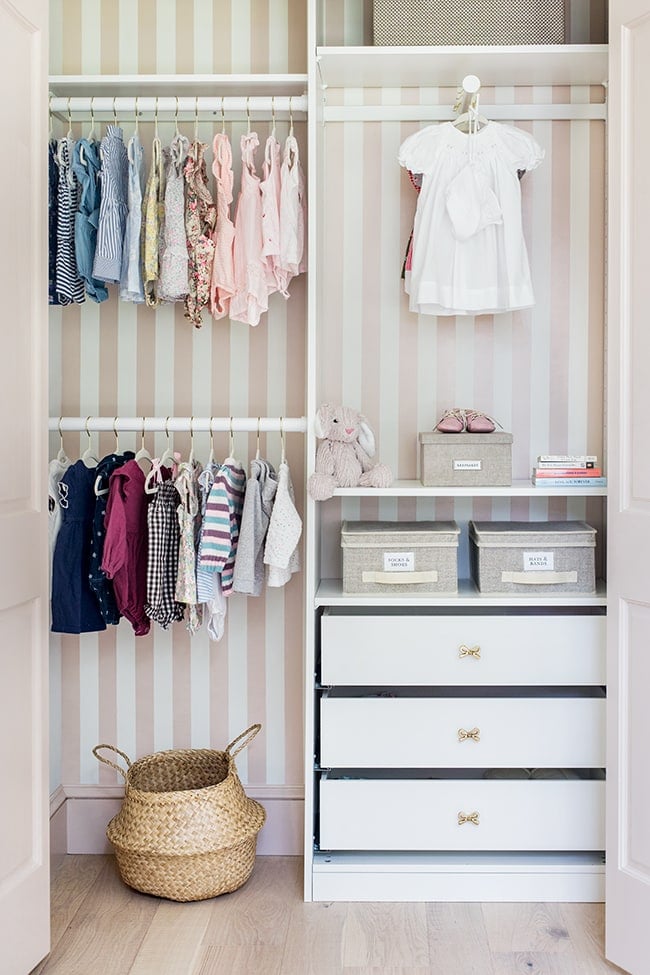 Next to the closet is the highly functional changing nook. We planned ahead during construction and had our builder leave this nook open, and I found the perfectly sized vintage dresser that doubles as a changing table.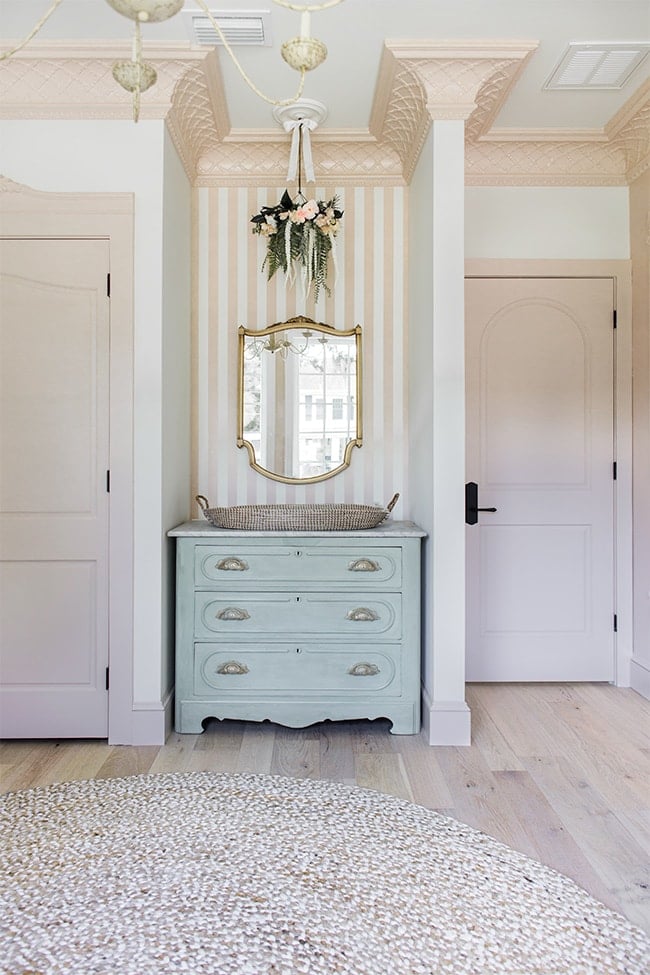 I refinished it, added a hidden storage shelf on the back wall for diaper supplies, added a seagrass changing basket and scored a sweet vintage mirror for $35.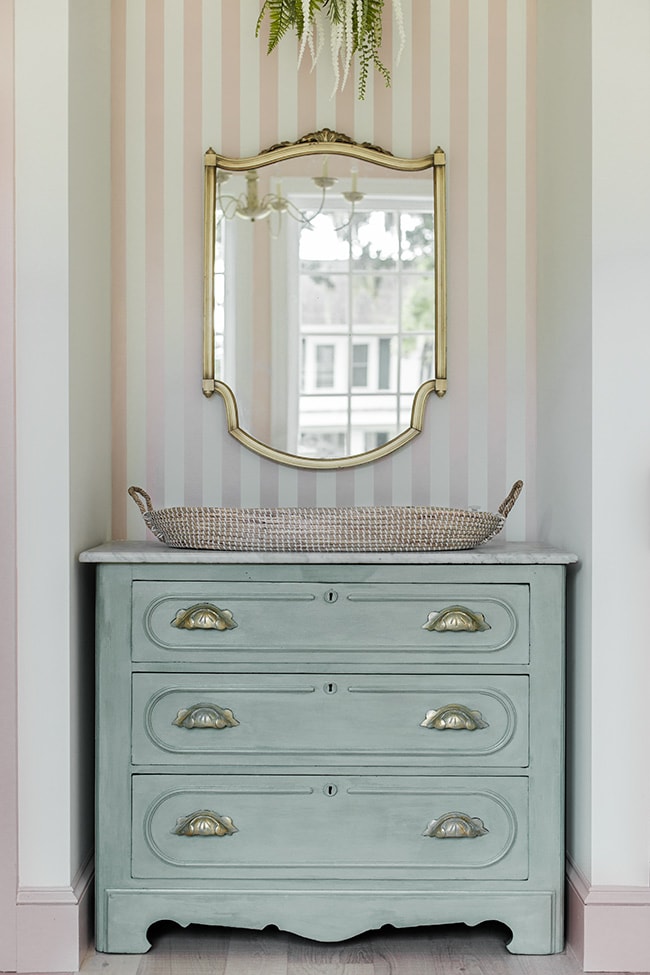 I also DIY'd this flower mobile using a wreath wire frame and faux flowers from Michaels. I'm thinking this will instill in her a deep love of florals 🙂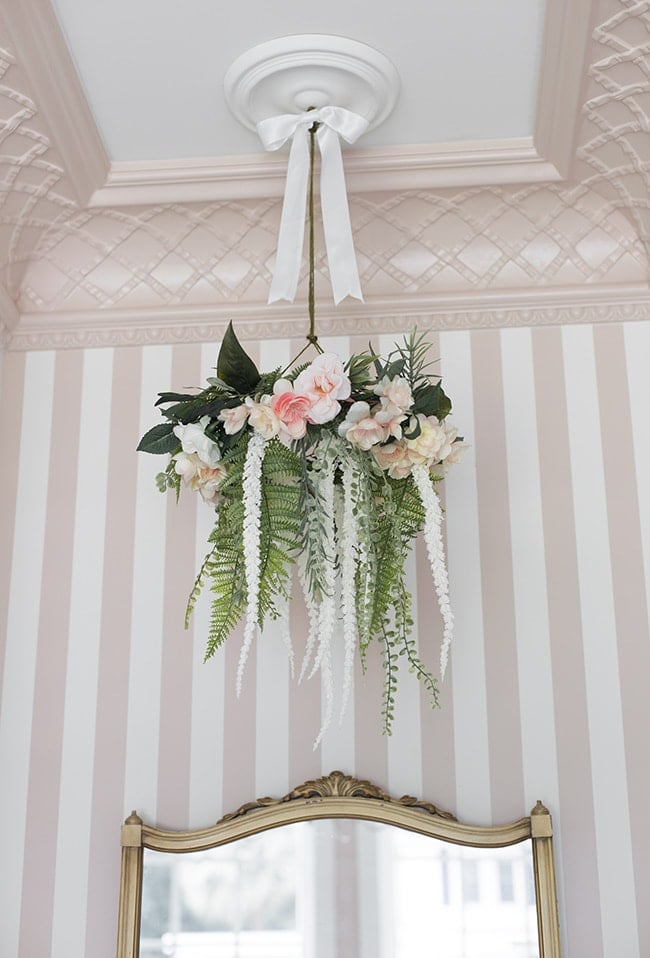 If the molding is the key player in this room, the rainforest mural from Rocky Mountain Decals is sure giving it a run for its' money…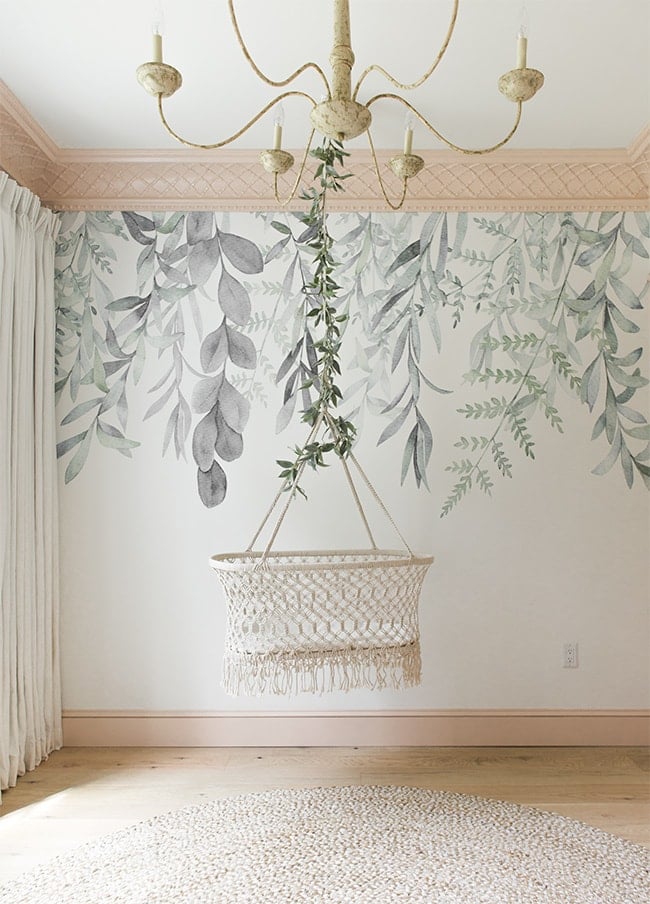 This was the very first thing I picked out for the nursery many months ago, and the jumping off point of the design. It's peel and stick removable paper which made for an easier install, and even better, a quick removal once we're ready to take it down (hopefully not for a while!)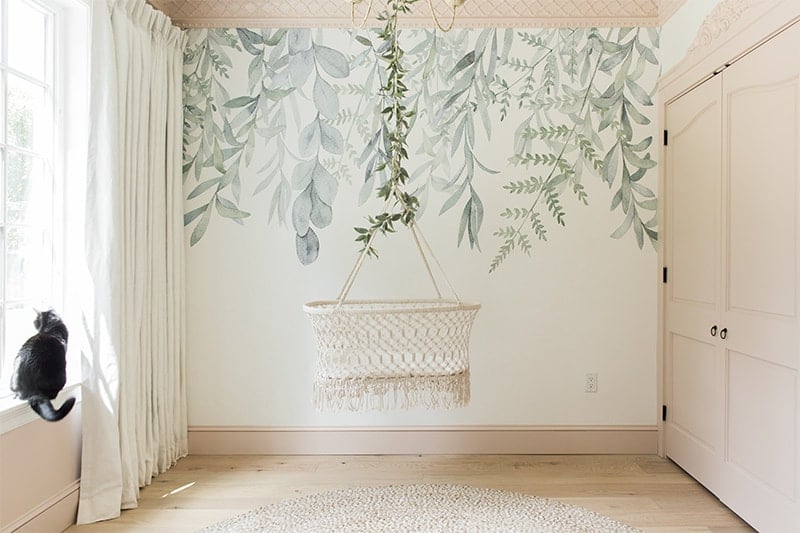 The room just came alive after the mural went up. I think I need one in every room…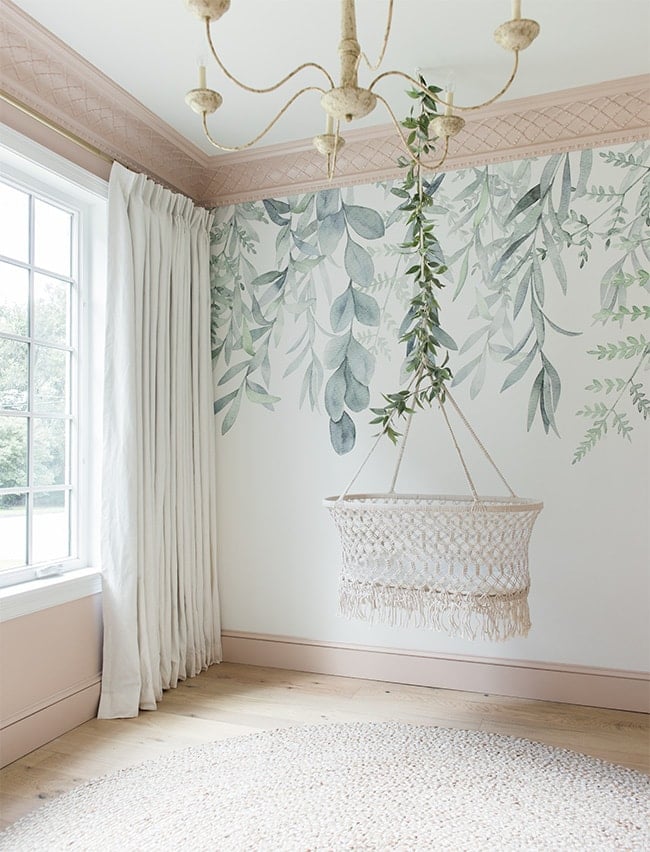 The hanging macrame bassinet was a registry gift and I still can't believe it's only $50! It's really just a placeholder until I find the perfect crib, which we won't need for another six months since she'll be sleeping in a bassinet in our room until then. Maybe I'll use it as a toy holder in the meantime…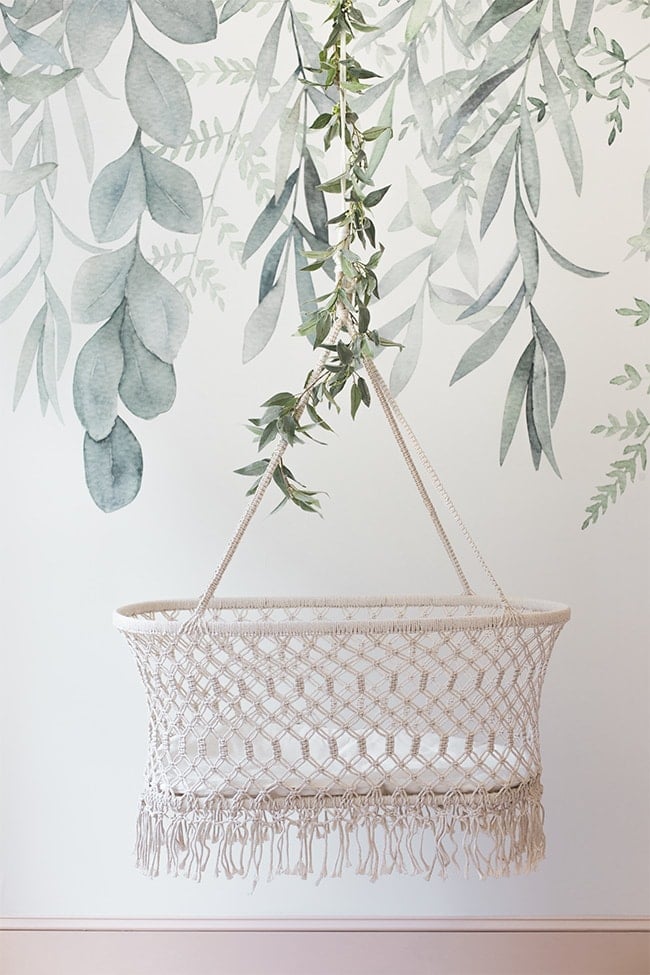 I wrapped a eucalyptus garland around the rope for an extra foresty-touch. The little details matter!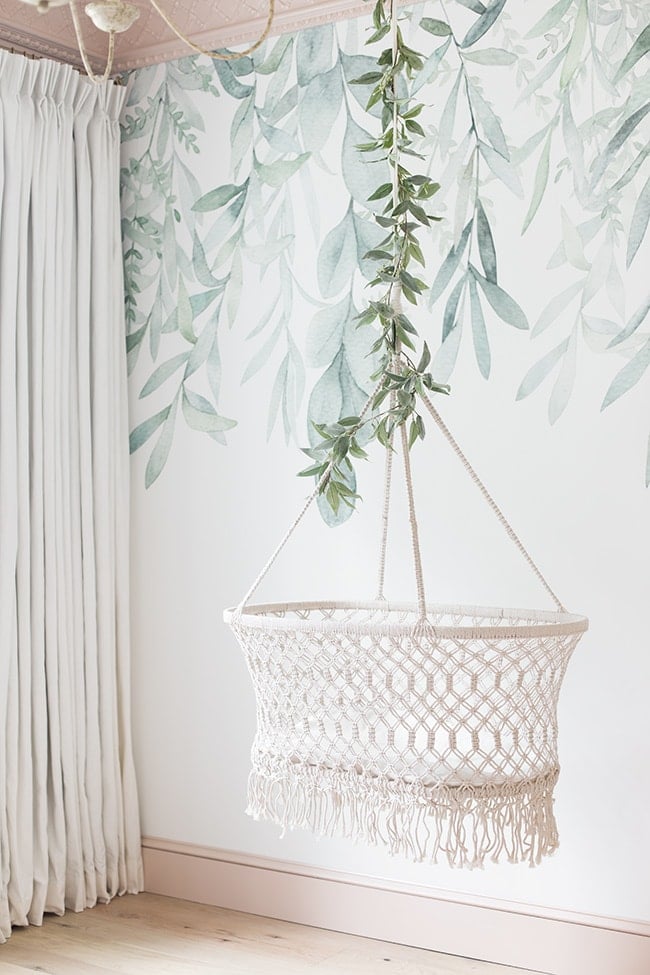 One major nursery must-have, according to my findings, are blackout curtains. Dark rooms are key to making sure baby sleeps well, and I take my sleep very seriously.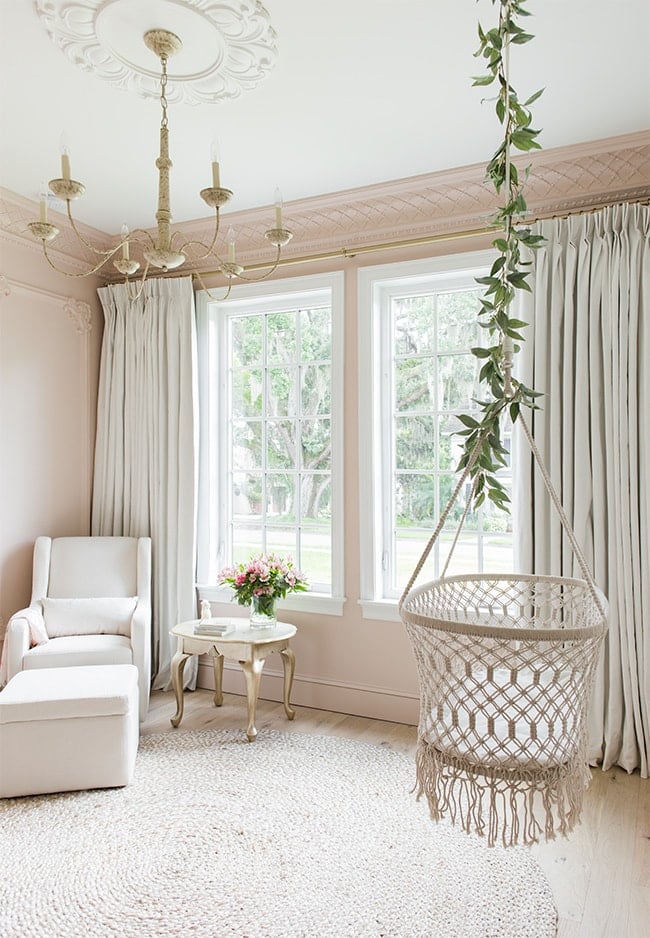 I worked with Barn & Willow on these custom extra wide ivory drapes, using their organic cotton fabric which looks like linen up close.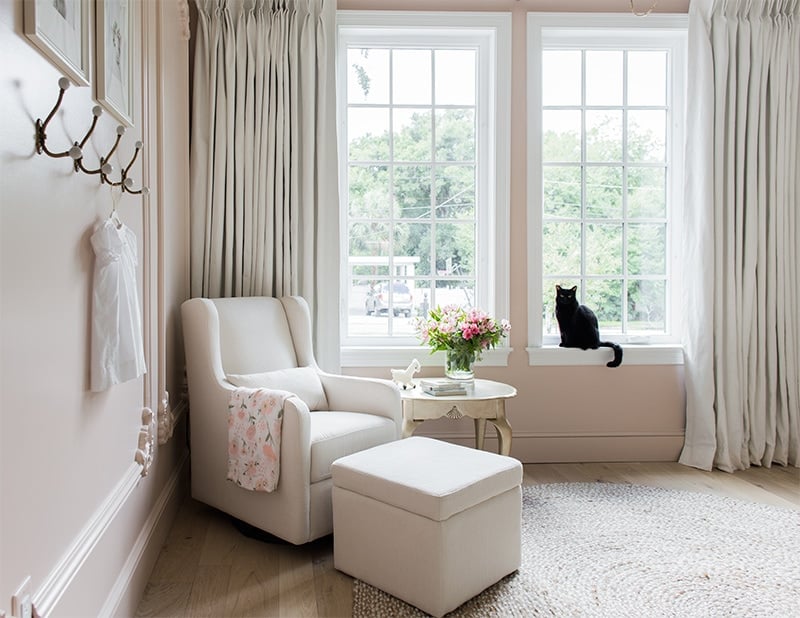 They're fully lined blackout, super thick and extra luxurious. I even sprung for the 2-pinch pleat style which make them feel so much fancier! I love that they're neutral and classic enough to stay in this room forever, even as it transitions (I used this gold curtain rod found on Amazon).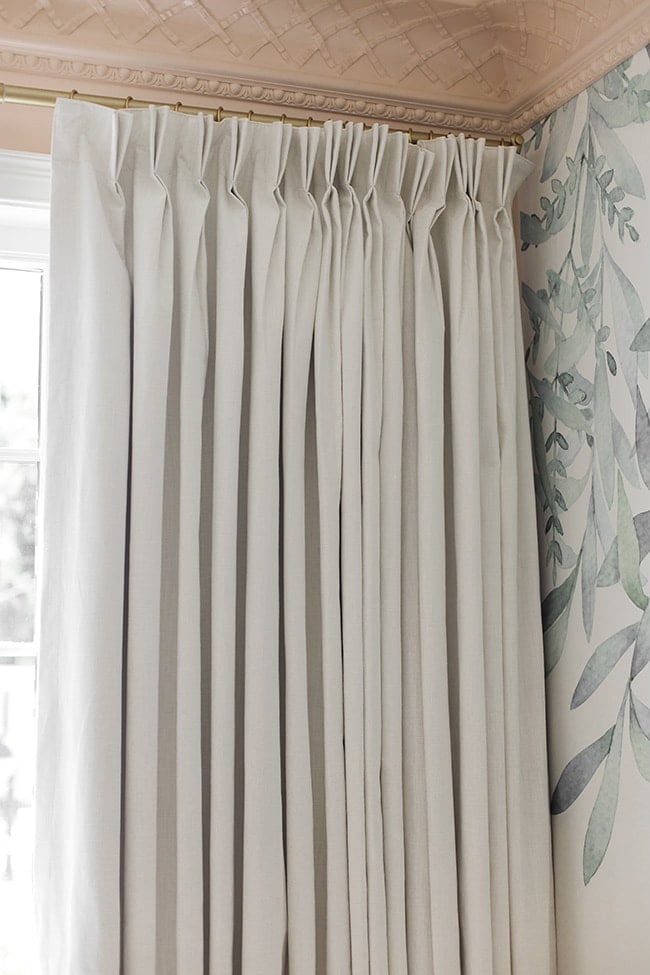 One item I spent a lot of time researching was the glider. There are surprisingly few affordable, stylish and functional gliders on the market, and I waited for a month for this one to come back in stock. SO WORTH IT.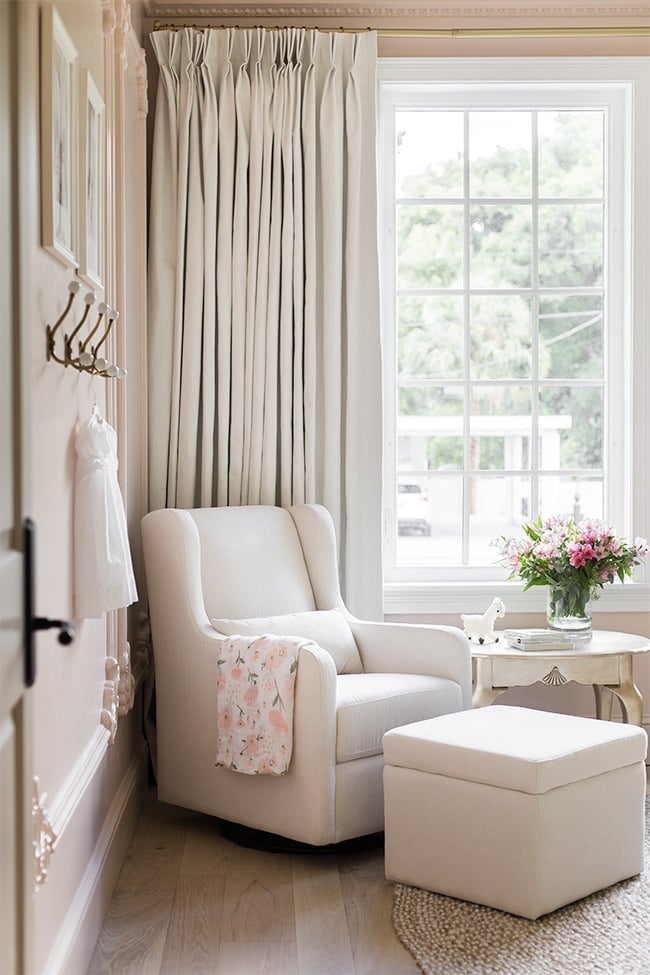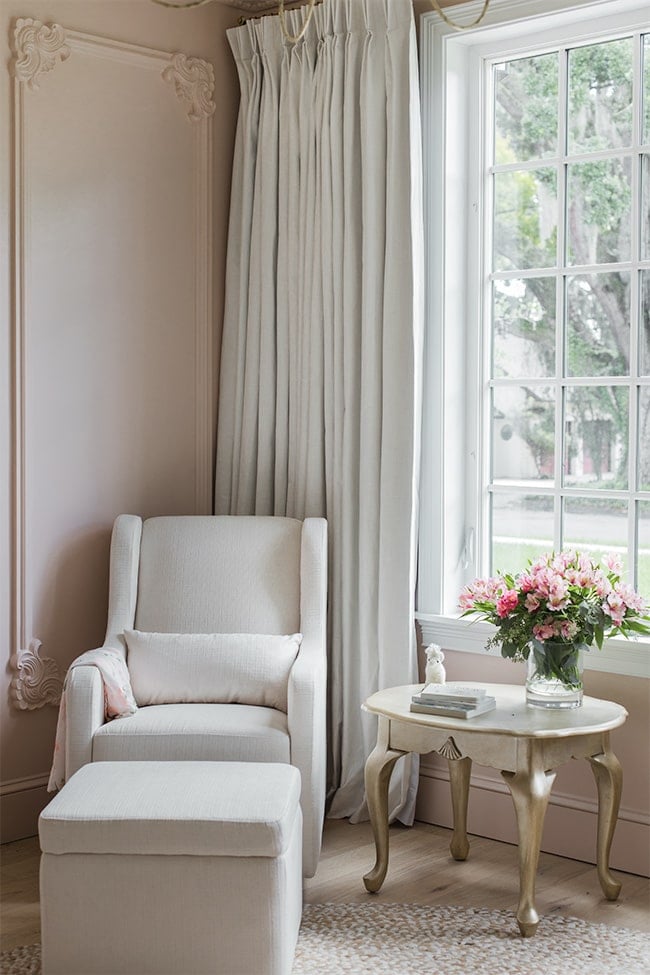 It's extremely comfortable, has a super smooth glide and swivel, has stain and water resistant linen fabric (supposedly) and (my favorite part!) an ottoman with storage. Of course I haven't had a chance to give it the real-life baby test yet, but after an exhaustive search, I'm gonna make a bold claim that it's the best ivory/cream glider on the entire internet for under $400.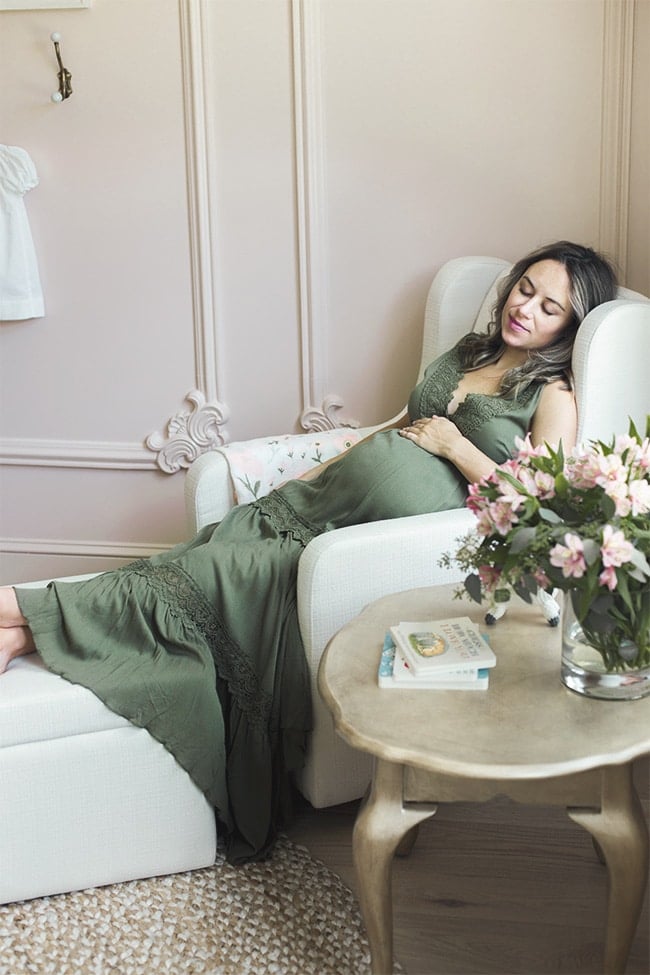 See that little side table?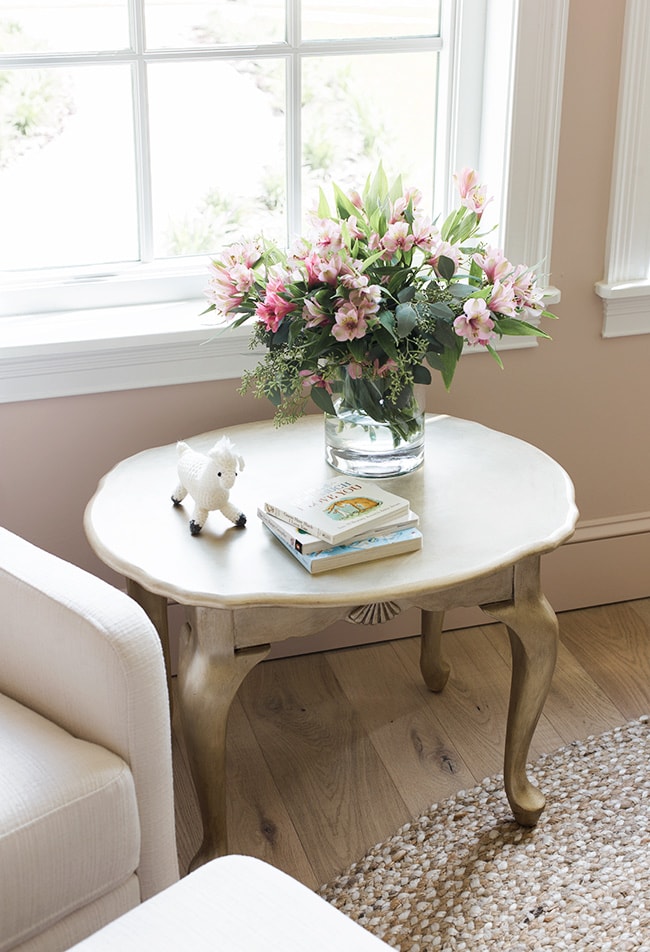 A $13 find on OfferUp, refinished in Maison Blanche gold metallic paint and organza wax. Love the way it turned out!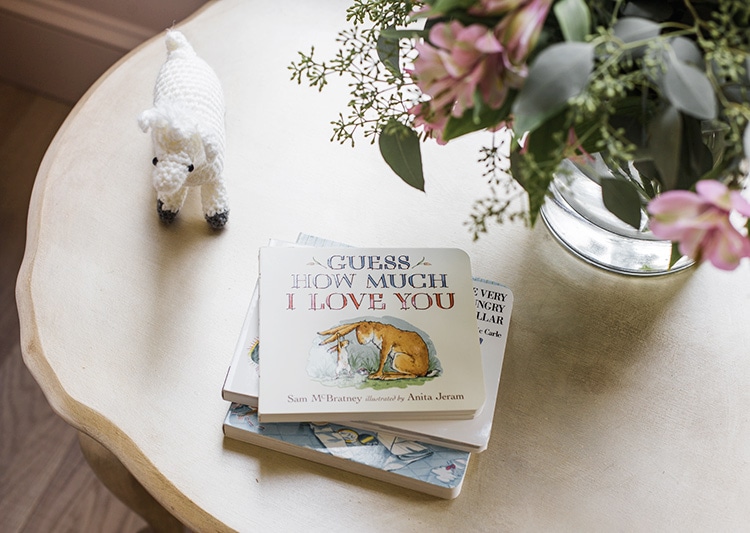 Another find I'm loving is this Wayfair chandelier for only $180: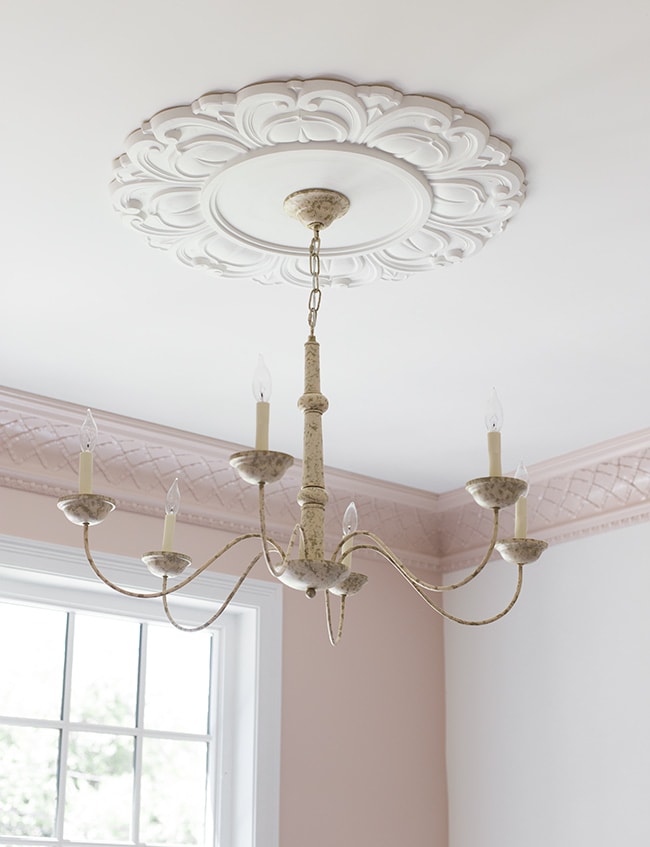 I was debating between it and two other (much more expensive) options and I'm so glad I went with this one. It's the perfect size for this room (35″w), has a nice rustic finish and I think the simpler style is a nice contrast against all the fancy millwork.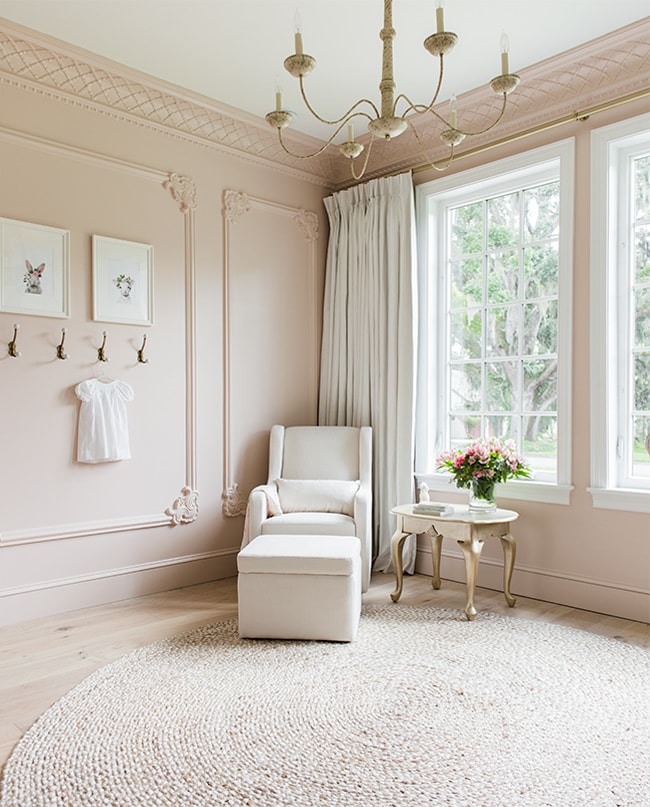 The braided jute rug is another Wayfair find that I couldn't be happier with. It's relatively affordable, exactly as pictured online, and soft enough for baby (isn't that the sweetest big sister in the window?)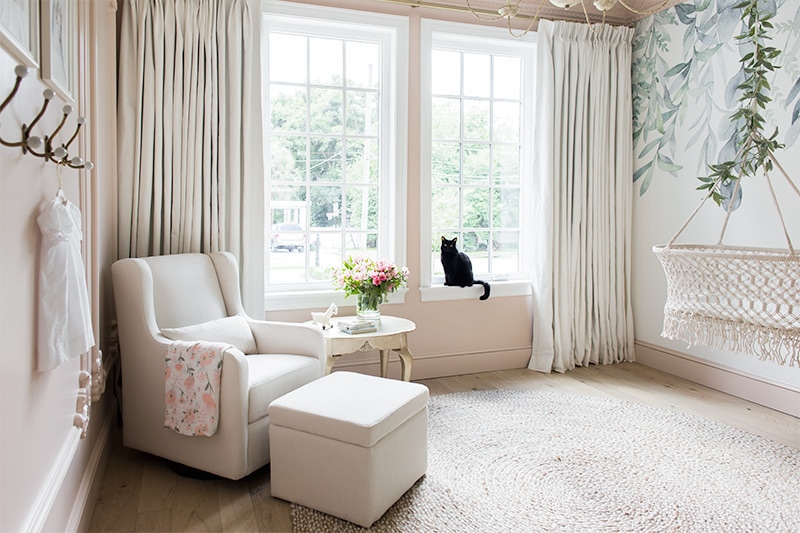 For the back wall, I found these darling baby animal flower crown prints on Etsy and used Ikea frames.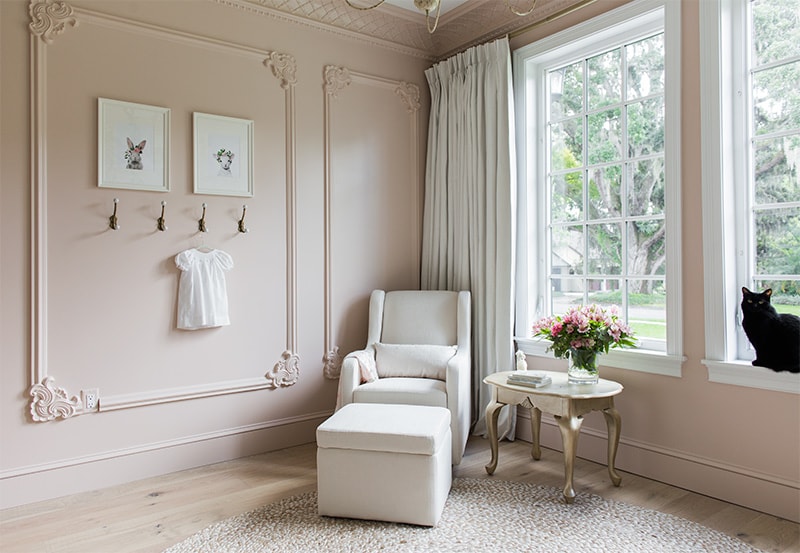 The hooks are vintage replicas I found on Ebay and aged them with rub n buff.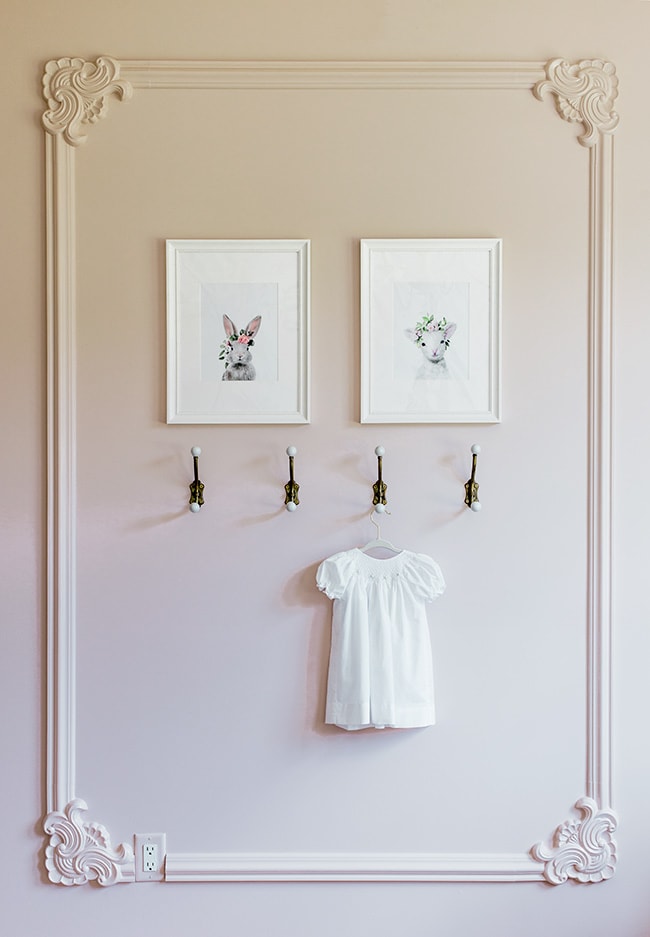 My hormones can barely handle the cuteness right now.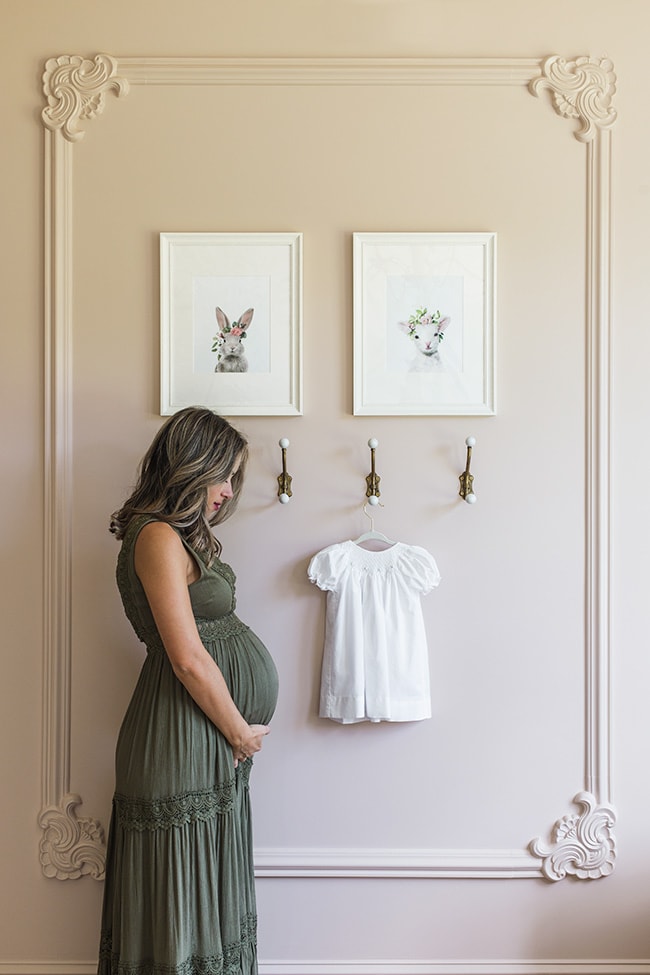 Now that the nursery is FINISHED(!) we are 100% ready for baby to be here in our arms. I'm glad she didn't come early so we could get everything done, but I'm hoping she comes on her own before we have to evict her.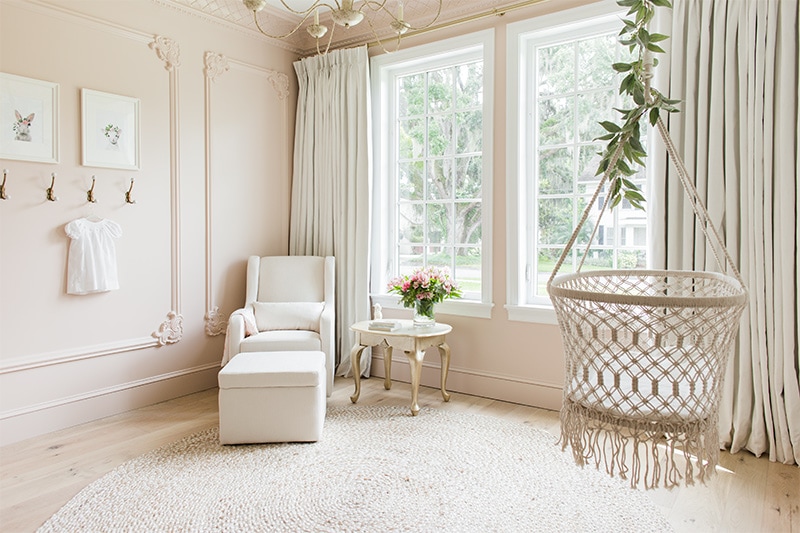 Last week (before the nursery was finished) we had a last minute maternity shoot with local photographer Stacy Larsen, so I thought I'd share a few photos from that session! It was so nice to get out of my DIY clothes for once and capture these last memories before our lives change forever…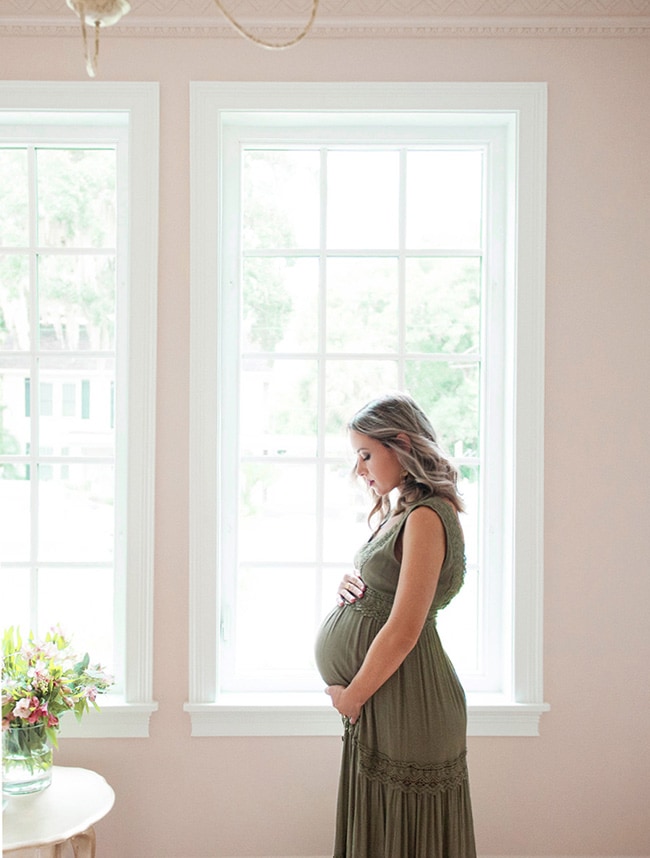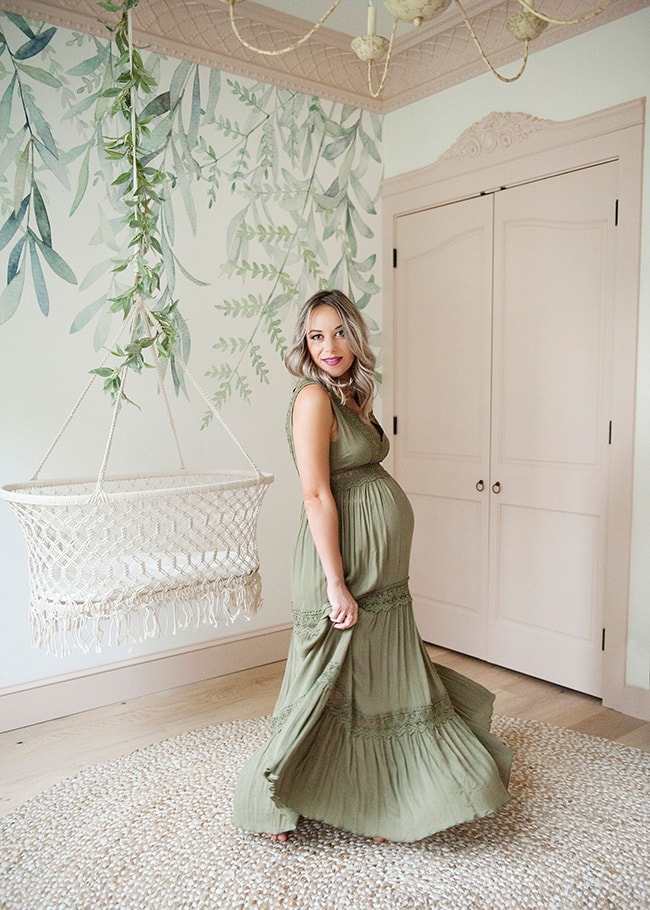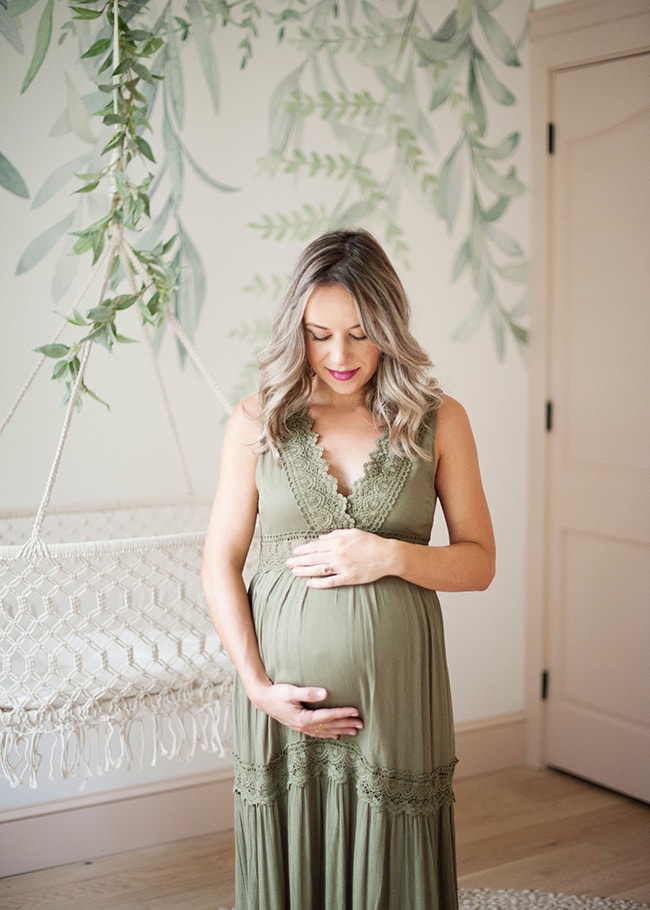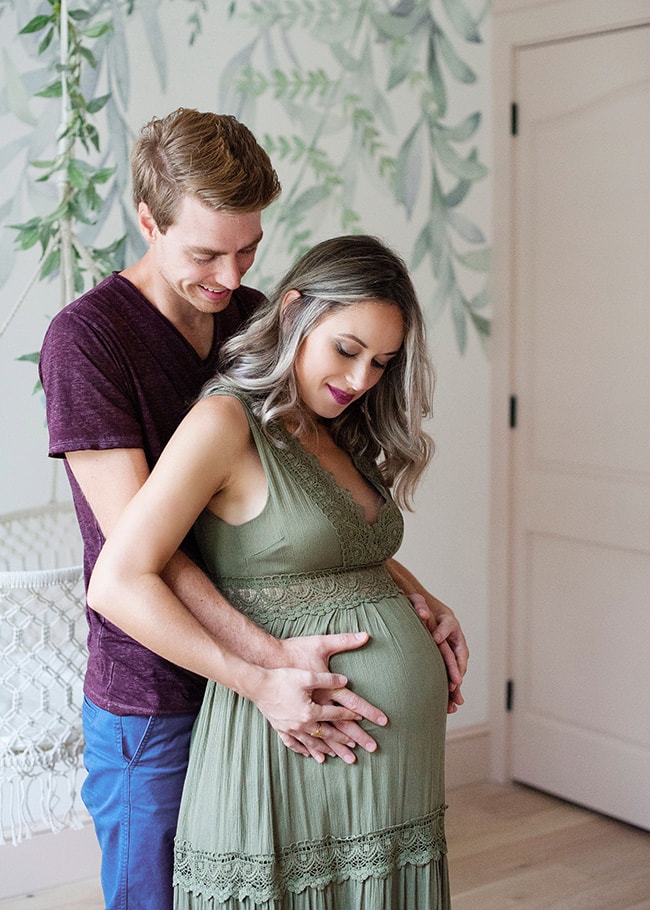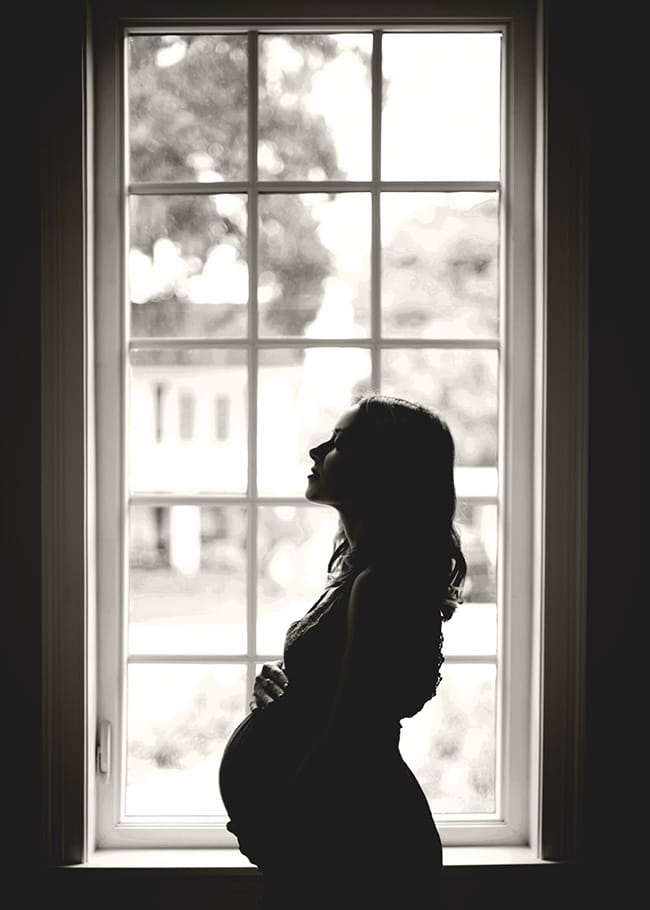 A huge thank you to Stacy for these beautiful photos, we will cherish them forever!
Okay baby girl, the nursery is ready for you. We're ready for you.