2021 has been called the 'year of the yard' and I'm here for it. Spring fever has hit hard and I've spent the last weeks scouring Pinterest, coming up with elaborate plans for our future dream backyard. Sadly those won't come to fruition until next Spring, but in the meantime, a girl can dream…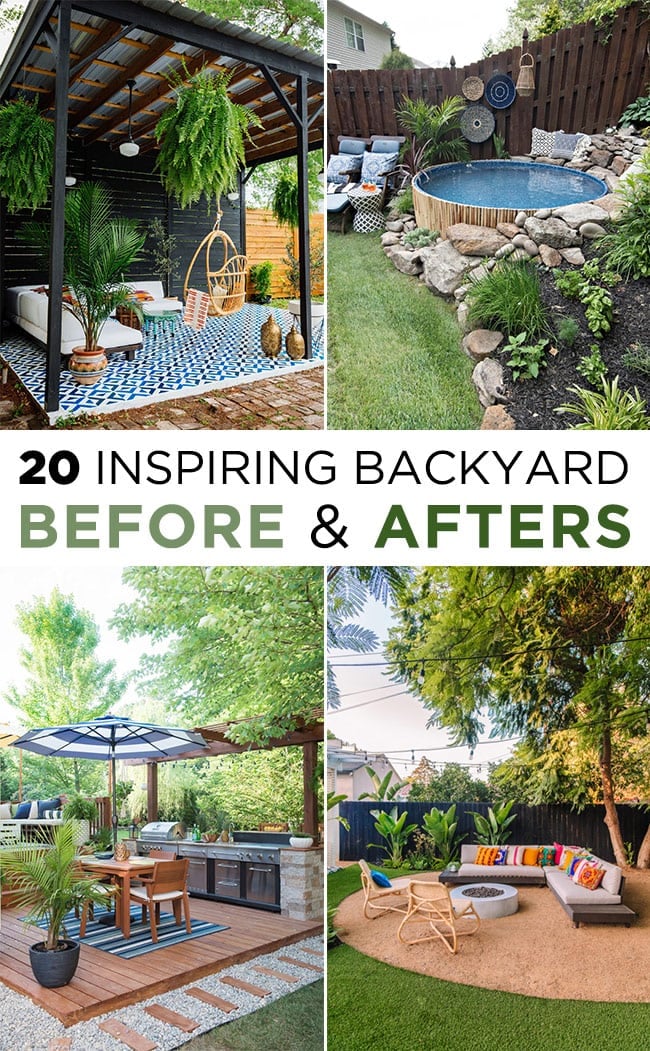 Now is the perfect time to share some of the most inspiring Before + Afters I stumbled across in my search, to help others looking to update their outdoor spaces this year. These are mostly transformations done by "regular folks" like us—with plenty of DIYs and budget-friendly ideas you can steal for your own backyard.
Let's get this outdoor party started!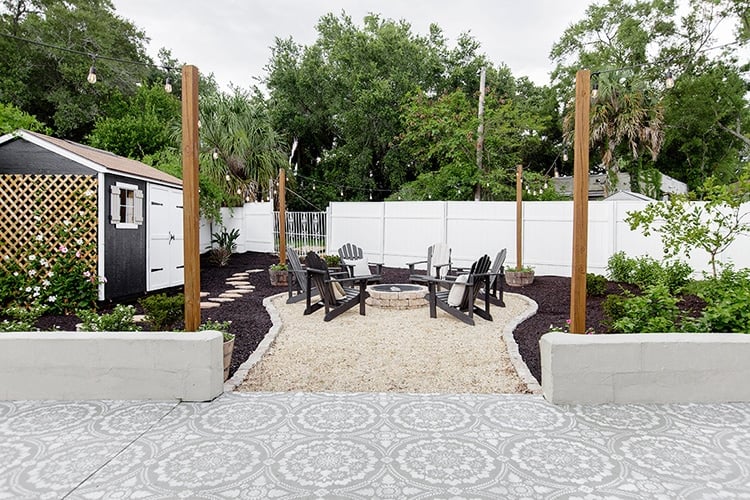 I'm sure you remember this transformation if you've followed my blog for more than a few months! One of my all-time favorite makeovers, with plenty of attainable DIYs.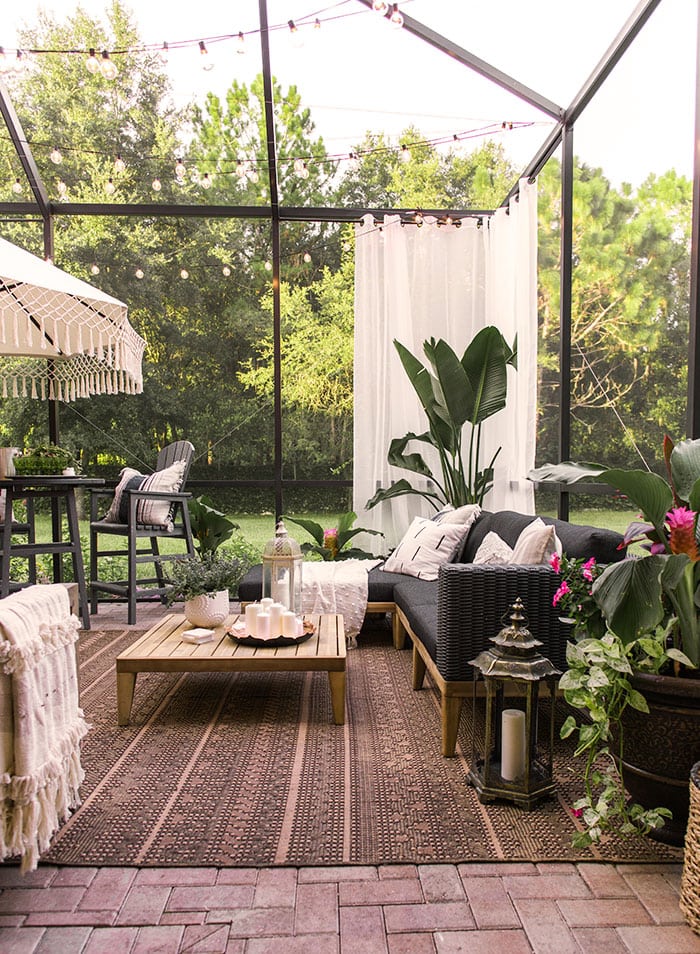 Who can recall this patio makeover I helped a friend with back in 2018? It's amazing what new furniture and layers of natural textiles can do for any space, indoor or out.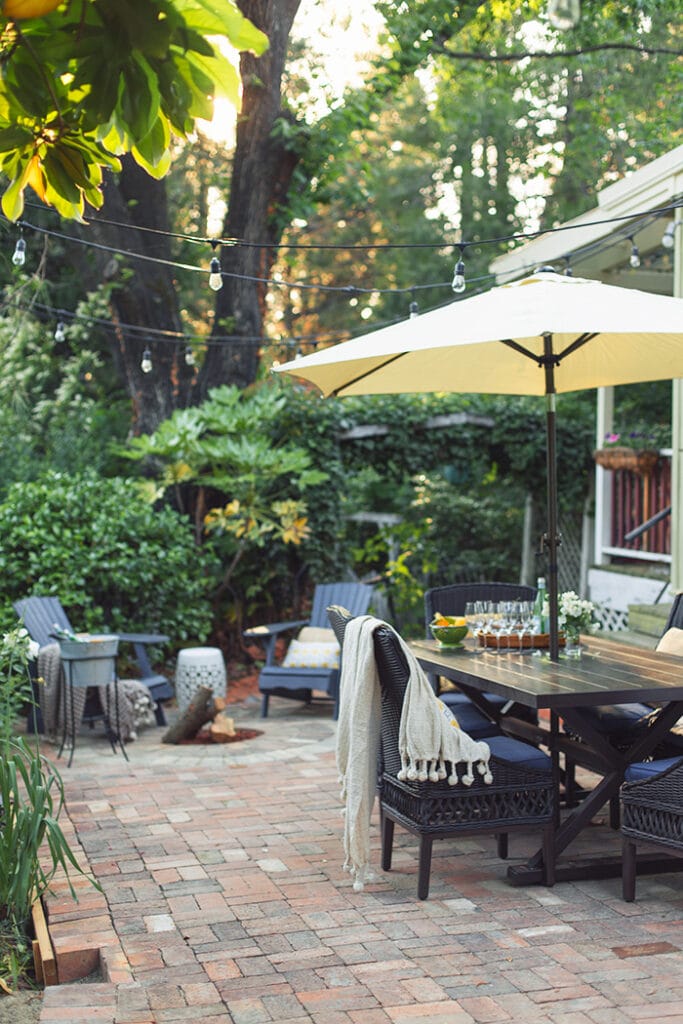 Okay, this is the last of my own projects! Was anyone here for this patio makeover I helped my parents with back in 2016? They still love and use this space nine months out of the year. Such a beautiful setting!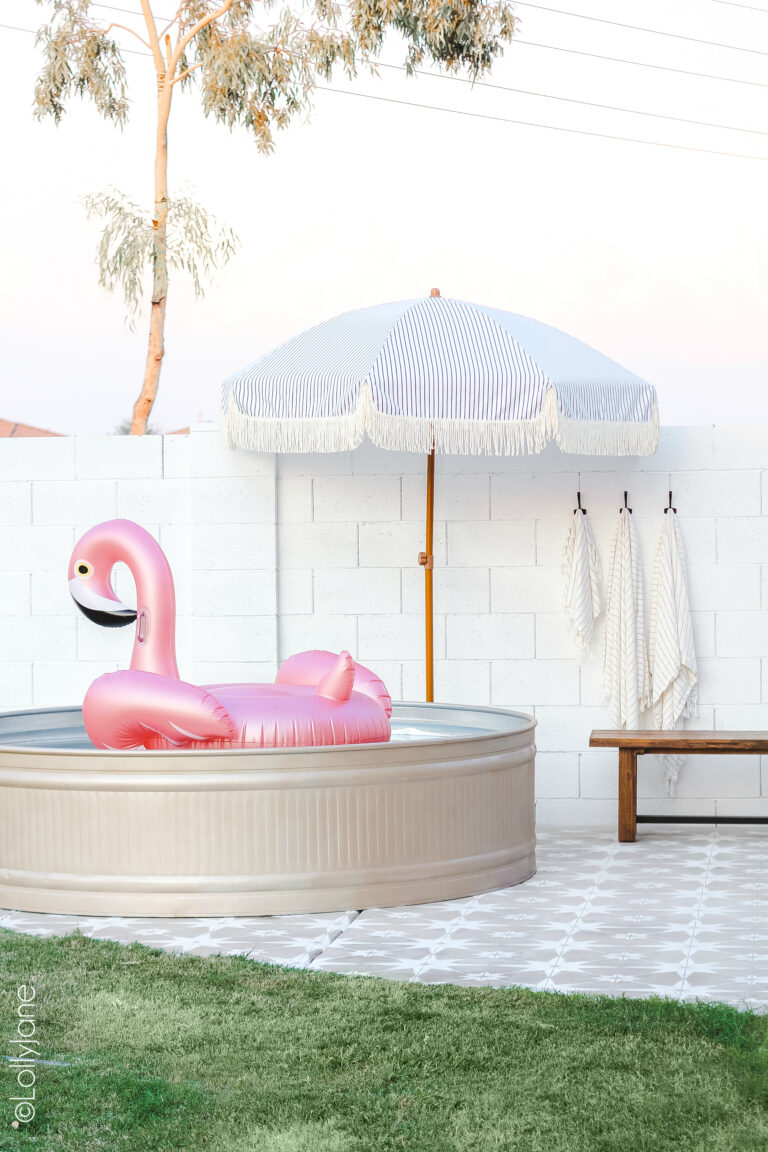 Is this not the sweetest setup? From the custom painted (budget-friendly!) stock tank pool to the stenciled floors and cute accessories—such a fun and fresh space from Lolly Jane Blog.
Talk about inspiring! Laura and her husband DIY'd everything from demo'ing the old concrete to laying pavers and building a privacy fence, pergola and more. You have to check out the Before + Afters on their blog.
This transformation is from my friend Jenni at I Spy DIY, and just one of her many incredible (and attainable!) projects.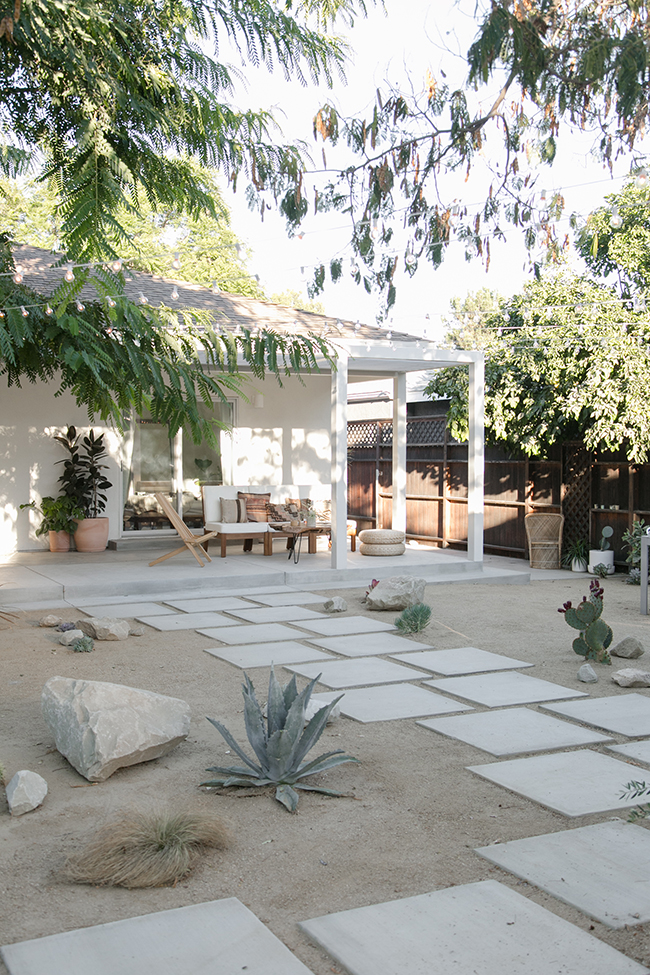 I just love when outdoor spaces are designed in harmony with the geographical setting, and that's exactly what Molly and her husband did with their Southern California backyard. Drought-friendly, low maintenance landscaping for the win!
It doesn't get any cooler than this! Dabito from Old Brand New completely transformed his New Orleans patio with a rich black pergola, a stenciled 'tile' floor and plenty of bold furnishings and plants. The perfect spot for outdoor entertaining.
This small yard was thoughtfully designed to include a paver patio with a dining area, an elaborate cat enclosure, an herb garden and customized stock tank pool lounge. You have to see it all at Cuckoo4Design to believe it!
Can you believe this was all a DIY from scratch? So impressed by the vision and work done by Place of my Taste. I had a hard time choosing a favorite photo—you have to check out the entire space on her blog!
This has to be one of the most impressive DIY outdoor seating areas. Room for Tuesday custom built that sofa rom cinder blocks, concrete and stucco—so good, right? The entire yard is an entertainer's paradise.
If you dream of having a garden + outdoor living/dining area in one, you'll love this simple and beautiful layout from The Grit and Polish.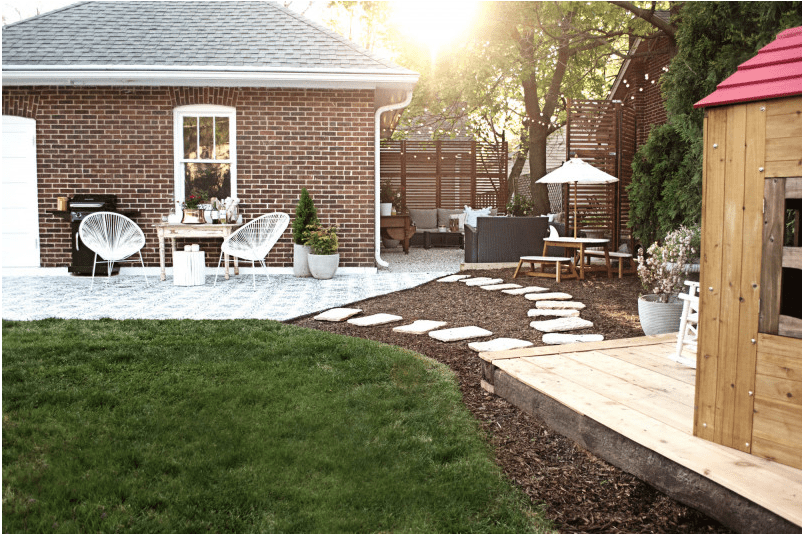 Susan from Kindred Vintage always creates the most magical spaces in her home, and this backyard is no exception. You have to scroll through her blog to see the Before's and all of fun spaces they designed for the whole family to enjoy.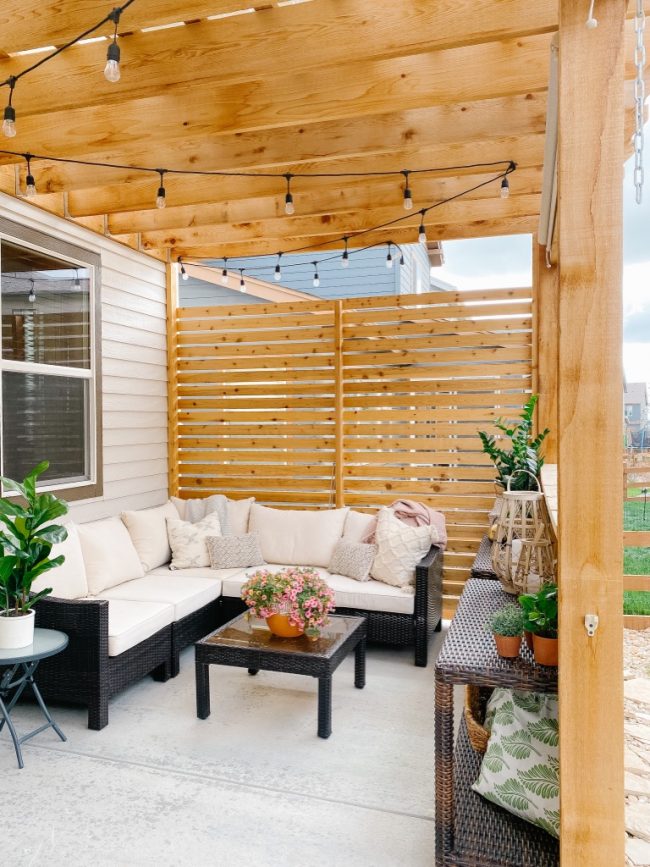 These DIY privacy walls have become quite popular and I can see why—it's a simple and inexpensive way to extend livable square footage by turning your patio or yard into an outdoor room. Rachel shares how she made hers on Sprucing up Mamahood!
The talented Chris Loves Julia share how they transformed this unused yard space into a welcoming fire pit lounge in one weekend. I'm sure it would take us at least a month (ha!) but this serves as great inspiration for a DIY anyone could tackle.
Kudos to The Design Souk for dreaming up a creative solution to this 180 square foot "unusable" patio. The pergola addition is genius, and they even managed to squeeze in a dining area without it feeling crowded. This just proves that any outdoor space can be "magazine worthy" with a little ingenuity!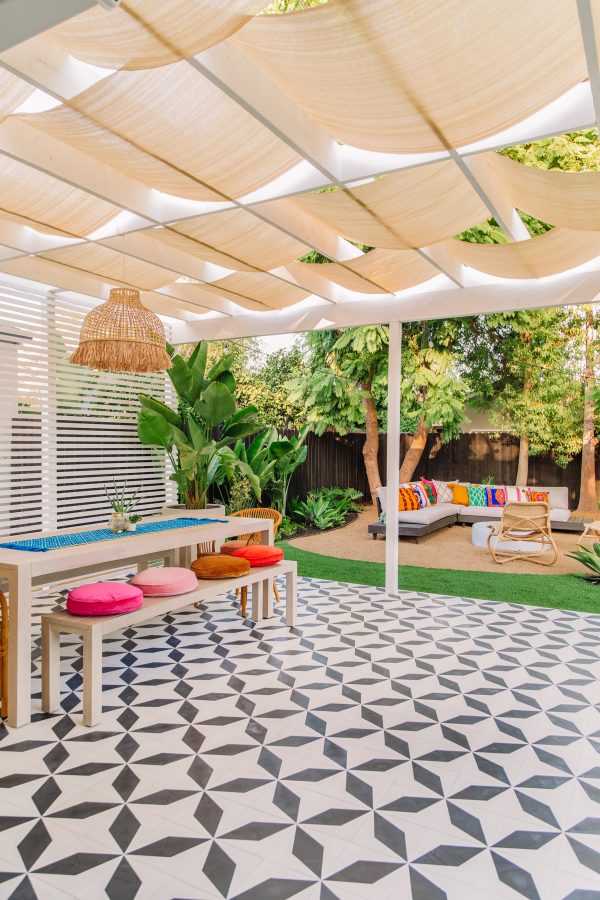 This is a backyard I'd never want to leave—good thing they can enjoy it year round in California! Scroll through the Before + Afters on Studio DIY and prepare to be amazed. It's truly one of a kind.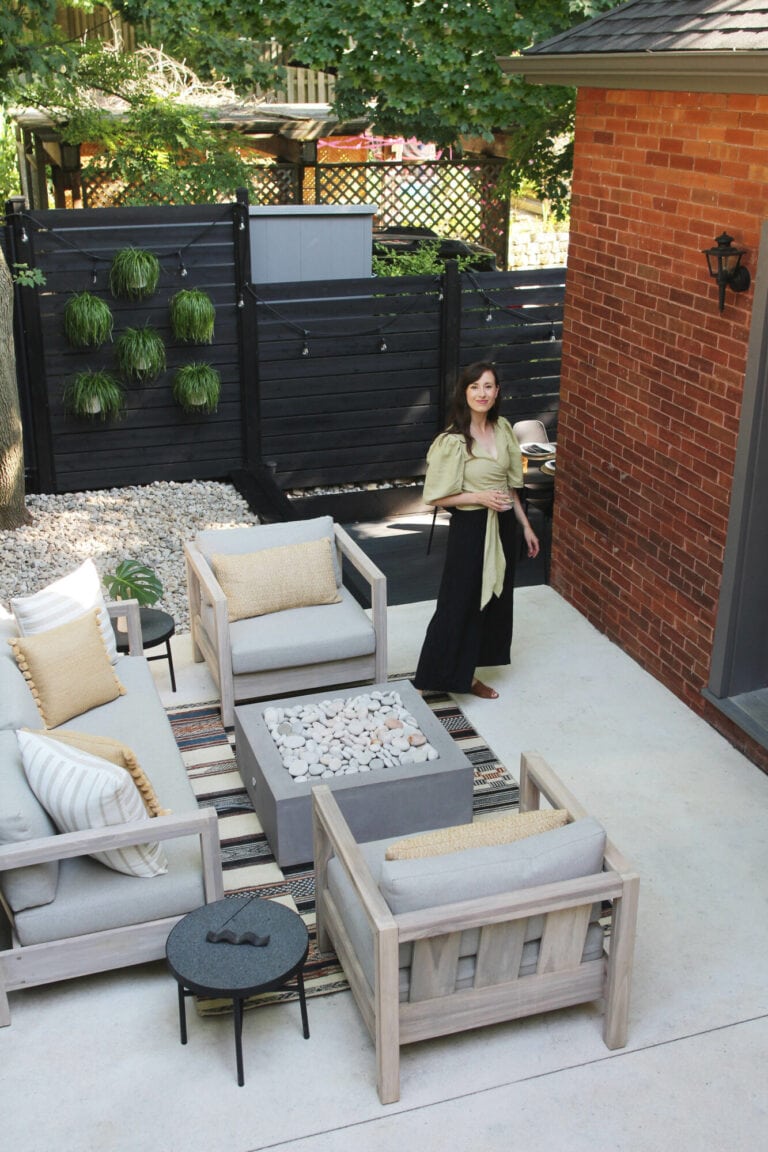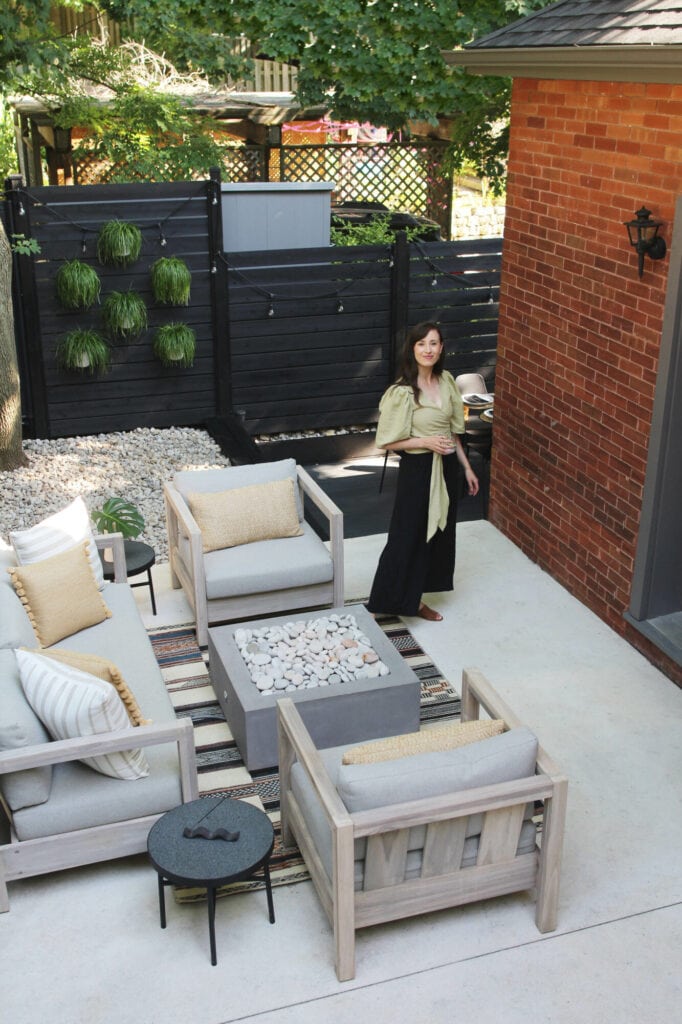 There's just something so chic and timeless about a black fence and landscaping rock. Style Bee shared all the Before + Afters on her blog and the difference is incredible.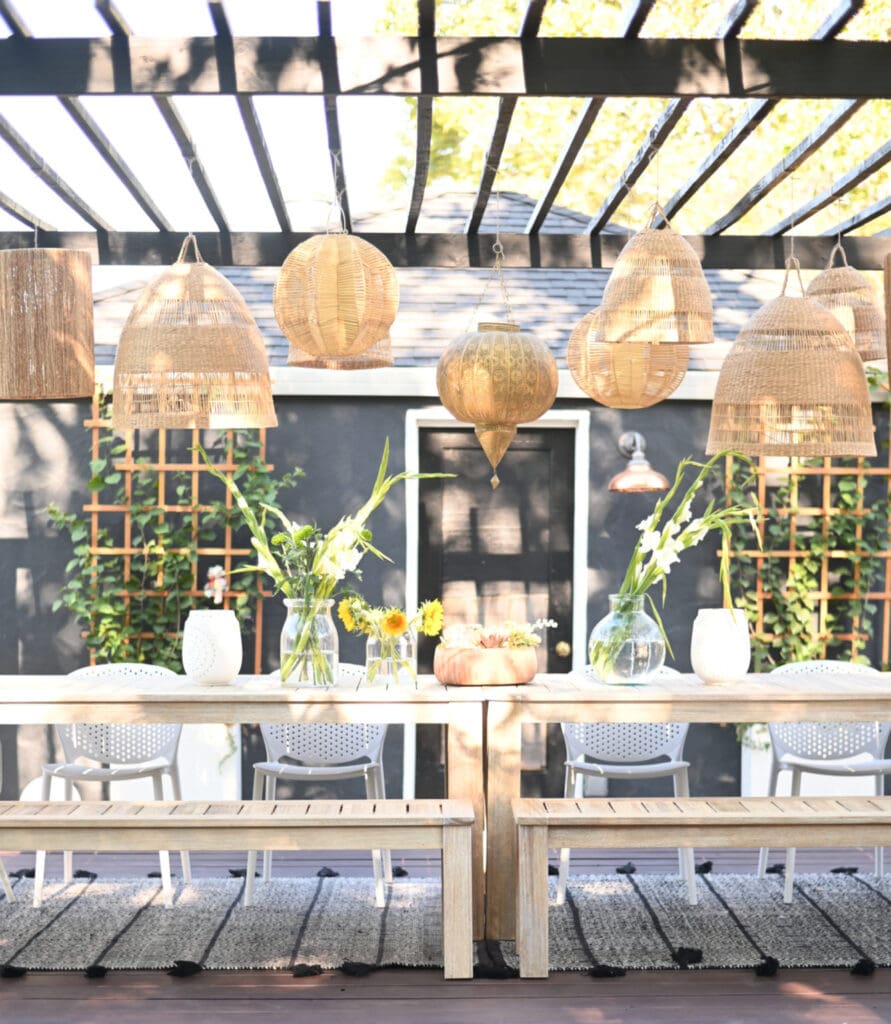 This stunning transformation has everything you could want and more in an outdoor space. It's the result of months of hard work and dedication by my friend Shavonda at SG Style, and the girl nailed it. You have to see how it looked before, and every stunning corner of the After.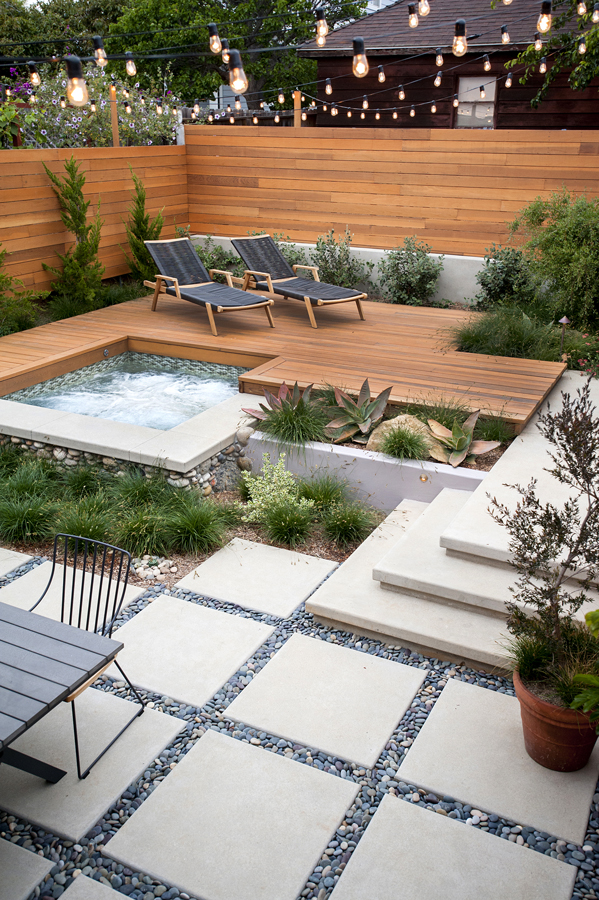 You can file this one under 'dream backyard' inspiration, and it's much more modern than my normal design style, but for some reason I can't get enough of these clean, modern backyards. This one in particular is serving as major inspiration for the design of our future backyard (spoiler alert: a plunge pool will be involved).
I could go on for days sharing the backyards and patios that have been stopping me in my tracks, but you can follow along with me on Pinterest to see what I've been saving. There's some real good stuff out there tempting me to drop everything and start working on our backyard.
What about you—are you feeling the Spring fever too? Any big plans to makeover an outdoor space this year? Tell me so I can live vicariously through you!
If you like this post, check out these popular backyard projects: