After over a year of dreaming, planning and building… our Heights House Kitchen is FINALLY complete!
Pin
You may remember we started planning the design way back in February 2018 for the original Heights House (RIP) and stuck with a similar layout/footprint for the new Heights House. We worked with Lowe's to design the custom cabinetry, counters and appliances, which I went into detail on in this planning post.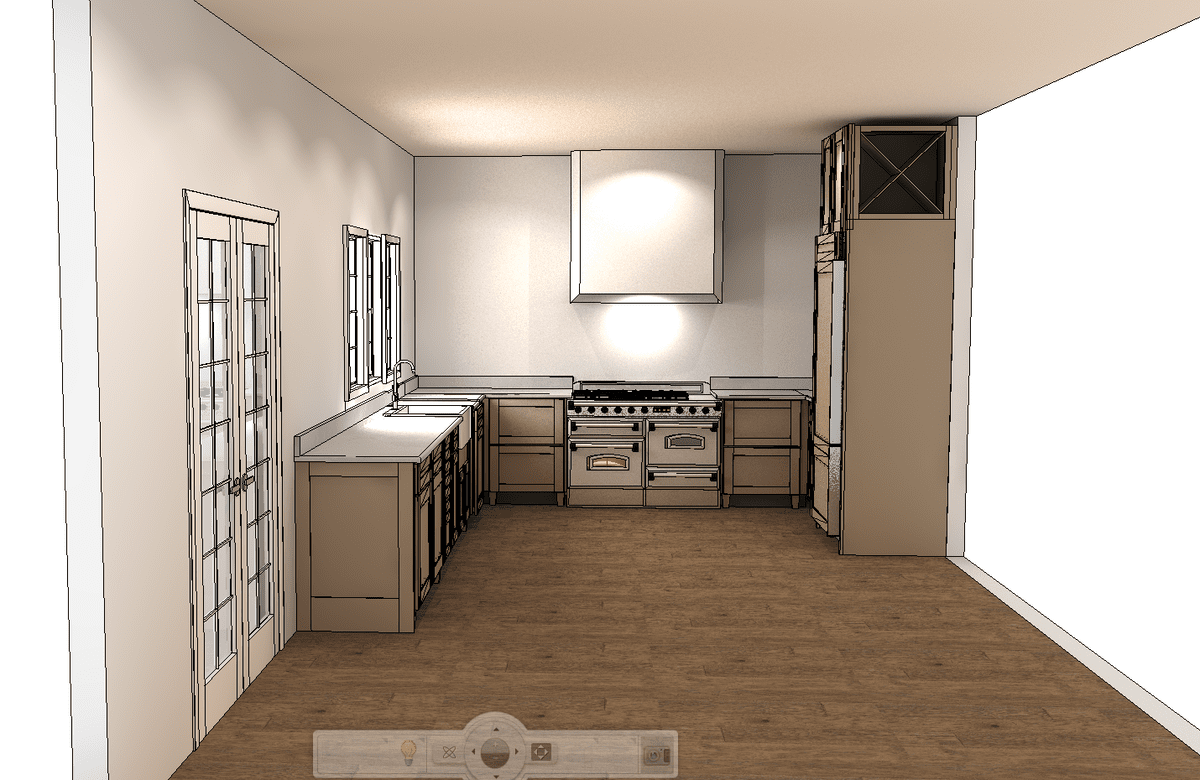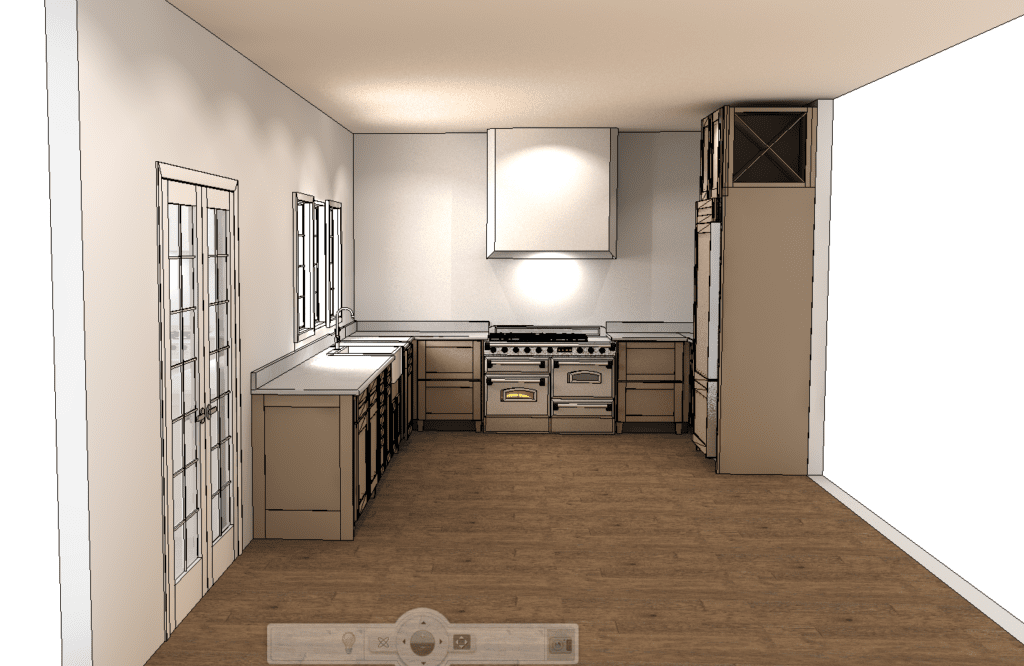 Pin
There were so many elements that had to come together for this room—including coordinating installs with our builder's team and Lowe's subcontractors, waiting on special order appliances and scheduling everything in order, and adding our own DIY touches like appliance panels, a custom range hood and shelves, wine cabinet and refinished antique pieces.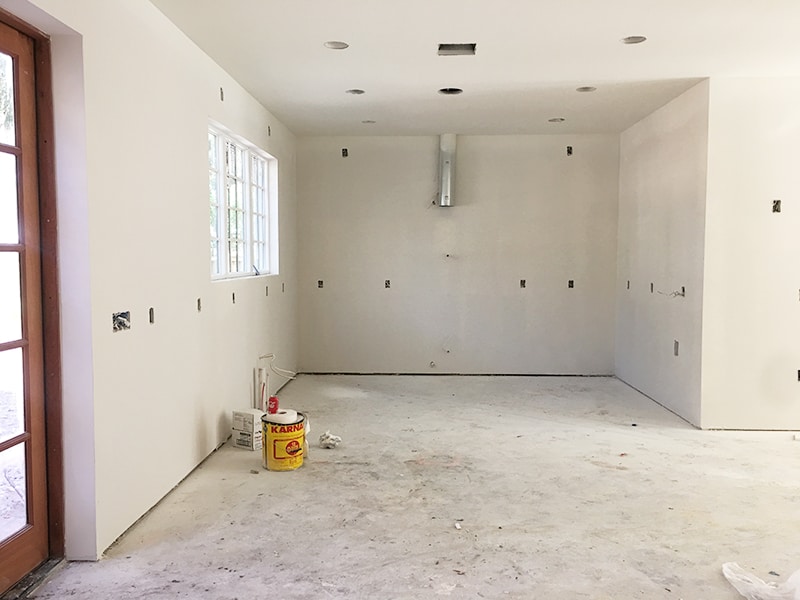 Pin
The kitchen was the last (and most complicated) room in the house to complete, as expected, so we didn't mind the wait. All good things take time!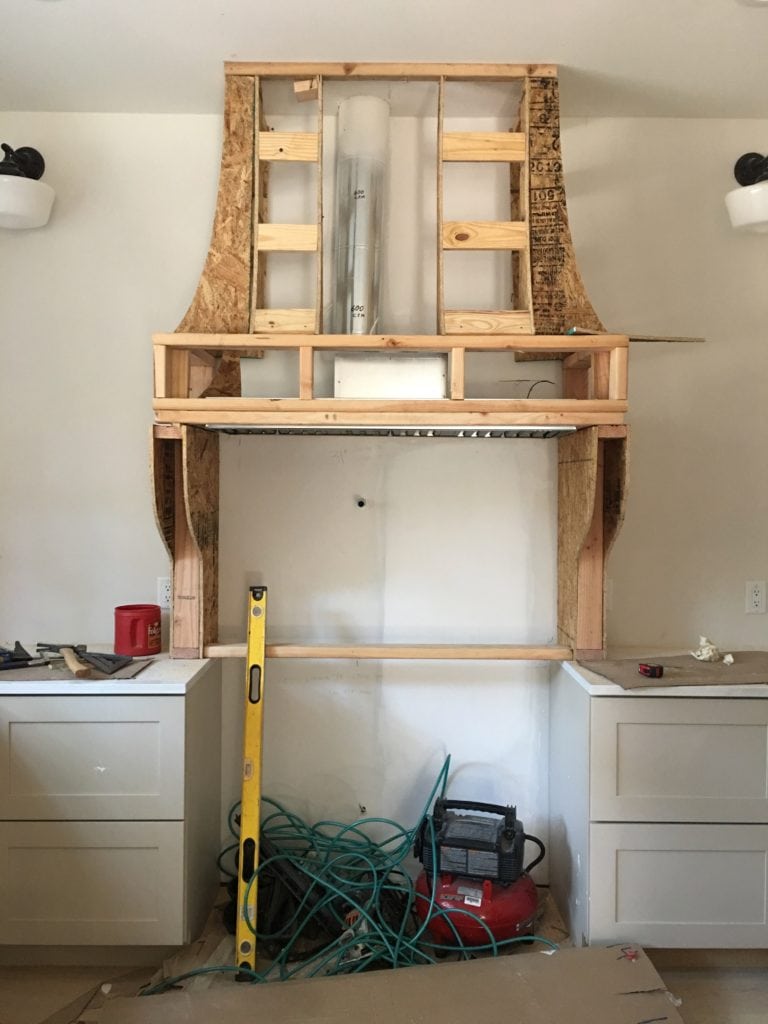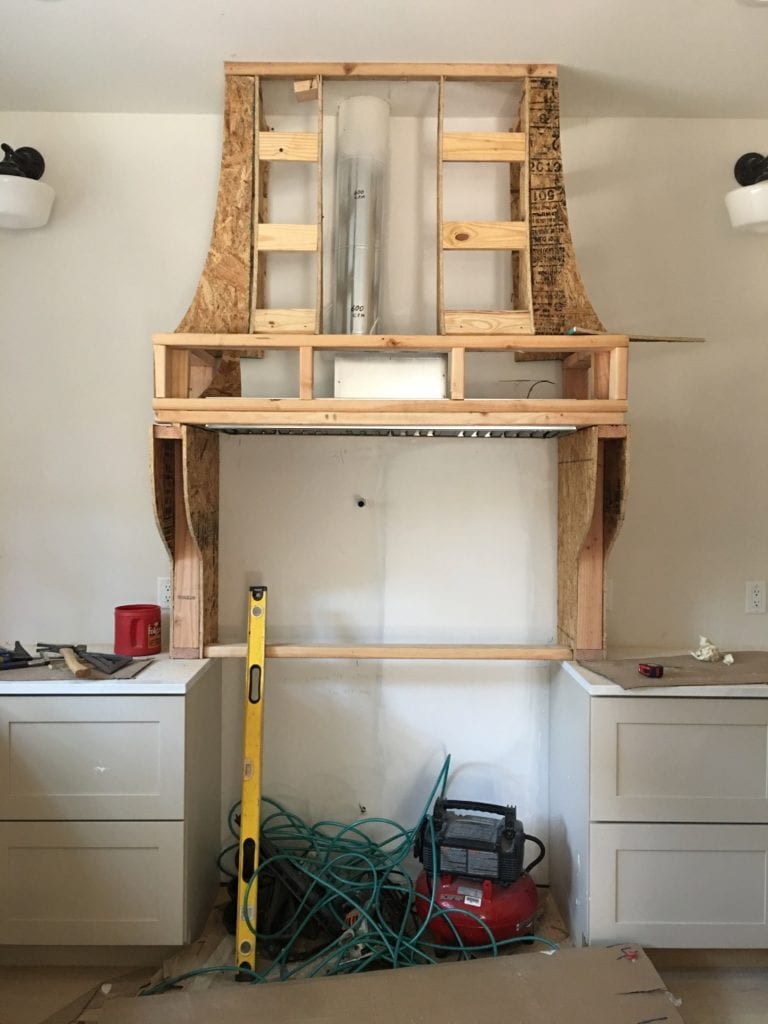 Pin
Make sure to read my last progress update for all the details on the custom range hood, appliances and accessories (and more!)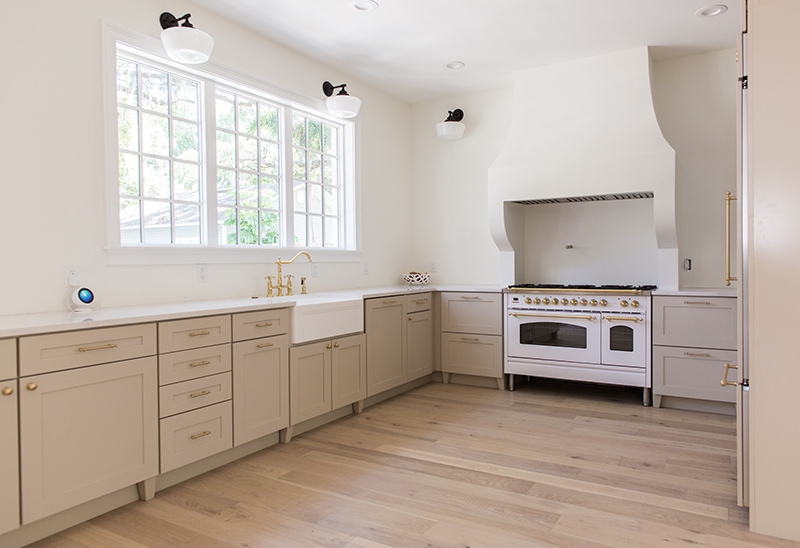 Pin
Without further ado, here's how our kitchen looks today…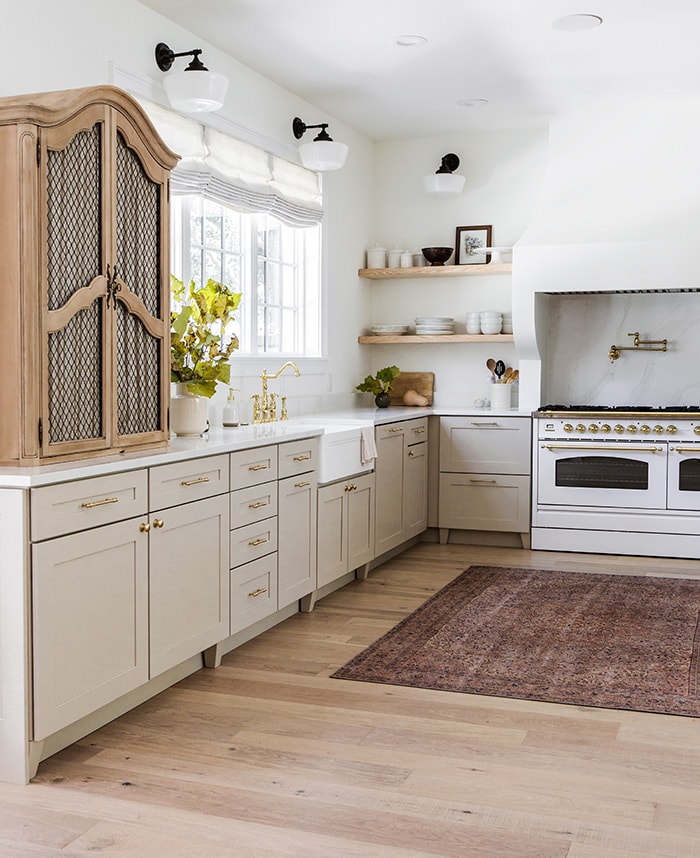 Pin
For those who were waiting on the results of my rug fashion show post—the winner has been chosen! Did you guess correctly?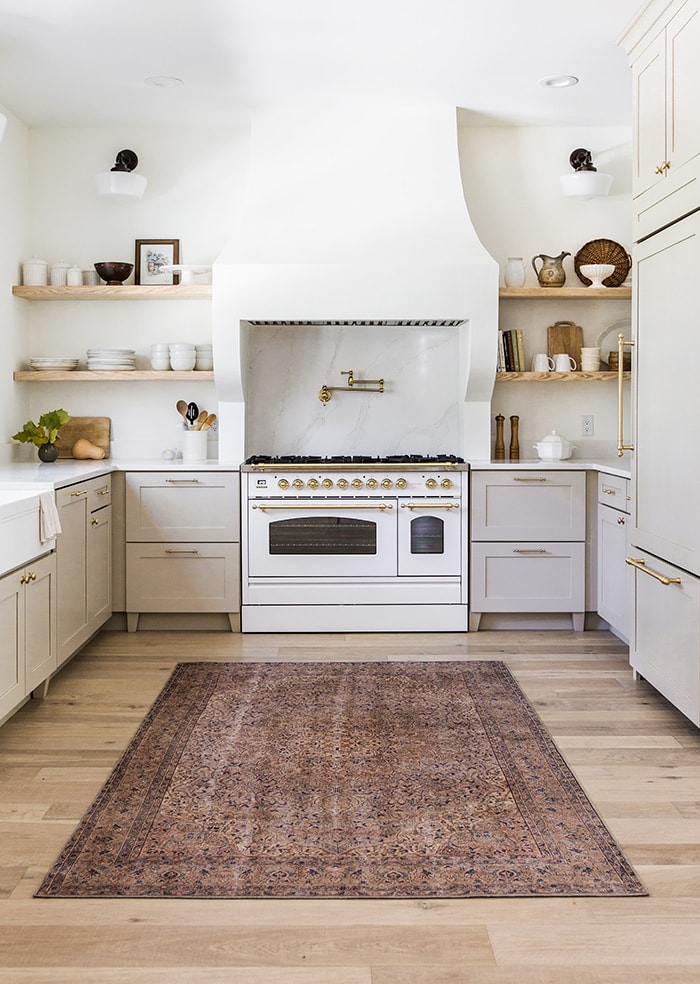 Pin
I'm in full-on fall mode over here, and the warm tones are the perfect way to get in the seasonal spirit.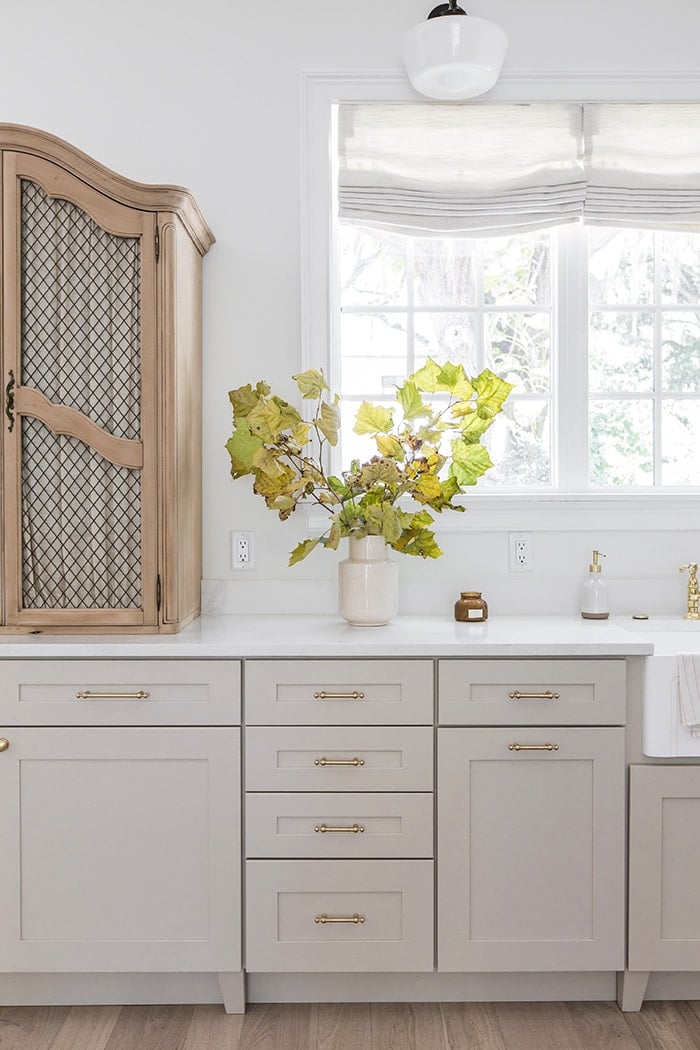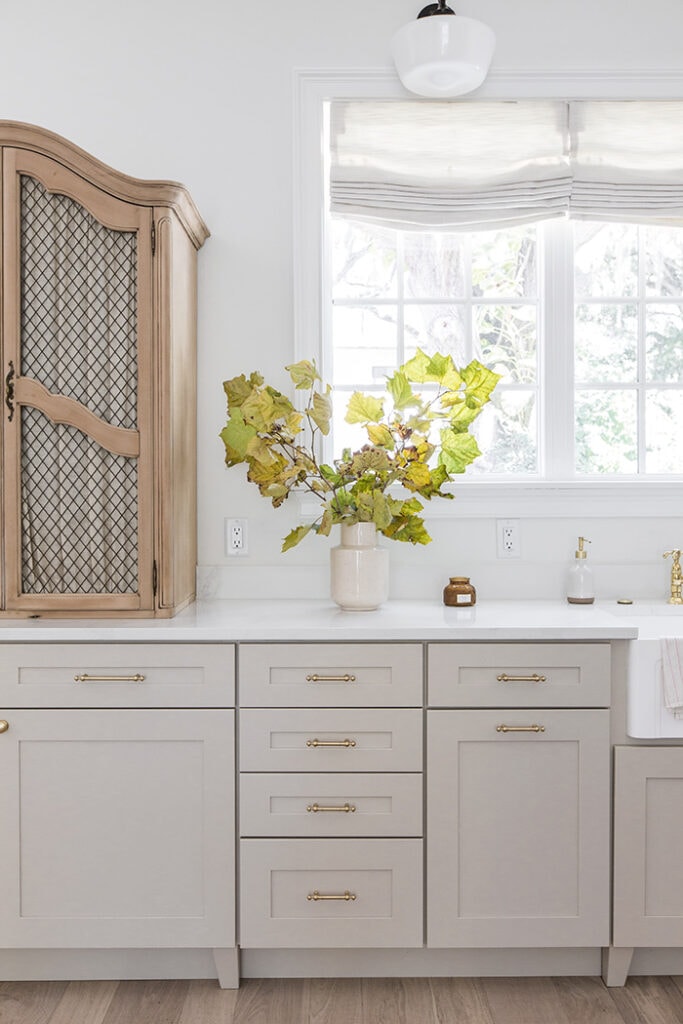 Pin
I've been baking every pumpkin recipe I can find and lighting all the spiced candles. Isn't autumn the best?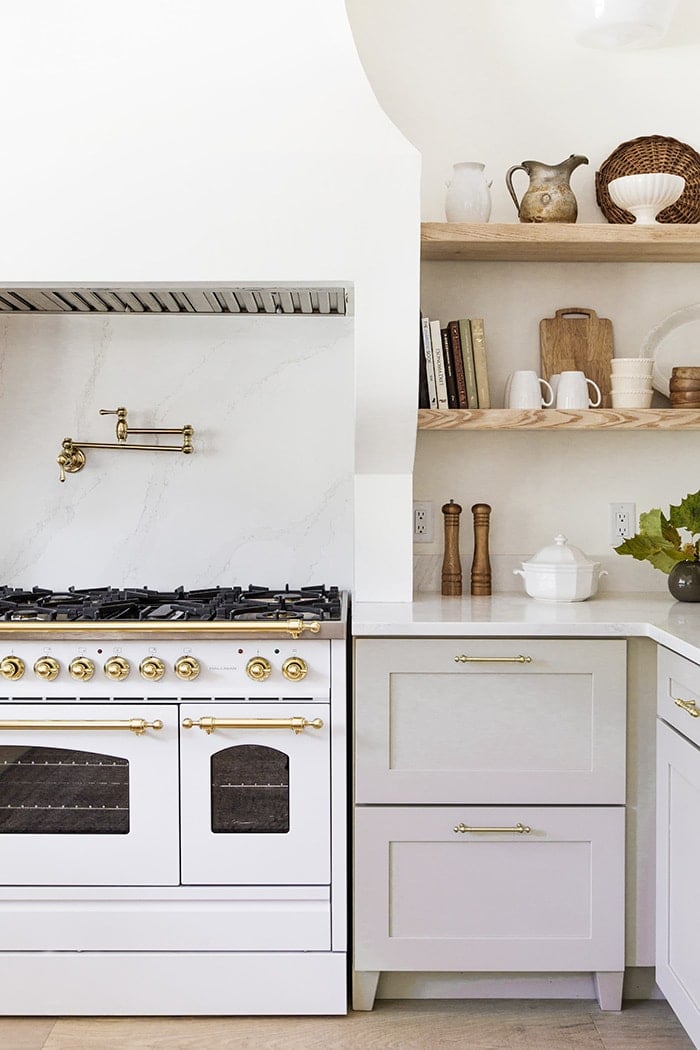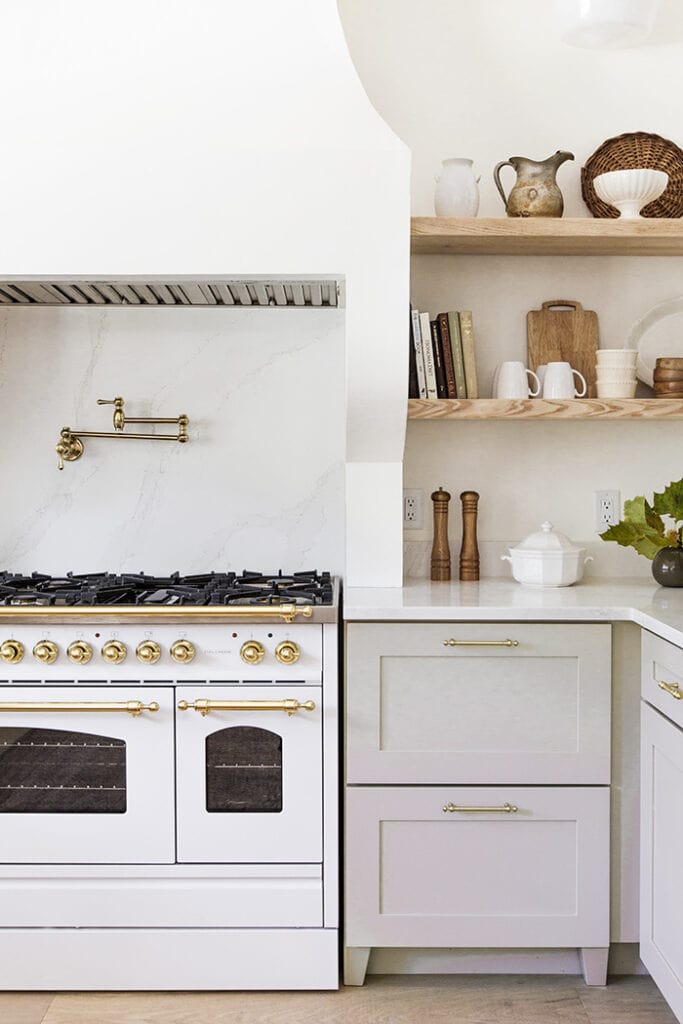 Pin
Installing these floating shelves was a DIY project we tackled a couple months back, using Shelfology heavy duty floating brackets and cypress boards from a local sawmill (you can see a few progress shots in my Heights House Story highlights on Instagram)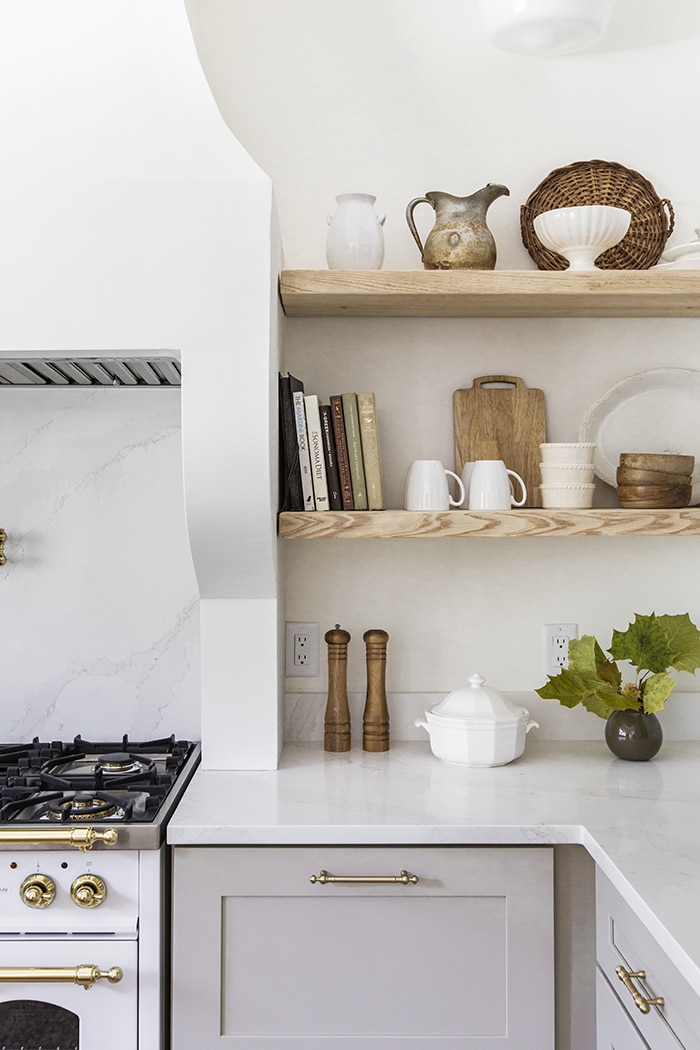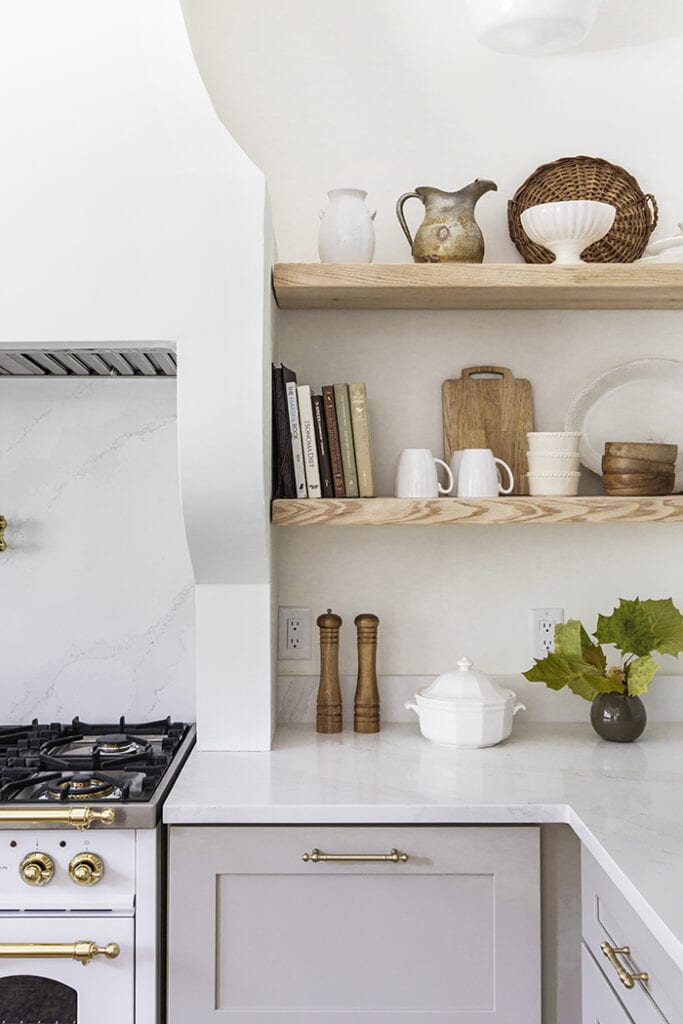 Pin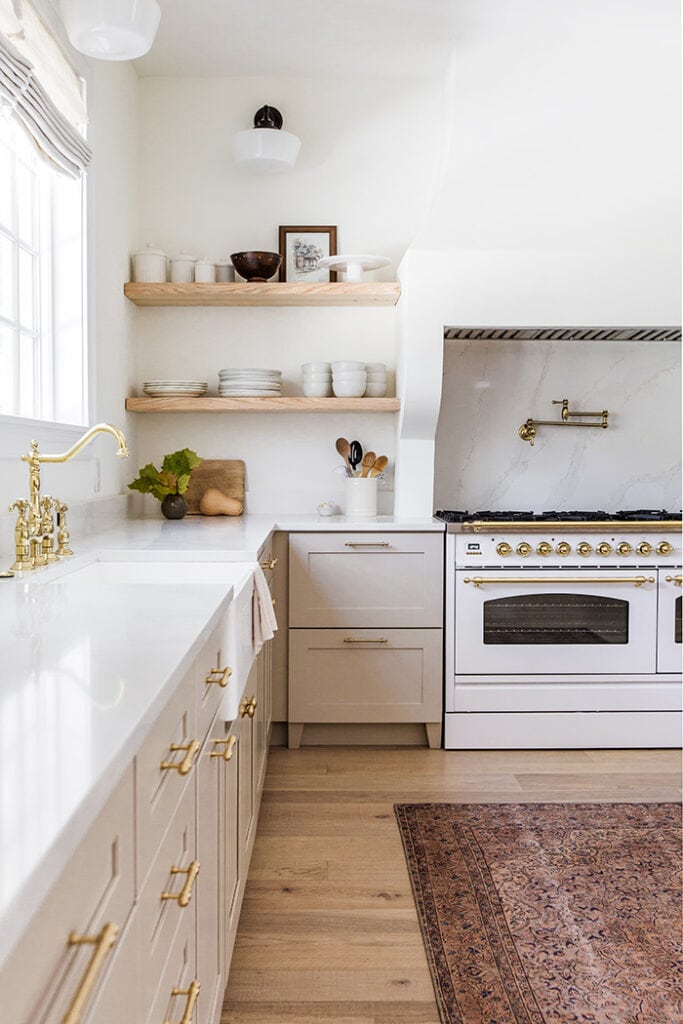 Pin
The shelves are stocked with mostly thrifted/vintage items I've collected over the years. You can never go wrong with classic white and wood!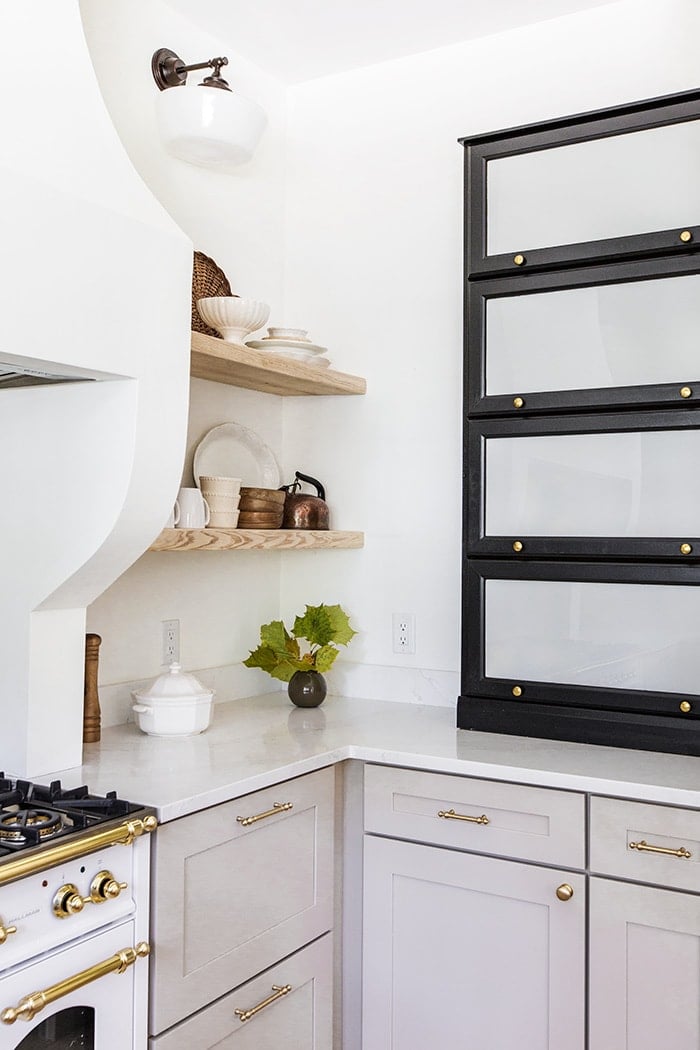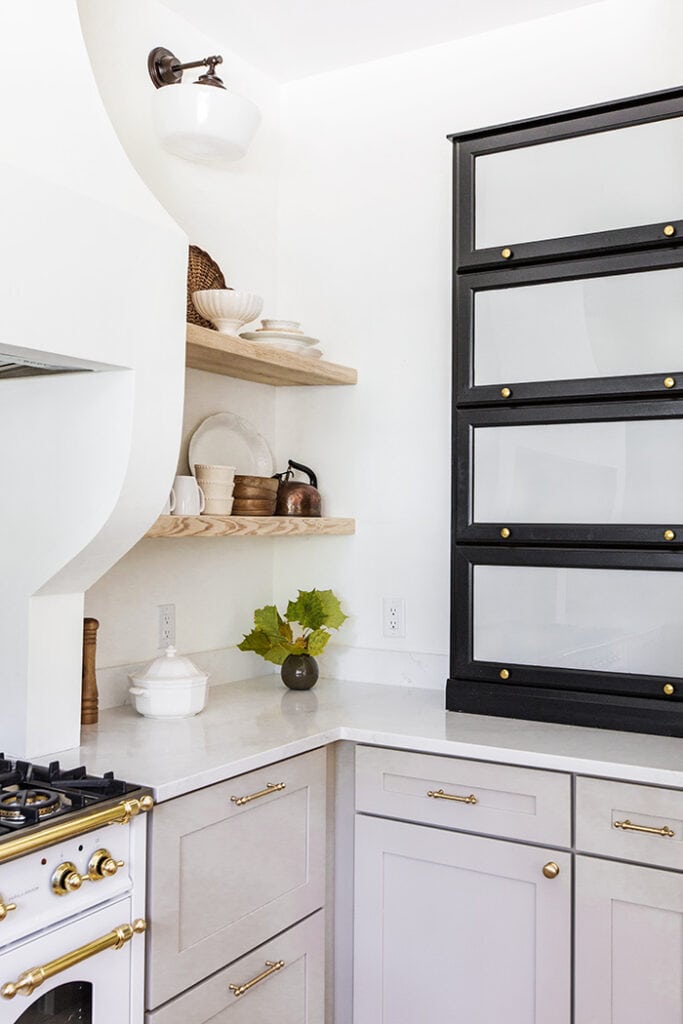 Pin
Speaking of vintage… this barrister bookcase was a Facebook Marketplace find I refinished (painted & frosted the glass) and now it's our pantry storage. I love the contrast it adds!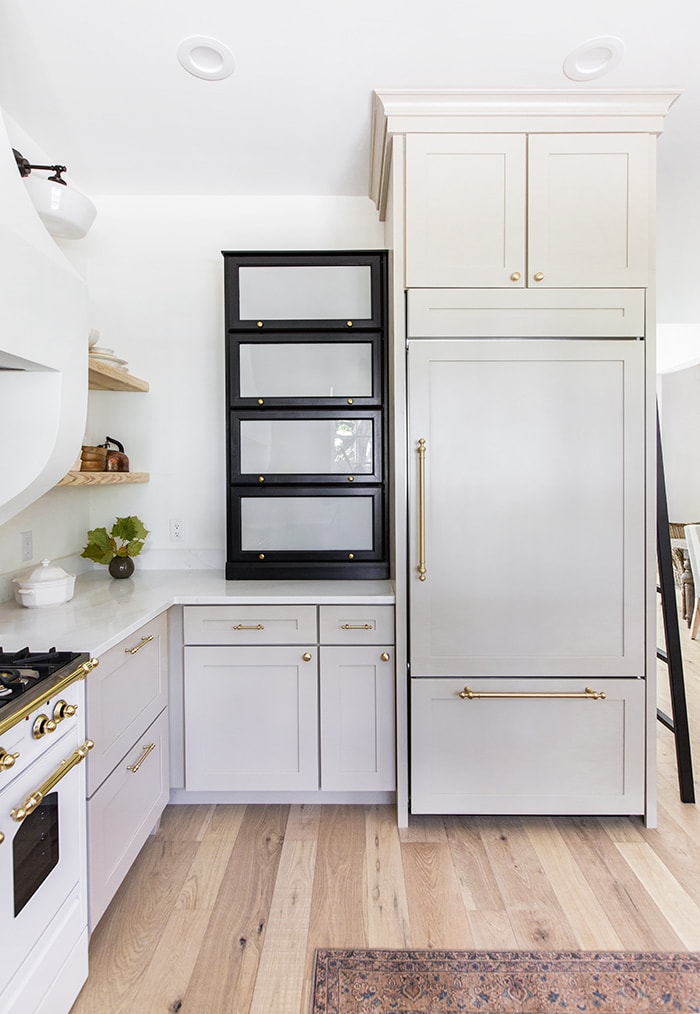 Pin
And then of course we have this vintage beauty, also a refinished FB Marketplace find. We simply sanded the stain and varnish to reveal the natural wood finish.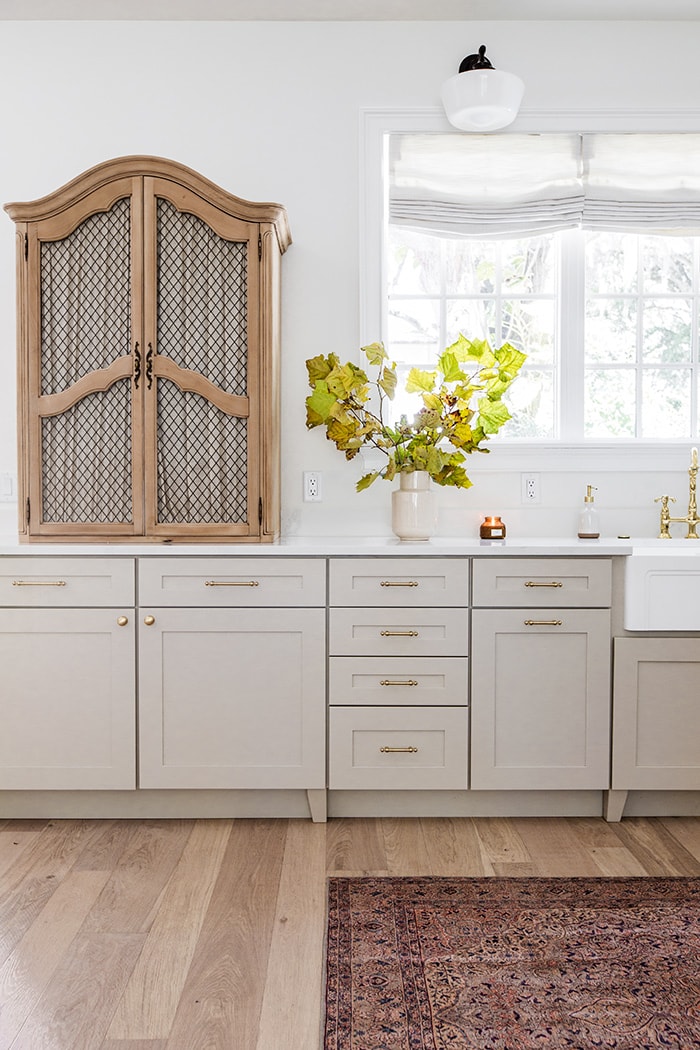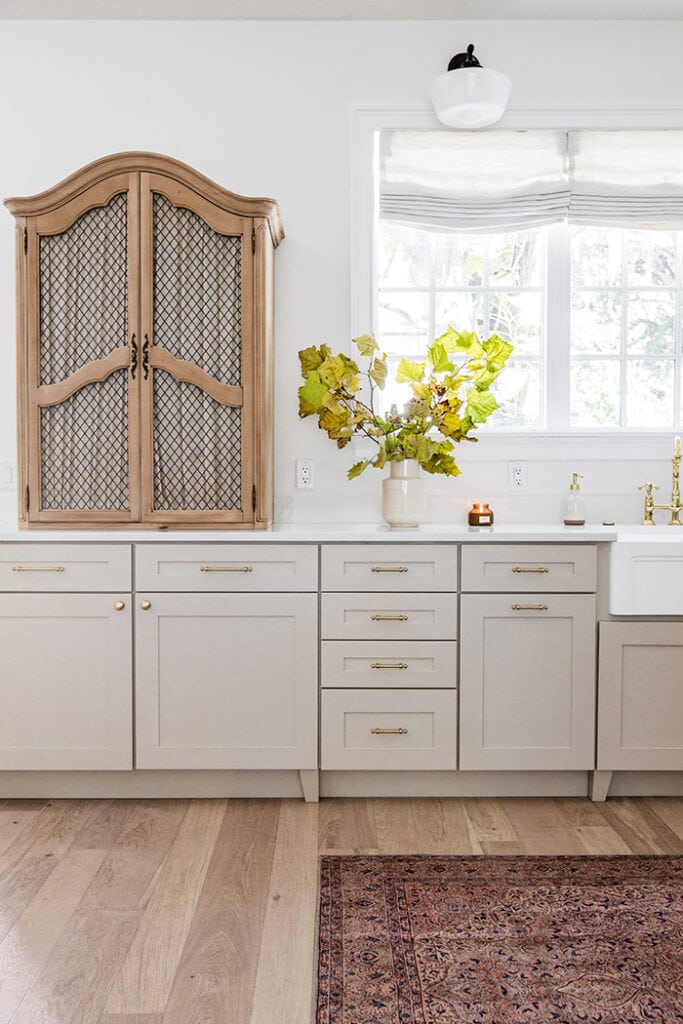 Pin
In this cabinet you'll find our microwave, toaster, glasses and mugs.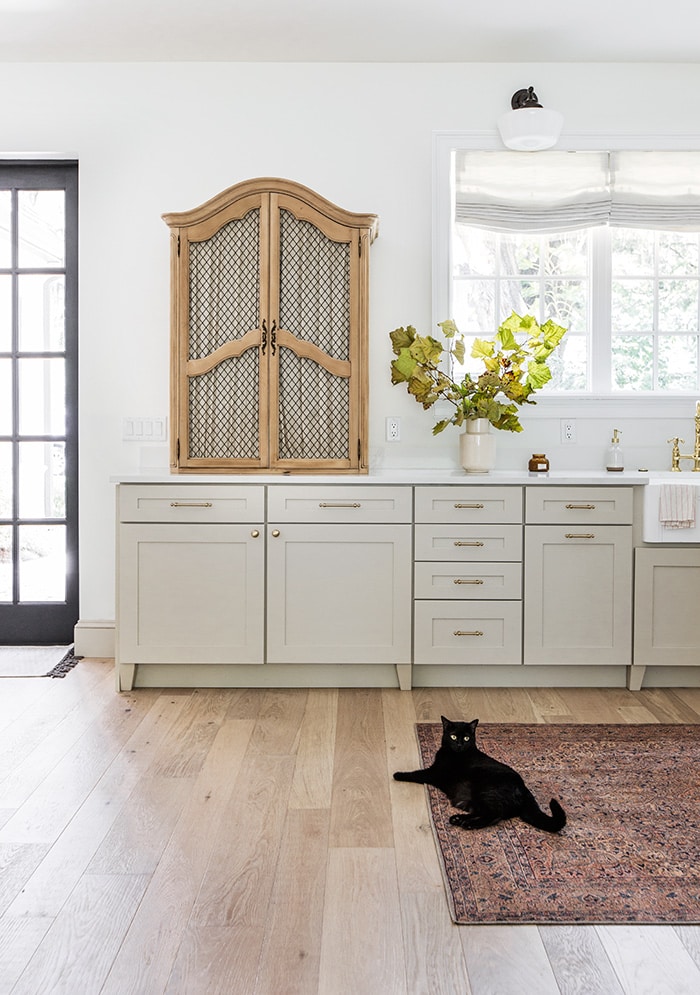 Pin
These custom roman shades from Blinds Galore were the very last finishing touch in this kitchen.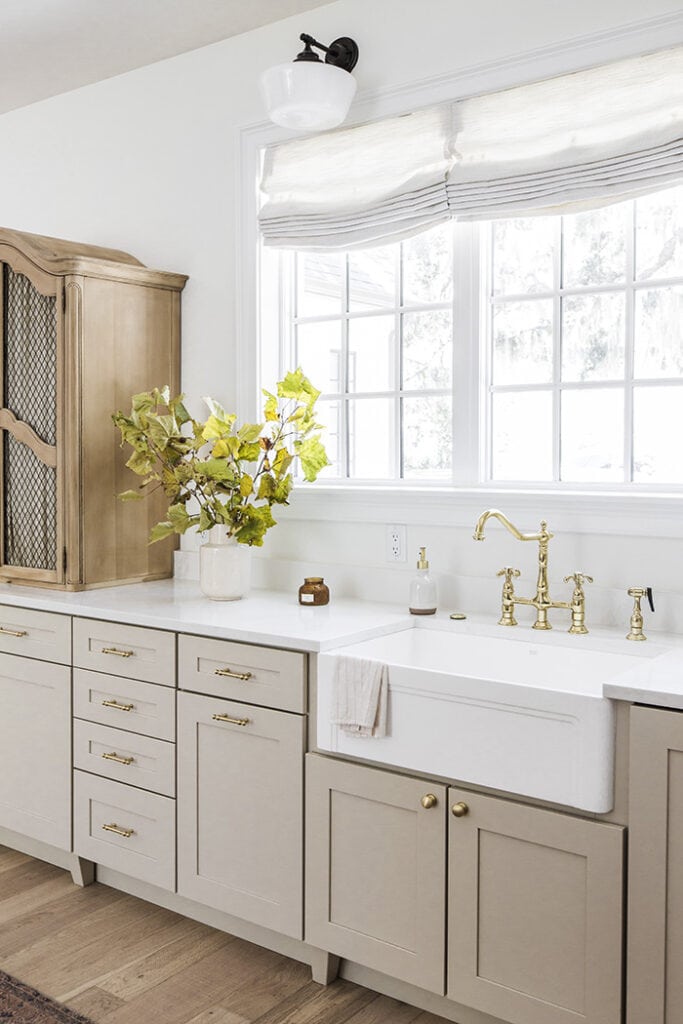 Pin
I debated on adding window treatments, but I think they go a long way to soften the look of the room and make it feel cozy and lived in!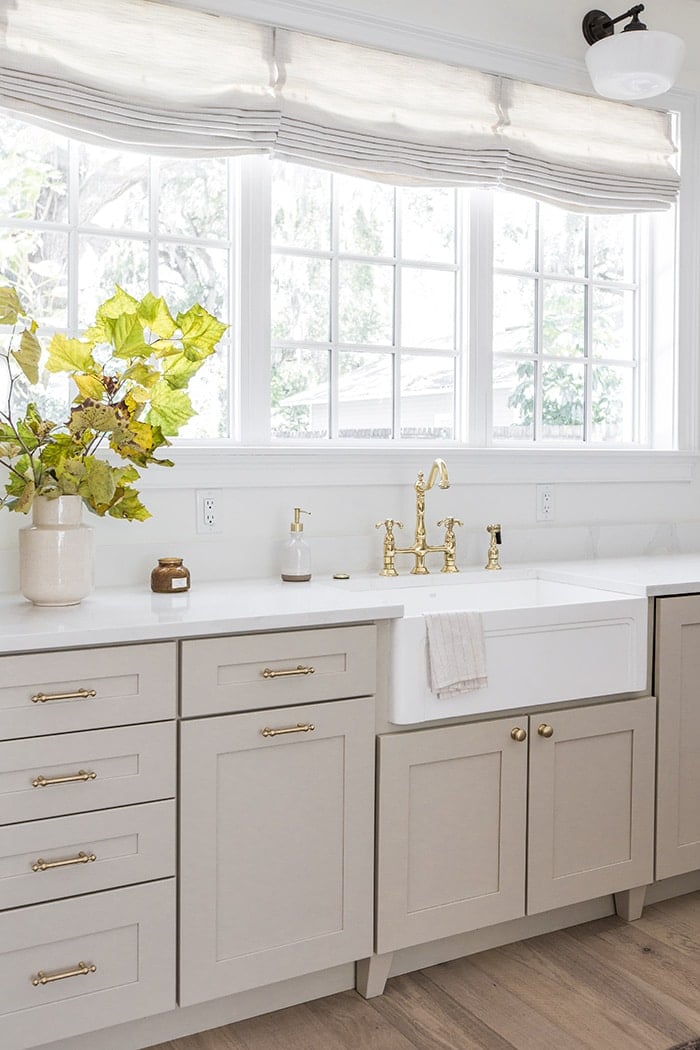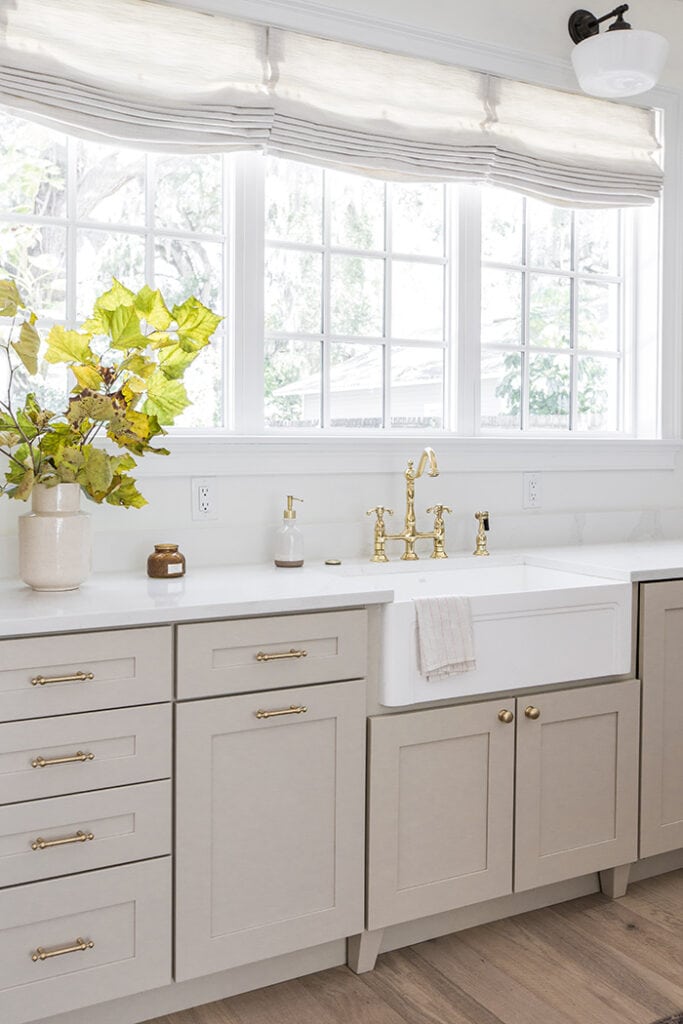 Pin
Of course, I have to mention the focal point in the room…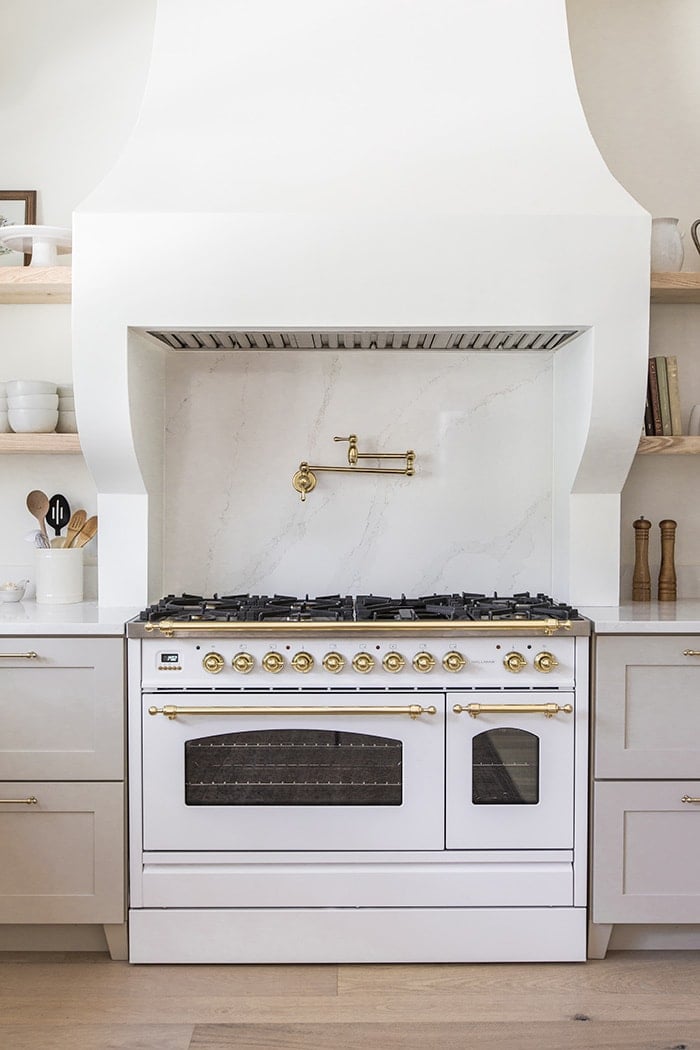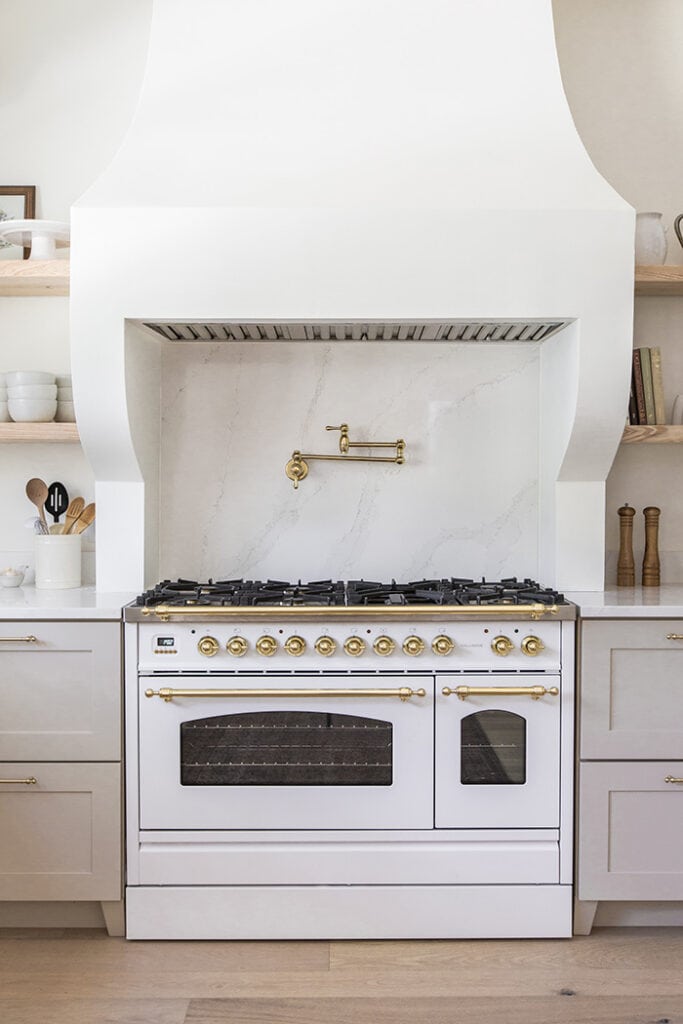 Pin
We waited several months for this beauty to be built and shipped from Italy, and after owning it for a couple months, I don't regret it. We've had issues with a few of the burners not working sometimes (apparently the stove wasn't calibrated properly) and we're still working with Hallman to fix it—but it has been great for a few dinner and pizza making parties we've hosted.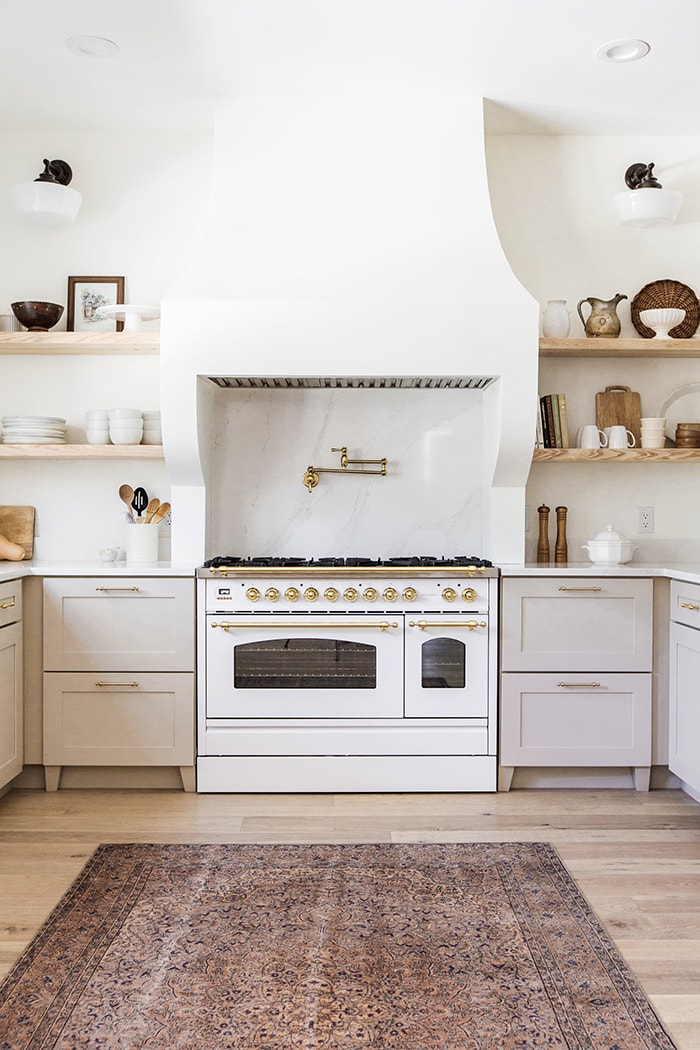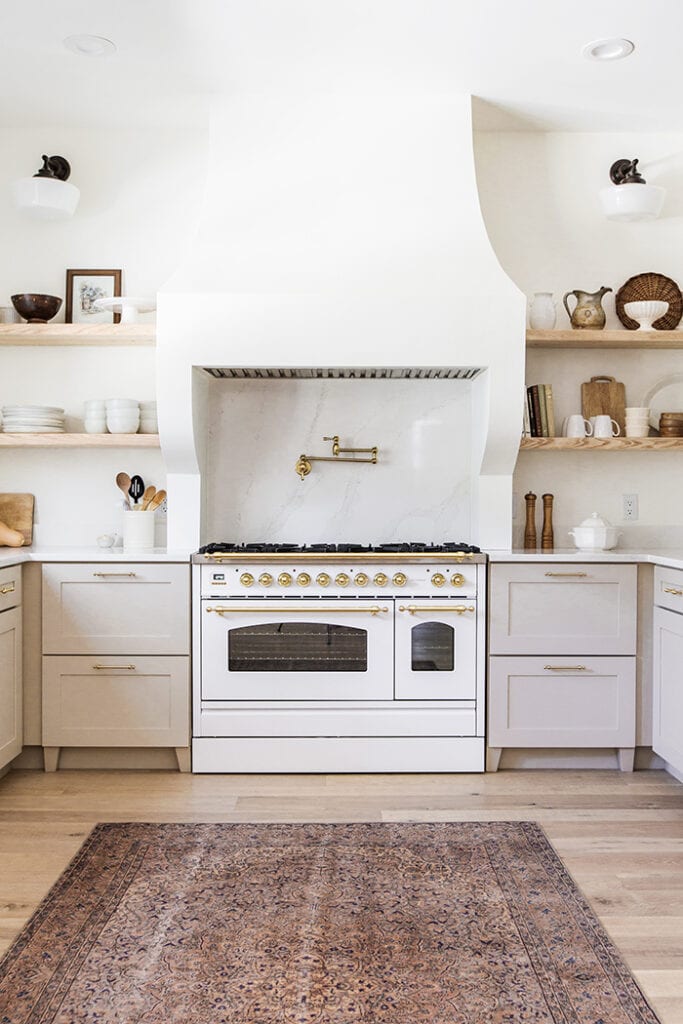 Pin
You still won't find a similar range at or near this price point, so for me, the savings absolutely justifies the purchase.
Pin
How fun is this ladder? We had it custom made by a local metal shop and they did an amazing job. No more standing on chairs to get to the wine! 😉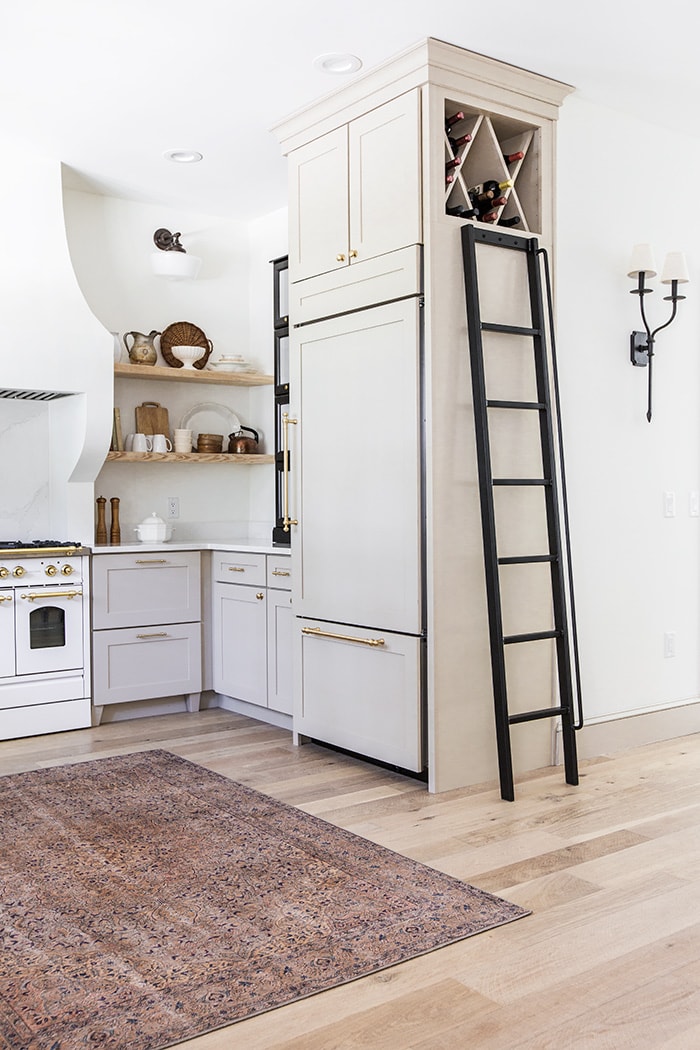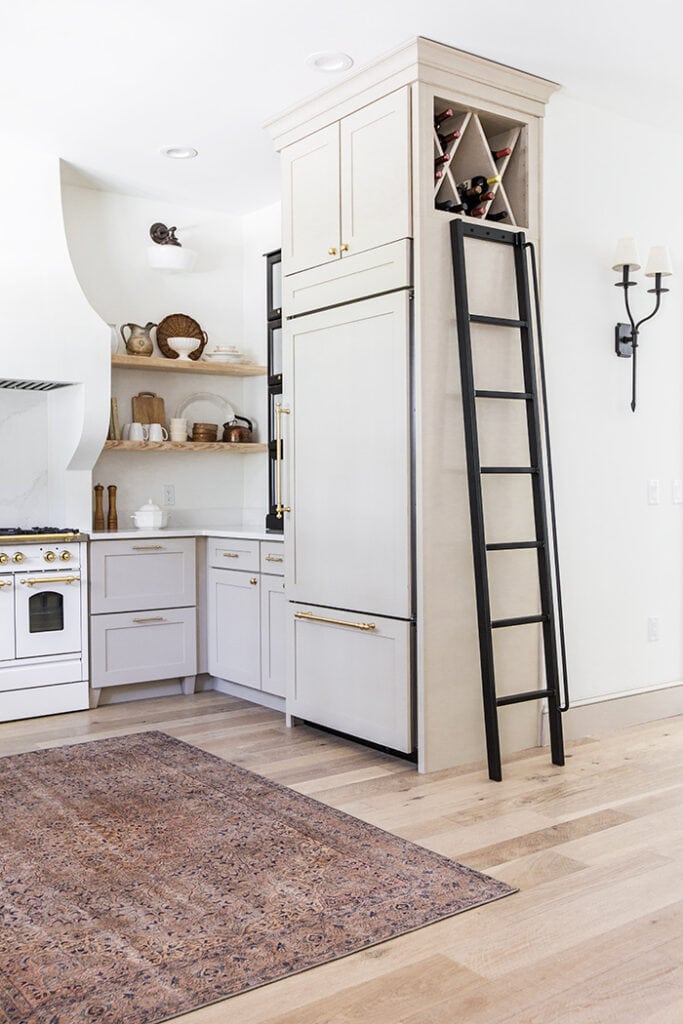 Pin
Just behind the ladder is our dining area. The only thing we bought for this room so far is a dining table…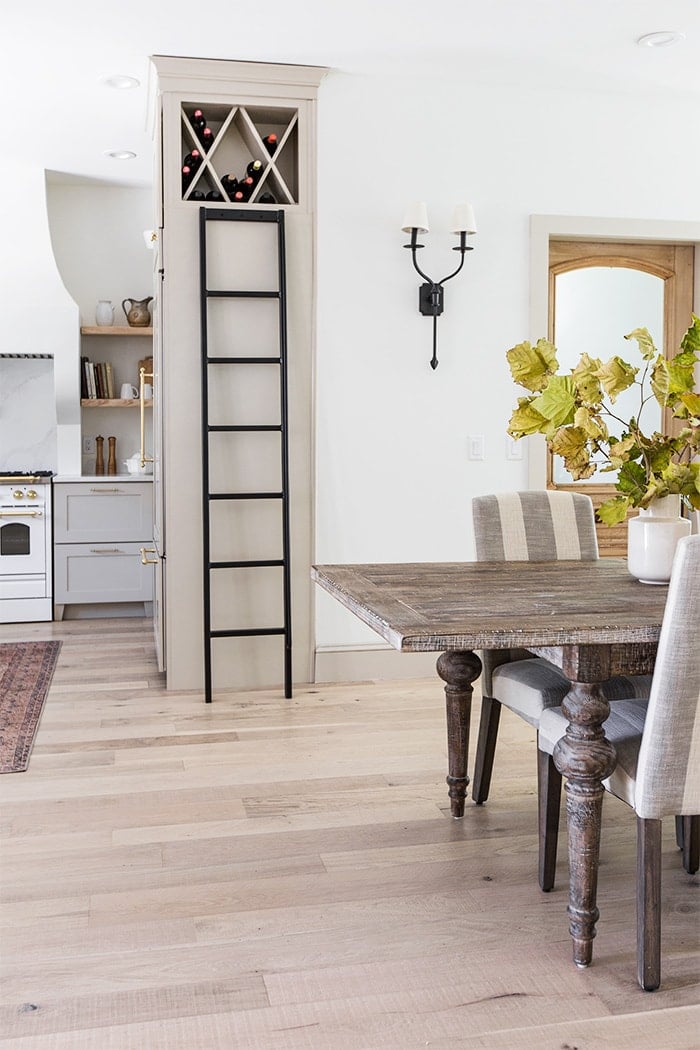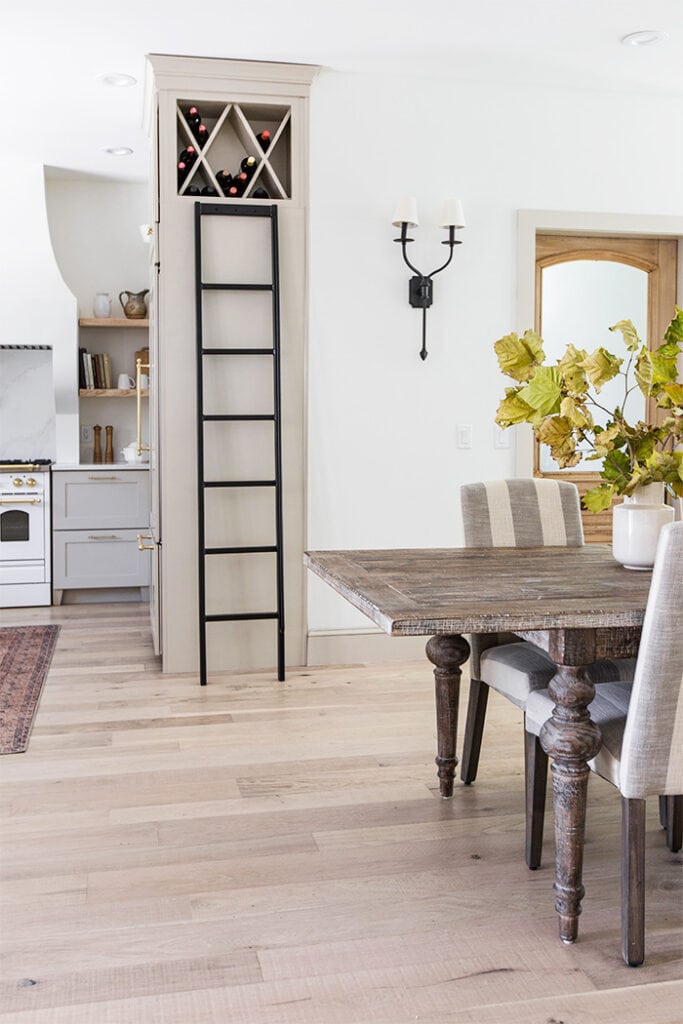 Pin
What you don't see is the mess of boxes and bills and baby gear carefully cropped out of the shot 😉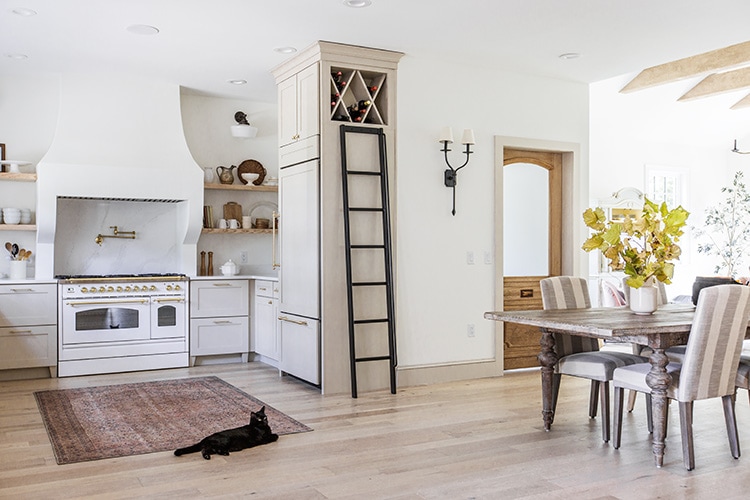 Pin
One day I'll get around to getting new chairs, a chandelier and artwork for the dining room. For now, I'm just enjoying having a finished kitchen.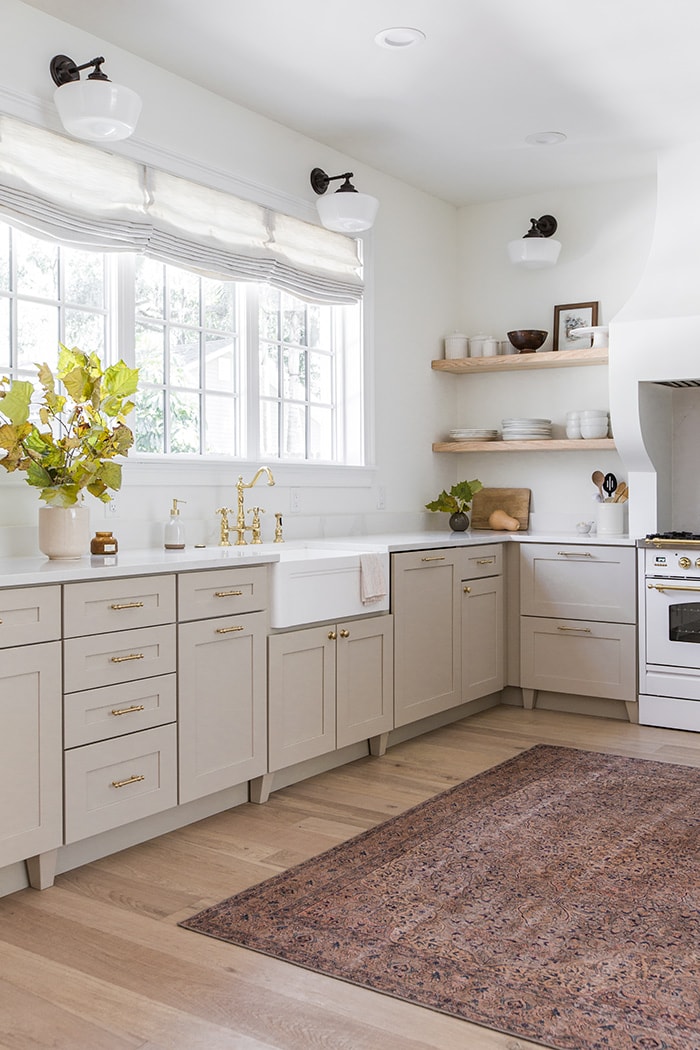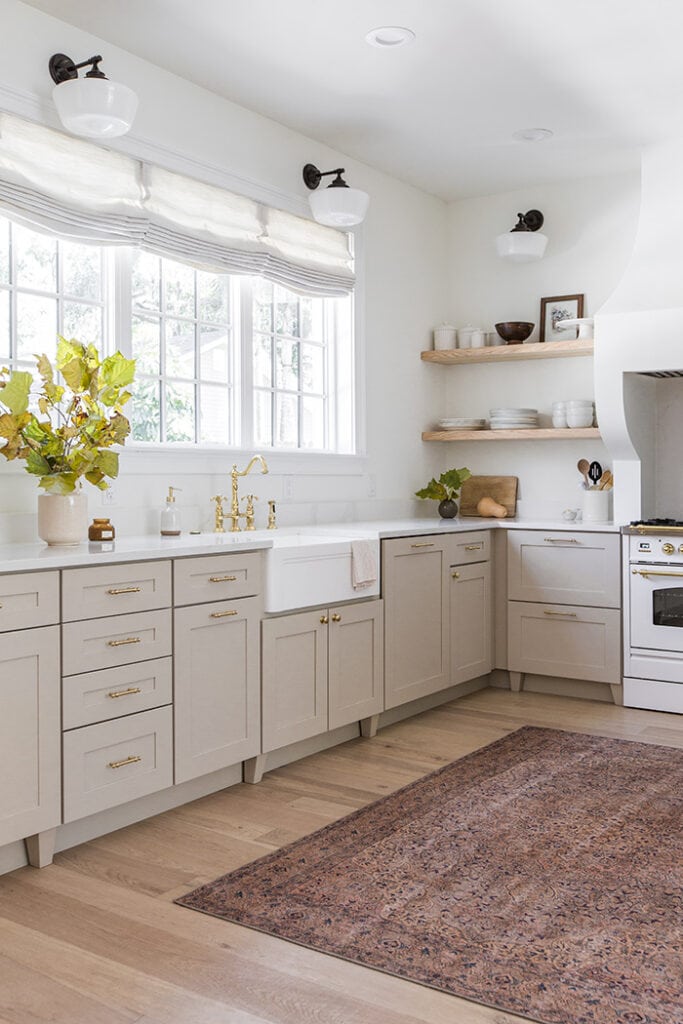 Pin
And so is Susie, who saw my camera come out and took full advantage of the opportunity.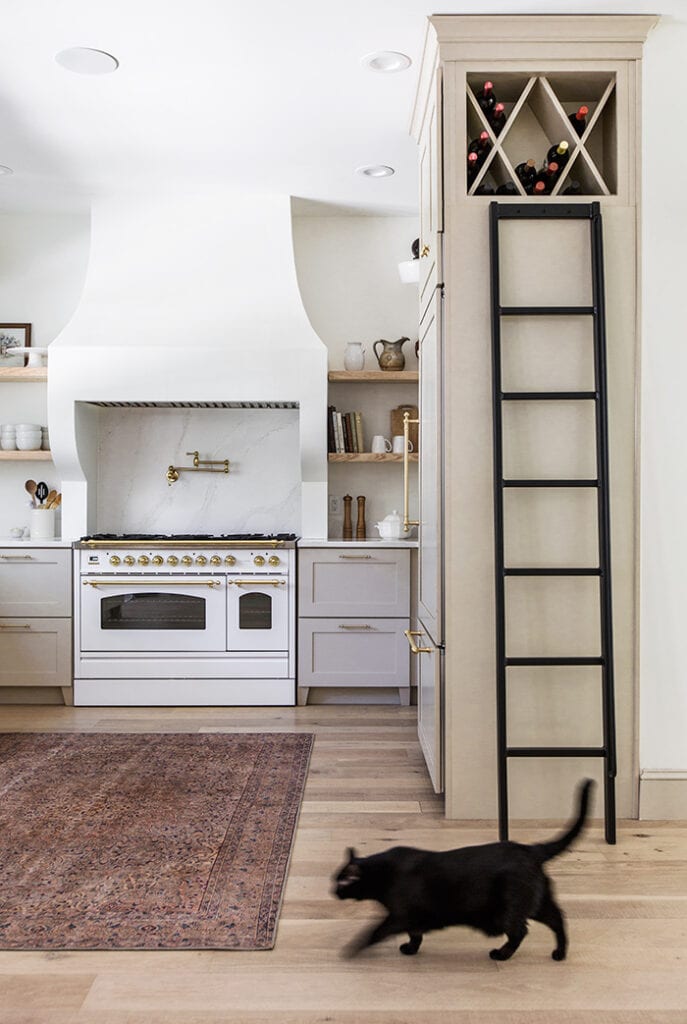 Pin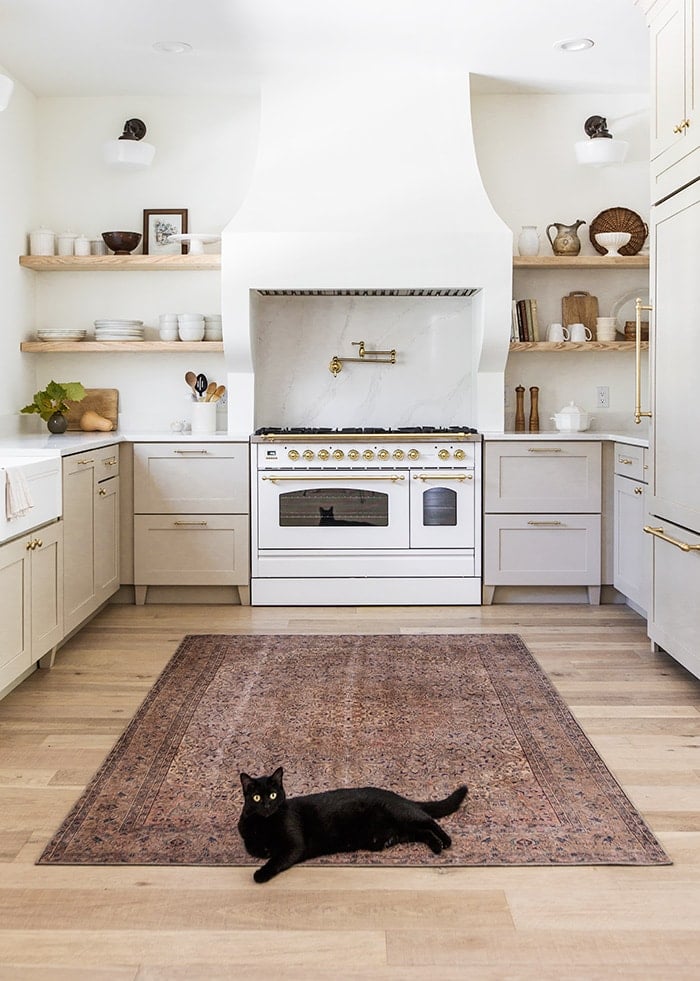 Pin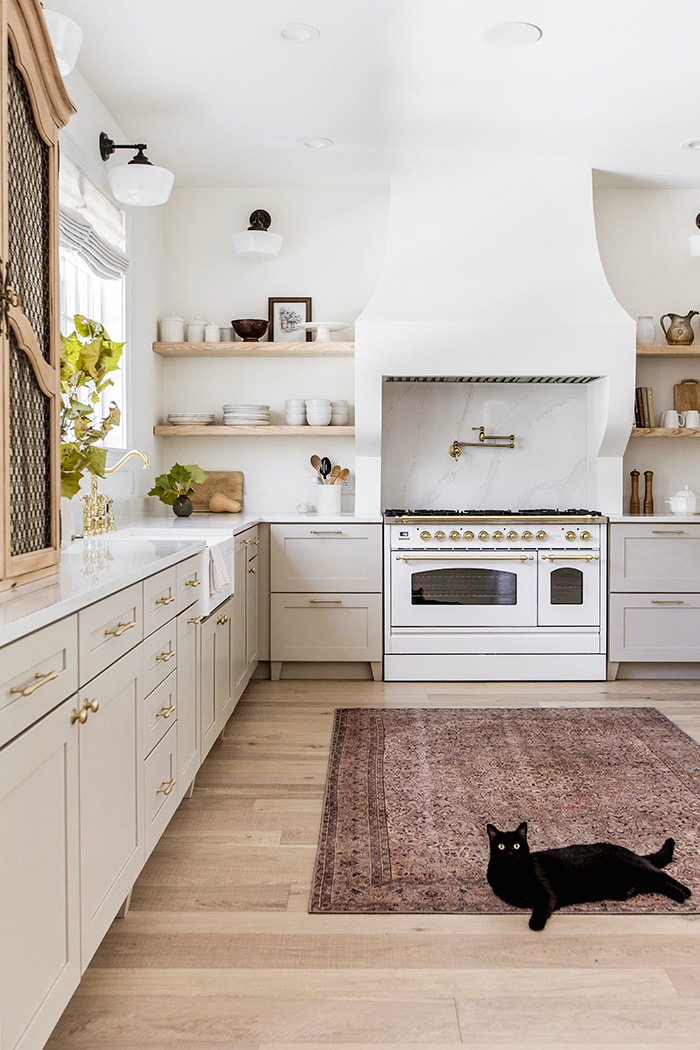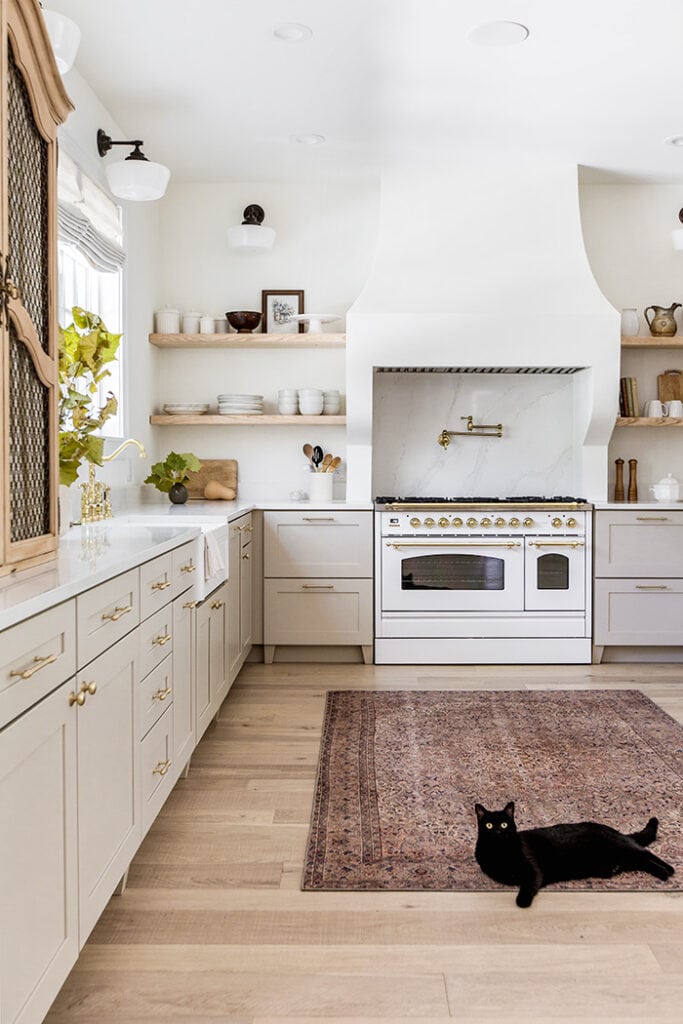 Pin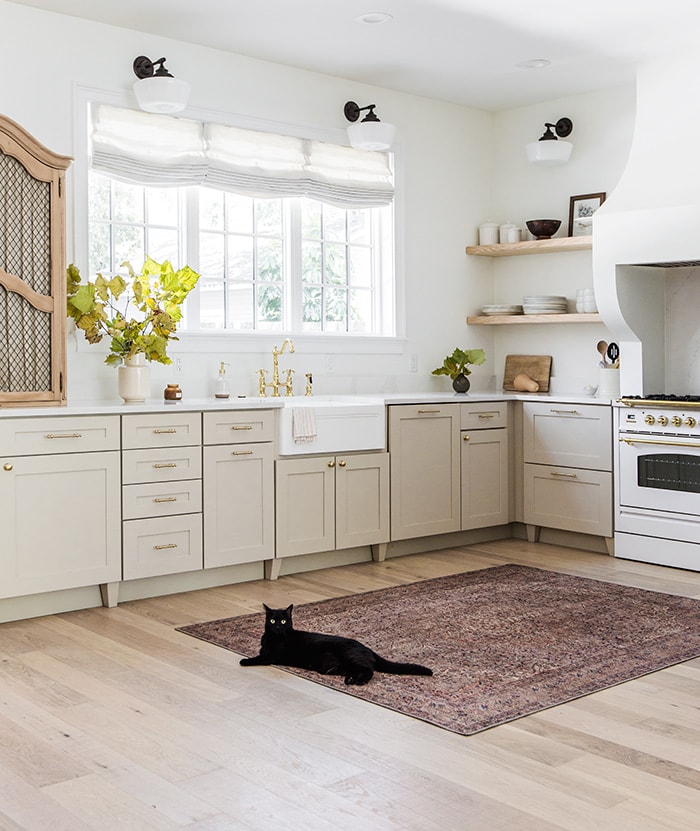 Pin
Such a sweetheart… I love this girl!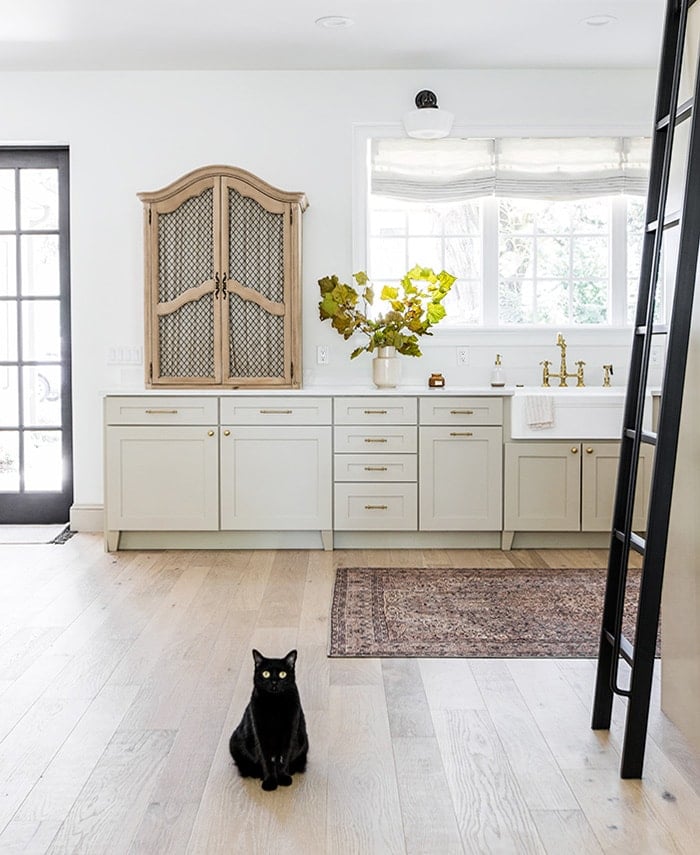 Pin
I love this shot captured by Shannon during our shoot a couple weeks ago.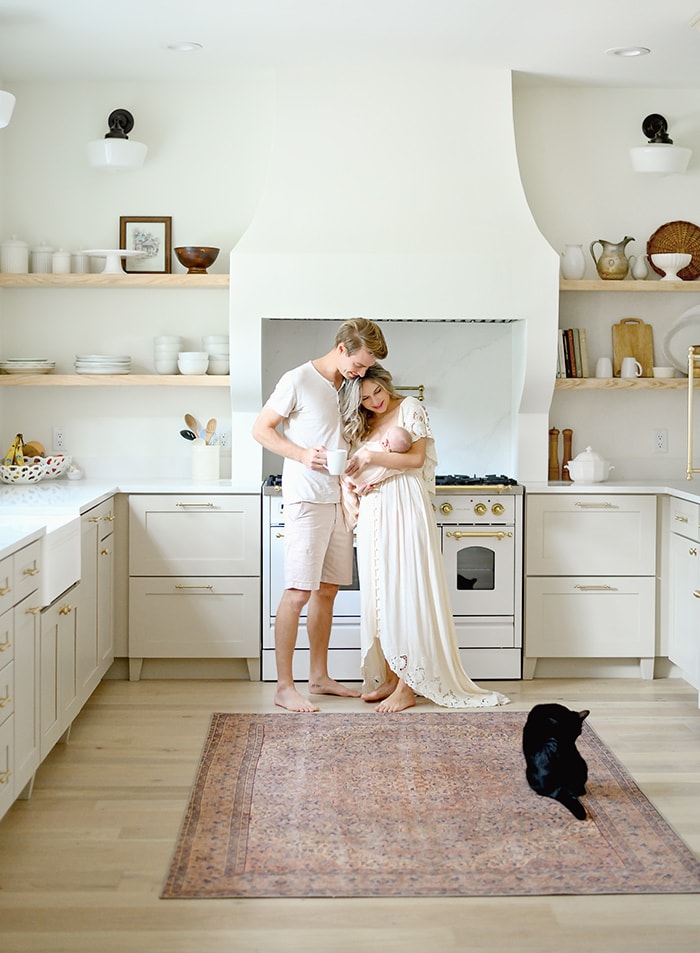 Pin
And just for fun, a photo my sister took back in April (with a 5 month baby bump!)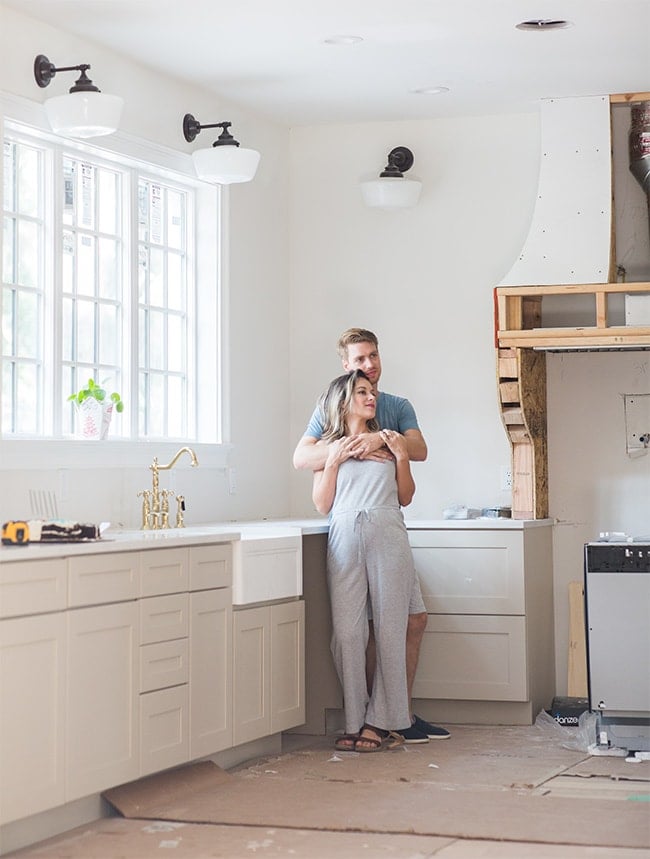 Pin
We've come a long way, baby!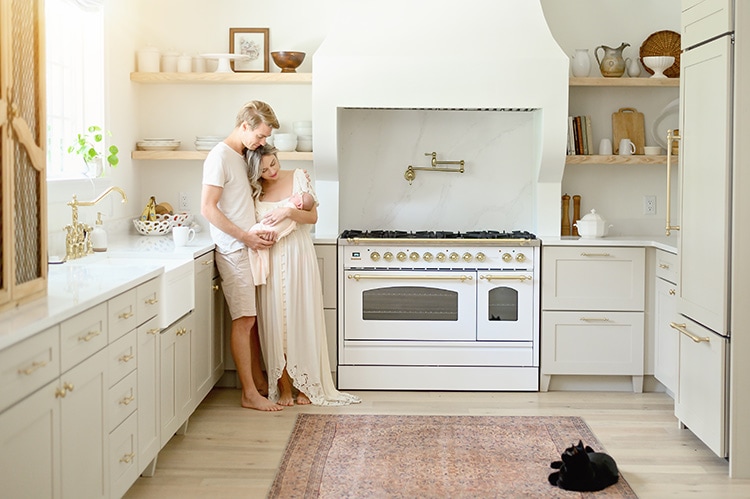 Pin
Sources:
Walls: Sherwin Williams Alabaster
Cabinets: Kraftmaid Durham Maple Square in Mushroom
Counters: Silestone Calacatta Gold Quartz
Roman shades (Camdyn Pumice cordless relaxed fit)
Hutch & bookcase: antique
Ladder: Custom fabricated locally
Shelf accessories: vintage, thrifted
Alright friends, there's another pumpkin recipe with my name on it so back to the kitchen I go. I hope you enjoyed our kitchen reveal and it was worth the wait! More fall inspiration on the way…