Today we're crossing another Hacienda Hideaway room off our to-do list! Last week I revealed our Modern Moroccan bathroom, and today I'm excited to share the third and final bathroom in this house.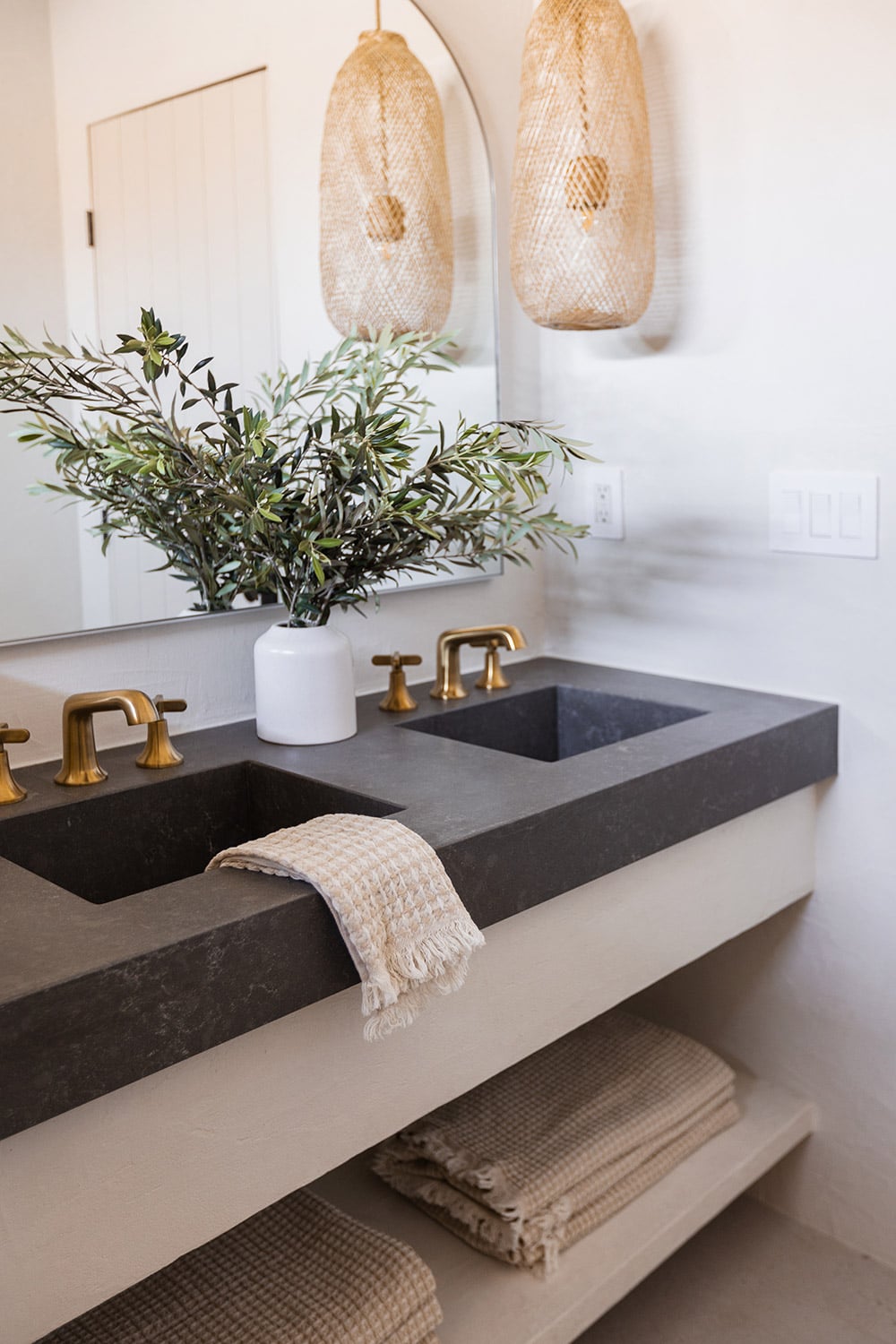 Before
Nothing noteworthy in this standard bathroom layout—vanity, toilet, shower/tub combo along the back wall.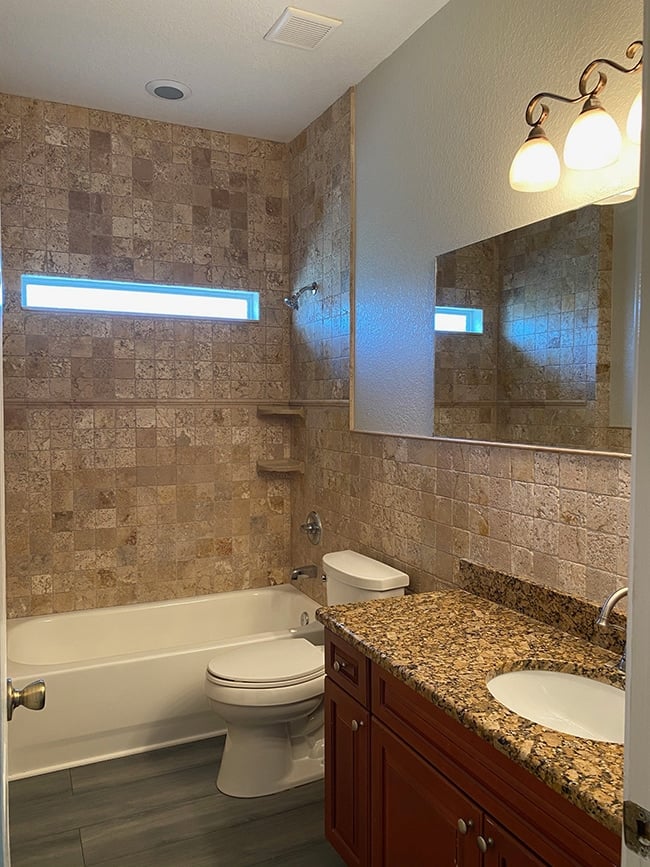 Just like the other two bathrooms, there was no shortage of brown travertine tile, cherry wood vanity with speckled granite, and the signature flip-house gray walls and vinyl plank floors.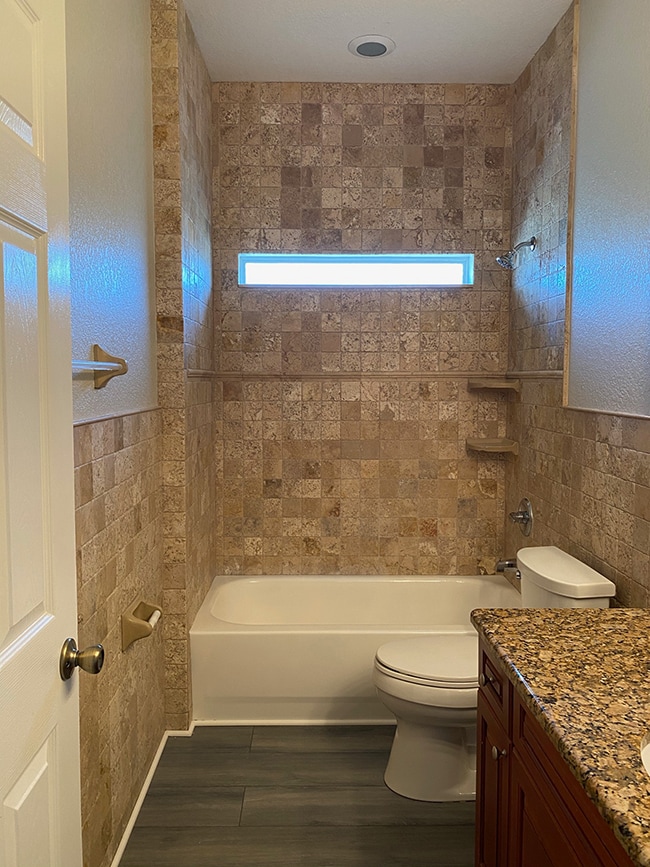 After many revisions to the design plan, I decided to go for a clean and minimalist aesthetic in this space, while still keeping in line with the overall style of the home.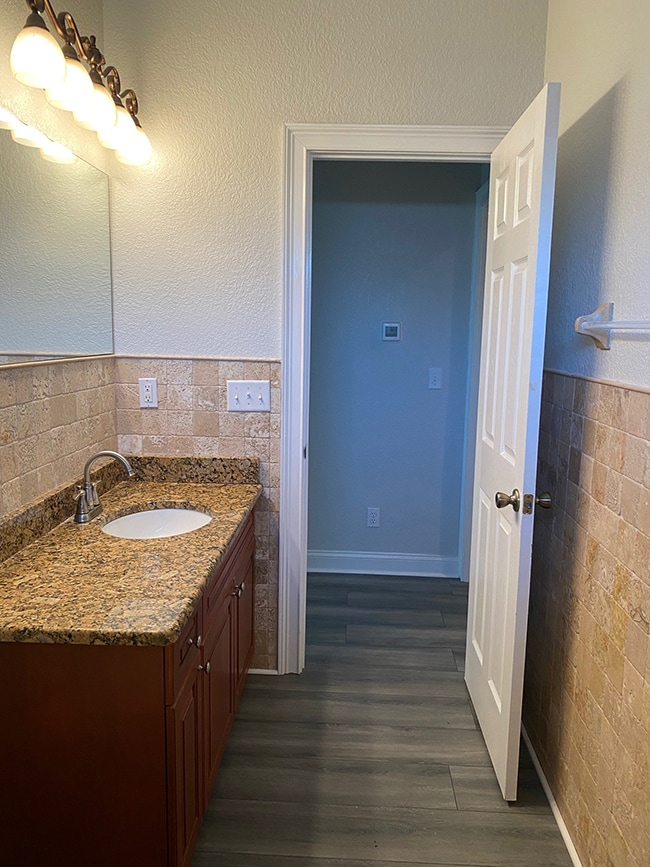 After
Welcome to our Minimalist Mediterranean oasis…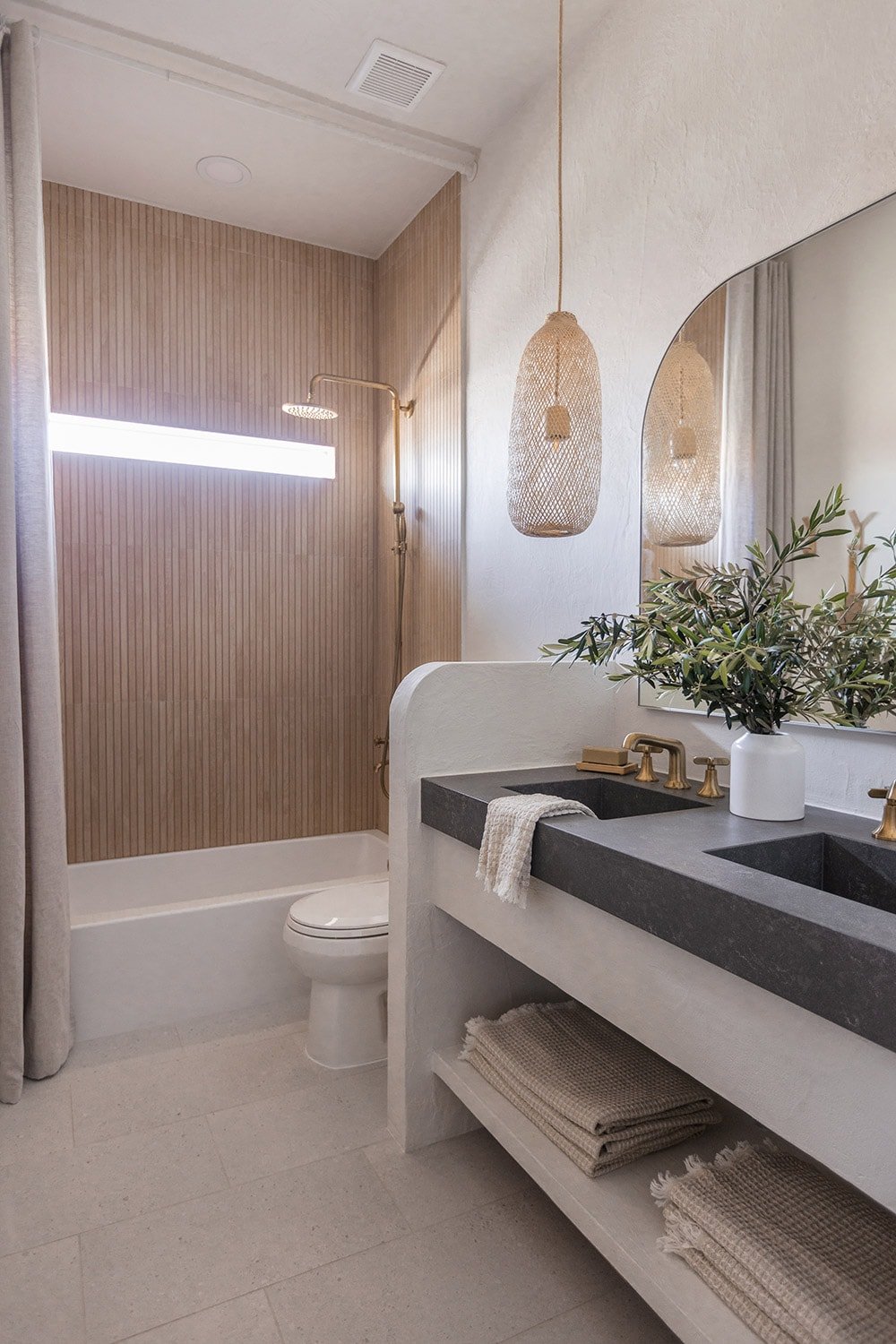 The primary features of this room include microcement walls, a custom microcement vanity, wood-look shower tile and a soothing light neutral palette.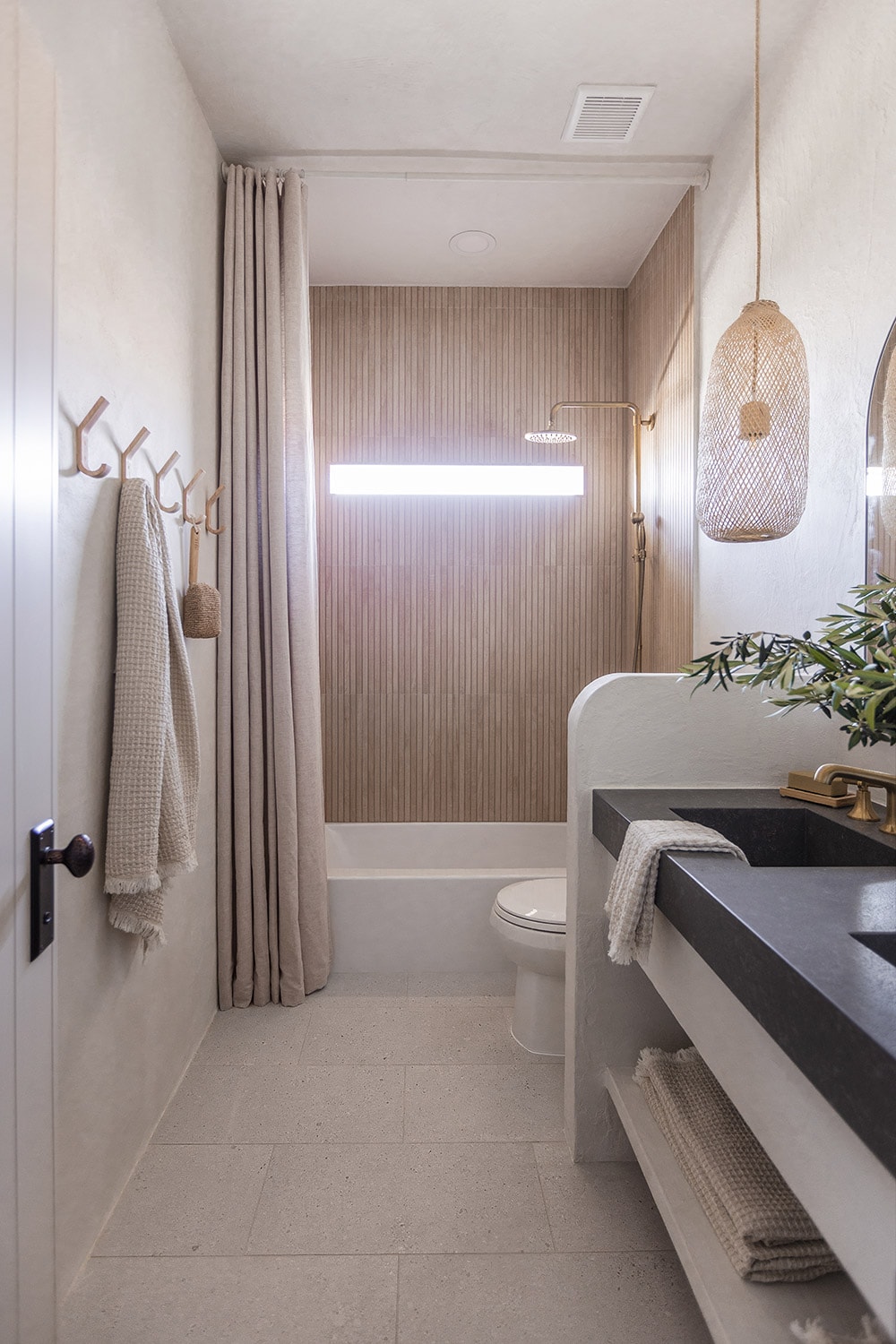 Gray quartz, speckled porcelain floors and cement walls are balanced with organic materials like woven bamboo, wood and linen.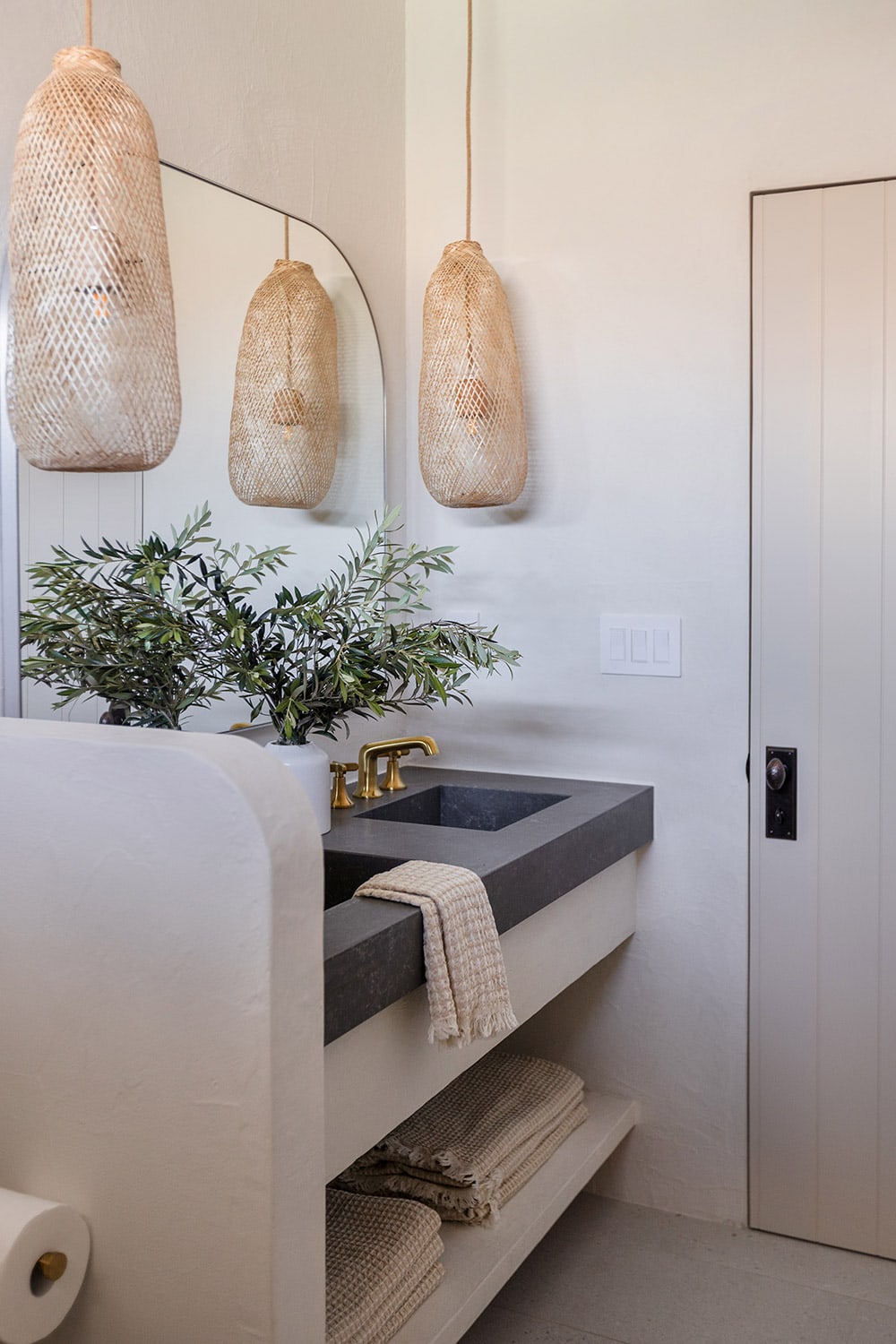 After trying microcement in the primary bathroom, we knew we wanted to use it again in another bathroom as an economical option to achieve a clean, spa-like aesthetic.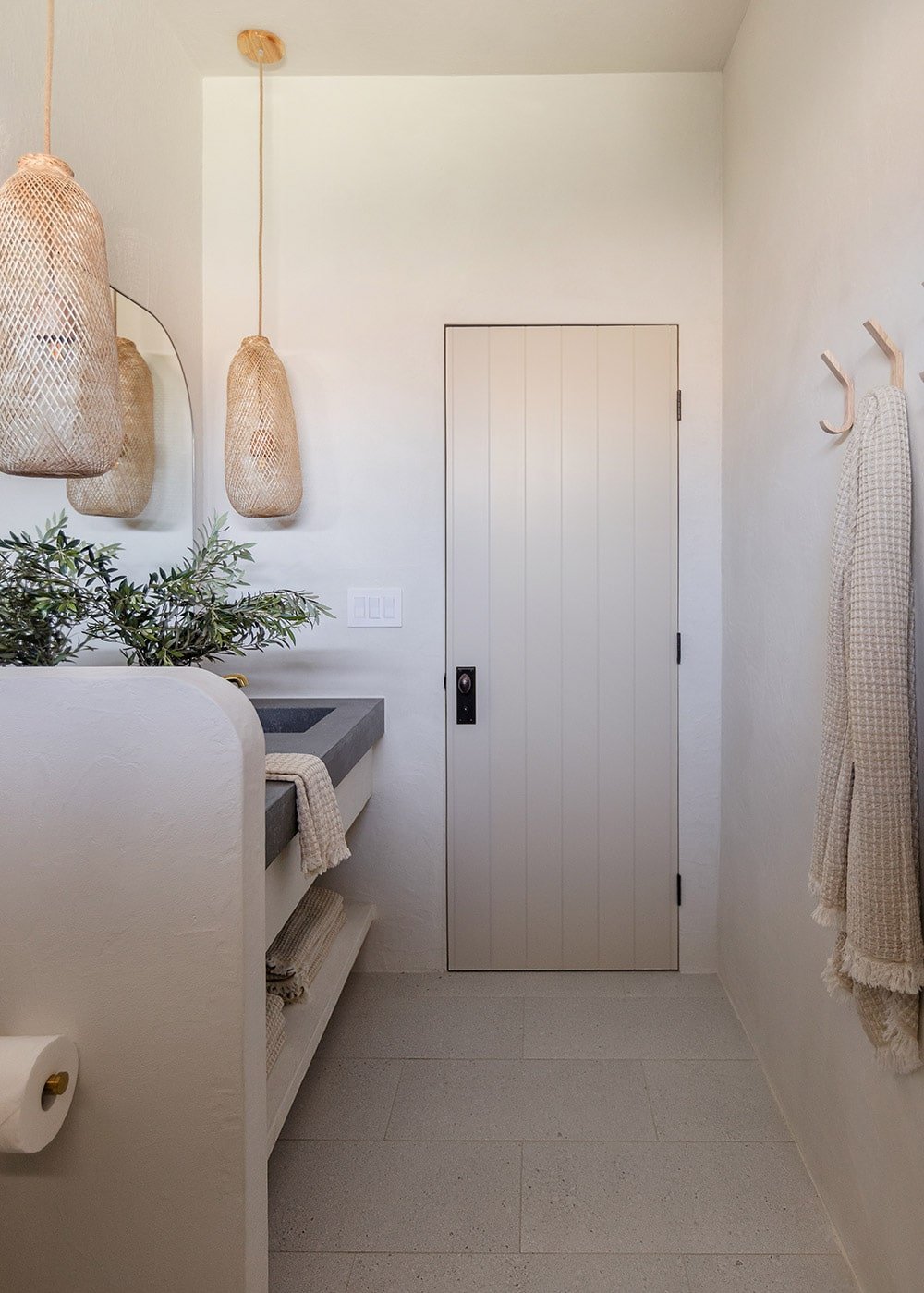 Lucas framed out a simple vanity which was also coated in microcement for a fully custom, built-in design (tutorial coming next week!)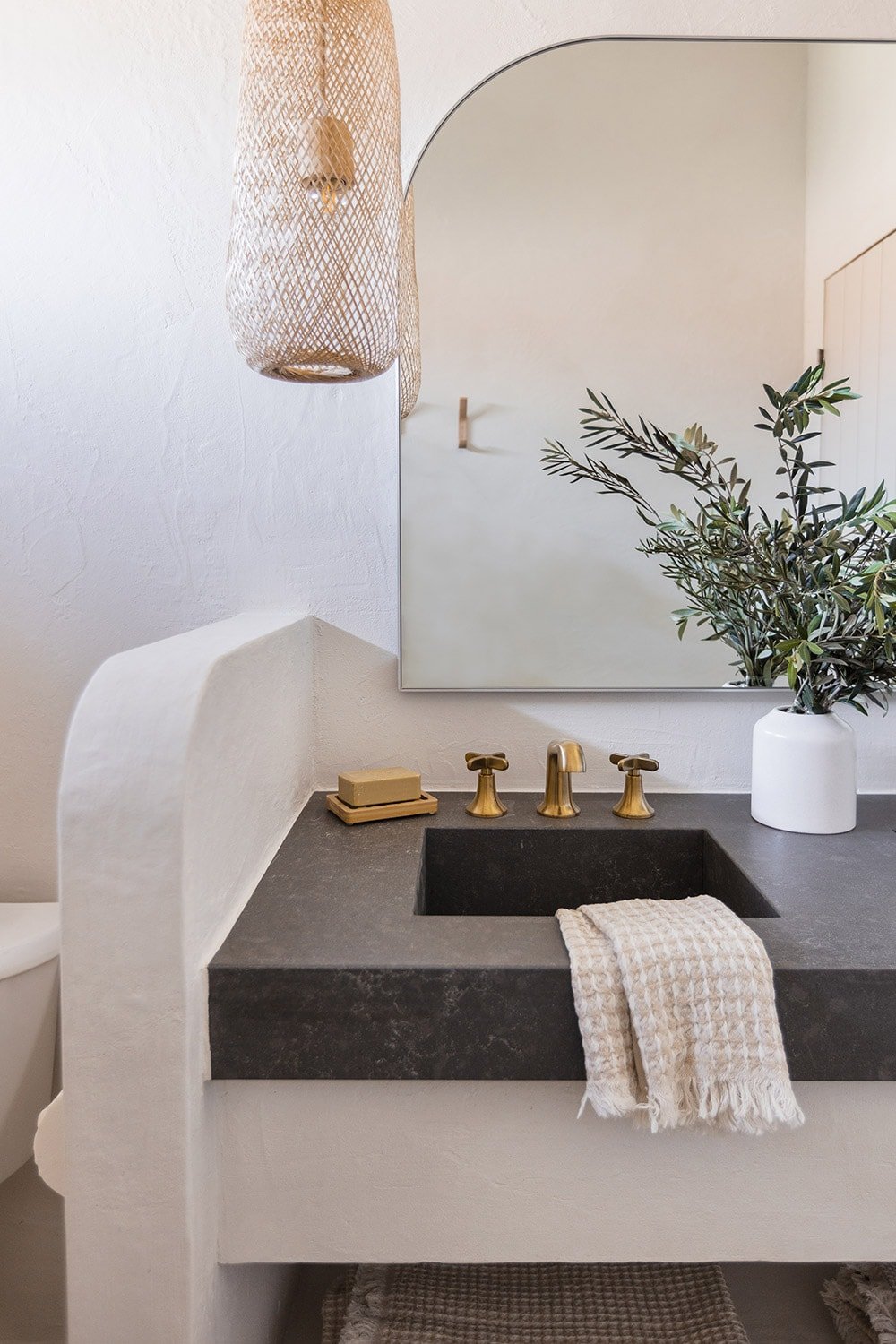 The countertop is made from river washed quartz, and we had our installers fabricate integrated double sinks.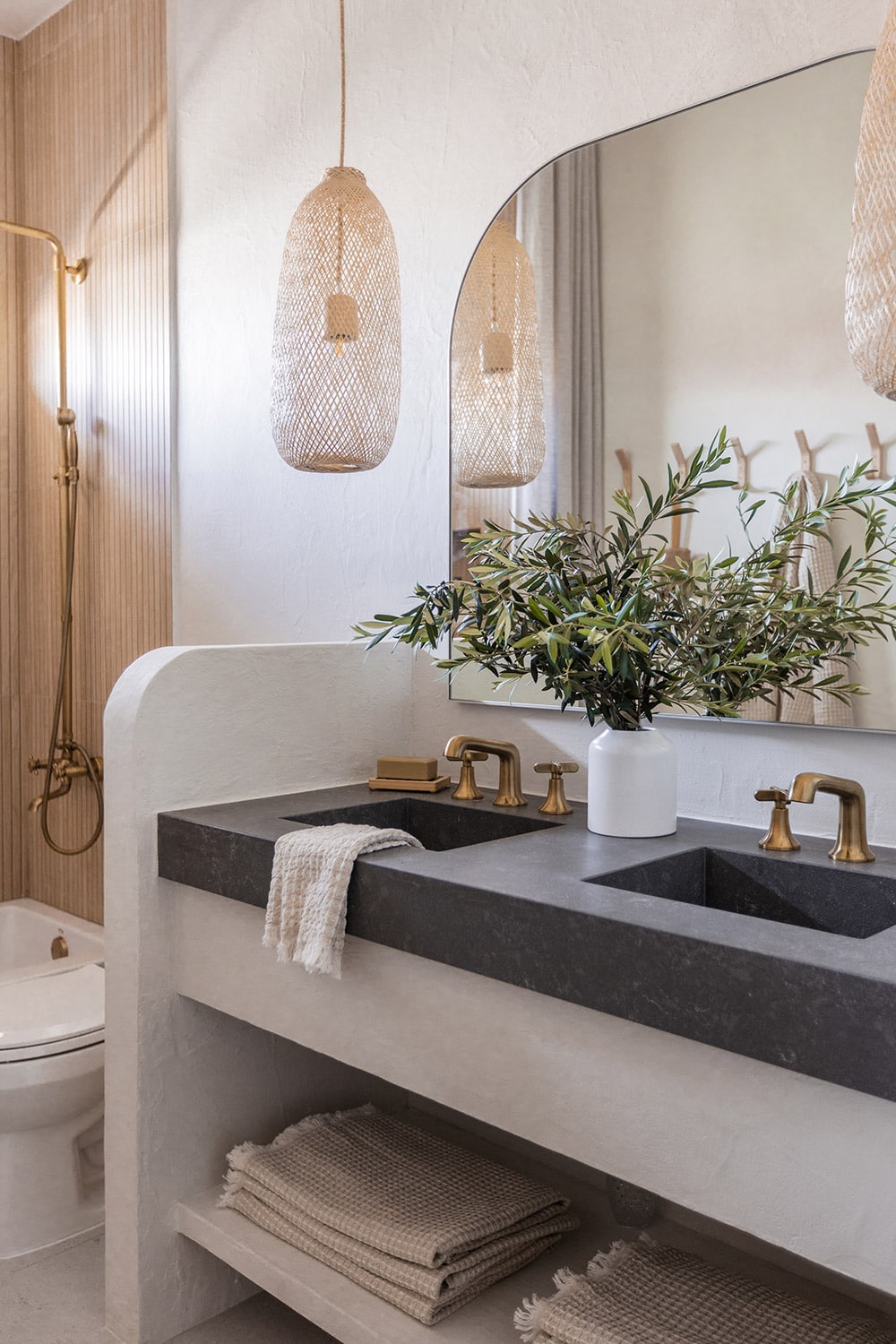 The shower tile is one of my favorite features. With the cost savings from the DIY vanity and microcement, I was able to splurge a little and get the dreamiest wood-look tile.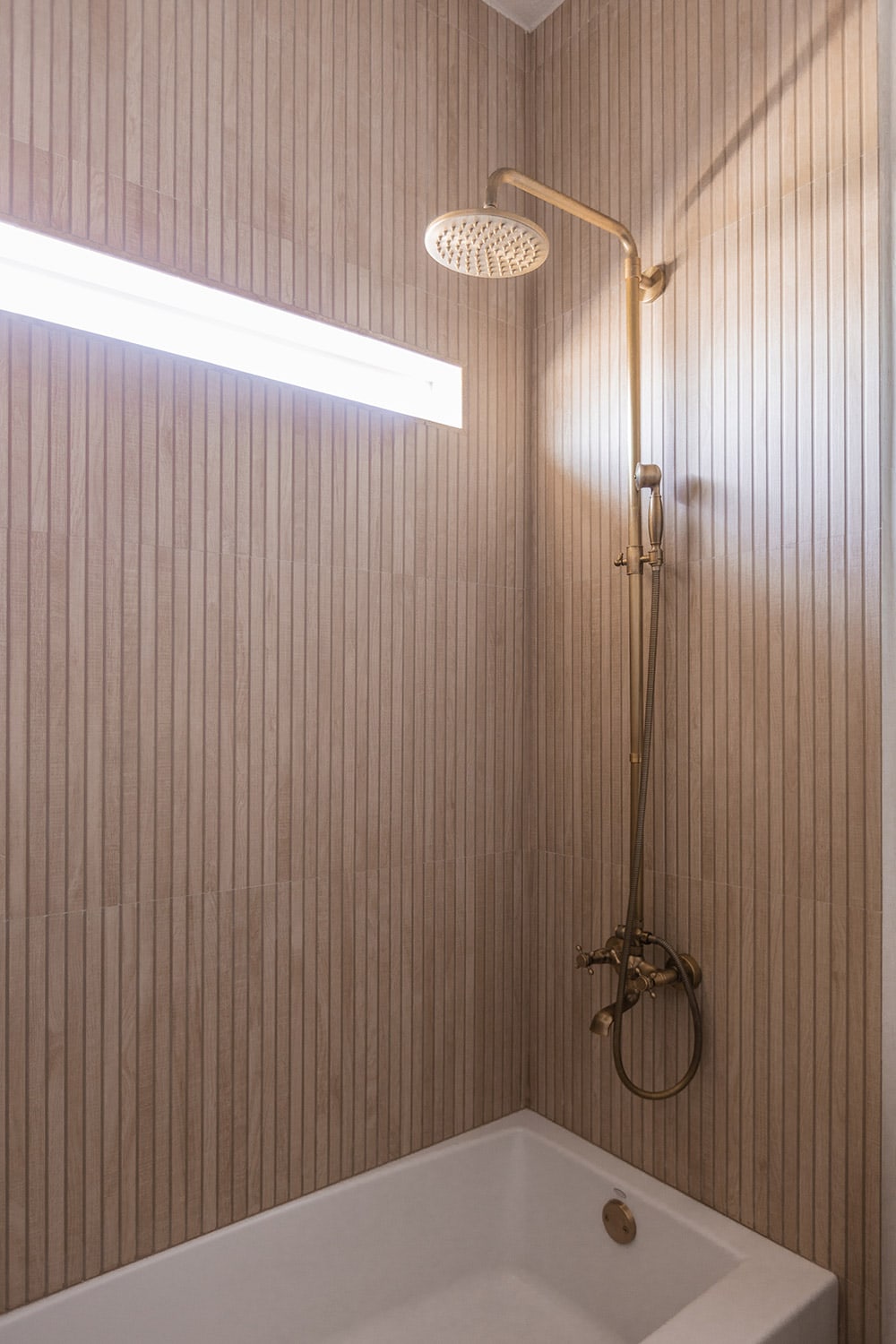 A new bathtub, custom linen shower curtain and inexpensive brass shower system finish off the look.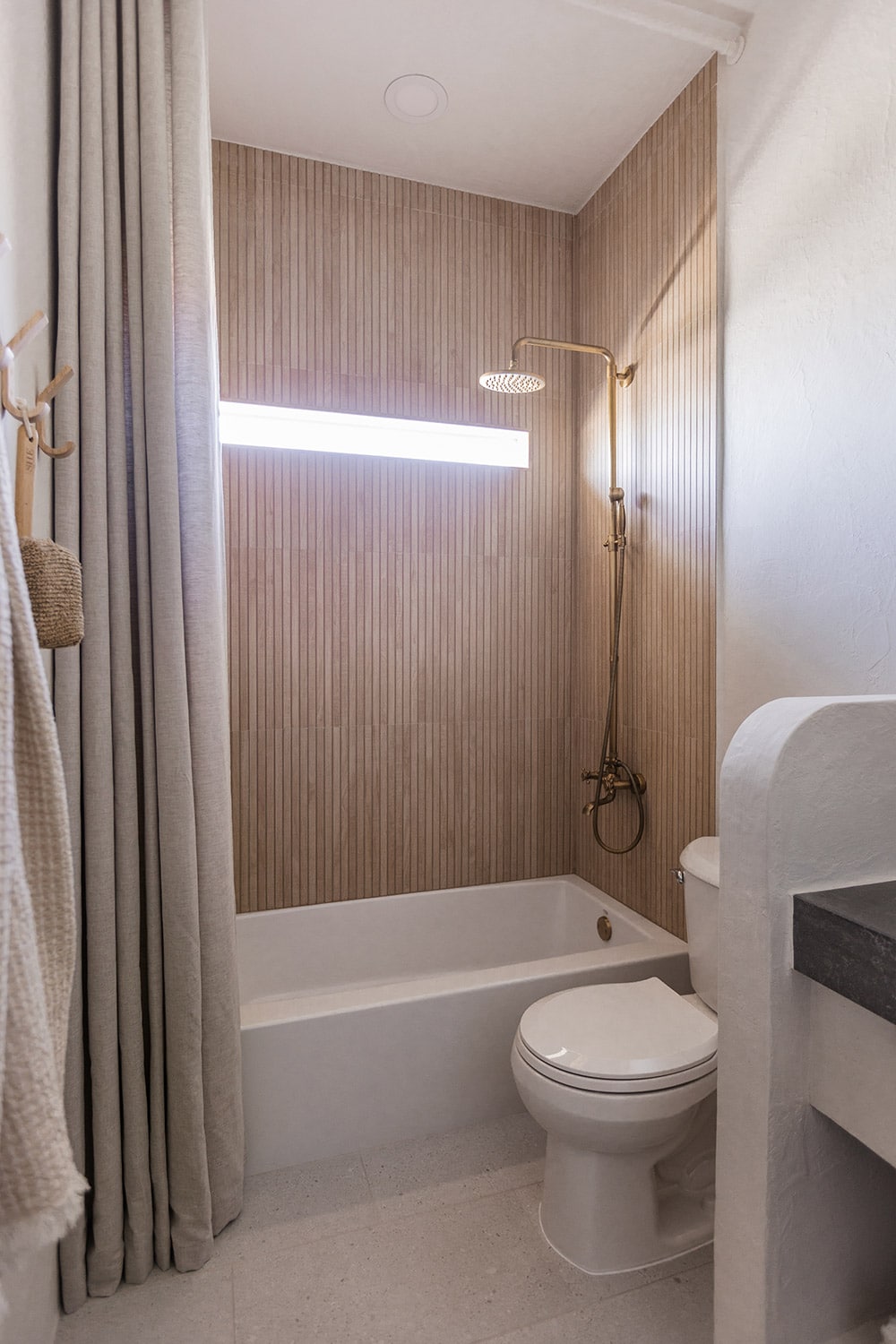 These handmade woven bamboo pendants are one of my favorite pieces in this room, and incredibly affordable! The organic shape and material really helps to soften the space.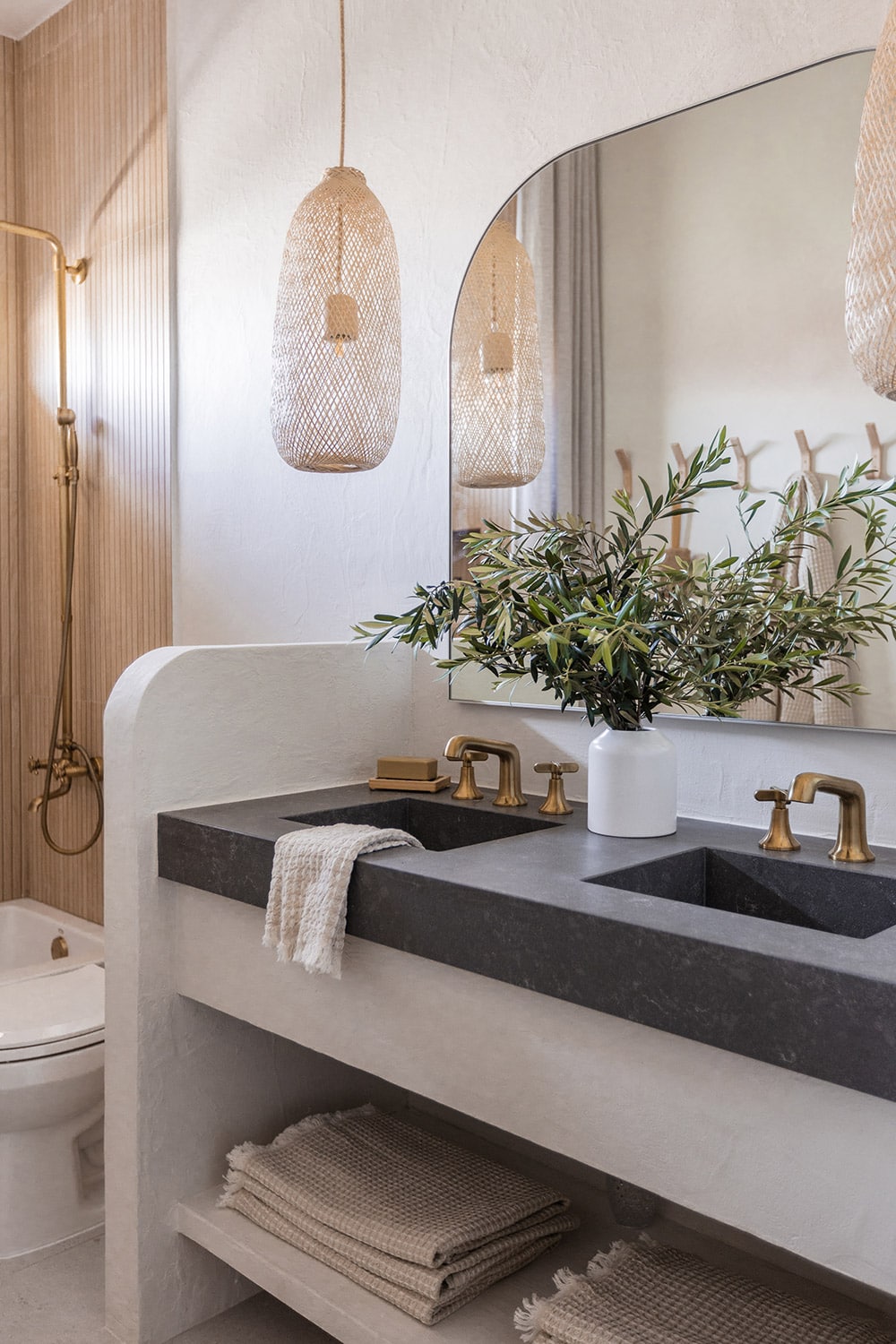 The old builder-grade doors got a DIY plank makeover with fancy new hardware (along with the rest of the house—slowly but surely!)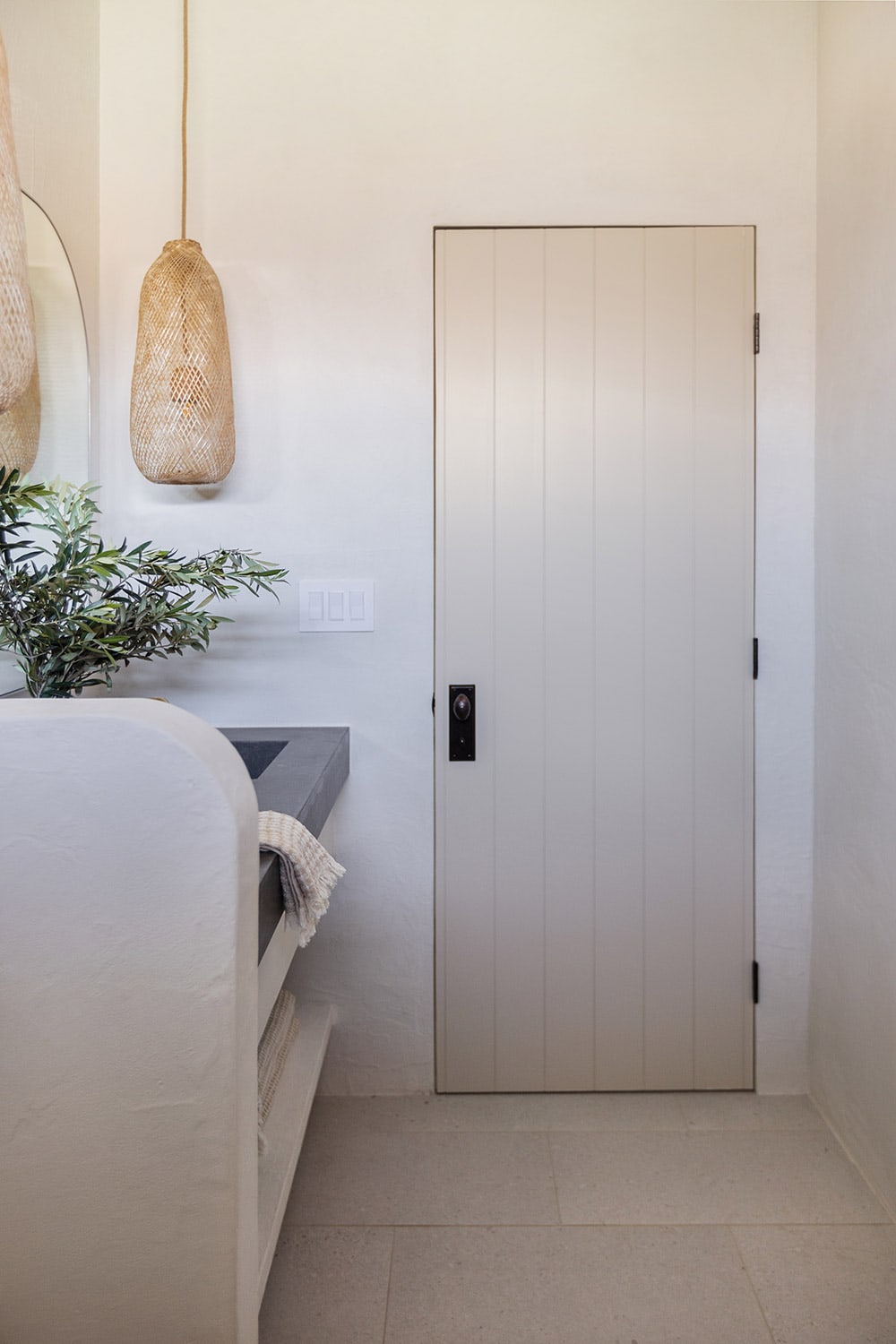 And there you have it—the quickest, simplest and most affordable bathroom makeover in this house! What's your favorite part?
Sources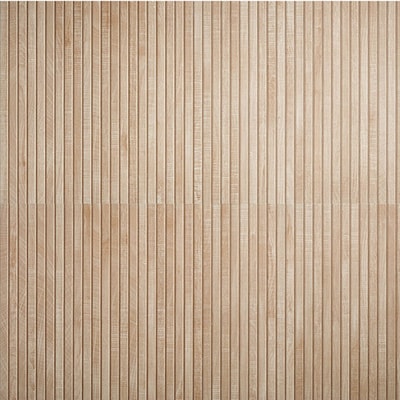 Cost Breakdown
| | |
| --- | --- |
| Floor tile | $446 |
| Shower tile | $1711 |
| Labor: Tub + shower tile install, plumbing | $4569 |
| Labor: floor tile install | $600 |
| Microcement | $241 |
| Construction supplies | $23 |
| Countertop fabrication/install | $2179 |
| Toilet | $145 |
| Lighting | $306 |
| Sink faucets + drains | $492 |
| Bathtub | $423 |
| Shower curtain, rings, rod | $288 |
| Shower faucet | $175 |
| Mirror | $247 |
| Hardware | $75 |
| Total: | $11,920 |
Under $12k isn't too shabby for a complete gut remodel! The biggest cost savings came from the DIY vanity (using scrap 2×4's and cement board) and coating the walls in microcement instead of tile or trim work. No surprise, labor was the biggest expense, coming in at over 60% of our total cost. If you're on a budget, you can still achieve a luxe look with a minimalist design style!
Next week, I'll share more details about how Lucas built the DIY microcement vanity. It's less complicated than you may think, and great way to get something truly custom while saving a ton compared to a traditional vanity. Stay tuned!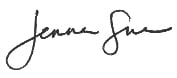 Like this post? Check out these other Hacienda Hideaway makeovers: