After months of planning, demo, DIY and installs, I'm thrilled to share the reveal of our Modern Moroccan ensuite bathroom!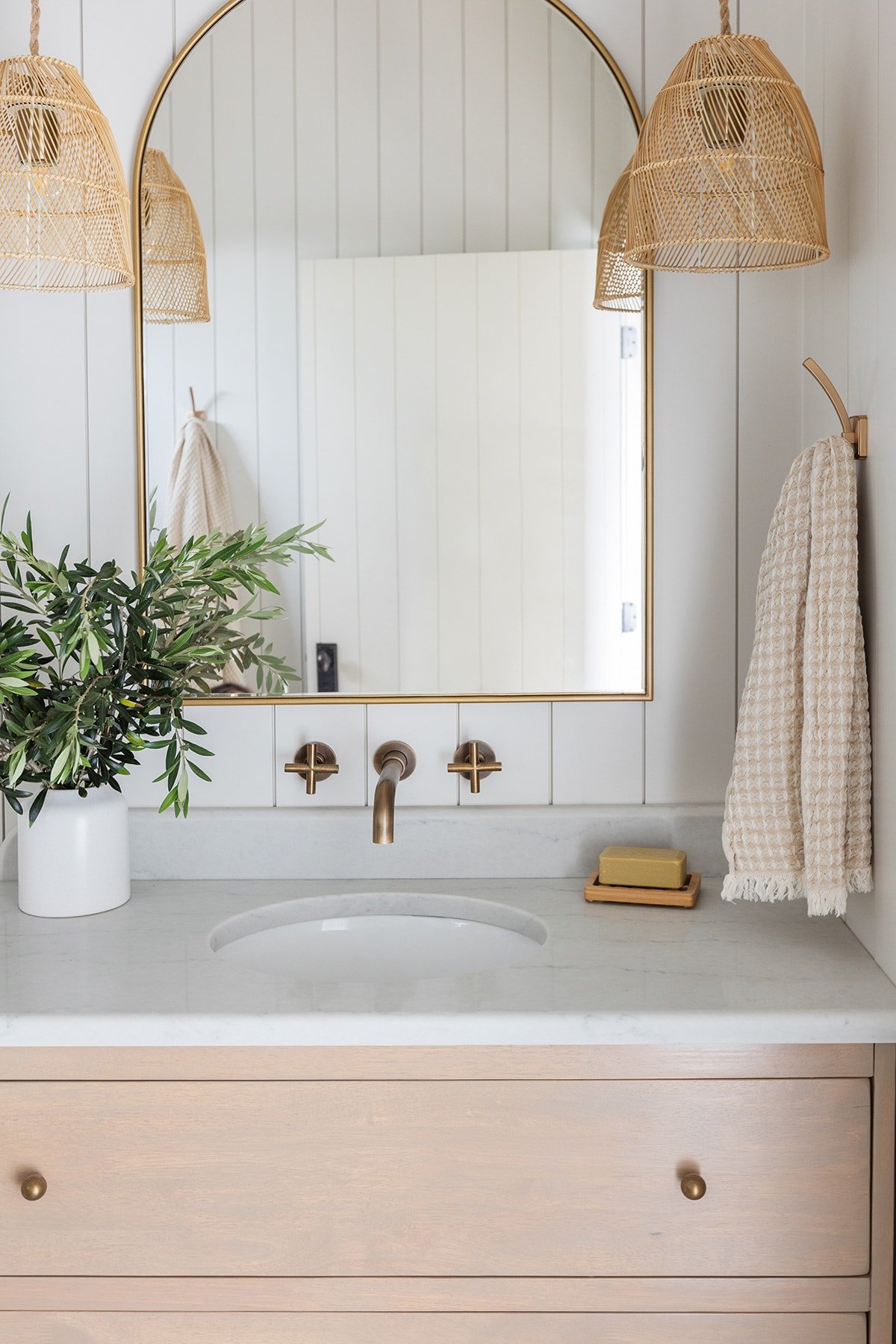 Before
This bathroom began much like the rest of this late 2000's house—beige travertine tile, cherry wood vanity with brown speckled granite, and the signature flip-house textured gray walls and vinyl plank floors.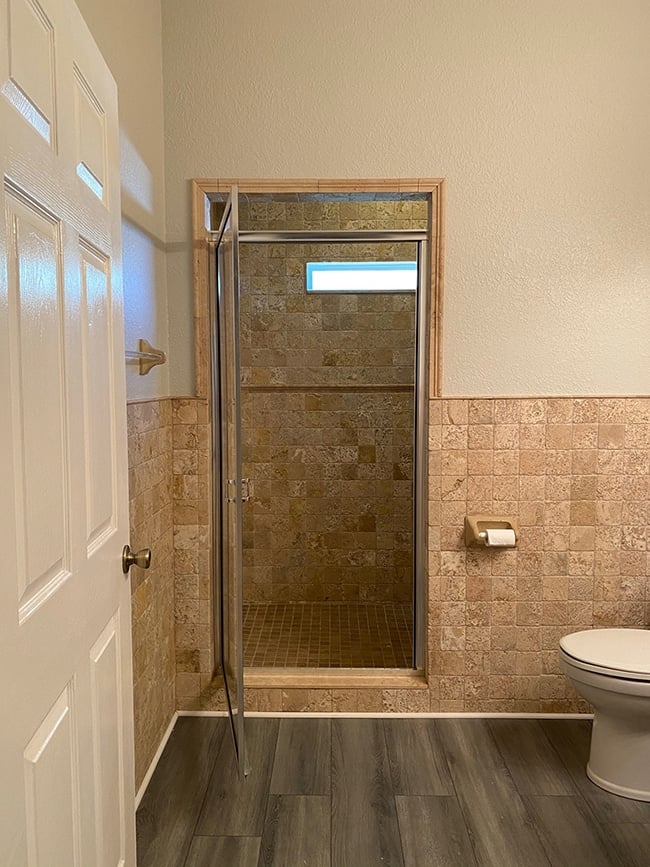 It was on the small-to-average size, measuring 85″ x 73″, with a longer 42″ x 87″ shower.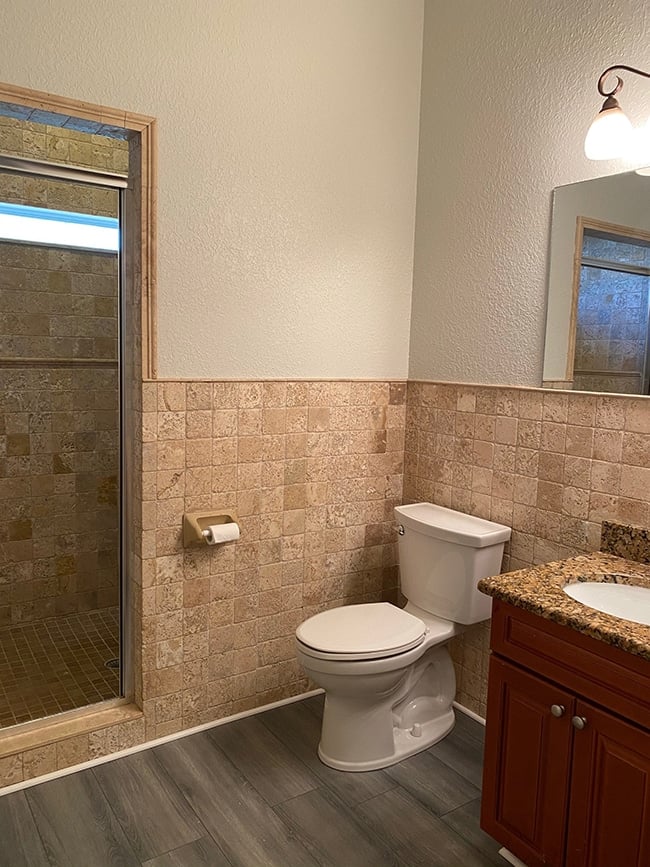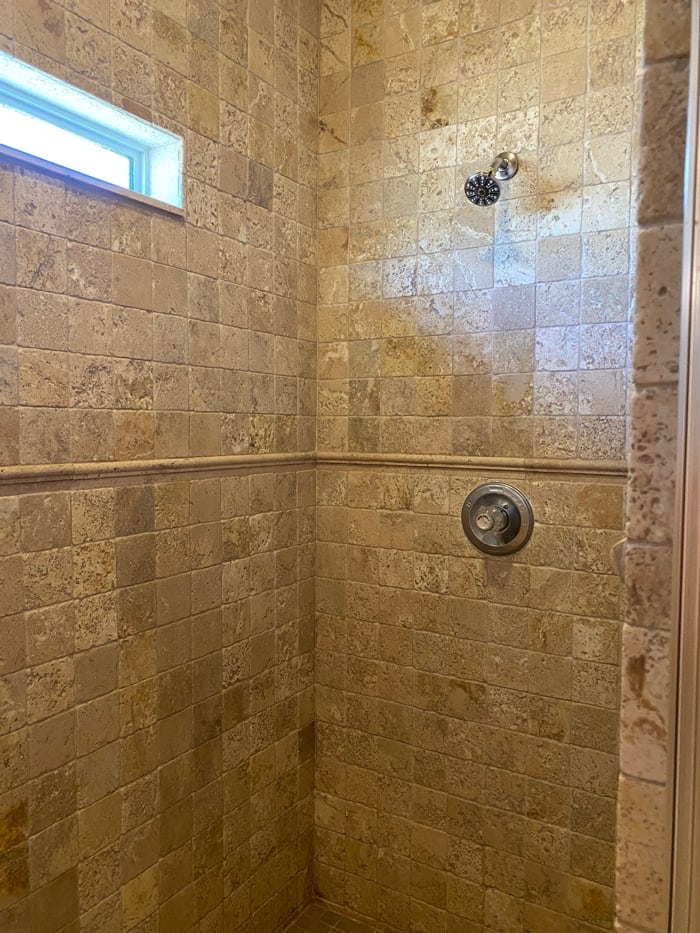 This dated space was in desperate need of some style and personality! And I had a plan to do just that…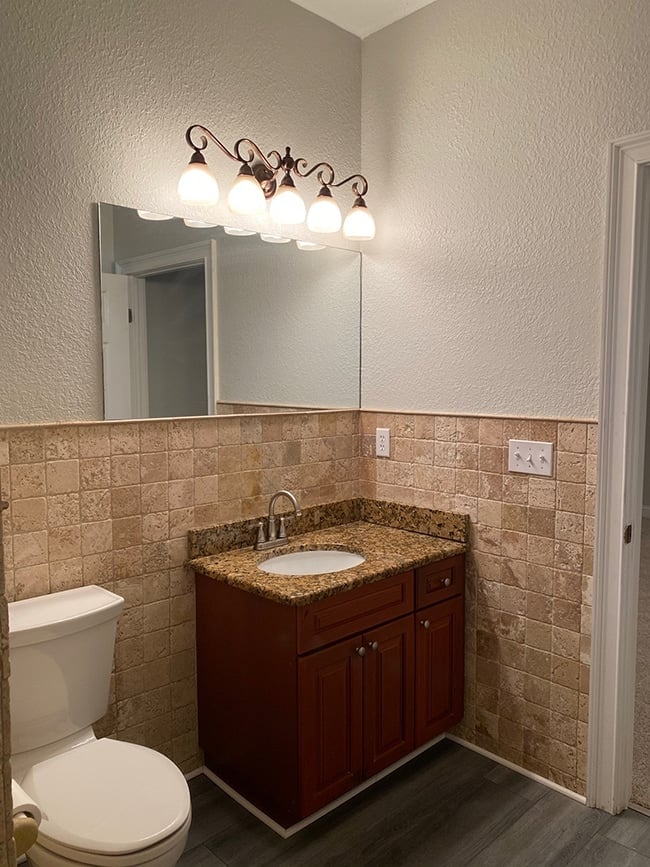 After
Modern Moroccan design elements from the adjoining bedroom were repeated here for continuity—arches, intricate patterns, organic textures, and a soothing neutral palette with warm gold accents.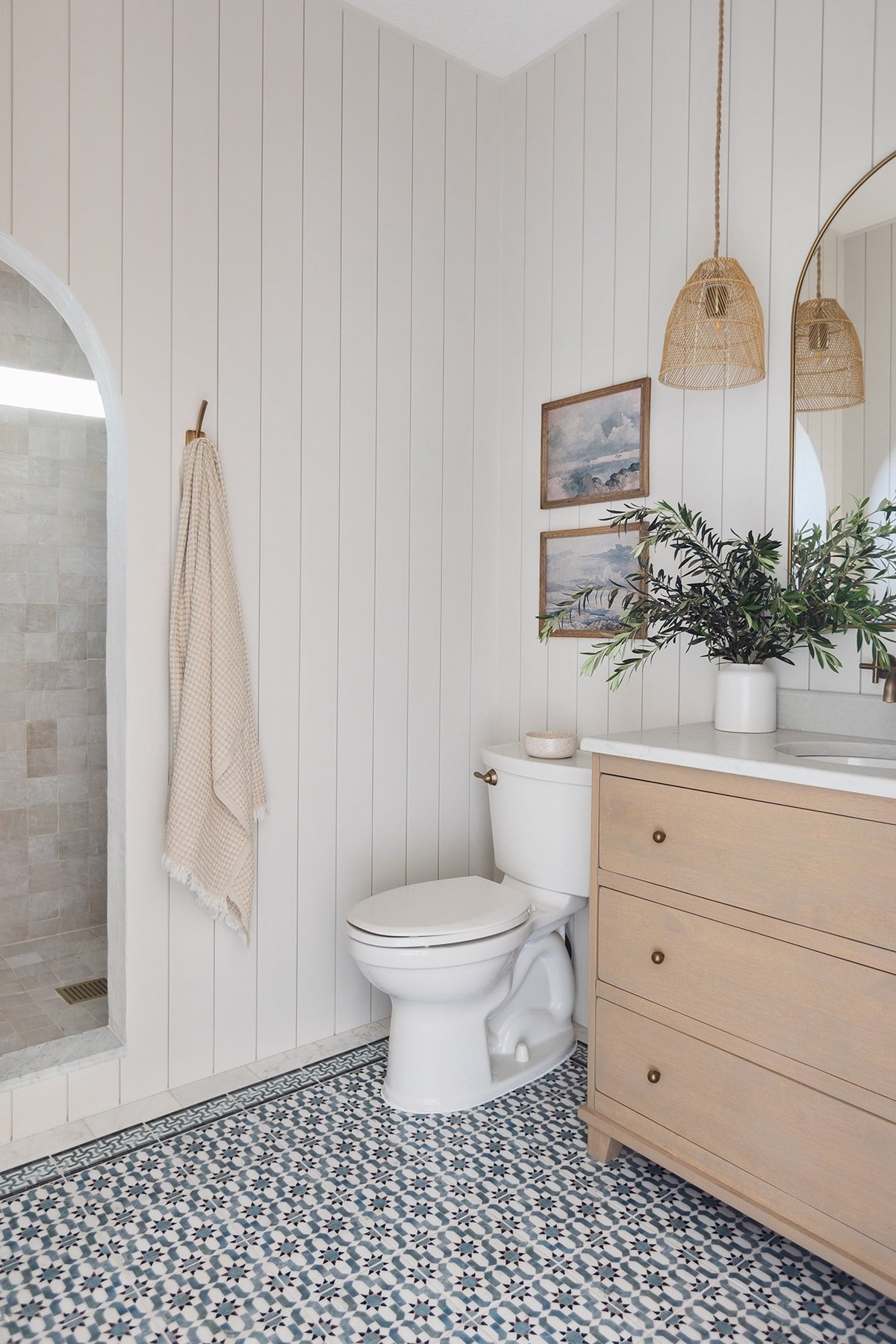 Framed by a DIY arched doorway, the shower features floor to ceiling handmade Moroccan zellige tile in natural white (with Mapei Alabaster grout). The imperfect, hand chiseled shape and natural color variation bring a raw, organic feel to the space.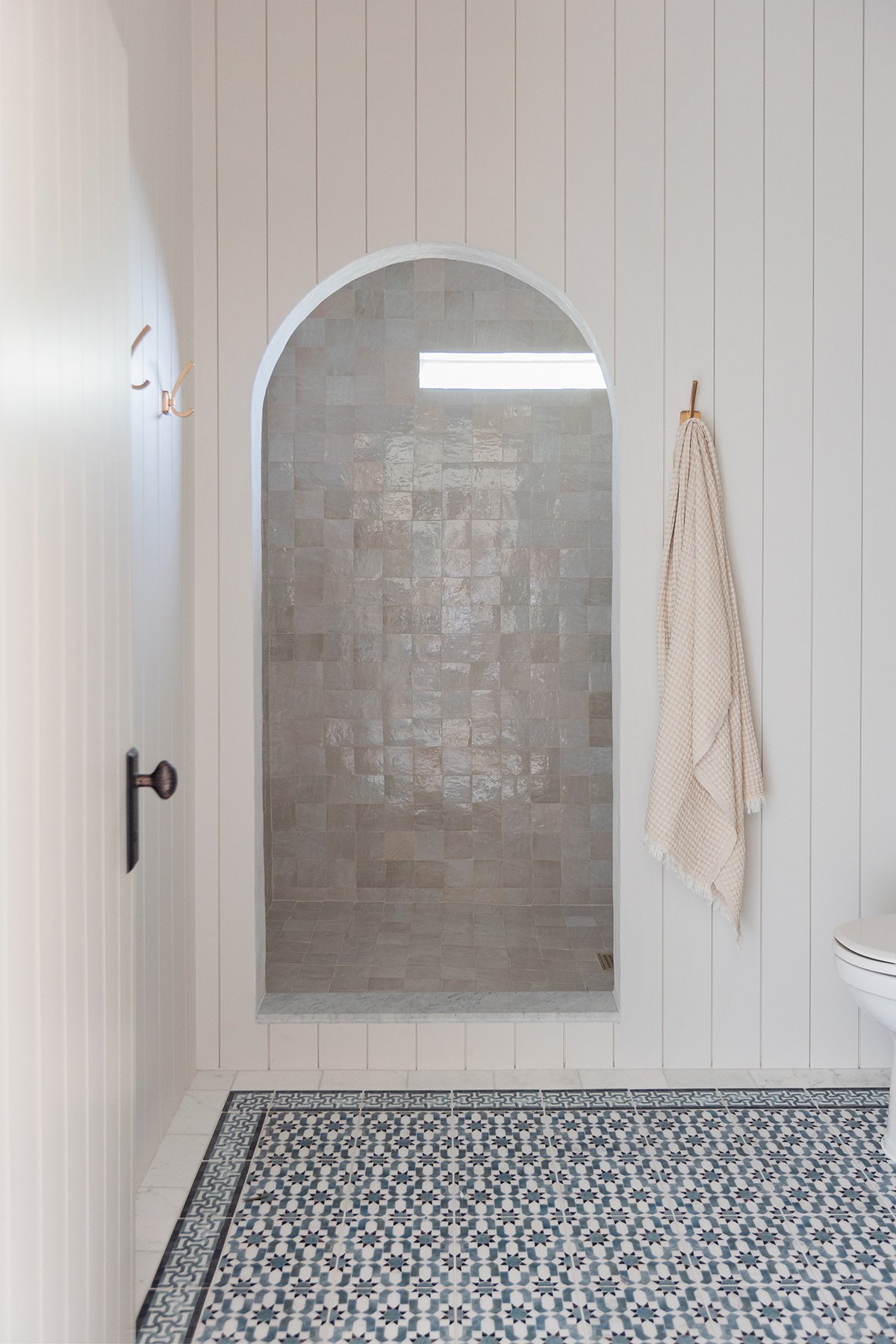 The shimmery reflection from the glazed tile make the shower feel like pearly jewel box. It's a durable material choice that has been around for centuries, and will continue to be timeless in modern bathrooms. I love the natural white tile paired with the brushed gold shower system.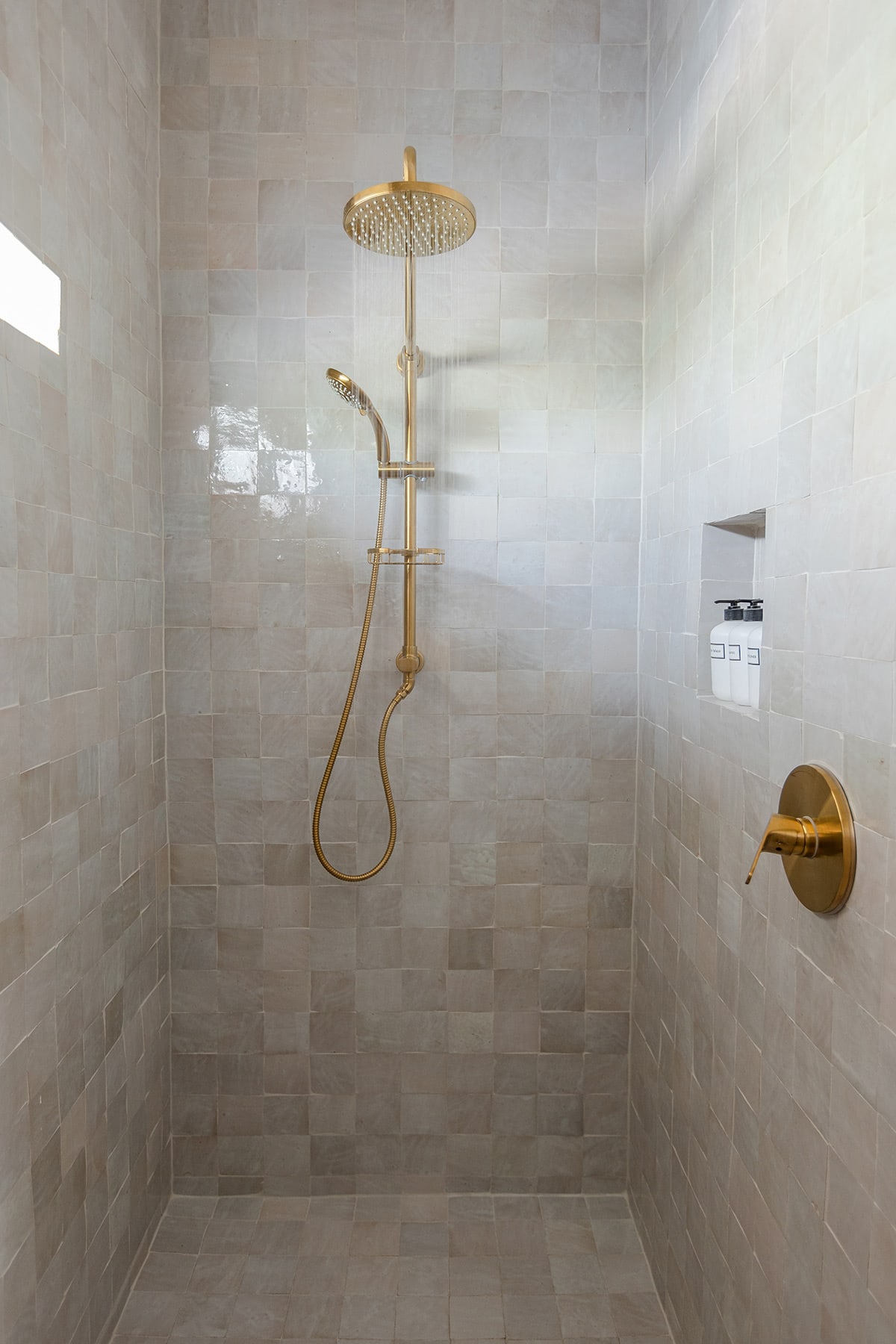 In the main bathroom area, vertical shiplap was a relatively simple and affordable way to cover the old textured walls, add visual interest and make the room appear taller.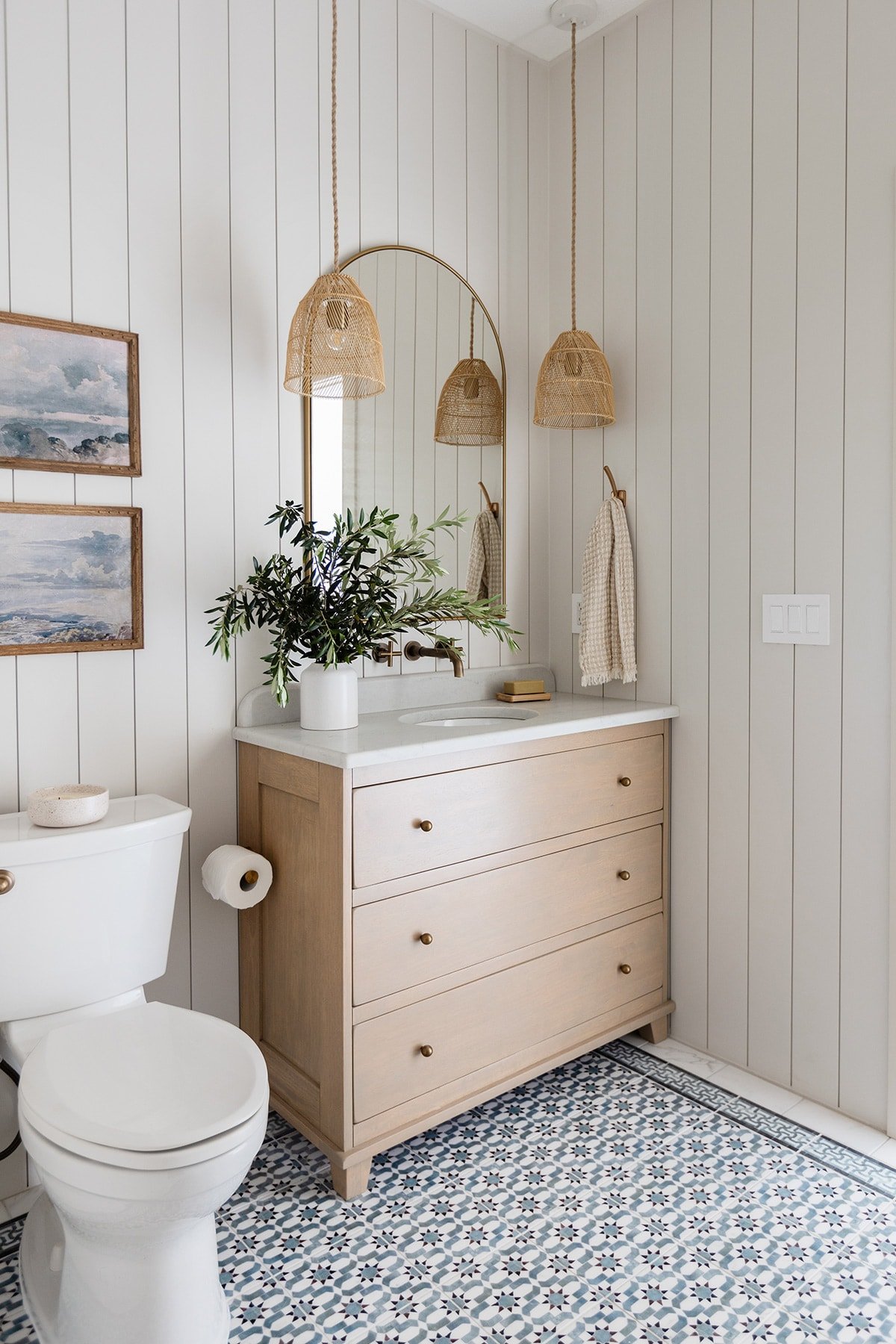 I chose Sherwin Williams Egret White for the walls, which is a pale gray-ish white that picks up the cooler tones of the zellige tile.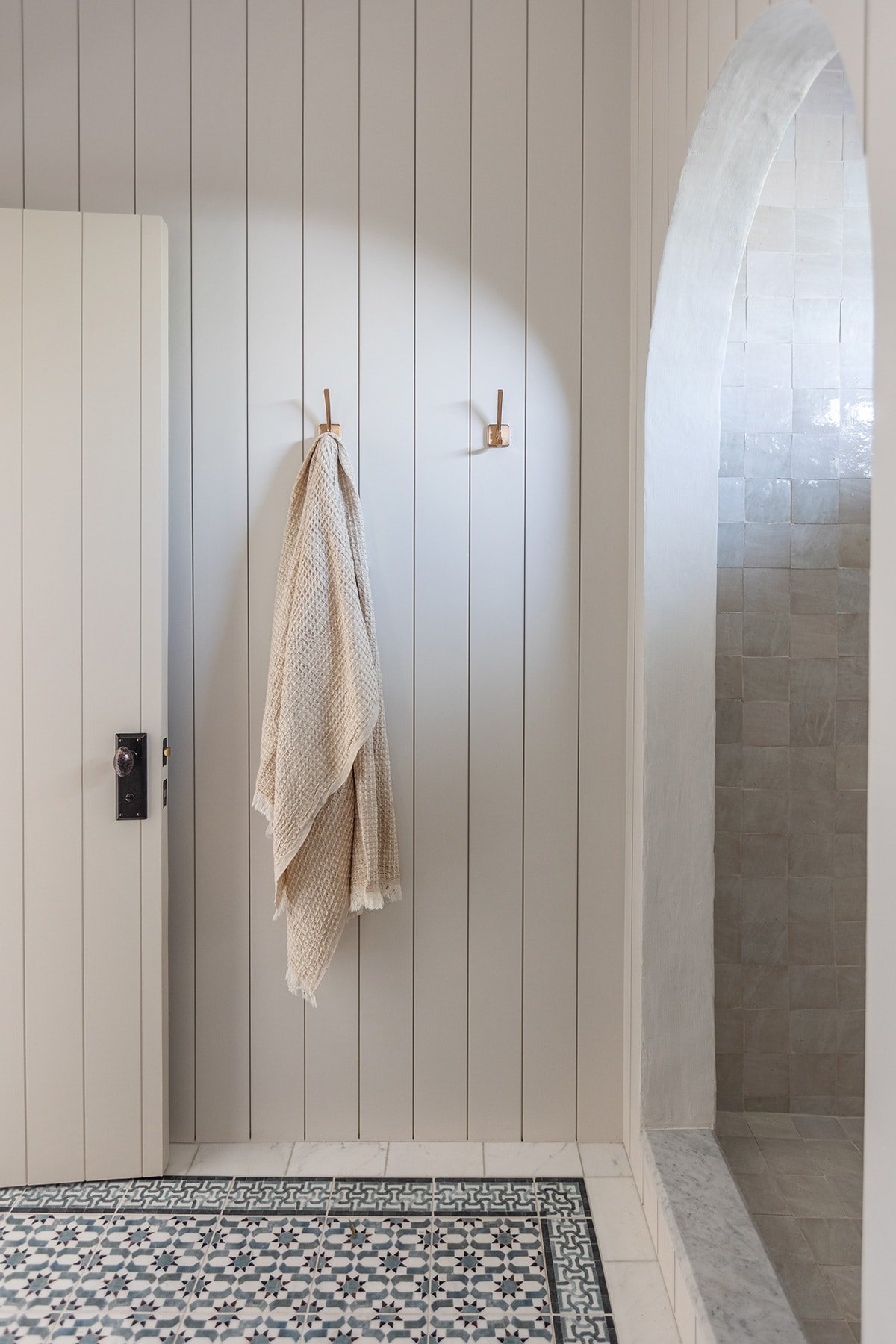 The star of the show has to be the custom sea glass Miabella mural floor tile. I worked with Stone Impressions to customize the layout to fit our space, complete with a marble border to give it a rug inlay effect.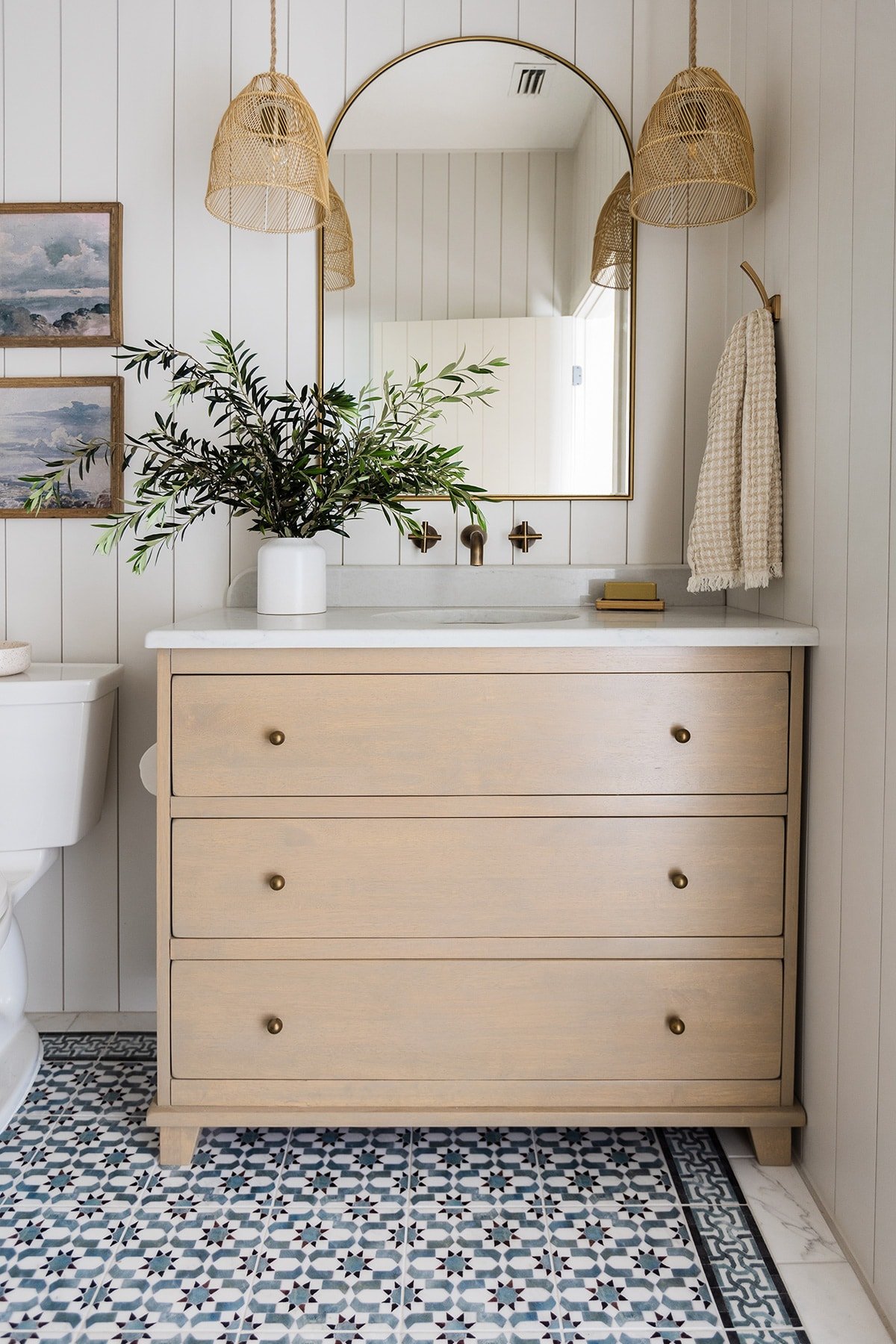 While the shower and floor tile are splurge items, the rest of the space came together on a DIY'ers budget. I scored a $40 dresser on Facebook Marketplace, and we refinished/repurposed it to use as a vanity.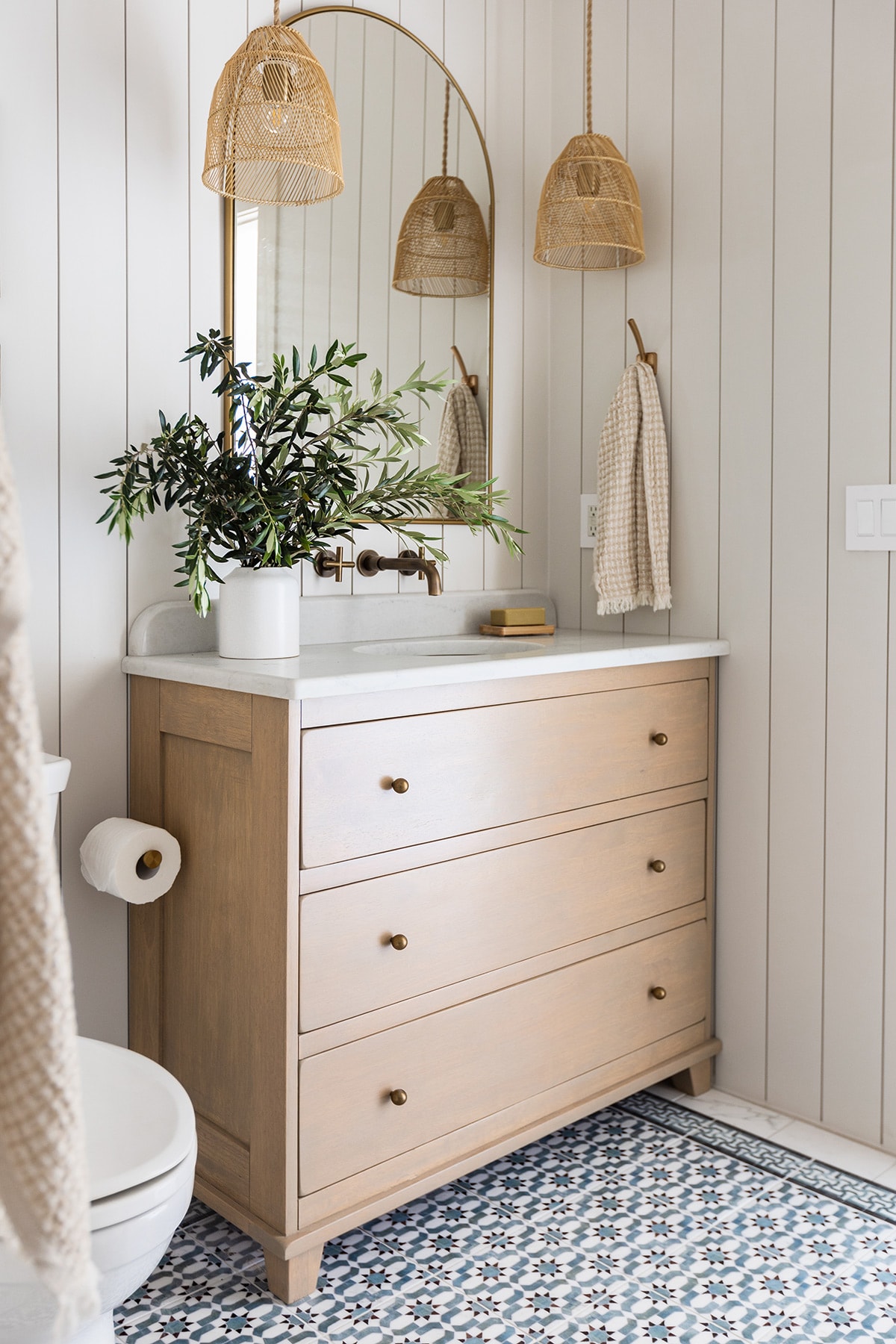 The countertop is a White Macaubus quartz remnant, paired with a $50 sink and wall mounted faucet (on sale!) I had our installers create a custom rounded backsplash to soften the edges.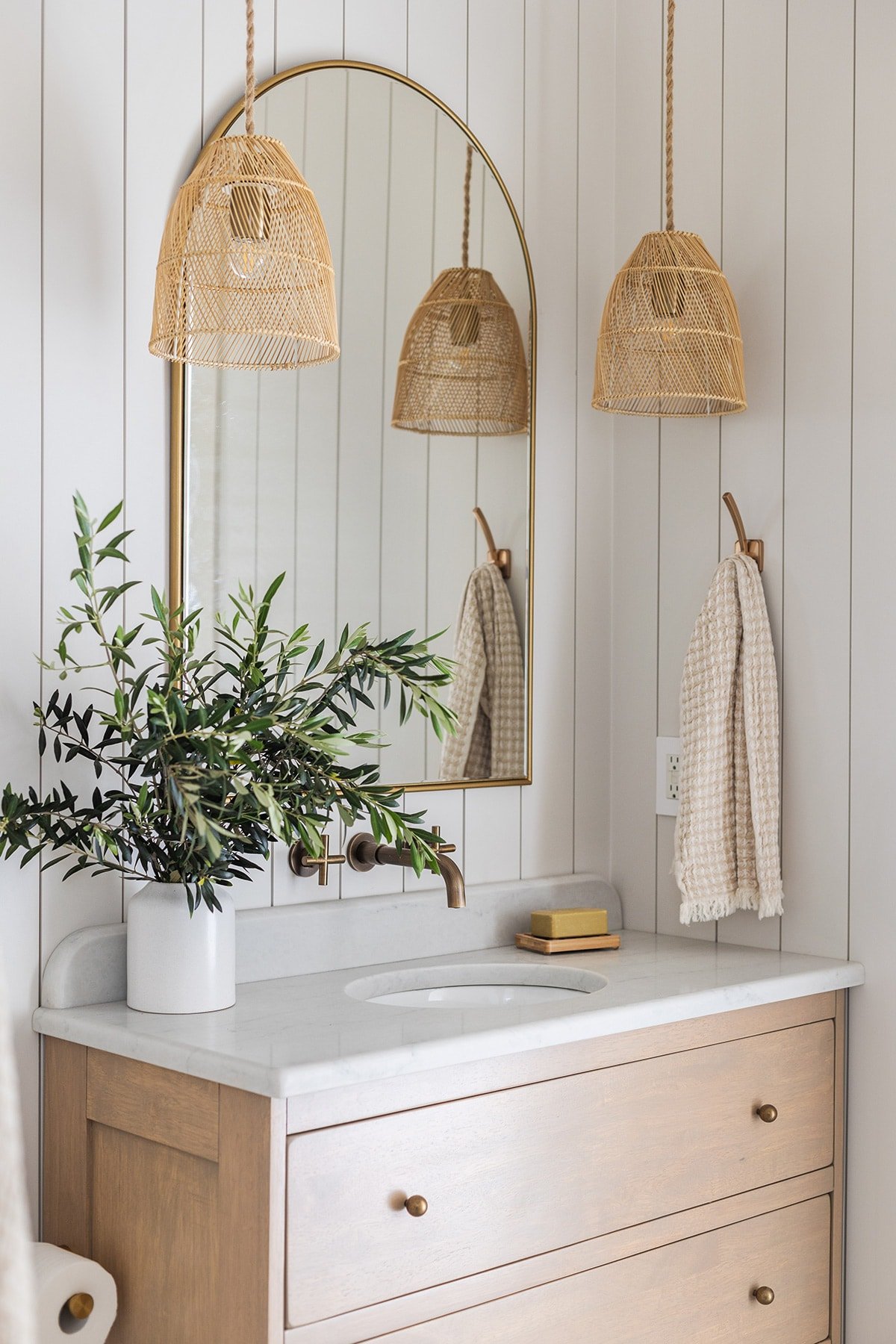 I scored the arched mirror on sale for $153, and hung these $40 woven pendant lights with a rope cord kit.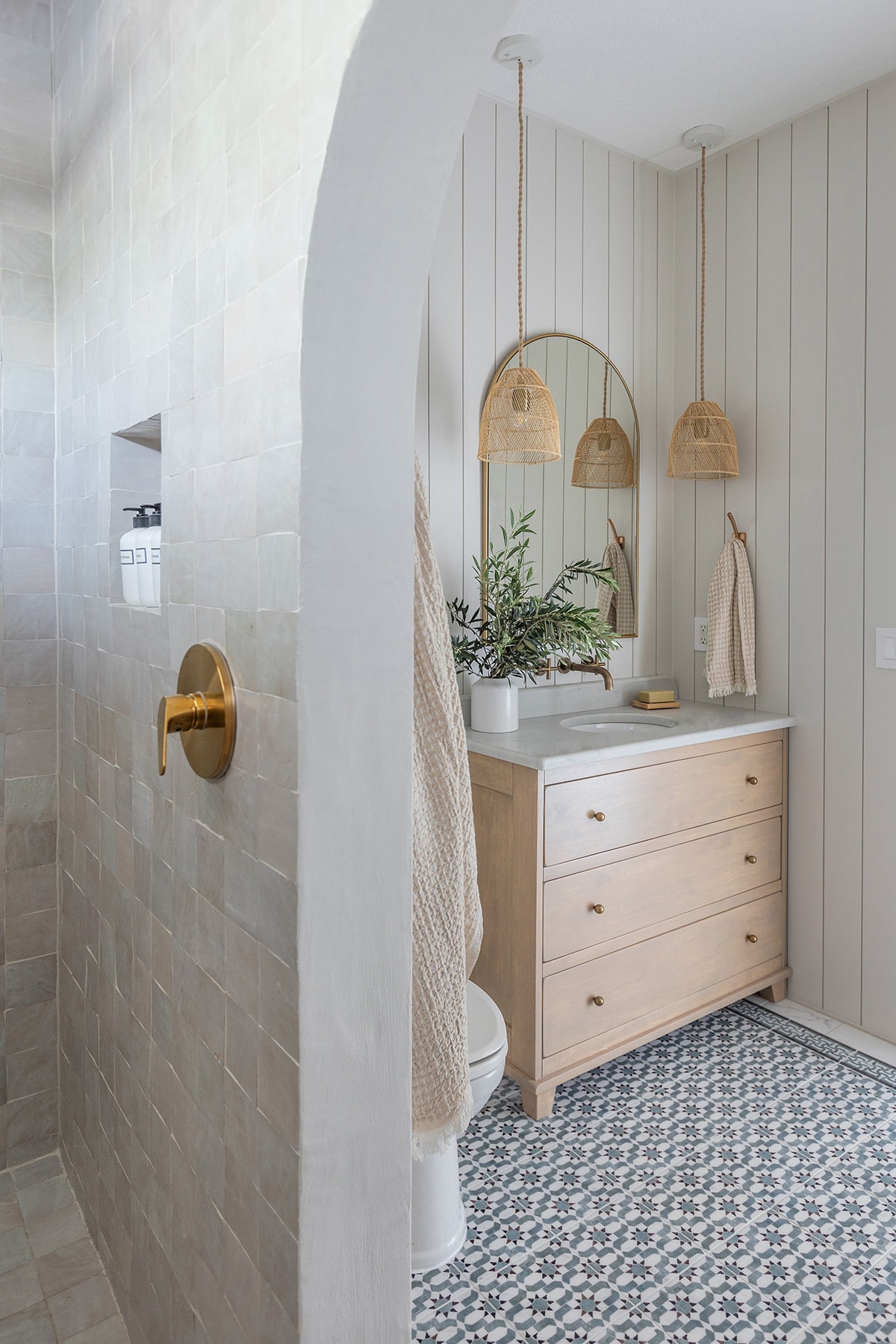 We reused the existing toilet to save a couple hundred bucks, and swapped out the chrome handle for this fancy gold lever to make it look more expensive (one of my favorite easy bathroom upgrades!)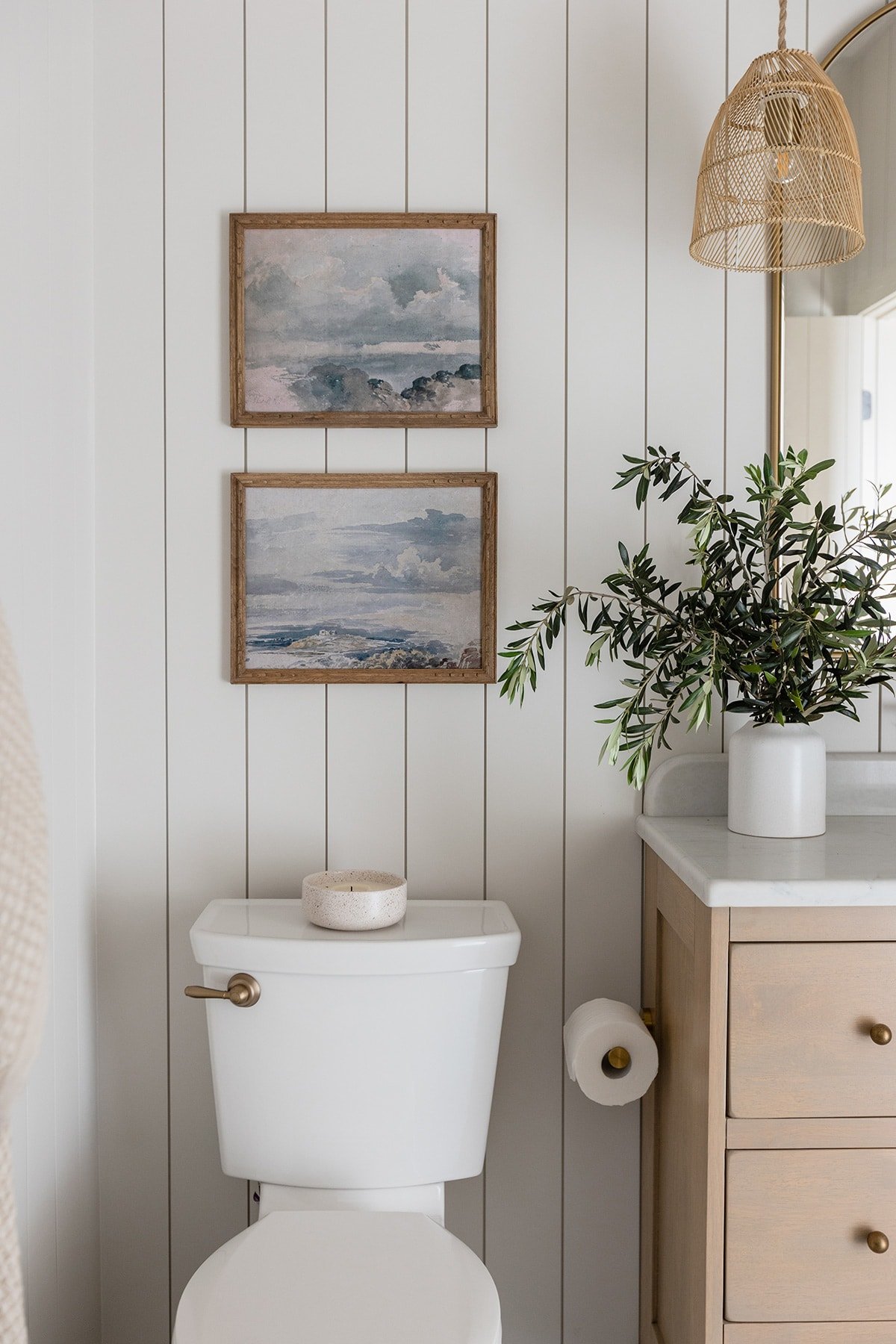 The artwork is a couple vintage paintings I found for free online, printed for $2 each, and hung in wood frames I've had for years. I'll be sharing more about my favorite free printable art sources in another post soon!
Sources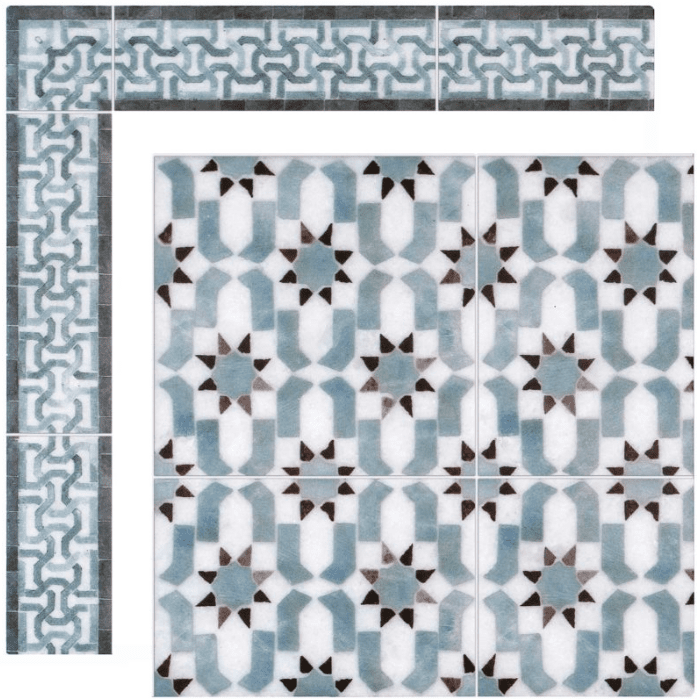 Walls: Sherwin Williams Egret White (satin)
Mapei Alabaster grout (shower + floors)
Shower system + mixing valve (also sold here, here and here)
Vanity: Facebook Marketplace
Countertop: White Macaubus Quartz
Art: free public domain
Cost breakdown
Below you'll find the cost breakdown of the materials and labor. I've included the retail value of the tile which was sponsored, to give you an accurate picture of the actual cost if you're doing a full gut renovation:
| | |
| --- | --- |
| Floor tile | $6417 |
| Shower tile | $4267 |
| Labor: Shower walls, tile & fixture install | $8740 |
| Labor: Floor tile install | $1307 |
| Labor: Plumbing rough-in | $800 |
| Shiplap/construction supplies | $1366 |
| Countertop + install | $510 |
| Vanity + stain | $65 |
| Lighting/electrical | $113 |
| Sink + drain | $72 |
| Sink faucet | $103 |
| Shower system | $496 |
| Mirror | $153 |
| Hardware | $113 |
| Total: | $24,480 |
As you can see, the vast majority of the budget was tile and install (over $20k!) The rest of the bathroom cost less than $4k. We saved a ton by DIYing (shiplap walls, arched opening, upcycled vanity, electric and plumbing) and shopping budget fixtures and décor. Our actual cost came in at $13,800 thanks to the sponsored tile.
Still—if there's one item to splurge on in a bathroom renovation, it's tile! Both the zellige shower tile and marble patterned floor make the space feel truly high-end and custom. I'm really happy with the mix of high and low, and hiring out vs DIY.
If you missed any of the progress, you can watch it come together in my Bath 2 story highlight on Instagram.
Let me know what you think in the comments, and stay tuned for the Minimalist Mediterranean Bathroom reveal next week!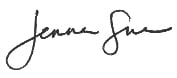 Like this post? Check out these other Hacienda Hideaway makeovers: