Today I'm celebrating the first day of my 31st year of existence. It's bittersweet knowing that the most challenging, heart breaking, beautiful and defining year of my life has officially come to an end. I can only hope this year will bring half as much joy and clarity as my 30th. I feel good about where it's headed, and am looking forward to taking you on this new adventure with me 🙂
Anyway, back to the reveal. This post has been a looong time coming.
The downstairs level of this house was rarely (never) shown or discussed on this blog, and for good reason. It looked like this for nearly all of the 2.5 years I've lived here: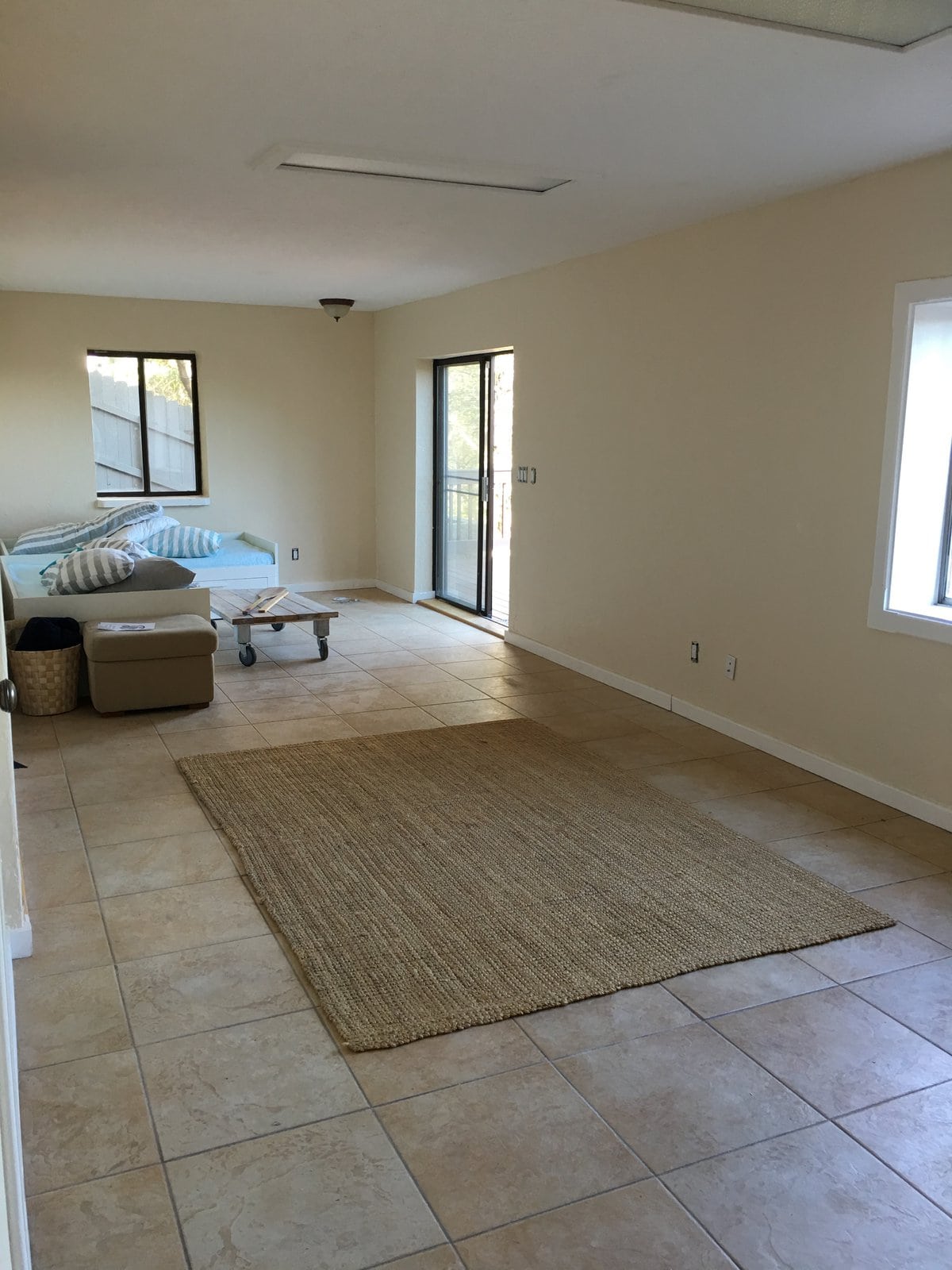 Pin
I didn't know what to do with this area. It was long and narrow and awkward, and there's more than enough living space upstairs that I never even had to come down here.
So I ignored it.
But then it came time to sell the house, and that meant it was time to address the last room standing—the final frontier.
Before the reveal, let's do a recap of the full evolution. Going back to the one major change we made in the very beginning… my long time followers may remember this: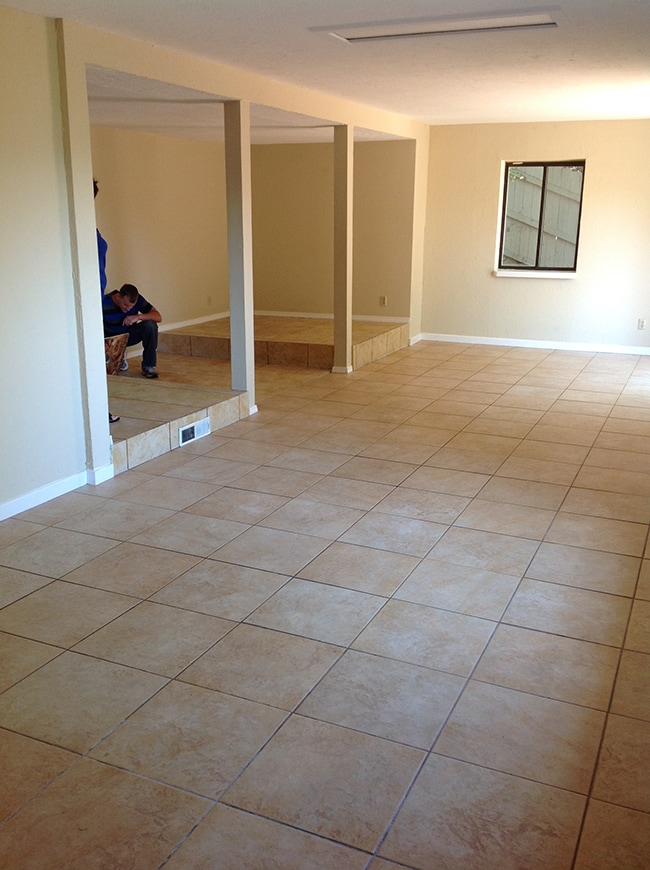 Pin
We separated that space on the left by converting it into a home theater. You can read all about that process here.
Pin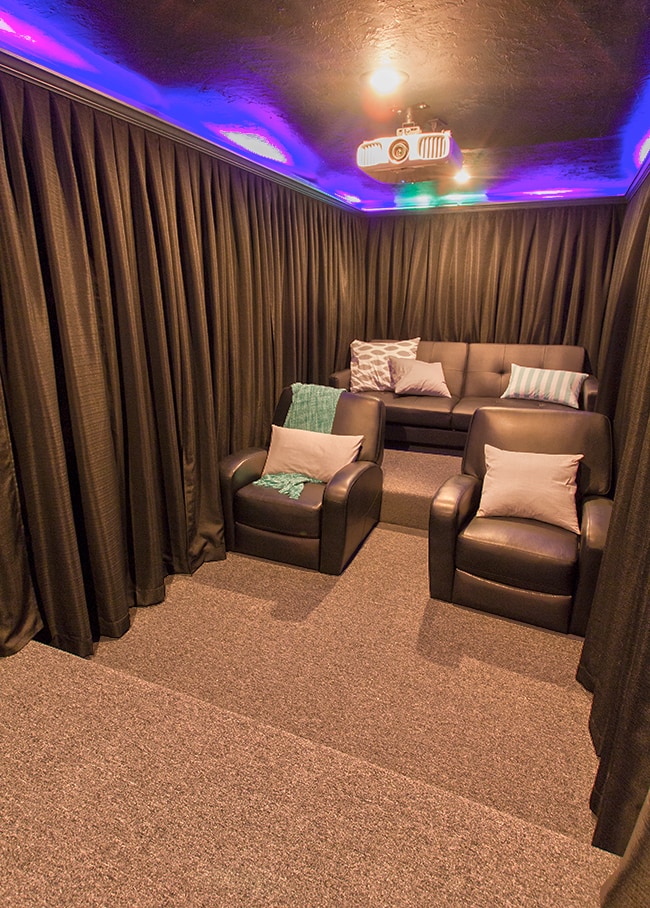 Pin
But then for two years, the rest of the downstairs remained forgotten. Until now.
Because I was working with a very limited timeline and budget, the goal wasn't to create a dramatic transformation as I'm normally inclined to do—but rather, a simple facelift. That meant using what I already had, ordering affordable furniture, and DIYing the rest.
First, I gave the room (and adjoining hallway) a fresh coat of Kelly Moore's Laguna Beach, which is a warm antique white.
Then the sliding double DIY Barn doors were installed over the home theater entrance, which you can see a couple shots of back in Vlog Episode 8.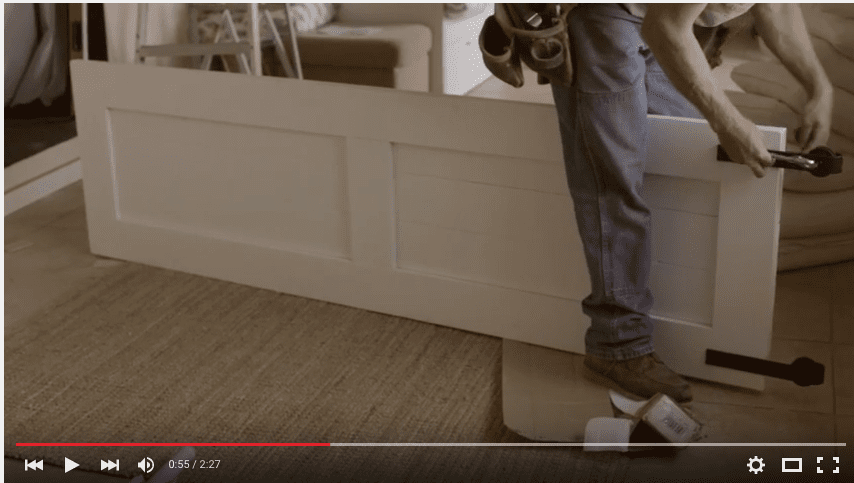 Pin
Next I had to plan the layout. There were already two Ikea Brimnes daybeds in the back of the room (originally from the sunroom in our Florida home), along with a jute rug and DIY coffee table so I decided to leave those as is, and divide the room into two sections by creating a separate seating area in the front.
Because the width of the room is only 10'9″ with doors on one side and a window on the other, this required a little creativity. A standard couch would be too large but chairs were too small, so I found a happy medium with these settees from Overstock: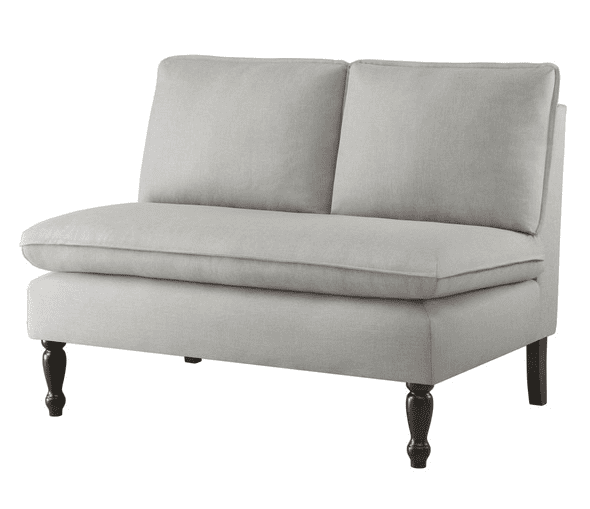 Pin
I love how classic and versatile the look is and knew I could use it in future homes, so I bought two to place across from each other.
Then, my favorite rug source was having one of their biggest sales of the year, so I jumped on it and picked up this 8′ round jute rug for just $130 shipped: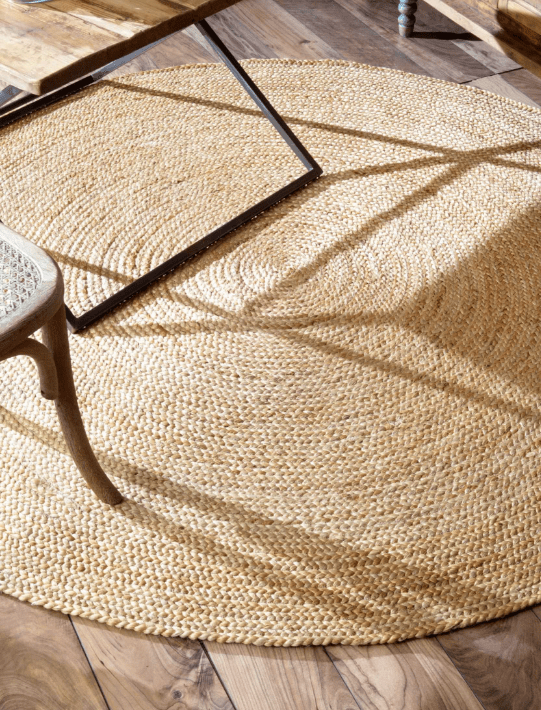 Pin
Now that I had my basic seating area layout, it was missing one essential piece—a DIY wood project!
This window (on the right) would make the perfect spot for a built in desk ledge.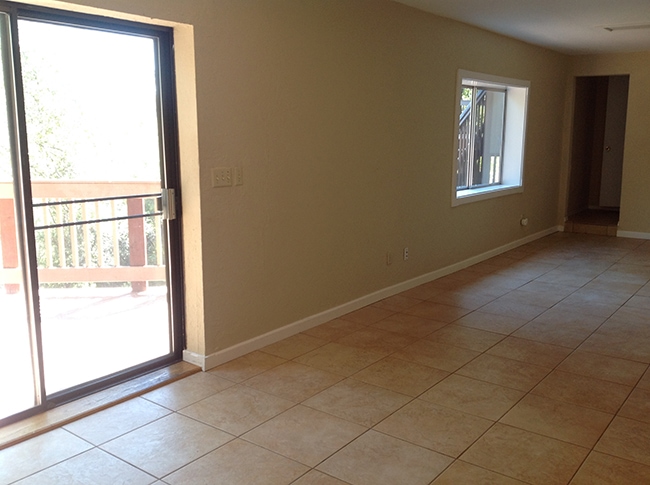 Pin
You can watch me building that along with a bench in Vlog Episode 10, and I'll also be posting a full tutorial next week!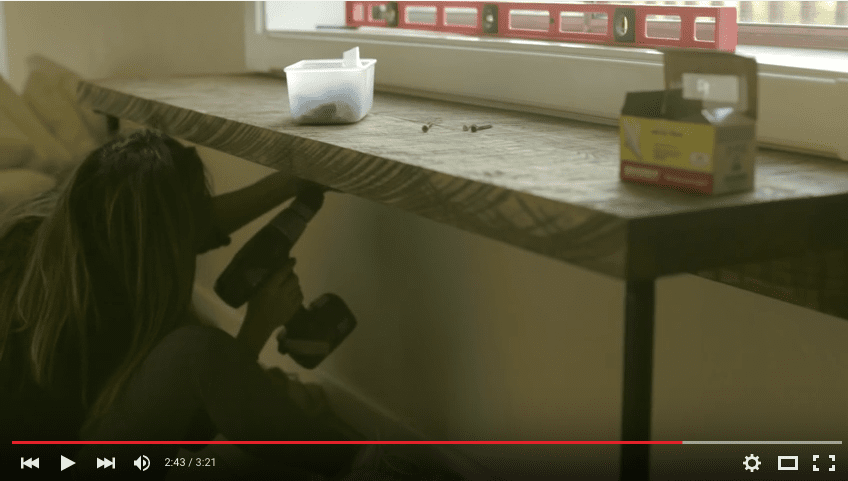 Pin
After the basics were in, it was all about the details. I picked up curtains, a tree and a few accessories at Ikea, a coffee table at TJ Maxx, hung woven shades, and brought in pillows, blankets and artwork I already had for the finishing touches (full source list at the bottom of this post!)
And here she is today…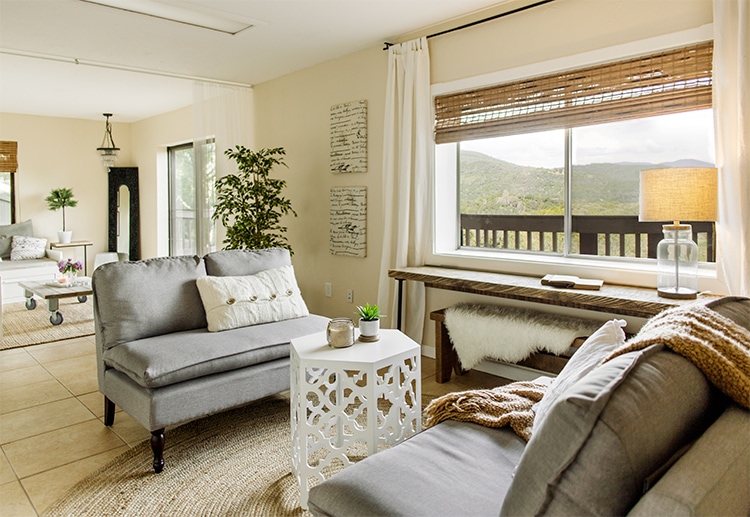 Pin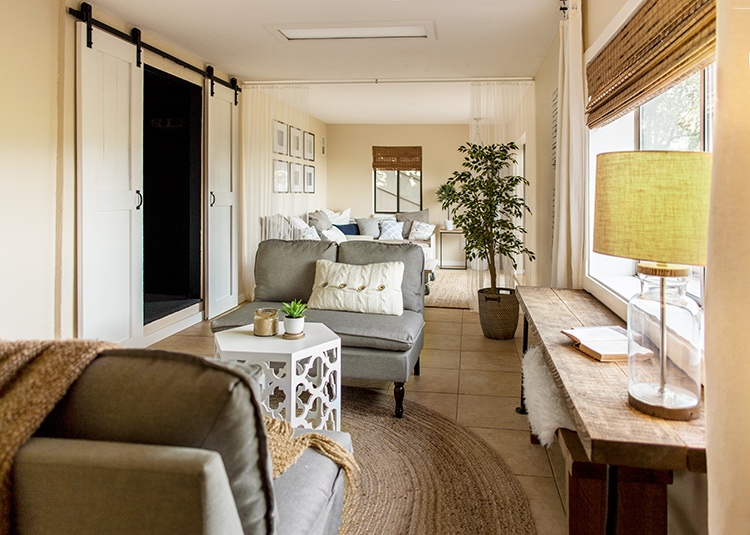 Pin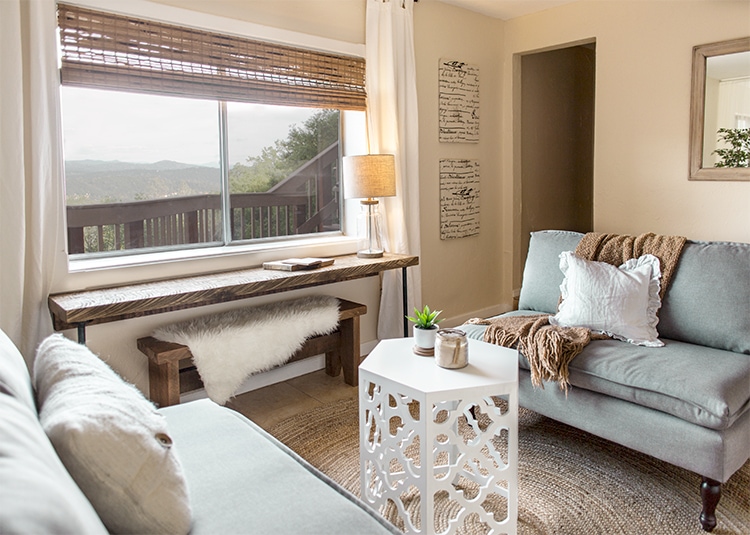 Pin
Pretty cozy, right?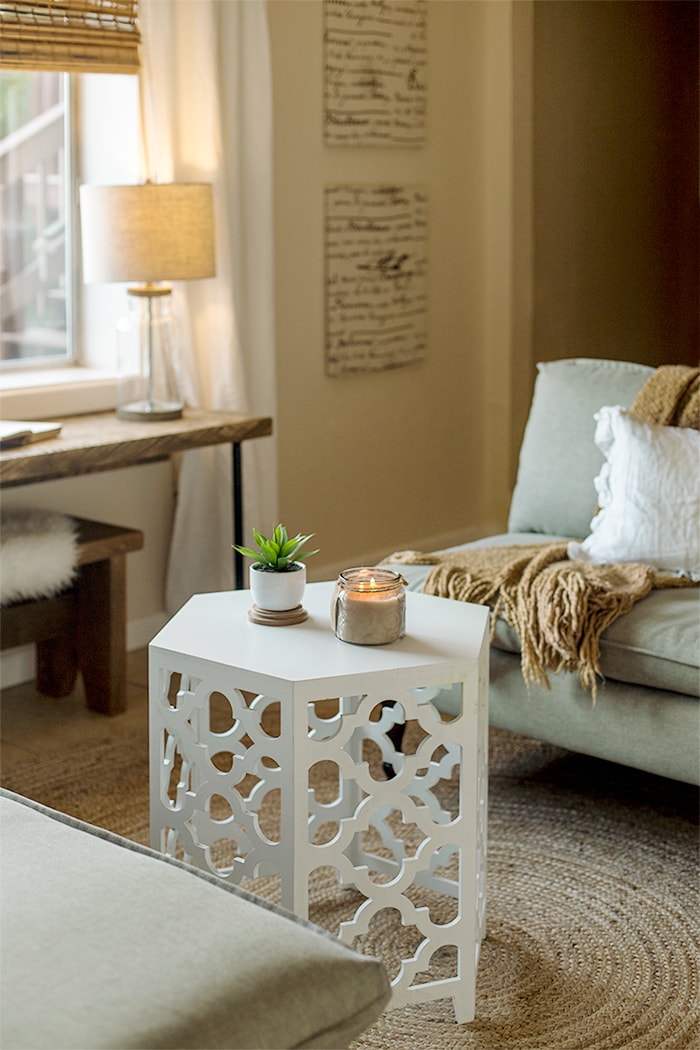 Pin
This desk and bench were built in less than a weekend for under $120… can't really beat that! Looking forward to sharing the process with you next week.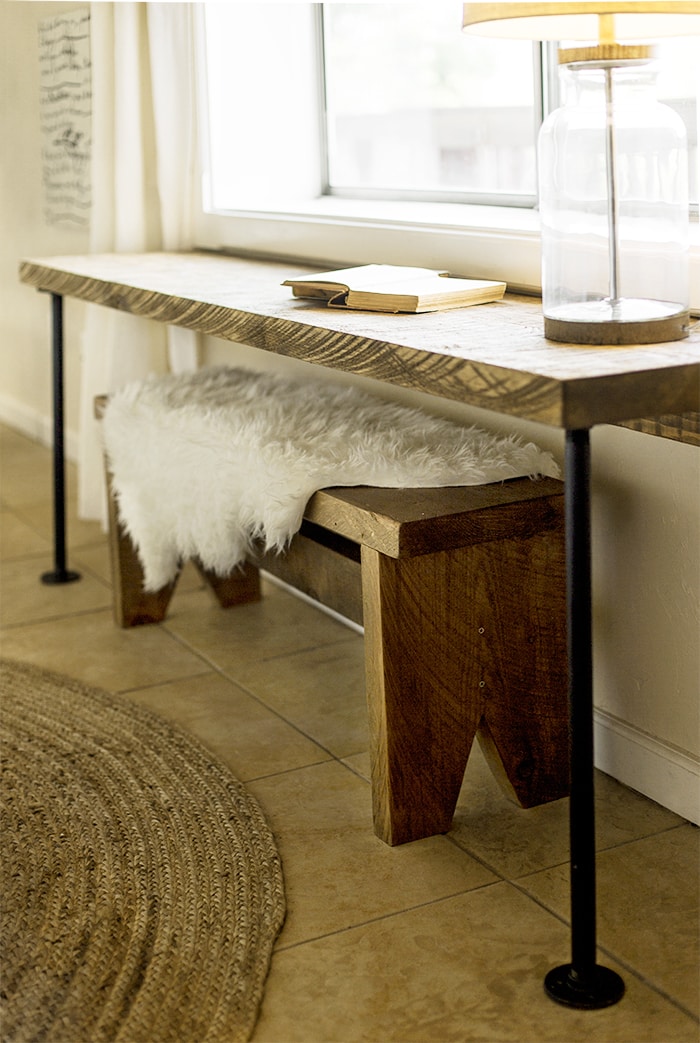 Pin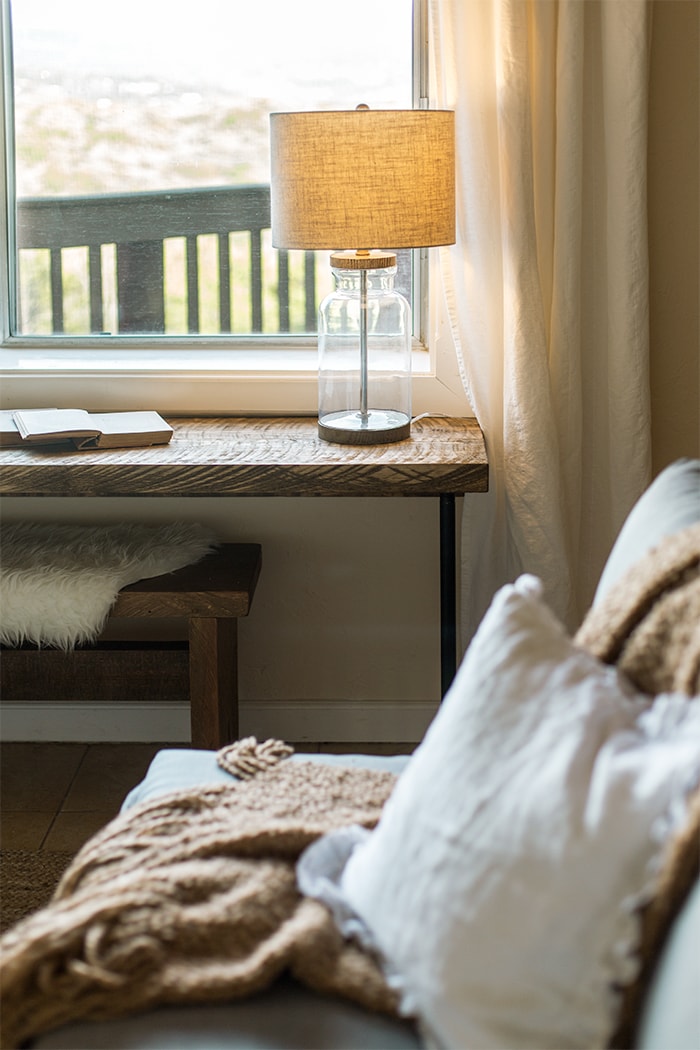 Pin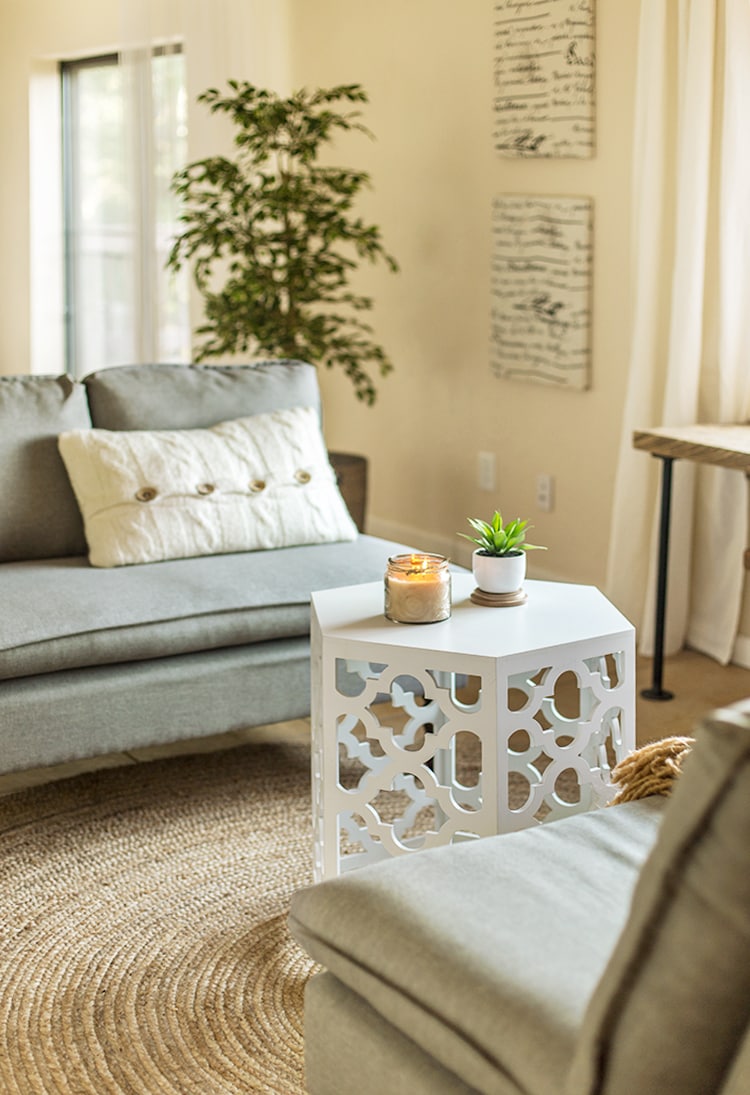 Pin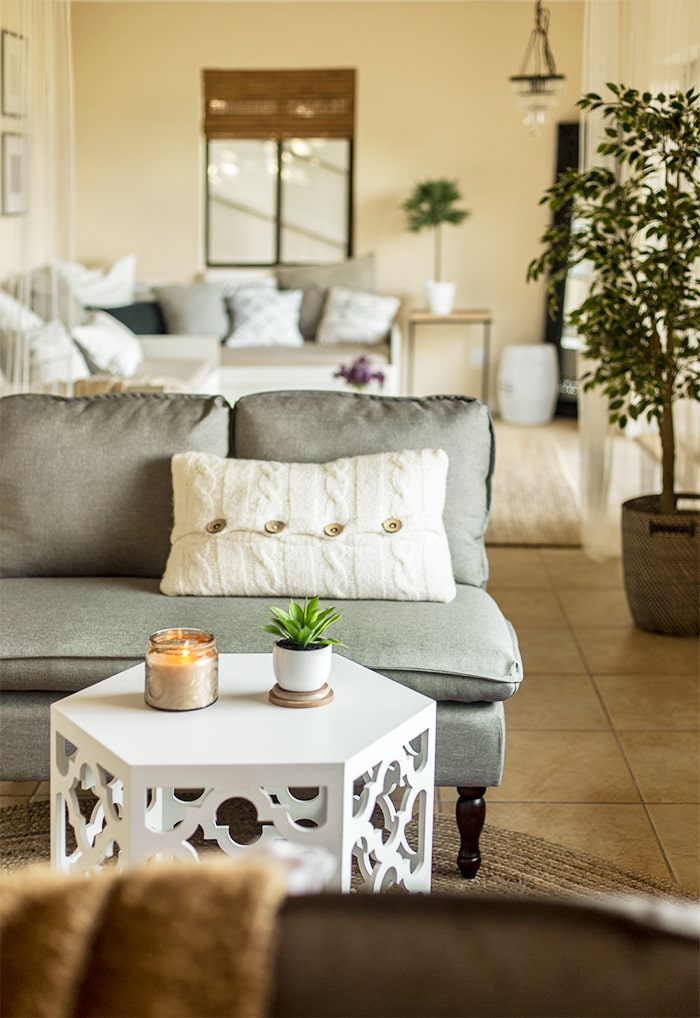 Pin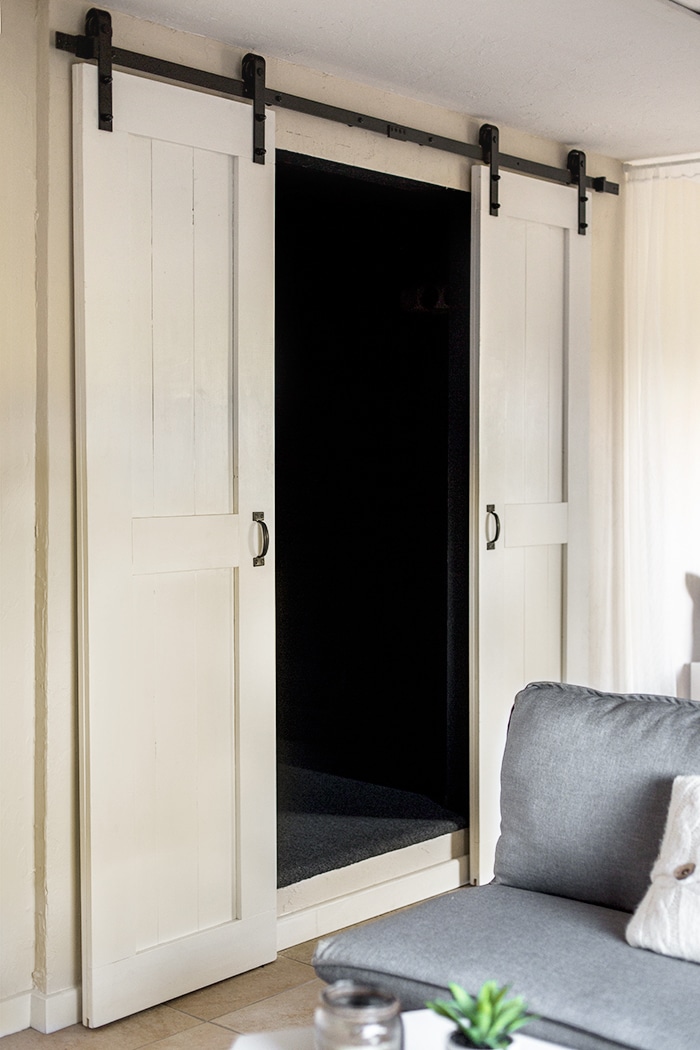 Pin
The daybed seating area was divided from the front of the room using gauze sheers and a curtain rod hung from the ceiling. I love the breezy romantic touch it adds…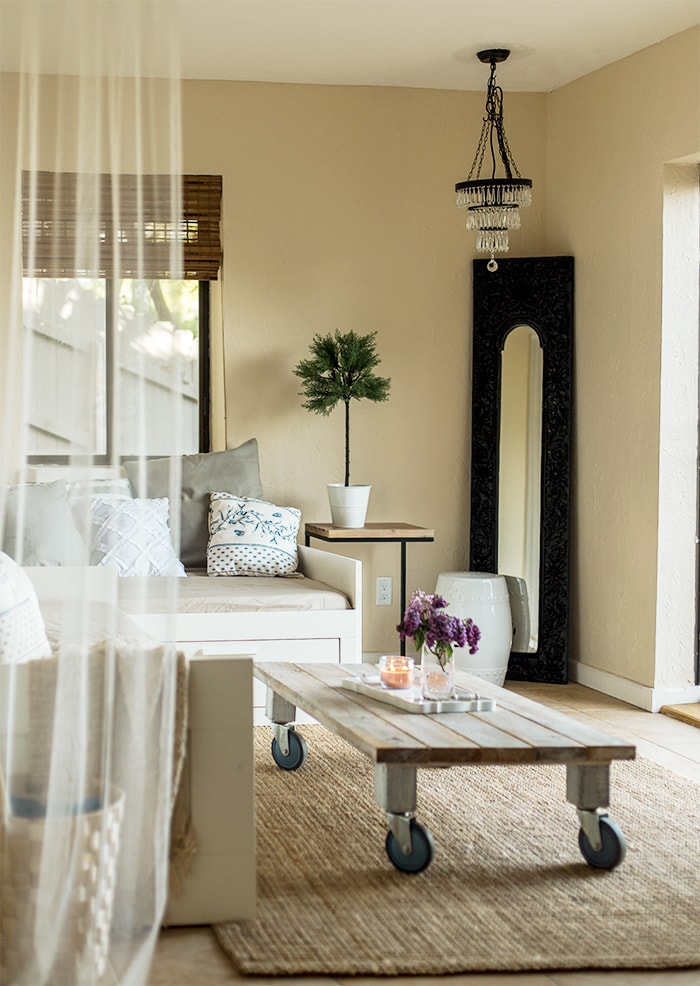 Pin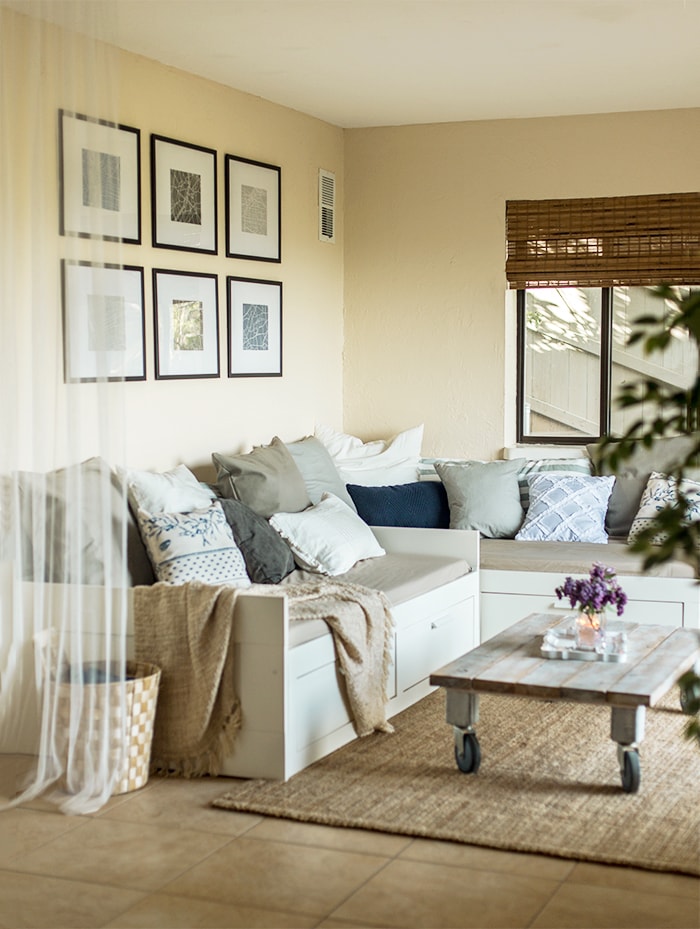 Pin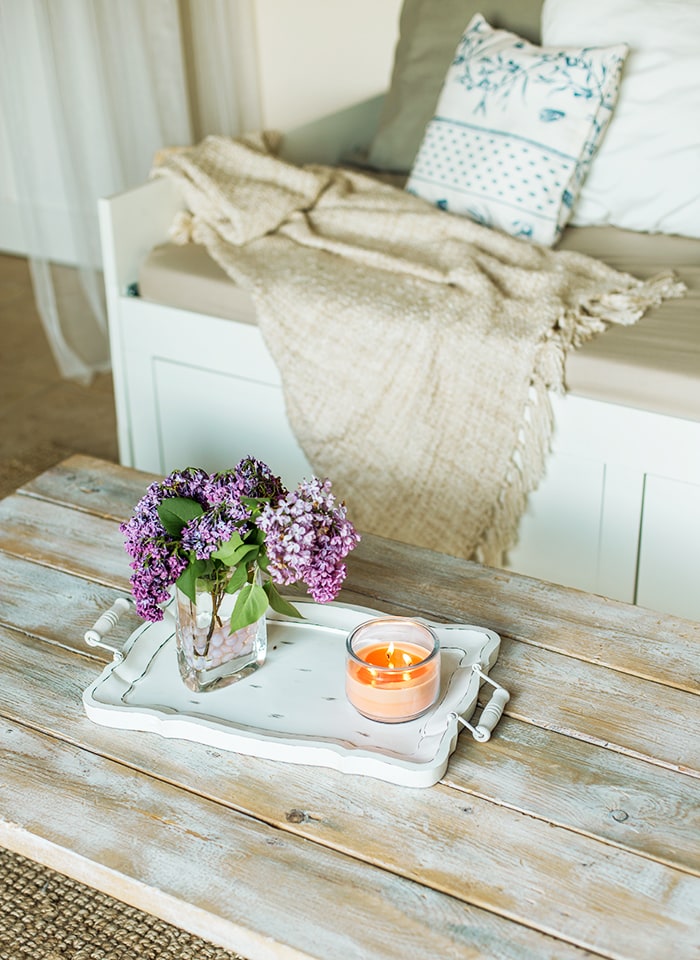 Pin
By using what I already owned and sourcing inexpensive options, this space cost very little to put together. That's my kind of makeover.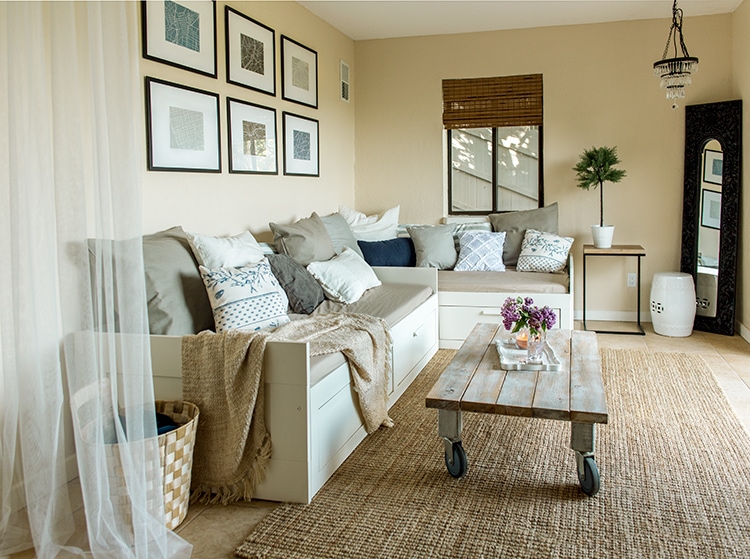 Pin
Source List:
Wall color: Kelly Moore's Laguna Beach
Rectangle jute rug: Ikea
Round jute rug: Rugs USA
Daybeds: Ikea Brimnes
Gauze curtains: Ikea Lill
Window curtains: Ikea Lenda
Loveseats: Overstock / Toulouse French Seams Gray Loveseat
Wood coffee table: DIY
White trellis coffee table: TJ Maxx
White garden stool: TJ Maxx
Metal & wood side table: Ross
Crystal chandelier: Overstock
Woven blinds: Amazon
Black frames:  Ikea Fiskbo 16×20″
Art prints: Jenna Sue Design city maps
Canvas art: DIY
Woven floor basket: Ikea (old)
White coffee table tray: Kirklands
Pillows & blankets: Ikea, Etsy, gifted, thrifted, etc
Black mirror: Borrowed
Barn doors/hardware: DIY
Desk & Bench: DIY (coming soon!)
Sheepskin rug: Ikea
Lamp: Lowe's
And that should cover it! If I had more time and funds for this room I'm sure it would look quite different, BUT, given the constraints I had to work under I really am quite pleased with the results and hope the future homeowner will be able to really enjoy this space.
Let me know if I've missed anything in the comments or if you have any questions/clarifications/thoughts. There's a full week of projects ahead including shooting a DIY furniture makeover, a backyard patio transformation, hosting a wine party and working on that desk/bench tutorial—all coming your way within the next couple weeks! You can catch all the behind the scenes action by following me on snapchat @ jennasuedesign, or frequent updates on instagram, facebook and twitter.
Enjoy this last week of April!