The first bedroom in the Riverside Retreat is officially finished and ready for guests!
We started on this project last month, but I had been planning out the design well beforehand (planning is the most important part!)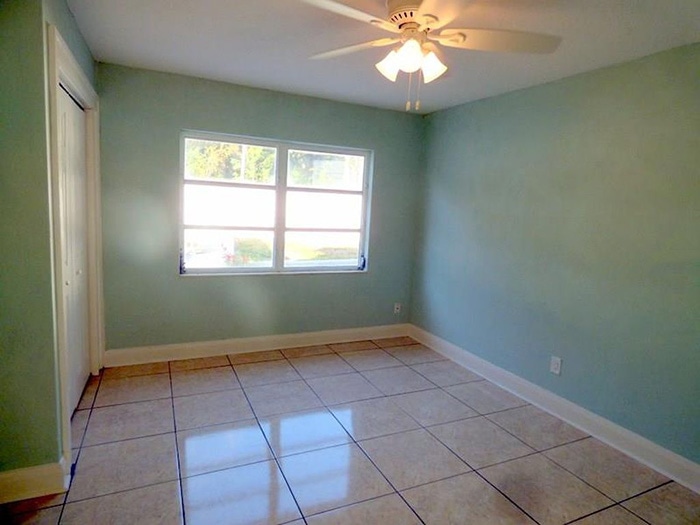 The bedroom is small at just over 11′ x 12′ in size, so a more youthful design seemed fitting.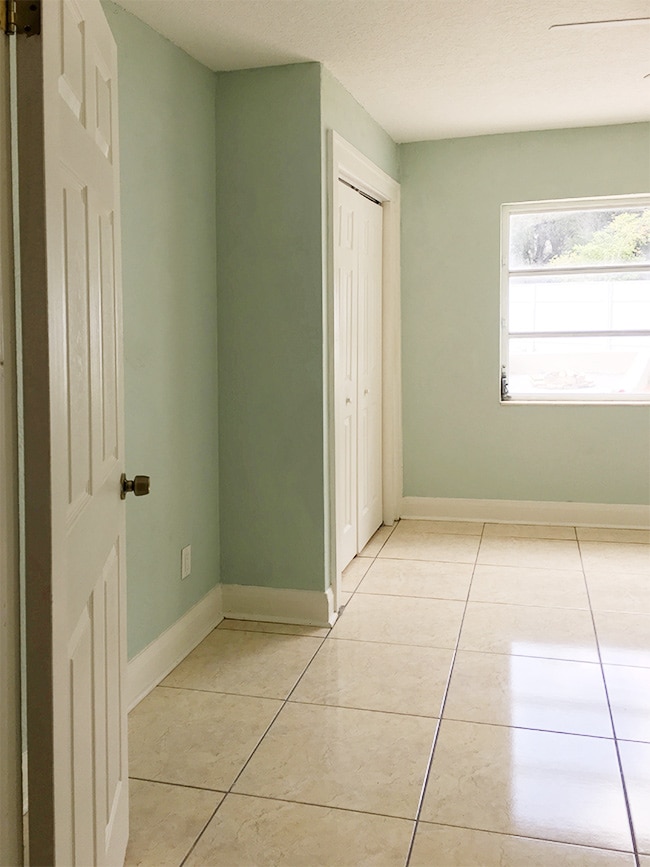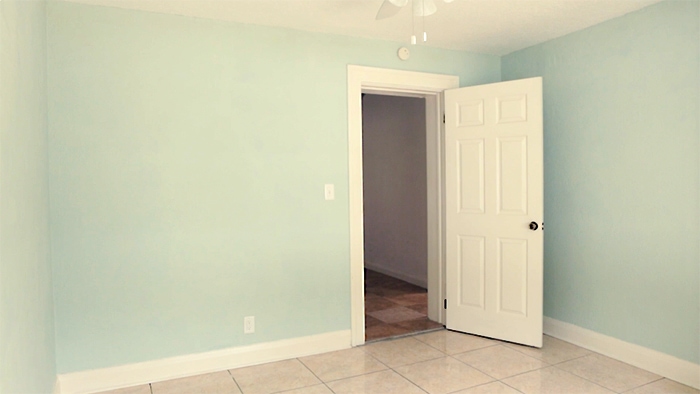 This future vacation rental home will have a unique design for every room, and after finding the perfect wallpaper as inspiration, I thought it'd be fun to go with a rainforest theme.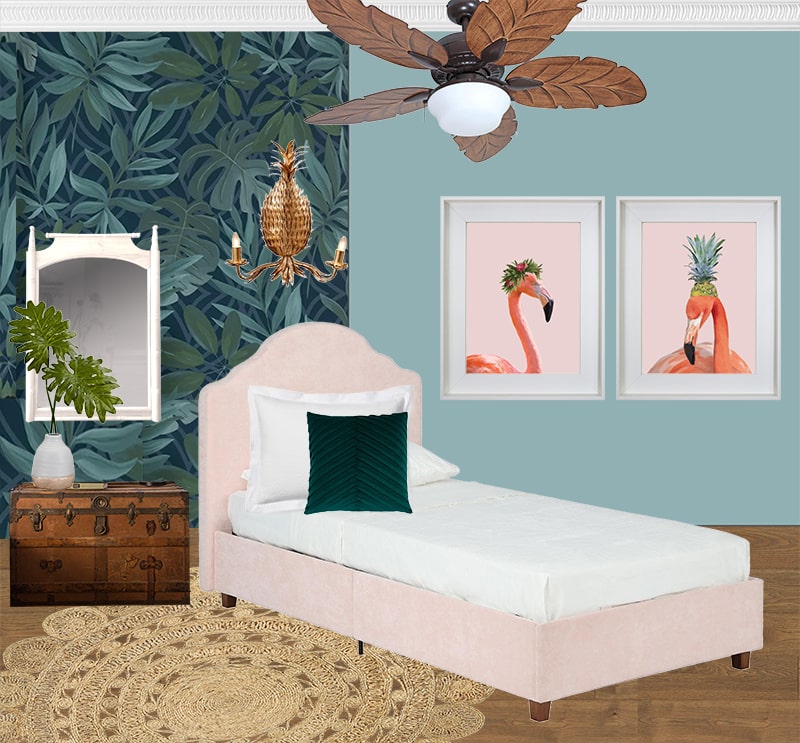 Phase 1 of this makeover included new floors, paint, crown molding and baseboard, wallpaper and a fan.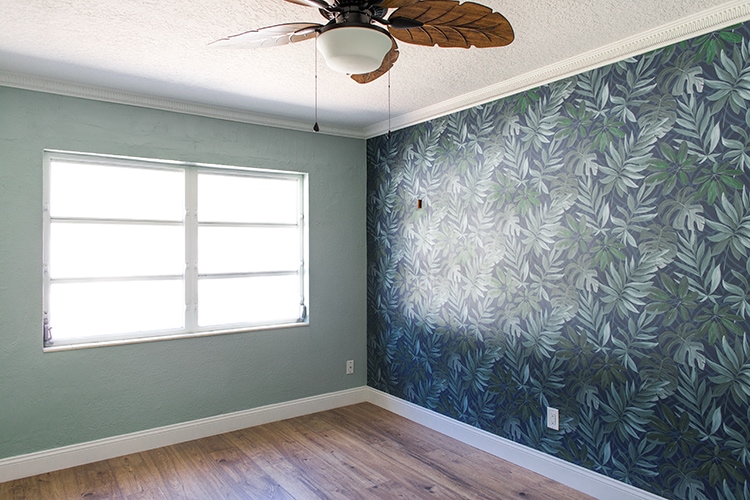 Then it was time for the fun part: furniture and accessories! I partnered with Overstock for this project because they had everything I needed to bring my design to life, and I know you guys appreciate when I share budget-friendly pieces that you can use in your home too!
Welcome to our Rainforest Room…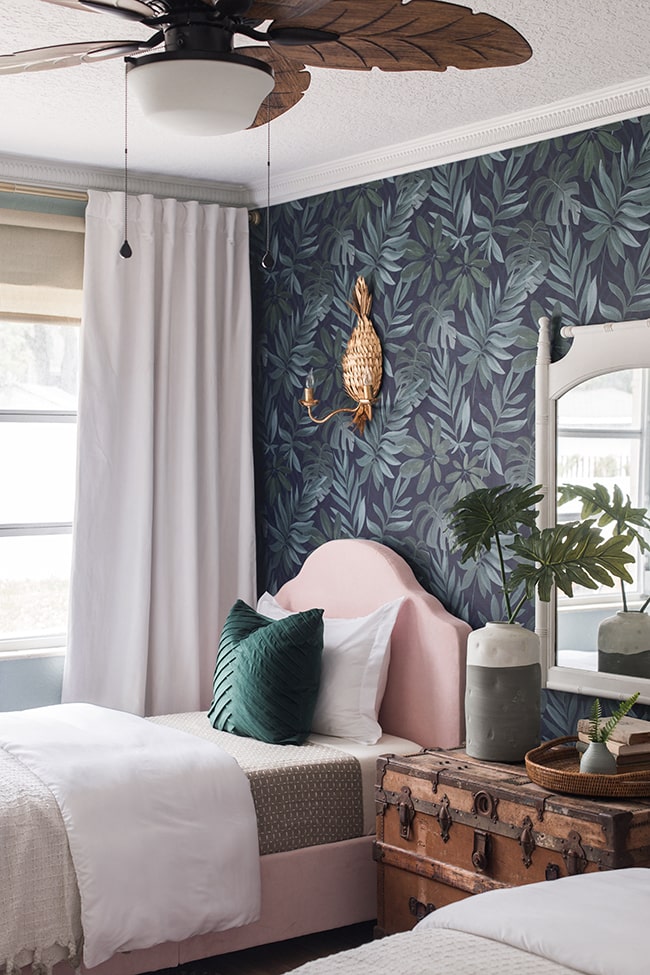 Envision the sound of leaves rustling in the wind, exotic birds chirping, the roar of a distant waterfall and sunlight filtering through the canopy above.
We want our guests to feel as though they've been transported to another place, where their imagination can run free.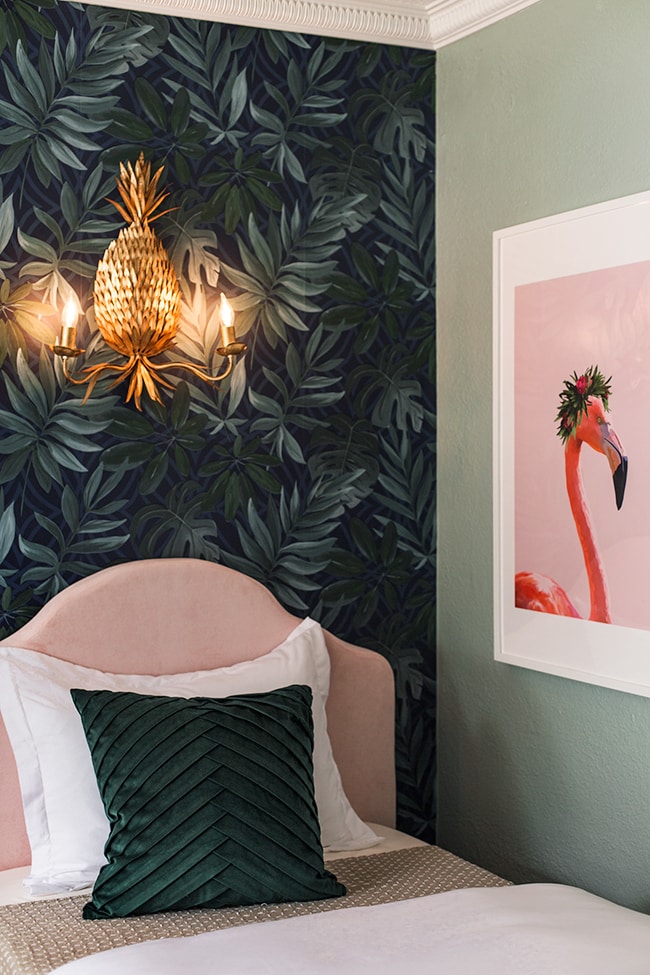 When you walk into the room, you'll notice floor to ceiling curtains which draw your eye up and make the room appear taller, while rich velvet fabric and a champagne gold rod add a little bit of a luxury.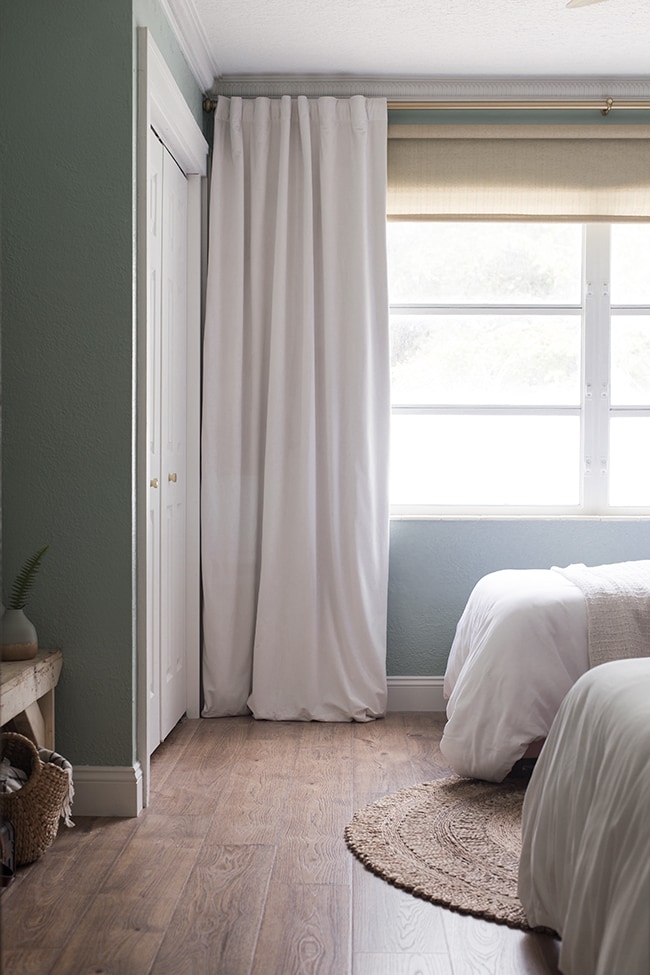 Immediately to your left, an empty wall has been utilized by an antique bench and accordion rack—functional storage space for travelers (cat not included).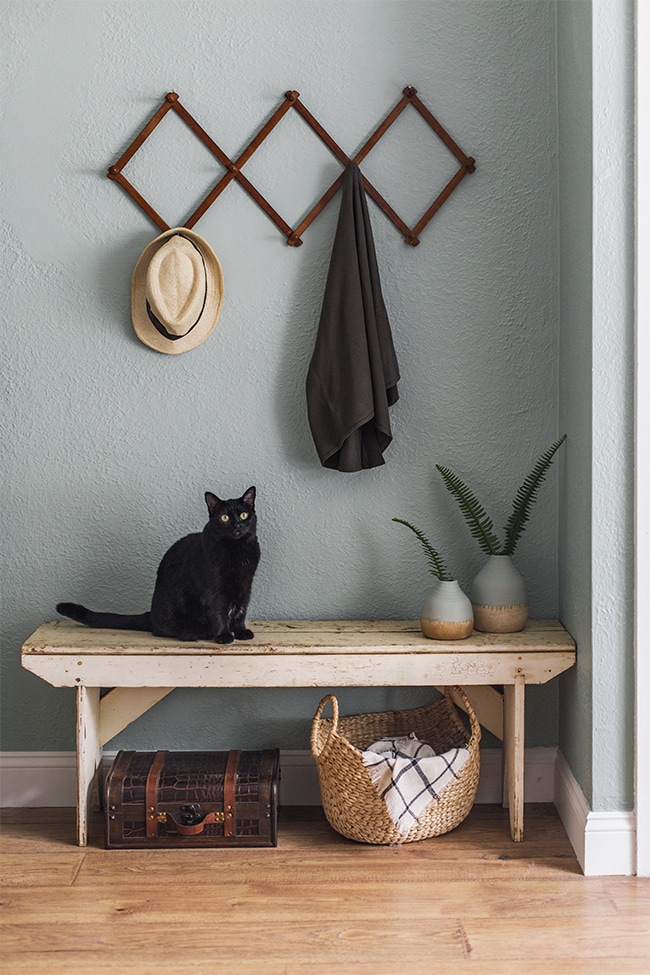 Of course, the tropical wallpaper backdrop steals the show.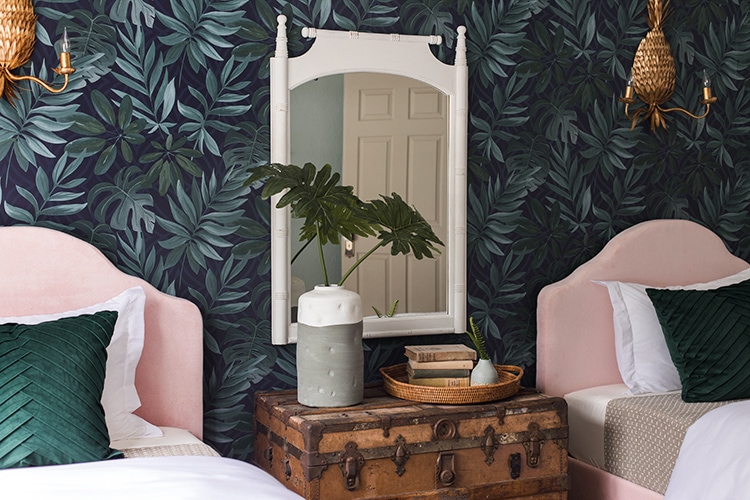 But the two main players in this room are those matching pink velvet beds. As soon as I spotted these beauties, I knew they were perfect for the space.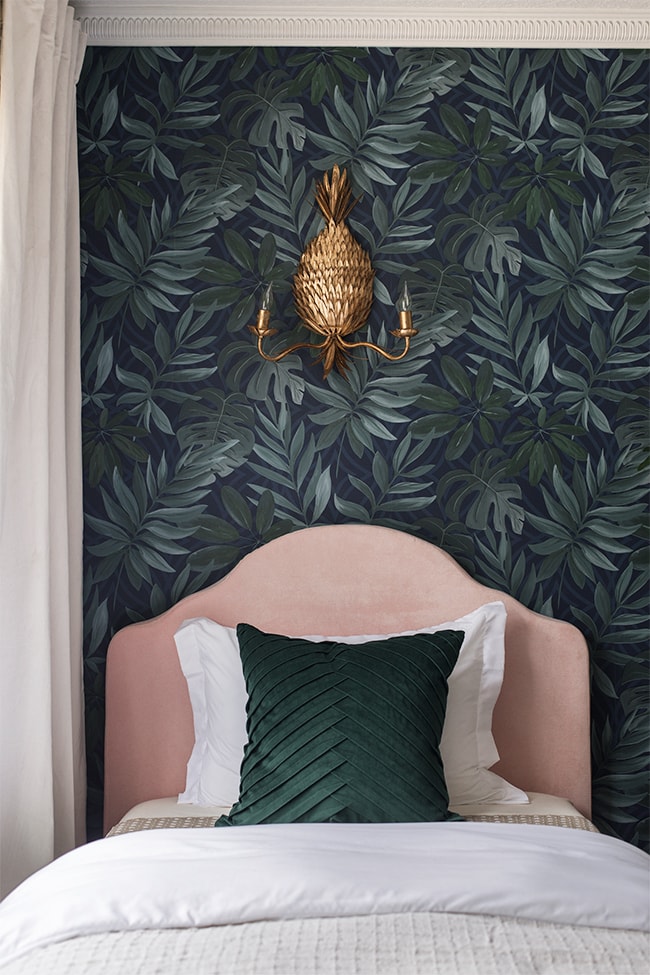 The pastel pink is a perfect complement to the deep blue and green palette, and pops beautifully against the rich backdrop. The subtle curved shape of the headboard mimics the flow of the leaves, and the plush velvet contrasts nicely against the hard surfaces in the room. Design is all about balance, and I couldn't have dreamed up a better bed for this space!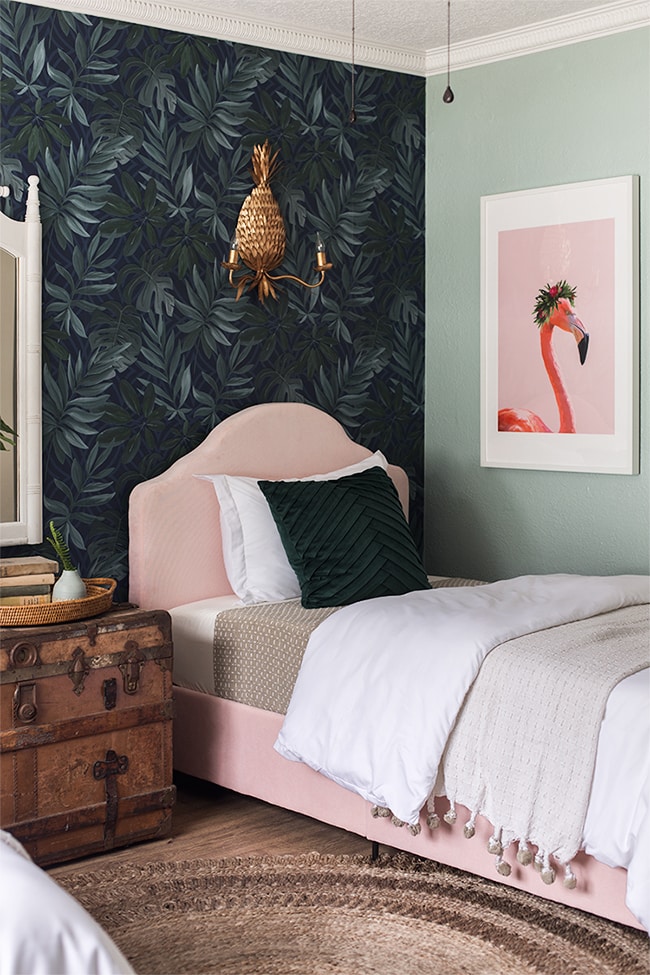 Speaking of beds—comfort is of utmost importance in a vacation rental. Each one has the cushiest memory foam mattress (no box spring required with these beds), and I kept the bedding simple as to not compete for attention with the rest of the room.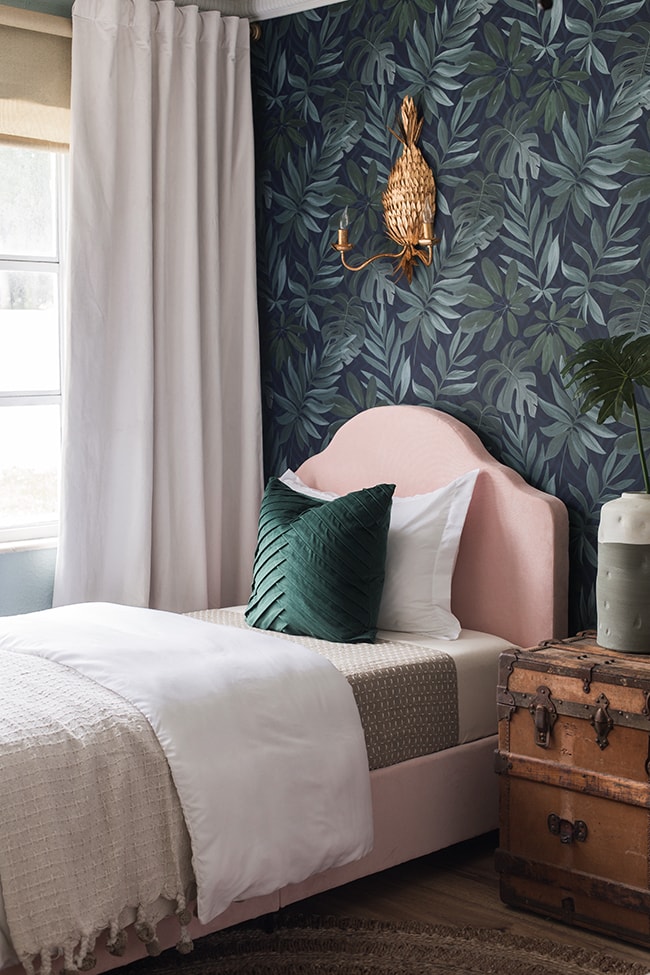 Layered basic neutrals—ivory microfiber sheets, a fluffy down comforter and white duvet cover, and my favorite stitched pom-pom throw set (only $20 for 2!) make these beds extra comfy and inviting (and affordable). And I just couldn't resist this emerald green velvet accent pillow…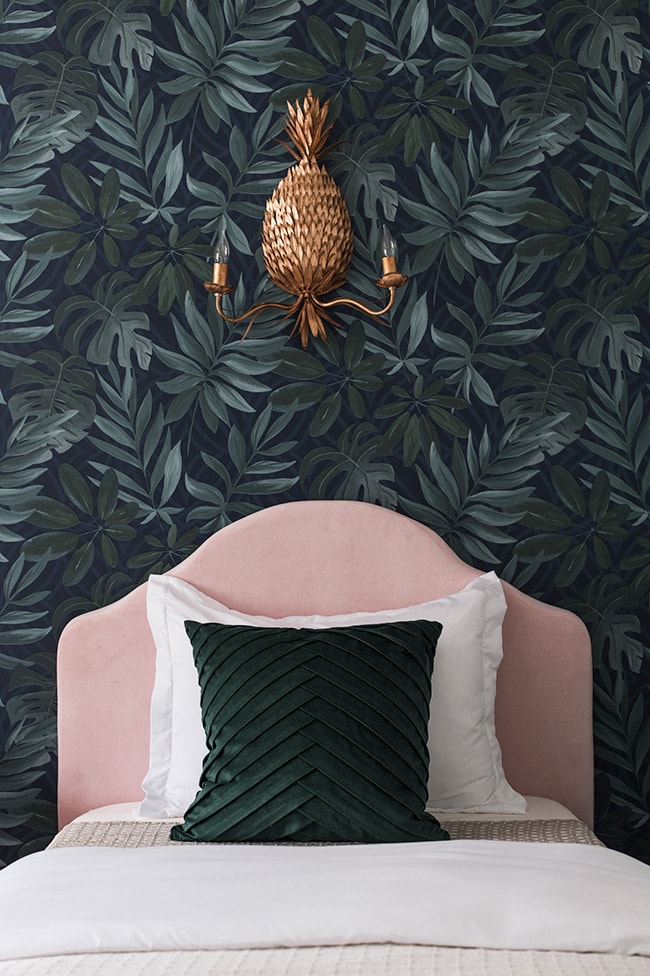 It comes in many colors and might be my favorite throw pillow of the year (and that's a huge honor).
I know you've been eyeing that gold pineapple sconce…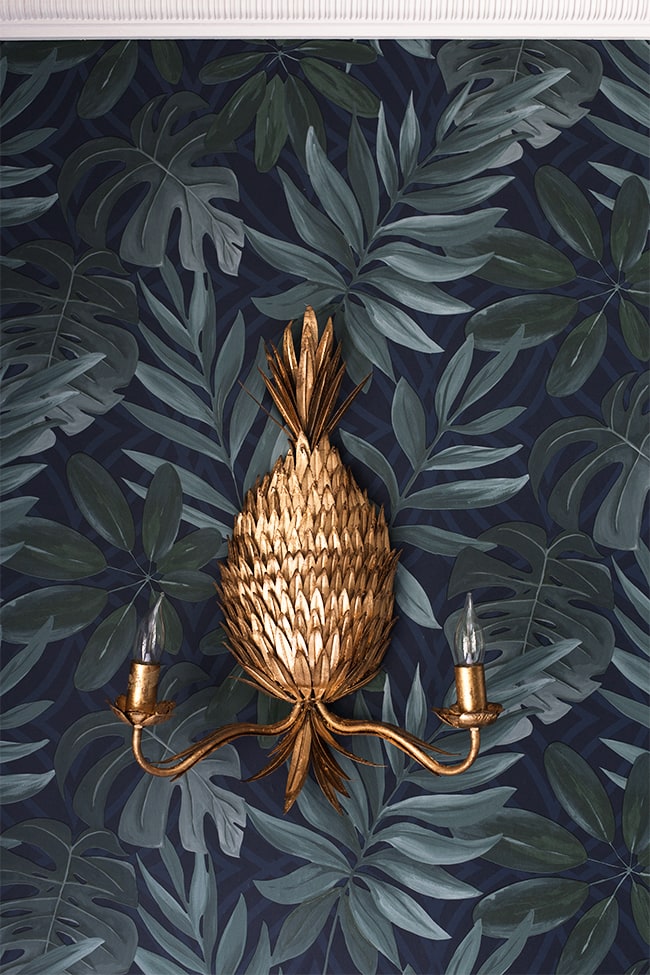 This caught my attention online, and I couldn't decide if it was the coolest thing ever or just weird… and that's how I knew I needed it. I've never seen anything like it before, and it certainly leaves an impression!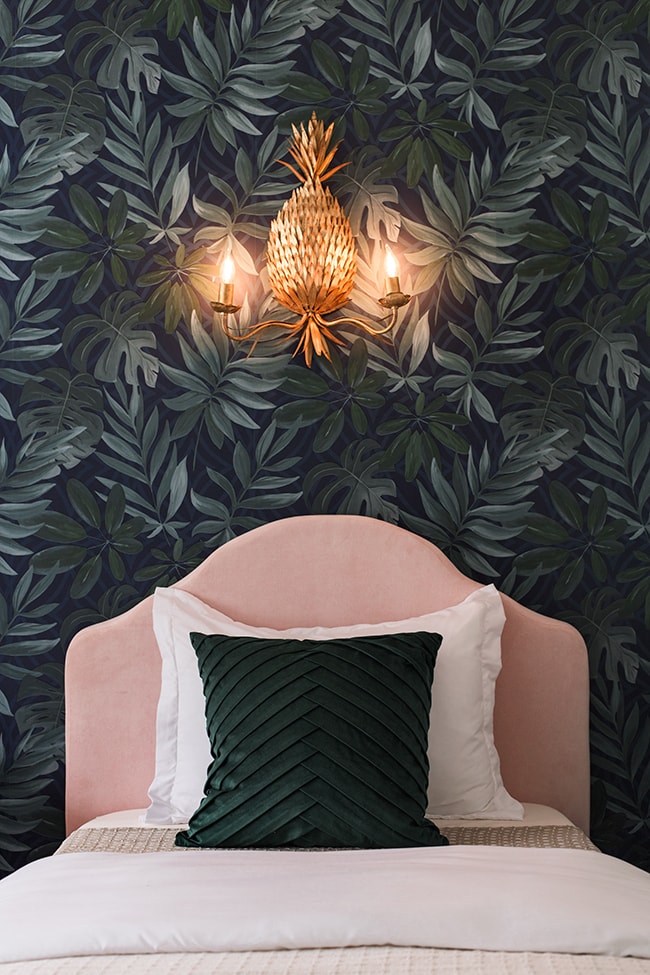 I can't stress enough how important lighting is in a room. Adding these sconces made the single biggest difference in here—more than the new floors and wallpaper combined. That's because lighting completely changes the mood of a space—it dictates the ambiance and therefore your experience. This is why every room setup in Ikea feels so warm and inviting, and doesn't necessarily have that same feeling when you try to recreate in your own home. It's because they have all the right lighting! /rant over.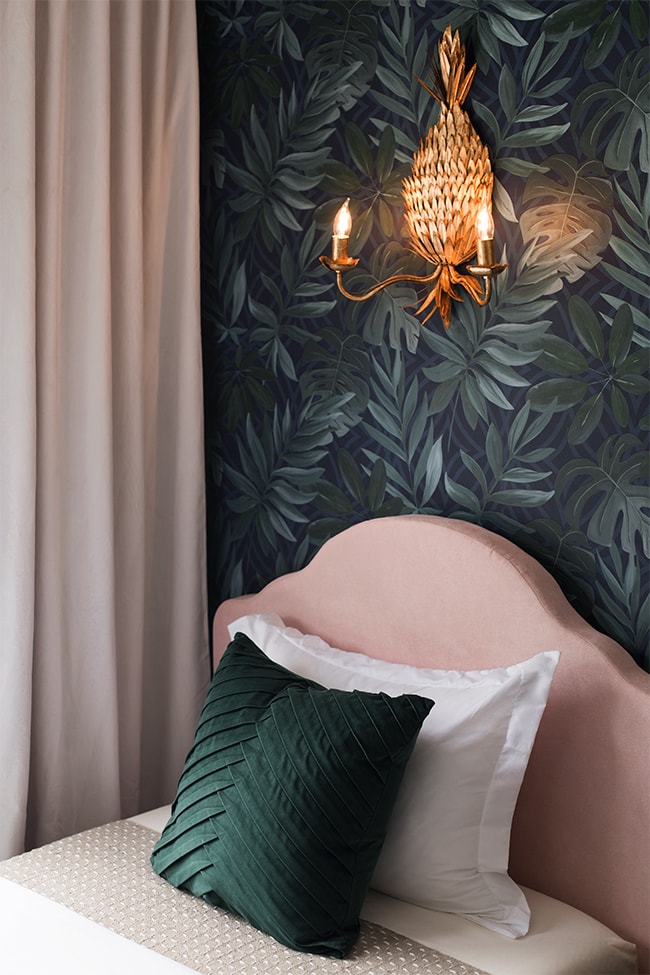 When it starts to get dark outside and the sconces turn on… this little space is magic. The warm glow gives the room depth, and makes the wallpaper almost come alive. I think we might need to make this our master bedroom instead…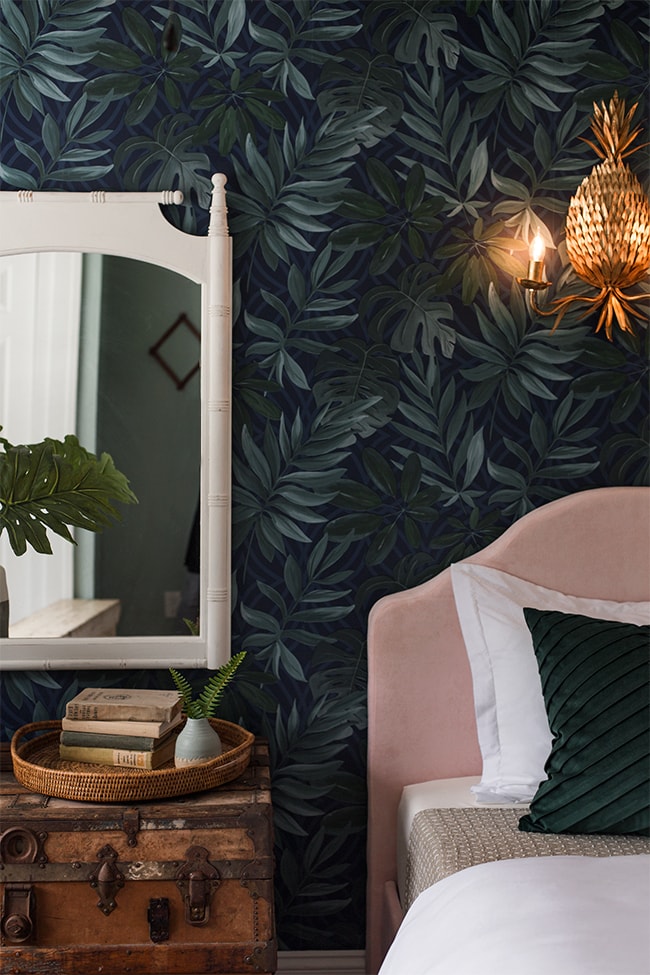 Running wiring for these sconces was the best decision I made in here. The pineapples represent hospitality, the intricate details are really a work of art, and they bring so much warmth to the room.
Between the beds, an antique trunk full of aged character serves as a shared nightstand.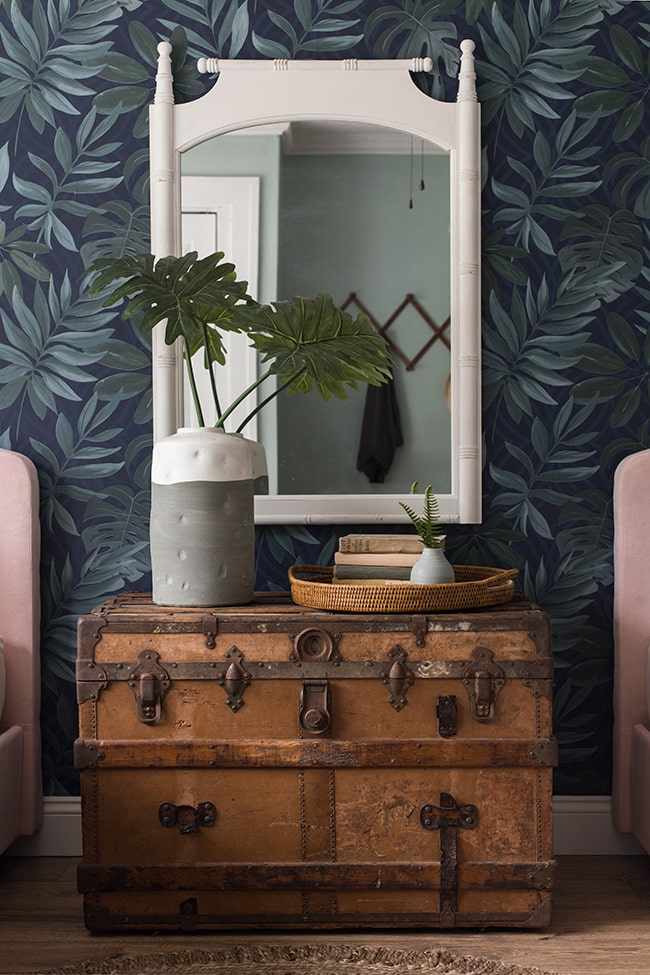 Realistic monstera palm leaves and ferns from the yard in handmade ceramic jars bring the outdoors in, and a refinished bamboo mirror (secondhand find) divides the room and makes it feel larger.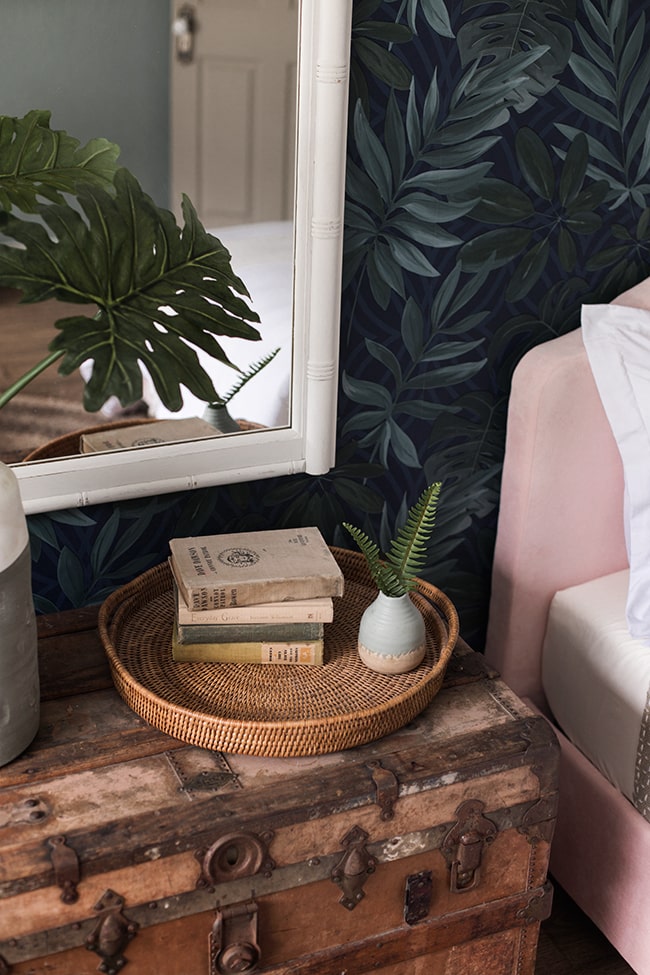 Between the beds, I found this 6′ round jute rug, which has just enough detail to make it interesting, but still simple enough to not steal the attention. The woven fibers balance the design with natural texture.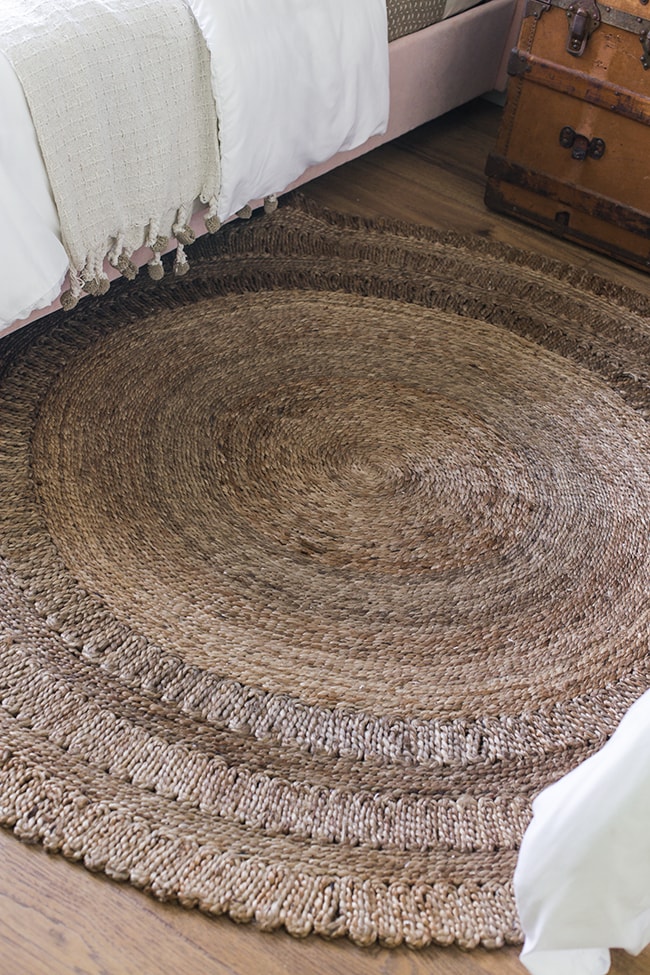 On the far right wall, a set of quirky pink flamingos tie in with the pink bed and add an extra dose of personality, perfect for this youthful space.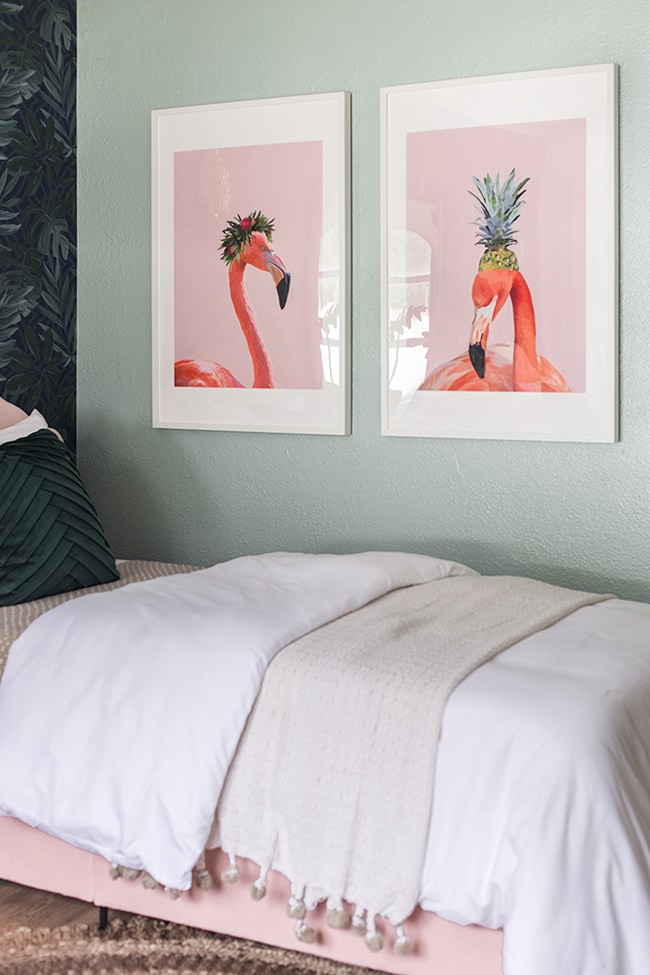 The tropical elements, pastel colors and mix of old and new pieces give the room depth and dimension, and make it feel like a truly unique space that has been collected over time.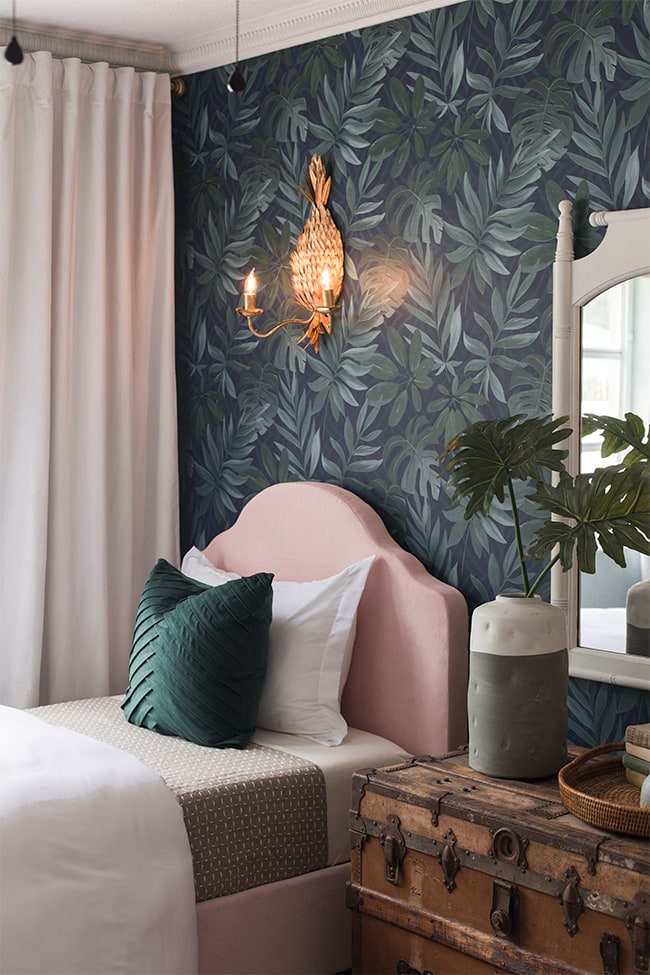 Vacation rentals are all about creating an experience for guests, and designing a home that captures some of the flavor of the destination.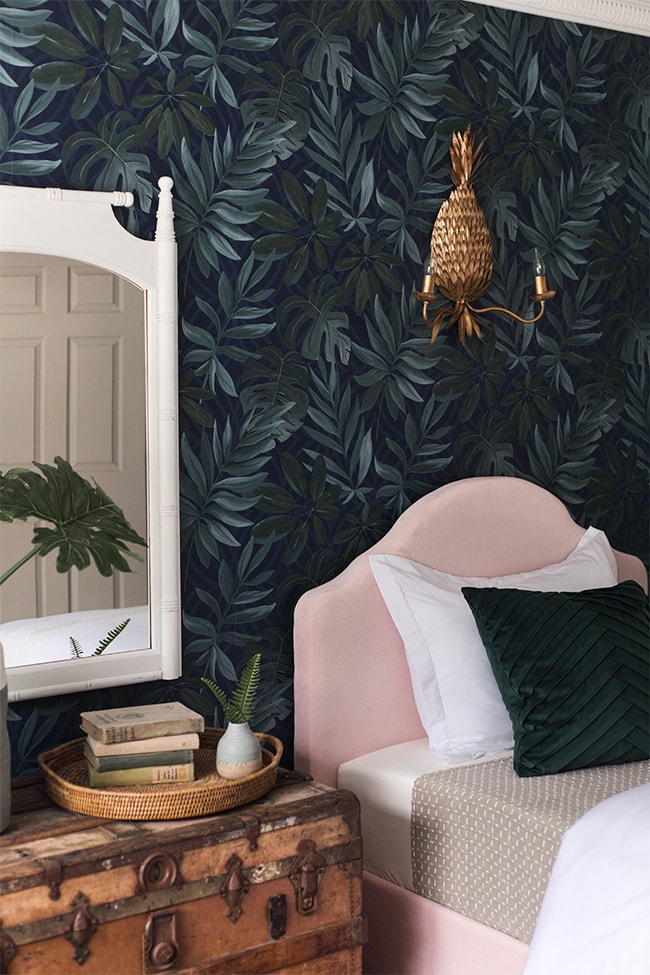 Over the past few weeks we've turned this empty bedroom into a little slice of a rainforest retreat, and I really think it'll be a relaxing and memorable escape for future guests.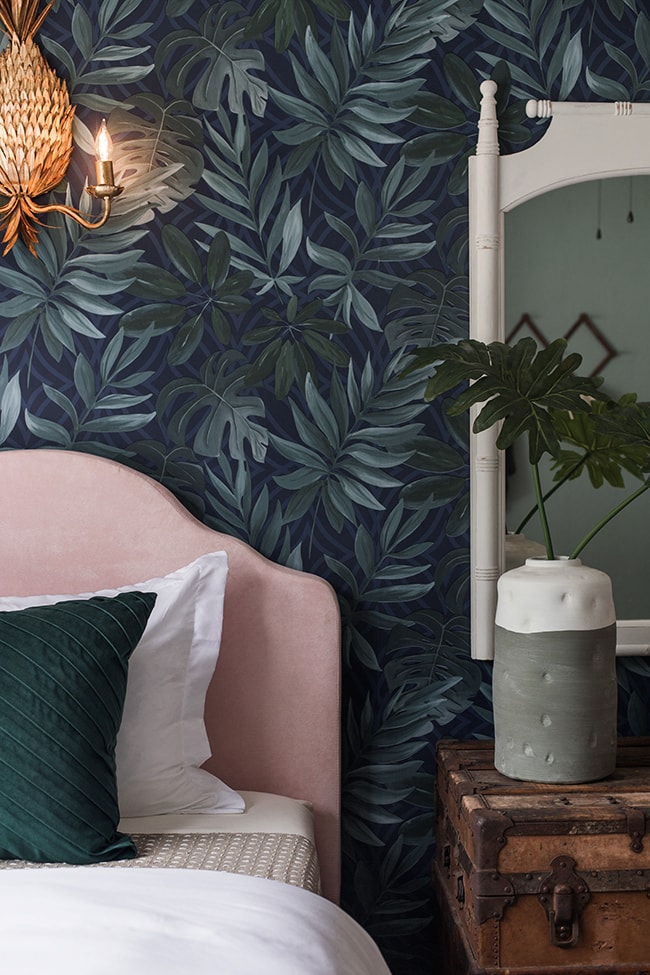 Tell me, what is your favorite part? Are you ready to book a ticket to Tampa to be our first guest? ? We still have several months (and a lot of DIYing) before we can open our doors to the world, but I think we're off to a good start!
Next week I'll be sharing a long overdue update on our new build progress, so buckle up for that!