Can you believe it has been nearly six months in the making? Today our playroom is officially DONE! Technically this space is an office, TV and play room, but I think the primary use will be family fun & games at this stage of life, so let's just call it the playroom. Come on in…
Originally we planned to leave this as an unfinished attic space (to keep building costs down) but thankfully, we ended up finishing it out as a "bonus room", gaining us an extra ~380 square feet of living space.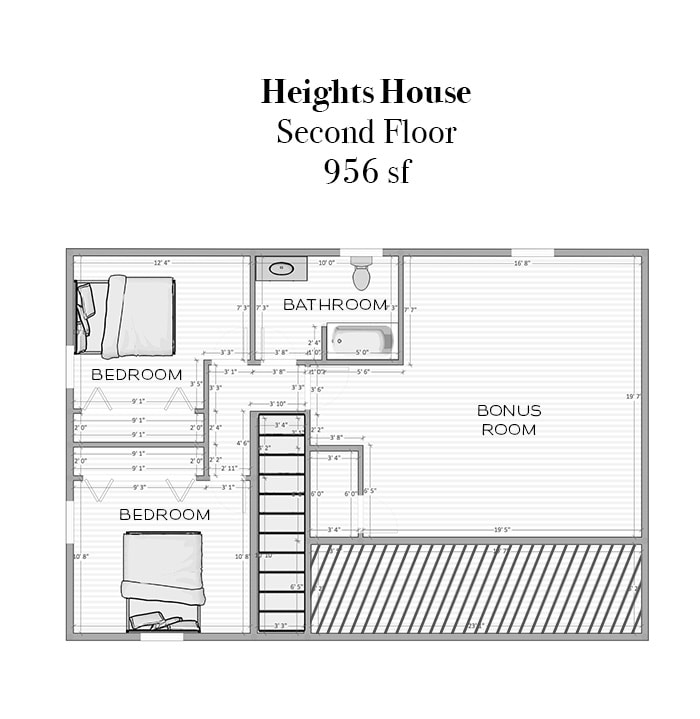 Now this once afterthought has become our new favorite room in the house—a space for our family to play, work, watch movies, and store all of my home décor and craft supplies.
Let's see the side by side before + after transformation!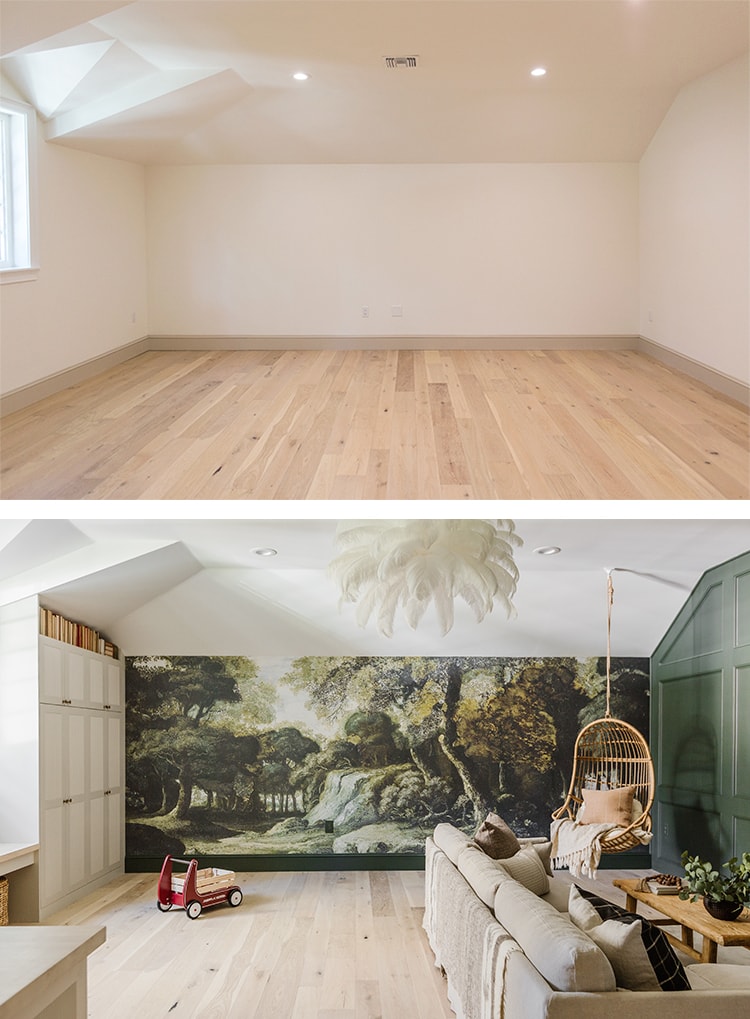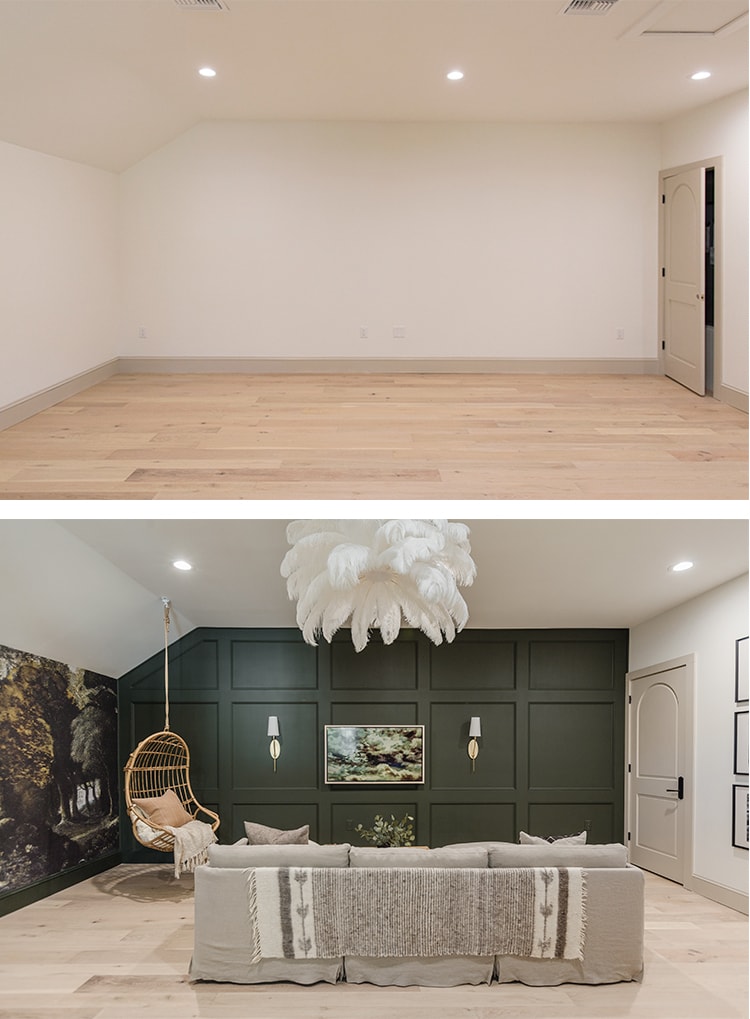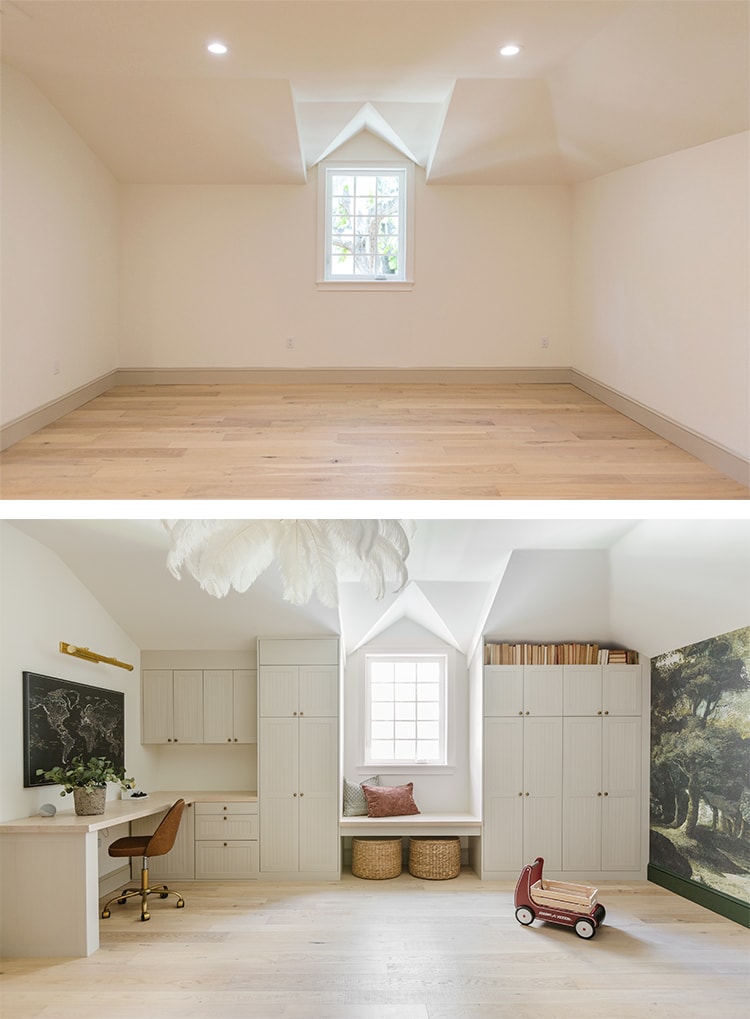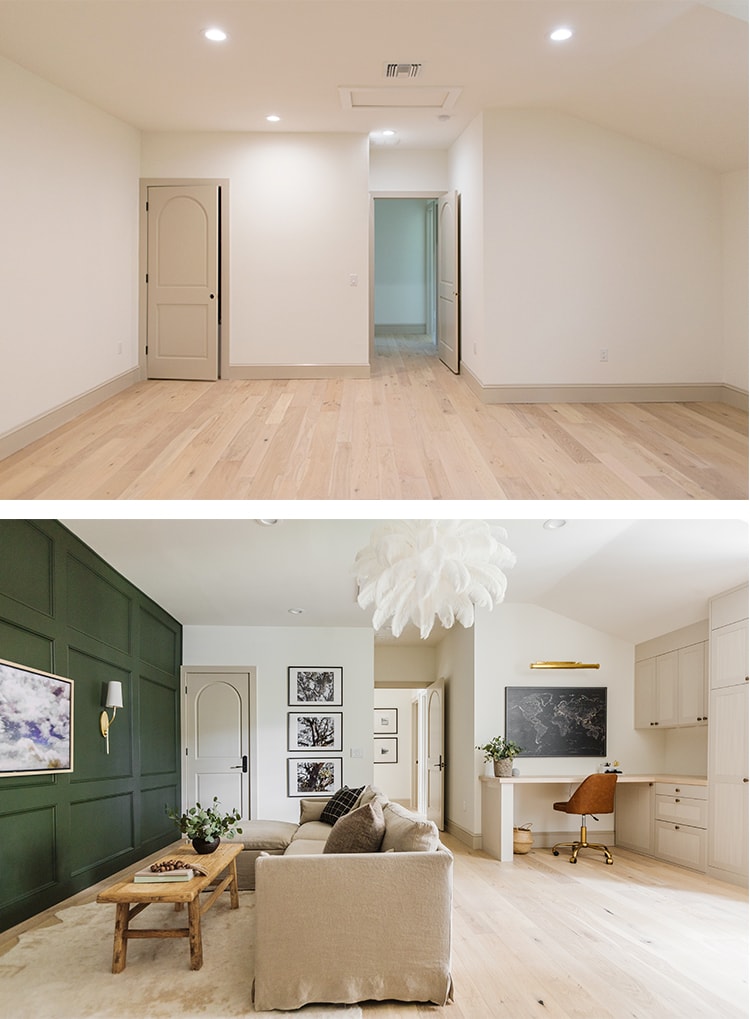 If anyone needs us, we'll be hibernating here all winter! Can you blame us? I really couldn't be happier with how this turned out, even though the timeline dragged on foreverrrr.
In case you missed anything, here's a breakdown of every project:
PS: Semihandmade also shared a great writeup on our cabinet painting process!
In the next two weeks I'll be sharing our DIY TV frame and feather chandelier tutorials, so stay tuned for those!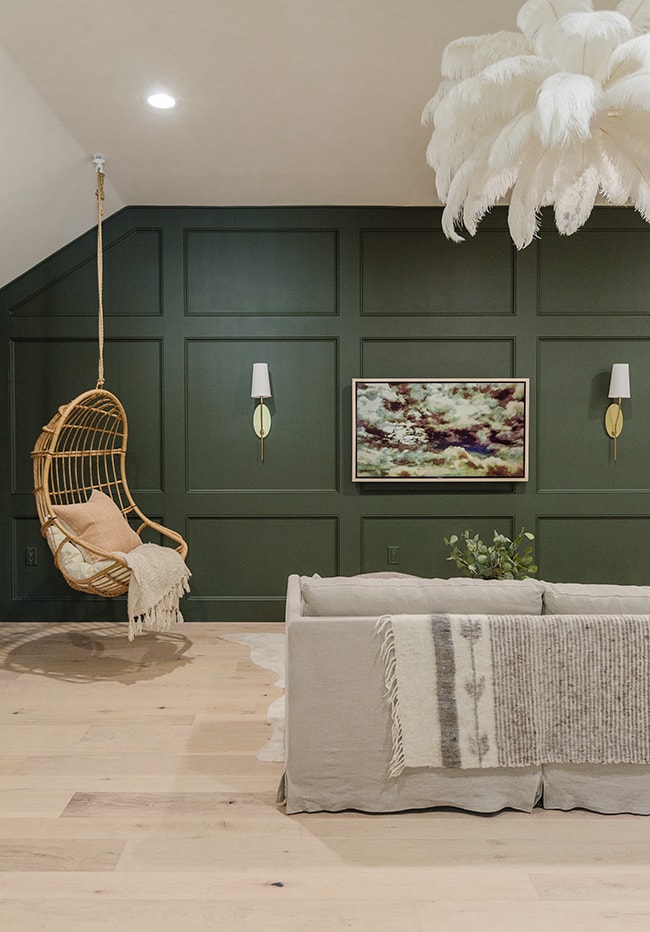 Here's the view when you walk in…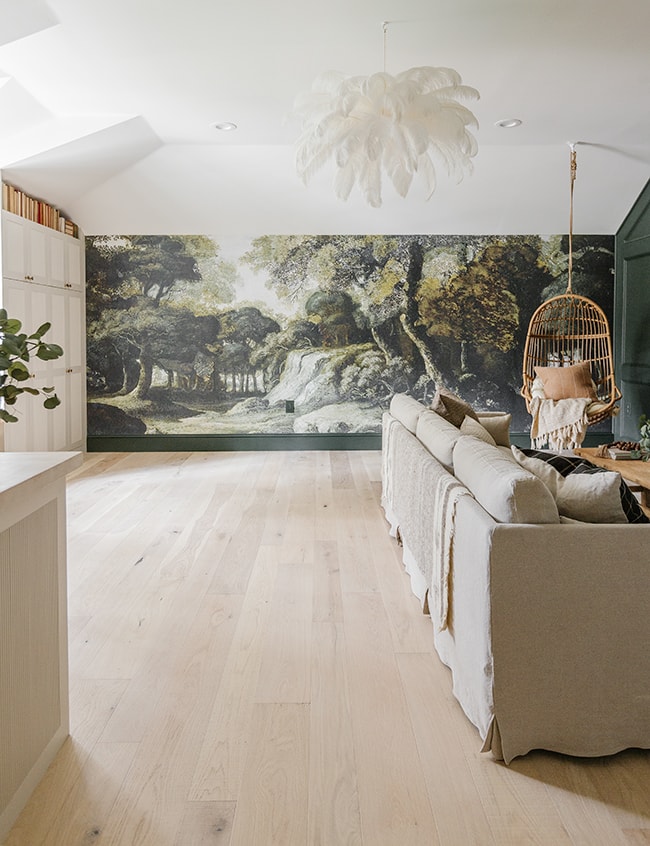 On the left wall, we added built-ins using Ikea Sektion cabinets and Semihandmade doors (with custom fluting detail).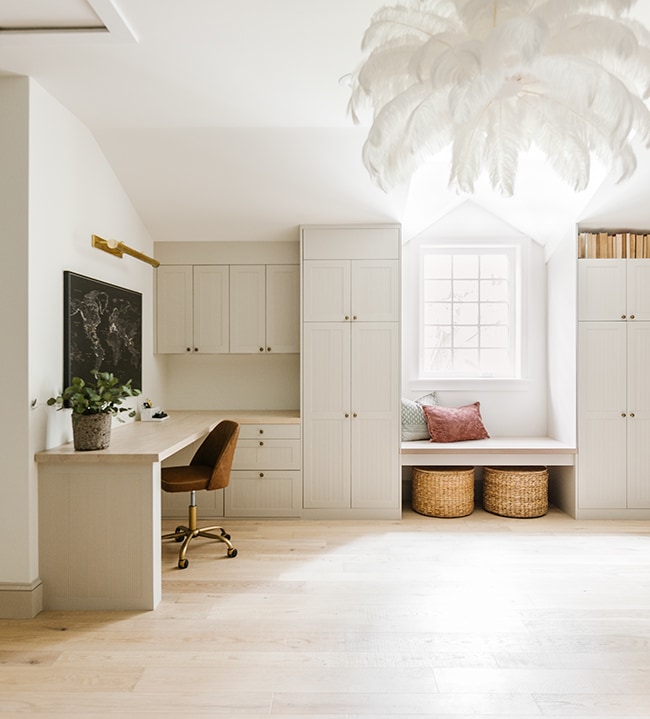 We also built a bench seat and desk using butcher block, stained to match our French oak floors.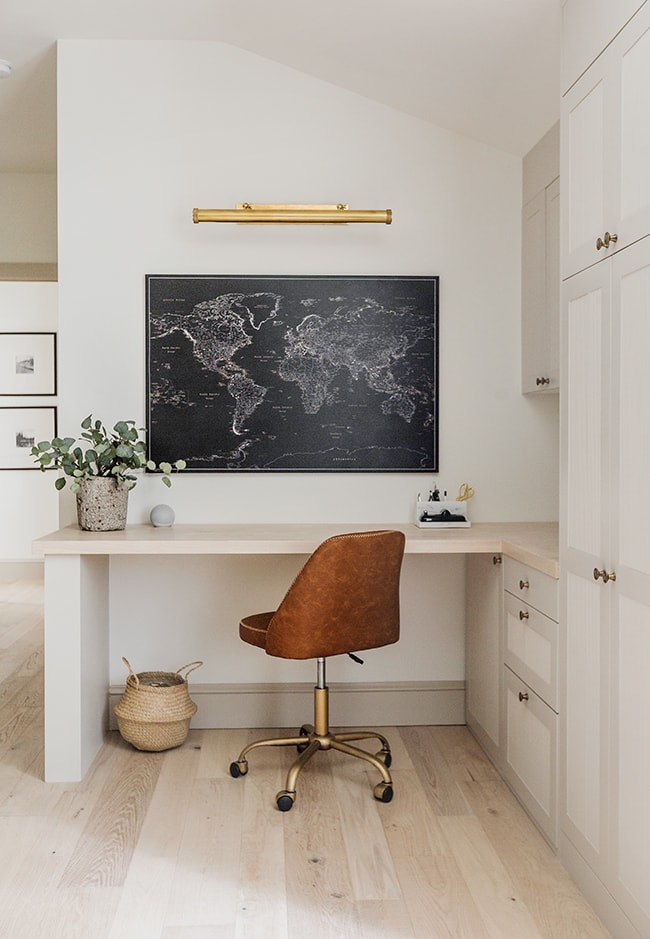 This canvas push-pin world map is one of my favorite details in the room, and a fun way to keep track of our travels. We installed an extra large aged brass picture light to illuminate the desk area.
I offset the cost of splurge items with this budget leather desk chair, and turned the black plastic into antique gold using my Rub n Buff technique (plus a good spray primer and clear lacquer—fingers crossed the finish lasts!) The cabinet knobs are also inexpensive metal with a Rub n buff + lacquer finish.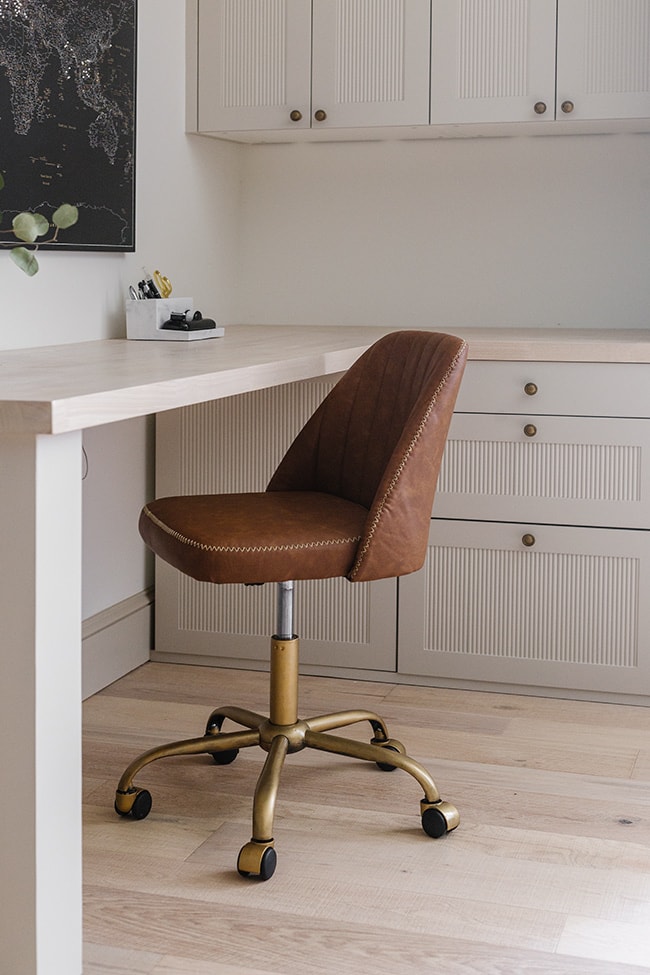 I'm actually still waiting on a roman shade for the window (expected to arrive any day now) so I'll update on Instagram once that is installed. The window seat will eventually be double duty as a kids desk, once Esmé is a bit older.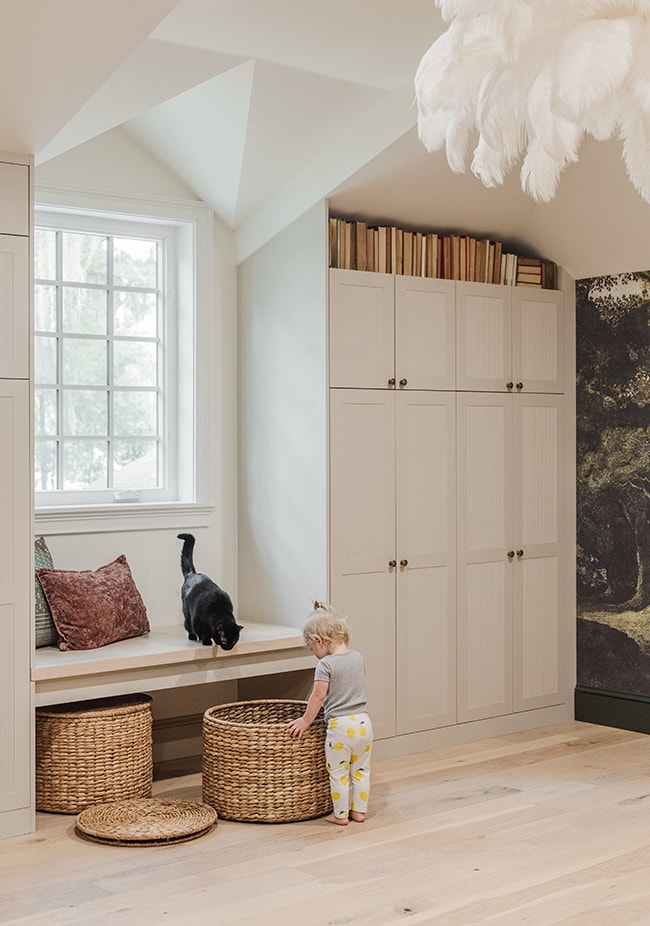 I found these two great woven ottomans from Target, which fit nicely tucked underneath the bench as toy storage.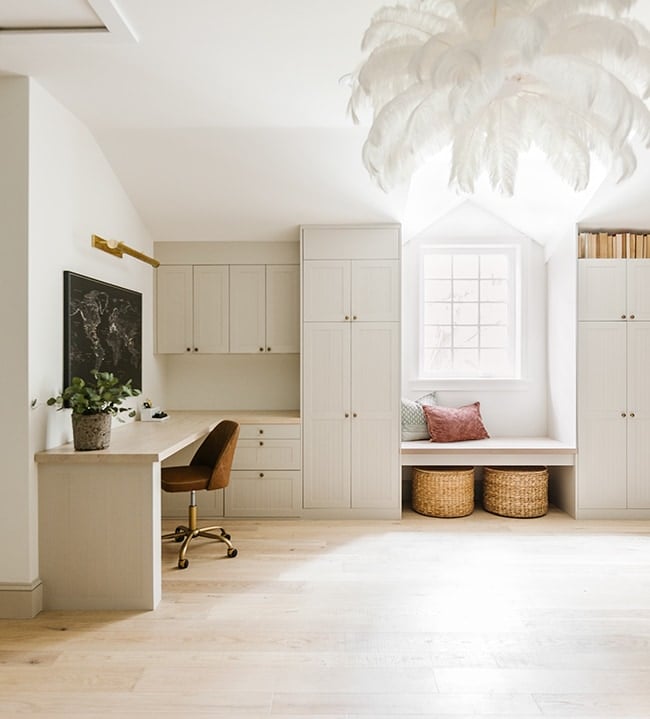 We've just started organizing these cabinets so the desk area will most likely evolve over time. To be honest I'm not sure how much either of us will use this for work in the near future (I'm not ready to give up working from my bed!) but I am looking forward to having a permanent home for all of our files and office supplies.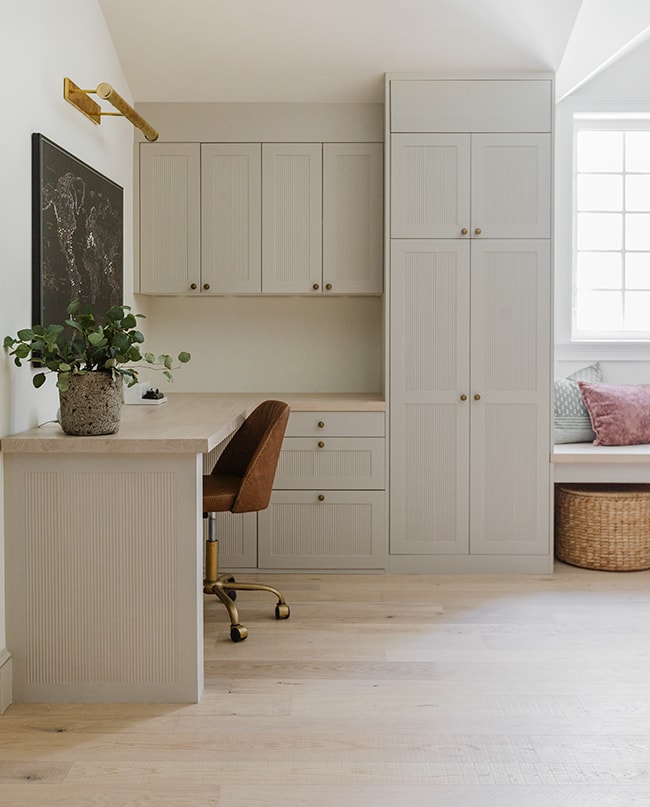 There was a big debate about leaving this space above the cabinets open, and I'm so glad we did! It's the perfect space to display my vintage book collection and gives the room an old library feel, don't you think?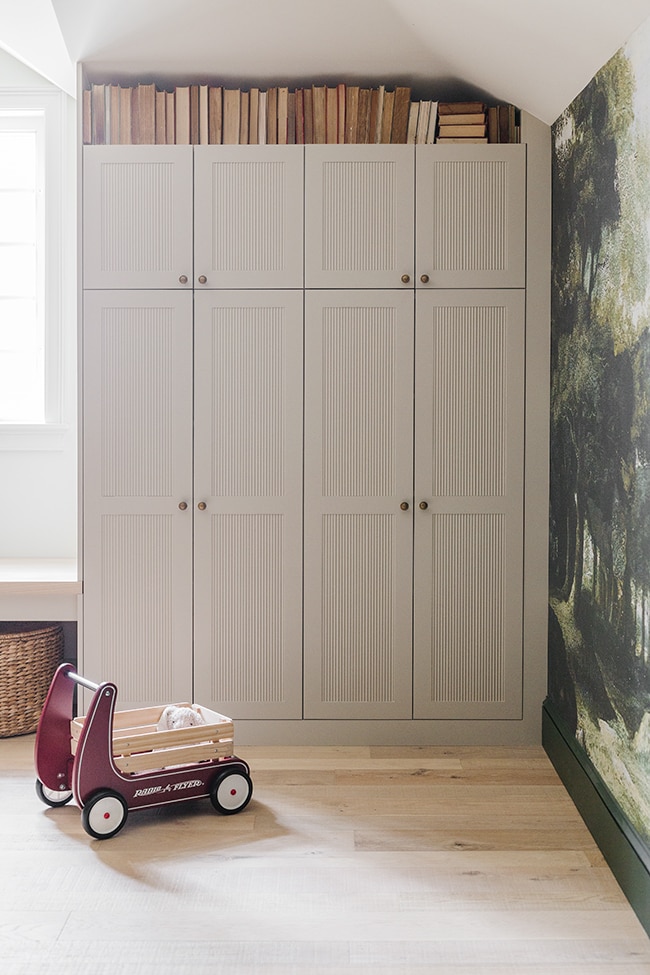 I think it goes quite well with the whimsical, storybook theme of the room…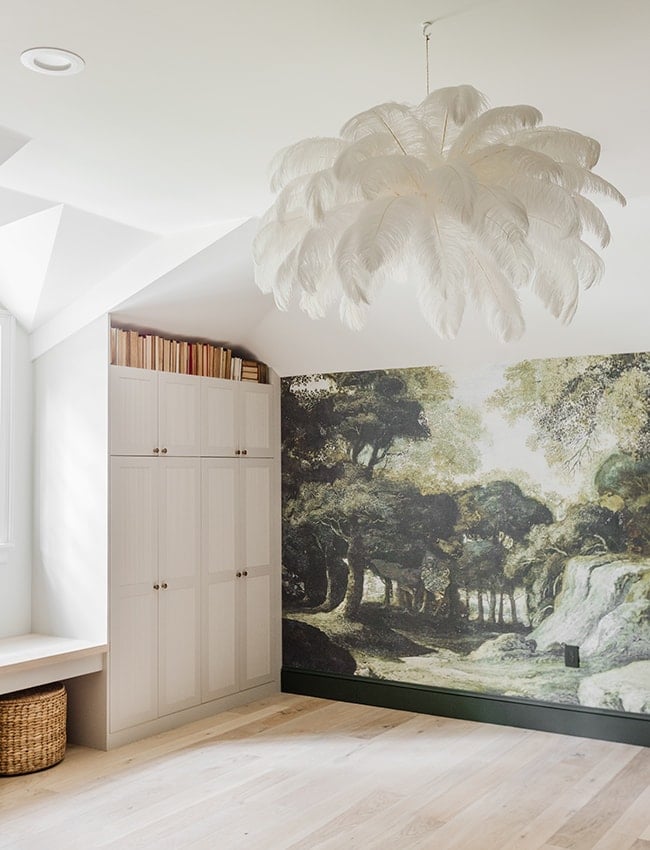 I still can't get over this mural. It was the inspiration for the design and my favorite part of this room.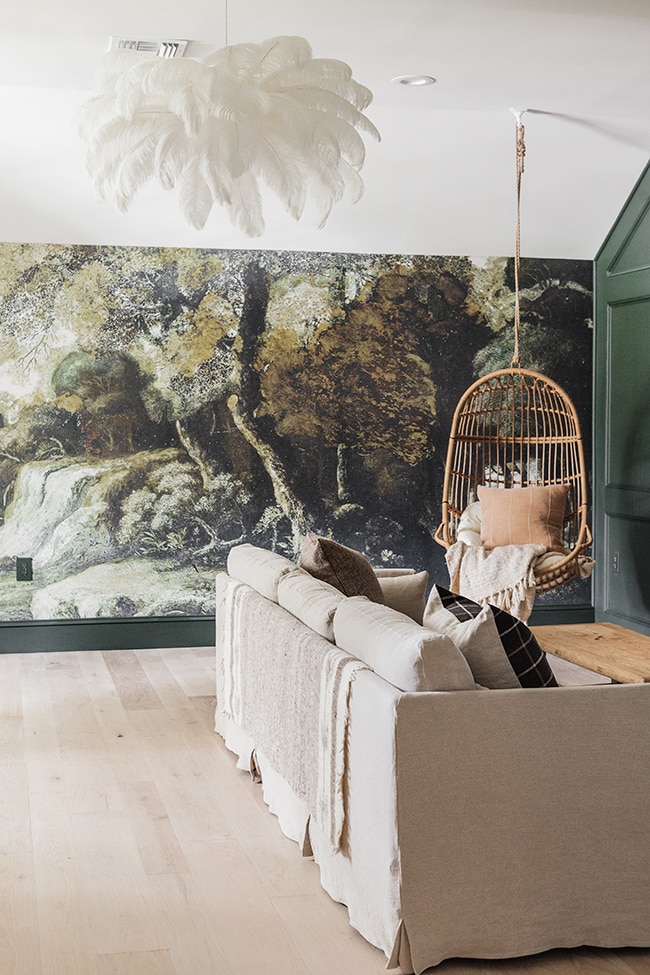 And of course, you can't design an enchanted forest playroom without a hanging chair...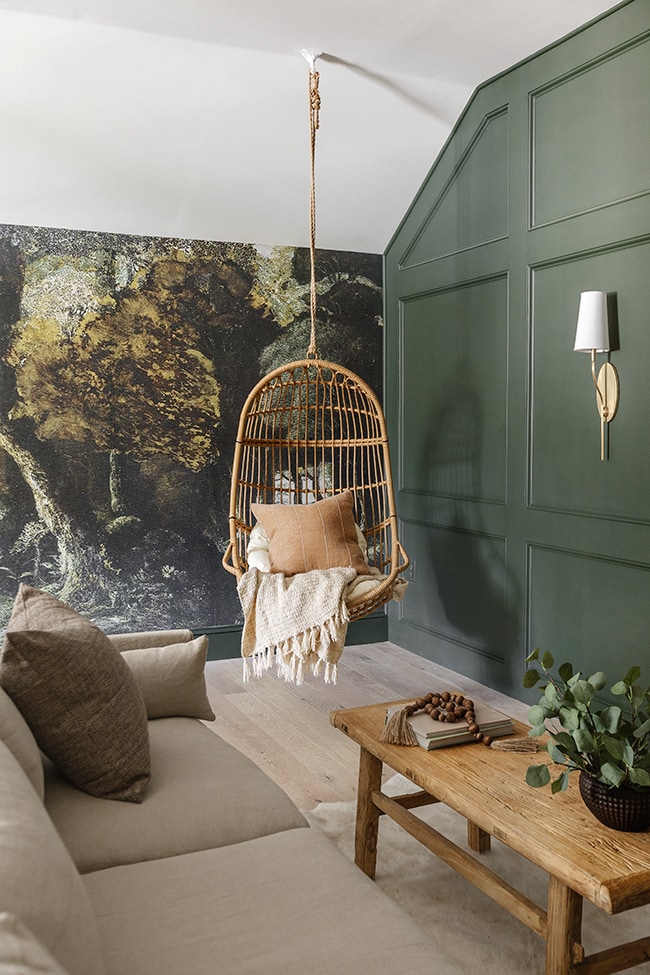 For those asking how we hung it—we used this heavy duty swivel hook (painted white) screwed into a stud in the ceiling, along with this 1/2″ manila rope.
The TV is another area we kept costs down, by snagging a new 50″ 4K Samsung during Black Friday and building our own wood frame for under $15. The reviews are better than the Frame TV and it has an ambient setting built-in to look like artwork.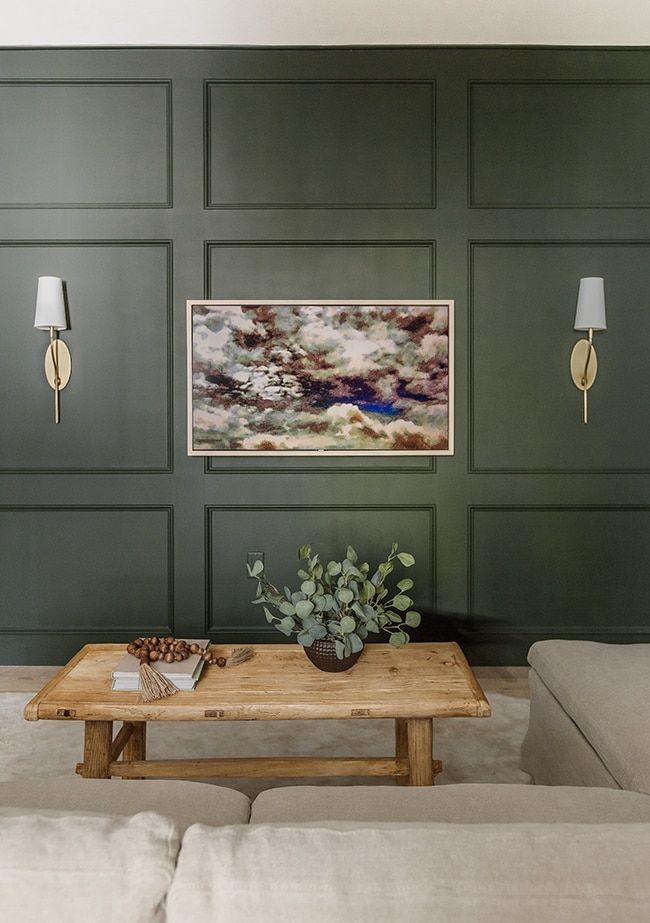 Watch for the tutorial soon to see how we did it in an afternoon (and saved $900!)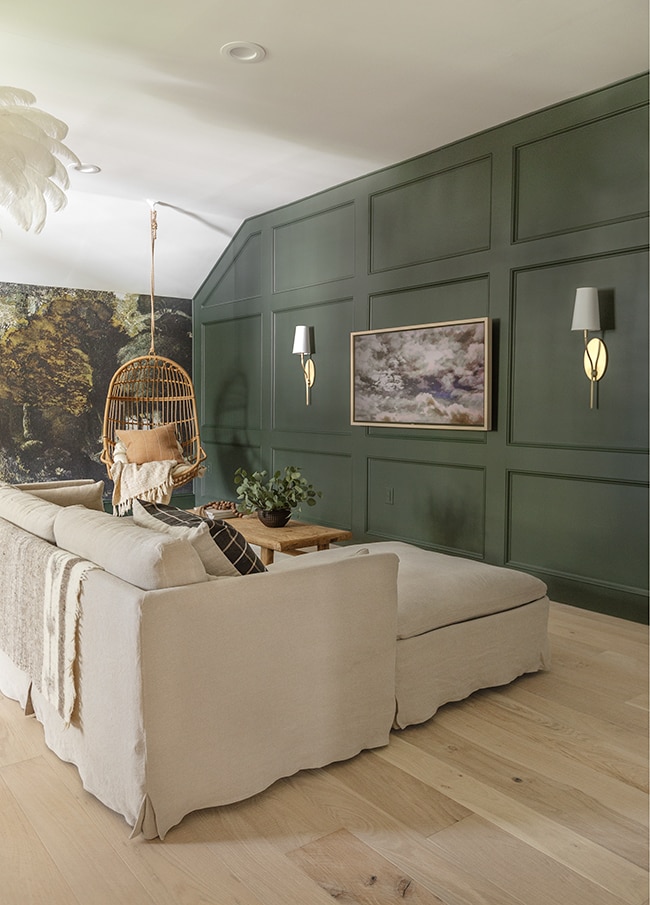 You might recognize this coffee table I used for a few fall living room photos last year, but I actually ordered it for this room. The compact size was perfect for our small TV area, and the rustic handmade wood is stunning. Hopefully it comes back in stock soon!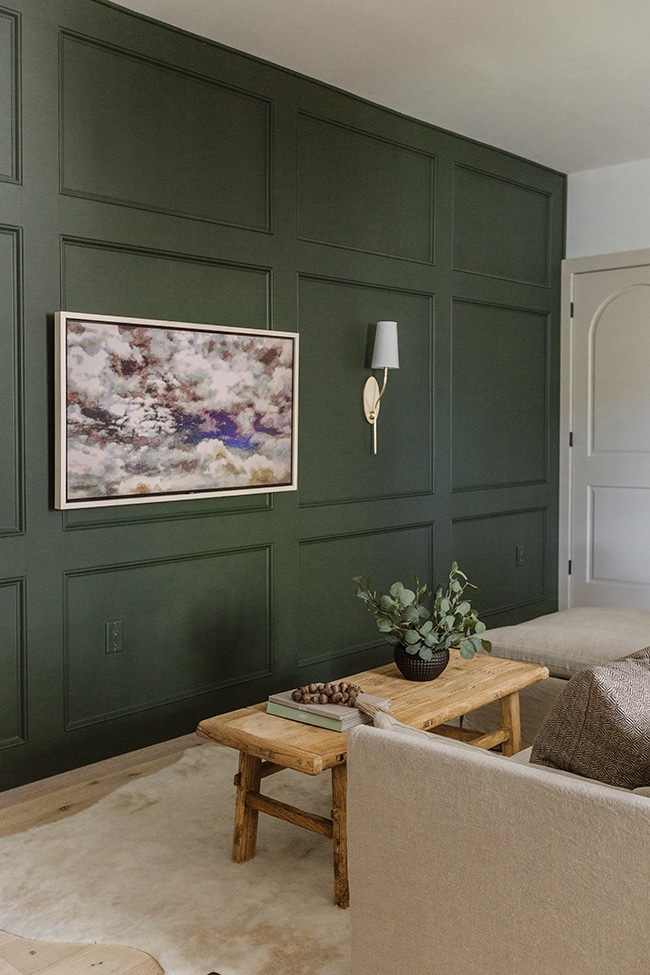 Speaking of the sofa—this is the main piece of furniture in this room so it had to be perfect! After a long search, I ended up choosing the Gabriel 4-pc chaise sectional from Six Penny, in the oat flour fabric.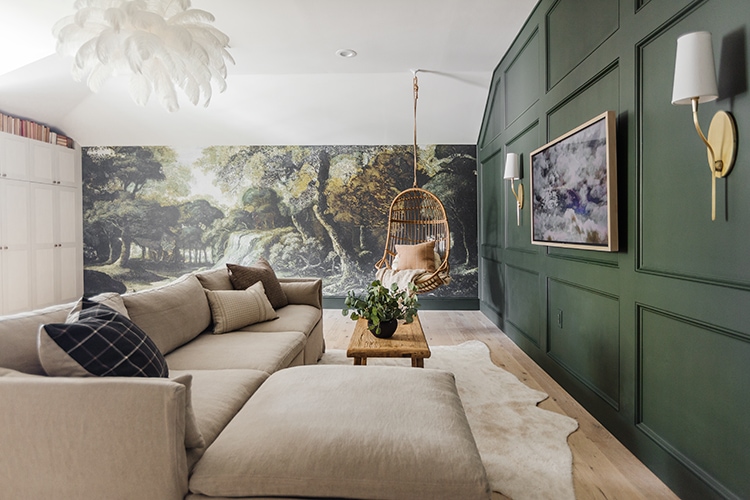 I also chose the feather down filling which you can sink right into for a movie or long nap. It's lower profile than most sofas, which works since it's in a tighter space and I didn't want it to take up too much room visually.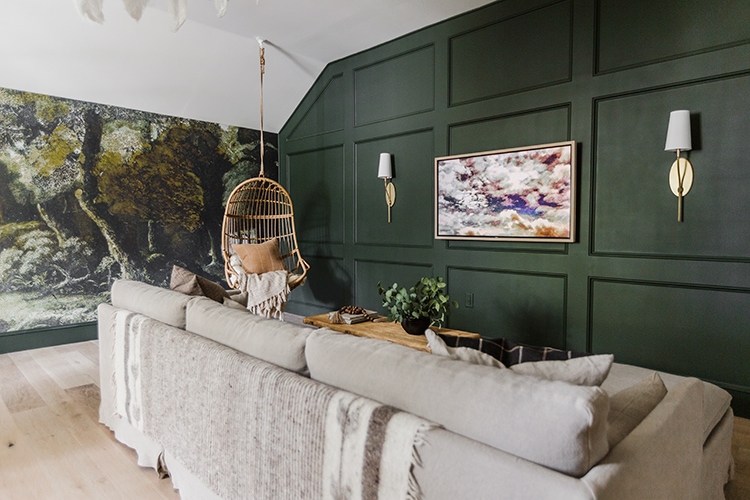 Since the back of the sofa faces the room, I layered this handmade wool blanket behind the cushions. Staring at the back of a large piece of furniture can feel closed off and uninviting, so this trick is a great way to add interest to a plain surface through texture and pattern.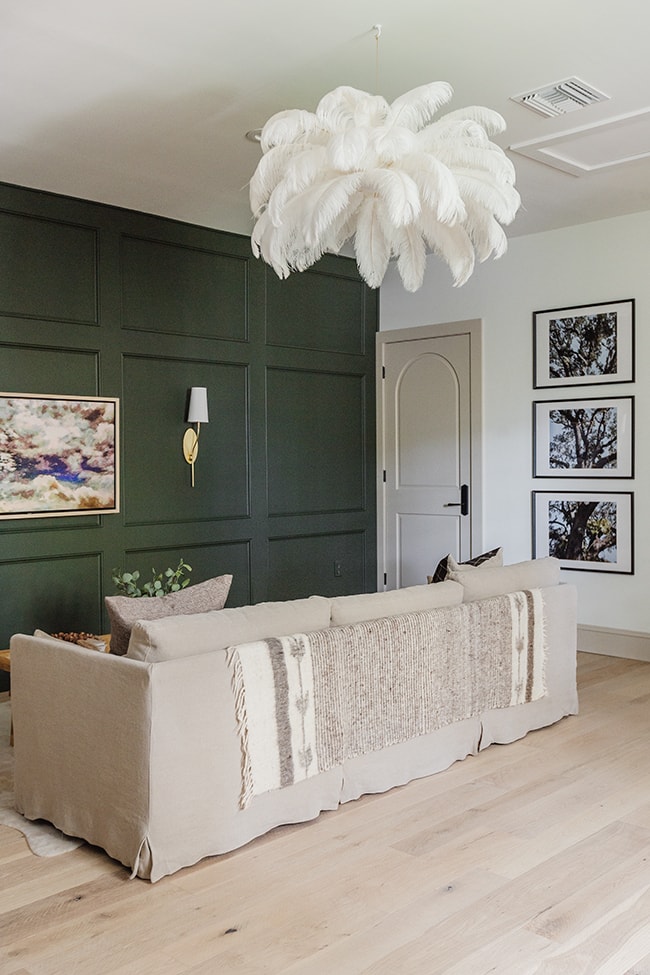 An ivory faux cowhide rug adds warmth and softness underneath the sofa, and I love how the organic shape feels natural in this space.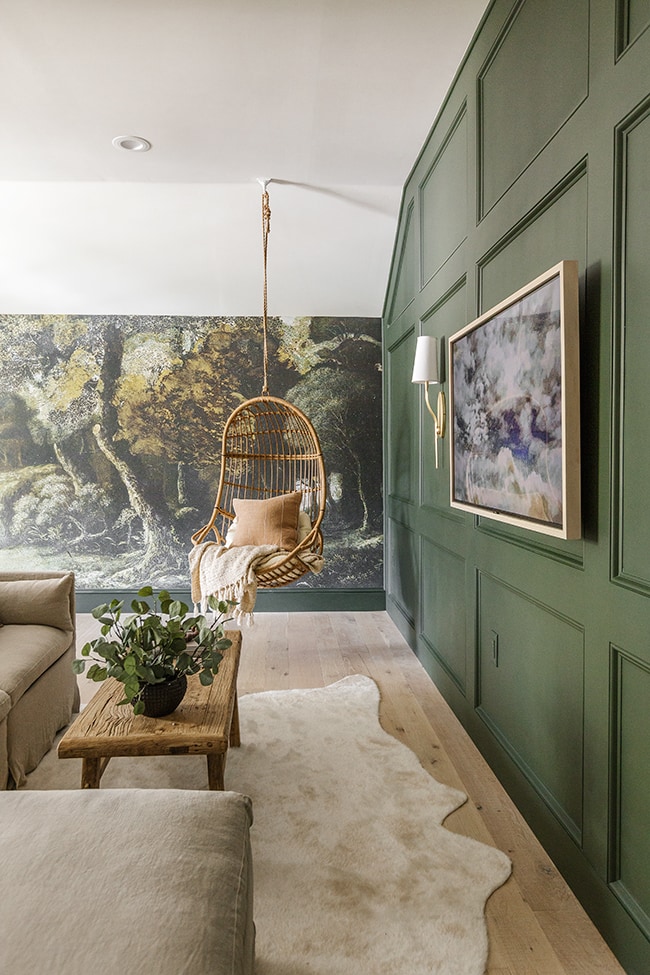 To the right of the sofa is a utility closet (also where I store my oversized art) and on the wall I hung a photo I took of our tree in the backyard, split into three Ikea frames.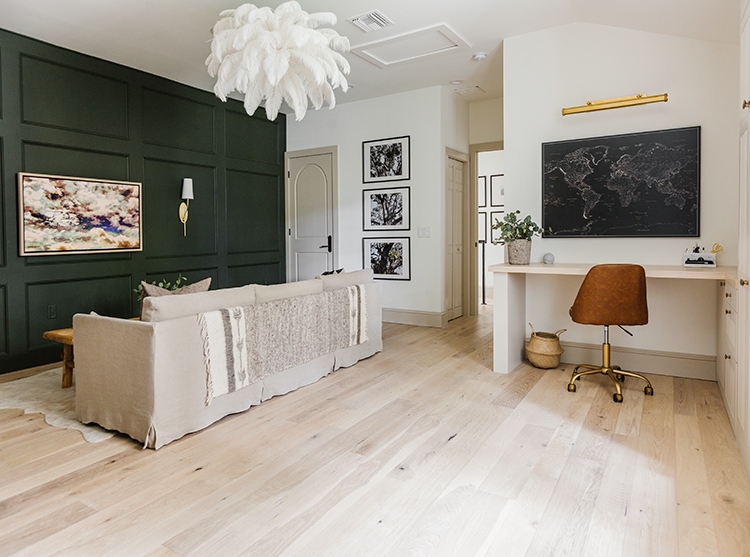 And above you can see there's another small closet just to the left of the entrance, which we haven't organized yet but it will be great overflow storage someday.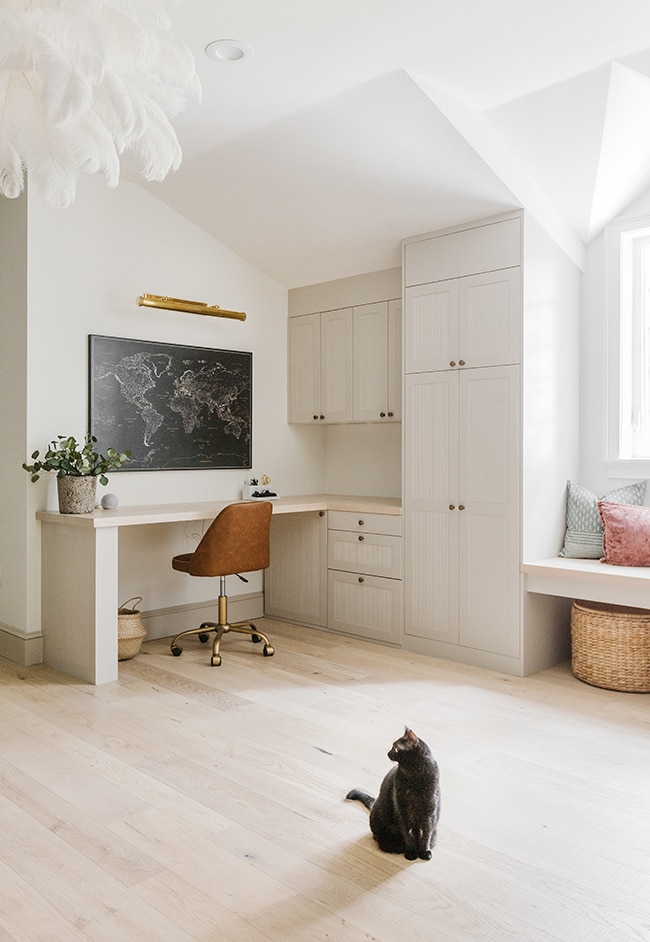 Whew, I think that covers everything! This was one of our longest, tiring and most rewarding room makeovers to date. And hopefully, it will be the backdrop to many family memories in the future. That's really what these renovations are all about in the end, aren't they?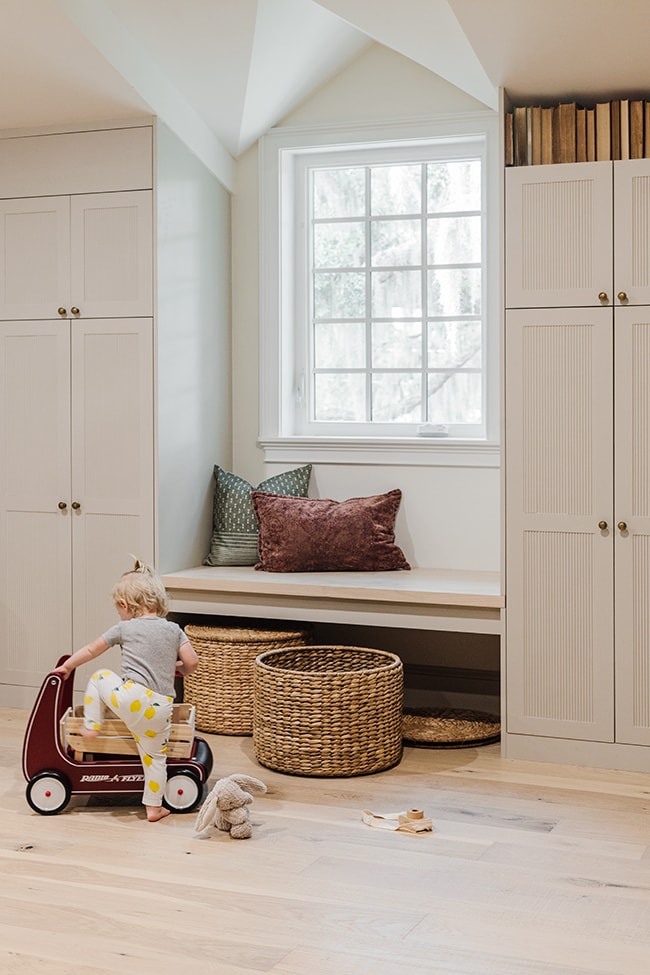 What's your favorite part? Did you follow along through the entire process? Hopefully you learned a few DIY tricks or gained some inspiration for your own home. Don't forget, there's still more tutorials to come!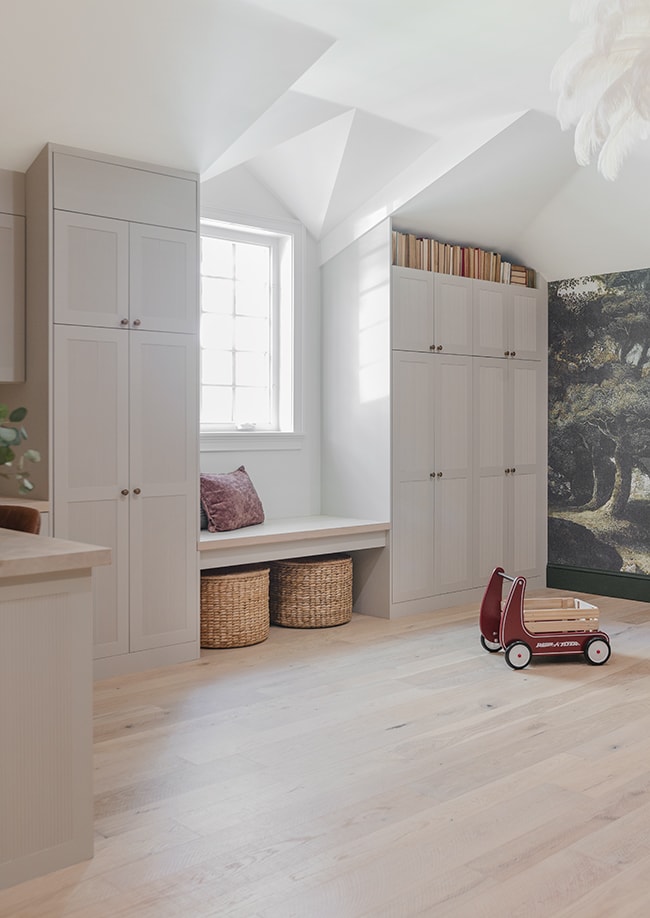 Feel free to leave a comment with any questions, and click on the image below for paint colors and links to every source (these can be found on the Playroom Sources page):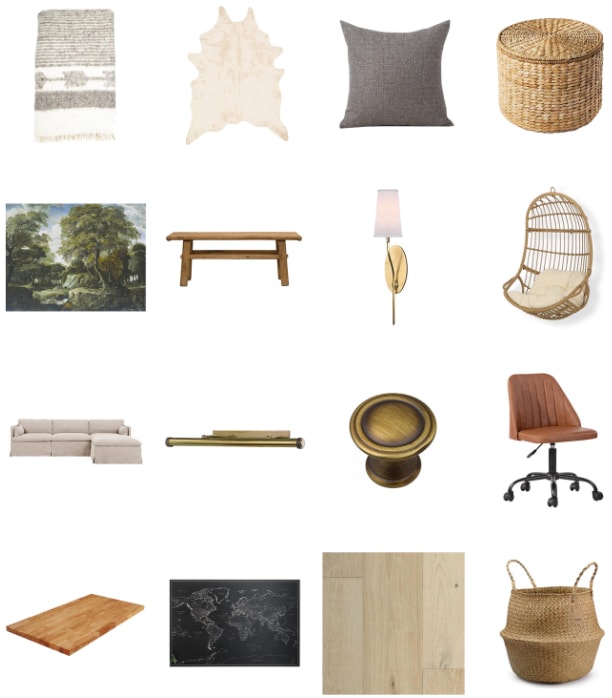 Coming next week: All the details on the DIY feather chandelier!