Last week I put out an open Q&A call and you guys asked about everything from real estate investing to design tips, blogging and babies. Nothing was off the table and I'm giving you some real honest answers to 20 of your most burning questions…
How often does your house look magazine perfect and how often is it littered with toys?
Let me share a dirty little secret: the rooms in our house have never been clean/put together all at once. The only time there aren't books and toys scattered in every room is when I have to clean the house for a photoshoot. And when I'm doing my own shoots, typically only one room will be shot at a time and I just shuffle the junk from one room to the next. Instagram isn't real life! 😉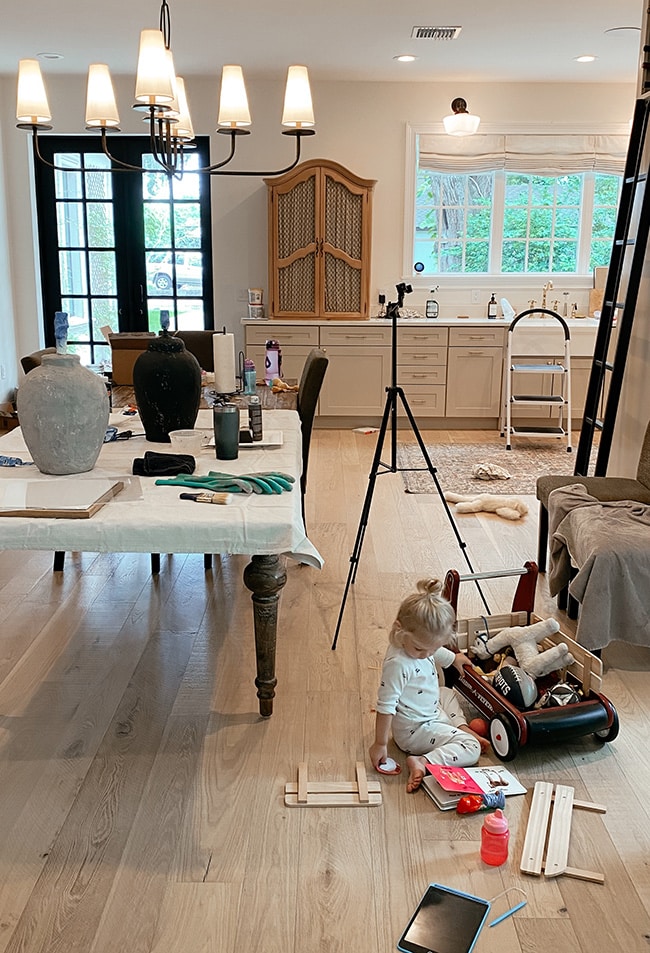 How do you accomplish so many projects with a toddler? How do you manage your day between creating and parenting? Both are FT gigs!
This question/comment always makes me laugh because I feel like we move so slowly and don't get nearly as much done as we want to. I sometimes feel frustrated and defeated comparing myself to other DIY bloggers/Instagrammers and seeing how much they accomplish—but I know that is a very unhealthy mindset (and a big reason I try to limit my time on Instagram).
We've settled into a nice rhythm with our schedules, priorities and responsibilities and they often change depending on our workload and projects. We're very fortunate to have Lucas's parents living nearby for 8-9 months out of the year to watch Esmé as needed. During the summer they travel, so we currently have a nanny who is with Esmé in our home 4 days/week on average. It takes a village!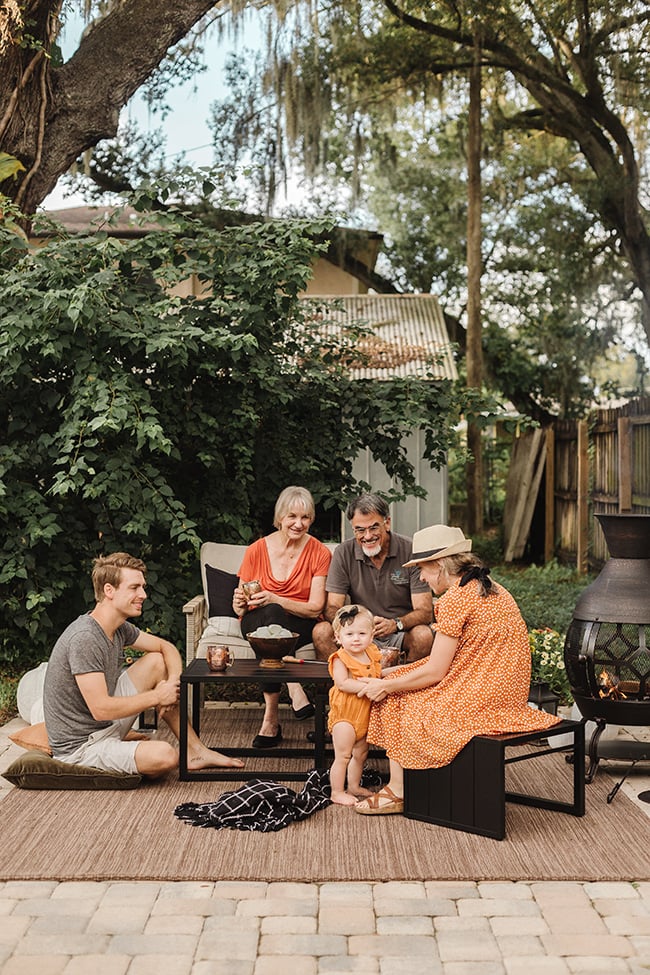 Are you planning on having more children?
Yes… but not in the next year 🙂
Has Esmé moved into a big girl room yet? Has her room changed at all?
She's still in her nursery. The only thing that changed was switching her bassinet to a crib when she started sleeping in her own room at 5.5 months. After baby #2, we'll move her upstairs to her own big girl room. Side note: I'm partly not ready for #2 because I'm worried about Esmé being able to climb the stairs safely, and the thought of having to change anything in the nursery that we put so much love into breaks my heart.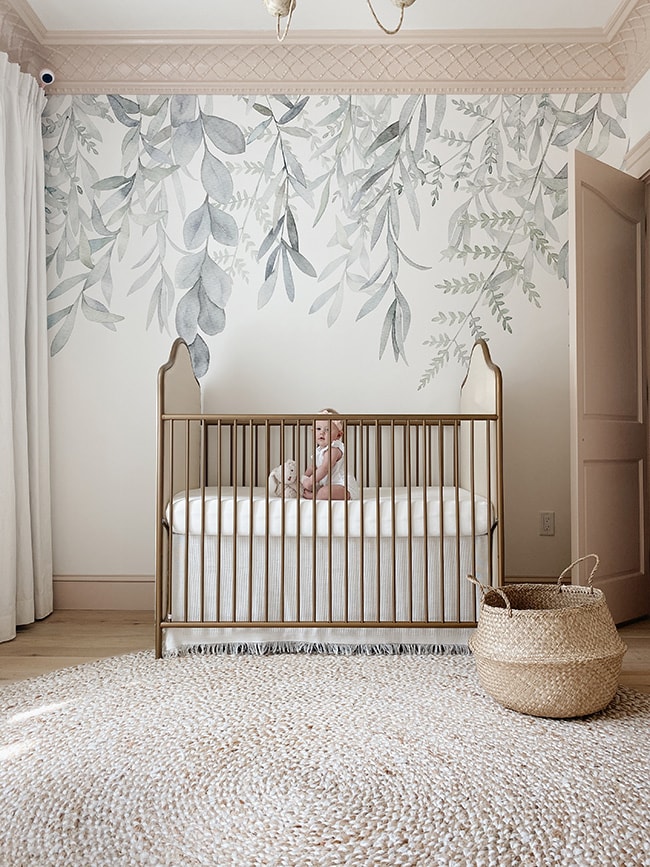 Would you add moulding to a textured wall?
Nope. If I didn't have the time, tools or resources and there was no other option (and the texture wasn't crazy noticeable)… maybe. Some people don't mind it, but I think it looks so much cleaner and more professional to cover the textured walls first. I did this way back in 2014 (still pretty early on in my DIY journey) and wrote this tutorial so you can do it too—you won't regret it!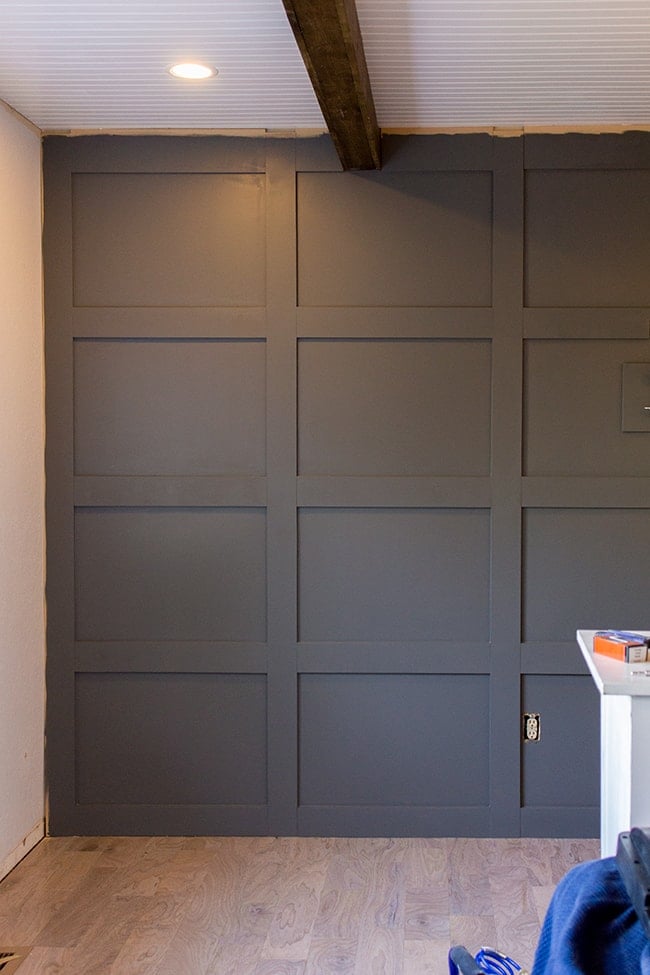 How do you decide which design elements and decor are worth splurging on versus going with a dupe versus DIYing?
For me it's pretty simple: if it's expensive and I think I can DIY it, I'll try that first. If it's far beyond my skill level, requires too much time and/or I know I'll be miserable DIY'ing it, I'll splurge if I think the cost is worth it. If it's a product, I'll almost always look for a dupe or just another affordable option that would work. On rare occasions, I have a specific vision in my head and nothing else will do—then I'll splurge.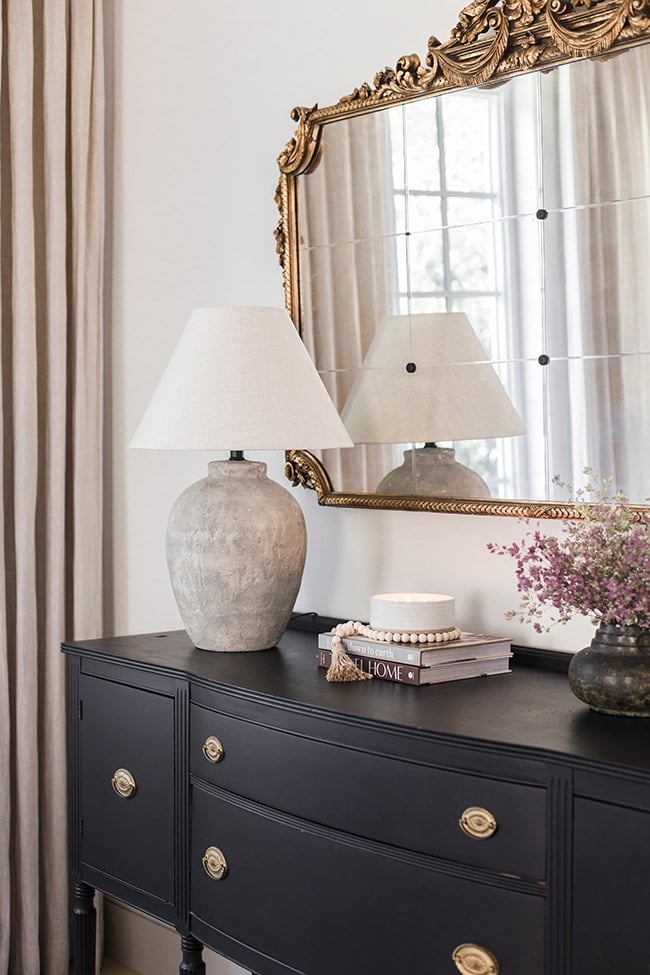 Must have Smart home features in the house?
We're big on smart home technology—it's one of the best investments we've made in our home (and in our lives!) and I could not imagine living without it. I wrote a whole blog post here explaining all of our upgrades and devices, and since then we've added smart light switches/dimmers as well.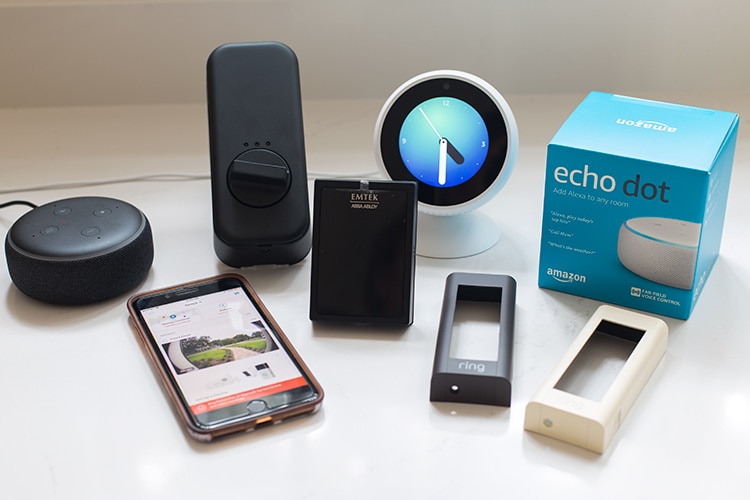 Now that we've been living with them for a while, I'd consider them all "must-haves" to make our daily lives more convenient and efficient, but we probably use our Alexa devices (Echo Spot and Dots) the most often. We play music when we're in the kitchen, use it for white noise when Esmé sleeps, add items to our grocery list throughout the day and set timers while cooking, to name a few. The benefits are endless.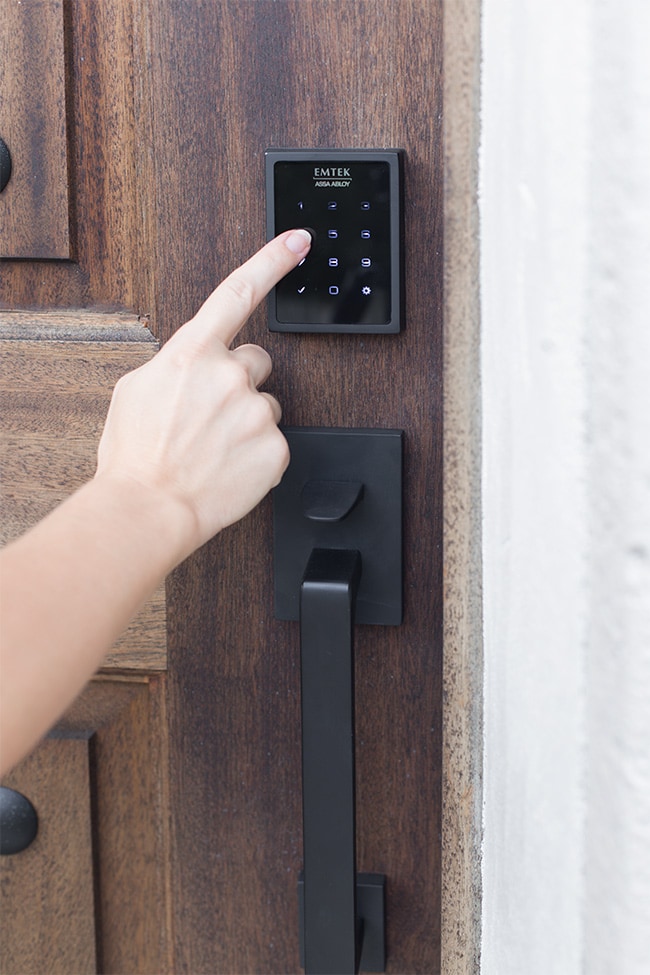 Being able to control our lights and locks, temperature, set up temporary door access codes and check if there's a package at the door (and when they arrived) has also been invaluable when we're away from home. If you haven't yet switched over to smart technology, you'll be kicking yourself for waiting so long once you do!
I love to DIY, but I find that my energy and motivation often come in short bursts and I frequently don't finish projects that I start, especially when I hit an obstacle or something doesn't turn out as I envisioned it. How do you keep your momentum going especially when you hit obstacles with your projects?
I don't really have a choice because it's my job to finish the project and share it with you guys, hah! Honestly though… I do get frustrated/bored with projects sometimes but I know it will turn into a much bigger issue if I ignore or delay it. I've been through enough of these to realize that you just have to push through the messy middle and keep climbing that mountain until you reach the top—and just like anything else that's difficult in life, you'll learn from it and come out stronger. Sometimes that means changing your plan and moving in different direction, and it can also mean hiring out to finish the job for your sanity. Just keep the end goal in mind, and the reward that will inevitably come.
Do you typically second guess a design choice or are you always sound in your decisions?
More often than not, I'm not 100% certain about what I want and go back and forth before committing (Enneagram Type 7 here!) At some point, you just have to embrace your decision and not look back. Over time, you'll be able to trust your instincts more as you pull from experience.
I've never been one to live in the past and dwell on the what ifs, which I think is common when you're starting out. There is no one "right answer", and our styles change over time so don't stress about making the perfect decision. Nothing is permanent. Just make the decision that feels true to you now, and remember that at the end of the day, decorating your home is personal and should be a source of joy, not anxiety!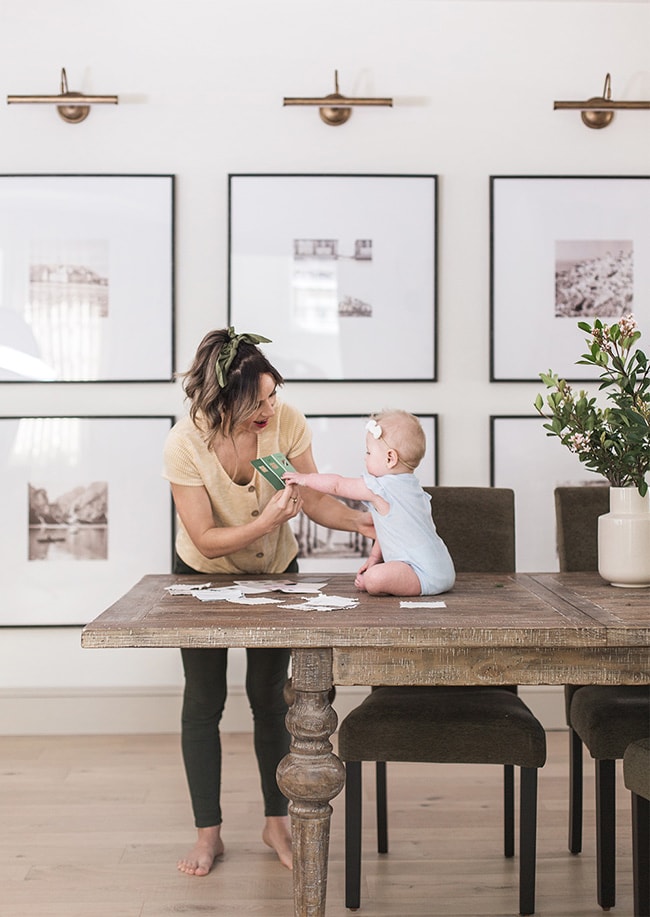 How do you stay organized and prioritize projects while managing so many properties?
This is a constant work in progress and I don't think we have it "figured out" by any means. We just recently started to streamline our schedule, and set up a joint Google calendar where we keep track of every event, task and running list of project to-dos. This has really helped us to prioritize and stay focused on our individual tasks.
Also, we're still a very small operation (only three investment properties) and our property managers run our two active rentals, so it all feels very manageable for us at this stage.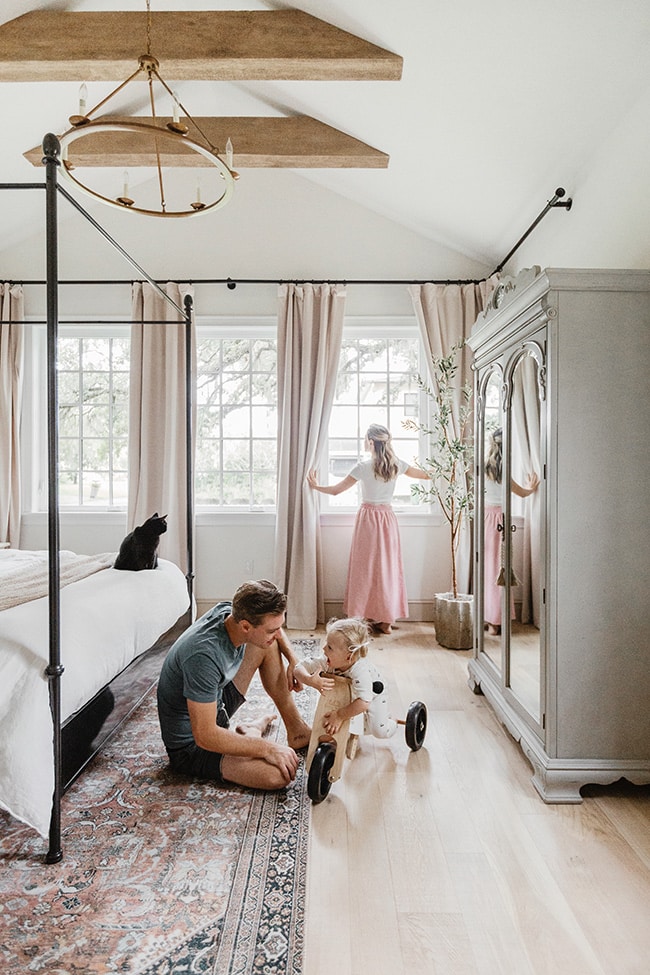 What does your work day look like?
Our calendar fluctuates quite a bit throughout the year, but lately our workdays have been pretty consistent and look something like this:
7-7:30: Wake up, check emails/notifications, Esmé snuggles
7:30-8: Breakfast, yoga, coffee
8-9: Clean up, Lucas & Esmé story and play time, Jenna gets to work
9: Nanny arrives, Lucas works on DIY/house projects
12pm: Family lunch
5pm: Nanny leaves, family dinner time (we usually cook together)
6-7pm: Dinner, sometimes family walk or bike ride
7pm: Bath/showers
7:30pm: Family story time in bed
8pm: Esmé bed time
8-10pm: Jenna works
10-11pm: More work or watch Netflix
11pm: Meditate
11:30pm: Sleep
On the days we don't have a nanny, Lucas and I will trade off watching Esmé depending on what we have going on. We'll take her on errands, yoga class or walks to the playground. At least half the day with her is spent reading books—these are her current obsession 🙂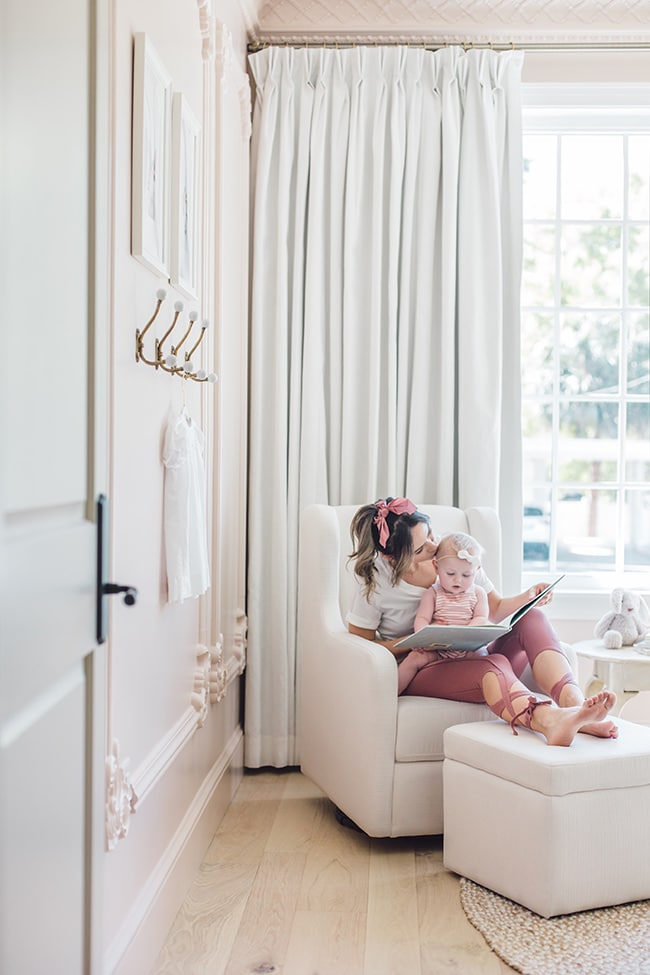 Advice for going through a major renovation (lots of DIY) with your significant other?
Lucas and I always pause and say our mantra before a project: What happens in DIY, stays in DIY. Renovations, and sometimes even simple DIY projects can be stressful for any couple. I think a lot of it has to do with personality types, how you communicate and work under pressure (PS: if you've survived the newborn phase together, you can handle a renovation!)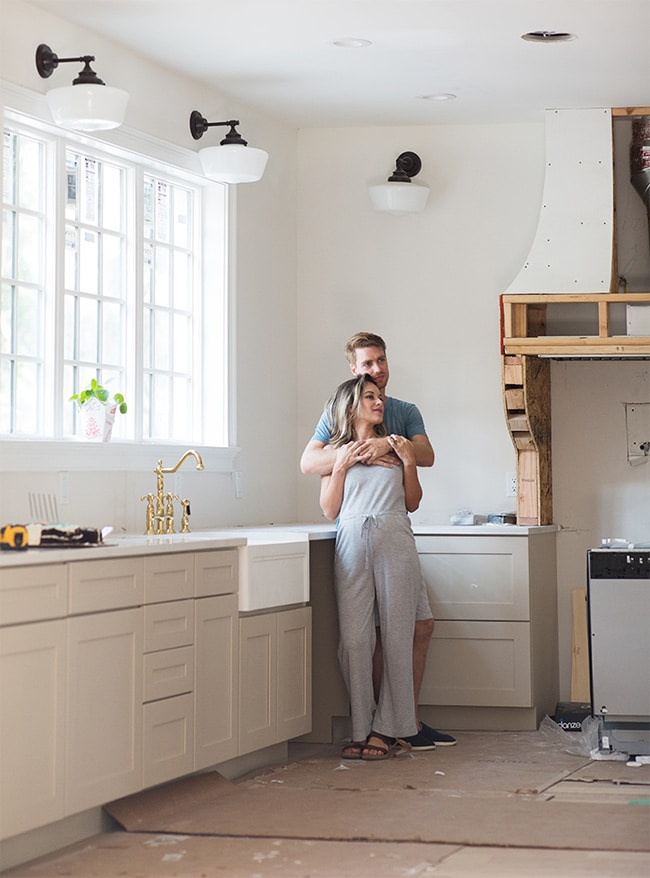 For us, it has been helpful to recognize our individual strengths and assign responsibilities accordingly. We've also learned to trust each other's decisions and capabilities over time (though it didn't start out that way!) Planning and communication is very, very important, and also keeping perspective—think of yourself as a team on a new adventure, don't take yourself too seriously, and build in plenty of time for breaks. Put on a good playlist, have your favorite snacks on hand, realize that things will not go exactly as planned and give yourself grace. And remember: this too shall pass!
Any regrets/things you would do differently in your house?
Now that we've lived here just over two years, there's really only one major thing I wish we had: a covered outdoor space and/or balcony. When we designed the house this wasn't a priority, and we would have had to give up other things and change the overall design. Of course, there are a million things I wish we could have added (a larger kitchen and laundry room, a pool and pool house, a huge attached garage, floor to ceiling windows, groin vaulted ceilings, etc etc…) but none of those were in the budget. Overall, I'm happy with the choices I made within our budget at that time.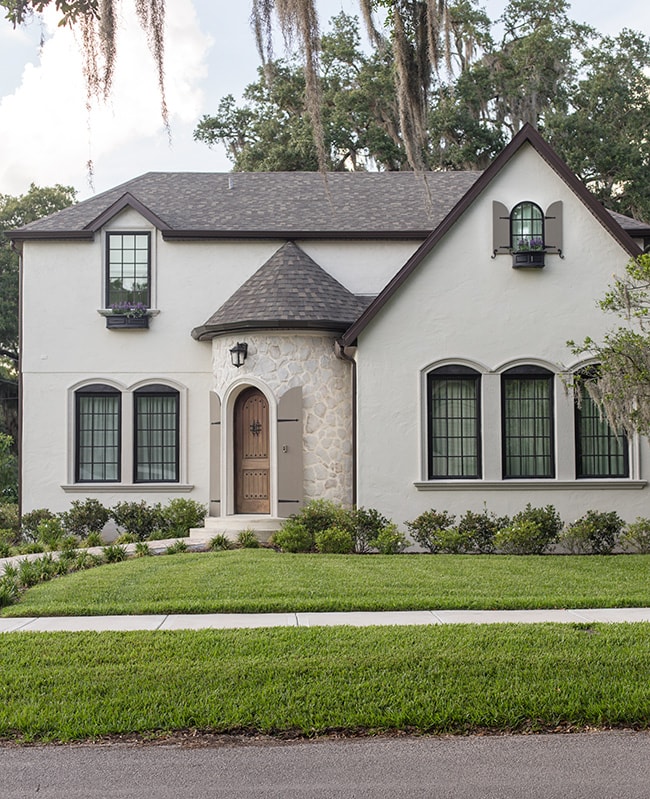 Why did you switch from tenant rentals to AirBnB rentals? Has the pandemic had an effect on your bookings?
After our experience as landlords on our 5-unit Bungalow, we decided that wasn't for us. We actually continued to look for another long-term rental for awhile, but the numbers just never made sense. Once we got started down the short term rental path, we realized we enjoyed the process much more and it just made the most sense with our unique situation, so we decided to commit to that strategy.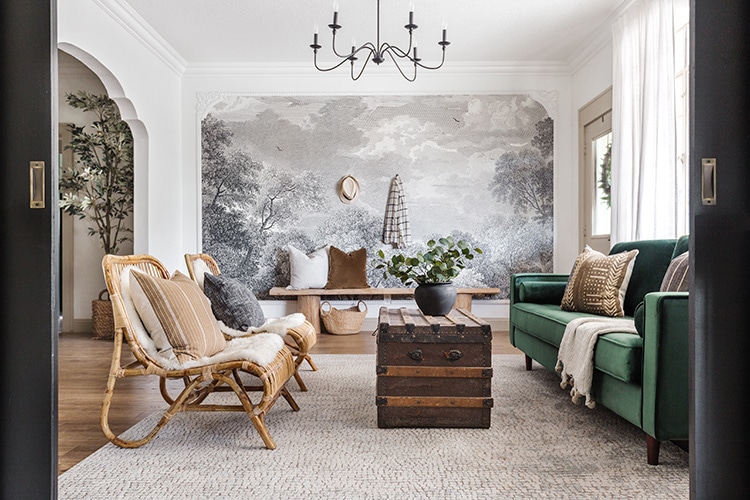 The pandemic definitely impacted our bookings. We listed Poolside Palms during lockdown last June, followed by the Riverside Retreat in July and for the first several months, we were definitely considering our options for a Plan B. Fortunately, the booking rates improved as our state began to reopen, and now we feel confident moving forward. We knew there would be uncertainty and growing pains in the beginning, as with anything new, and I'm glad we continued to trust in the process and stay focused on the long term.
Are you worried about another housing crash impacting your investments? Do you do anything to protect yourself from a real estate downturn?
Tampa is one of the fastest growing markets and values are increasing at an unprecedented rate. It has to slow down (or correct) at some point but a crash is very unlikely—the demand is just too high. We don't plan on selling, however, so the appreciation is great but we invested for cash flow. Even if there is a downturn, the short term rental market is also in high demand so I don't see that being impacted significantly (certainly not as bad as 2020, and we survived that!)
Do you use a management or cleaning team for your AirBnbs? How do you run them?
Our end goal was to set our properties up to be as passive as possible, so we employ a full-service management company for both properties. Running a vacation rental is a business and can feel like a 24/7 full time job. It can also be really stressful and honestly not a role I'm cut out for. Lucas is open to self-managing (he hates giving away 18% of our profit on tasks he can do a better job at) and neither of us love relinquishing full control. Even with this setup, we still have to manage our managers and deal with issues like damages, maintenance and repairs. It's not for the faint of heart!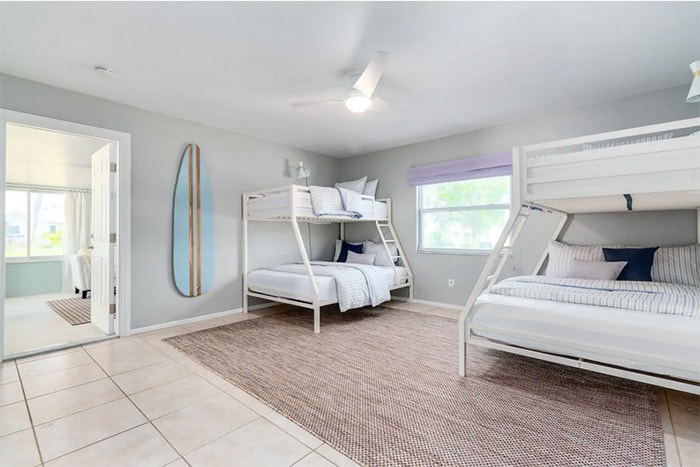 Best way to learn real estate investing? Books? Course? I am so interested in anything you have to say about buying, selling, renting, owning, rehabbing real estate.
If I could only recommend one thing, it would easily be the Bigger Pockets podcast (and forums + webinars). This is really where it all started for us years ago. I'll never forget our road trips through Europe listening to hours upon hours of podcast episodes in the car, dreaming and planning out our future once we landed in Florida.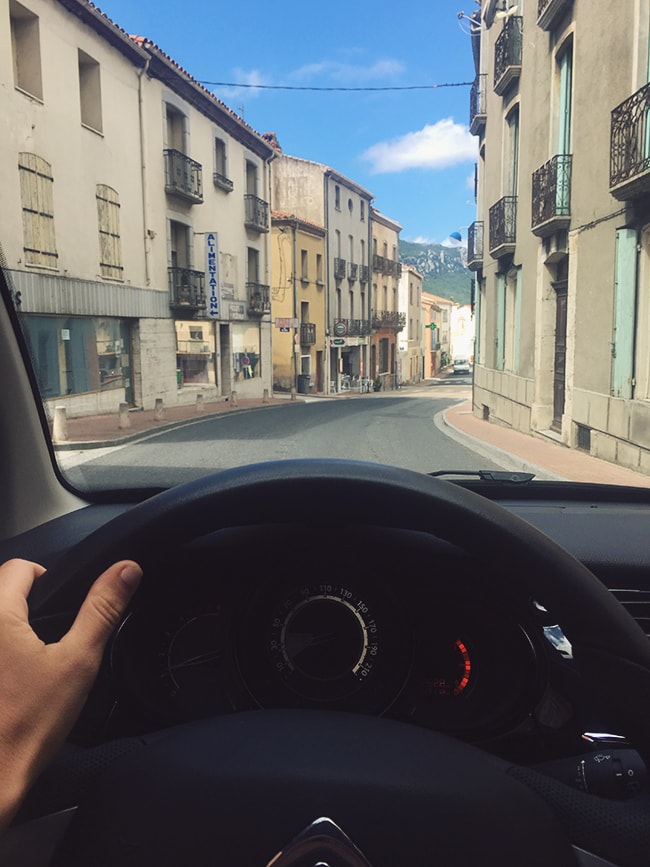 The other thing I will say is that you just have to start somewhere—there is no substitute for experience. If you can find a trusted mentor locally (and offer free help) that will be the quickest way to learn and the best hands-on education you can get.
I loved your travels and am curious… time and distance often times changes our perspective or helps us distill and experience. How did your global backpacking trip change you or the course of your life? (Obviously you met on it…)
I believe that first trip to Asia will always be the most significant event in my life, and the best decision I ever made. I'd be living a completely different life had I ignored my inner voice and stuck with Plan A (it's difficult to even think about the "what ifs"). Apart from the deep personal transformation that took place, the trip solidified an unbreakable bond to travel and desire to continue exploring the world—one that Lucas shares, and one that was always in the plan for our future (hence the 9-month backpacking trip around the world).
Settling down, starting a family and working towards our goals has put a pause on our travel adventures for now—but not forever 😉
How do you make your money?
The million dollar question! I know most people aren't willing to divulge this information to the world and I hesitated at first too… but I don't think this should be such a taboo topic. I know people are curious and hopefully this will be helpful to others working towards financial freedom outside of the typical 9-5.
This is a chart of our income categories, YTD for 2021. It looked different last year, it looked very different the year before and will likely look different next year too: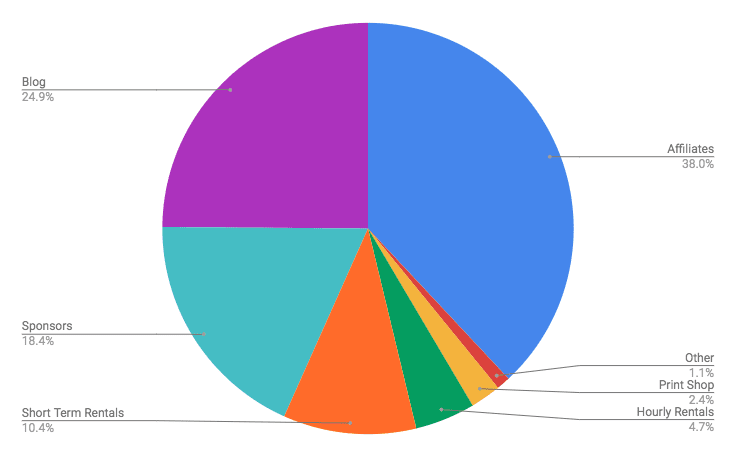 Lucas quit his full time job last year, so we now live off of the blog's income (this includes blog, sponsors, affiliates) as well as my print shop and our rental properties. Aside from the two short term rentals currently in operation, we rent out both the Riverside Retreat and our primary home hourly for photo/video shoots. Our long term goal is to increase the income of our rentals until it replaces my blog income—which won't happen for many years, but we're very okay with that.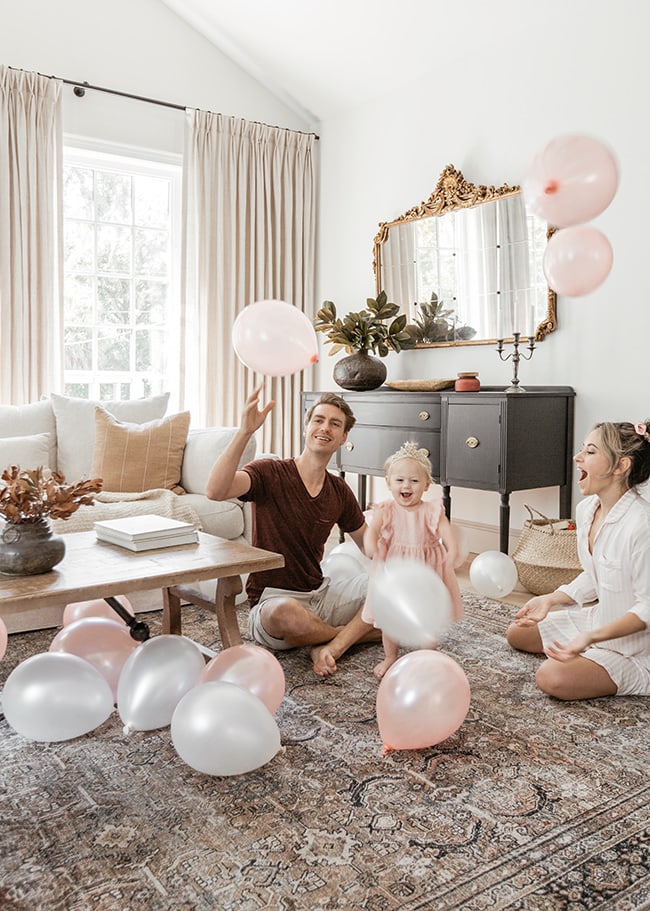 I know most of you aren't here for real estate/blog biz talk, but I find it to be such a fascinating topic and am happy to share more about our journey/experience (perhaps in another blog post?) if you are interested. Just let me know in the comments!
How do you finance your rentals? Cash, refi, etc?
We've acquired properties in a variety of ways. Traditional financing (20% down + bank loan) is usually our first choice to get the best interest rate, and that is how we purchased our original Heights House (before it burned down). Our 5-unit Bungalow was considered a commercial property, so we had to secure a commercial loan through a small local bank.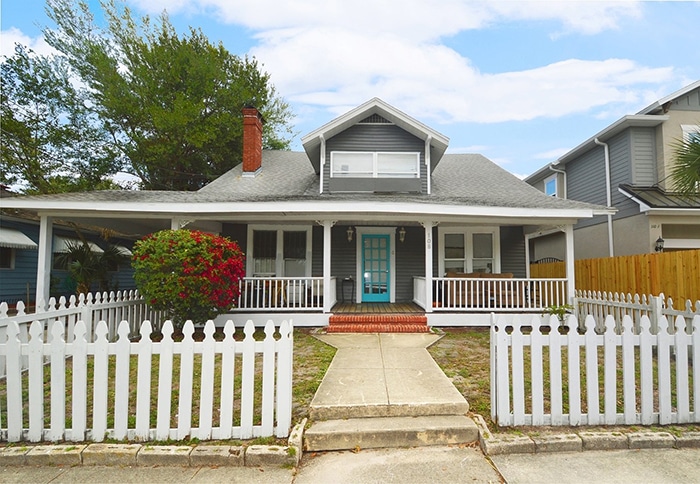 Our Riverside Retreat was a lease-to-own, and we were able to purchase it with equity from a cash-out refinance after the new Heights House was built. I used savings and private loans on my first house and my Cottage House Flip. We were able to refinance the Riverside Retreat to purchase the Hacienda Hideaway, and once the new renovation is complete, we'll refinance it to buy our next property. This is known as the BRRRR method (Buy Rehab Rent Refinance Repeat), and it's one of the most common, effective and smart ways to acquire multiple properties over time using your own equity.
I went into more detail in my post All About Financing a few years ago—definitely check that post out if you are interested in learning the basics!
---
There you have it, twenty honest answers to your most asked questions. Did you learn anything new or helpful or interesting? I hope so! This was a fun post to put together and since I wasn't able to get to all of your questions, I see another round of Q&A in our future. Drop your Q's below for next time!
Next week: get ready for another exciting DIY tutorial from Lucas…