Update: you can see Part 2 of the tour here!
Welcome to my biggest (and favorite) home tour of the year! Step right in and follow Susie through the foyer…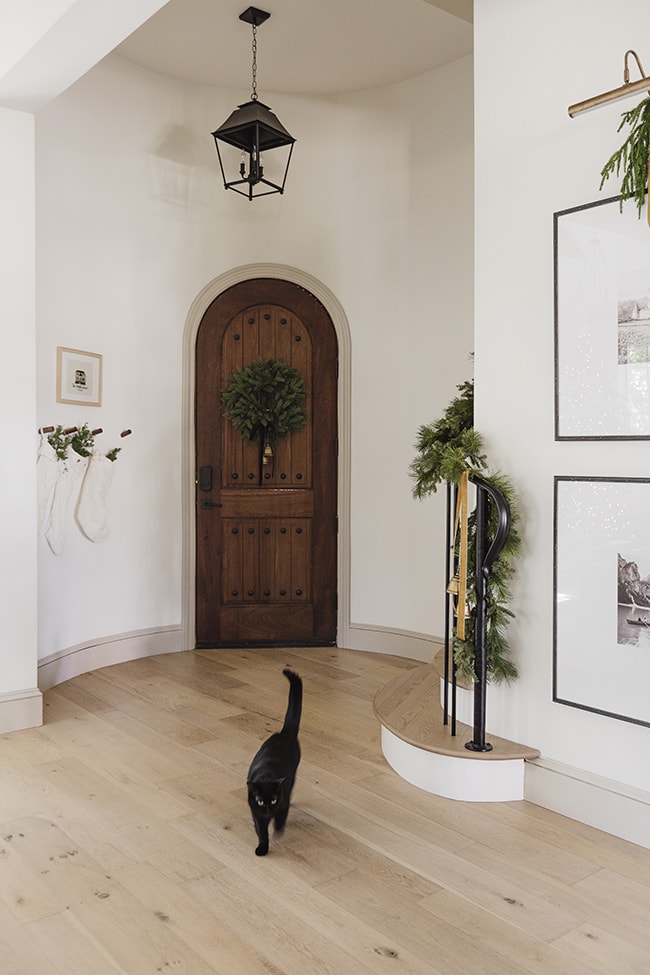 I've spent the last month (slowly) getting our home holiday ready, embracing a "warm woodland" theme this year.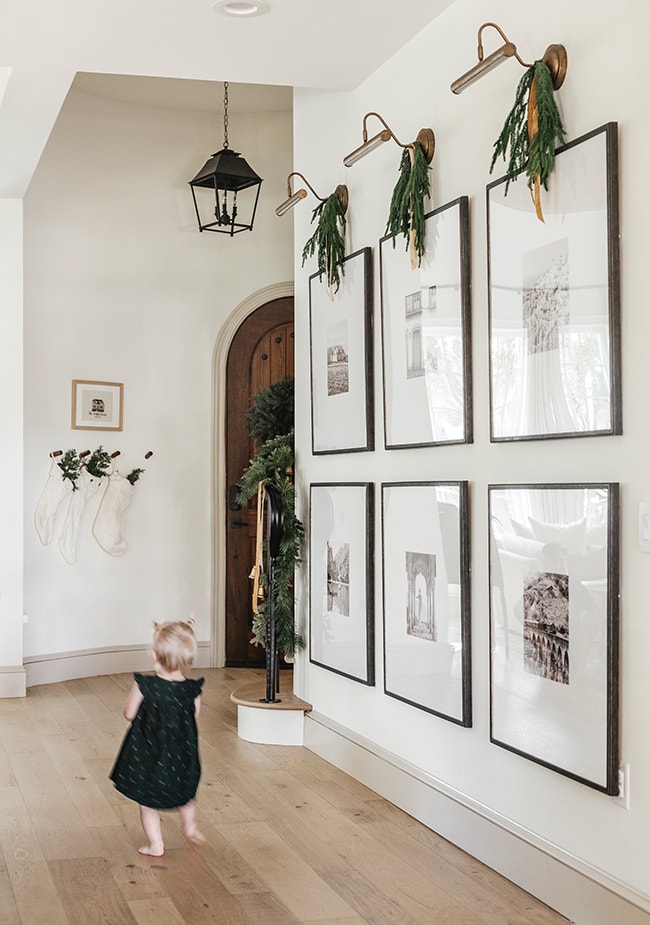 I get really into Christmas decorating, especially with an excitable little one around, so I ended up with over 100 photos from this shoot, yikes! I'll have to narrow it down a bit and spread the tour across three different posts this week.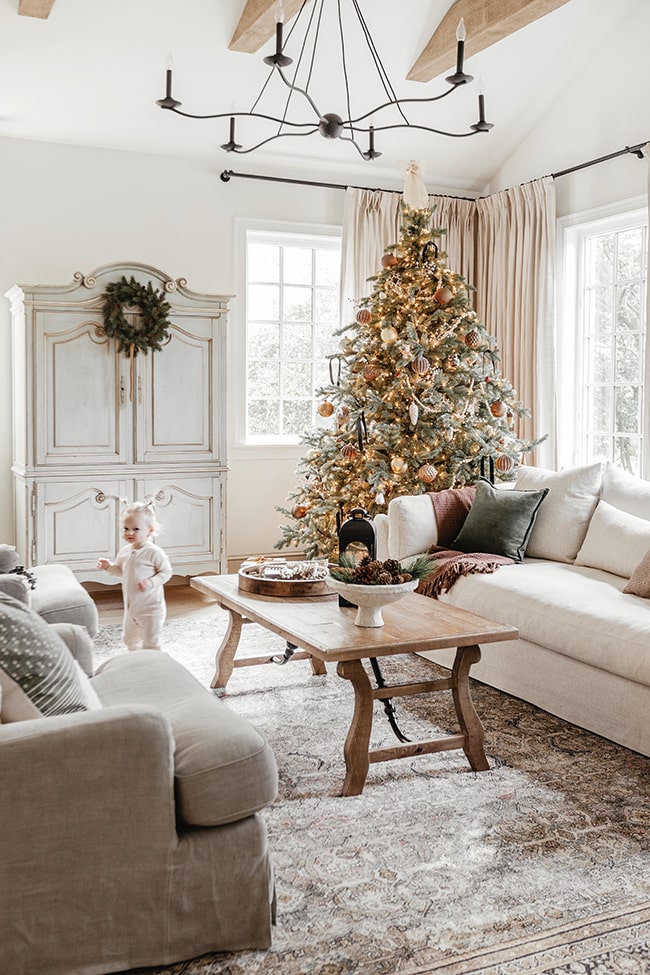 Today I'm focusing on the foyer, dining room and the star of the show—the living room: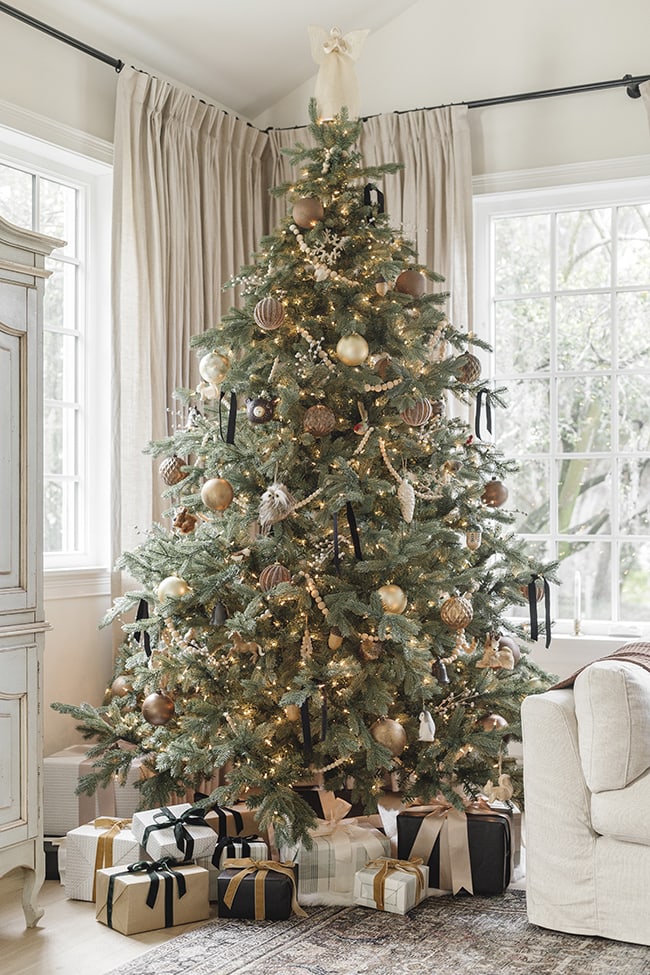 This year it was all about bringing the outdoors in with greenery around every corner. I reused my garlands from last year, like this one on our staircase (no longer available) adorned with gold velvet ribbon and bells (I used my Rub n Buff technique to make them look vintage).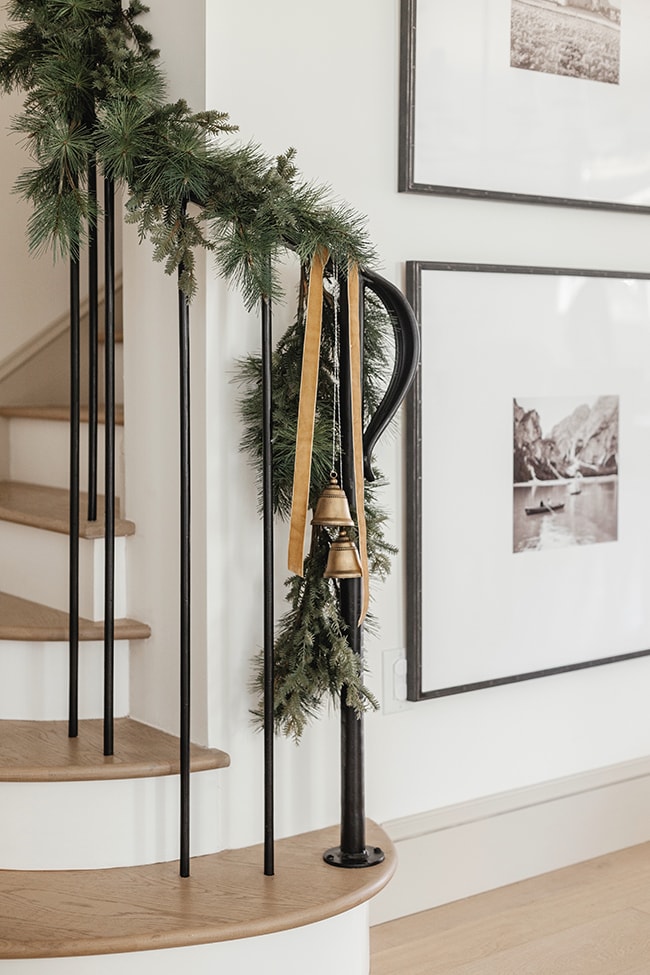 The foyer opens right up to the living room…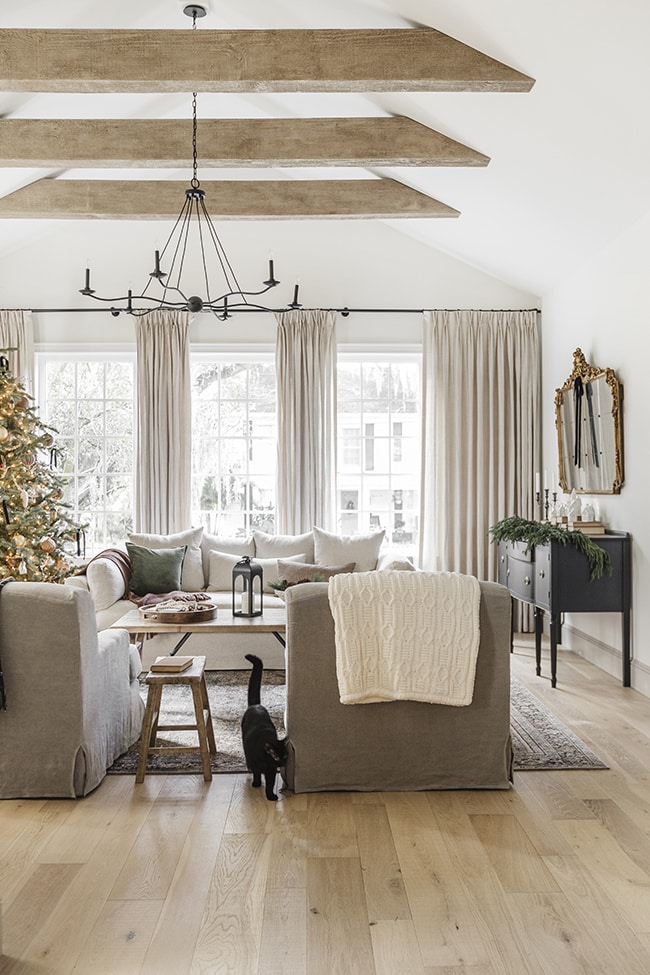 In this space you'll find more greenery, lots of wood tones, cozy textures with accents of black and vintage gold tones.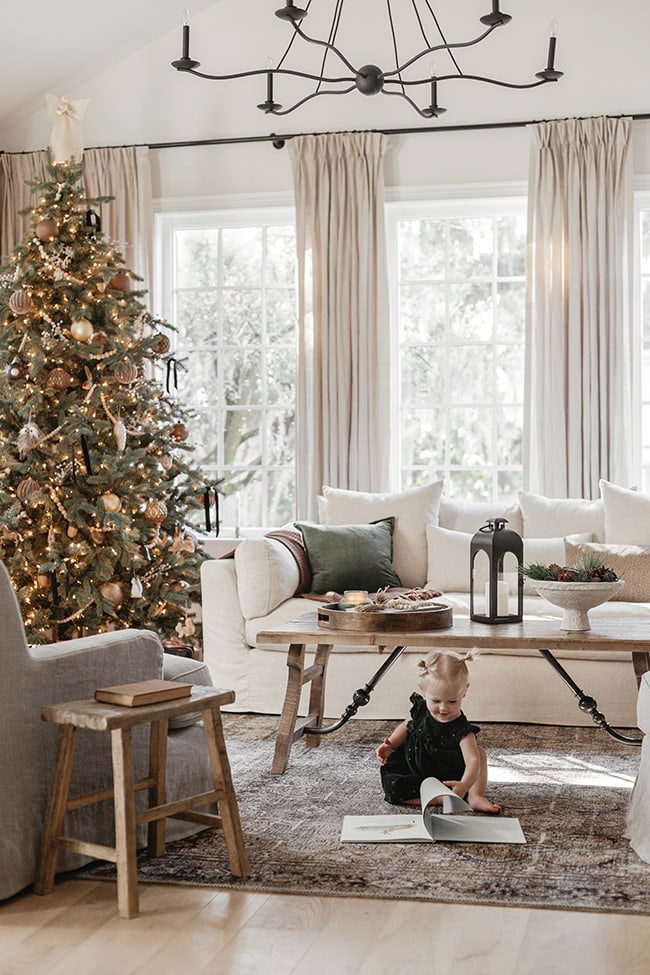 And my favorite part… the tree!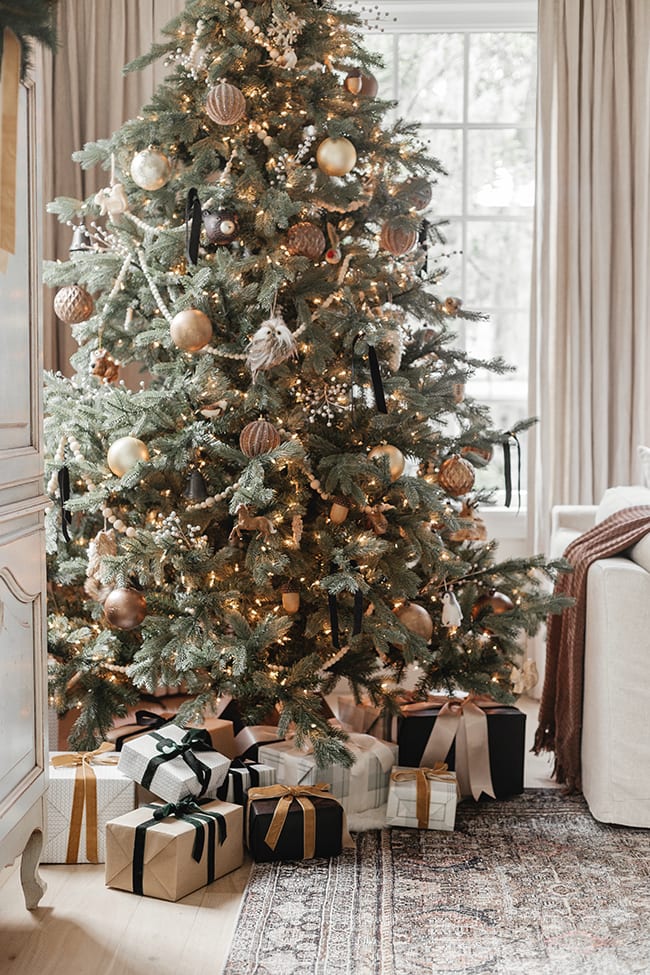 We got a new tree this year and it was one of the best investments (the 9.5′ size is no longer available but you can get the 7.5′ here if you still need a tree!)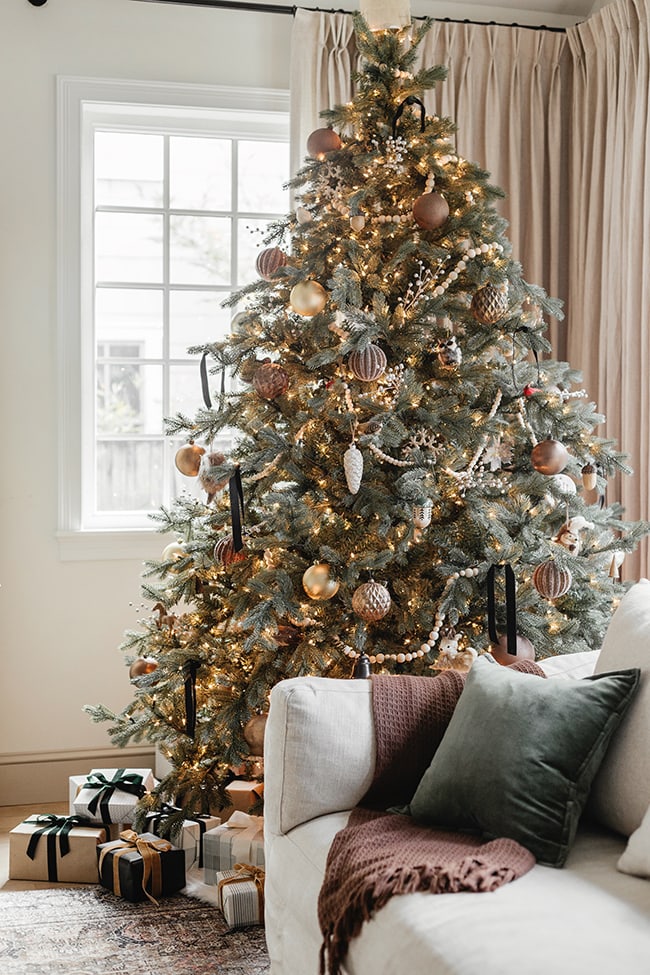 I linked to some of the ornaments I used in this post—but essentially I started with several strands of wood bead garlands, added a mix of 3-5″ gold/champagne/copper ornaments (most of them were just painted or Rub n Buffed), brought in fun woodland themed ornaments, tucked in a few berry sprays, then tied a handful of black velvet ribbons.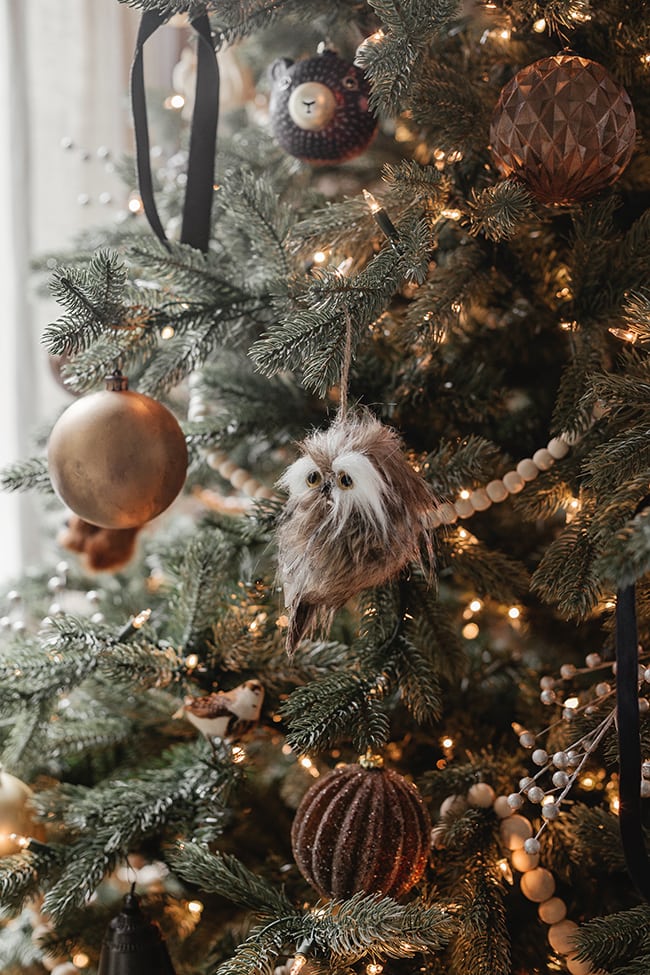 Esmé loves pointing out all of the ornaments and naming the animal sounds. There is nothing sweeter.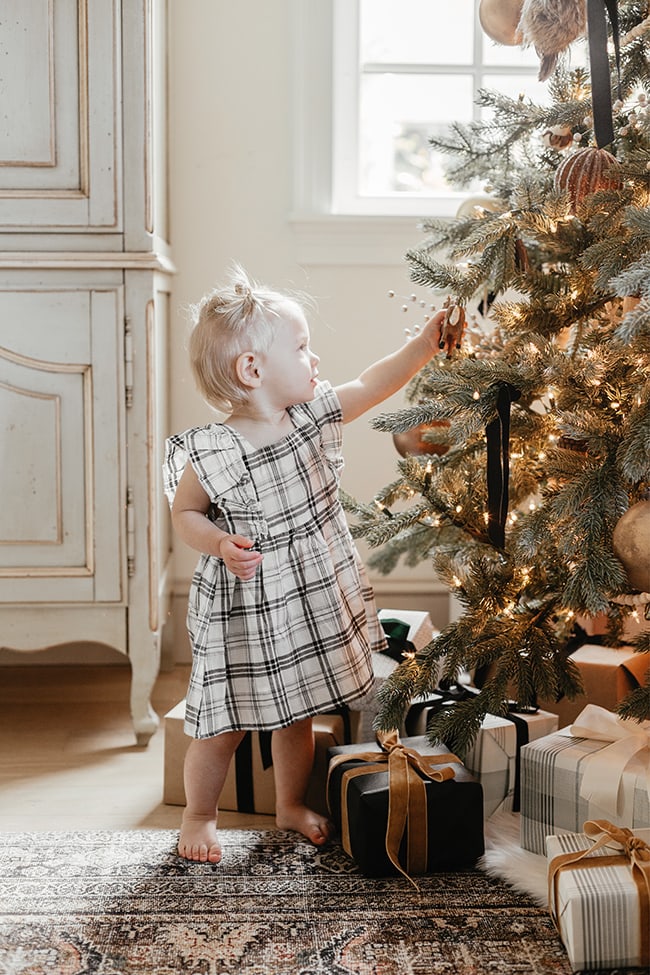 She also loves pulling the bead strands off the coffee table and wearing them around the house as a necklace 😉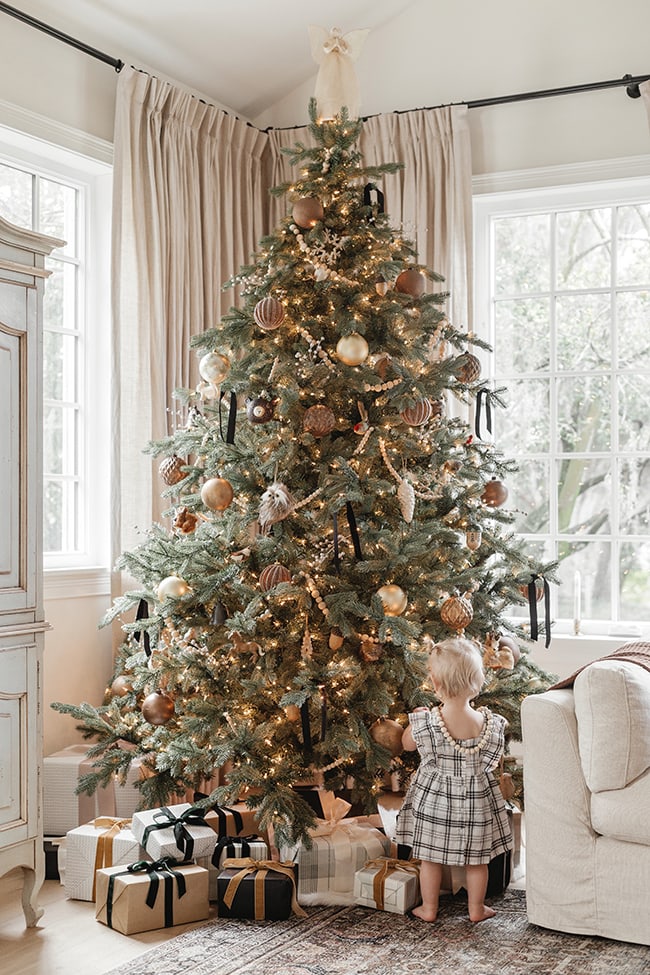 On the coffee table, I have a large round wood tray with books and wood beads next to my favorite $12 lantern.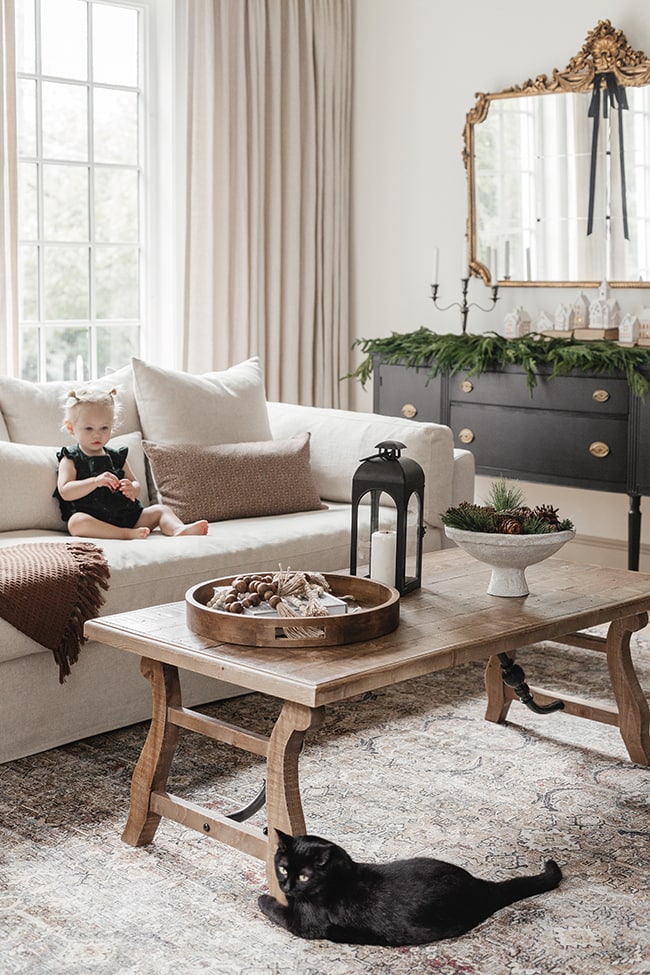 I also filled a DIY paper clay vessel with pinecones and greenery.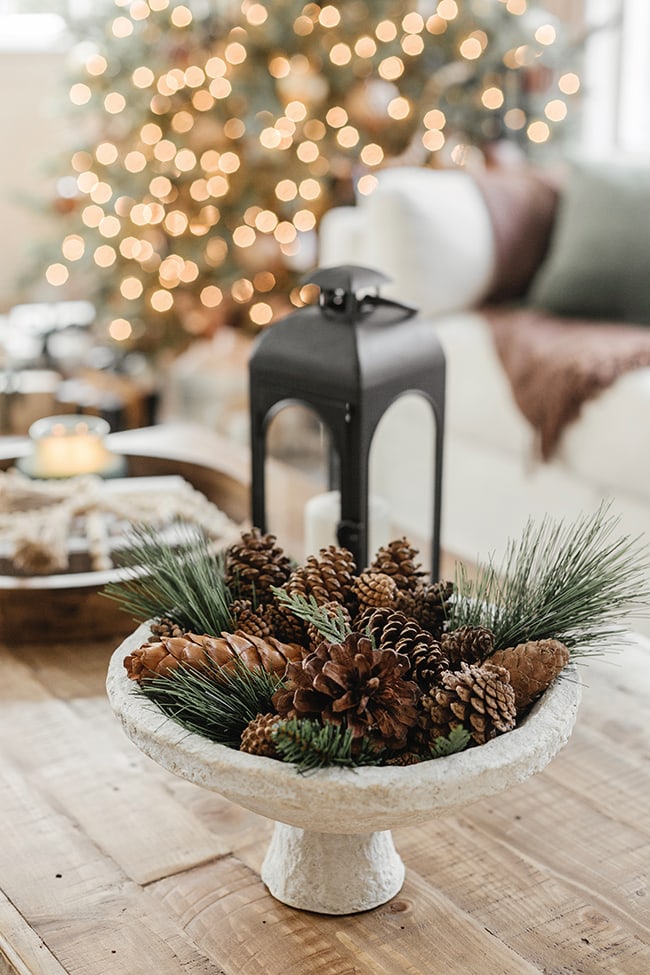 On the sideboard, I set up my porcelain winter village atop vintage books in lieu of the standard blocks under white felt.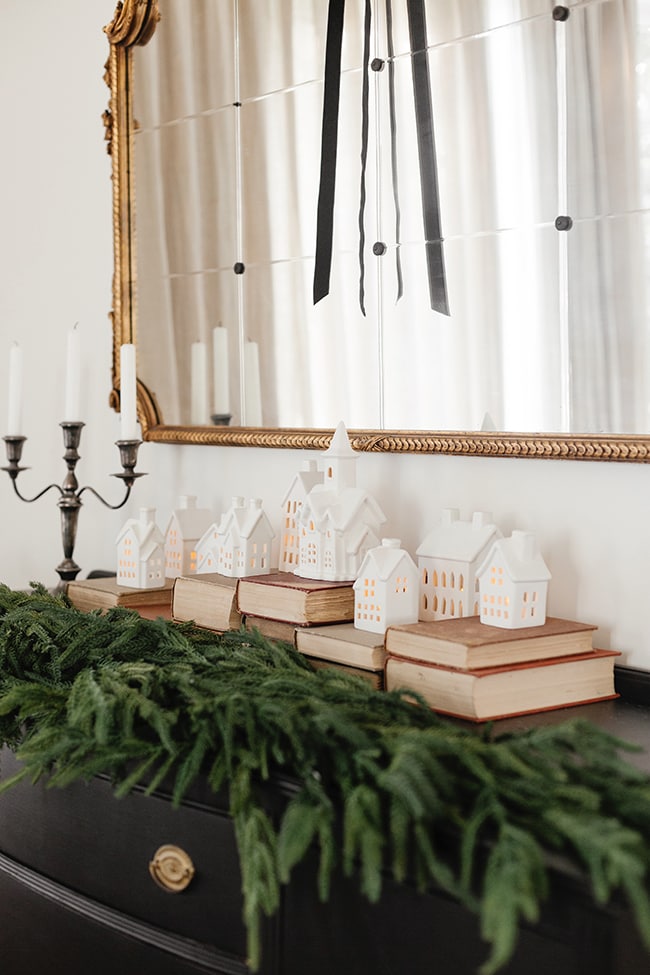 The garland is faux norfolk pine (sold out) and I love the way it drapes over the front.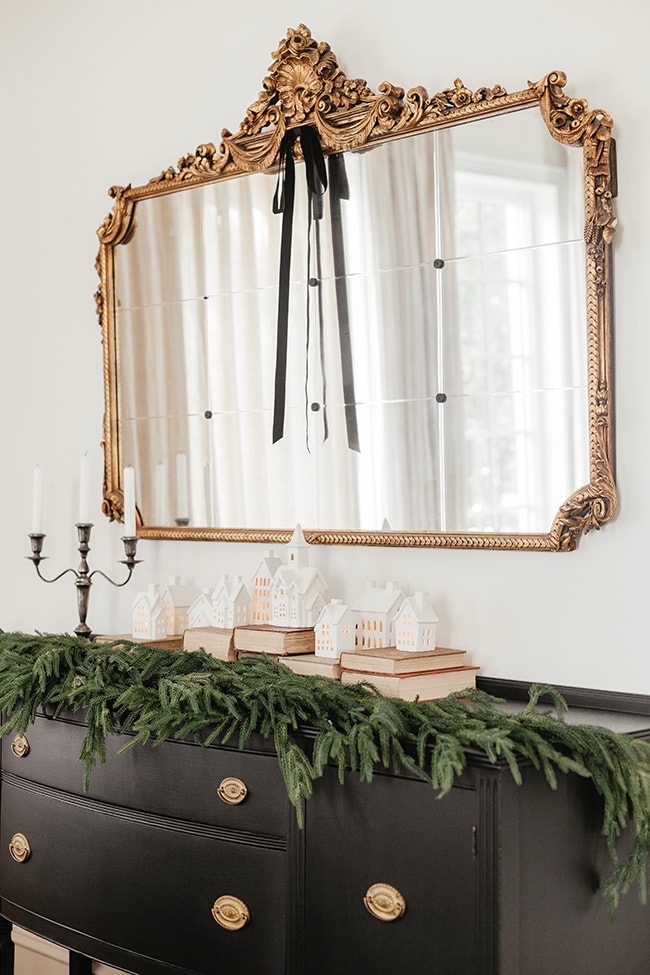 A black velvet bow is my new favorite way to make any object feel elegant and festive!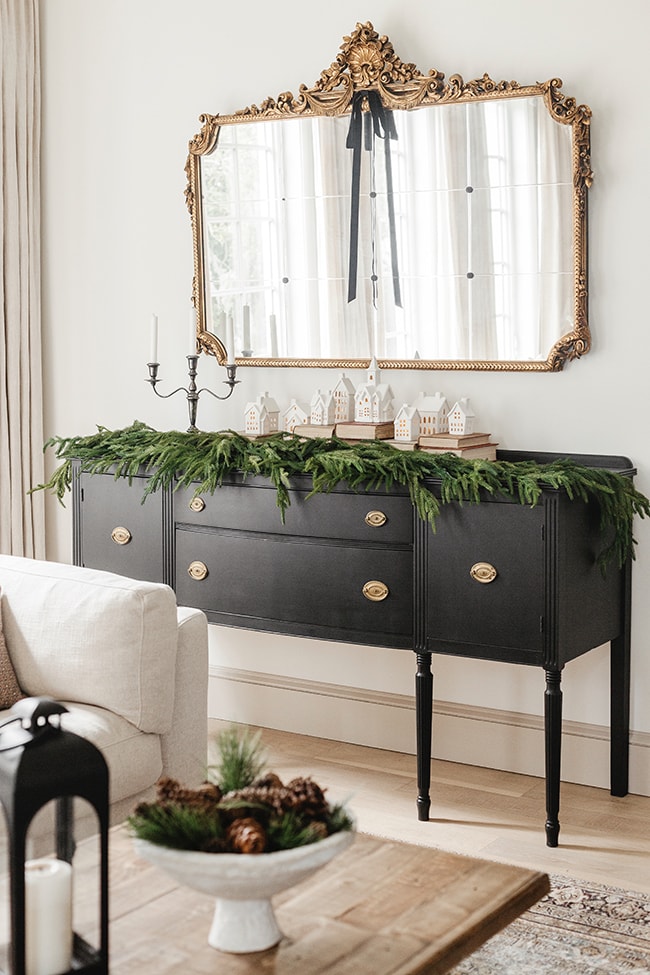 Okay, let's talk about this fireplace situation…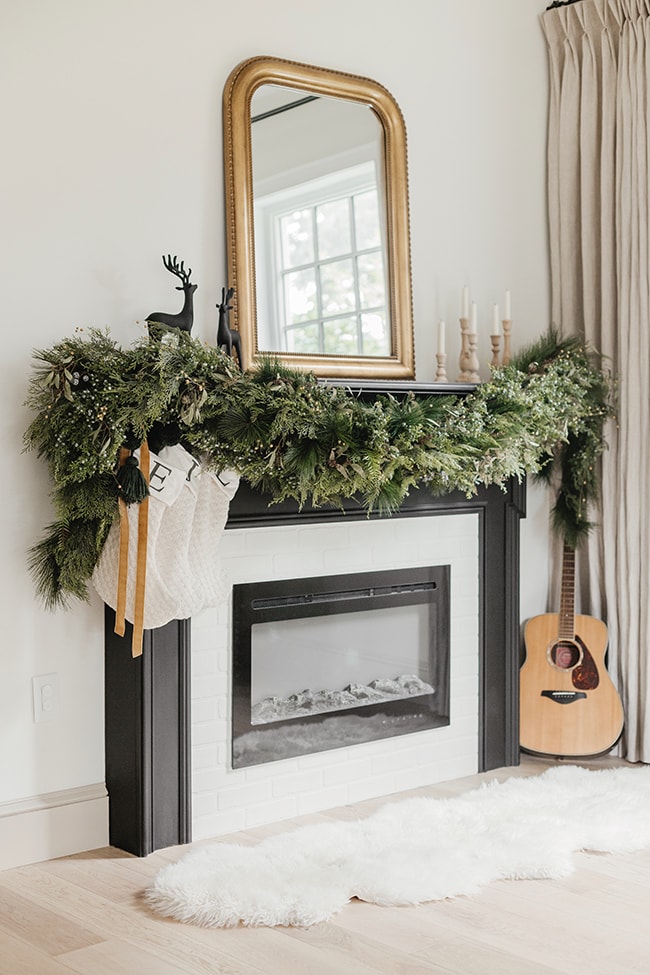 The garland is actually a mix of seven different garlands, plus a bunch of filler. That's the only way to get it this full!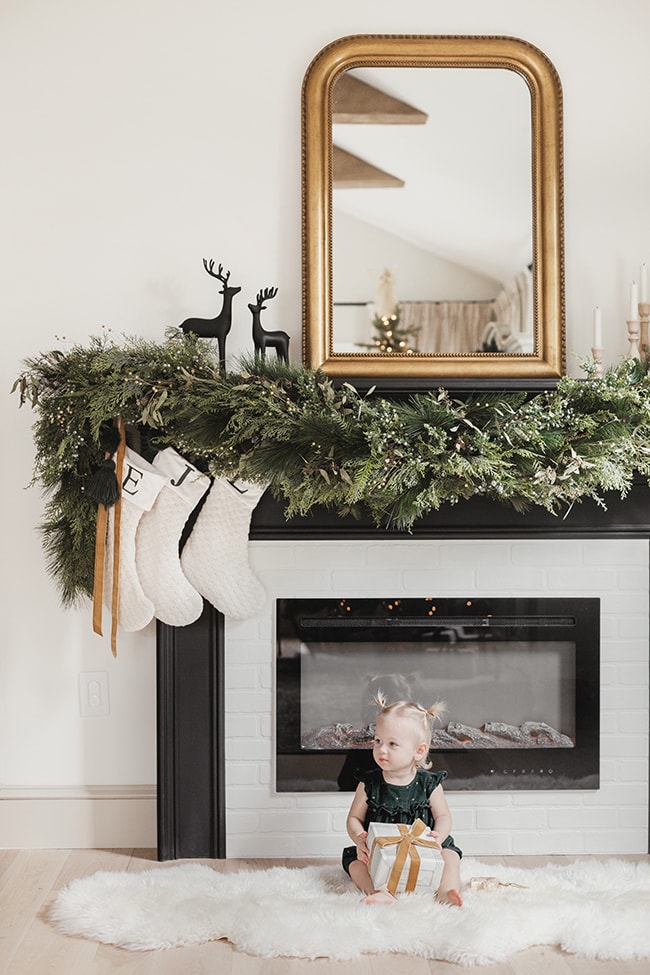 I used two of these as the main garlands but everything else is from last year and no longer available. You can recreate this with pretty much anything though. I even took the old dried eucalyptus leaves and dried flax grass from our Thanksgiving centerpiece and added those in. It's all about variety!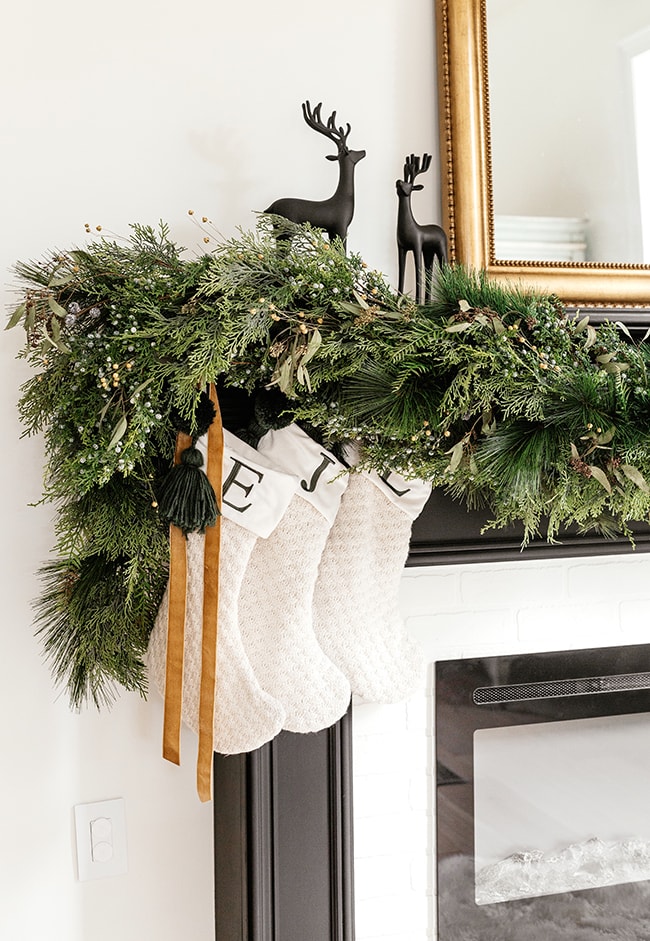 The cute monogrammed stockings and reindeer are from JCPenney. And good news—this mirror is finally back in stock at such a great price!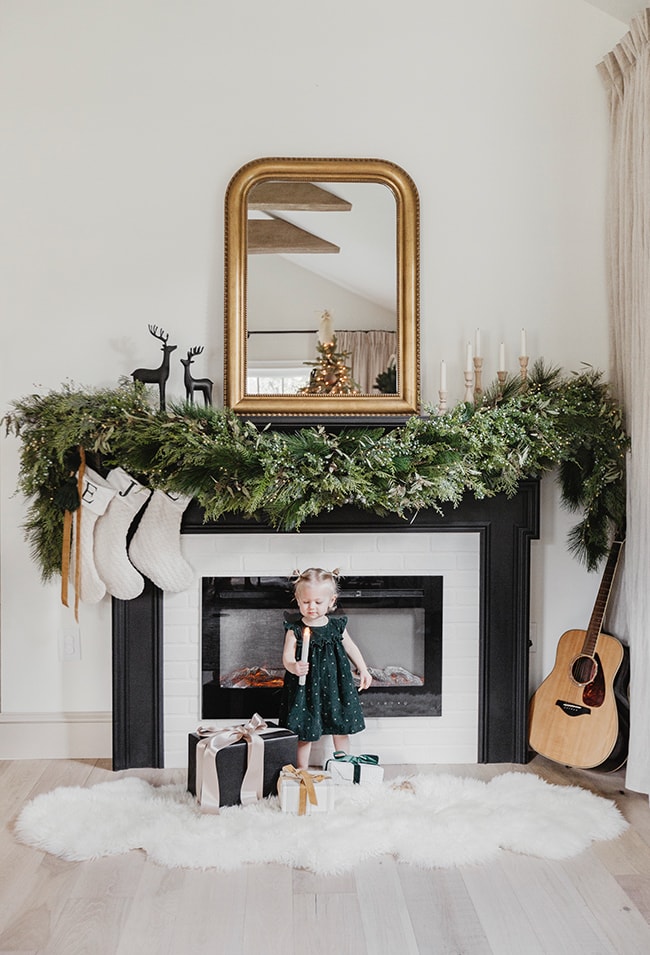 In case you're wondering, I hung the garland on the mantel with two of these command hooks and so far, so good!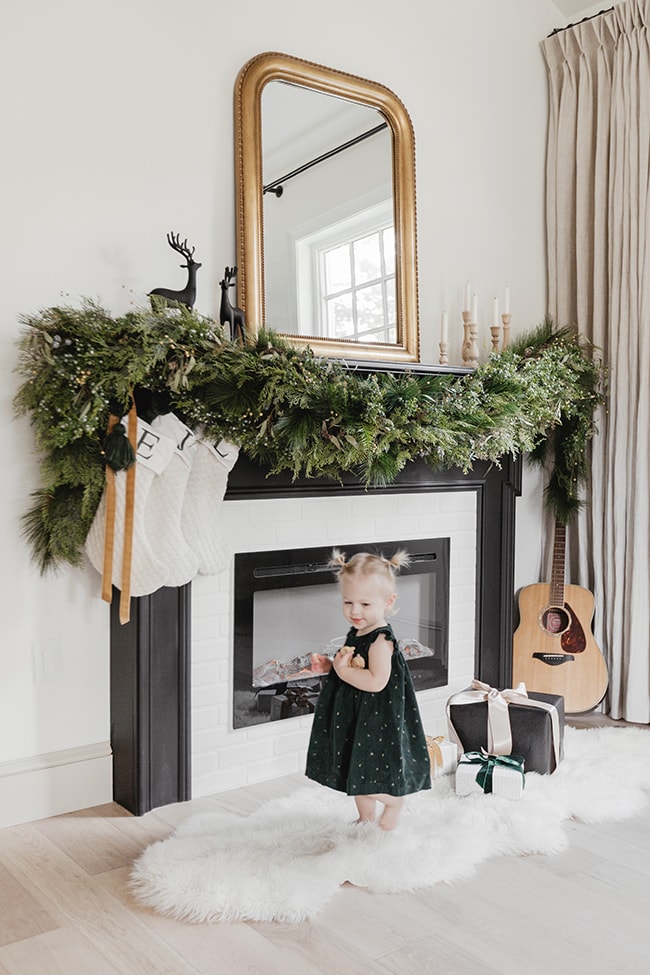 These two melt my heart.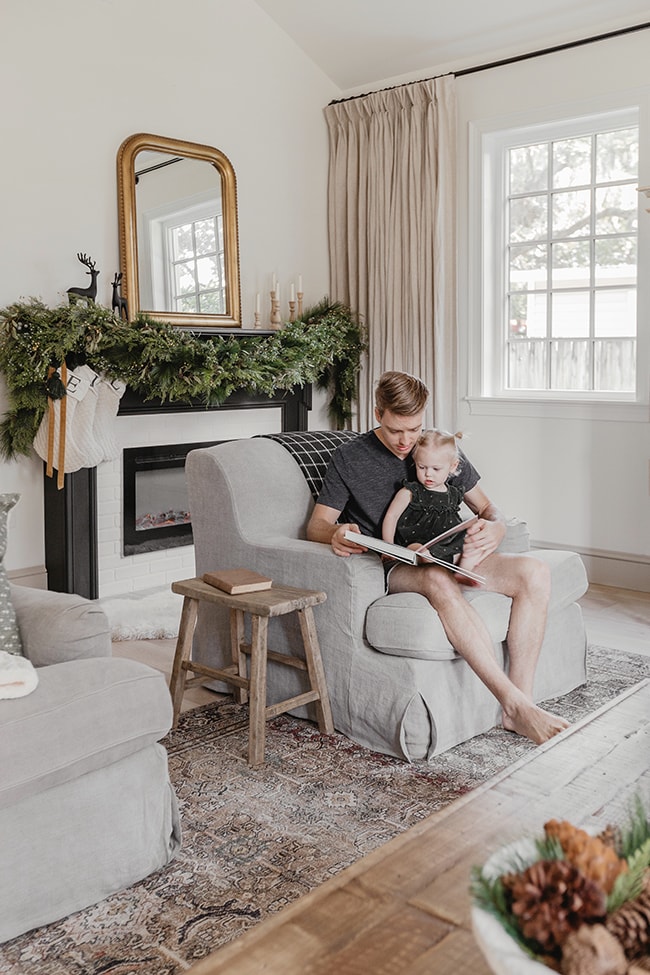 Shall we move to the dining room?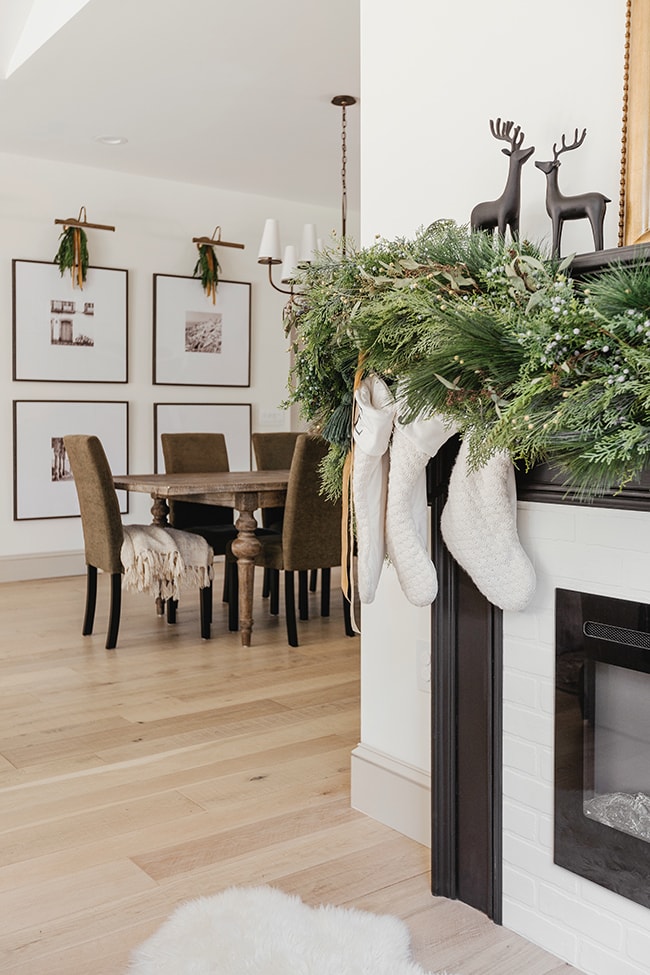 This was the simplest room to decorate with just a few swags and ribbon over the sconces.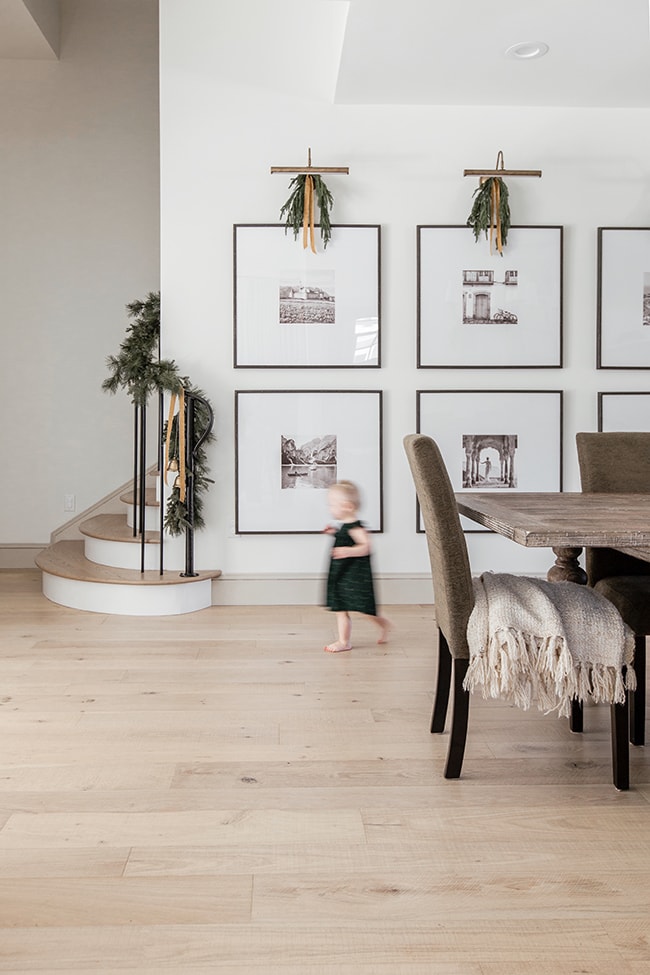 I was originally going to drape a garland around the chandelier, but decided that might be overkill, and tied a small scrap piece of ribbon to the bottom instead.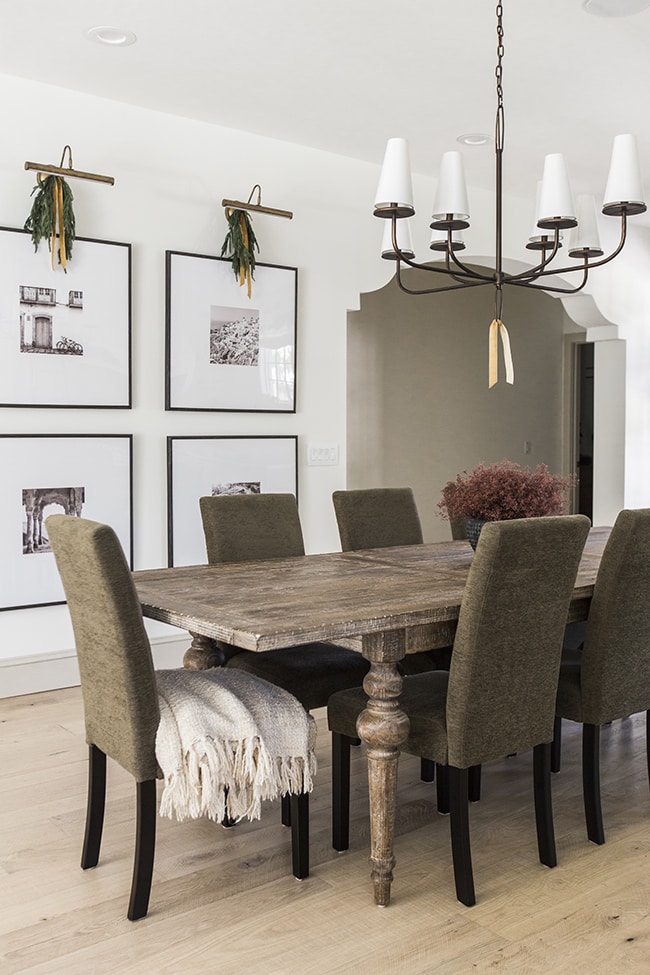 Here's the view from the kitchen: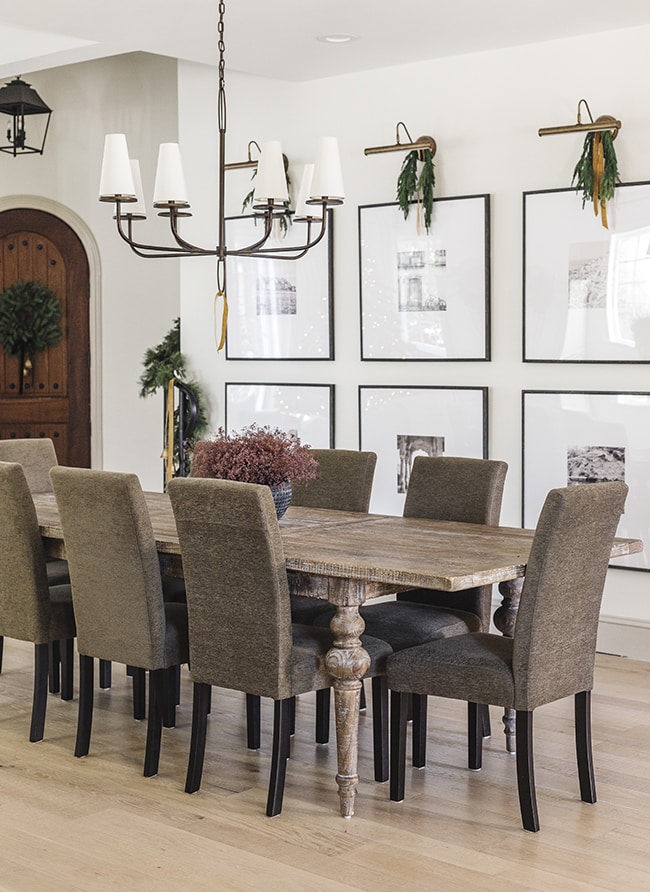 And from the other side of the kitchen: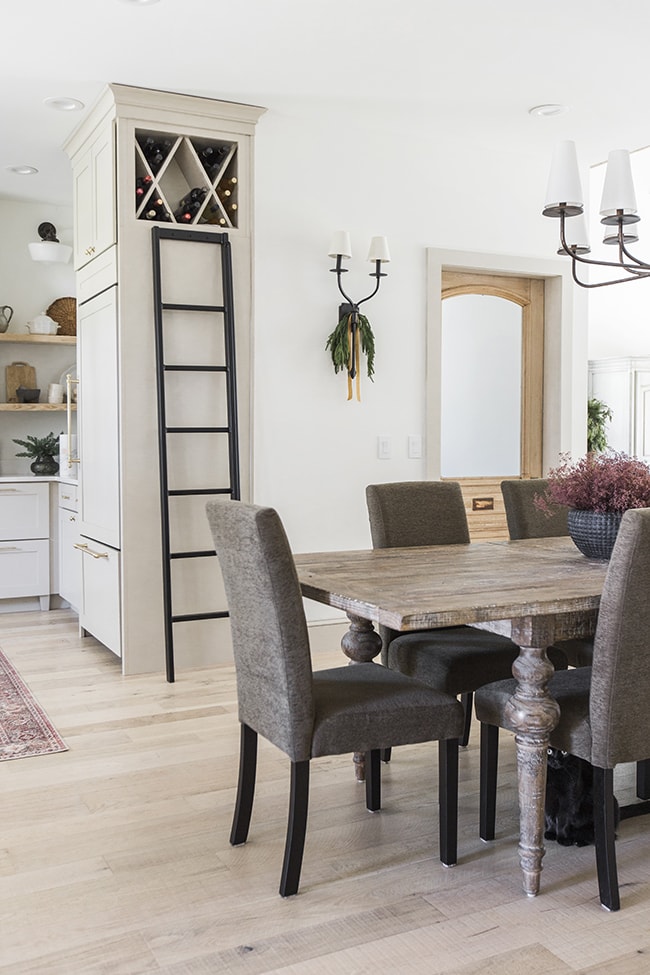 We're getting lots of use out of our wine ladder these days 😉 Tis the season!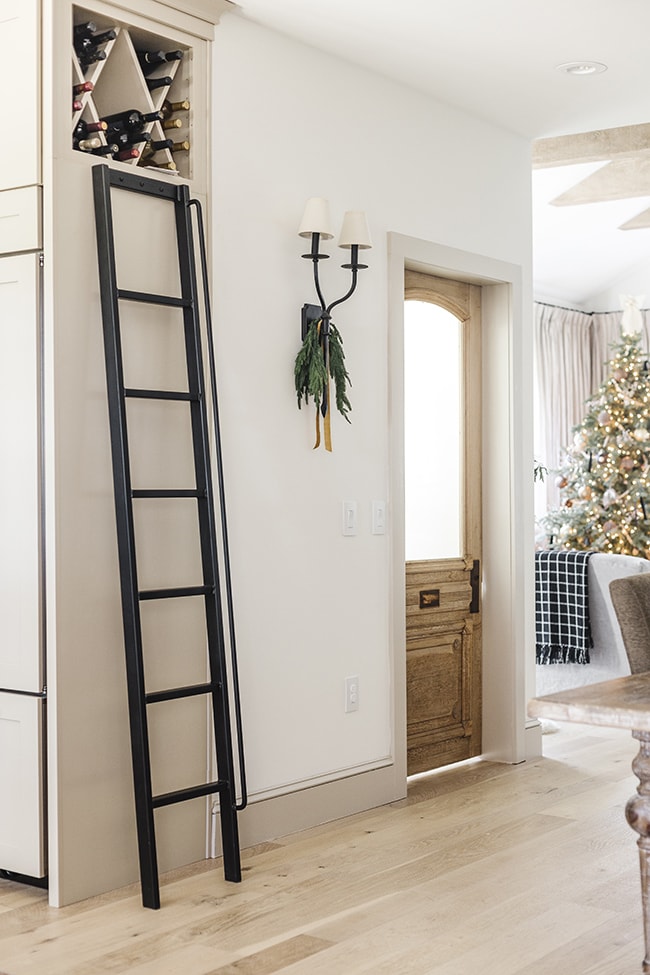 Here's an angle I never post where the living room meets the dining room. One day we'll get on that laundry room renovation…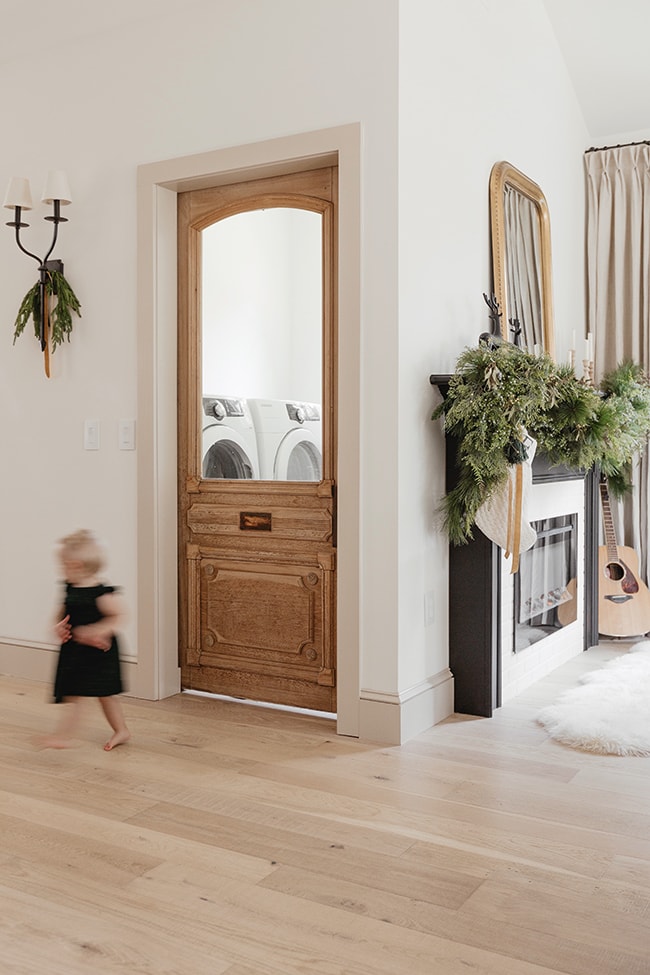 We often tell Esmé about these photos we took while traveling, and now she'll stop at this photo and say "mama!" I can't even with her cuteness.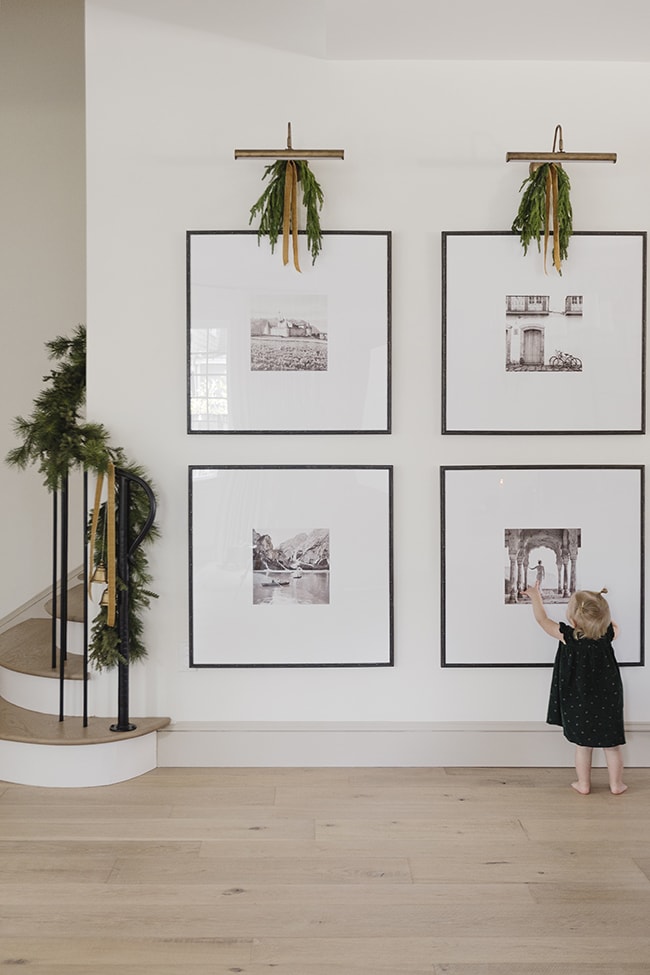 Time to wind things down now so I can start editing photos for Part 2 of the tour…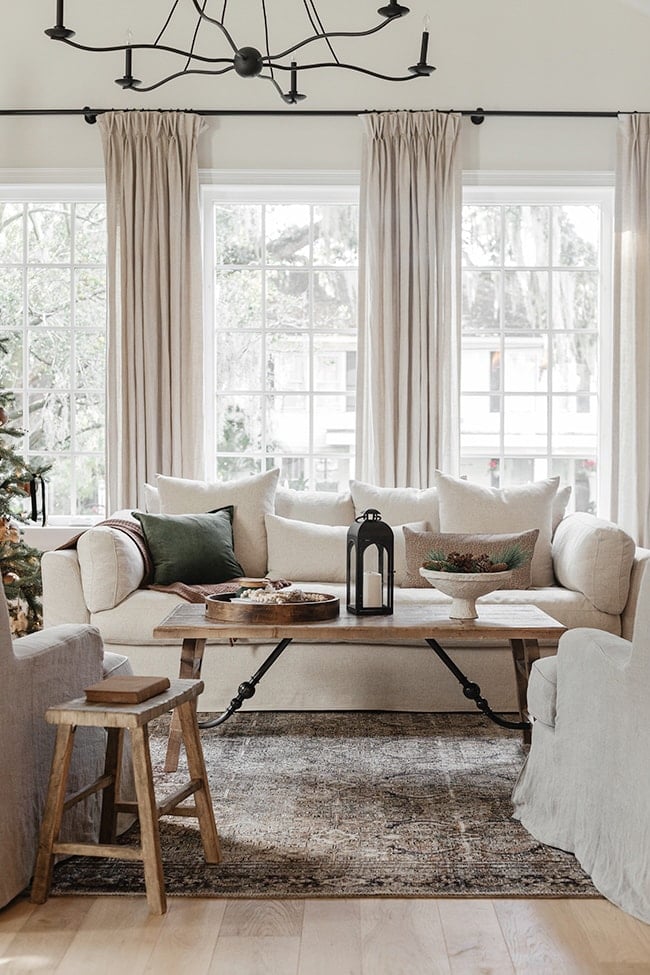 I'll be sharing even more on my Instagram throughout the next month, so make sure you're following along there as well!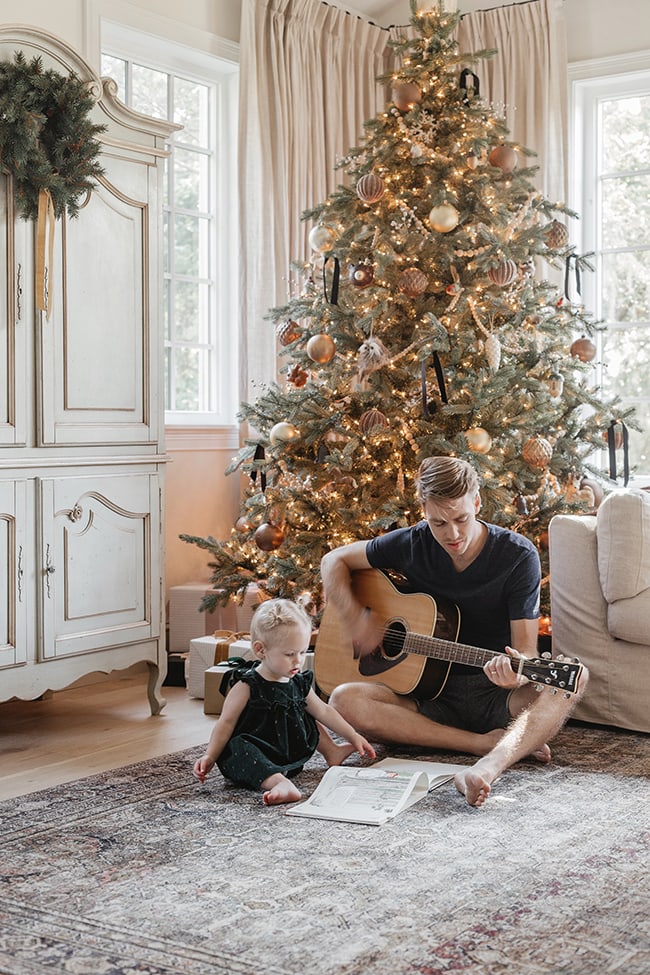 Check back here Wednesday to see how I decorated our kitchen, bedroom and all three bathrooms! And of course, more of this cutie patootie…