When designing our home, I envisioned the living room to be the place where we'd gather for morning baby snuggles, afternoon football games, and late night conversations. It would be where memories were made while hosting family during the holidays or a quiet date night in. The space would be warm and cozy, calm and comfortable, and an extension of the relaxed European style of our home.
Situated just off the front entrance and open to the dining room, the room feels larger than its 18'x18′ footprint with a tall cathedral ceiling and five large picture windows.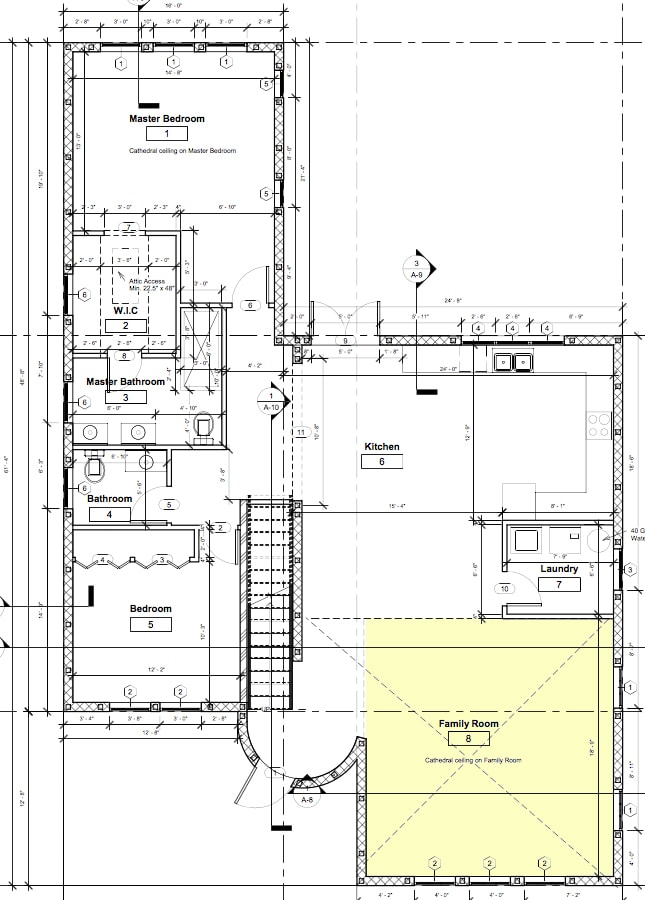 Pin
We sacrificed square footage in other areas of the house for this room because to me, it's the heart of the home. Watching it come together and dreaming of our future here was the most fun part of the construction process…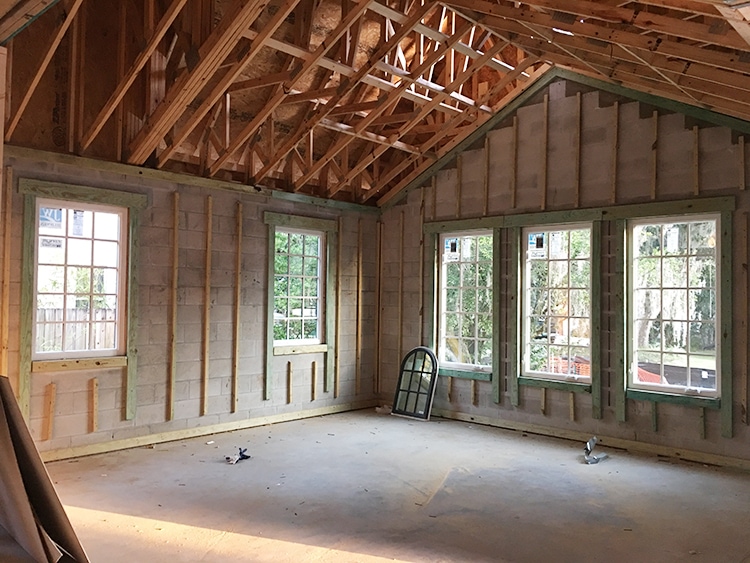 Pin
Those three 5′ south facing windows let in a ton of light, and I'm so glad we didn't go smaller to try to save money. I wrote a detailed blog post all about choosing windows in case you missed it.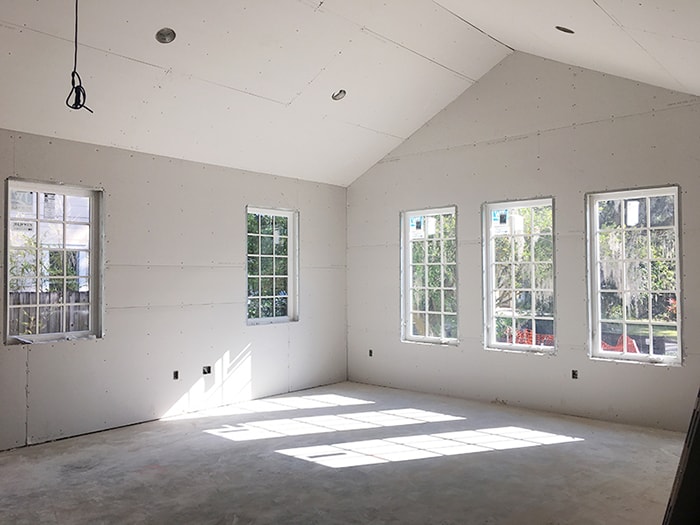 Pin
One of the most exciting days of construction was the floor installation. Ten months later and I'm still obsessed with these French Oak planks.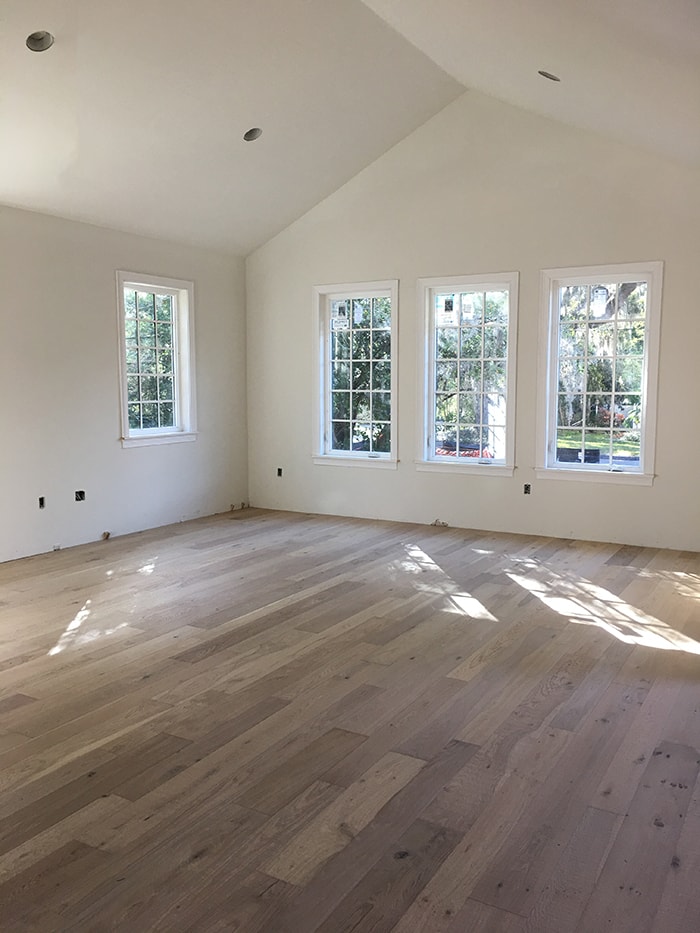 Pin
The vaulted ceiling has to be my favorite feature, especially after we added the faux wood beams. They make the room feel so grand!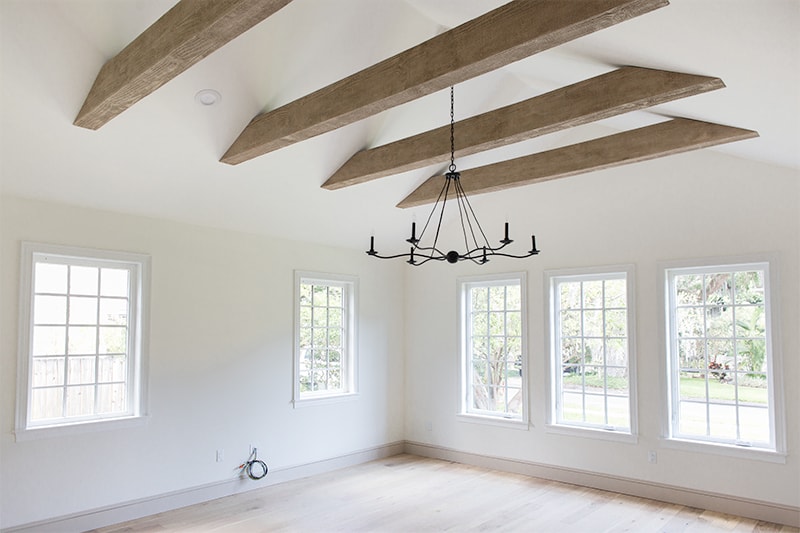 Pin
The light and airy color palette (read about the paint color selection in this post) helps make the room feel more open and serves as a neutral backdrop for furniture & decor throughout the seasons.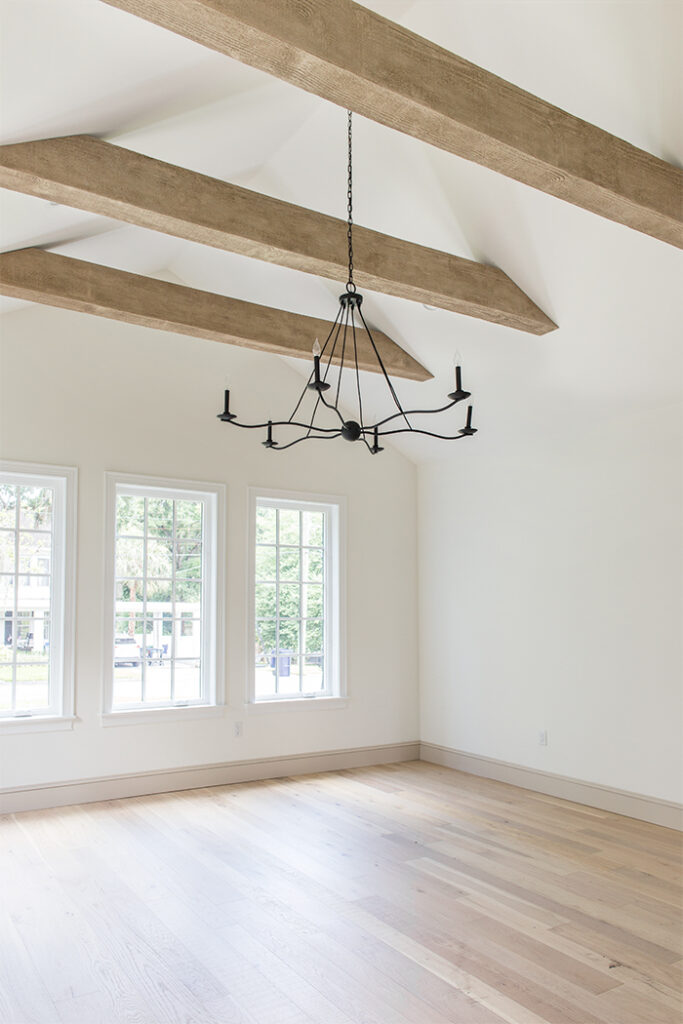 Pin
Since moving into this house five months ago (how has it been that long already?!) the living room was relatively low on the priority list while we finished up the kitchen, nursery and powder bathroom (among a million other little projects). At first it had a couple random pieces of furniture brought in from our storage unit…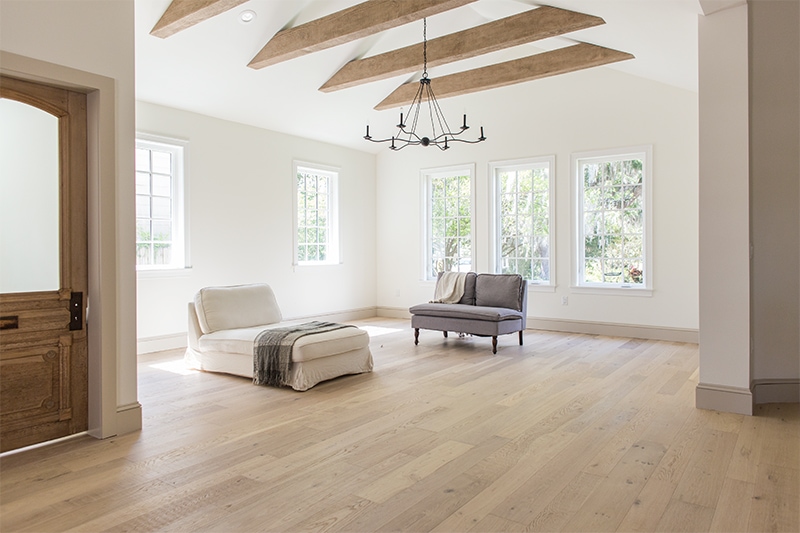 Pin
Here's the other side…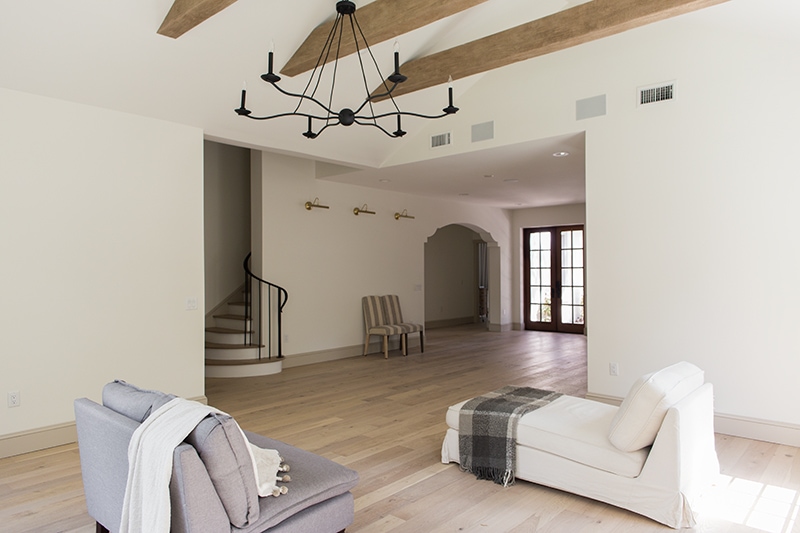 Pin
I didn't want to rush into completing this room and risk overspending or buying anything I didn't 100% love because I was impatient. The best rooms are well thought out and evolve over time, so this is still a work in progress and I don't mind the wait.
Over the past year I've had time to mull over my design plan, scour the internet for the perfect pieces and even do some bargain hunting. Here's what I came up with:
Pin
The first decision I made was the chandelier I found last year and couldn't pass up. It was the perfect size for our large room (53″ wide—it's also available in 40″ here) and fit right in with all of the other black iron fixtures in our home.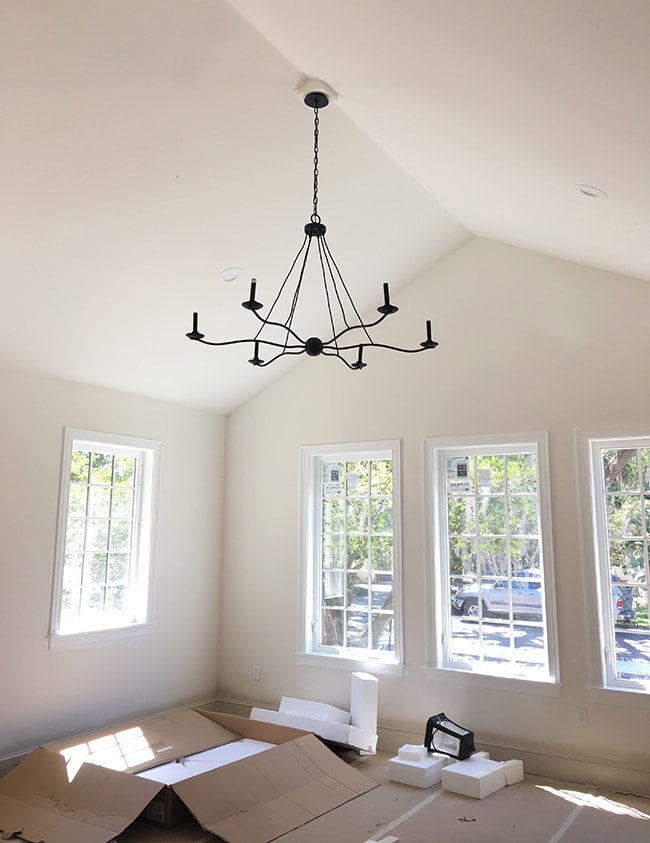 Pin
My next find was a secondhand score via OfferUp—an armoire which holds our TV. I love the classic European character and it's just the right size. The plan is to paint it eventually—I was actually thinking a pale green, similar to the existing color, but I may wait and see if I can find an antique unpainted wood armoire and move this one into our bedroom. We shall see!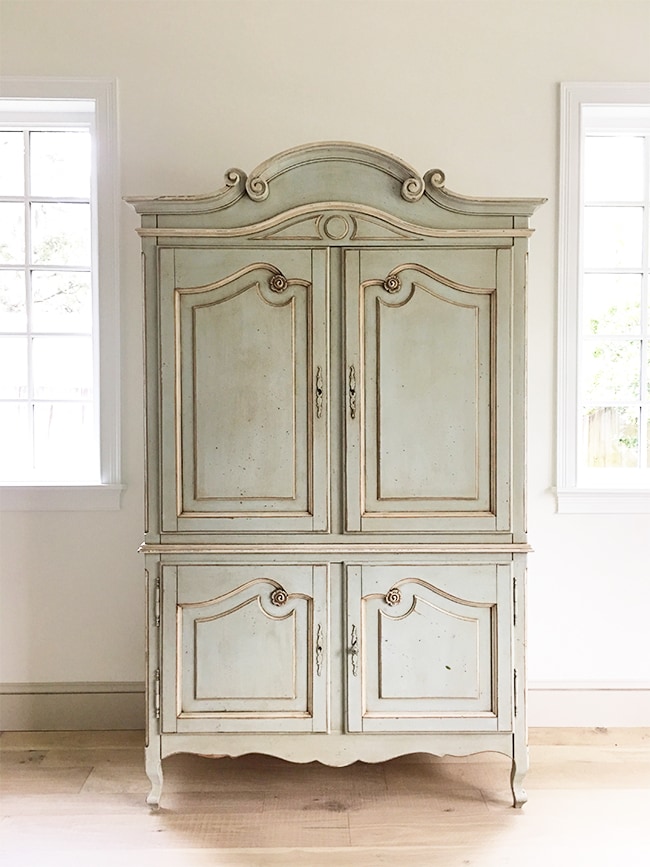 Pin
The next piece was this 9×12′  Loloi Layla olive/charcoal rug that caught my eye months ago.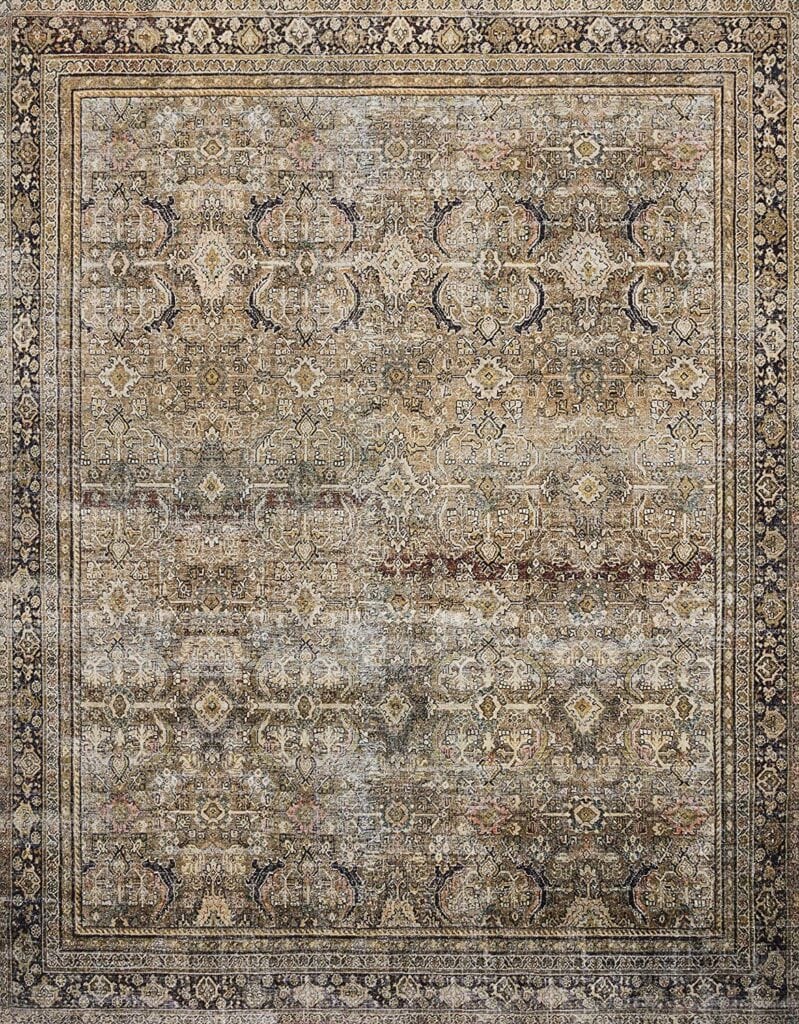 Pin
My original design plan was based around a rug with primarily green tones, which is particularly difficult to find! I spent countless hours exhausting pages of search results on every site I could think of, and always came up short. The Layla rug looks brown in photos, but in person in the daylight, it's mostly olive green (it does look more brown under incandescent lighting, though). I was thrilled to discover this when I unrolled it! Here's an iphone photo I just snapped that's an accurate representation: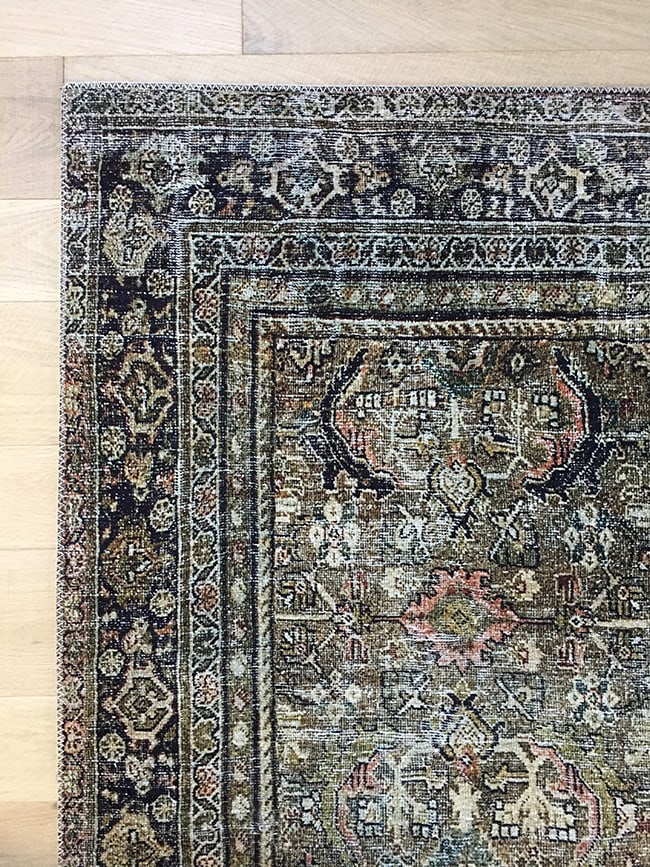 Pin
It's also surprisingly soft and cushy, especially given how thin it is (I'm not using a rug pad at the moment). It feels almost like a thick velvet fabric. The attention to detail is impressive—the pattern is actually pulled from a real vintage rug so it looks authentic.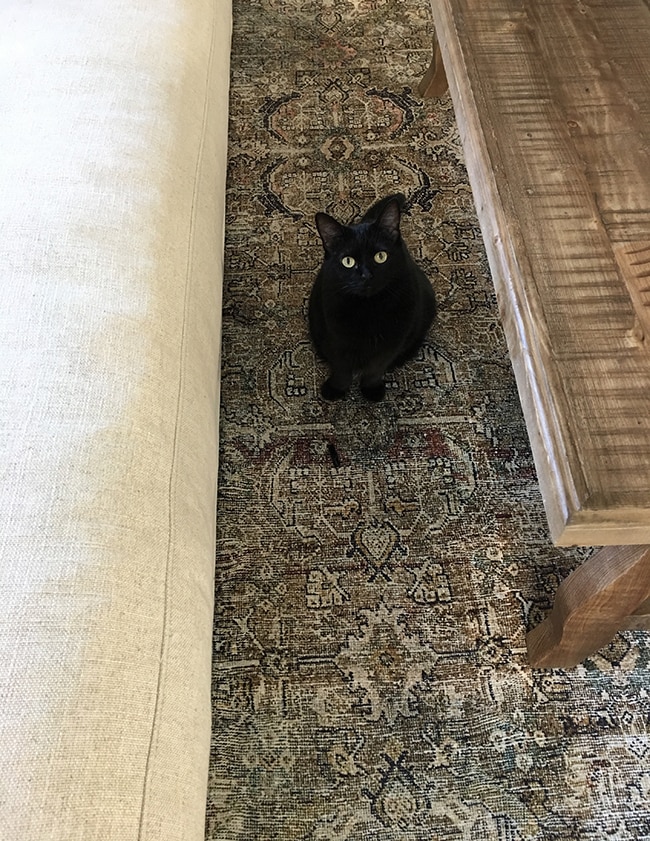 Pin
It hides everything and cleans well (you'd never know where Susie puked on it), it's very reasonably priced, and I can't say enough good things about it. It really is the perfect rug! I love it so much I ordered the same one (in the 5×7′) for the Riverside Retreat kitchen.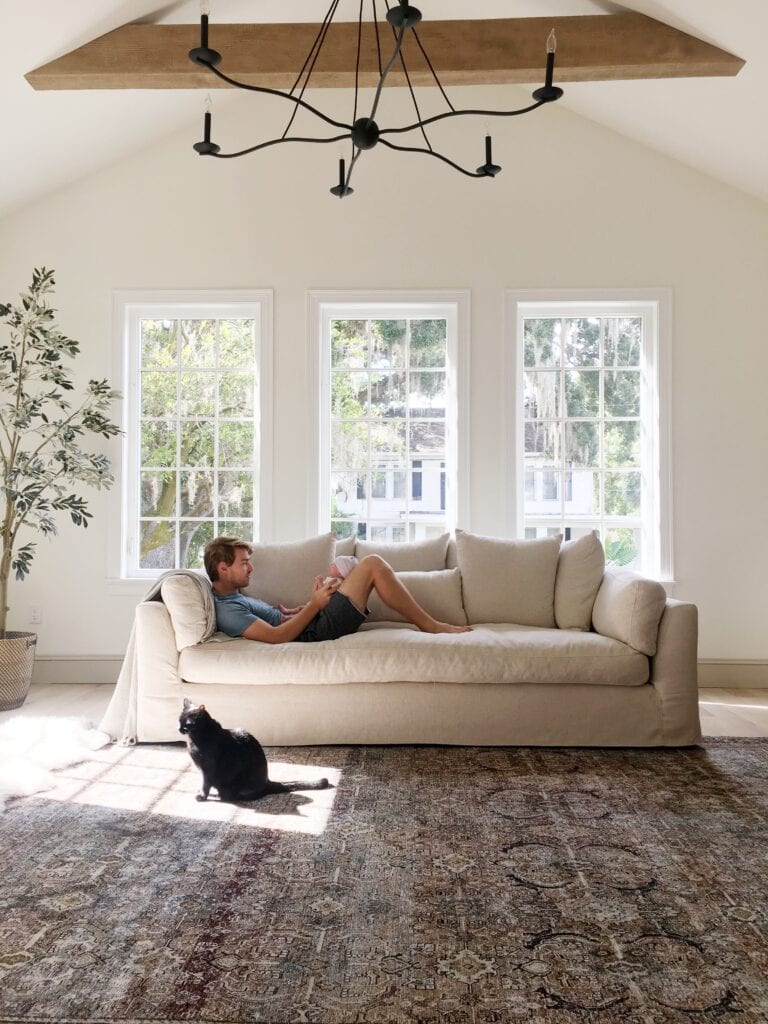 Pin
And the biggest purchase for this room, one I spent countless hours searching for over many months… the sofa! (2/22 Update: our exact sofa is no longer available, but I found this one that is almost identical!)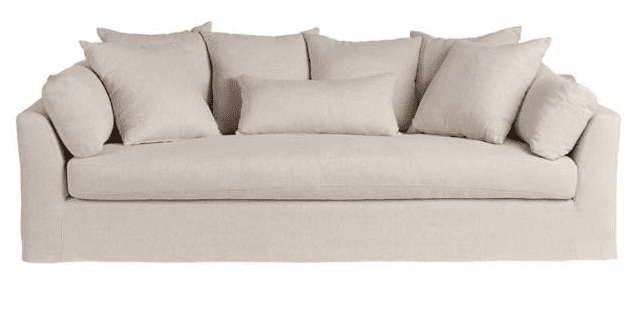 Pin
I tracked down every linen sofa in a similar size/style looking for the best price and reviews, and this was the winner (I plan to do a dedicated blog post with all of my findings cause the info is too good to not share!) I had bookmarked it early in the year and when I was finally ready to pull the trigger in June, it was no longer available. I panicked and talked to customer service, who assured me that it was coming back in stock in a few weeks (whew!). A few weeks turned into a few months and I had almost given up hope of it returning, but as soon as it finally did, I jumped on it.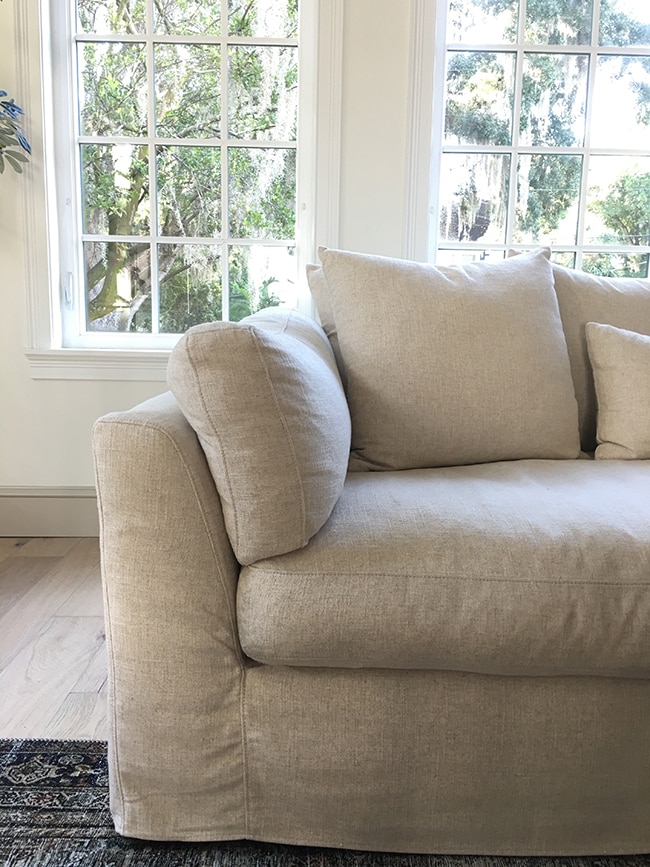 Pin
This is hands down my favorite sofa I've ever purchased. The price is amazing, the style is clean and sophisticated, the size is perfect for this room, it's durable and super deep and comfy. The cushions are double sided and have removable slipcovers which eases my hesitation of ordering a light colored sofa. Online it says dry clean only (what? no thanks), but I spot cleaned melted chocolate with Oxi spray stain remover, water and a dish sponge and it came right up without leaving any evidence.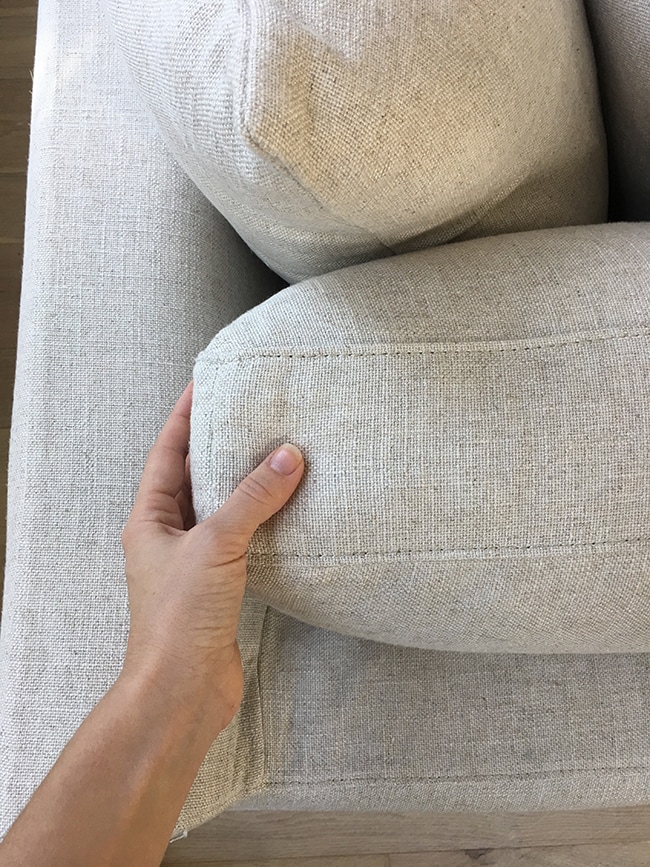 Pin
The only imperfection I can find is that the material isn't super soft. It's not rough or uncomfortable by any means, but it is a thick woven linen which is naturally textured. This doesn't bother me at all though, it makes it more durable and easier to hide stains.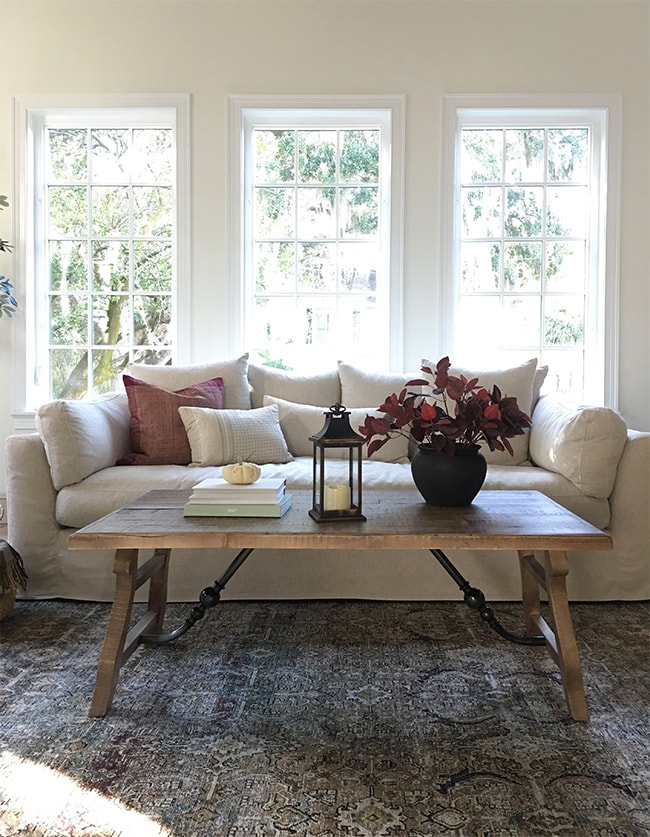 Pin
The next big ticket item (or items, I should say) are two slipcovered Wyatt armchairs from SixPenny. I ordered these last month and they're scheduled to arrive next week.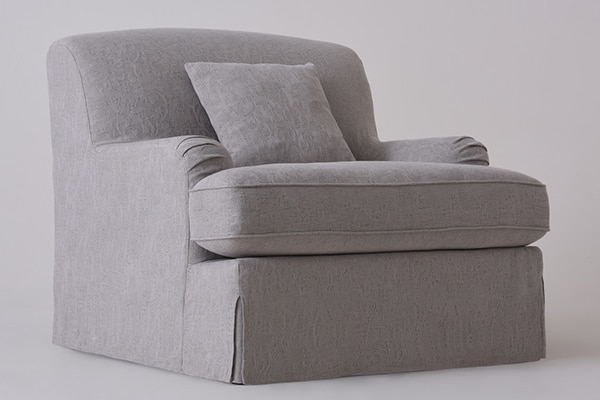 Pin
These will sit across from the couch, where the two wicker placeholder chairs are in the photo below: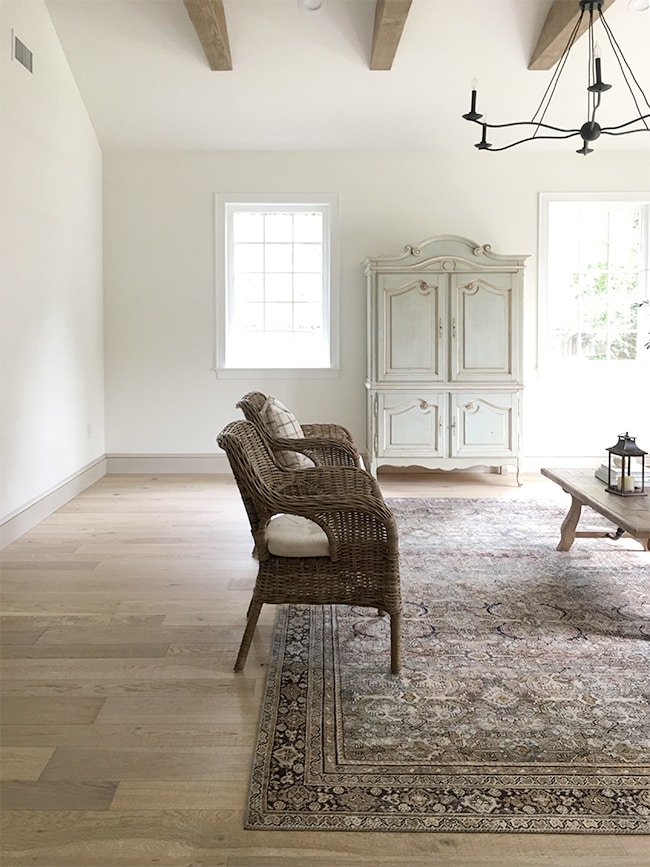 Pin
I'll do a dedicated blog post reviewing them after they arrive, so stay tuned!
And that brings us to the next piece of the puzzle, the coffee table. I posted a poll on Instagram a while back, trying to decide between these two: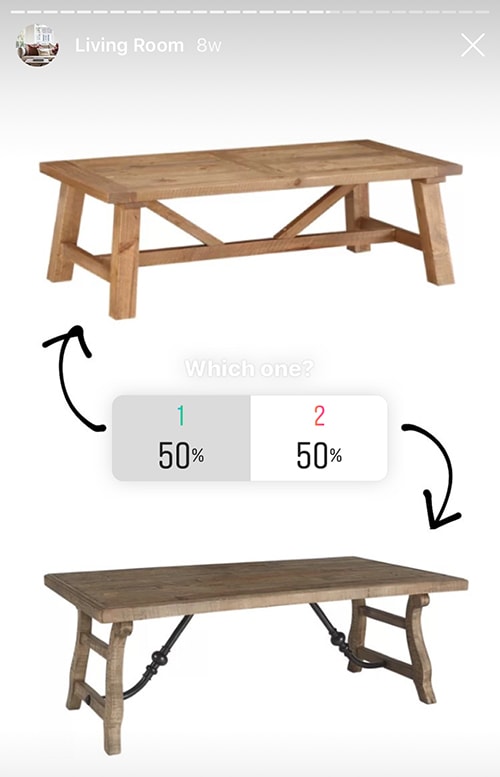 Pin
The results were evenly divided, so in the end I went with the one I thought was more unique and fit better with the style of our home.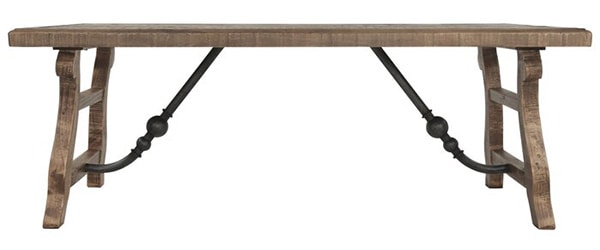 Pin
Size was the most important search criteria, and it's quite the task finding something over 50″ long (the proper scale for the sofa/room) that's also stylish and budget-friendly. My options were relatively limited, but I'm glad I came across this table and think it was the right choice. Apart from the price and design, the rustic wood finish is pretty indestructible so I won't have to worry about damaging it!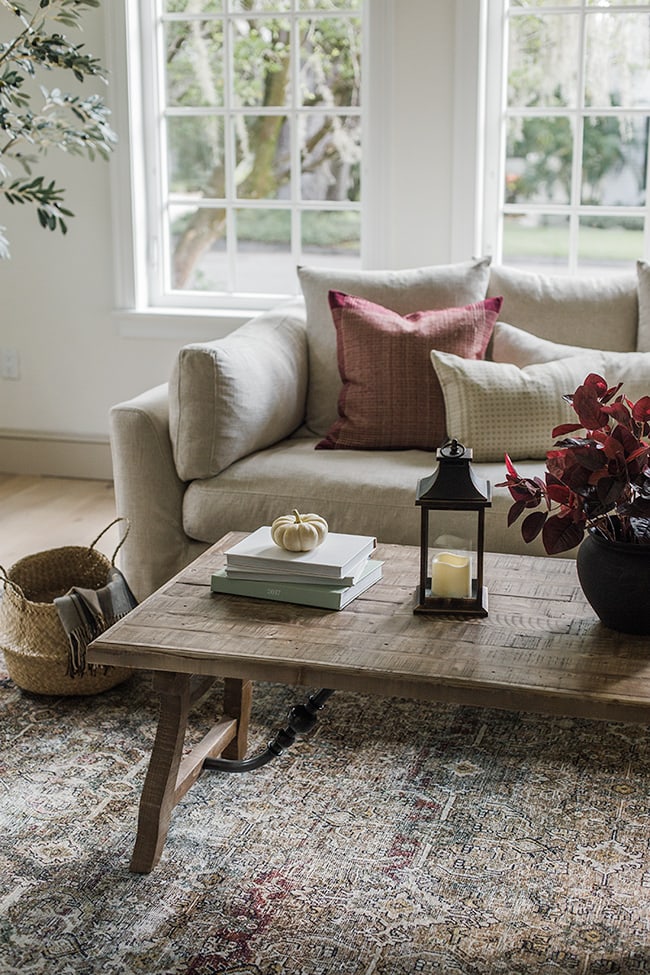 Pin
Another crazy good deal that I can't praise enough is this faux olive tree: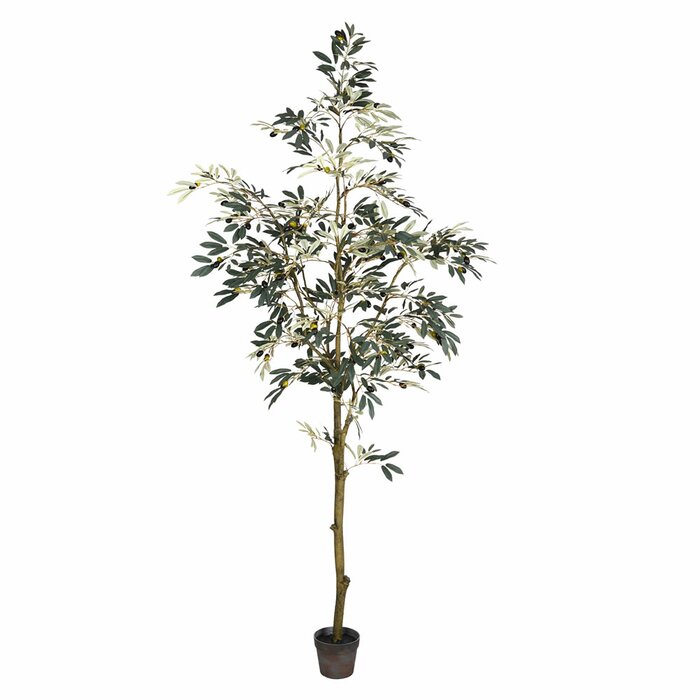 Pin
Realistic looking faux trees are few and far between, let alone affordable ones. This was another purchase I researched for months before finally pulling the trigger, and I'm happy to report it lives up to the photos and reviews online. The best part is the price—under $200 for a nice 8′ tree is insane (and only ~$100 for the 72″!)—so insane that it's always sold out. I managed to snag one after setting up an alert on Wayfair, but currently they're sold out again (they usually last only days, if that). I plan on buying another for the Riverside Retreat as soon as it comes back. There's a video review in my Living Room story highlights on Instagram if you want to see more in depth: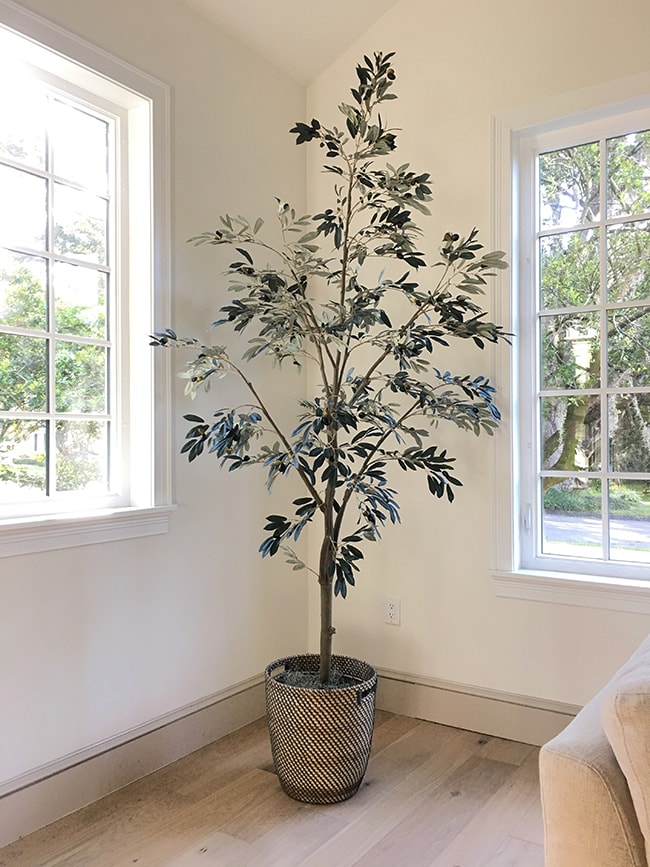 Pin
One key element that's currently missing in this room are curtains. I think just about every room needs window treatments to feel complete, and curtains in particular are such an easy way to make a space feel soft and inviting, making them a must (in my book) for living spaces.
After much debate, I've settled on neutral linen panels—specifically these Belgian Flax Linen drapes in Natural from Barn & Willow.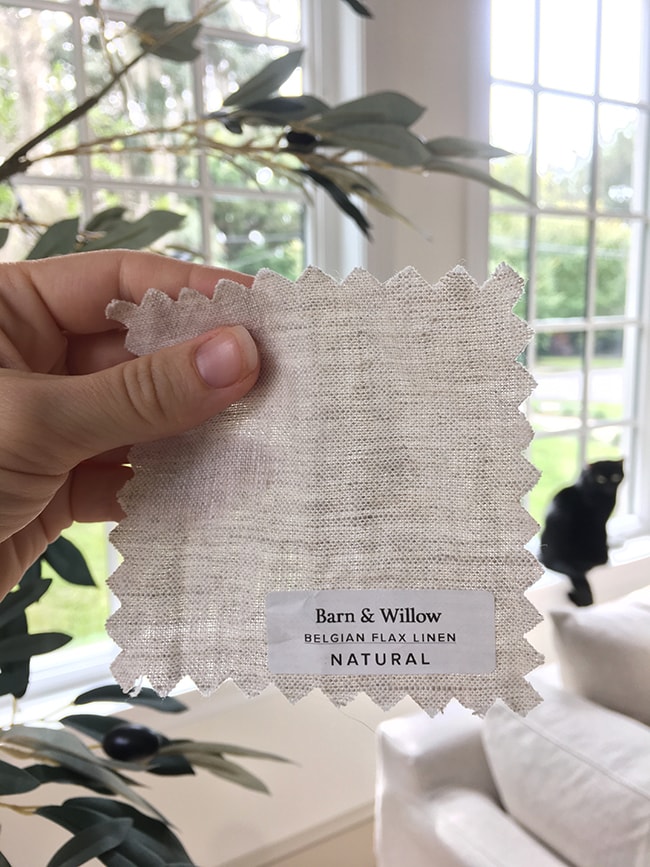 Pin
They'll be unlined to provide privacy while still allowing the light to come through, and the added texture will help give the room a relaxed and comfortable vibe. Can you picture how much more finished they'll make this space?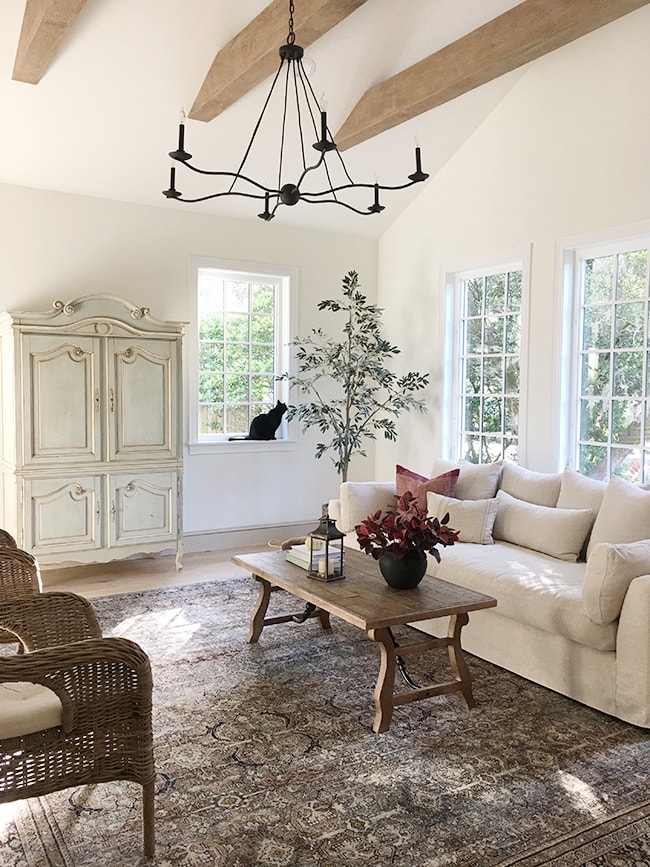 Pin
Moving right along to another secondhand find, this antique sideboard: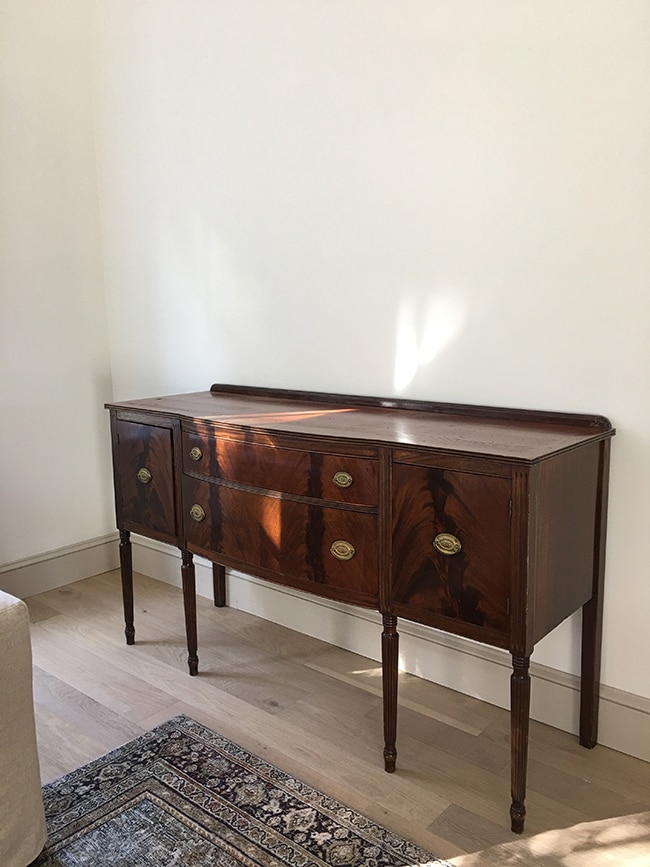 Pin
I found it on OfferUp and paid $275—it's the perfect size and in great condition, worth every penny to me. It's beautiful as is, but the lacquered cherry wood isn't the best match for the neutral tones of this room so I'll be painting it black (sorry wood purists, can't change my mind on this one! 😉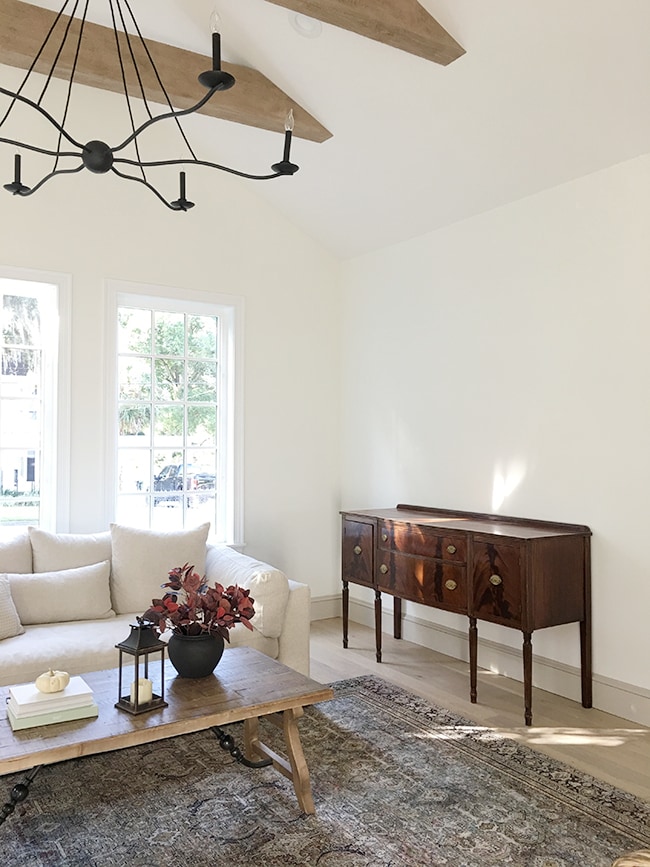 Pin
I'm currently on the hunt for a large antique mirror to hang above it, and have a few contenders lined up so we'll see what I end up with. Mirrors are plentiful in the secondhand market so I'm not too worried about finding something I love. Currently considering these… any of them stand out to you? (I'd paint them gold):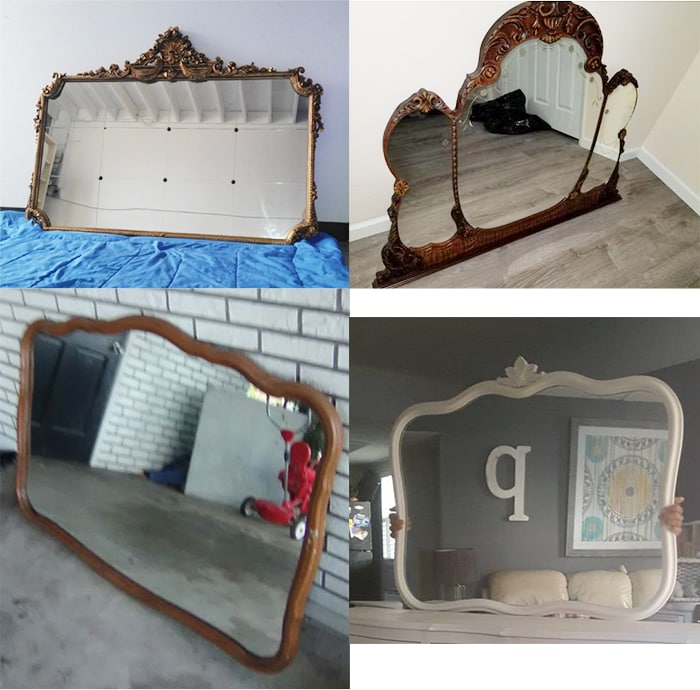 Pin
The last major decision to be made is this empty wall. I've decided on large scale artwork (since I'll already have a big mirror on the other wall and there won't be enough room for a table).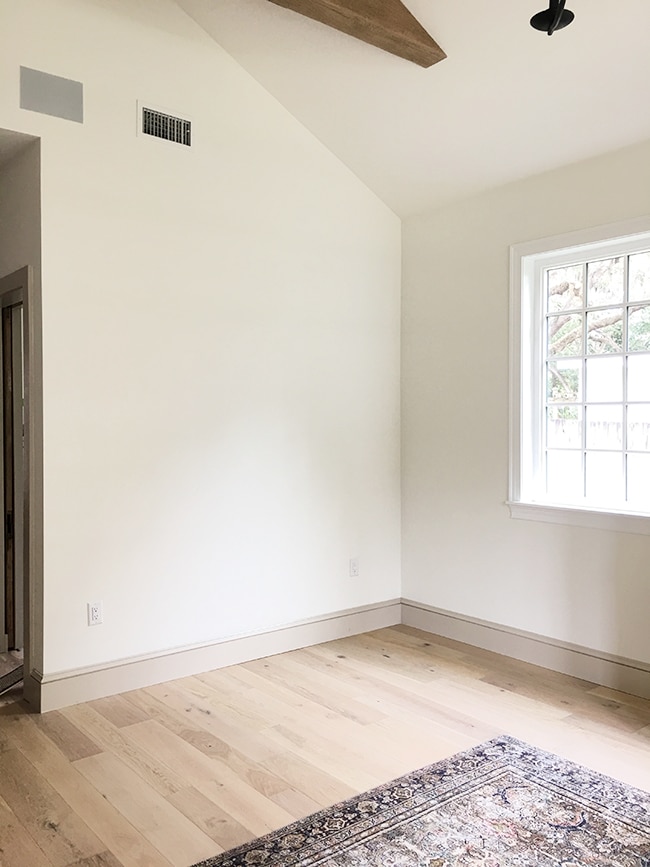 Pin
I've been browsing Pinterest for inspiration, and am leaning towards DIYing large wood frames, and filling them with something vintage—old maps or topographic illustrations, perhaps? I'm loving the style of this…
That's something I can figure out later though, and I'll plan to make a DIY tutorial out of it too 🙂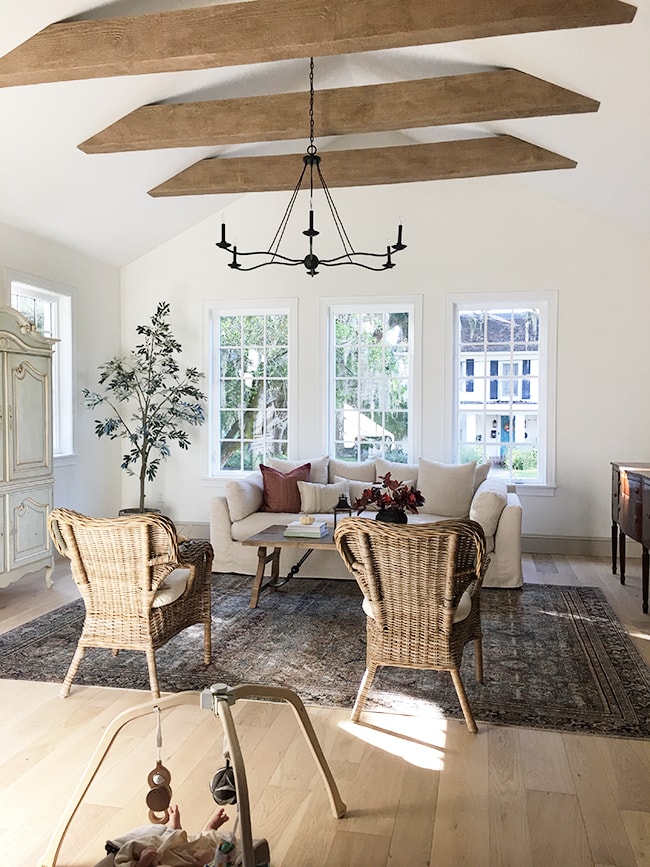 Pin
I think we've covered pretty much everything! The only thing missing that I don't have a plan for yet are side tables, which I'll probably need two of (one between the armchairs and one next to the sofa). I want to wait until the chairs arrive to decide on a plan for those—there's a good chance they'll be a thrift store/secondhand find.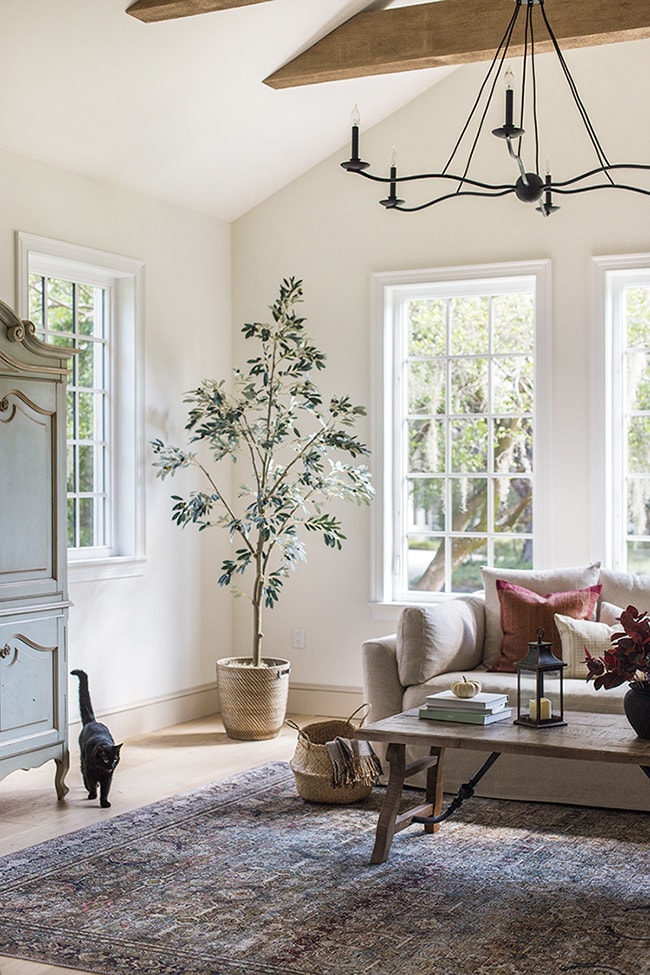 Pin
I haven't set a timeline to complete this room, but I hope to have at least the main pieces here in time to decorate for the holidays. It will be pretty last minute, but we're hosting family this year and it's baby's first Christmas, so I can't pass up an opportunity to get festive! In the meantime, here's a look at real unstaged life just outside of these shots, from the dining room…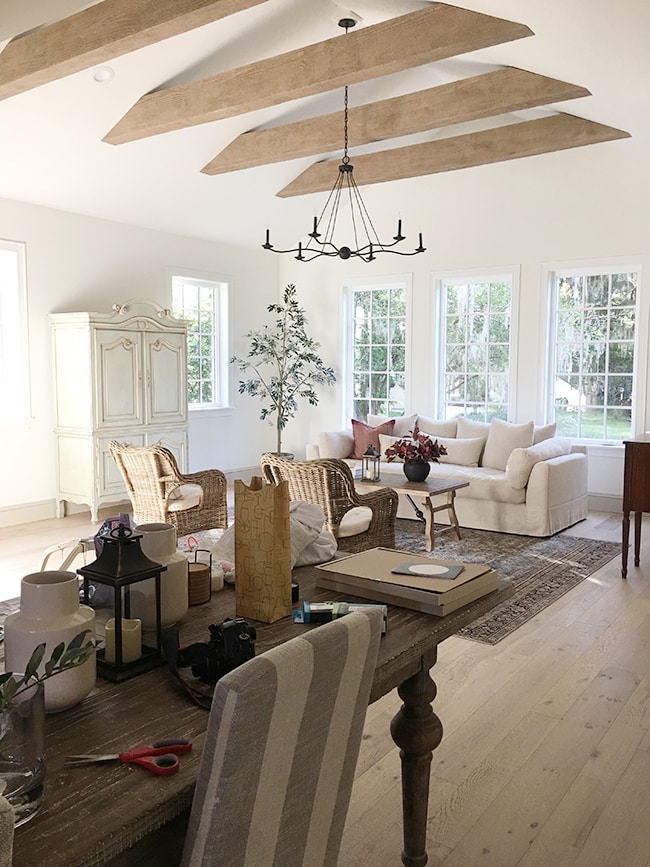 Pin
And speaking of real life, I uploaded our first vlog since baby last week in case you missed it! There's plenty of adorable Esmé clips, how we're adjusting to life as new parents, and project updates on both houses:
Next week I'll be revealing our master bathroom at the Riverside Retreat, so check back then or you can follow me on Instagram for daily updates!