Alright folks, the wait is finally over! Today I'm sharing the complete source list for our living room along with all of the links to recap our journey. Make sure to check out the full Reveal post from last week if you haven't yet!
Let's start with the basics: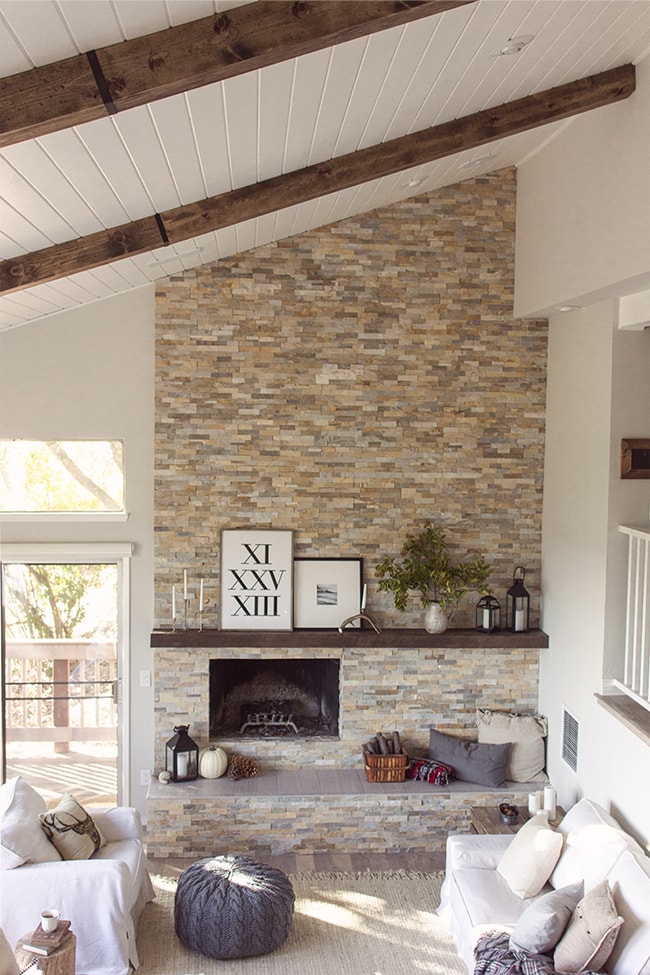 Pin
Wall color: Valspar's Montpelier Madison White (in flat)
Trim, plank wall & ceiling color: Kelly Moore's Swiss Coffee
Flooring: Armstrong Engineered Walnut in Shell White
Beams: DIY (my tutorial here)
Fireplace stone: Lowe's Desert Quartz Ledgestone
Fireplace hearth: Lowe's Style Selections Leonia Silver Porcelain Tile
Mantel: DIY Salvaged beam with Minwax's Dark Walnut stain (installation)
Art: Custom Roman Numerals Print / Reclaimed wood frame
Black frame: Ikea Nyttja frame / DIY mat & photo
Brass candlesticks: Flea market
Antler candle holder: Gift from friend
Metal pitcher: Thrift store
Black lanterns: Snedco Wholesale
White pumpkins: Michaels
Wood log basket: ? (super old)
Pillows: Ikea
Rug: Amazon (9×12′ in bleached/off-white)
Custom pouf: Etsy (highly recommended!)
Loveseat & chaise lounge: Ikea Kivik
Armchair: Craigslist
White Covers: Comfort Works in Liege Eggshell
Tree Stump table: DIY
Deer pillow: Ebay
All other pillow covers: Ikea
Ivory throw: Home Goods
Curtains: Ikea Ritva
Bamboo blinds: Justblinds.com (Singapore Oak color)
Ladder: DIY
Brown blanket: Flea market / Plaid blanket: Target
Wreath: Home Goods
Wall sconce: Lighting Direct (painted black)
Mirror: Craigslist (DIY white wash)
Antler: Flea market
Scale: Flea market
Metal containers & vintage books: Flea market
Wood lanterns: Pier 1 or World Market (I think… it was years ago)
Basket: Stole from mom (sorry mom)
Art: (source at beginning of post)
Baskets: Container Store
Lantern: Antique shop
Vintage chest: Flea market
Vintage books: Flea market
And… I think that covers it! Don't hesitate to ask if you have any other questions or need clarification!
In case you missed any of the progress, here's all of the living room updates:
Beams, black french door & fall decor
Completed fireplace
As for the total cost, I didn't keep track of the details so unfortunately I can't give an exact number. By far, the most expensive element was the fireplace with the stone coming in around $1300 and labor at around $1900. I just ran through the list for a quick total (mostly off the top of my head) and I came up with a ballpark in the $5k range. This is not including the flooring and wood planks (since we bought that in bulk for the whole house) nor does it include items we've owned since our last home like the couches, rug, pillows and art. If so much of it wasn't DIY'd/thrifted you can bet we'd have spent a least double.
Even though $5k isn't a drop in the bucket, I'm absolutely positive it's increased our home's value by several times over that amount (the benefit of buying a fixer in a nicer neighborhood!) so it was all a worthwhile investment. Not to mention how happy it makes us and will be enjoyed for years to come (hopefully 😉 )
I'll be back in a few days with a festive Thanksgiving chalkboard tutorial (+ a free download so you can print your own!). 'Tis the season—bring it on!