It's Week 2 of the Cottage House Flip Reveals—and today we have a big one! Click below to watch the Before & After: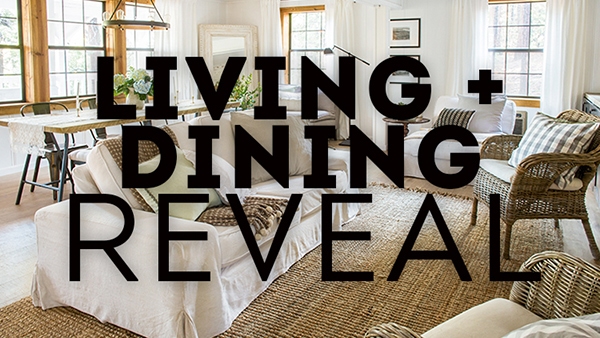 Pin
As the largest and most open space in this home, the living room arrangement didn't make a whole lot of sense when I first stepped foot in the house back in September: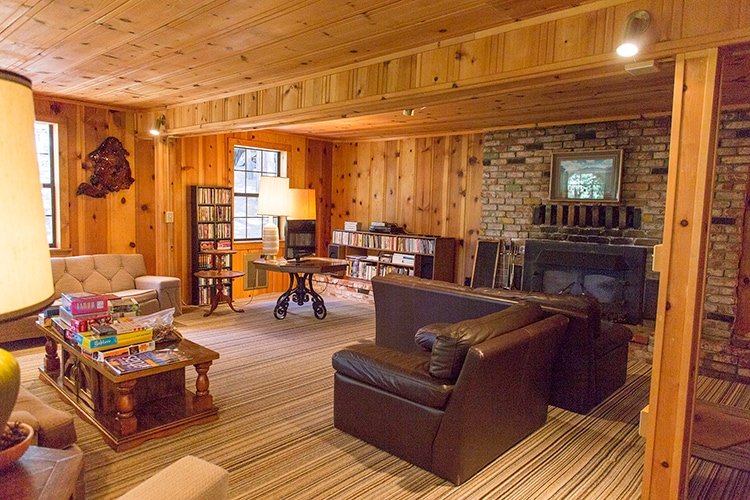 Pin
It was dark, dated, and had a random assortment of furniture (along with archives of books, vhs tapes and games and memorabilia dating back to the 50's) collected over the years.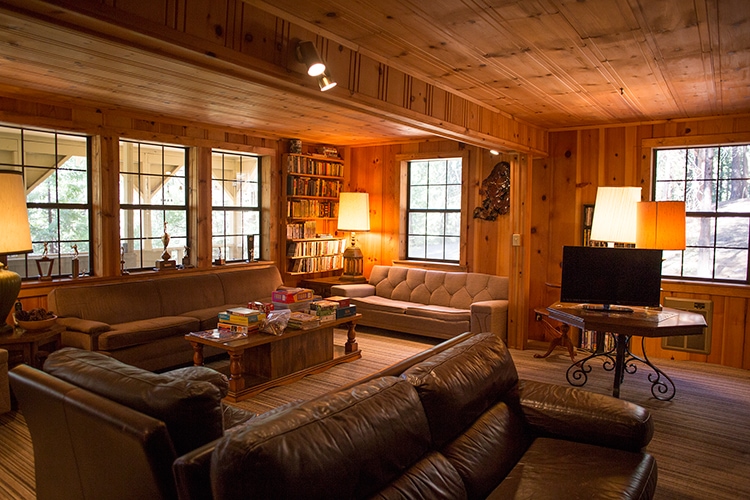 Pin
After selling and donating everything, it was time to come up with a plan that made sense for this space and how it would most likely be used.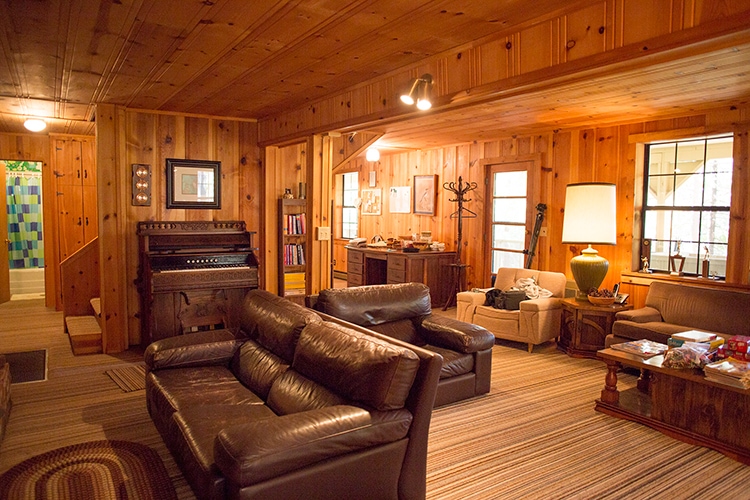 Pin
There was no dining area, and in my opinion—in a six bedroom home where there will often be larger crowds—a place for everyone to gather around a table and share a meal is essential.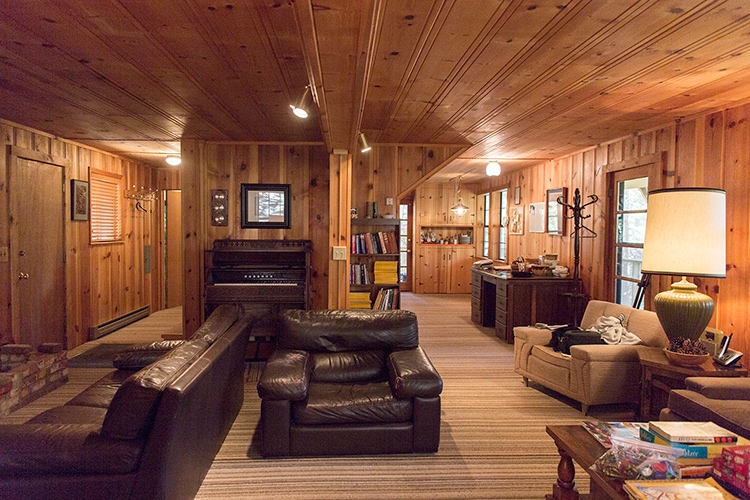 Pin
So I split the room in half, designating one side (across from the kitchen) as the new dining area, and the other half next to the fireplace as the lounging spot.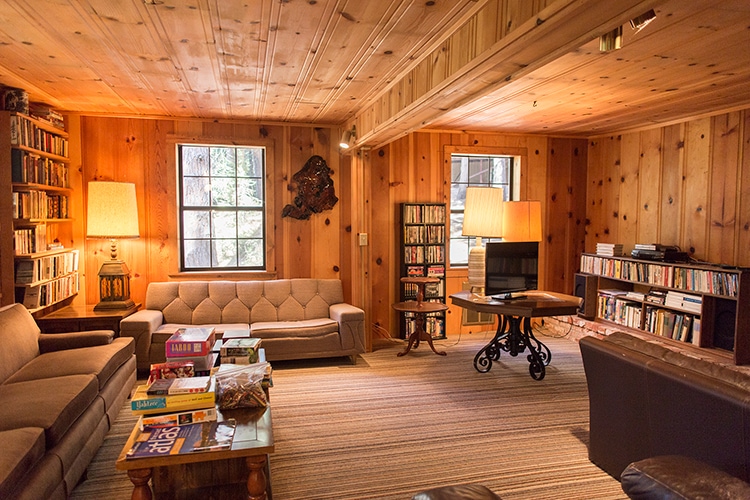 Pin
The first project tackled in here was the fireplace.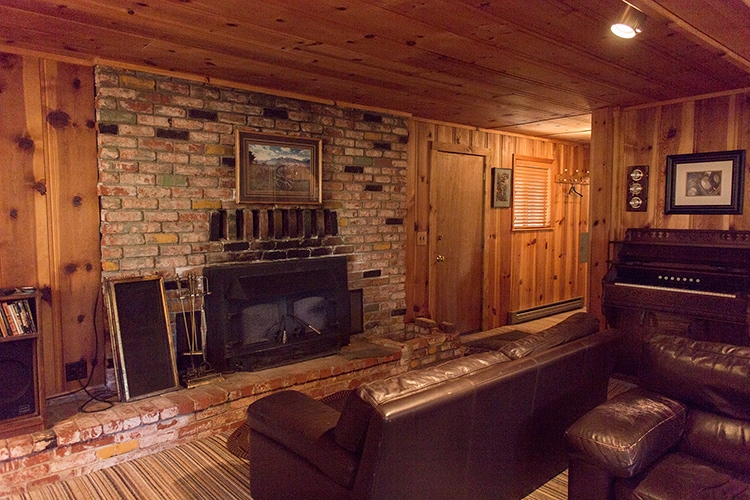 Pin
I loved the brick but didn't love the random green, yellow and black painted areas nor the unfinished look without a mantel.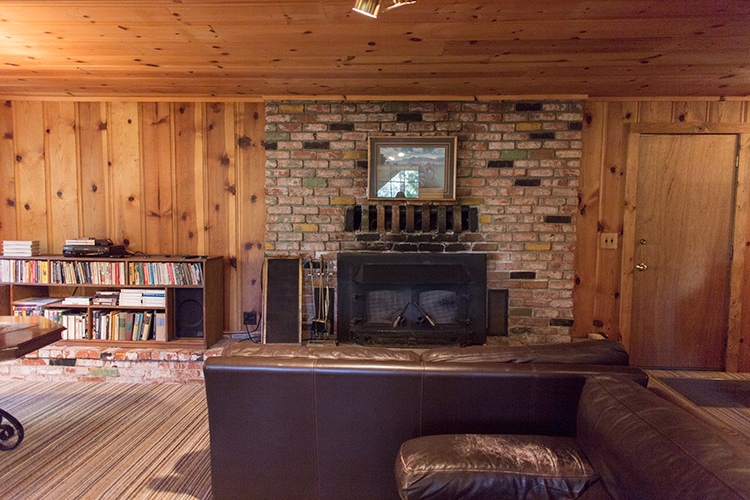 Pin
So I beefed it up with a reclaimed wood mantel surround and tried a new DIY technique with a mortar wash, which both covered the undesired bricks and enhanced the rustic qualities, giving it an old world European flair: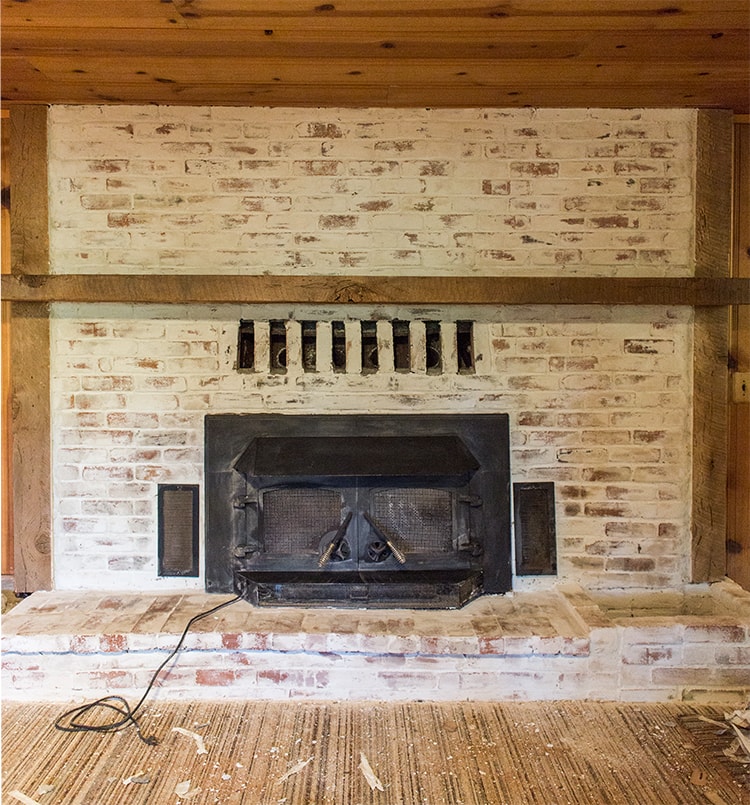 Pin
Next it was time for the carpet to go. Sadly, though the walls and ceilings were built with beautiful original wood, I didn't get so lucky with these linoleum floors.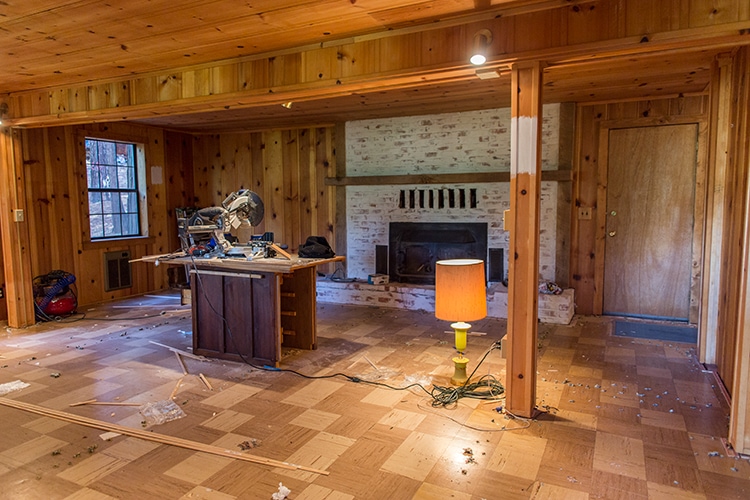 Pin
The living room became my DIY workshop with a makeshift saw table station for several weeks.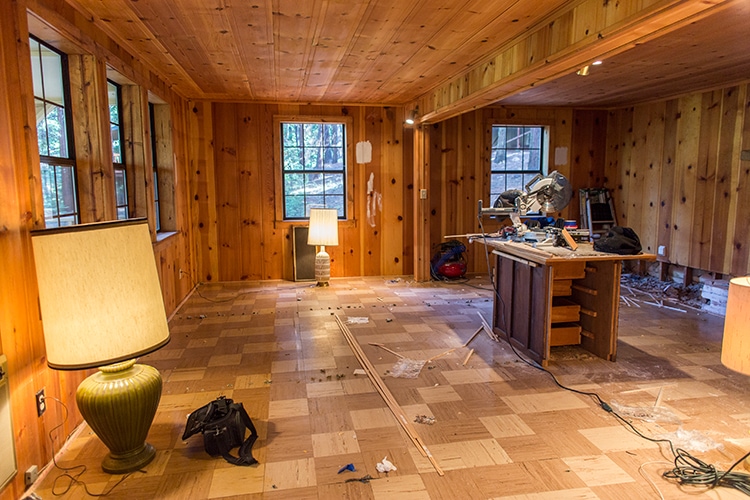 Pin
Then came the real game changer…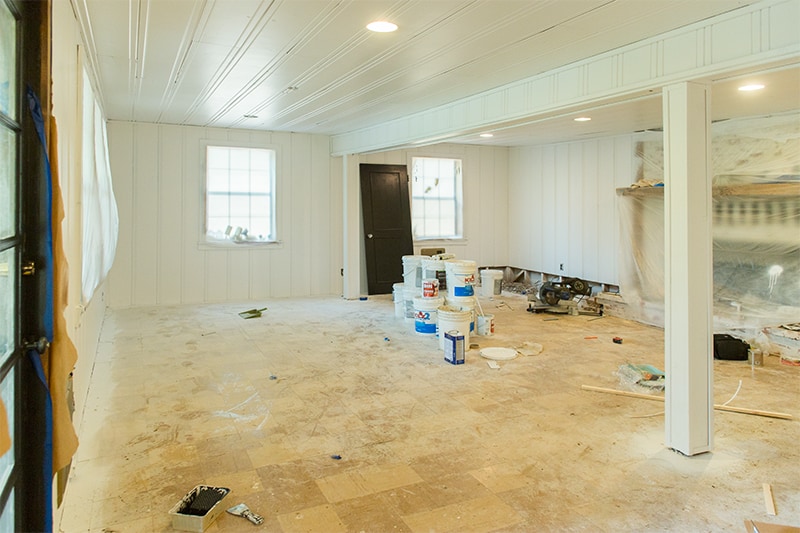 Pin
Valspar's Bistro White along with recessed lighting eliminated the dark, heavy feeling and made it feel like a completely different home.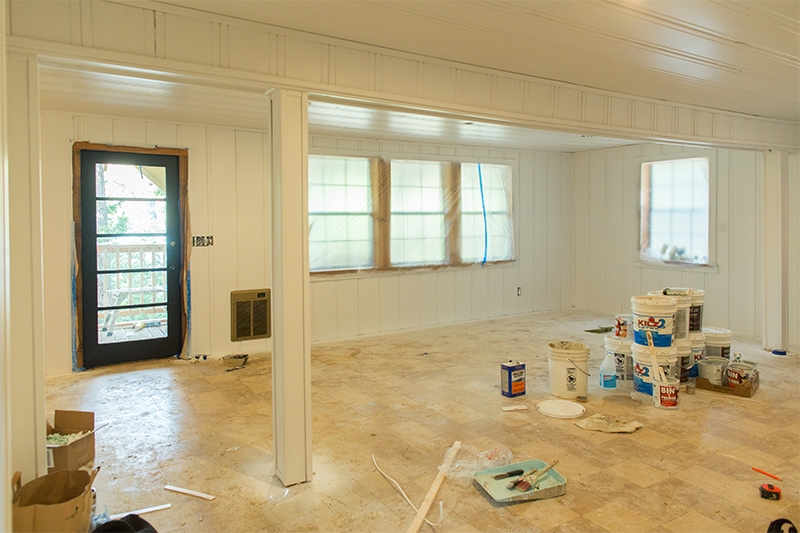 Pin
A wall of built in cabinets (in the same style as the kitchen) brought extra storage space.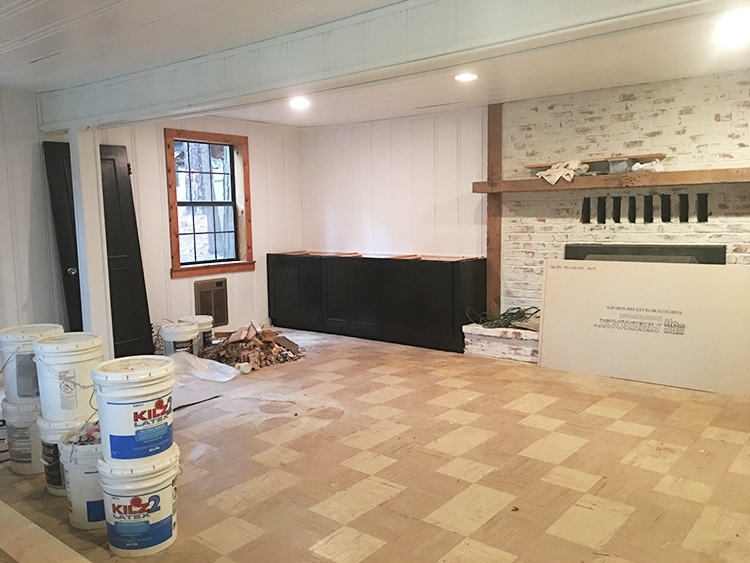 Pin
And wide plank Pergo flooring grounded the room and set the stage for the furniture.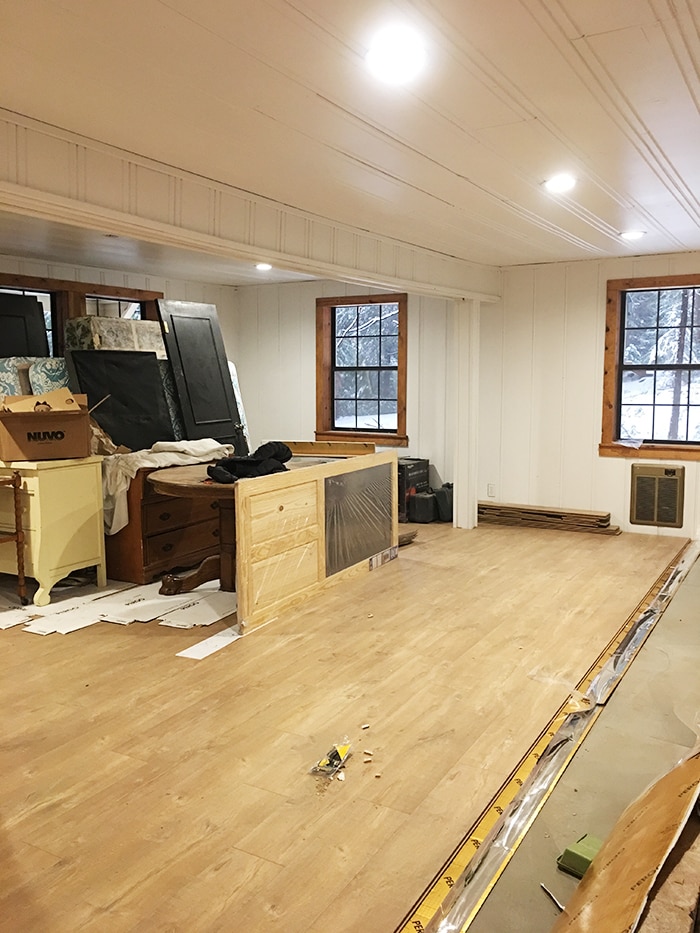 Pin
With the essential building blocks out of the way, I was finally able to start making this space feel like a home.
Four months later, and I'd sure love coming home to this…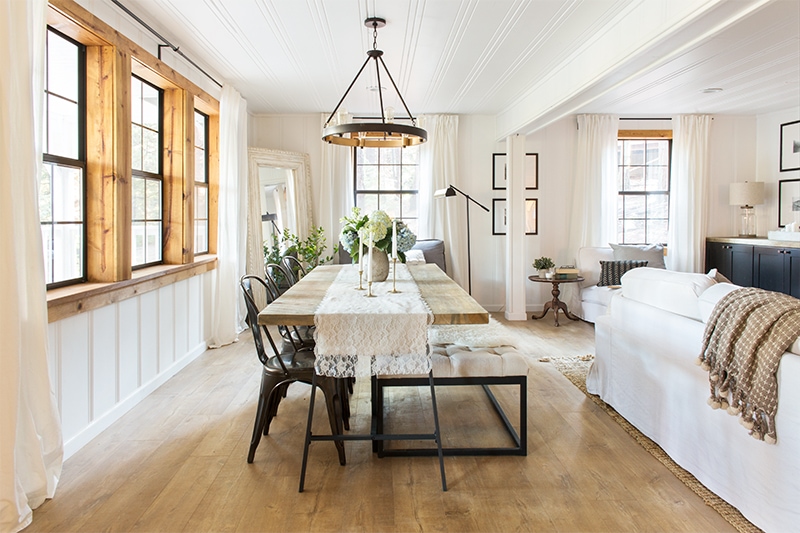 Pin
By keeping the color palette light, the room is brighter and feels much more open than before.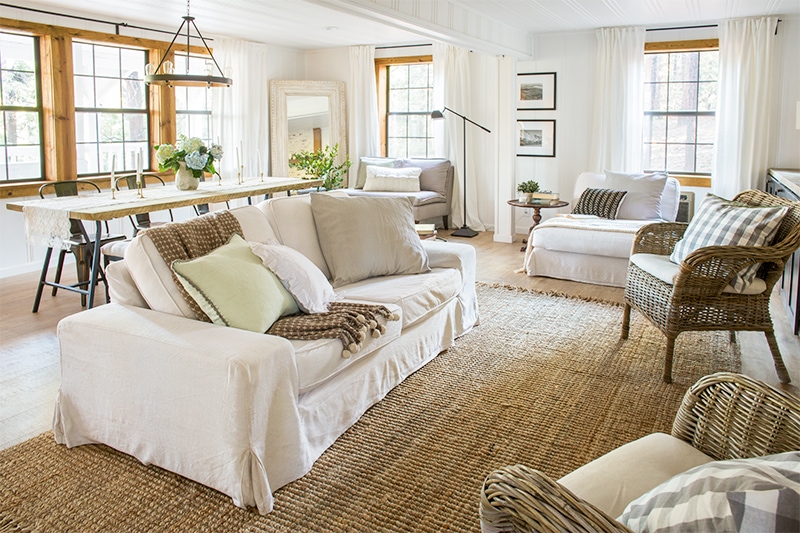 Pin
The large picture windows looking out into the trees also help to visually expand your surroundings.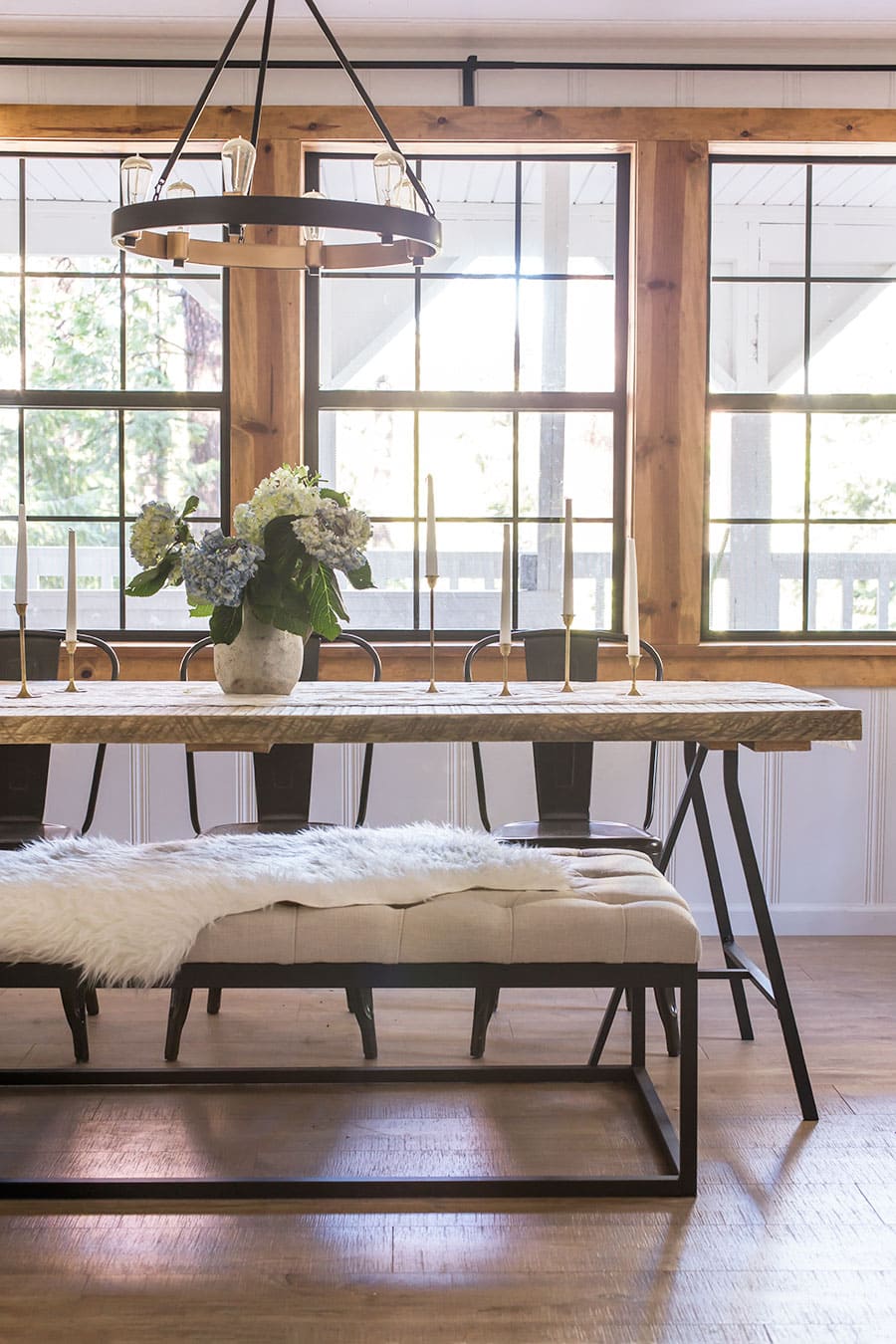 Pin
Using furniture and accessories from my last home, I was able to keep the staging budget extremely low in here (thankfully, because I went way over budget on labor costs!)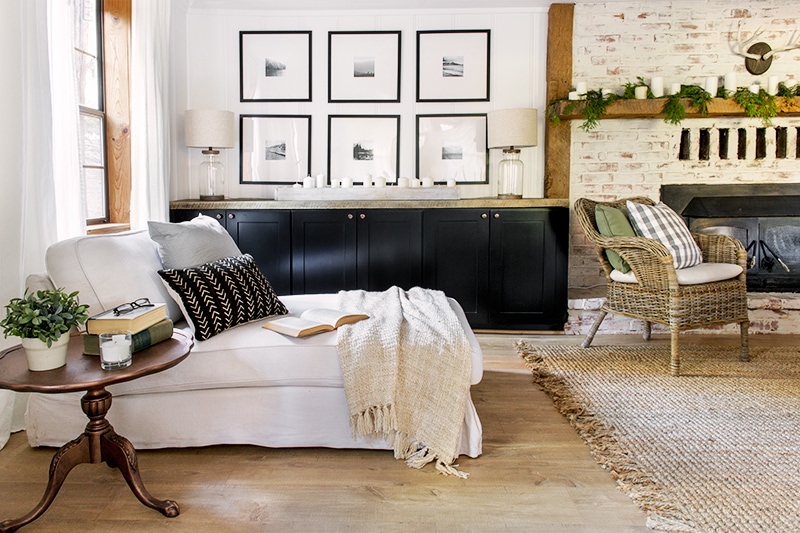 Pin
The wood burning fireplace puts out a lot of heat and makes the whole house warm and cozy.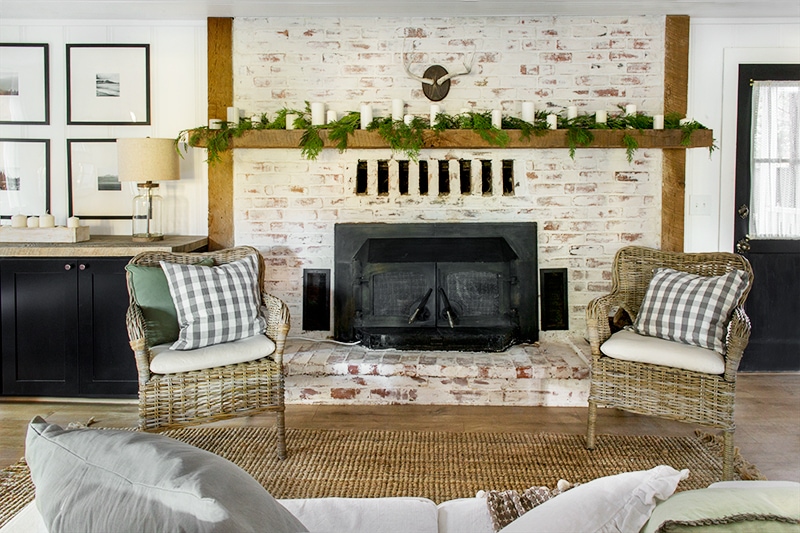 Pin
By using a variety of different seating, everyone can find their own spot to curl up on.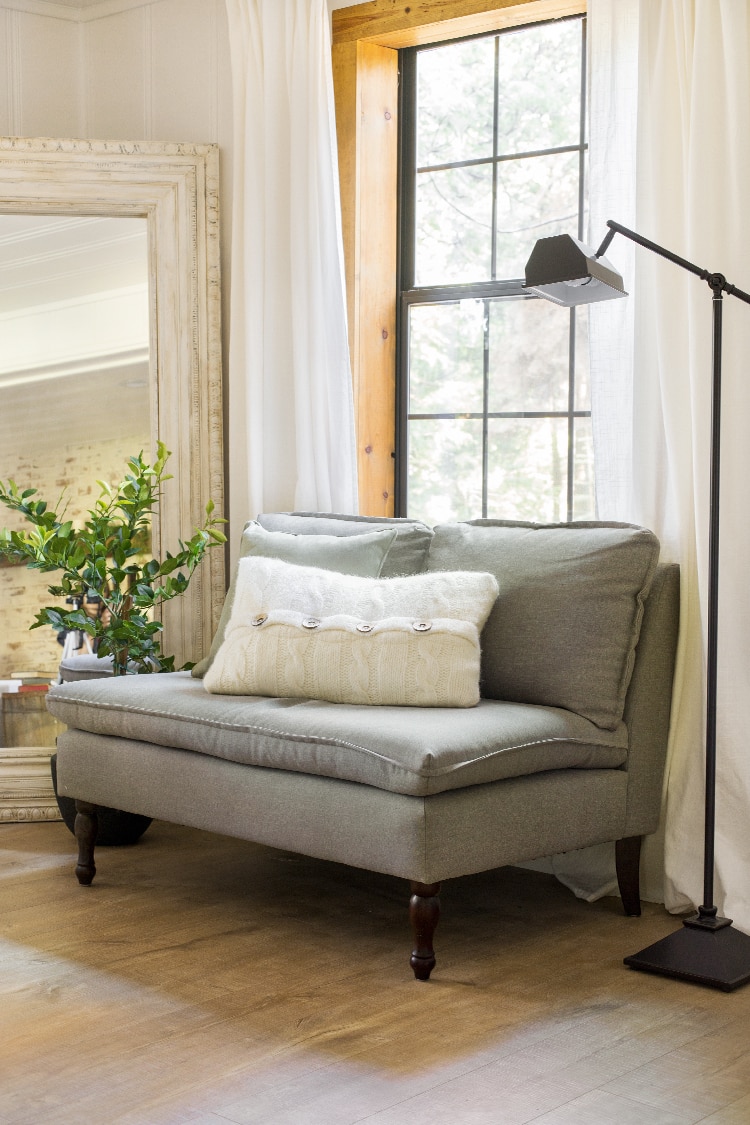 Pin
This oversized upholstered bench was a fun alternative and contrast to the metal dining chairs.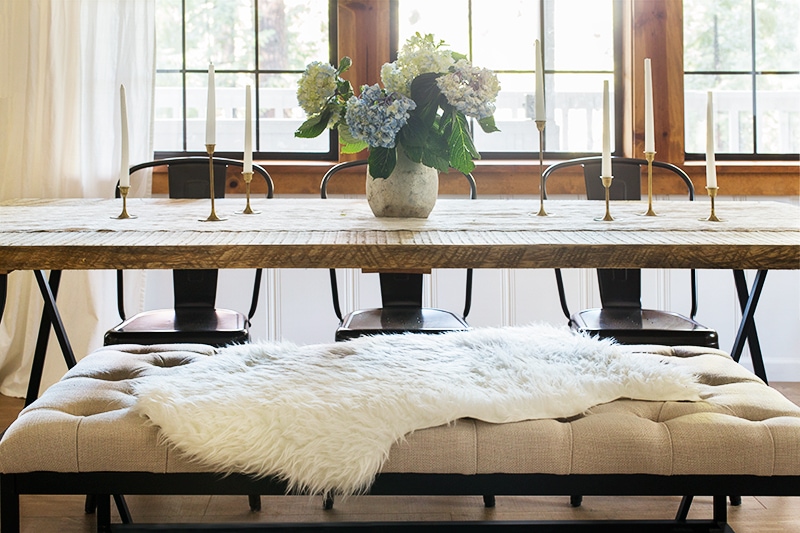 Pin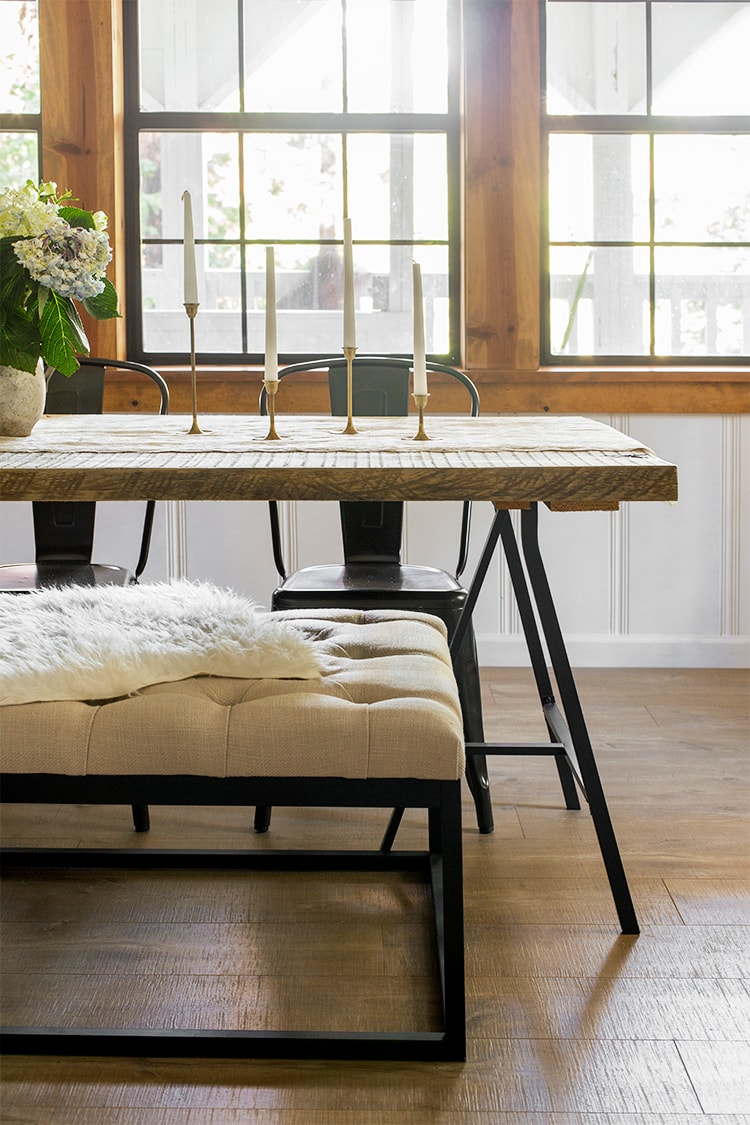 Pin
And the dining table? A quick and easy DIY using Ikea legs and reclaimed lumber. I was so close to painting it, but all of my instagram story watchers talked me out of it (good call, guys!)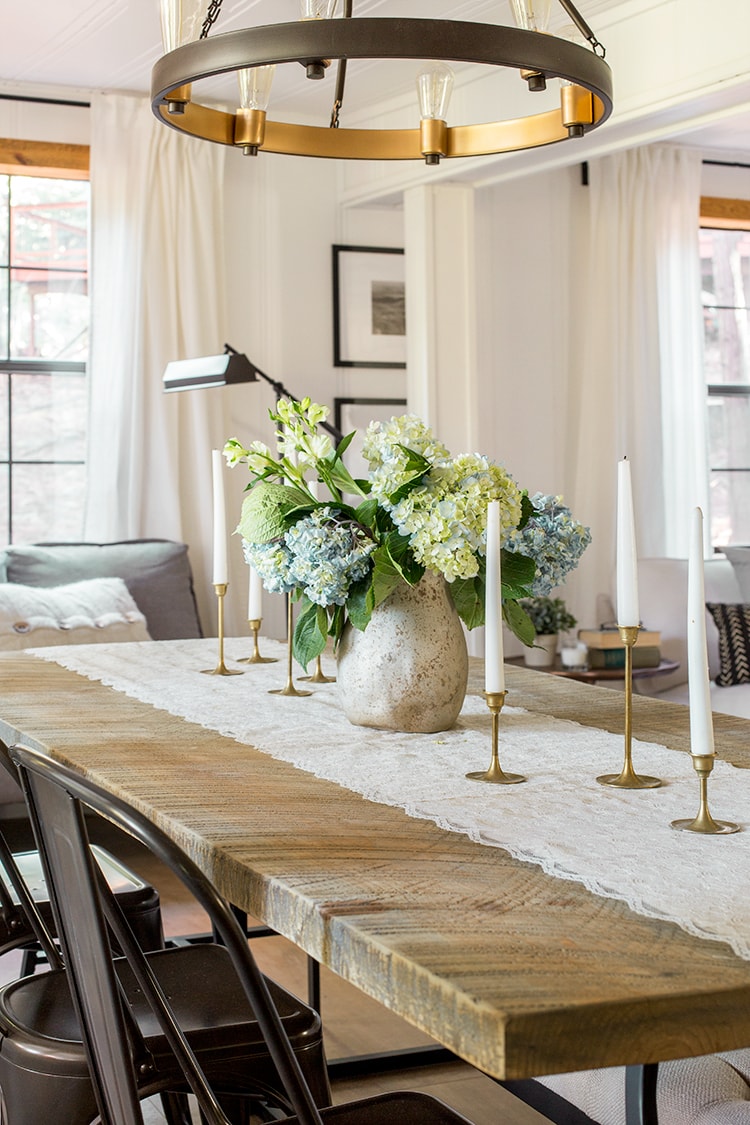 Pin
My favorite item in this room? Has to be this chandelier…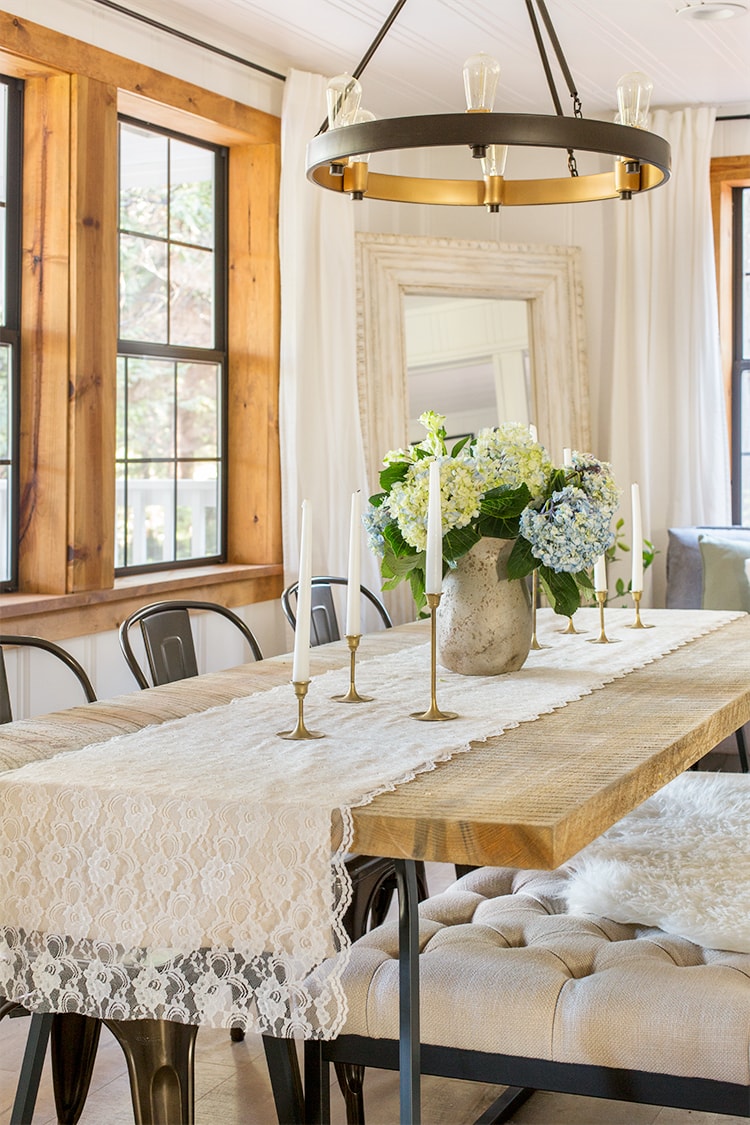 Pin
I didn't know I'd love it so much, but once it was installed, I fell in love with the room and have been ever since. The gold on the inside is just the best thing ever.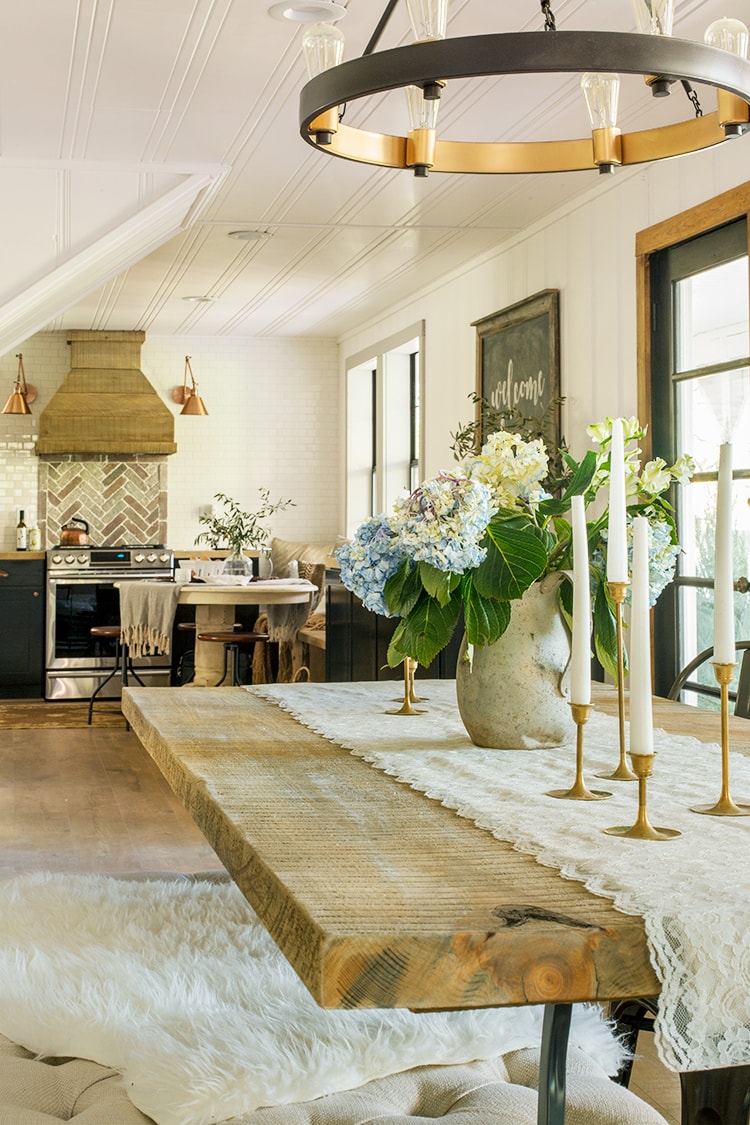 Pin
Sorry, I have an overload of pictures here. I couldn't help it—the dining room is so photogenic.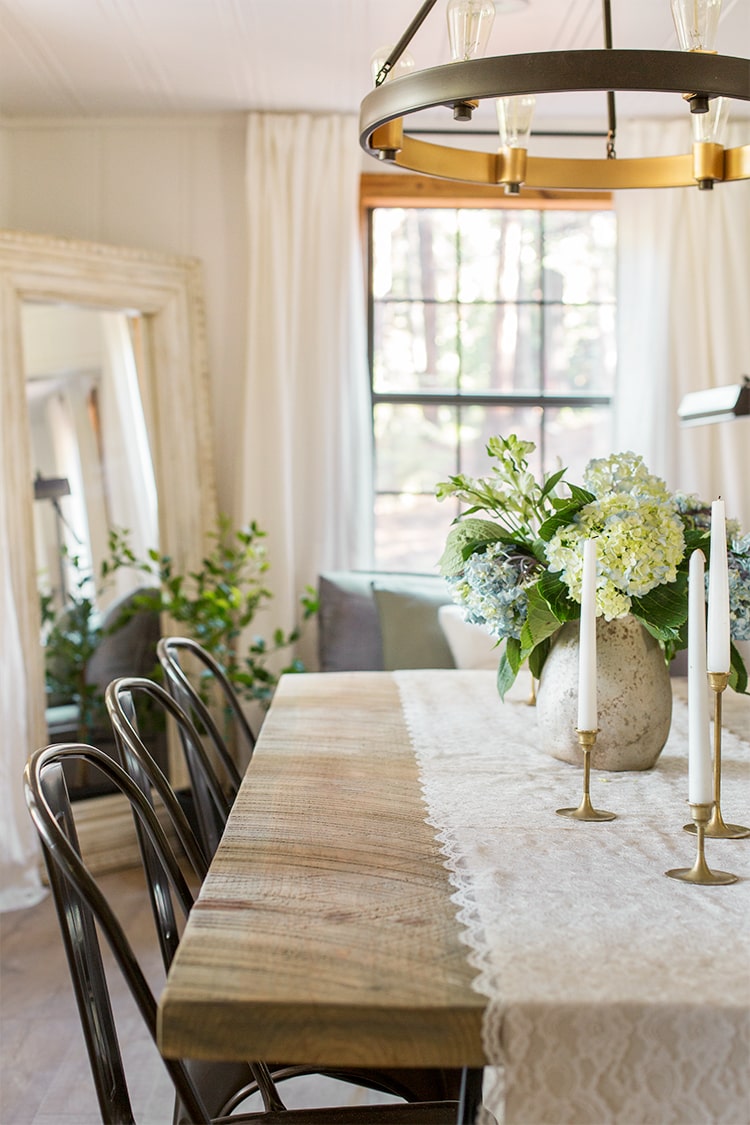 Pin
Thank you Country Living for these beautiful hydrangeas (that died within a matter of hours after taking these):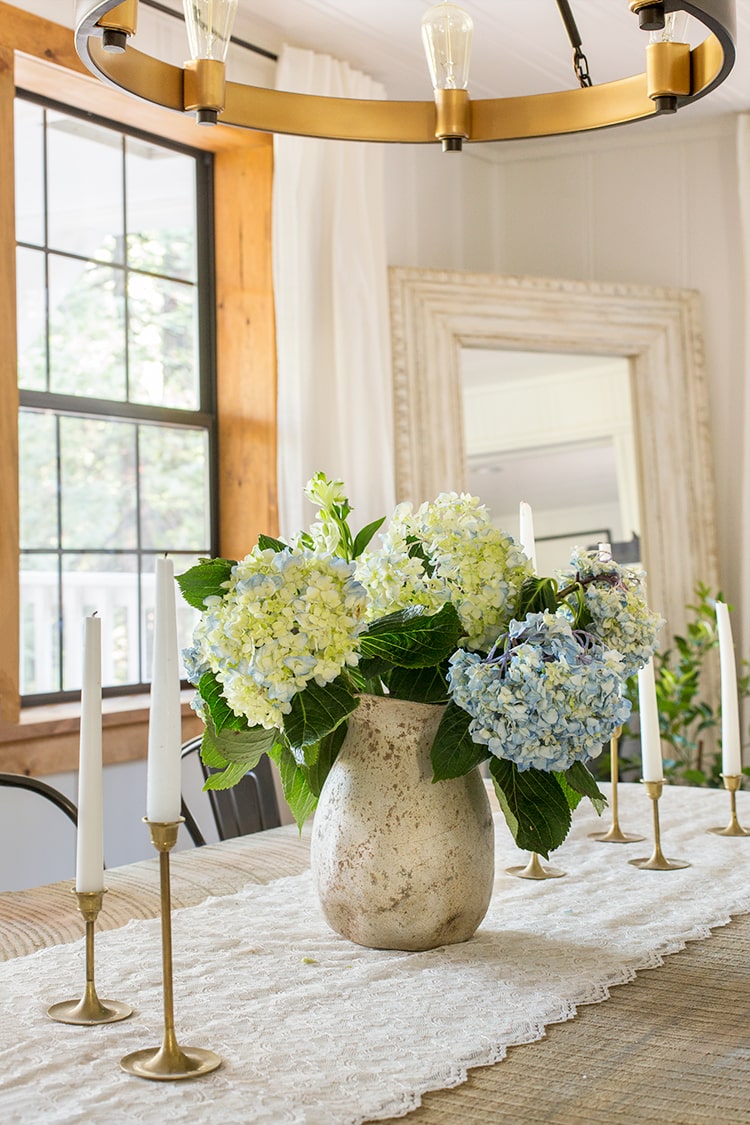 Pin
Also, these windows? I never thought I'd see the day where I'd leave wood window trim unpainted, but they are one of the best features of this house. My design style is evolving.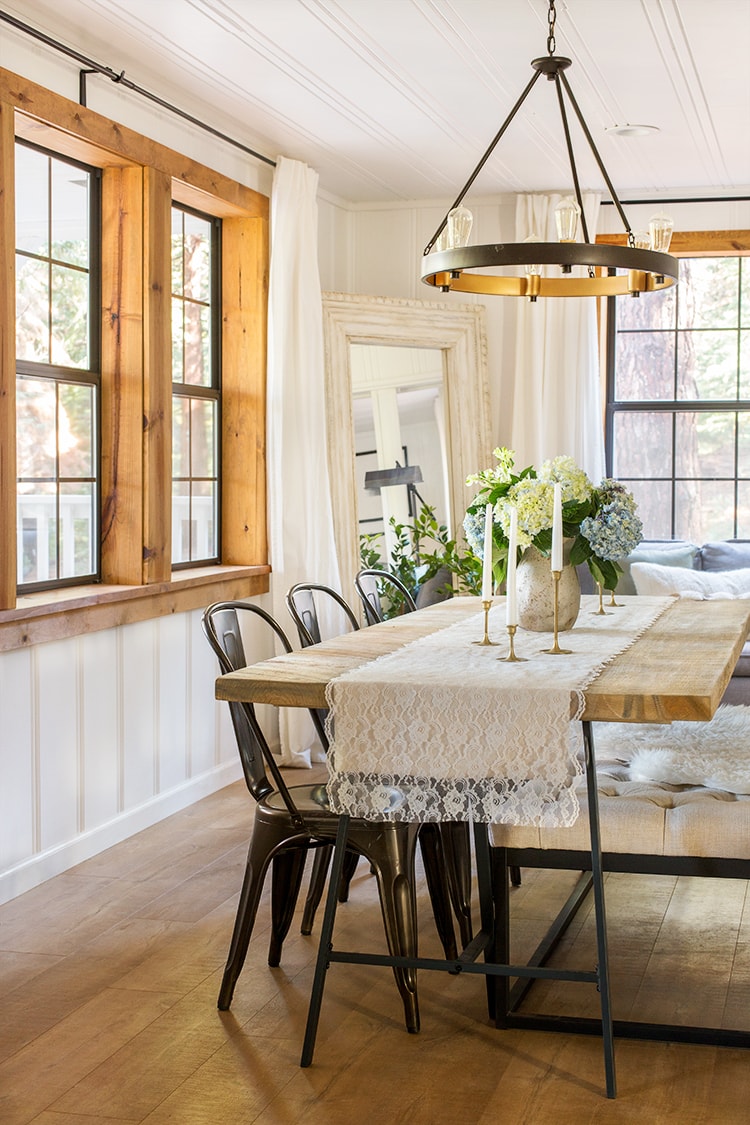 Pin
My favorite cozy spot goes to this chaise lounge…
I love the graphic detailing on this lumbar pillow from PureHomeLA. And of course, my repurposed copper vintage side table. Lots of fun styles/textures/finishes going on here.
These inexpensive Ikea frames filled with old black and white photos from my travels are so diverse—I had them hanging all over my last two homes and they fit perfectly here too.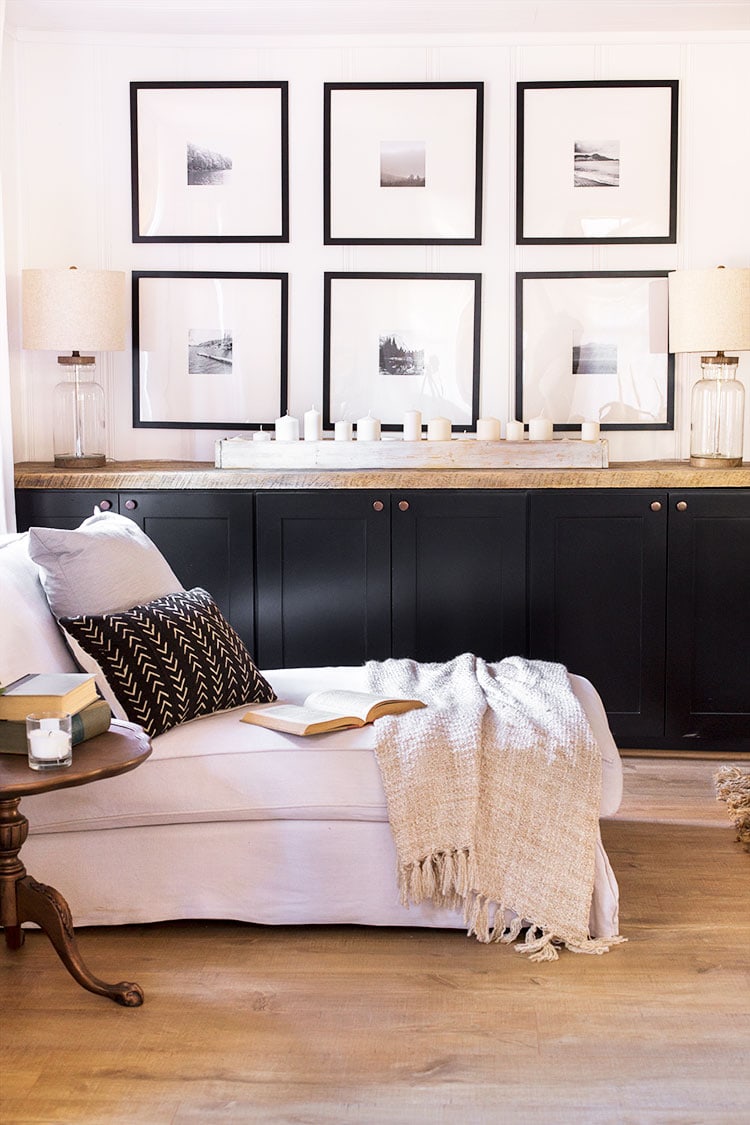 Pin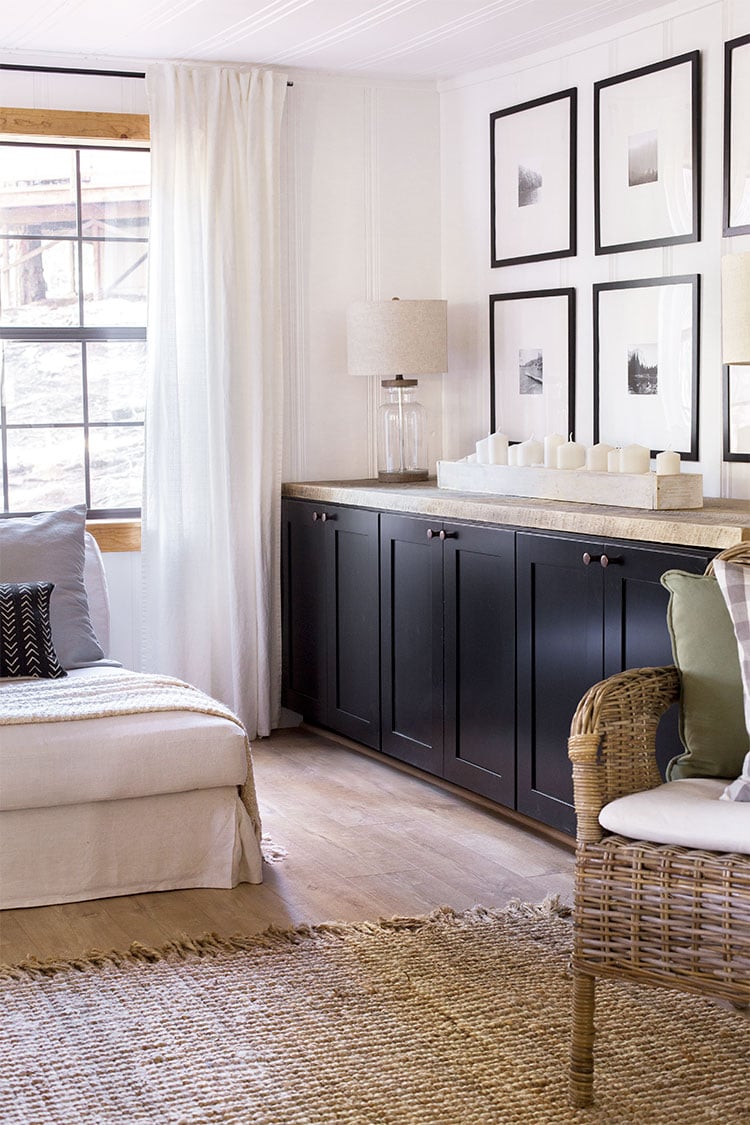 Pin
On the other side of the room, straight ahead from the front door I set up a makeshift entryway.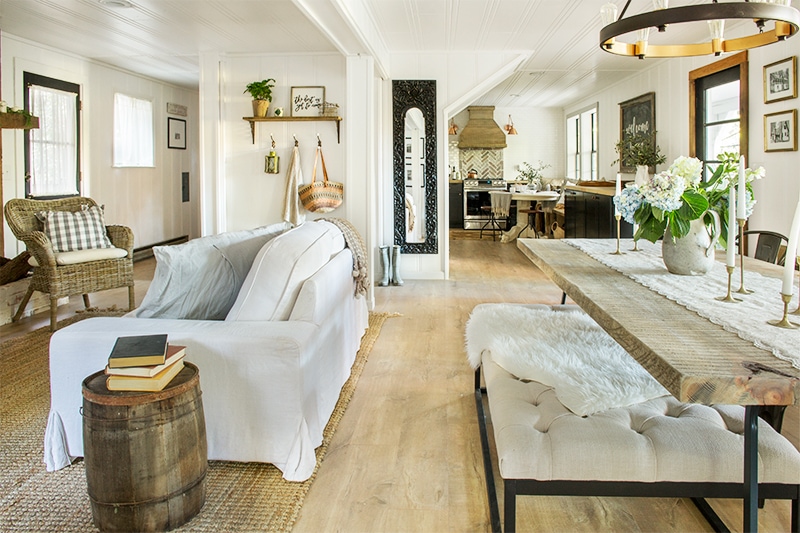 Pin
I borrowed my parents awesome black carved mirror, added a shelf with vintage style brackets, and reused the coat hooks and a bench that came with the house.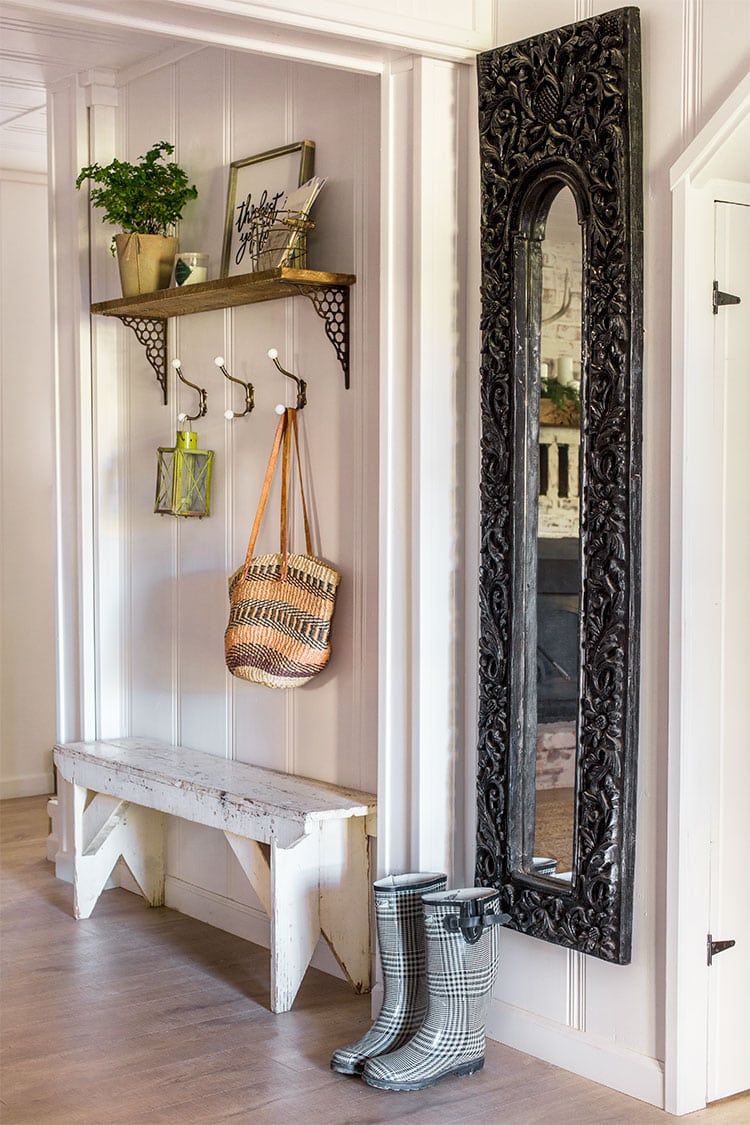 Pin
Sweet & simple!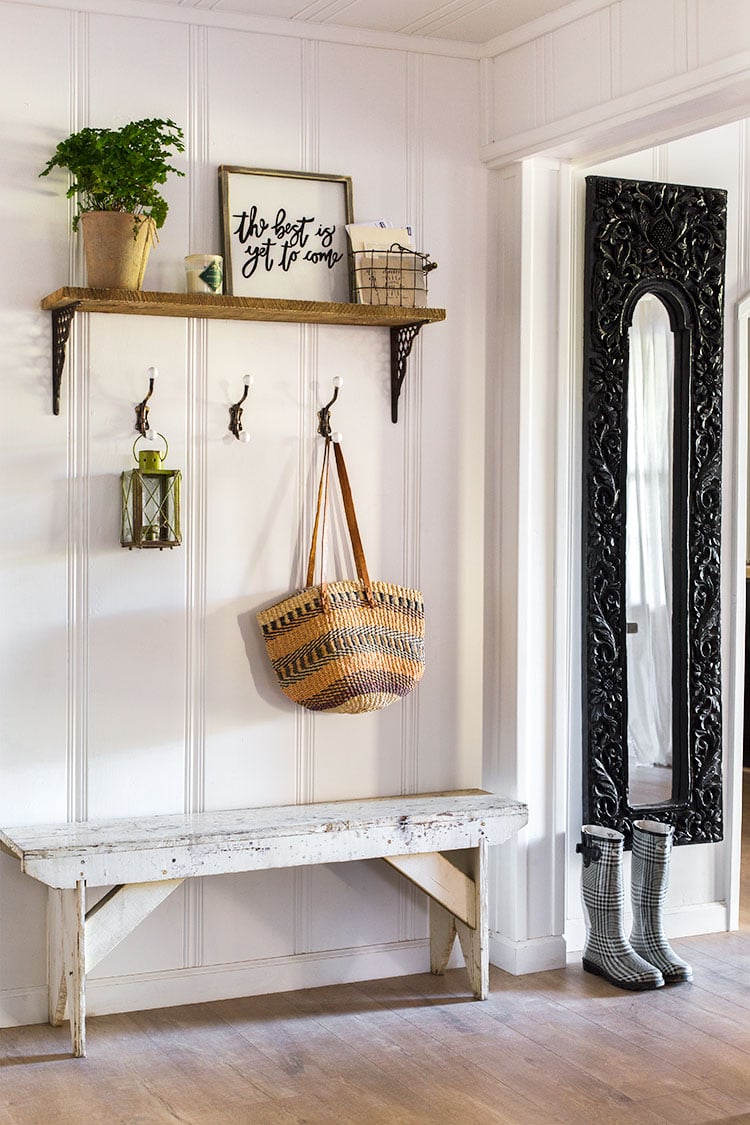 Pin
The mantel was topped with a DIY antler plaque, white pillar candles and tree clippings from the yard.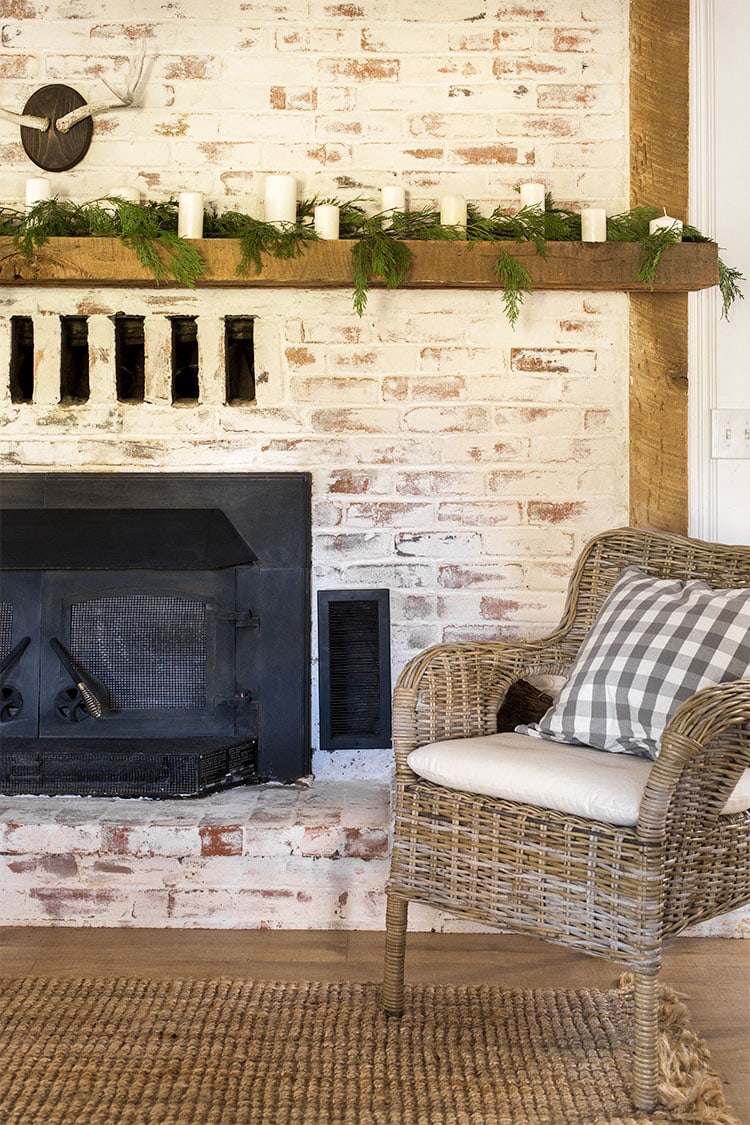 Pin
Interactive photo time! Hover your house (or tap on mobile) for direct links to sources: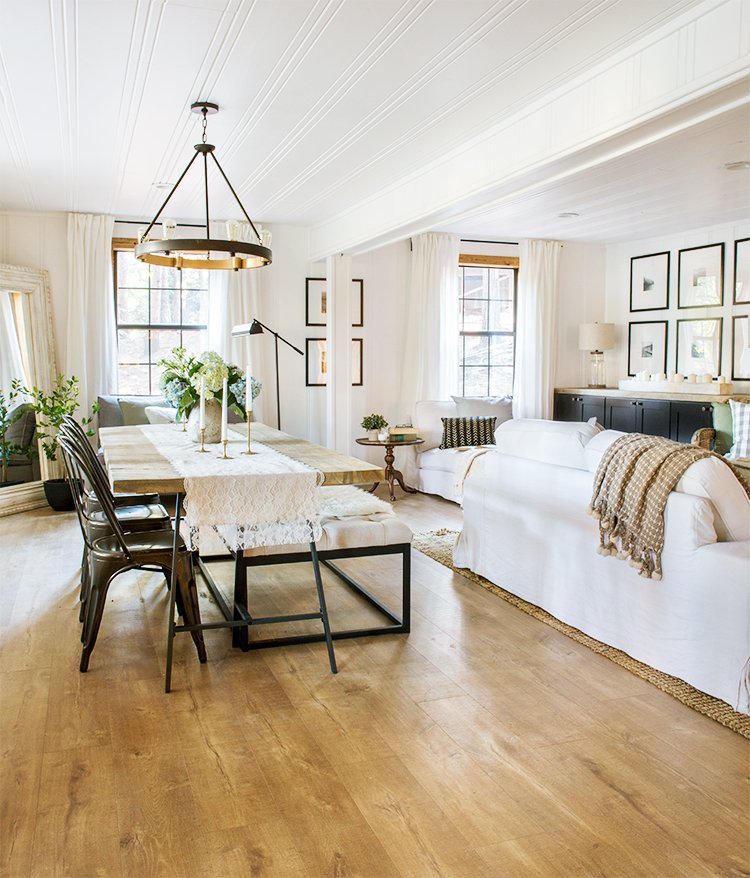 And so concludes today's tour of the Cottage House Flip Living/Dining space! Tell me, what is your favorite part? Aside from the chandelier, I'm all about those wood windows and chaise lounge nook.
SOURCES
Paint:  Valspar's Bistro White (eggshell)
Cabinets: Kraftmaid Durham Maple Square in Onyx
Pergo Flooring in Scottsdale Oak – discontinued color (Similar here)
Jute Rug (natural)
Sofa and chaise lounge: Ikea Kivik (with a Comfort Works slipcover)
Wicker chairs
Gray settee
Dining table: DIY w/Ikea legs
Dining chairs
Dining bench
Sheepskin rug
Chandelier
Curtains
Table lamps
Black floor lamp: Discontinued, similar here
Pillows & blankets: Ikea, Wayfair, PureHomeLA
Black mirror: borrowed
Picture frames: Ikea/DIY
White floor mirror: Ikea/DIY
Rustic shelf sign
Pitcher, candles & candle sticks: local flea/thrift
Just one more room downstairs until we head to the top floor next week! Tune in this Thursday for the downstairs bathroom reveal. This little space really came together in the last week before the open house, and I am such a huge fan of the transformation. See for yourself in two days…!