It's LAUNDRY ROOM REVEAL Day! Can you believe it?!
This renovation was filled with many highs and lows and took about twice as long as I had hoped/planned for. These last several weeks have seemed to drag on forever, but now that it's finally over it all feels like a blur. I'm still in that pinch-me-I'm-dreaming stage and I have a feeling this one will take some time to wear off.
It would have been easy to dismiss this room as a purely functional and utilitarian space and not give it much thought or effort. But I have this problem where when we decide to start any new project, big or small… I'm going all out and designing/planning/executing it to my dreams (within a reasonable budget, of course). Once my mind is set on something, I must do whatever it takes to fulfill that vision. (Thank you, Brad, for dealing with my stubbornness!)
The real reason I love this renovation so much is because of where it started. We created a brand new room from an awkward, cave-like, almost closet space downstairs…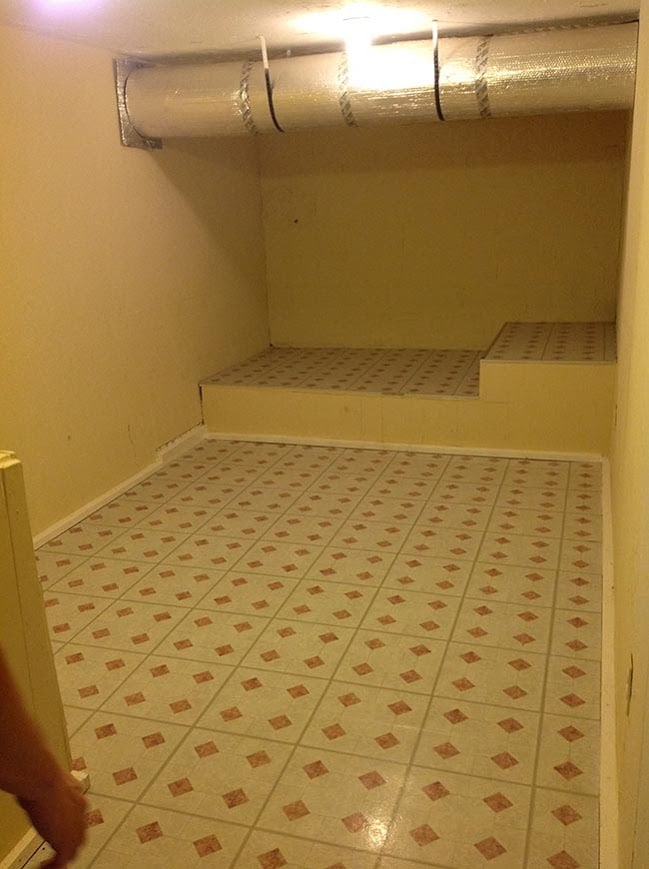 Pin
This "room" made no sense at all. Strange boxed walls and platforms, no windows, less than 7′ ceilings and a huge HVAC vent running through the middle.
We threw a bunch of storage items in the back (and kept the door closed so no one would ever be subjected to this mess).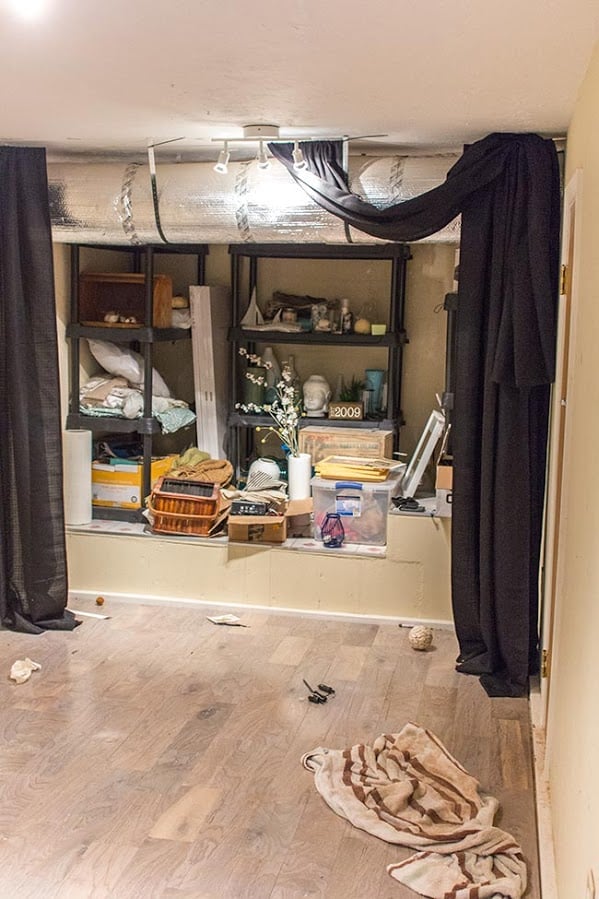 Pin
In the meantime, we were struggling with our cramped laundry situation… this layout/lack of space was just not working: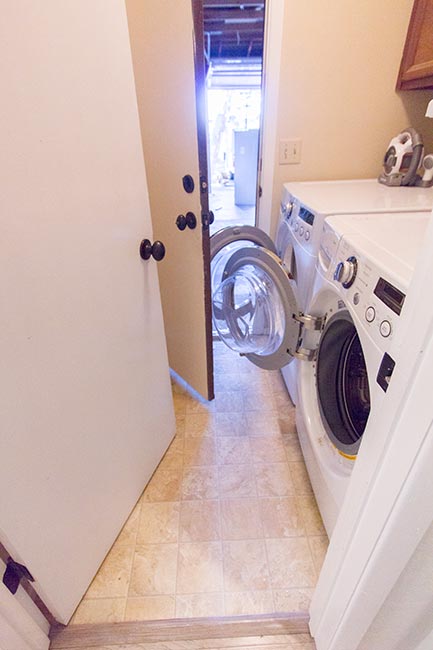 Pin
It was Brad's idea to relocate the washer and dryer downstairs and I was 100% on board. I immediately went into planning mode and we came up with a solution to maximize the space by building an alcove for the appliances to be recessed into the wall and also create a separate storage room in the back.
Demo began right away. Everything came out—the floors, ceiling, walls, HVAC, even dirt and rock that had to be excavated to extend the room and allow for a washer/dryer enclosure under the house.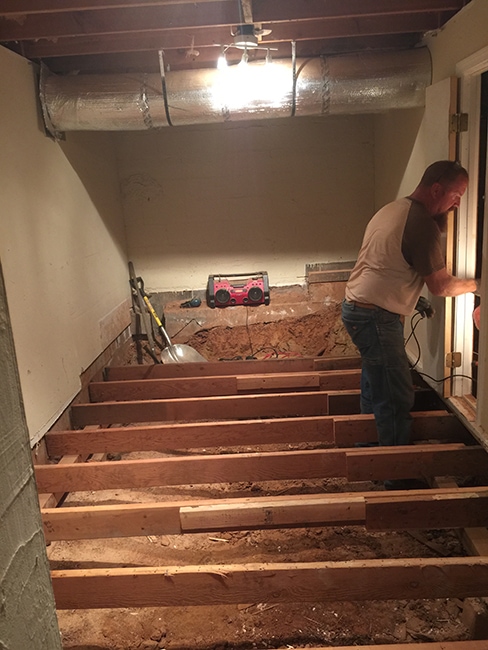 Pin
Looking back toward the entrance…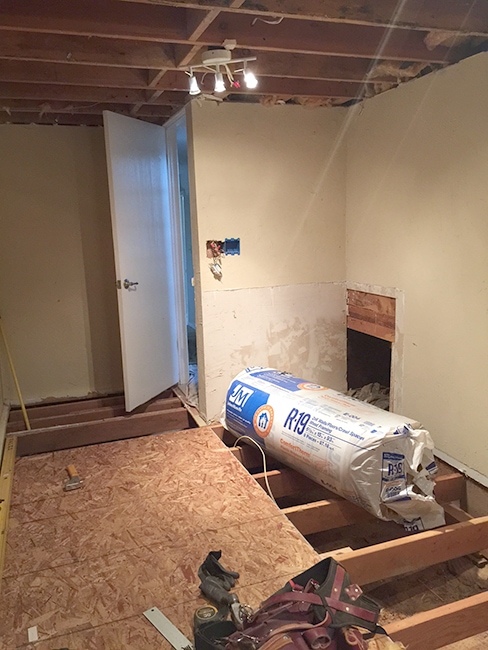 Pin
The beginnings of our built-in appliances and pocket door…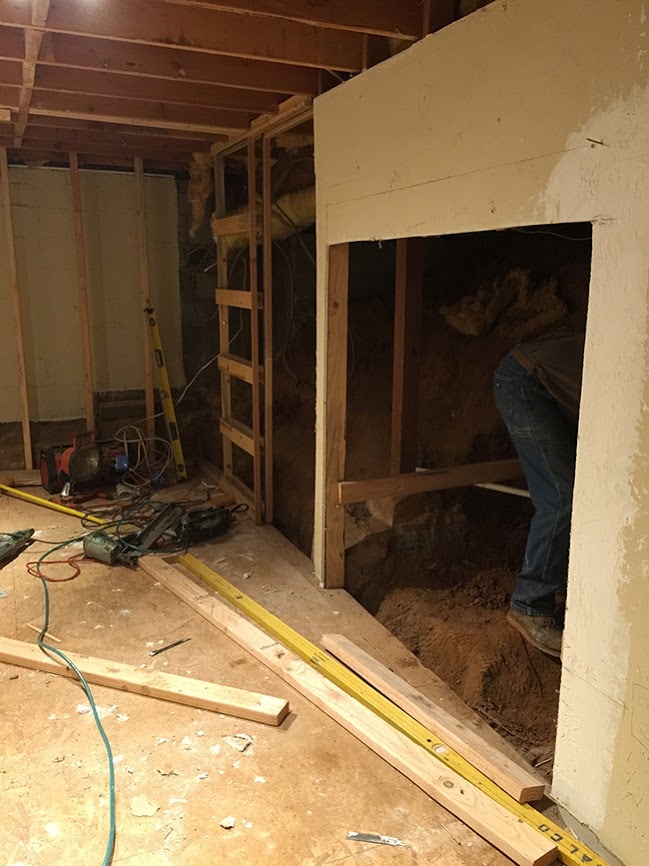 Pin
A new wall went up to divide the storage area: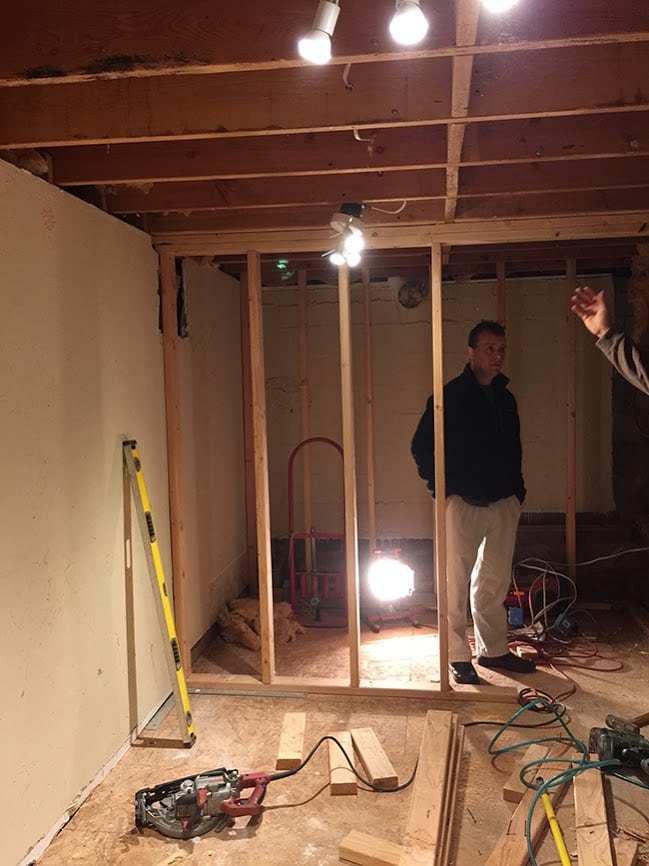 Pin
New drywall and paint started pulling it all together…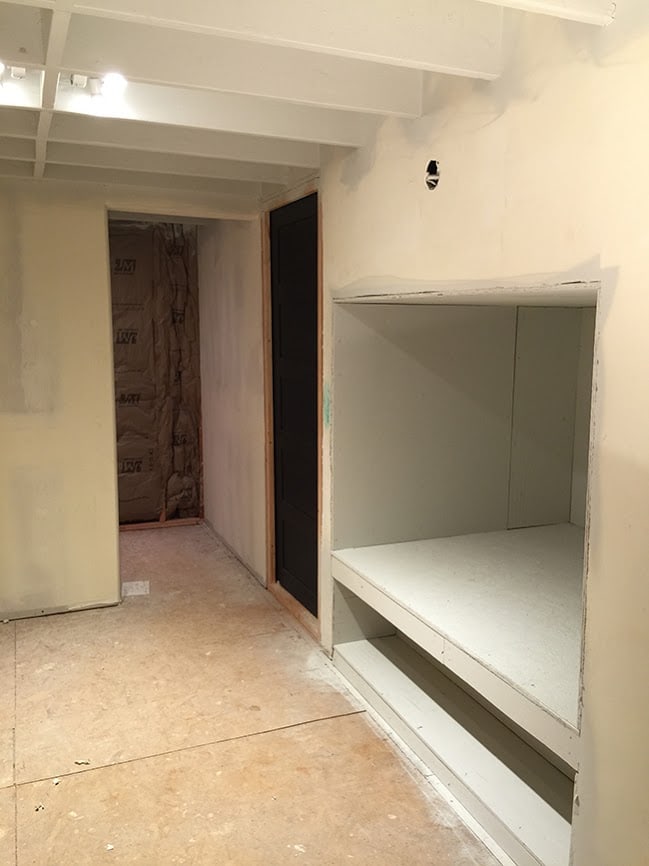 Pin
Our DIY skills, patience and stamina were put to the test on several occasions… starting with our first floor tiling job: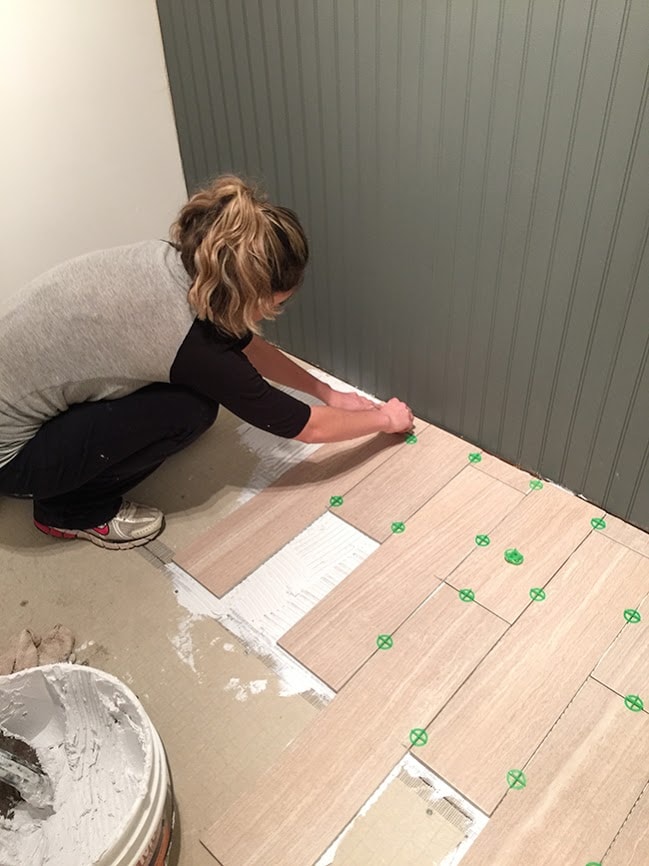 Pin
And our DIY barn door:
Pin
And floating reclaimed wood shelf…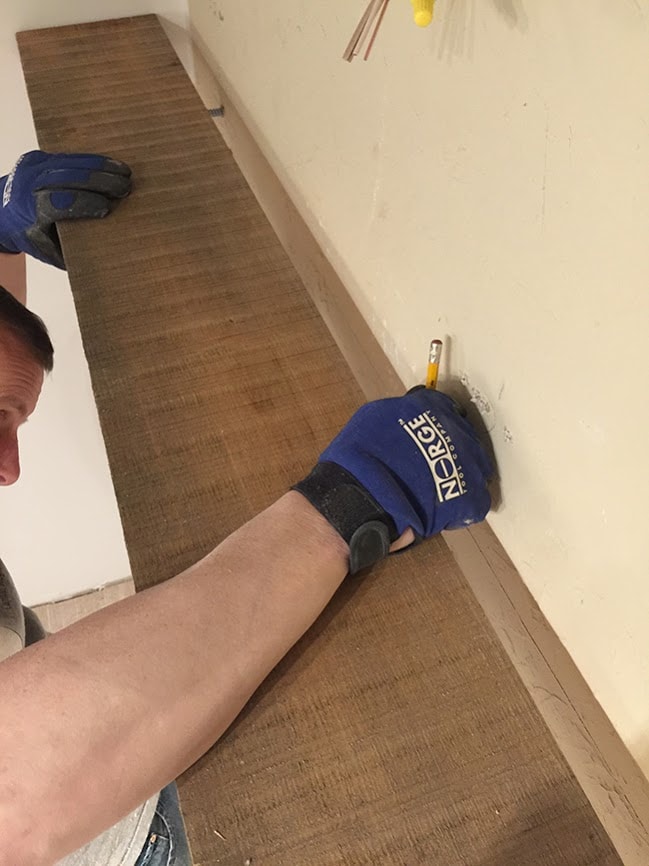 Pin
And just recently—our new cabinets, custom butcher block, farmhouse sink install & subway tile completion…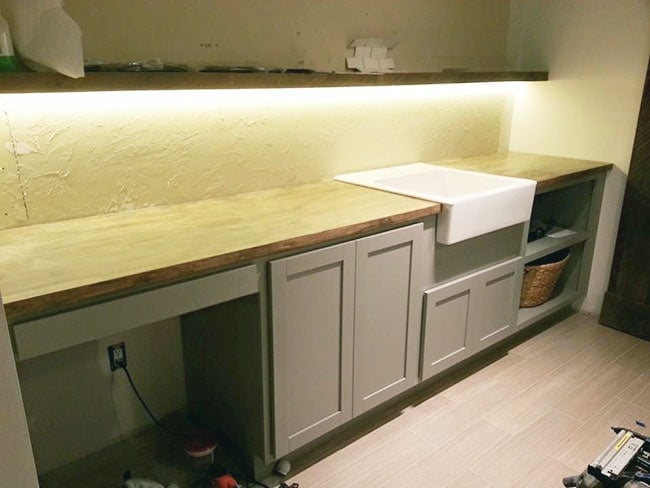 Pin
And now finally, the day we've all been waiting for… welcome to our new Laundry Room: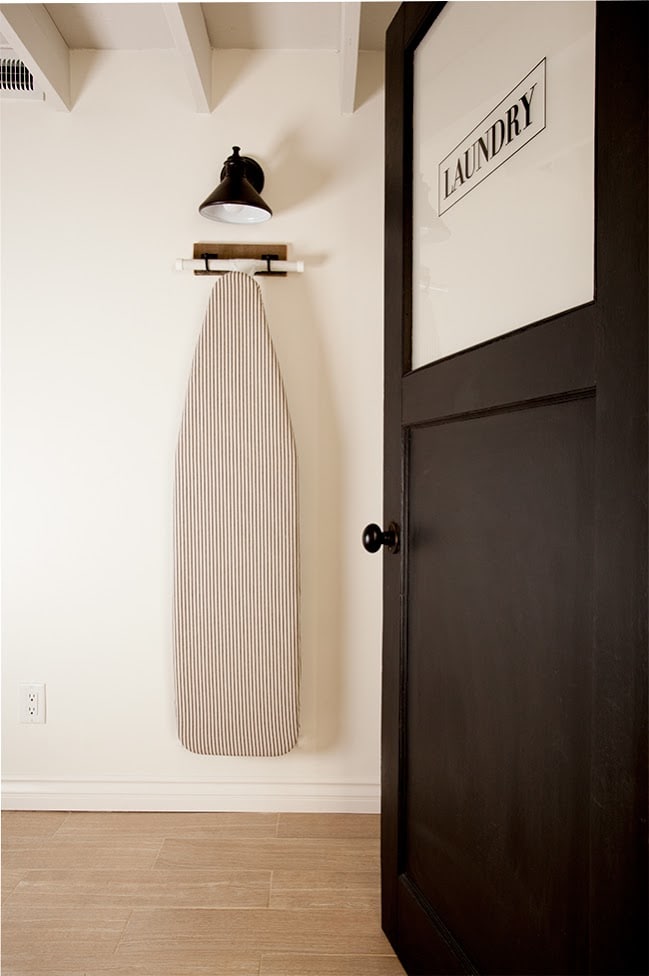 Pin
My neighbor & photographer friend came over with his camera and captured these really lovely shots for me. Thanks so much, Gary!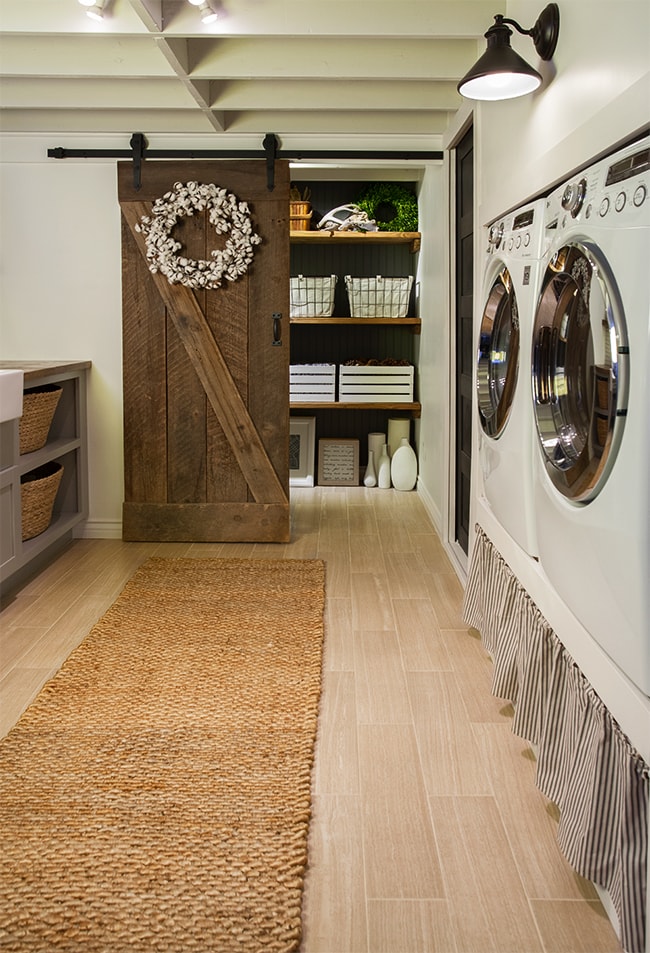 Pin
Yep, there will definitely be more barn doors in our future! And how perfect is this cotton wreath from my friend Shayna's collection? She'll be selling them soon online (can't wait for her shop opening!)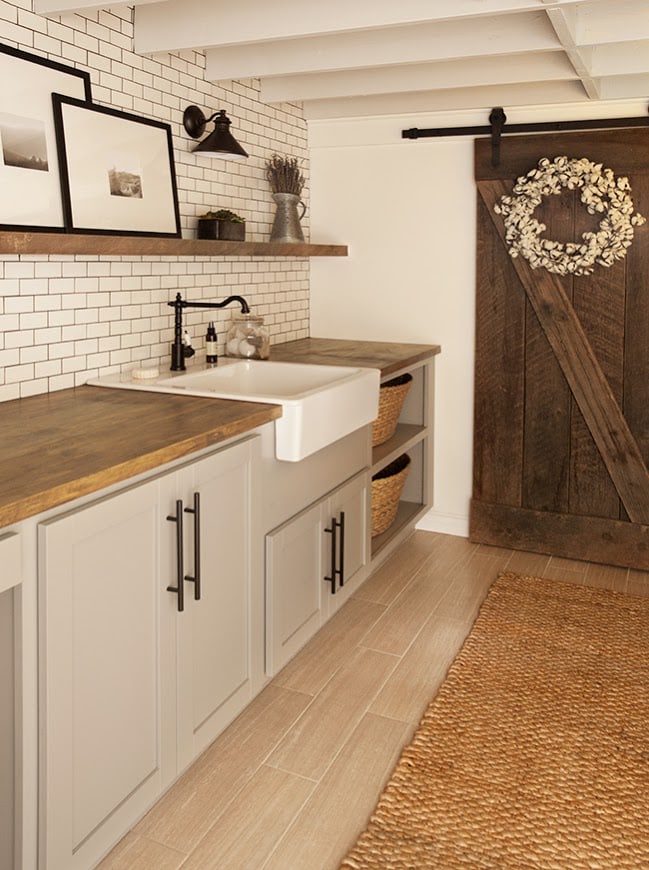 Pin
This space was inspired by my vision of what laundry must be like in heaven… picture a lavender field in the French countryside… a clothesline with the finest linens swaying in the breeze, abundant sunshine, birds chirping and children skipping around in white sundresses with fluffy kittens following behind. Okay, so I'll never be the woman in my perfect laundry detergent commercial dream… but at least I can pretend I'm there by making the best of a small, half-underground windowless room.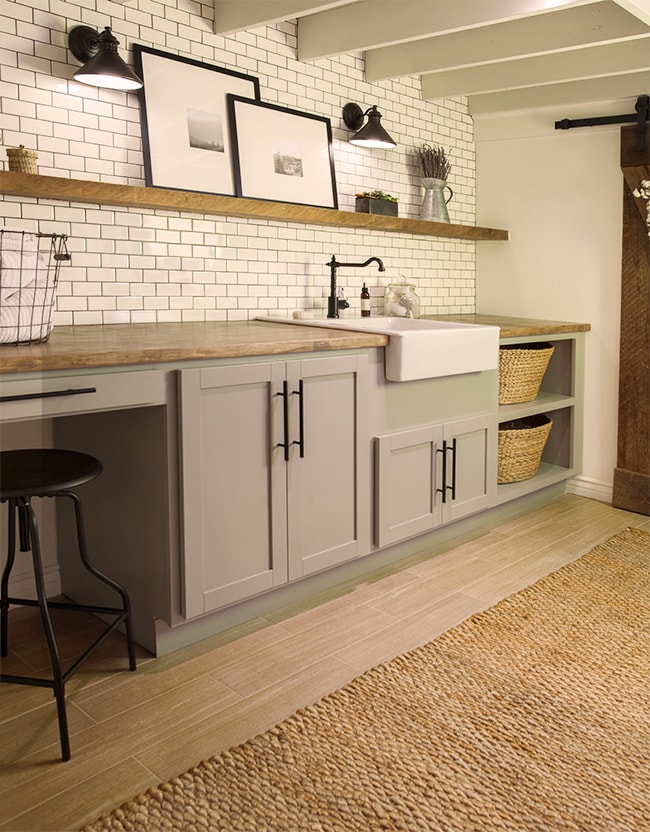 Pin
Removing the ceiling drywall and leaving the joists exposed was a design risk that I wasn't 100% confident about in the beginning, but it's absolutely one of my favorite things we did. It not only makes the room look and feel SO much taller—it brings such personality and interest to the space. I'd do it again in a heartbeat.
Pin
Oh, and this recessed washer and dryer… total game changer. This was Brad's idea and his best one yet. It allowed us to add a full wall of cabinets and makes the laundry process much more ergonomic.
Pin
I intentionally kept everything soft and neutral. It's all about that idyllic laundry vision, remember? Peaceful, fresh and calming.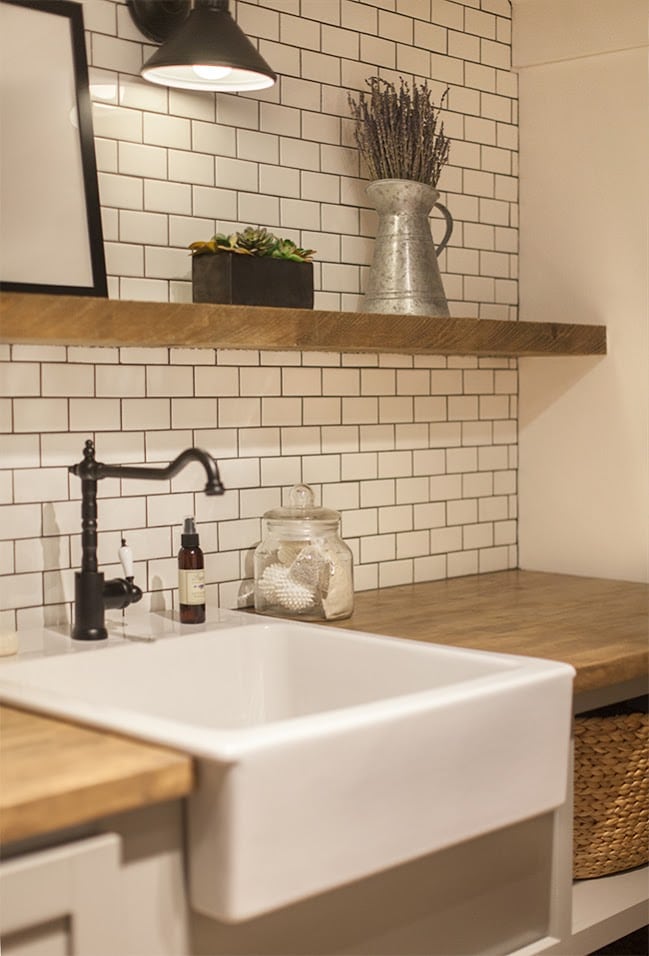 Pin
Can't go without the lavender spray, satchels and dried bundle. Makes the whole room smell divine.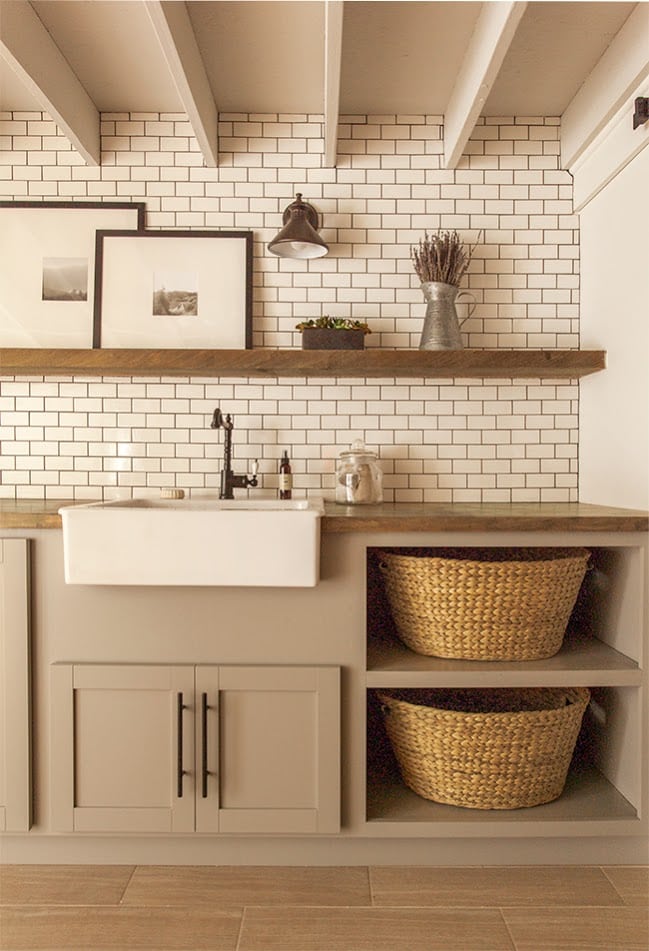 Pin
The photos are instagram prints of some local scenery, with inexpensive Ikea Nyttja frames and DIY mats.
Pin
I was hoping to turn that little drawer into a pull out clothes drying rack. We'll see if I have time to get around to it… in the meantime, I made this hanging rack with an old Ikea rail I spray painted and attached to a scrap wood leftover from our barn door.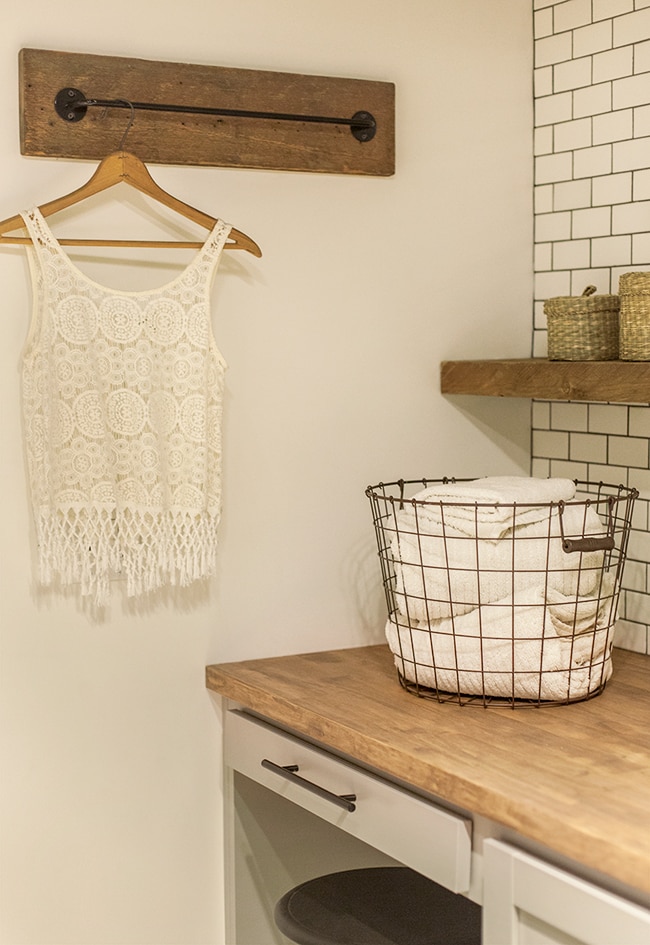 Pin
More local scenery photos and DIY matted frames behind the door.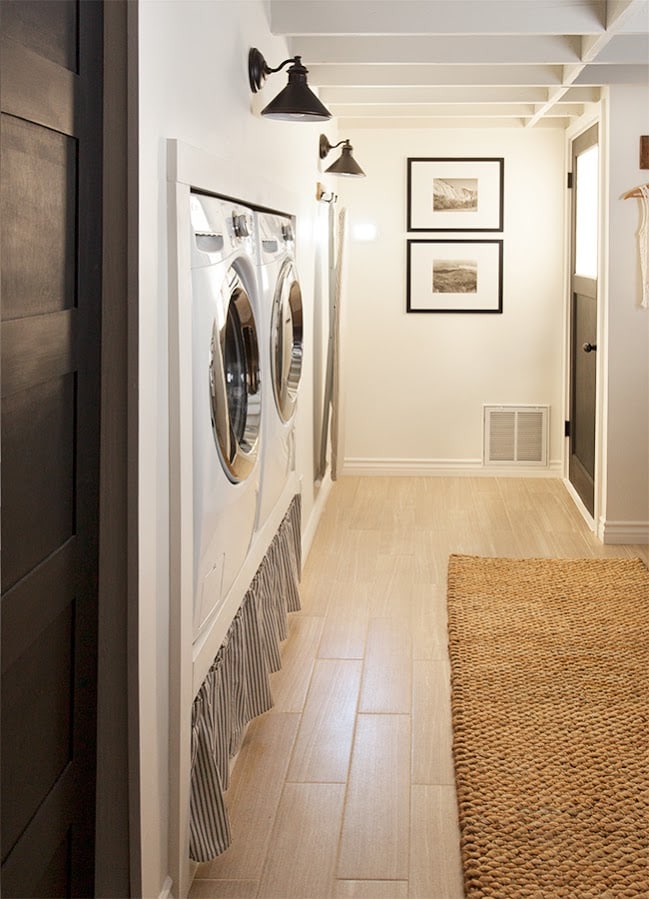 Pin
And oh… the storage room. A decorator's dream!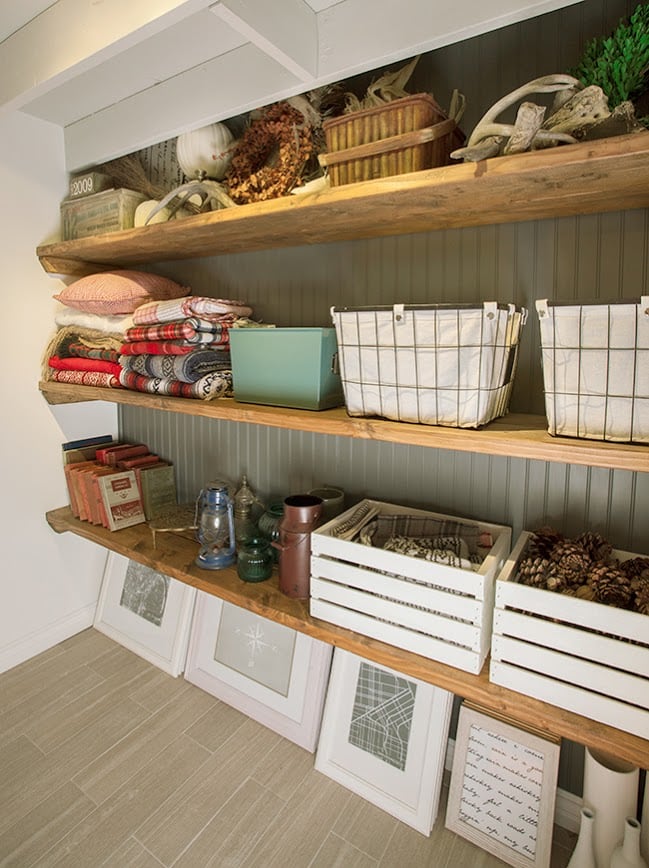 Pin
Plenty of room for accessories to switch out for the seasons or on a whim (and if it gets too crowded, I can use the empty cabinets!)
The DIY shelf ledges on the opposite wall are great for storing larger frames.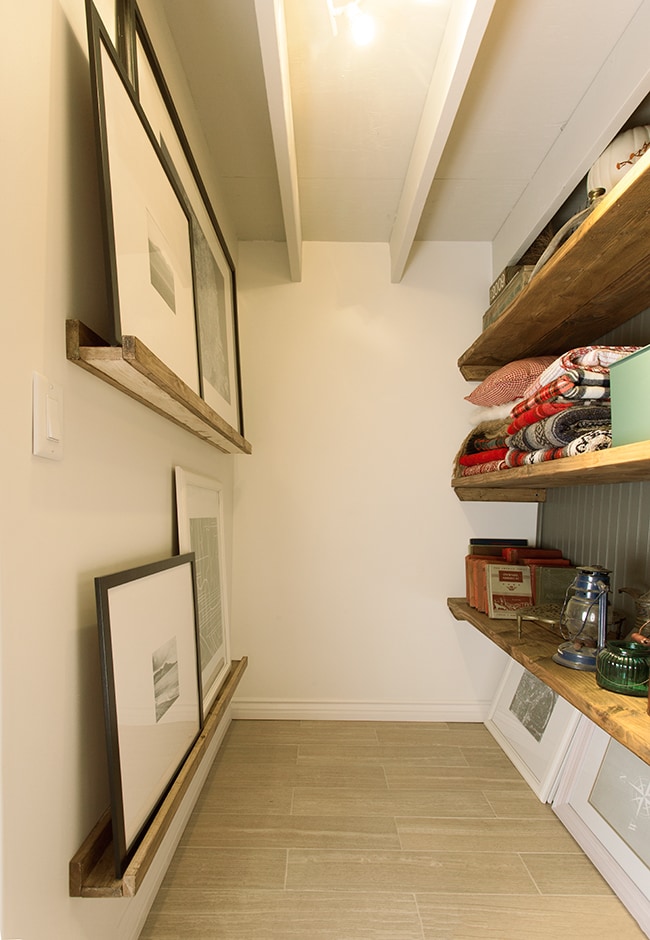 Pin
And that, my friends, is the story of our laundry room.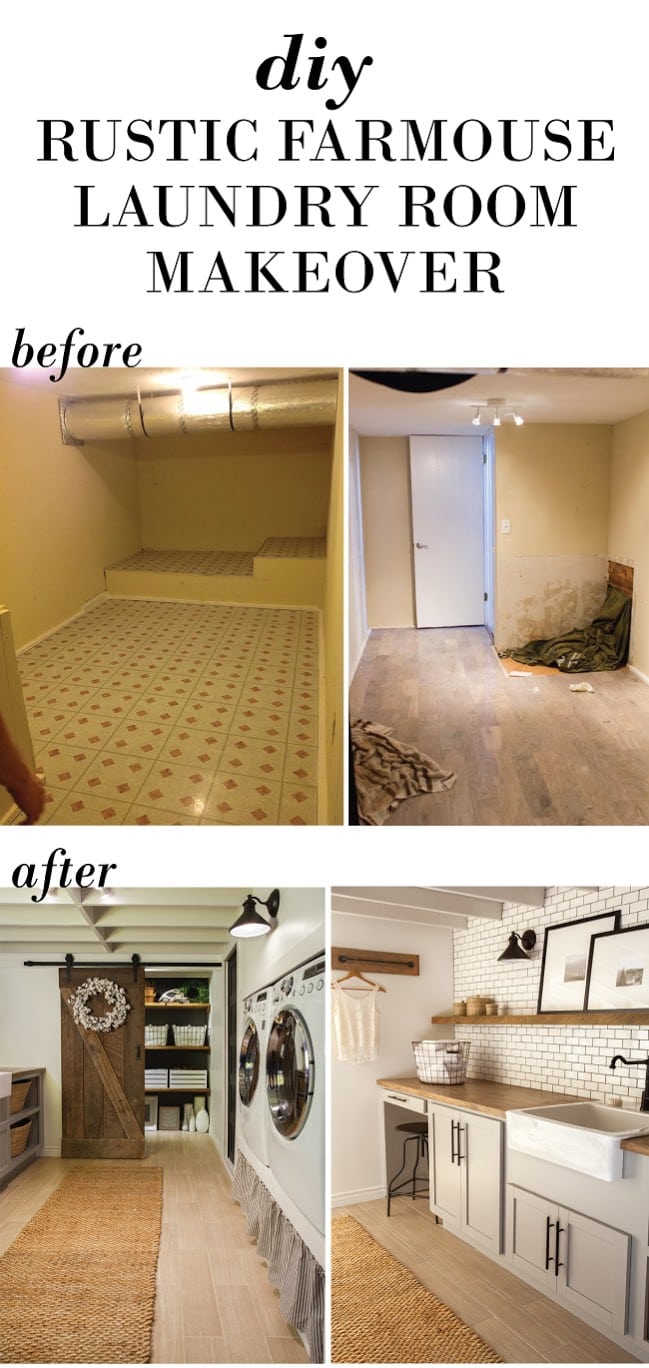 Pin
If you missed any of the action, here's the complete recap:
Beadboard wall, paint and lighting
Floor tile, Part 2
Farmhouse curtain, ironing board & shelf lighting
Cabinets, butcher block & farmhouse sink
And a source list (let me know if I've forgotten anything!)
Wall paint: Kelly Moore's Swiss Coffee (eggshell)
Ceiling paint: Valspar's Montpelier Madison White (eggshell)
Beadboard wall paint: Valspar's Ocean Storm
Cabinets: Lowe's, Diamond brand Hanson style in Cloud
Door pulls: Ebay
Farmhouse Sink: Ikea Domsjo (similar here)
Faucet: Ikea Glittran (similar here)
Butcher block counters: DIY'd Ikea Akerby (stainable model here)
Floor tile: Lowe's
Subway tile: Lowe's
Wall lamps: Lowe's
Rug: Rugs USA
Laundry baskets: Pier 1
Wire basket: TJ Maxx
Metal Stool: Target
Black frames: Ikea Nyttja (with DIY mats)
Small shelf baskets: Ikea
Laundry Door decal: Etsy
Curtain & ironing board fabric: Fabric.com (similar here)
Barn door track system: Ebay
Cotton wreath: The Wood Grain Cottage
Lavender linen spray and sachets: Crane & Canopy
As far as the budget goes… I made a conscious effort at the beginning to track every expense but after the cabinet delays and other projects started getting in the way, I lost count. We did try very hard to keep costs down and DIY everyting possible but the biggest expenses came from the labor we had to hire out—demo/construction, plumbing, drywall/paint, and electrical. The cabinets were around $1300 from Lowe's and we saved money by using inexpensive Ikea butcher block (DIY'd), farmhouse sink and faucet; flooring, subway tile and light fixtures (all Lowe's) and doing that labor ourselves.
These past couple weeks of relief and joy have already made up for the frustration and struggles we faced during this process. I think it's like childbirth (from what I hear)—when you're enduring the worst of it you swear up and down you'll never do this again, and then out comes this perfect creation that you can't believe you made, and all the pain is forgotten. And so the cycle repeats. And here I am already in the middle of another big project, enduring the labor pains of our One Room Challenge, but I see the light at the end of the tunnel and know it will all be worth it. I may have to stop and catch my breath for a bit after this one though 😉
Lots of progress has been made in our guest bathroom in the last week… check back Wednesday for more!
Want to get this look in your laundry room? Here's a handy shopping list: